At a Glance
Expert's Rating
Pros
Tight-fitting silicone tips block ambient noise while soothing electronic sound effects cancel out what still gets through
Carrying case recharges the powered earbuds while they're in storage
Very comfortable to wear while sleeping
Cons
Sleepbuds can't be used for phone calls or for streaming music
Even more people would get a better fit if Bose provided the ear tips and wings as separate components
The price tag could keep you up at night
Our Verdict
Your mileage may vary, but if you can manage a good fit, Bose's Sleepbuds offer a carpet ride to dreamland. And they come with a money-back guarantee if they don't work out.
For many, noise-cancelling headphones are a great tool for shutting out the day's distractions, for listening to music while working or exercising, or to incessant vanquish the drone of airplane and train noises while traveling. But when it's time sleep, even the smallest cans are too big to wear to bed.
Knowing a thing or two about noise cancellation, Bose assembled a team of acoustic therapists and engineers to formulate a new product that would help the 60 percent of the populace that has trouble falling or staying asleep, and the 40 percent that suffer the hardships of sleep deprivation: Defined as getting less than 6 hours of nightly shut-eye in a two-week period. That sorry lot (present company often included) is putting itself at risk for everything from stress, anxiety and difficulty in concentrating to chronic diseases such as high blood pressure, heart disease, cancer, and even Alzheimer's Disease.
Mentioned in this article
Nightingale Premium Edition
Price When Reviewed:
$249.00
The team's new product is the $250 Bose Noise-Masking Sleepbuds, a pair of earbuds that combine aspects of passive noise reduction with active noise masking. Snug-fitting silicon ear tips block ambient noise from reaching your eardrums, while active, battery-powered drivers emit gentle, repetitive "sleep" tracks. The latter sounds consist mostly of sounds from nature that are both intrinsically soothing and tuned—in terms of their frequency—to mask environmental distractions. In this regard, the Sleepbuds are like a personalized version of the Nightingale sleep system we reviewed in May.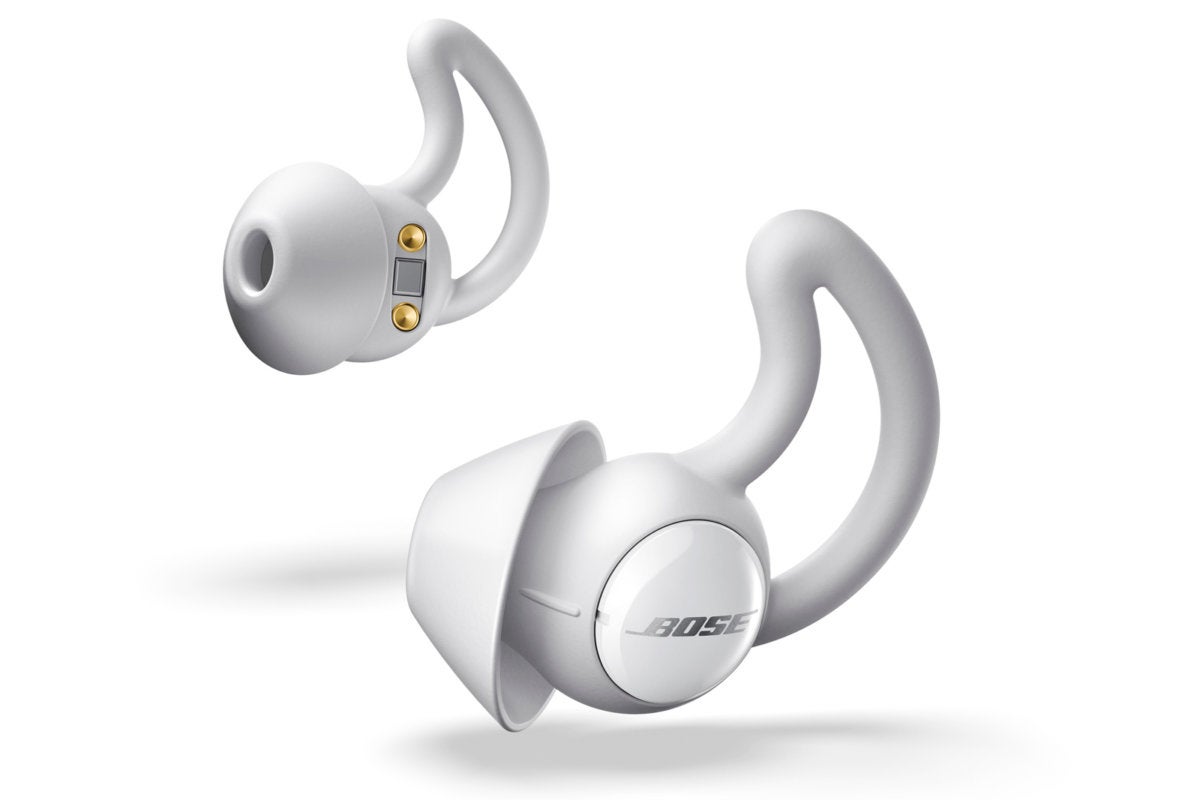 "Noise masking is a science. It's more than ambient sound or white noise," Boses's core systems engineer Daniel Lee said while introducing the new product at a demo session. "You can't achieve it by simply turning up the volume on calming songs. And depending on the situation, it's more effective than active noise cancelling—even ours. At night, you're trying to shut down completely and the world is naturally more quiet. And when it's quiet, even the slightest sound seems loud. Bedside [sound-effects-producing] machines can't cover it, earplugs can't block it, and earbuds meant for sitting, standing, or moving can't be worn for hours laying down, especially on your side. But Bose Sleepbuds can."
While Bose's Sleepbuds have some technology in common with the company's QuietComfort line of noise-cancelling headphones, the Sleepbuds were designed from the ground up for the sake of miniaturization, comfort, and usability in a prone position with a pillow pressing on the side of your head. At the demo, an exploded display of the Sleepbuds' innards revealed such custom elements as a space-saving antenna that's laser-etched on the outside housing for a Bluetooth Low Energy connection to a smartphone or tablet, along with a silver-zinc battery boasting twice the energy density of lithium ion cells. Bose chairman Bob Maresca said the battery enables the Sleepbuds to deliver 16 hours of sleep-track play on a single charge.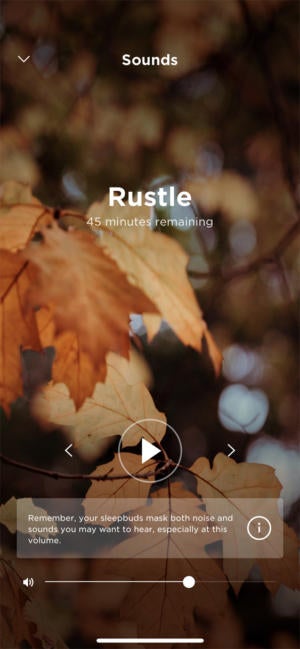 The Sleepbuds are also outfitted with incredibly small transducers and a micro-circuit board with 10 sound files stored in flash memory. "More options will be added in software updates," said Maresca, transferred wirelessly to the earbuds via the Bose Sleep app available for Android and iOS smartphone and tablets.
The Sleepbud modules are quite small, measuring just over 1cm (0.4 inches) in width and height and weighing only 1.4 grams (0.05 ounces) each. Bose provides three sizes of tips—small, medium, and large—that stretch to wrap around the button-sized electronics module. You push these into your ear canals. A silicone wing—likewise provided in three sizes—tucks into the inner curve of your outer ear. Actually, the entire assembly sits inside your outer ears, so they don't get snagged on your clothes or bedding no matter how much you might toss and turn.
You might discover, as I did at the demo session, that a medium-sized ear tip fits reasonably tight in one ear canal, while a large-sized tip is needed to fill the other in order to passively shut out unwanted sounds (they used a recording of someone snoring for the demo). And therein lies a rub. After using the Sleepbuds at home for a full night, I concluded that the bigger wing on the large-sized ear tip was just too much for the curvature of my otherwise medium-sized right ear. The wing pushed back with resistance that eventually resulted in pain. I reluctantly switched back to the medium-sized tips for both ears, compromising sound leakage for the sake of comfort. With some other earbud brands, including the Jaybird Freedom 2 and Jabra Rox, the wings and tips are separate components, so you can mix and match as needed. Bose should consider doing the same.
After a couple weeks of overnight home use, experimenting with the various sound effects, volume levels, and play-time options in the Sleepbuds app, I've come to understand more precisely what Bose's lead engineer meant when he said "noise masking is a science."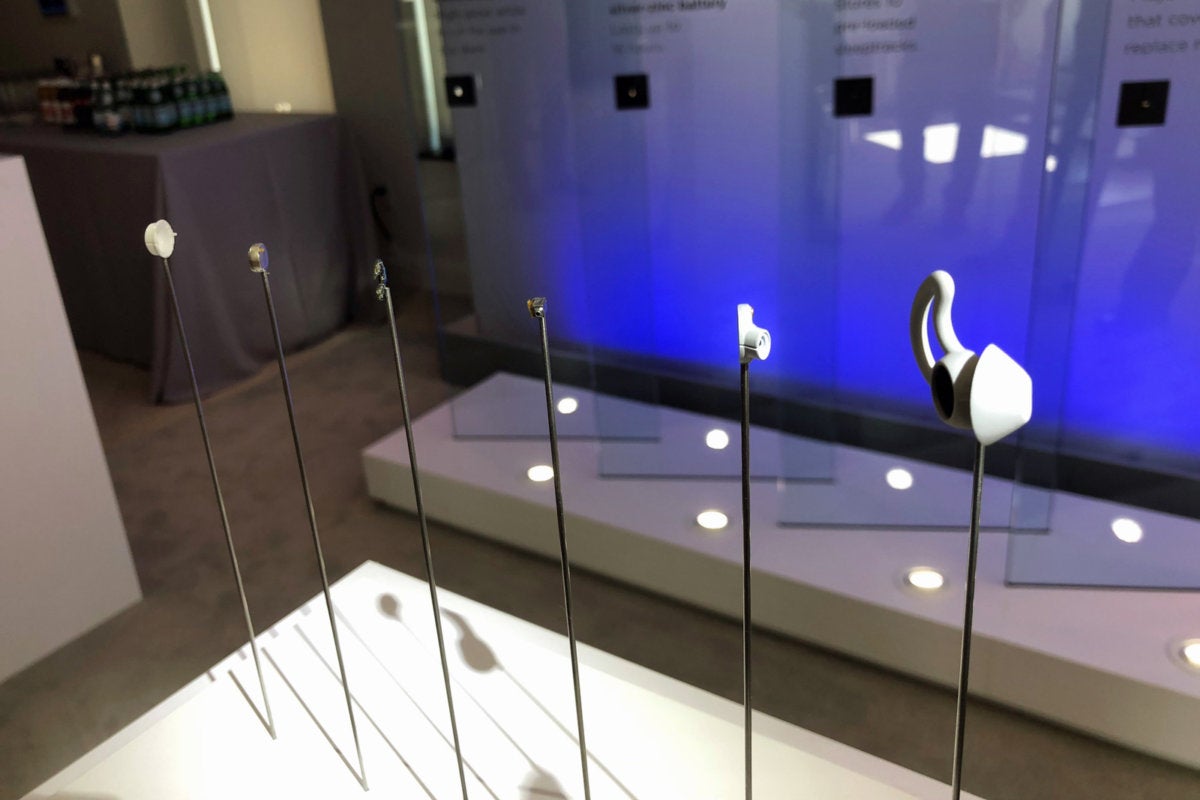 The denser and more persistent ambient sound options preloaded on the device, such as the crackling logs and sparks of "Campfire," and the autumn leaves blown by the wind in "Rustle," are more effective at covering up loud and erratic bedmate snores and street noises. Persistent household noises, like the loud whirr of an air filtering machine, on the other hand, are more readily masked by similarly steadfast but smoother soundscape options, such as the white noise of "Warm Static," the waterfall sounds of "Cascade," or the airplane-engine drone of "Altitude."
I found that water sounds—rain in "Shower," a brook in "Downstream," waves rolling ashore in "Swell"—were most effective at quieting the buzz of random thoughts running through my head. Only one soundtrack drove me nuts: A loop of droning, synthesized music dubbed "Tranquility." But as Bose market-tested the system with Indiegogo backers who purchased prototypes, somebody out there must like it.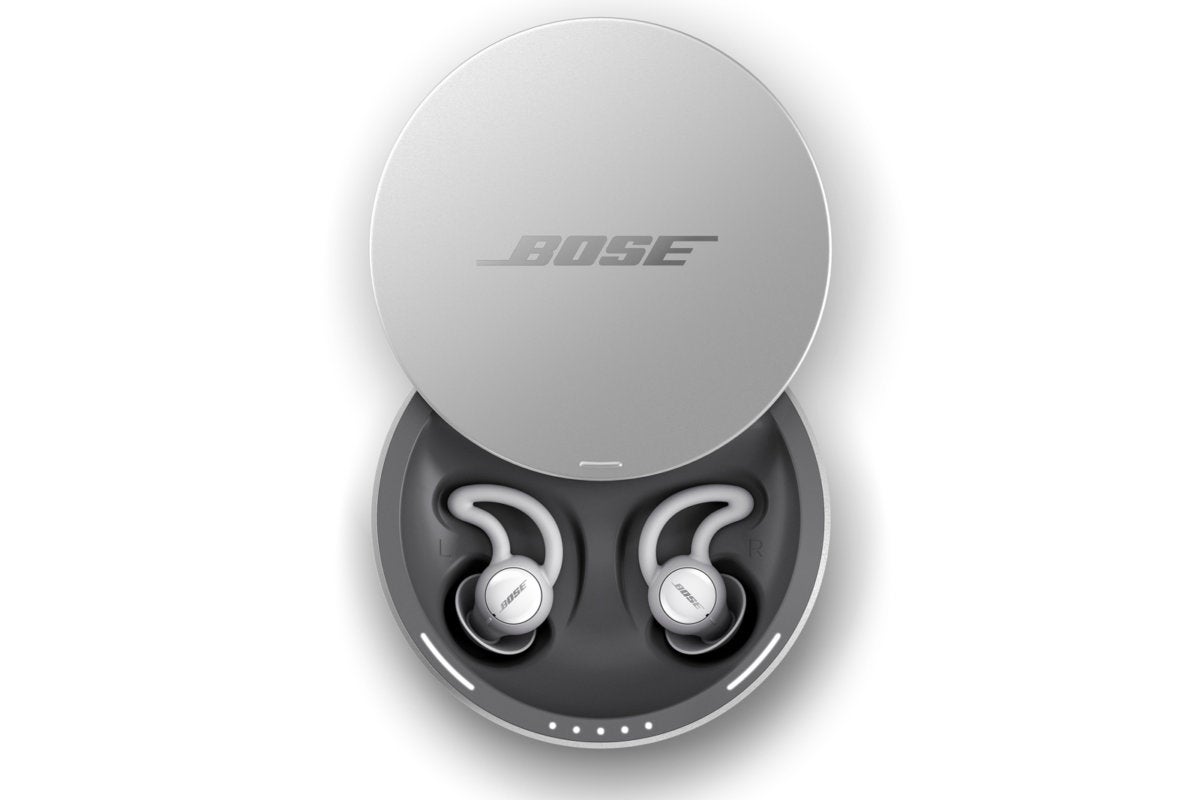 Fine-tuning the level and play time of those sound effects is also quite the personal thing. The later into the night I hit the sack, the lighter the volume and the shorter the track needed to play (there's a 30-minute minimum and a 6-hour maximum) I needed to reach dreamland. When I retire earlier, I've need to set the volume higher and run the track longer; otherwise, the sound of silence wakes me up earlier than desired.
The downside of cranking up the volume, as the app warns, is that those extra decibels could mask household sounds you should not ignore. And prolonged, all-night exposure to loud sounds piped right into your ear canals could trigger the sort of lingering ringing in the ears that people suffer after lengthy exposure to a megawatt concert sound system. Take care not to overdo it.
I've been surprised by how comfortable the Sleepbuds are; I often forget the virtually weightless earbuds are in my ears—at least until I wake to their programmable stereo alarm. The silicone-based tips don't make my ears sweat, but there are times when this side-sleeper hears a little scraping noise—akin to the sound an earphone cable makes when rubbed. And I've felt a bit of tenderness after sleeping with the full weight of my head dead-center on a firm, memory-foam pillow. I recommend letting your forehead, temple, or the back of your head rest on your pillow while wearing these. But if you crave a better nights' sleep, they're a far superior alternative to addictive sleep meds.
Correction: An error introduced during editing had this review reporting that the Bose Sleepbuds use active noise-cancelling technology. It's more accurate to say they produce sounds designed to mask environmental noise.