At a Glance
Expert's Rating
Pros
Drop-dead-simple initial installation
Alexa is a great addition to the mix
Unique features, such as Enhanced Deterrence, could help warn off intruders
Cons
Extremely expensive, especially with no professional monitoring option available
Setting up add-on gear is far from intuitive
Touted facial recognition is essentially non-functional
Our Verdict
Honeywell's first security kit feels like it still has a foot in beta. And at these prices, we'd like to see something more refined.
Best Prices Today: Honeywell Smart Home Security Starter Kit
Honeywell has a long history of supplying OEM sensors, control panels, and other nuts-and-bolts parts for home security systems. More recently, it's gained traction with some pretty good smart thermostats and security cameras, shaken awake in part by the success of Nest. Ahead of spinning its Honeywell Home business off into a new company, Resideo (re-sid-ee-o, rhymes with Presideo), Honeywell has launched a DIY home security system of its own.
The Honeywell Home Smart Home Security Starter Kit is a decidedly simple all-in-one security tool that has a lot going for it. Much of that credit goes to the unit's hub, which doesn't lie about being all in one. This single device includes an integrated siren/speaker, a 1080p motion-sensing camera, and Amazon Alexa, all packed into a single, columnar device that manages to be reasonably stylish. As such, it closely resembles a Canary Home Security System, which came out at about the same time as Amazon's Echo (and as such, could not have supported Alexa). For other smart home systems, all that gear could mean installing four different pieces of equipment. You can purchase the Honeywell Camera Base Station by itself for $350 $70 at Amazon. Price updated, February 2, 2021.
Setting up a smart home security system can often be a rocky affair, especially for a v1.0 product. Nonetheless, Honeywell hits a rare home run with its setup routine, which is arguably the easiest and fastest I've encountered in this industry to date. Just download and install the app, then plug the hub into wall power. (Note that the hub is exclusively wireless; there is no wired ethernet option.) Hold a QR code displayed on your phone in front of the hub's camera and you're basically done.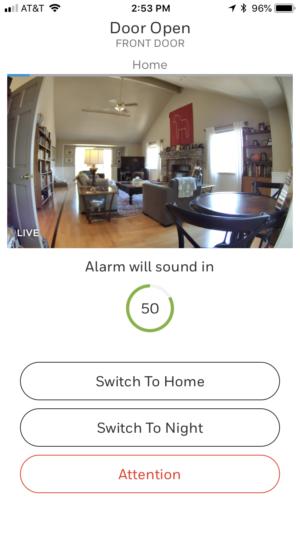 Up next is setting up sensors. Honeywell doesn't give you many of these in the base kit: Two window/door sensors and a key fob remote control are all that come in the box. A typical smart home setup means configuring each sensor, one at a time, usually through some combination of typing in codes and pressing hidden buttons. With the Honeywell Home kit, you set up your sensors and other devices all at once. Just pull out the plastic tabs that engage the battery, and the app does the rest.
The only other step I had to take when setting up all this gear was pressing and holding two buttons on the key fob to activate it, as directed by the app. The entire process took less than 15 minutes, including setting up geofencing options and linking the device to my Alexa account.
After the devices are registered, you're directed to affix your sensors to the doors or windows to which you're assigning them. Pre-loaded with sticky tape, you'll note that these sensors are quite large compared to others in the industry—more than 3.5 inches long—though Honeywell does promise that its batteries will last for a full two years.
Once set up, Honeywell's spartan app presents you with not the usual two but rather three security modes (not including "off"). If you're accustomed to the typical home/away rubric, this can take a little mental retraining, as Honeywell's three modes behave a bit differently. "Away" works as expected, with all sensors active; "Night" is effectively the equivalent of most security systems' home mode, where door/window sensors are active and, while motion sensing and video recording remain active, they won't set off the alarm when tripped. Honeywell's "Home" mode is somewhere between this setting and off: Door chimes chirp when they're opened, but all alarms are disabled; video recording, meanwhile, can be turned on or off as you choose.
The hub makes double duty of the lighted Alexa ring to indicate when you've changed modes. While Honeywell says it's still tweaking how these work, you will notice a persistent green ring if the unit is set in Away mode, and a flash of purple when it changes to Night.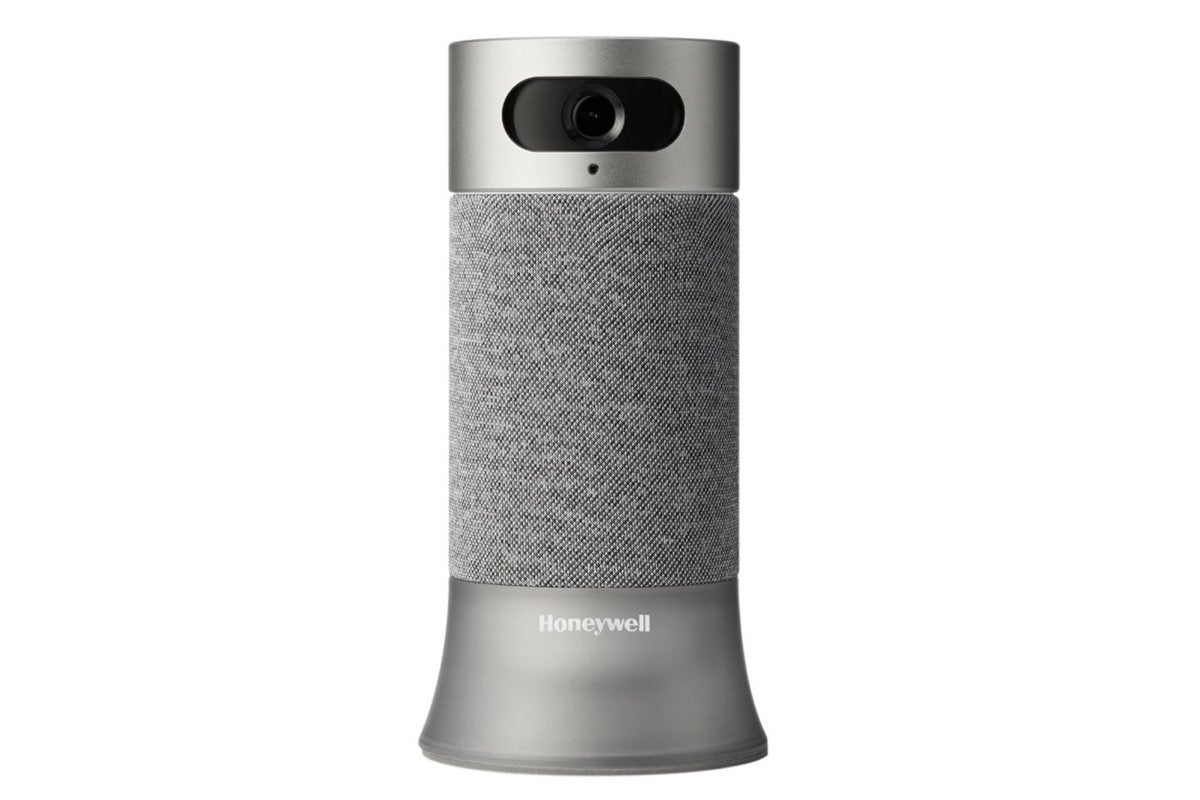 I tested the Honeywell Home Smart Home Security Starter Kit extensively, including some of the additional gear available as add-ons for the setup. These range from an additional (but camera-less) indoor motion sensor ($49), to the indoor motion-viewer camera ($149), to the outdoor motion viewer camera ($199). The latter two items are essentially remote cameras that can communicate with the hub to offer an additional set of eyes on another part of your homestead. As with all components except for the hub, they're completely wireless, with a two-year battery life promised. (Pro tip: For best results, set up any additional gear during your initial setup phase, as adding these sensors to the network later is needlessly convoluted.)
In testing, I found that the core features of the system worked well, never missing door or window opens, with the hub's motion sensing on point. The door chimes are clear and pleasant without being annoying, and the siren, while not all that loud (just 90db), is ear-catching and high-pitched enough to carry through the home. Switching between modes via either the app or the key fob is easy and quick, and the unit gives you a 60-second, chimed countdown before engaging Away mode. There's even two-way audio built into the hub, so you can use your phone to talk to your kids or cats (or a burglar) if you happen to catch them live on camera.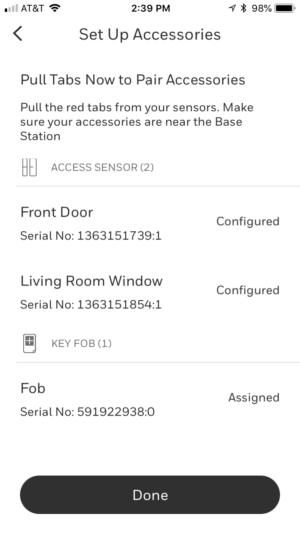 The Alexa features on the unit also worked perfectly in my testing. The speaker is loud and crisp, and it never balked at handling commands to play music, answer questions, or control other devices in my home.
That said, not everything is perfect with this system, and the longer you spend with it, the more nagging problems you start to see. Perhaps the biggest downside to the Honeywell Home Security Kit is that there is no professional monitoring nor cellular backup available. To disable the alarm from sending you notices, an intruder need only unplug your router—though that won't stop the siren from sounding. The hub does, however, include a backup battery in case the power goes out. But that won't keep your router powered, as usual, we recommend plugging it and your broadband gateway into an uninterruptible power supply.
With no pro monitoring option, you're on your own to keep tabs on the homestead. The way Honeywell Home deals with this is a bit bizarre—and I'd wager that it will be overhauled in the near future. You can program the unit to detect faces (by scanning them with your smart phone), so that if, say, you want to be alerted when the kids get home from school, the system can tell you not only that it detected motion, but also who did the moving. The catch: You must choose a two-hour window in the day when this is operational. And all of that is moot, really, as the system didn't correctly identify my face once during my testing, and even configuring the feature—which only stores two faces total—is very cumbersome.
Honeywell stores its video clips in the cloud, but only the most recent 24 hours' worth of clips (up to 50) are available. If you want more, you can pay $5 per month or $50 per year to access the most recent 30 days' worth of clips (up to 1500 clips total) or $15 per month/$150 per year for 60 days/3000 clips. In my testing, while the service was sometimes speedy, these could be agonizingly slow to load, as can getting the live feed from the camera (which is always available on demand). These vagaries may correlate to outages in Honeywell's cloud service—as I was often notified via popup when launching the app—and could be part of the growing pains involved with a brand new service.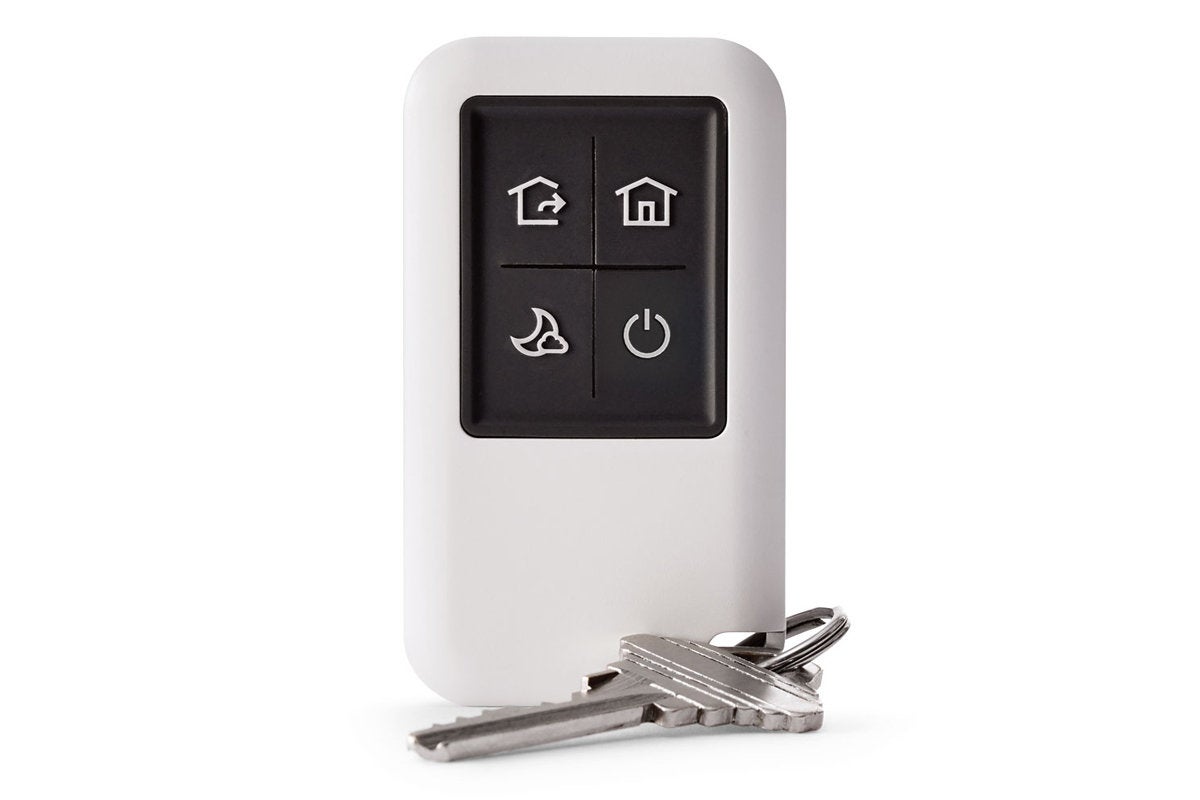 I had even more problems with Honeywell's outdoor motion viewer, which I set up in a garden a few dozen yards from the hub. While Honeywell proudly boasts that it filters out animal and tree limb motion, I found myself inundated on a Saturday away with more than 100 emailed alerts full of uselessly grainy shots: Each one of a small twig shaking in the wind near the camera. (While the hub's camera is fairly high-end, the motion viewer clips are fair to poor.) On the other hand, the outdoor motion viewer features my favorite feature in the entire box: The "Enhanced Deterrence" mode can play sounds such as a vacuum cleaner, a dog barking, or "party sounds," all delivered through the Honeywell base station, if it detects someone approaching the house. Take that, UPS!
Lastly, a word on the geofencing system: While it generally worked for me, it didn't activate Away mode every time I left the house. As well, the radius of the geofence is abnormally large. Even at its minimum setting, it was still large enough to show me as "home" when I was shopping at my local supermarket down the street.
Mastering everything in the Honeywell Home universe takes some trial and error. Figuring out what will activate the siren immediately, what will give you a 60-second countdown, and what will cause an alert email/pop-up notification isn't totally obvious. And installing extra hardware after the fact, like the motion viewer cameras, was so unintuitive I had to have the company walk me through it. You can also connect the system to other Honeywell gear, including thermostats, a leak/freeze detector, and some cameras—as well as generic Z-Wave devices—but I might wait for a few firmware and software revisions before I went that far.
While there are clearly some growing pains ahead for Honeywell Home, the system as it stands today provides users with an effective, if basic, security regimen that's easy to set up and integrates a capable Alexa device into the mix, even though some of its more advanced features are still works in progress. The biggest downside of all, though, will be its price tag: At $449 for just the hub, two sensors, and key fob, it's almost obscenely expensive in a world where you can get more gear from another vendor for about half that outlay. Including the three add-on devices we received, the total price of $846 is downright off-putting.
Best Prices Today: Honeywell Smart Home Security Starter Kit