At a Glance
Expert's Rating
Pros
Dolby Atmos-enabled speakers increase the sense of space and height
DTS Virtual:X upmixer included for traditional surround and two-channel audio
Supports Chromecast and Google Assistant
High value proposition for all the included features.
4K/UHD, HDR-10, and Dolby Vision HDR pass through
Cons
This is no substitute for a conventional Dolby Atmos configuration
IR remote's screen needs better contrast
Display is difficult to read in low-light conditions
Our Verdict
Vizio's Home Theater Sound System with Dolby Atmos is a high-value, high-tech sound bar with a taste of immersive audio magic.
Best Prices Today: Vizio Home Theater Sound System with Dolby Atmos (model SB36512-F6)
Vizio's Home Theater Sound System with Dolby Atmos, model number SB36512-F6, is a high-value, high-tech soundbar that delivers a taste of immersive audio magic.
This is a 5.1.2 solution, meaning there are left, right, and center drivers–plus two front height channels–in the main speaker cabinet; two discrete surround speakers, and a (wireless) subwoofer. Vizio's approach leans towards the pragmatic, not the aesthetic. The main speaker cabinet measures approximately 36-inches wide, 2.5-inches high, and 3.25-inches deep.
The left and right surround speakers deliver a genuine surround-sound experience that no virtual speakers can match. Measuring around 5.75-inches high, 2.75-inches wide, and 2.5-inches deep, they're small enough to blend into any room's décor or even sit on a window sill. These are passive drivers, so they aren't wireless. You'll need to connect them to the subwoofer using the RCA-terminated speaker cables Vizio provides. But there really is no such thing as a truly wireless speaker. Unless it runs on batteries, it will need at least a power cord.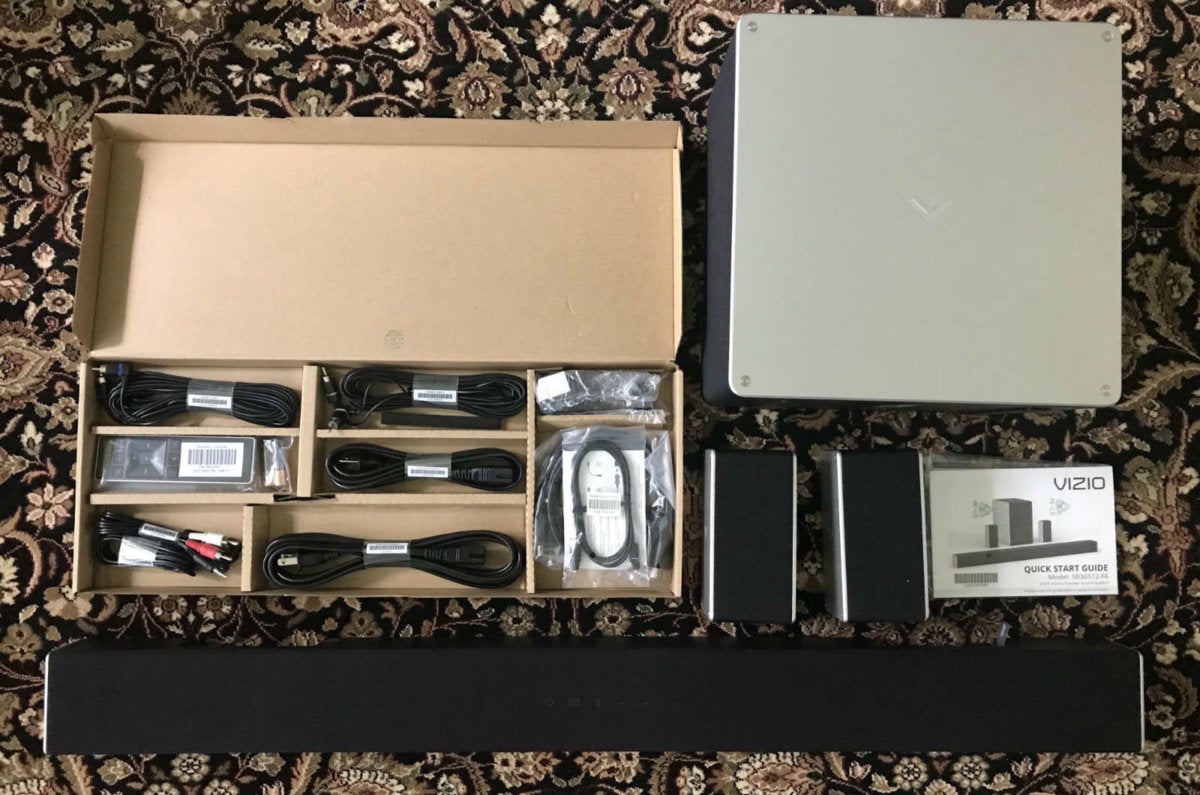 The included wireless subwoofer (yes, it has a power cord) is an upright design that comes pre-paired to the soundbar out-of-the box. It's rated to deliver sonic slam all the way down to 40Hz—far lower than its footprint would suggest.
The Dolby Atmos-enabled speakers are oriented at a 20-degree angle to bounce height sound effects off the ceiling down to your listening position. In order for this effect to work, your room must fulfill several requirements, as outlined in Dolby's Atmos-enabled speaker spec.
In a nutshell, for the overhead effect to work you need a flat, reflective ceiling between 7.5 and 12 feet above the speakers—although ceilings as high as 14 feet might work. If your room doesn't meet those requirements, don't expect the height sound cues to work well—or at all. The height effect won't work with angled ceilings, drop ceilings, or any non-reflective ceiling material either. I'll tell you my impressions of the overhead effects further along in the review
If you're looking for front and rear height channels, then look to Vizio's upcoming 46-inch, 5.1.4 Dolby Atmos system. It adds a physically larger subwoofer and two Dolby Atmos-enabled speakers in the surround speakers for a total of four overhead speaker channels. It will cost $999.99 when it ships later this year. I heard both the 5.1.2 and 5.1.4 systems at the company's private press unveiling in New York City earlier this year. The two additional height speakers make a noticeable difference.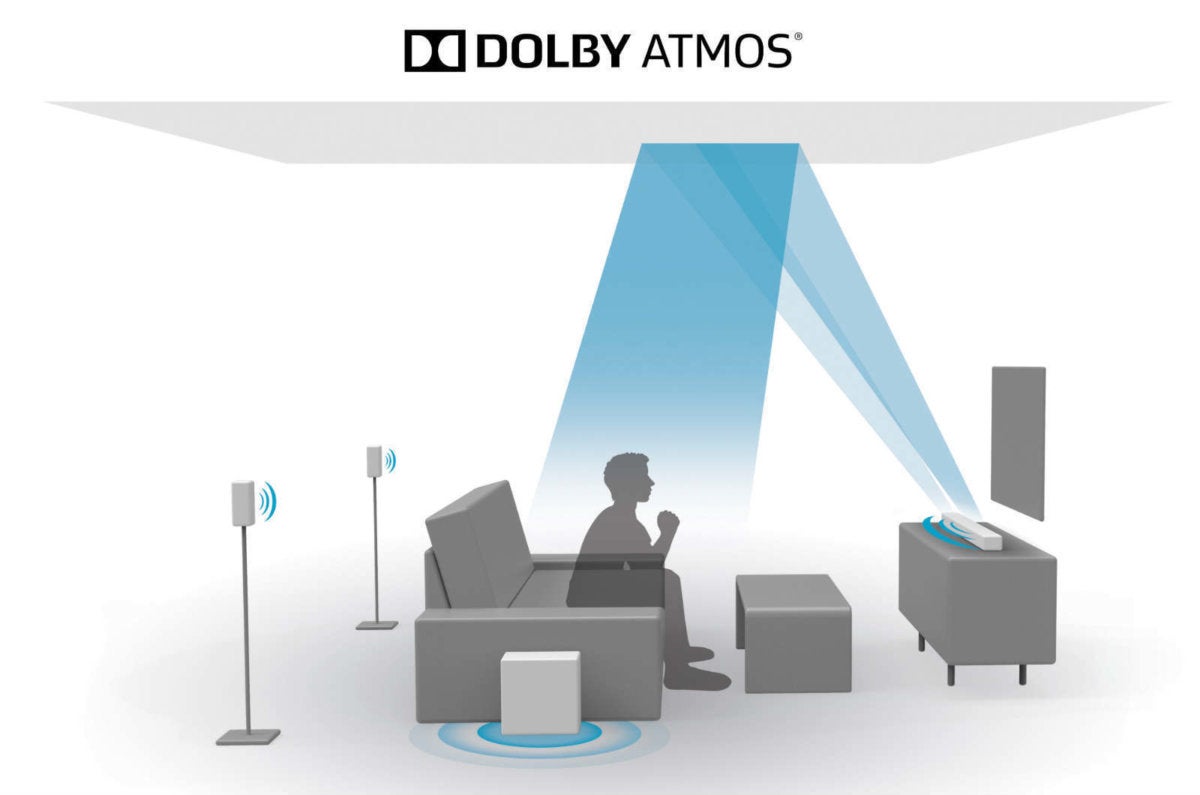 High tech and high value
Vizio is known for delivering value for the dollar, and that's certainly the case here. Bluetooth and Wi-Fi connectivity are standard, of course, but there's also an ethernet port if you're fortunate enough to have a wired network in your home theater. Source input options include 3.5mm analog, S/PDIF optical, USB, and HDMI in and out, with ARC (Audio Return Channel) support on the output so you can use your TV's tuner and streaming features. Just make sure that your TV also supports ARC and that you have HDMI CEC enabled on both your TV and the soundbar.
Chromecast shines
Chromecast makes the Vizio Home Theater Sound System with Dolby Atmos a star. I was able to stream music from Tidal and every other Chromecast-enabled audio app on my smart device: Spotify, Pandora, iHeart Radio, and Google Play Music are just a few of the compatible services.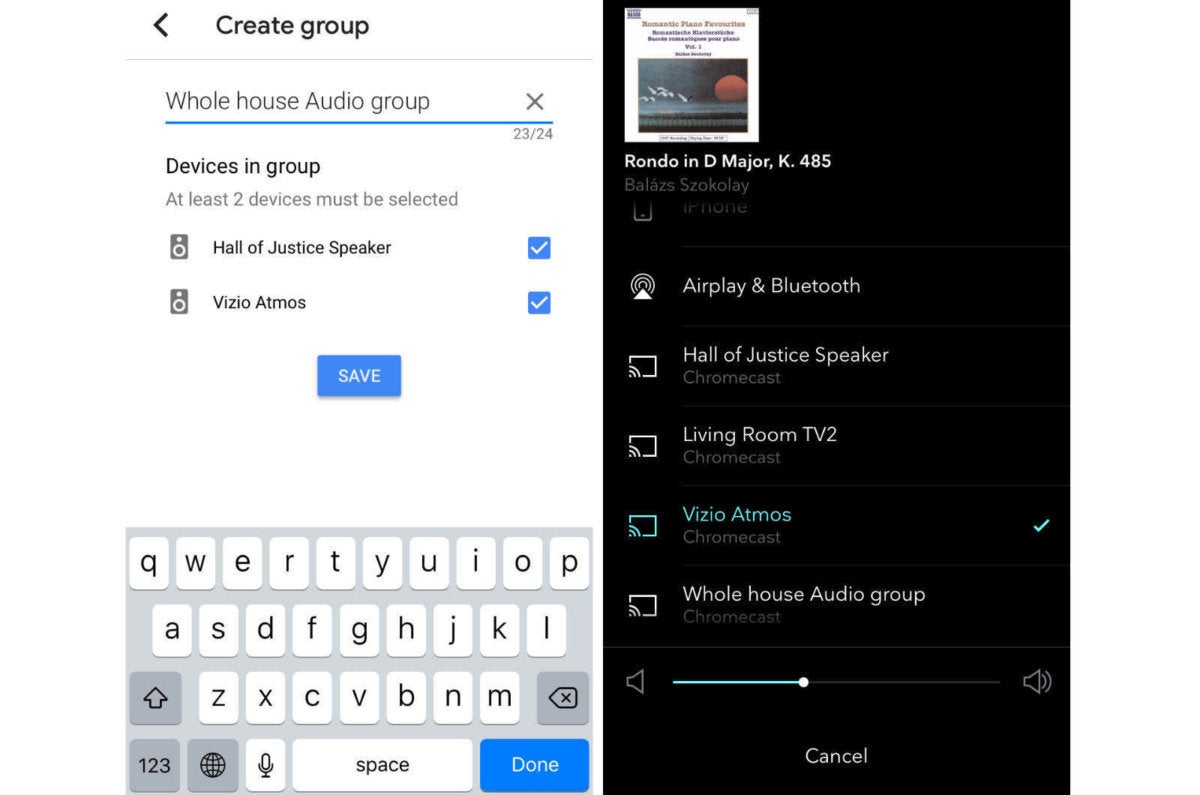 But it gets even better. Using the Google Home app on my iPhone, I could search my network for any Chromecast-compatible speakers and create groups or even a whole-home zone. I created a whole-house group with the soundbar and my Cambridge Audio Yoyo (L), called "Hall of Justice" in the screenshot above, and streamed music to both speakers simultaneously.
With its most recent update, my Roon music server supports Chromecast, too. Using that software, I could select the Vizio soundbar as a speaker endpoint and group the Vizio with any other audio setup in my home, including my two-channel audio setup. I could even pair the Vizio with AirPlay speakers.
Use IR or the mobile app for system control
You have two control options: Use the included infrared remote control or the free Vizio SmartCast app for Android or iOS. The included remote is excellent. It's a real remote, not the cheap credit-card type that some manufacturers include. I could easily make out its various buttons by touch. The remote's text display, on the other hand, is far too difficult to read in dim lighting. Vizio needs to address this issue with a backlit screen–or at least one that offers better contrast. Individuals with vision problems will have difficulty using this one.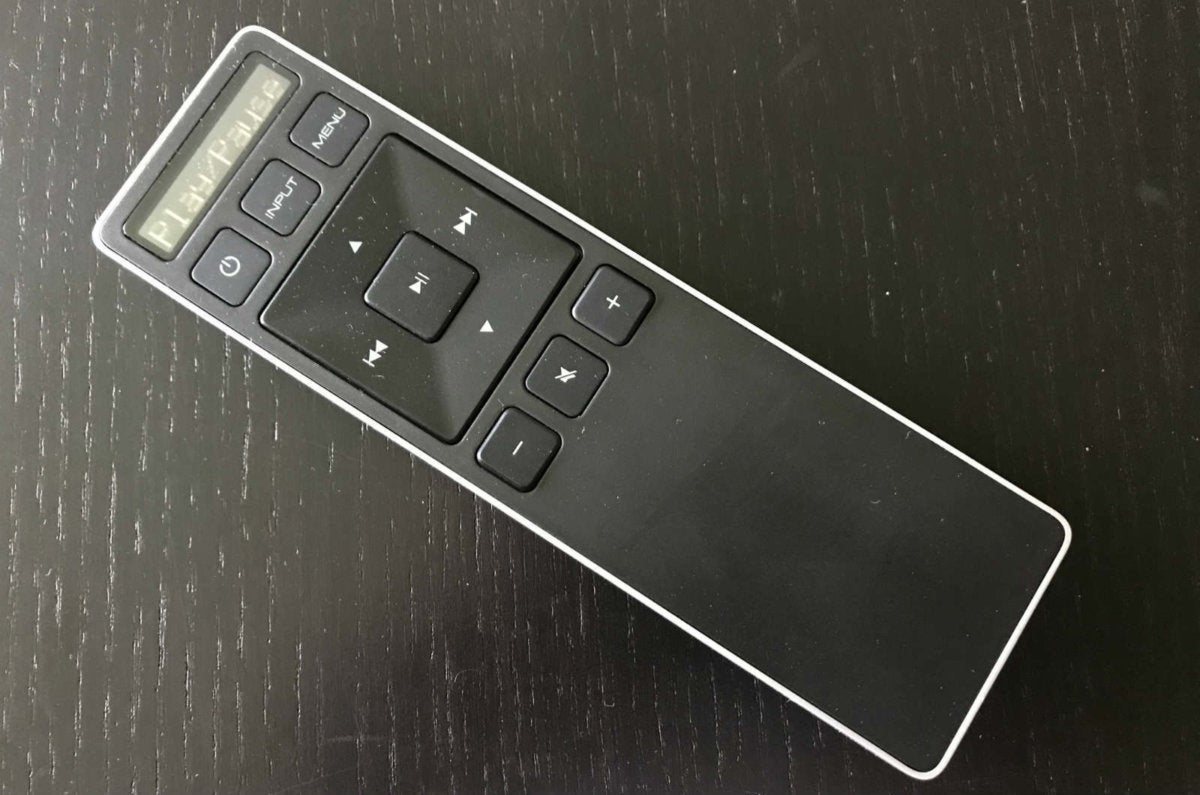 The SmartCast app is a thing of beauty, offering full control over every aspect of the soundbar's performance, including treble and bass settings; volume for the center, subwoofer, and surround channels; and instant access to EQ presets.
Of special note are the volume leveler and night-mode settings. Activating both night mode and volume leveler dramatically reduced program dynamics and bass response. In other words, if you want to enjoy your show but don't want to wake up the kids or disturb the neighbors, Vizio has you covered.
But Vizio's SmartCast app isn't your ordinary app-based remote. It's an entire suite of audio and video media access centered around Google Chromecast. If you're using a Vizio TV, then the SmartCast app's value increases considerably. Not only can you control both the TV and the soundbar from a single interface, but you can also "cast" TV shows, movies, and live TV from your mobile device to your Vizio TV while controlling your audio at the same time. I am currently working on a review of Vizio's P-Series 65-inch 4K UHD smart TV, and using it with the soundbar is a truly seamless experience.
Control your Vizio with Google Assistant
Configuring this soundbar to work with Google Assistant was also a breeze. I used my Google Home Mini to play specific musical artists and tracks with voice commands, and I was also able to raise or lower the Vizio's volume level that way.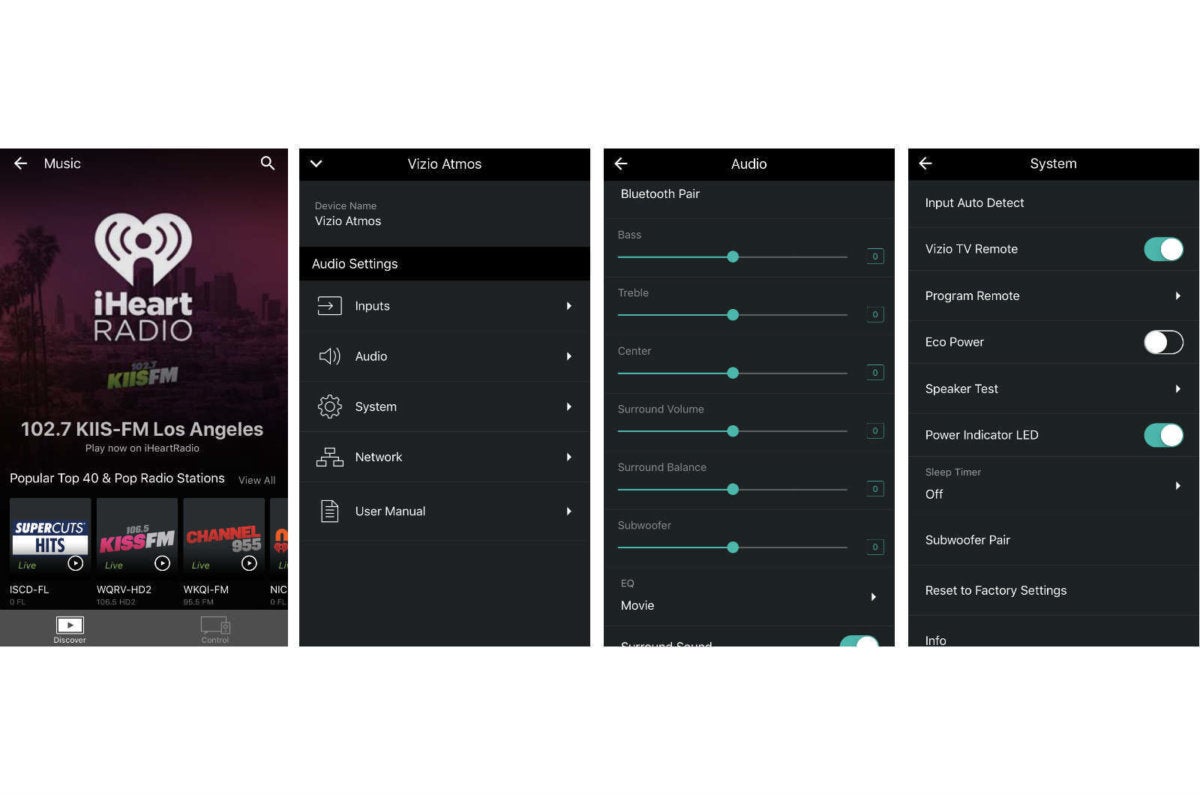 Dolby Atmos onboard
The soundbar's key selling point is the inclusion of Dolby Atmos support. Unlike traditional surround sound, Dolby Atmos adds a third dimension—height—for overhead sound effects.
Just make sure you have all the required pieces in place: an Atmos source, a compatible player, and the proper ceiling. You'll need a 4K UltraHD Blu-ray title with Dolby Atmos (Dolby has a list here) or a digital copy. Be careful, not all streaming boxes sold today support Dolby Atmos. The Roku Ultra, Chromecast Ultra, and the Apple TV 4K do (although Apple TV 4K owners must upgrade to tvOS 12 to get it).
When the Vizio senses a Dolby Atmos audio signal, it displays a green LED on the front of the soundbar. Alternatively, you can press the Menu button on the soundbar's remote and navigate to the Info option, using the up/down keys on the remote, and then press the Play/Pause button. The bar will announce the current input followed by the currently playing audio format and their associated LEDs will light up. From the SmartCast app, you can also select the Gear icon and go to System—> System Information—> Soundbar information—> Audio Type.
I've lived with a dedicated Dolby Atmos 7.1.4 setup with discrete ceiling speakers in my basement for a few years. The 3D audio experience is so enthralling that I just can't go back to the two-dimensional experience of traditional surround sound. The Vizio won't take the place of my dedicated setup, but it does a respectable job on several fronts as I'll note in more detail below.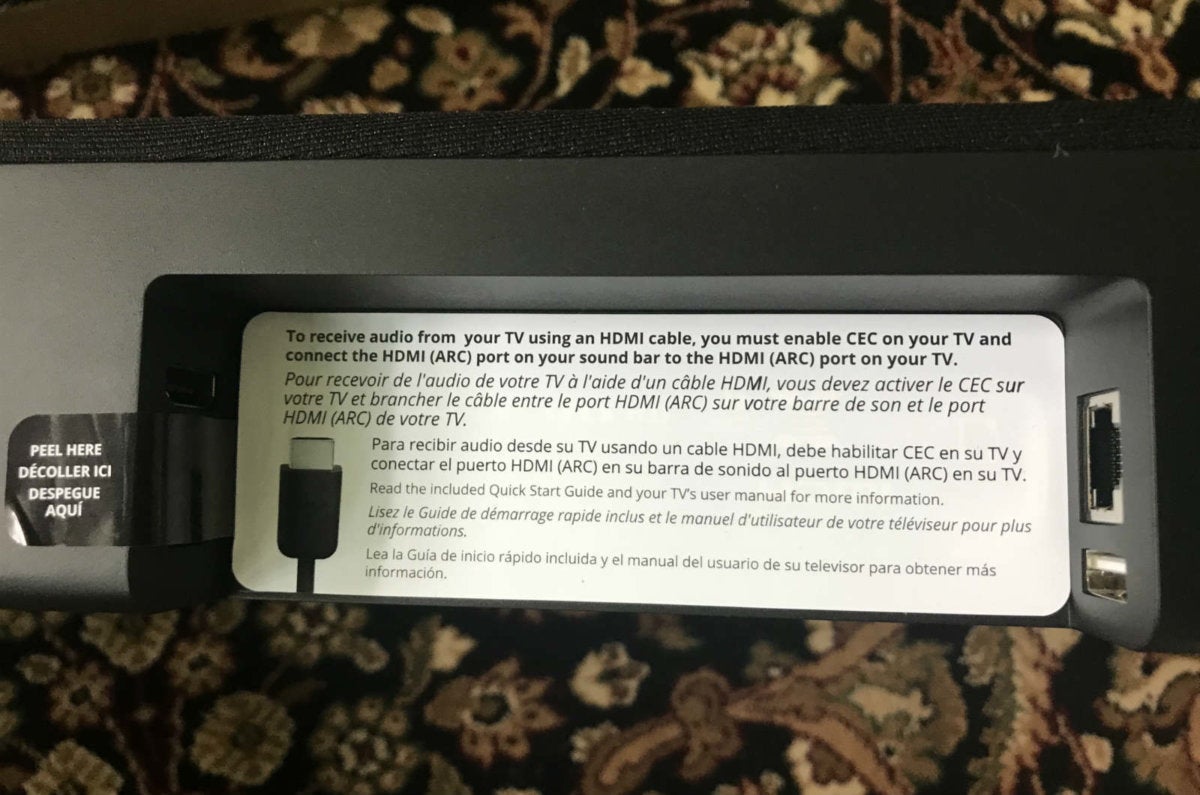 Up-mixing traditional audio to immersive audio
You might wonder if you can take a two-channel or traditional surround-sound title and upmix it to immersive audio. The answer is yes, you can. There are two ways to do this: When the Vizio's height channels are on (the default setting), the soundbar uses Dolby Audio Processing for all input formats (e.g. 2.0 or 5.1). The Vizio will upmix that signal to 5.1.2 and use all its speakers.
If, however, the height channels are turned off or the height channels are set to virtual mode (which you can do via the remote or the SmartCast app), Dolby Audio Processing is turned off and DTS' Virtual:X kicks in. Here's the important difference: Virtual:X uses 5.1 channels for this effect by incorporating digital signal processing and psychoacoustics. Virtual:X does not use the Vizio's height channels. A Vizio representative explained that some consumers might find Virtual:X useful in situations where you don't have an optimal setup/room/ceiling configuration to utilize the physical height channels.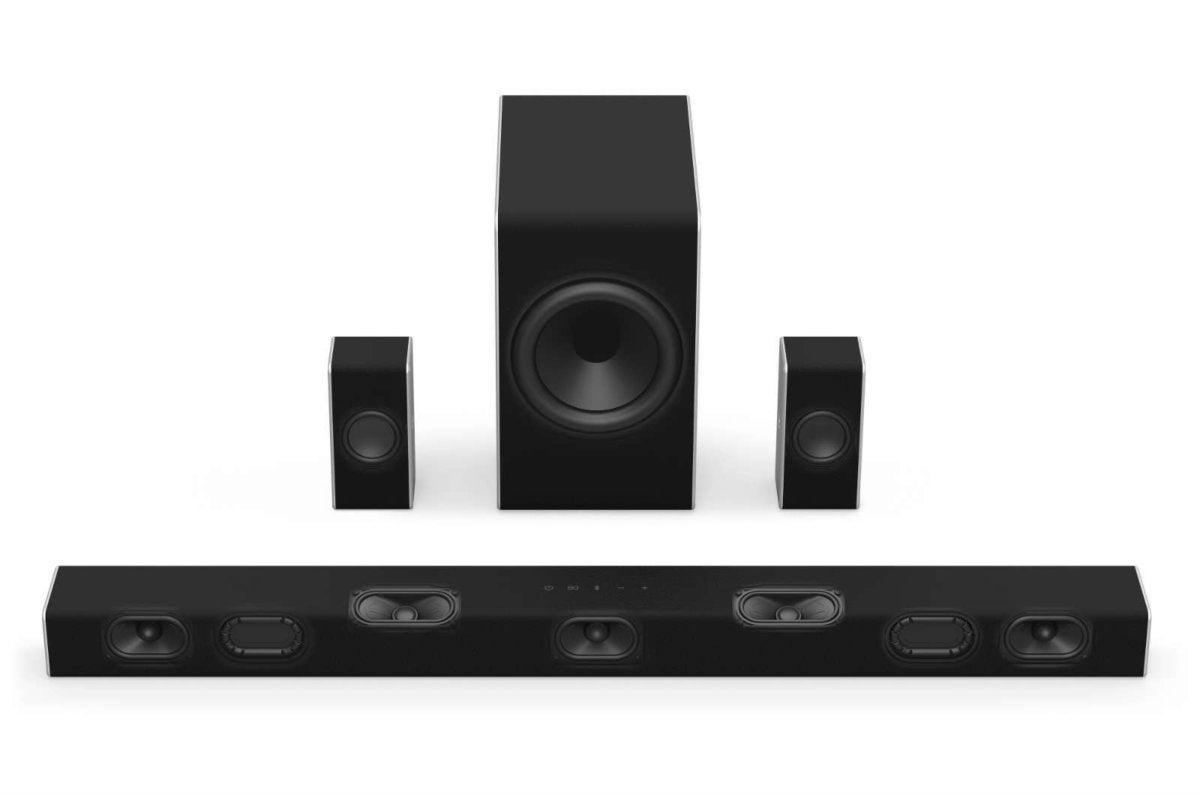 I should note that the Vizio does not support DTS:X, an immersive audio format that competes with Dolby Atmos. If you feed the Vizio a 4K UltraHD Blu-ray with a DTS:X signal via its HDMI input, it will decode the DTS-HD Master Audio layer and then upmix it. If you are using HDMI ARC, then DTS Digital Surround will be decoded and upmixed.
A taste of immersive audio magic
Setup is a breeze. Vizio pays meticulous attention to your setup experience and clearly knows many (most?) of us hate to read user manuals. Someone at Vizio deserves a pat on the back for coming up with the idea of including stickers on the soundbar. The labels provide exactly the right instructional cues to help you avoid frustration during initial setup.
I installed the Vizio in my main living room in a table-top configuration about 12 feet from my primary listening position. The room has a flat, 9-foot reflective ceiling, right in line with Dolby's specifications for Atmos. I placed the two side-surround speakers approximately eight from the TV, two feet behind my primary listening position at close to ear height. I used an Oppo UDP-205 to play 4K UltraHD and Dolby Atmos titles, and an Apple TV 4K (pre-tvOS 12 update) as my primary sources and Vizio's 65-inch P-Series as the display. Because the soundbar doesn't have multiple HDMI inputs, I switched them out manually to test HDR pass-through.
End users won't have to do that: If you need to connect multiple A/V sources to the soundbar, you could just use the TV's multiple HDMI inputs. Most Atmos source devices (streaming boxes and set-top boxes, for instance) will send an Atmos signal over Dolby Digital Plus (DD+), and the TV will send the DD+ signal to the soundbar using ARC.
If you have a 4K UHD TV and 4K sources, you'll be happy to know that the Vizio passes 4K UHD signals—including HDR-10 and Dolby Vision HDR—through to the display. I had no problem enabling Dolby Vision on an Apple TV 4K or playing 4K Ultra HD Blu-ray Dolby Vision titles such as Spider-Man Homecoming.
On the audio front, the Vizio Home Theater Sound System with Dolby Atmos shines. Dialog is highly intelligible and the system plays with ample dynamics—easily filling my relatively large 24-foot x 30-foot space with audio excitement.
Movie EQ does yeoman's work with bass response in movies. Bass response is exceptionally good considering the price point and footprint—just don't expect it to be completely free of bloat or to fully register depth-charge-deep bass.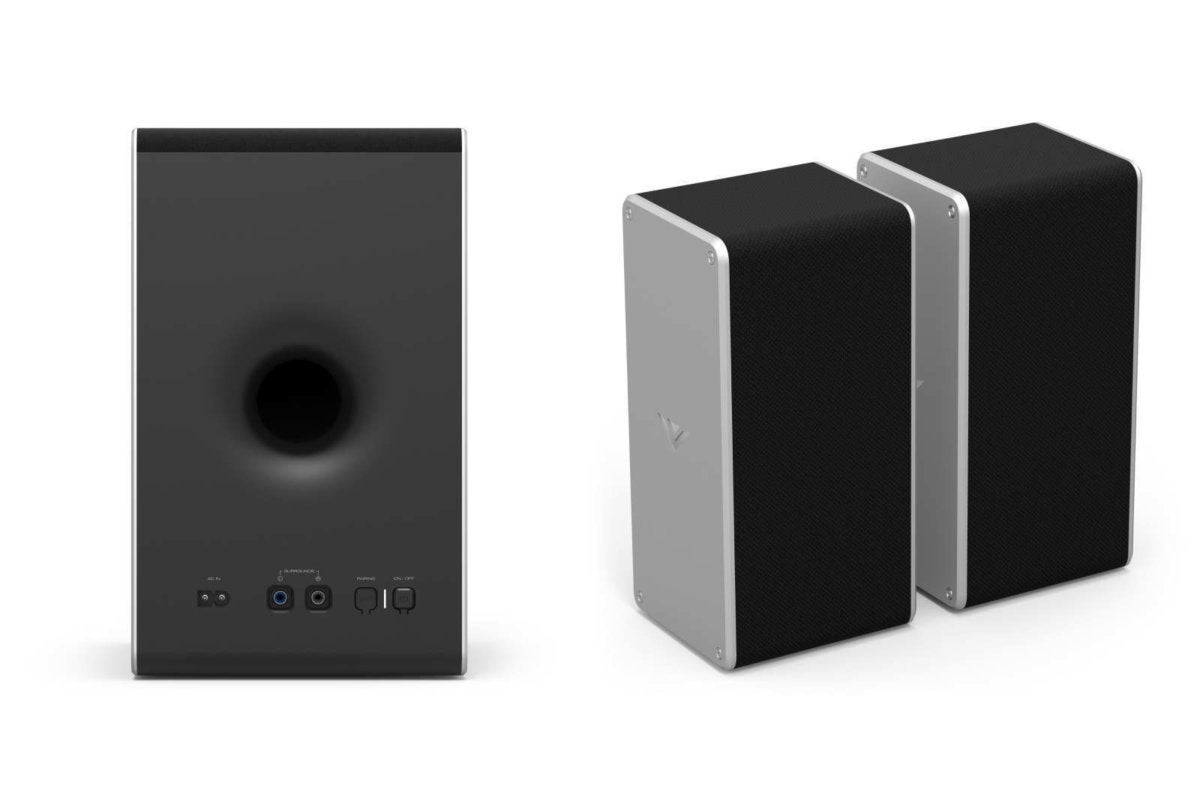 But let's look a bit more into the reason why you'd consider this soundbar system: Dolby Atmos.
I fired up the 4K UltraHD Blu-ray disc version of X-Men: Age of Apocalypse, which has a Dolby Atmos soundtrack. I've played this movie countless times to demo overhead effects. At the 10:08 mark of the movie, Scott Summers' (AKA Cyclops) concussive eye beams blast open a bathroom stall and cuts into in the ceiling as he looks up. This act sends debris hurling down everywhere from above. The effect is uncanny in my dedicated Dolby Atmos theater, I can make out debris fragments as they fall around me.
The Vizio did a fine job conveying the sensation of space in the Atmos track, and it did a credible job creating the illusion that debris was falling down from above. Think of the difference as my dedicated theater being able to render the effect in precise high definition, while the Vizio was more fuzzy in its rendition. I also played this scene without the Vizio's height channels engaged and I much preferred the Atmos presentation.
Pacific Rim in 4K UltraHD Blu-ray is another demo-worthy film. In Chapter 2, a mechanical robot Jager faces the Kaiju Knifehead. The battle takes place in the middle of the ocean amidst a fierce thunderstorm. The Visio excelled at presenting the scene's intense dynamics, never missing a beat. Dialog was clear and intelligible. Rain and thunder weren't so much noticeable from above; but the Dolby Atmos soundtrack did create a better sensation of space and envelopment.
A high value proposition
Not everyone can install a dedicated Dolby Atmos theater system in their home, and that's where Vizio's Home Theater Sound System with Dolby Atmos' value proposition kicks in. Vizio's 5.1.2 package gives you a taste of immersive audio magic in a small footprint while fitting into most aesthetic and architectural constraints.
The Vizio will create an expanded sense of space and depth that you won't get from a traditional setup—and that's a huge part of what immersive audio is all about. Just don't expect this package to rival the height effects rendered with a dedicated Dolby Atmos setup. No speaker system can defy the laws of physics. Think of this as an appetizer instead of a full-course meal.
Editors' note: This story was updated shortly after publication to clarify how we tested the speaker using multiple sources.
Best Prices Today: Vizio Home Theater Sound System with Dolby Atmos (model SB36512-F6)