The weather's getting cooler, Fourth of July is long over, and the days are getting lazier. Back-to-school ads are everywhere, much to the annoyance of schoolkids. And now Labor Day is upon us, marking the saddest time of year: the end of summer.
Don't fret. We've compiled 20 fantastic movies to celebrate the season, each one available for streaming this weekend to make your summer just a bit longer. Lay in a plentiful supply of popcorn and your favorite frosty beverages and enjoy!
The End of Summer
(FilmStruck)
★★★★★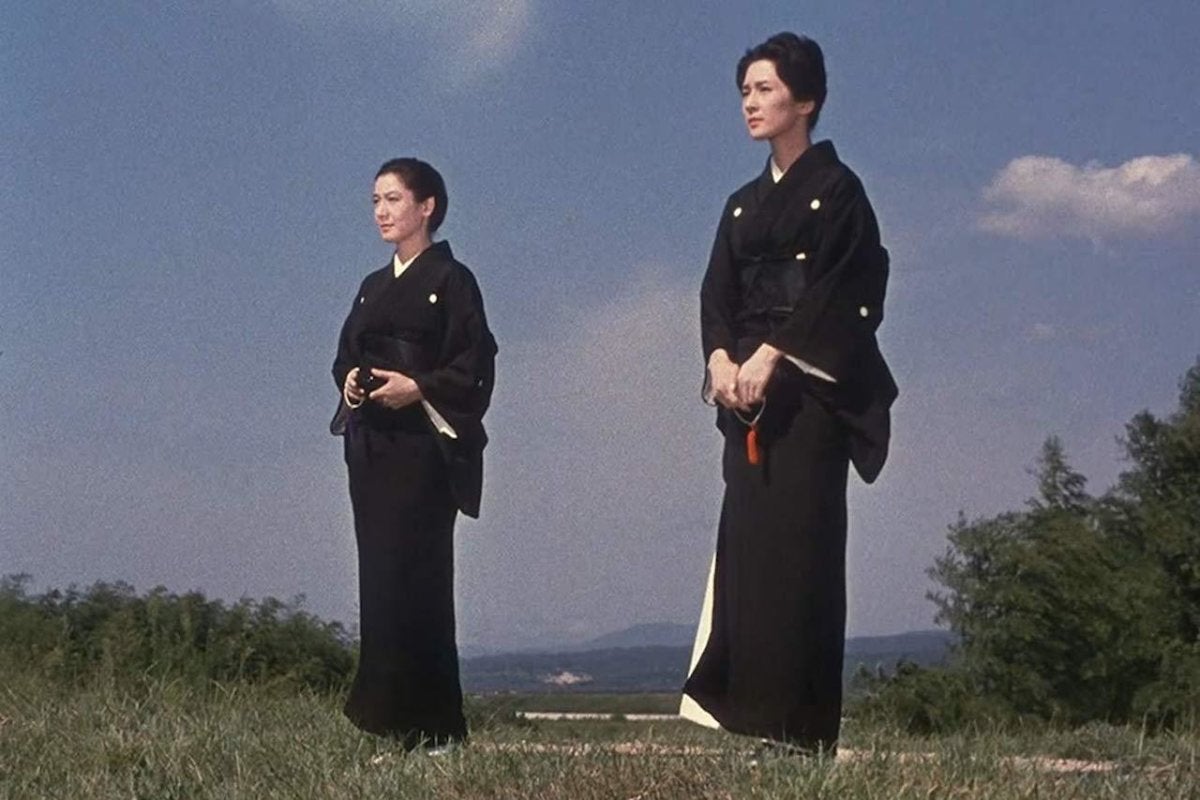 Arguably the greatest of all Japanese filmmakers, Yasujiro Ozu (1903-1963), worked again and again with the same actors and the same co-writer, used the same style (low angles, straight-ahead, back-and-forth shots during conversations, very little moving camera), and even the same text-over-burlap opening titles. Ozu's penultimate film and one of his few shot in color, The End of Summer (1961) is like a mini-vacation, a little sad, but relaxing.
It tells the story of a widowed old man Manbei (Ganjiro Nakamura) whose sake brewery is in financial trouble. His grown children worry about him as he acts childishly, even sneaking off to spend time with his old mistress. It's a lovingly bittersweet tale with bursts of great joy mixed with sadness. Ozu handles the inevitable confrontation between the mistress and the children not with soap-opera bluntness, but with grace and intelligence. His filmmaking style seems to have embraced the difficulties of life; rather than raging against them, his films impart a sublime sense of peace. Michiyo Aratama and Yoko Tsukasa and the great Setsuko Hara play Manbei's daughters. In Japanese with English subtitles.
Everybody Wants Some!!
Amazon Prime, Hulu.
★★★★☆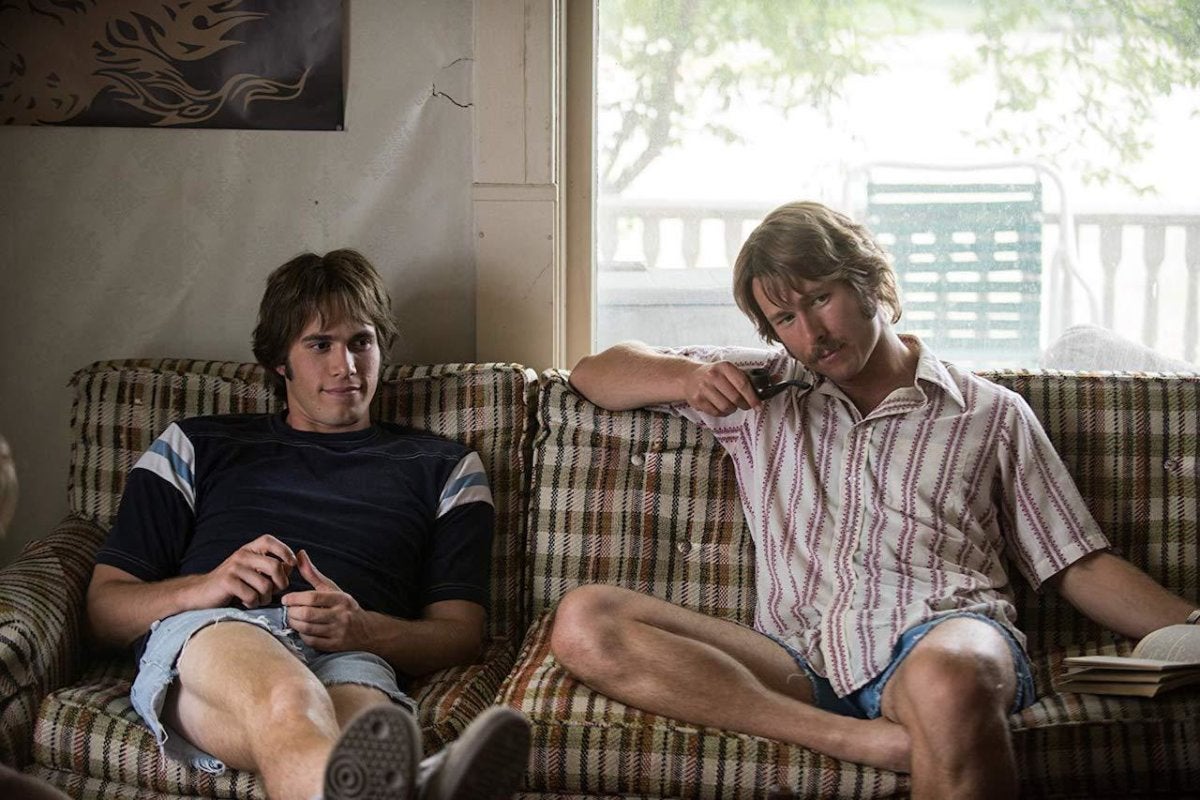 Set in the final days of the summer of 1980, just before school starts, this ensemble comedy, about a college baseball team living together in a raucous frat house, unfolds in the spirit of National Lampoon's Animal House, Meatballs, and Wet Hot American Summer (see below). Blake Jenner plays the freshman who must be introduced and inducted into all the crazy antics, and Glen Powell plays the spiritual leader, charmingly verbose and occasionally smoking a pipe. The group goes to a country bar, a punk rock club, and a party thrown by theater nerds; they drink great quantities of beer, pick up girls, and occasionally practice some baseball.
Unlike the meatheads in a deliberately dumb comedy, these guys are a great combination of wise and naïve, sowing their wild oats but also laying the groundwork for an effective, bonded ball team. As with the film's spiritual predecessor, Dazed and Confused (1993), Everybody Wants Some!! (2016) is virtually plotless, though Linklater's observant, thoughtful camera makes every scene fascinating and hilarious. It revels in time and place, like a time-traveler sitting back and enjoying everything, and, even after 116 minutes, you don't want it to end.
The Green Ray
FilmStruck
★★★★☆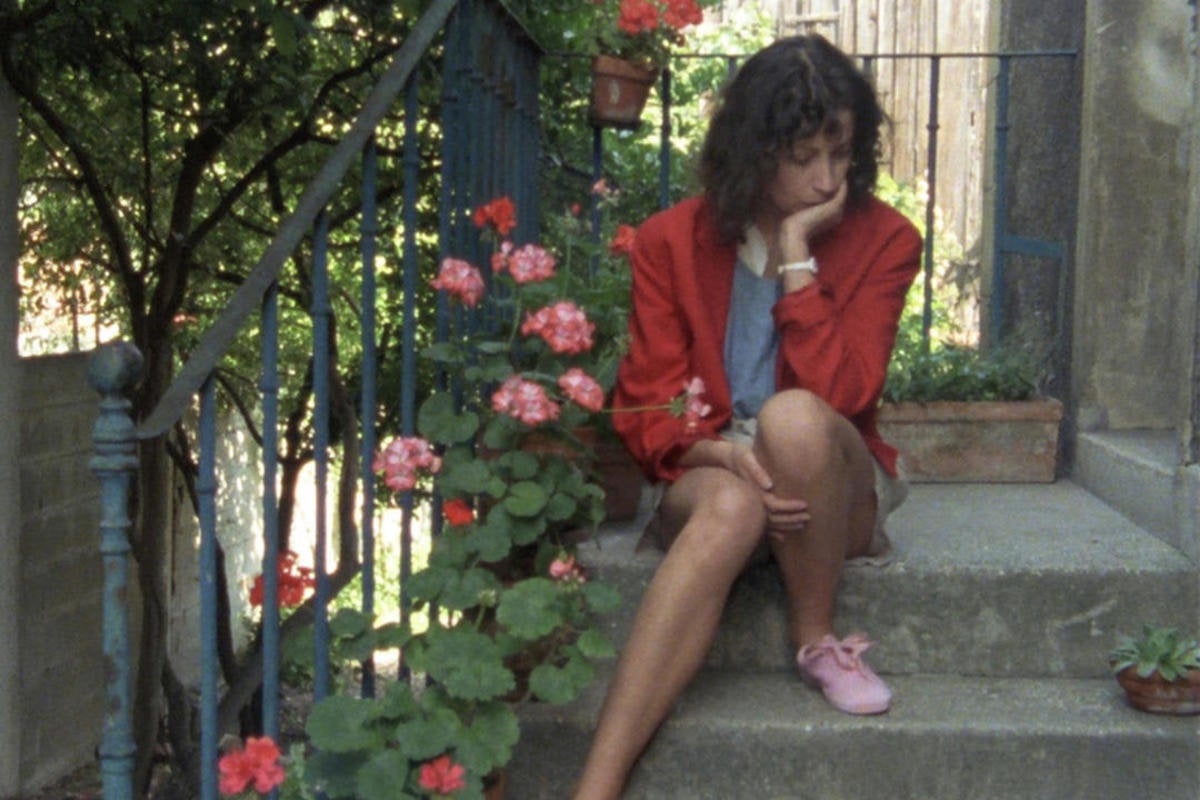 Eric's Rohmer's Le Rayon Vert, or The Green Ray (1986), is another bittersweet summer vacation movie, a last chance at some fun before the fall starts. The insecure Delphine (Marie Rivière) finds herself stuck when her traveling companion cancels on her. She makes several other attempts at a vacation, but finds she doesn't fit in anywhere. Rohmer's films are dialog-heavy, but the dialog is used to follow characters as they try to unpack their most baffling and indecipherable feelings. Delphine might have been something of an annoying whiner in lesser hands, but Rohmer makes true attempts to understand her.
The title comes from comes from Jules Verne and describes a very rarely seen phenomenon: the final beam of light from the setting sun, said to have certain powers. The film is the fifth of Rohmer's six-film "Comedies and Proverbs" series; clueless distributors also gave it the title Summer, which is not to be confused with Rohmer's 1996 A Summer's Tale (Kanopy, FilmStruck), which was part of his "Tales of the Four Seasons" series. In French with English subtitles.
Kikujiro
Rental: Amazon Prime, iTunes, Vudu, etc., from $2.99
★★★★☆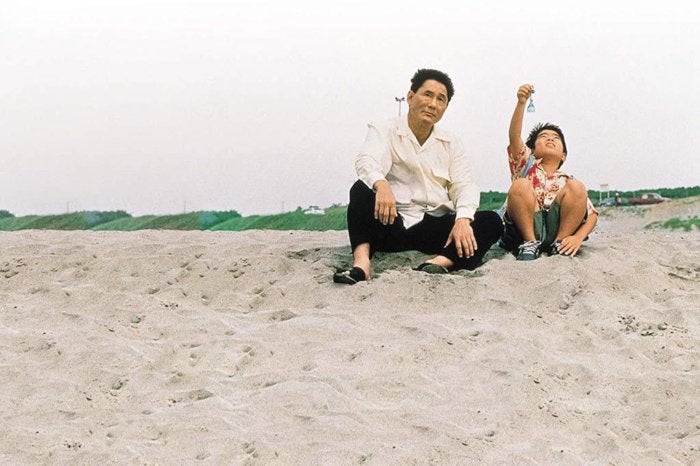 The multi-talented Takeshi Kitano, who has worked as a comedian and television host in addition to writing, directing, and acting in films, is best known for his violent, action-oriented films full of gangsters or samurai. Anyone familiar with his work will be surprised by the sweet, funny Kikujiro (1999), a summertime road movie that pairs the stoic, granite-faced star with a young boy. Acting under his stage name "Beat" Takeshi, he plays the title character. The boy, Masao (Yusuke Sekiguchi), is a neighbor who wishes to travel to find his mother; Kikujiro's wife makes him go with the boy. At first, the grumpy fellow doesn't much care about getting to their destination, but eventually he and the boy become friends in a very touching and funny way.
Kitano's style is slow-burn, with lengthy, static shots that suddenly and shockingly change, often to comic effect. (The film's chapter headings are also very funny.) The pair meet some colorful characters on the road, including a poet and a pair of bikers, and no one seems to be in much of a hurry. Composer Joe Hisaishi's beautiful score, and its now-familiar "Summer" theme, contribute to the movie's relaxing vibe. In Japanese with English subtitles.
The Kings of Summer
Amazon Prime
★★★★☆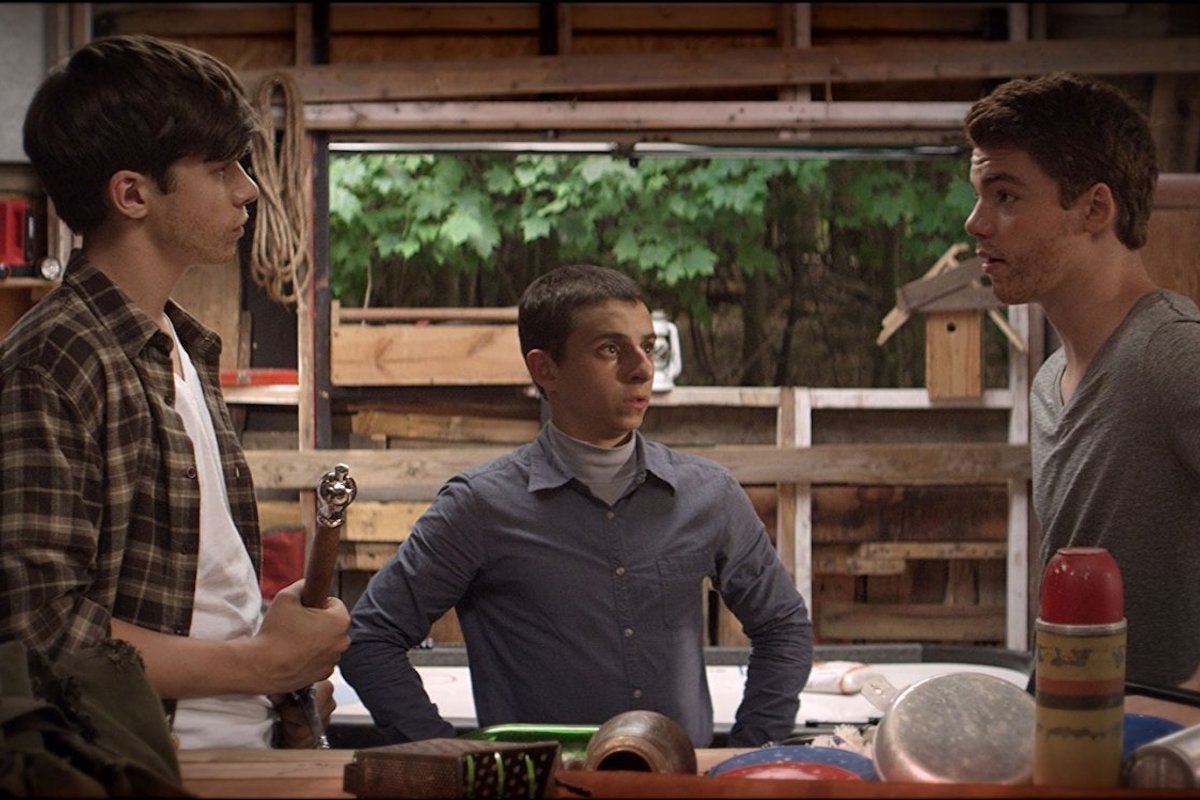 The coming-of-age story is a tricky business in Hollywood, mainly because the people who make them can only recall seeing other coming-of-age stories, rather than actually coming-of-age themselves. Happily, The Kings of Summer (2013) has a unique vibe and feels bracingly fresh. Best pals Joe (Nick Robinson) and Patrick (Gabriel Basso) have become fed up with their parents: Joe's cynical dad (Nick Offerman) and Patrick's strange, cheery mom and dad (Megan Mullally and Marc Evan Jackson). So they decide to run away into the woods, build their own house, and live like kings. The very strange, philosophical Biaggio (Moises Arias) joins them.
Director Jordan Vogt-Roberts, a veteran of "Funny or Die," and first-time writer Chris Galletta cook up an appealing blend of characters learning lessons, experiencing setbacks, fighting, and falling in love with girls, without ever going stale. The adult characters are a tad flat, but funny enough that they work; the Biaggio character shouldn't work, but does. For a generation of kids, this is going to be a classic they'll revisit every so often, but if you've ever been a high school freshman, you'll like it too.
Mid-August Lunch
Amazon Prime, Fandor
★★★★☆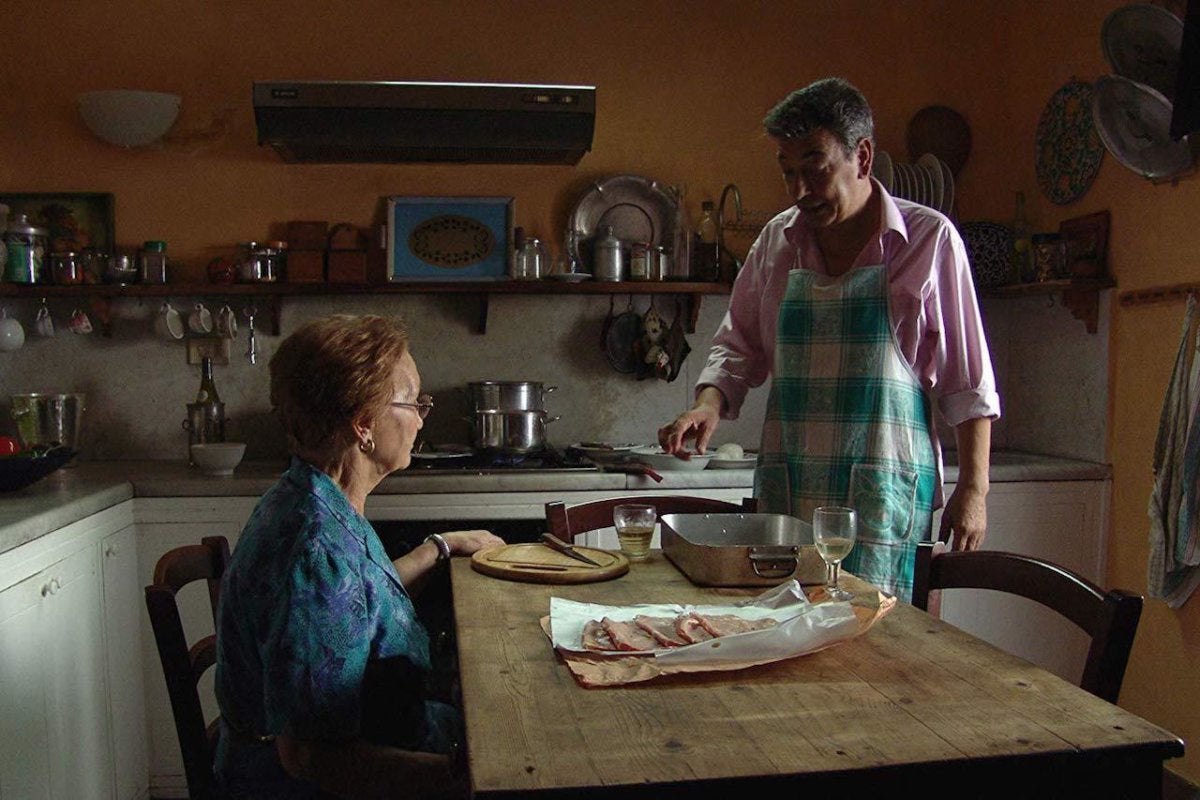 Gianni Di Gregorio (one of the co-writers on the acclaimed Gomorrah) wrote, directed and stars in Mid-August Lunch (2008), a unique recipe, a bittersweet comedy/drama, with a dash of realism. Di Gregorio plays the middle-aged Gianni, who lives in Rome with his aged mother; when the August holidays roll around, Gianni can't afford to go anywhere, and neither can he leave his mother by herself. Gianni finds others that are in the same boat, and eventually he finds himself palling around with four old ladies. He decides to cook them all a big meal for the August 15 Ferragosto holiday, trying to accommodate everyone's dietary needs and trying to make everyone happy. Gianni spends a good deal of time sampling tastes at the local wine shop and swilling glasses while he cooks (a delicious-looking macaroni casserole).
Refreshingly, the movie never goes overboard into slapstick or pathos, nor are the old ladies ever made into cutie-pies. Everything just is, and the story merely consists of things that happen. When one of the ladies gets a phone call telling her it's time to come home, her face registers hurt. It's a movie you don't want to leave. Gian Enrico Bianchi provides the outstanding cinematography, both hot and gritty. In Italian with English subtitles.
Smiles of a Summer Night
Kanopy, FilmStruck
★★★★★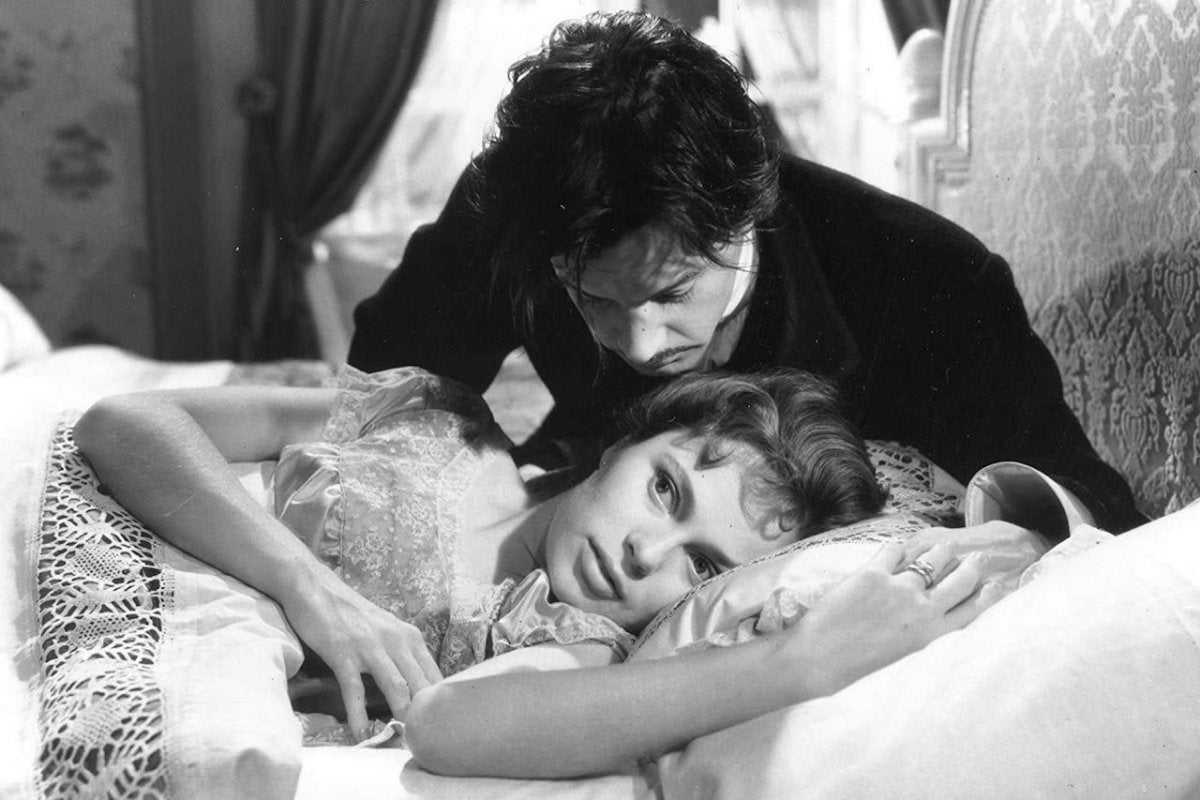 If you associate the name Ingmar Bergman with dreary, artsy, soul-searching cinema, you need to feast your eyes on this delightful summertime comedy. Smiles of a Summer Night (1955) is a kind of buoyant, agile roundelay, with a group of characters gathering for a weekend getaway at a summer house, where several of them wind up swapping lovers. None of the characters are bad, or ridiculous, and nothing is weighted too far to one side. It's meticulously balanced, especially between the use of dialog sequences and striking visuals. One powerful sequence involves two lovers running away in the night, done largely without dialog.
Bergman intuitively, sympathetically depicts other characters' involvement as they either help or gaze upon the departing lovers with disappointment and longing. For its age, it's a remarkably ripe, sensuous movie. It was later turned into the Stephen Sondheim musical, A Little Night Music. Die-hard fans can stream it with two other Bergman "summer" movies: Summer Interlude (1951) [Kanopy, FilmStruck] and Summer with Monika (1953) [FilmStruck]. In Swedish with English subtitles.
Summertime
Kanopy, FilmStruck
★★★★☆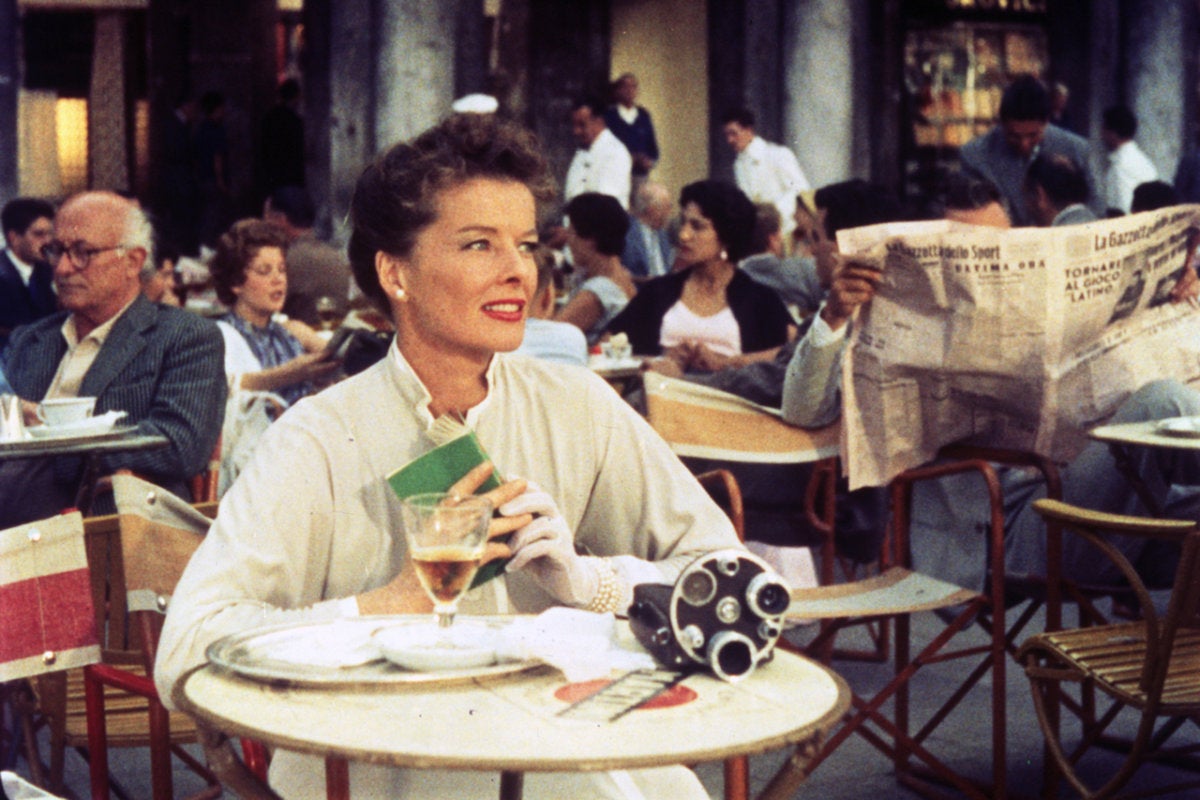 Director David Lean was in-between his intimate, black-and-white movies (Brief Encounter) and his massive, Oscar-friendly epics (The Bridge on the River Kwai) when he made the touching, bittersweet drama Summertime (1955), a small story told on a wide canvas. Katharine Hepburn plays Jane Hudson, a lonely American spinster on the wrong side of 40 who takes a trip to Venice, Italy after saving up for most of her life. She doesn't quite fit in, either with the complaining, ugly Americans she meets, or with the locals, so she takes to exploring and making home movies.
She discovers the simultaneously beautiful and realistic parts of the city, before she's swept off her feet by the dashing Renato de Rossi (Rossano Brazzi). She's in a state of romantic bliss, until she learns that he's married. A street urchin, Mauro (Gaetano Autiero), provides some comic relief, while Lean steers the movie toward an unconventional ending. It's a tender, touching movie for die-hard romantics. It was based on a play by Arthur Laurents, but feels fully cinematic.
The Way Way Back
Rental: Amazon Prime, iTunes, Vudu, etc., from $2.99
★★★★☆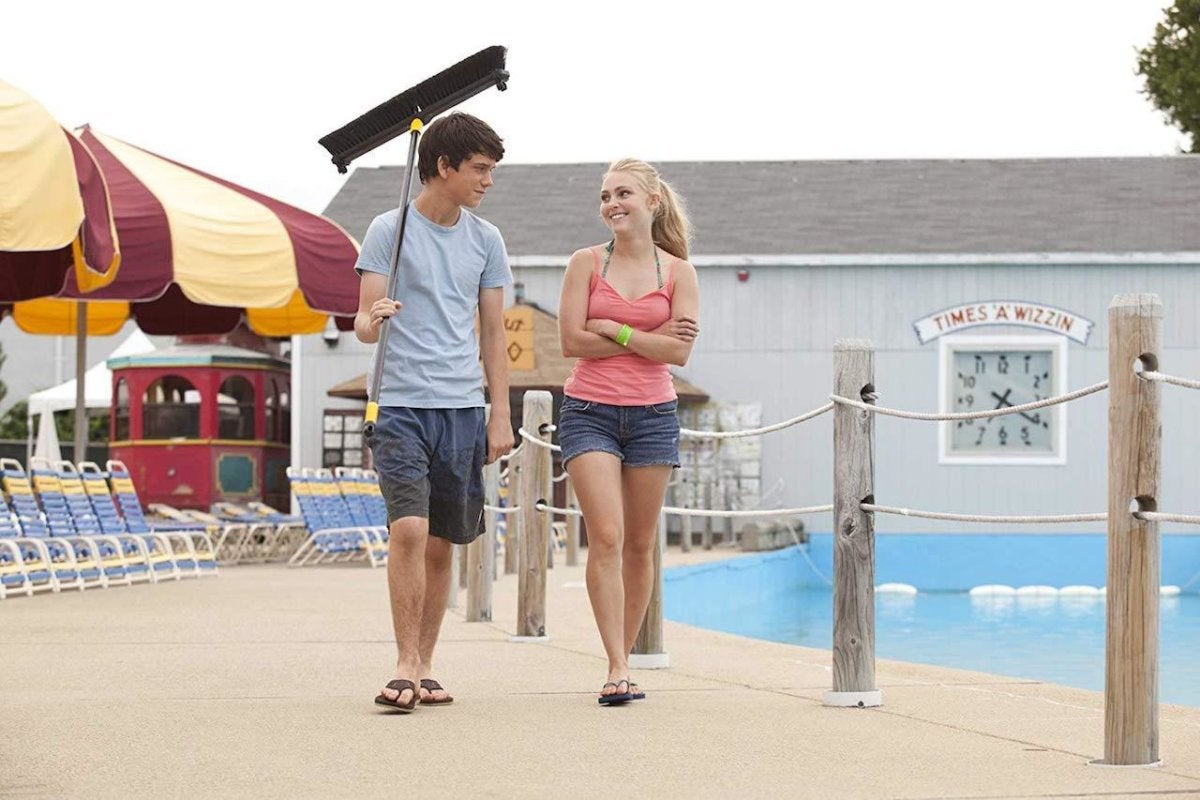 Another coming-of-age story that transcends the genre, The Way Way Back (2013)—named for the place that kids used to ride in old station wagons—is both hilarious and touching, digging just a little deeper than usual. Teen Duncan (Liam James) is forced to go on a summer holiday to Cape Cod with his mother (Toni Collette), her condescending boyfriend Trent (Steve Carell), and Trent's unpleasant daughter (Zoe Levin).
Dismayed by the drinking and cheating of the adults around him, he goes exploring and discovers the Water Wizz theme park. There, he meets the cocky, irresponsible, but likable Owen (Sam Rockwell), who takes Duncan under his wing. Rockwell is hilarious, turning in one of those intoxicatingly carefree performances a la Bill Murray, but grounded in something real. Like the best coming-of-age movies, this one is rooted in pain and uncertainty, which makes the good stuff all the sweeter. It was co-written and co-directed by a pair of actors: Nat Faxon and Jim Rash.
Wet Hot American Summer
Netflix
★★★★☆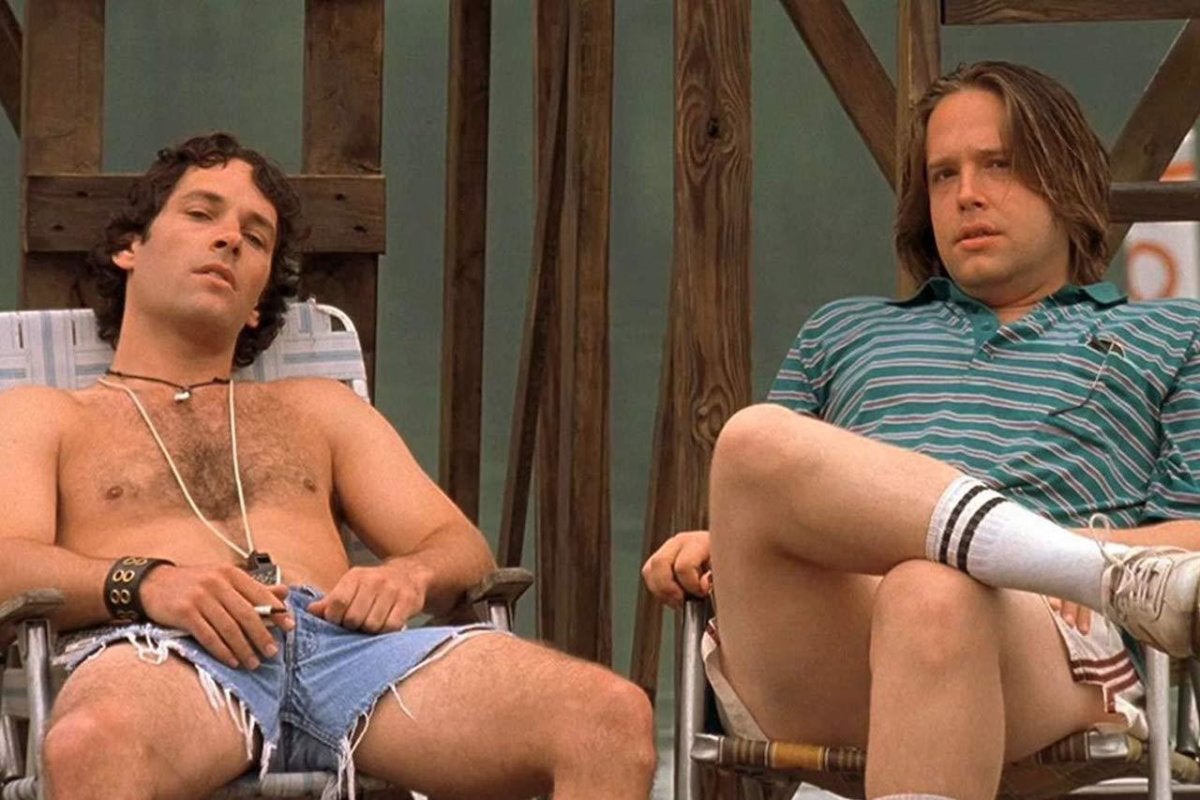 A multi-character ensemble, Wet Hot American Summer (2001) was intended as a spoof of summer camp comedies like Meatballs. But despite not-particularly stellar reviews or box office, it went on to become a cult classic, thanks to cheerfully dumb dialog and also to the fact that nearly everyone in it soon became a star.
Basically, on the last day of summer camp, 1981, a bunch of camp counselors try to sleep with one another and occasionally help some struggling young campers. Amy Poehler and Bradley Cooper play the nerdy theater teachers, Molly Shannon can't help talking about her divorce in front of the kids, Paul Rudd plays a dumb hunk whose many sexual conquests never last more than an afternoon, Elizabeth Banks plays one of his conquests, Ken Marino pretends to be a stud but is really still a virgin, and head counselor Janeane Garofalo nurses a crush on scientist David Hyde Pierce. Michael Showalter has two roles, as a sci-fi nerd and (in age makeup) as terrible comedian Alan Shemper. Fifteen years later, Netflix launched a TV series, a prequel, set on the first day of camp the same summer, as well as a second series, set 10 years later.
Do the Right Thing
Rental: Amazon Prime, iTunes, Vudu, etc., from $2.99
★★★★★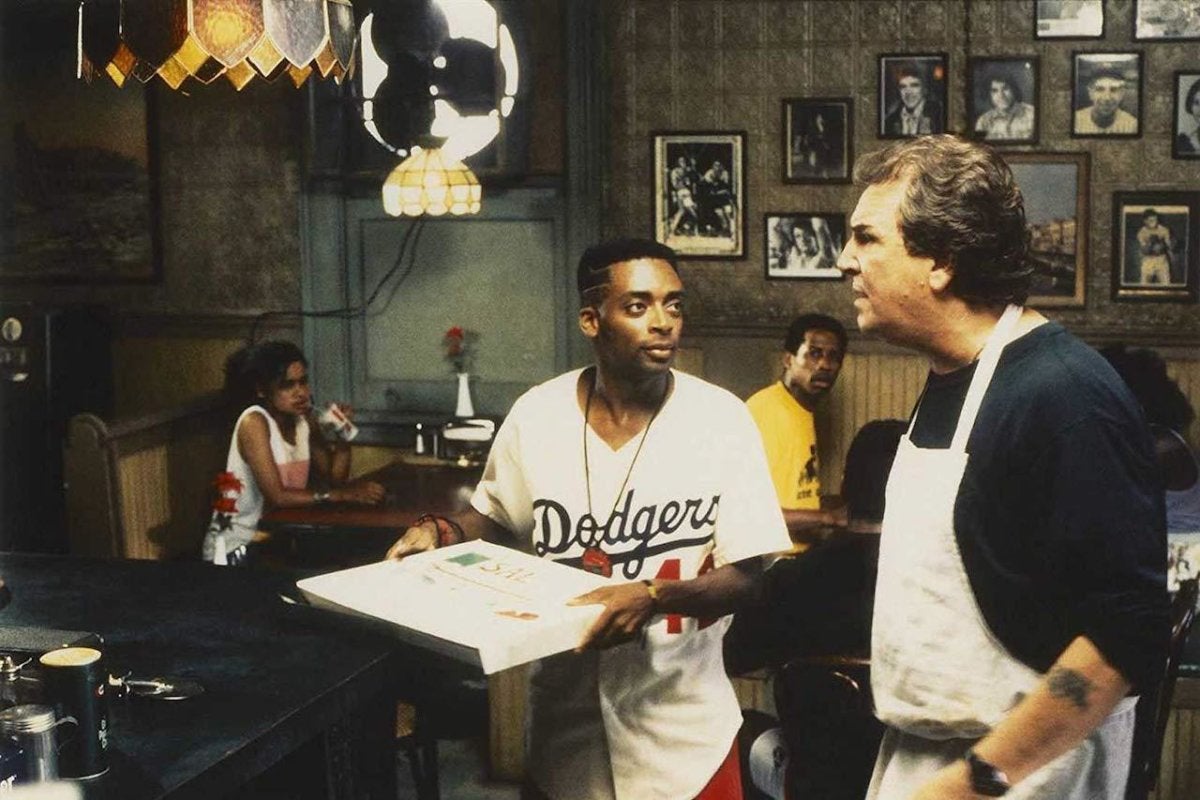 We transition from summertime heat to Labor Day with Spike Lee's Do the Right Thing (1989), wherein Lee's character Mookie works as a pizza delivery man, looking to get paid. It takes place on a scorching hot day in Brooklyn, in the neighborhood of Bedford-Stuyvesant (or Bed-Stuy). We meet many memorable characters, all with interesting things to say, but the main events center around Mookie, Buggin' Out (Giancarlo Esposito), Radio Raheem (Bill Nunn), and the pizzeria's owner, Sal (Danny Aiello).
As the day wears on and tensions rise, sometimes over race and racial misunderstandings, things come to a head as Radio Raheem enters the pizza parlor, blasting Public Enemy on his radio. The climax, an act of violence by Mookie, had commentators discussing the many sides of the story, as well as others fearing real-life riots if they went to see the movie. It all ends, famously, with seemingly conflicting quotes from Martin Luther King and Malcolm X. Lee's screenplay and direction were masterful, using rhythms, music and color like a pro, employing humor, and raising tensions slowly. It received only two Oscar nominations, for Lee's screenplay and for Aiello's supporting performance, in the year that Driving Miss Daisy won Best Picture.
Bartleby
Amazon Prime, Vudu [w/ads], TubiTV
★★★★☆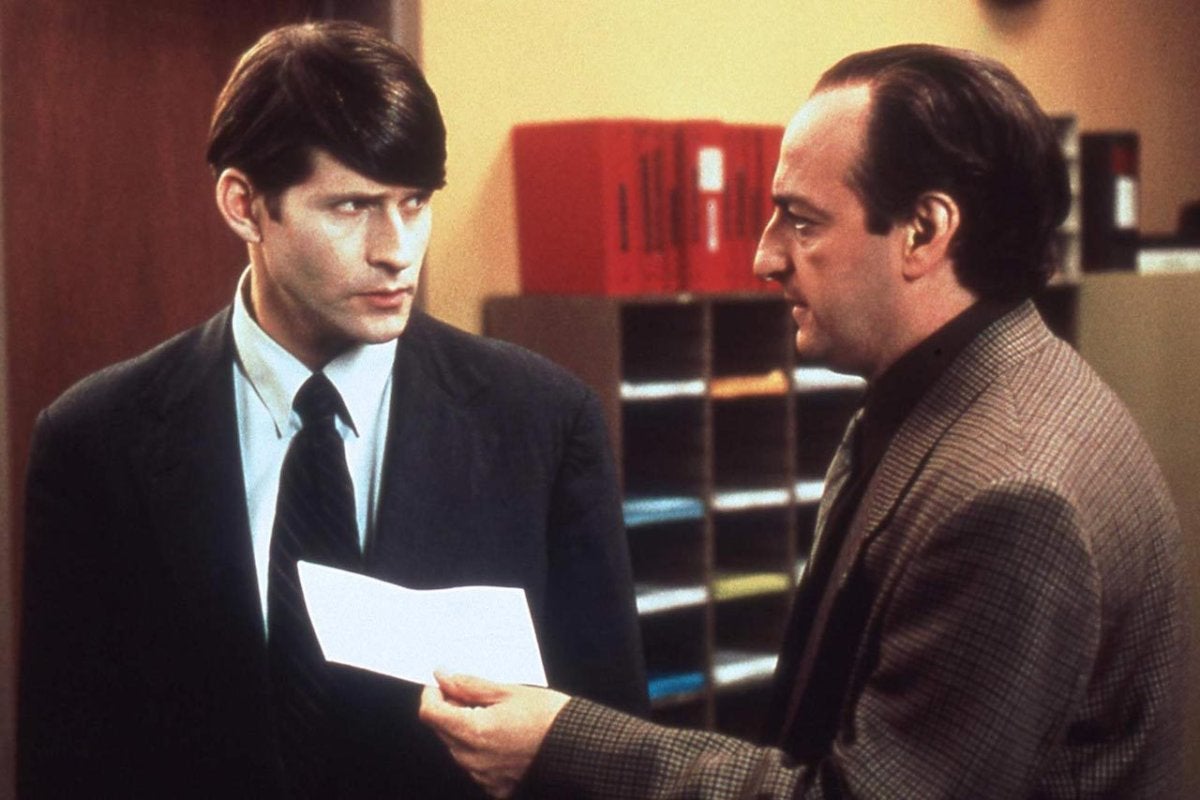 The offbeat, independent office drama Bartleby (2001) is an unsung oddball of a movie. It's based on Herman Melville's great 1853 short story Bartleby, the Scrivener, about a worker who, one day, simply responds to his boss's request with "I would prefer not to." He even refuses to help his boss tie a bow around a present, spending a moment in insane indecision before he decides not to put his finger on the knot. There's no explanation, and the repeated phrase is met with increasing dismay by Bartleby's boss and co-workers.
The perpetually weird Crispin Glover stars, perfectly, in the title role, and David Paymer is his frustrated boss (who narrates). Director Jonathan Parker shot the movie in the San Francisco Bay Area, making a surreal office environment filled with odd, clashing colors, air-conditioning ducts, and a creepy, inaccessible building surrounded by freeways. It was met with largely negative reviews and barely any box office, but the more intrepid viewers will want to give it a second chance. Glenne Headly, Maury Chaykin, Joe Piscopo, Seymour Cassel, Carrie Snodgress, Dick Martin, and Josh Kornbluth co-star.
The Boss of It All
Hulu
★★★★☆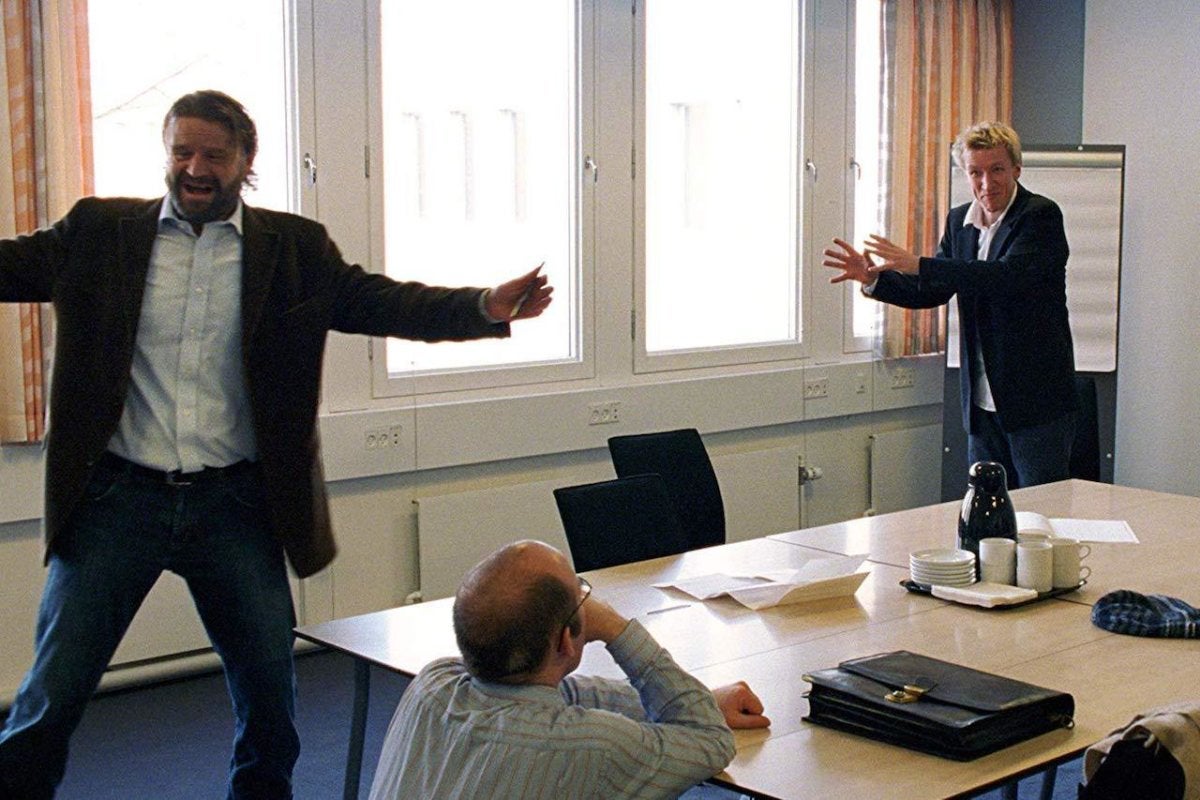 This silly office comedy sounds like a sitcom nightmare: a company CEO, Ravn (Peter Gantzler), has spent years pretending to be a drone among his workers, leaving all the big decisions to an unseen "boss of it all." However, when investors arrive and wish to meet the actual boss, Ravn hires an out-of-work actor, Kristoffer (Jens Albinus), to play the part. And, of course, even though the ruse was supposed to be finished in a few hours, it gets extended to a week, and the actor must begin improvising. However, this high-concept fluff was directed by the maverick Lars von Trier (Breaking the Waves, Dogville, Melancholia, etc.), and he briefly appears, reflected in the exterior office windows on a camera crane, making wry comments about the plot.
Additionally, the camerawork was seemingly ordered by computer, and it's a strange array of zooms, tilts, and off-kilter angles, emphasizing the idea of the "captainless ship." Nonetheless, The Boss of It All (2006) comes together beautifully; it's well-balanced and hilarious. In Danish, Icelandic, English, and Russian, with English subtitles.
Clerks
Netflix
★★★★☆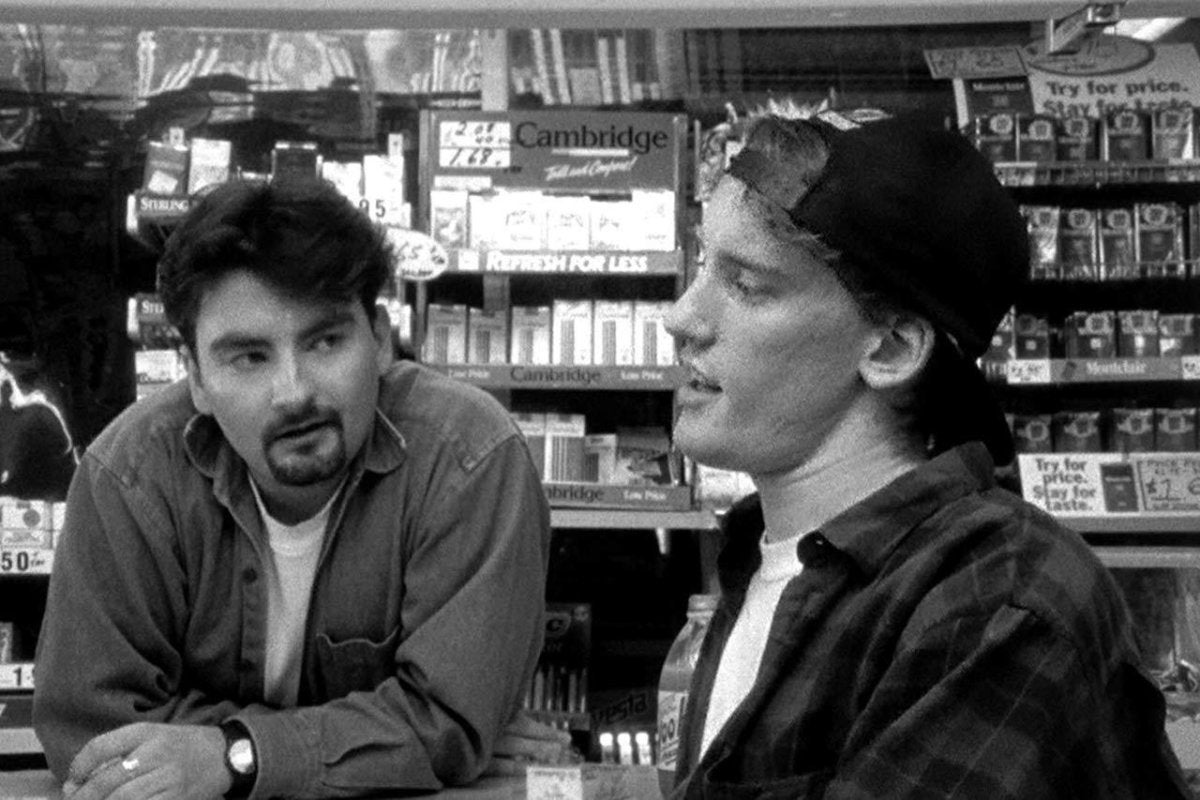 One of the most auspicious film debuts of the 1990s, Kevin Smith's Clerks (1994) was made for a paltry $27,000 and earned many times that, charming critics and becoming an instant cult classic. It generated a sequel, a cartoon series, and comics. It follows two clerks, over the course of one day, in their dreary New Jersey jobs. Dante (Brian O'Halloran) works the counter at the Quick Stop (it was supposed to be his day off), and Randal (Jeff Anderson, no relation to me) works the video shop next door. Dante is in an existential crisis over his direction in life and his indecision over the two women in his life, Veronica (Marilyn Ghigliotti) and Caitlin (Lisa Spoonauer), while Randal revels in his freedom and irresponsibility.
Most of the movie consists of foul-mouthed conversations and monologues, sullenly dealing with idiotic or annoying customers, or dealing with two comical potheads that are forever hanging out in front of the store: Jay (Jason Mewes) and Silent Bob (Smith). Eventually, there's a break for a game of hockey on the roof.
Dirty Pretty Things
TubiTV
★★★★☆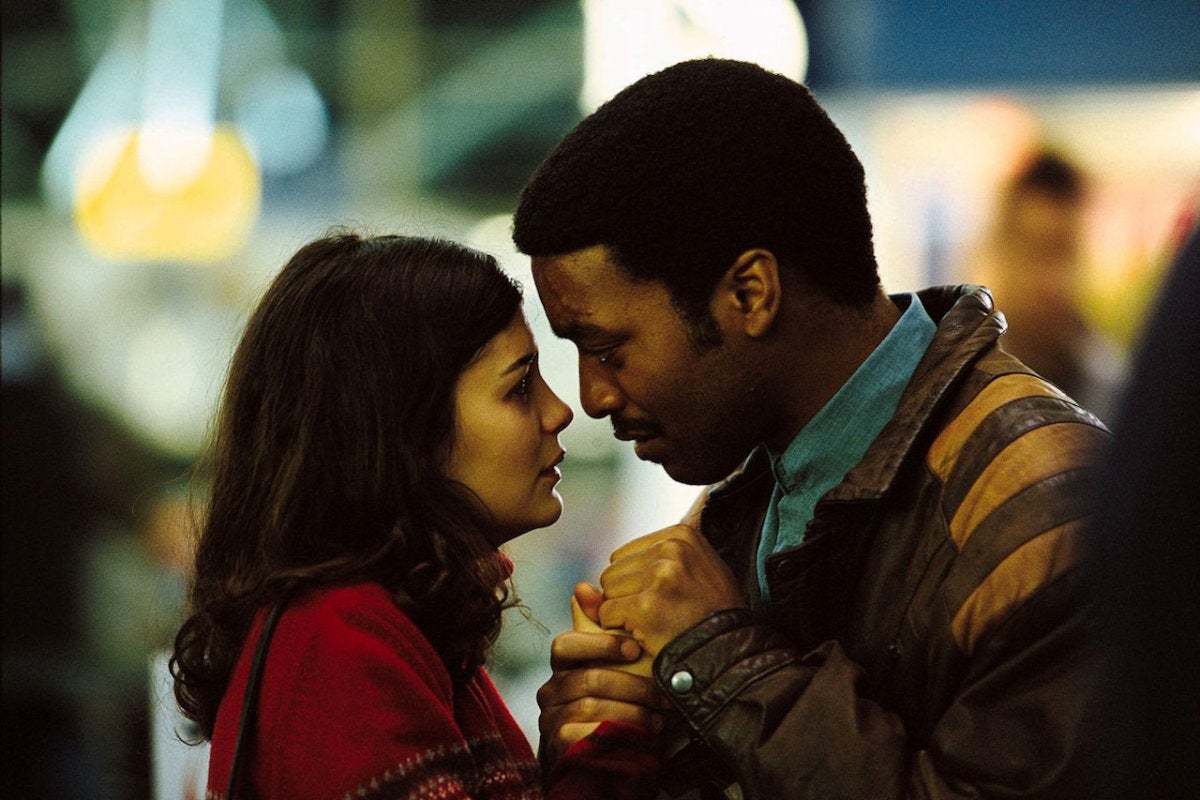 In another movie about work, Dirty Pretty Things (2002), Chiwetel Ejiofor plays Okwe, an illegal immigrant from Nigeria. There he was a surgeon, but in London he makes ends meet by driving a cab during the day and working as a hotel desk clerk by night. He rooms with Turkish Senay (Audrey Tautou), and they try to avoid each other by keeping opposite schedules; she works in the same hotel as a maid. One day, Okwe plunges a blocked toilet and finds a human heart. He discovers that the hotel is being used for a black-market organ ring, and he is soon blackmailed to use his surgical skills to help.
Acclaimed director Stephen Frears (Dangerous Liaisons, High Fidelity, The Queen) turns in one of his most tactile movies here, with his rank, rough vision of a dark, despicable London. He coaxes deeply nuanced performances from Ejiofor and Tautou, who convey not only their sense of desperate helplessness, but also utter exhaustion. Sophie Okonedo and Benedict Wong co-star. Steven Knight wrote the screenplay, with perhaps too many neat coincidences, but wholly effective.
Glengarry Glen Ross
Rental: Amazon Prime, $2.99
★★★★★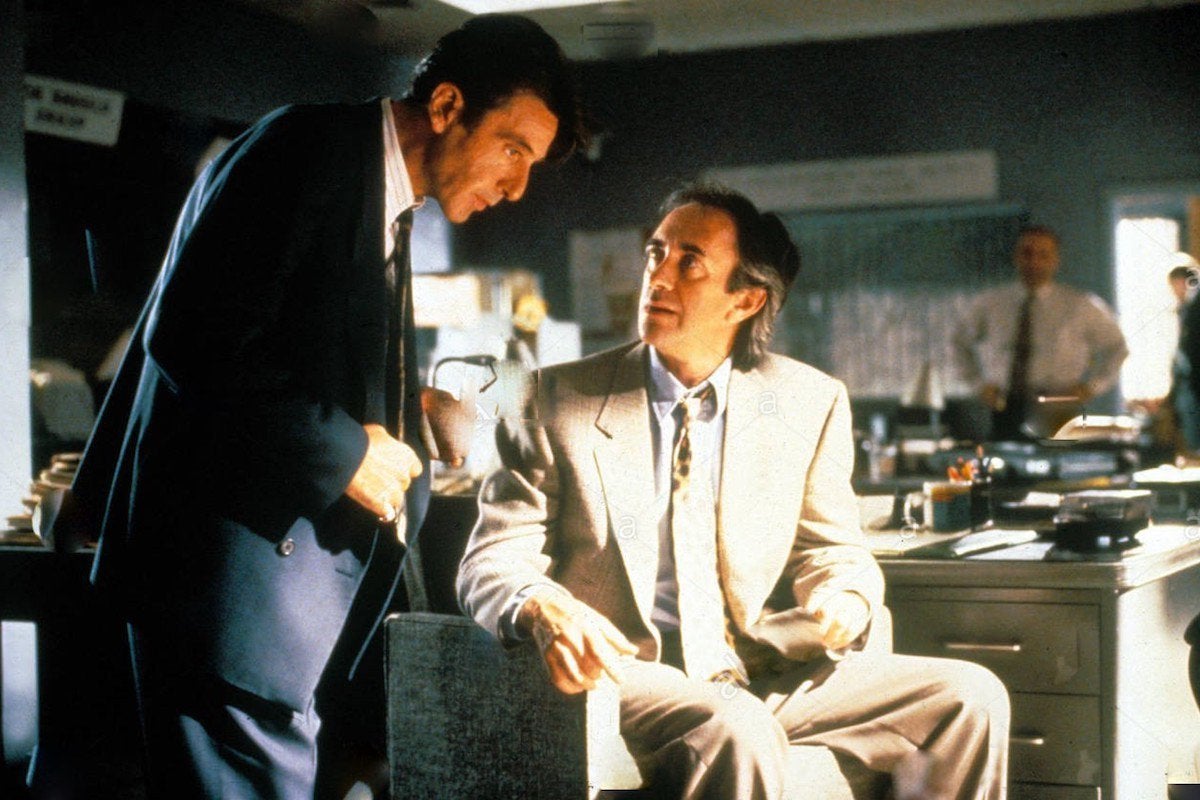 Based on David Mamet's Pulitzer Prize-winning play, James Foley's great office drama, Glengarry Glen Ross (1992), was among a new breed of American films, made for an independent budget, and with a stellar, A-list cast taking on smaller character roles for significant pay cuts. Jack Lemmon is arguably the main character, a hapless real estate salesman, whose future depends on his ability to move chunks of worthless, unwanted property; he's pathetic, aching, but compelling. Al Pacino is dazzling as the slick Ricky Roma, and Alec Baldwin steals his one scene as the man sent to motivate the lagging sales team ("coffee's for closers!"). Ed Harris, Alan Arkin, and Kevin Spacey round out the cast as the rest of the salesman in the cruel office, and Jonathan Pryce plays a potential buyer.
James Newton Howard's forlorn score weeps around the edges of the sharp dialog. Foley's widescreen frame and use of bold colors and offscreen sounds complete the picture, making it an underrated American classic.
The Grapes of Wrath
Rental: Amazon Prime, iTunes, Vudu, etc., from $2.99
★★★★★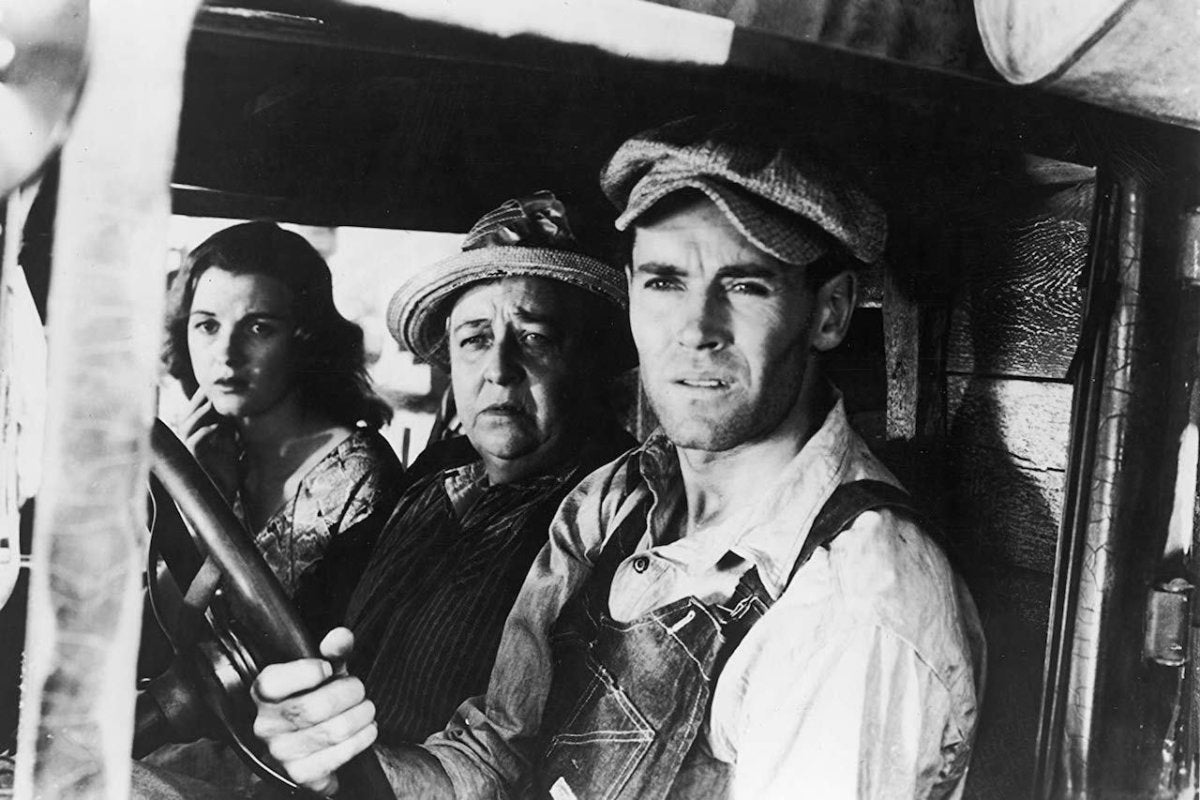 Most other film directors look at and study John Ford's films with a sense of awe; he was just about the best that ever was, and The Grapes of Wrath (1940) was surely one of the best films he ever made. Based on John Steinbeck's 1939 novel, it's just as powerful as that work of literature. It follows the poor Joad family, with Henry Fonda as Tom and Oscar-winner Jane Darwell as Ma, as they look for work and a place to call their own during the Great Depression. It should be unbearable to watch, but Ford was a poet of the cinema, and he constructs moment after moment to flow as effortlessly as life.
The movie tackles the subject matter with earnestness, dignity, haunting beauty, and just a little humor. The cinematography by Gregg Toland—who would go on to shoot Citizen Kane the following year—is as lustrous as anything ever produced, and it contributes to many moments of sheer, heart-rending beauty. Ford won an Oscar for Best Director, his second of four.
Horrible Bosses
Rental: Amazon Prime, iTunes, Vudu, etc., from $2.99
★★★★☆
Seth Gordon directs his hit comedy Horrible Bosses (2011) by merely letting his great cast bounce off one another, like so many rubber balls, and it results in plenty of chuckles and a good many belly laughs. Three friends find themselves in intolerable work conditions. Nick (Jason Bateman) is forced to suck up to a maniacal CEO (Kevin Spacey), hoping for an ever-elusive promotion. Dale (Charlie Day) works for a sexy, sexually aggressive dentist (Jennifer Aniston), endangering his impending nuptials. And Kurt (Jason Sudeikis) finds his comfortable job at a chemical plant threatened when the boss' volatile, cocaine-wracked son (Colin Farrell) unexpectedly takes charge.
The friends decide that murder is their best option, so they hire an underworld consultant (Jamie Foxx) and set their plan underway. Of course, everything goes spectacularly wrong. The bosses seem to have the most fun here, with Aniston at her best, and Farrell breaking away from his usual stoic heroes, but the good guys find a perfect comic rhythm as well.
Modern Times
Kanopy, FilmStruck
★★★★★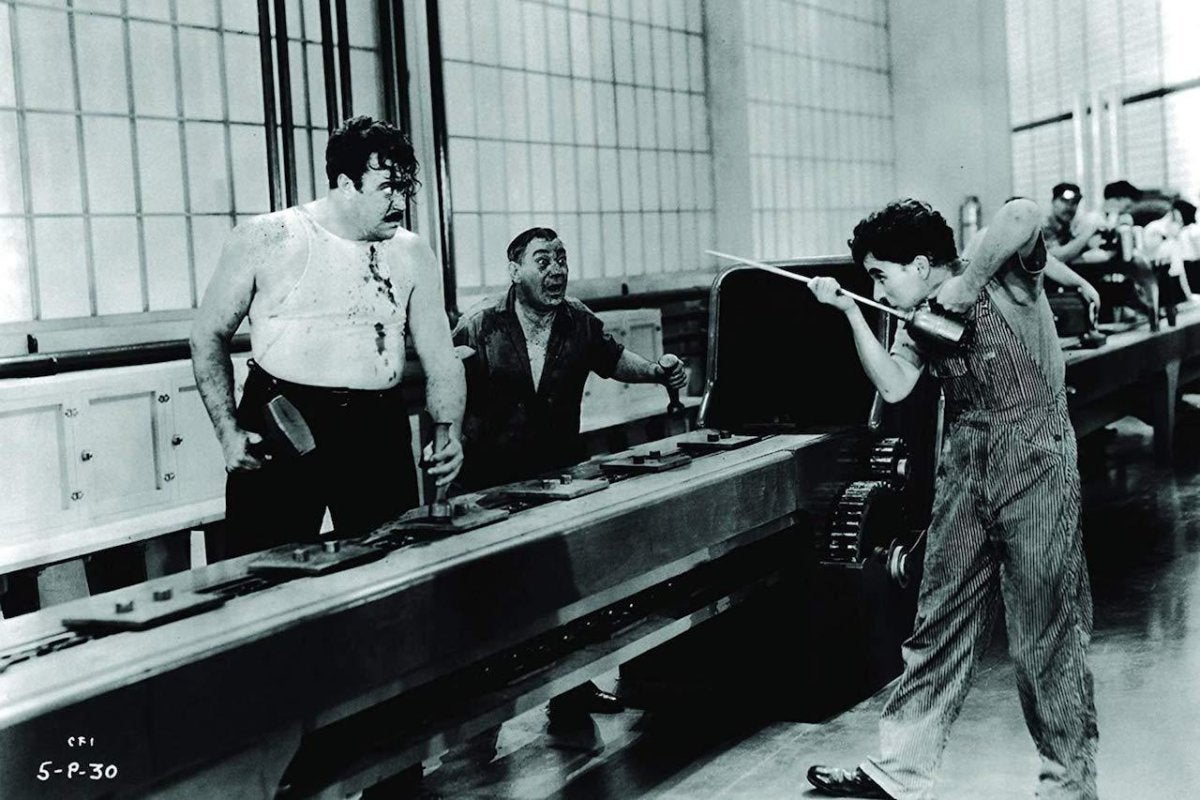 One of Charlie Chaplin's greatest masterpieces, Modern Times (1936) showed the great silent clown hilariously poking fun at progress, starting the film with a shot of a rushing crowd of people dissolving into an image of herded sheep. Working in a sterile factory setting, Chaplin chases nuts and bolts down a conveyer belt, and becomes a guinea pig for a "feeding machine." Losing that job, he falls for a beautiful "gamine" (Paulette Goddard) and attempts to build a new life with her. He gets a job as a night watchman in a department store, which doesn't last. He also gets caught in the gears of his old factory, and, finally, sings a nonsensical song at a café, which proves to be a hit; these are the only spoken sounds in the film.
It's fairly clear that Chaplin was commenting on how progress—including talking pictures—wasn't necessarily a good thing, and that simple things could be great too. It's his most hopeful picture, with the Tramp walking off into the sunset, for once, with the girl.
Office Space
Rental: Amazon Prime, iTunes, Vudu, etc., from $2.99
★★★★☆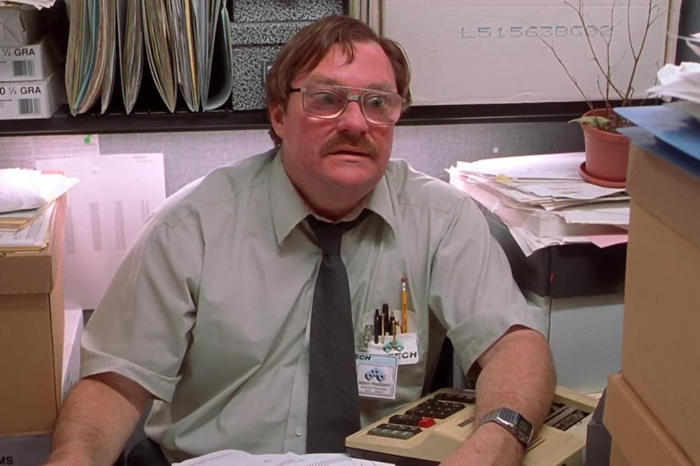 Written and directed by Mike Judge (of TV's Beavis and Butt-Head and King of the Hill), Office Space (1999) is perhaps the most beloved of all office comedies, a bona-fide cult classic with many instantly recognizable, quotable lines. ("We need to talk about your flair." "Excuse me… I believe you have my stapler…" "I'm gonna need you to go ahead come in tomorrow.") Ron Livingston stars as Peter, who hates his soul-sucking office job, claiming that each day is worse than the one before it.
While attending hypnotherapy, his therapist dies in the middle of a session and he never snaps out of his trance. He begins feeling happy and carefree, and slacking off at work, which, ironically, makes him very popular and shakes things up, even earning him a promotion. Jennifer Aniston co-stars as a pretty waitress, Stephen Root is the pathetic sad-sack Milton, Gary Cole is the smarmy boss Bill Lumbergh, and Ajay Naidu and David Herman are Peter's best friends, Samir and Michael Bolton (not the singer… "Why should I change my name? He's the one who sucks.")