The 7-inch color touchscreen is easily the Amazon Echo Show's best feature, but it's also responsible for the smart speaker's higher price tag compared to the rest of Amazon's smart-speaker lineup. Here are some of the ways you can take full advantage of it.
Most of these tips can be used with the Echo Spot, too. That model has a 2.5-inch screen and costs $100 less than the Show.
View photo albums on your home screen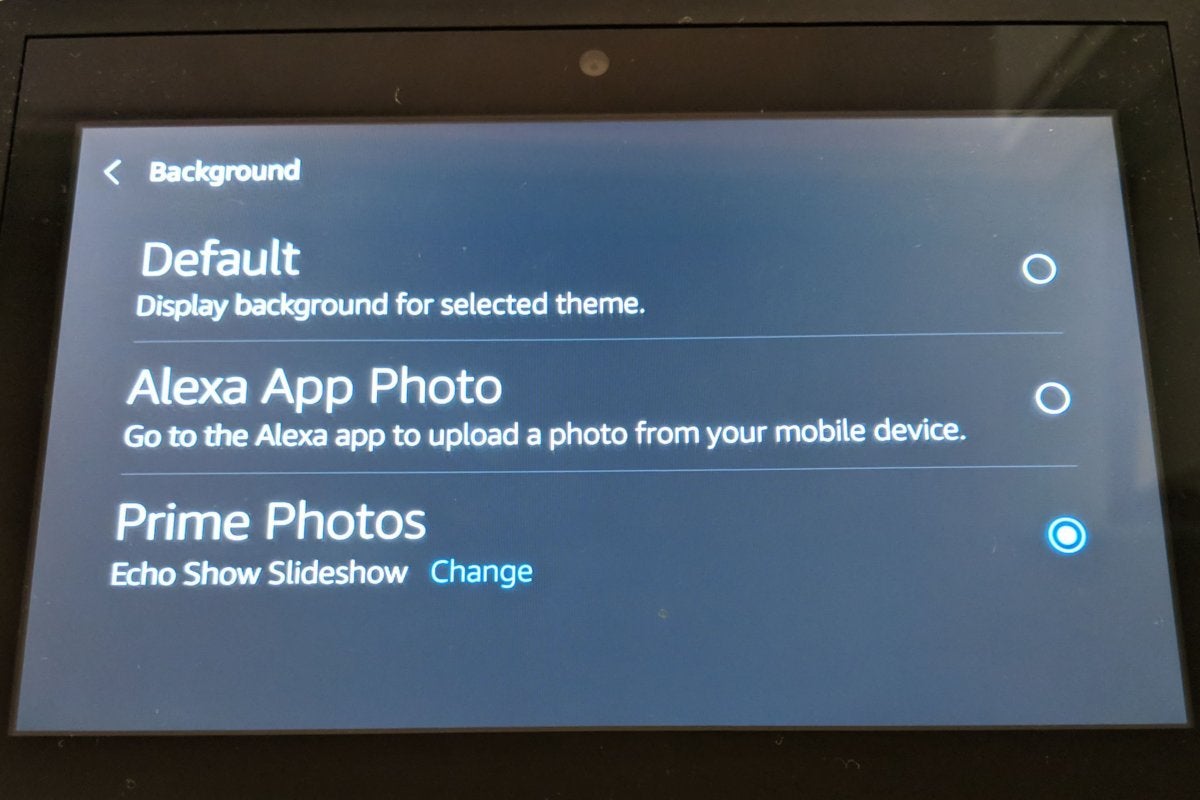 By default, the Echo Show will cycle through background images supplied by Amazon, but using your own photo albums will give it a more personal touch.
The first step is to create a photo album in Amazon's Prime Photos service. Download the app on your phone or visit the Prime Photos website, create an album, and throw your favorite family photos into it. Alternatively, you can tag some faces under the "People" section.
Back on the Echo Show, swipe down from the top of the screen and tap "Settings." Select Home screen, then Background, and select Prime Photos. From here, you can select one of your albums or choose a particular person or place to draw from. Your home screen will then shuffle through these photos for its background image.
See your calendar at a glance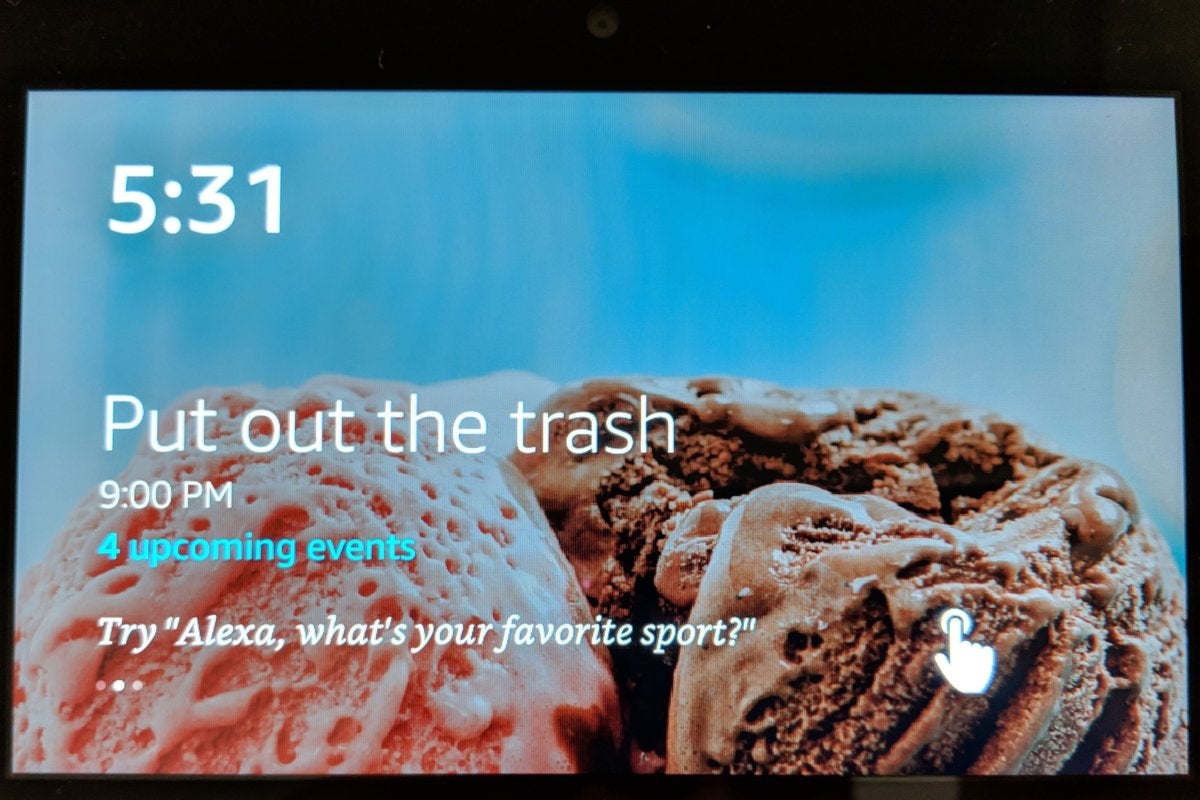 By connecting your calendar to Alexa, you can see upcoming appointments on the Echo Show's home screen. Open the Alexa app on your phone, then hit the menu button and select Settings. Scroll down and select Calendar, and then choose your calendar provider and follow the login instructions.
Mentioned in this article
Amazon Echo Show
Price When Reviewed:
$229.99
Once this is set up, the home screen will display the next upcoming event from whatever calendars you've chosen. You can also say "Alexa, what's on my calendar today?" for a full rundown.
In addition to calendar appointments, the home screen can also show upcoming reminders. Just ask Alexa to remind you about something at a specific time, and it'll appear on the home screen automatically.
Use 'Tap to Alexa' for touchscreen shortcuts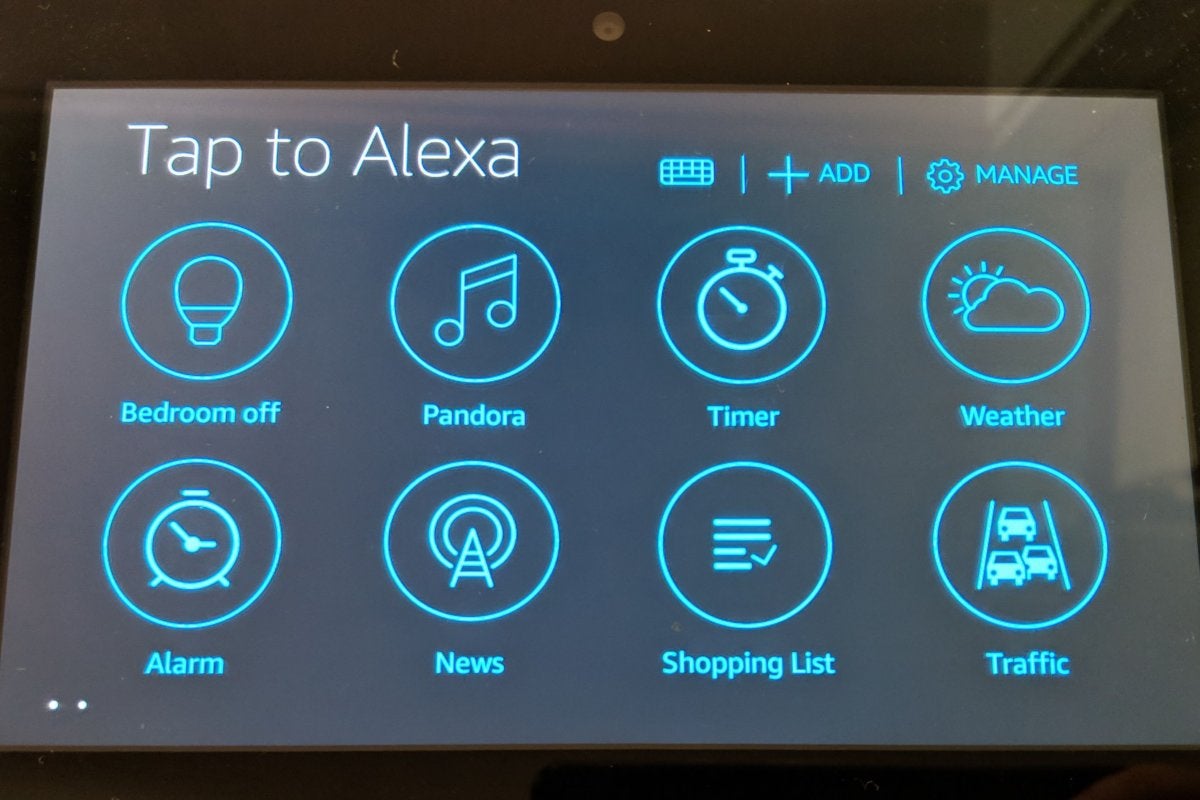 Want to turn the Echo Show into a home-control dashboard? Open the Settings menu, select Accessibility, then enable "Tap to Alexa."
When you return to the home screen, you'll notice a new hand icon in the bottom-right corner. Press it to bring up a menu of actions that you can activate through the touch screen.
To reorder the actions, press "Manage," then press and hold on a button until you're able to drag it around. Hit the "X" icon from this same menu to delete actions, and hit the "+ Add" button to create new voice actions. Try using this feature to control the lights, adjust the thermostat, or trigger a sequence of events with Alexa routines.
Declutter the home screen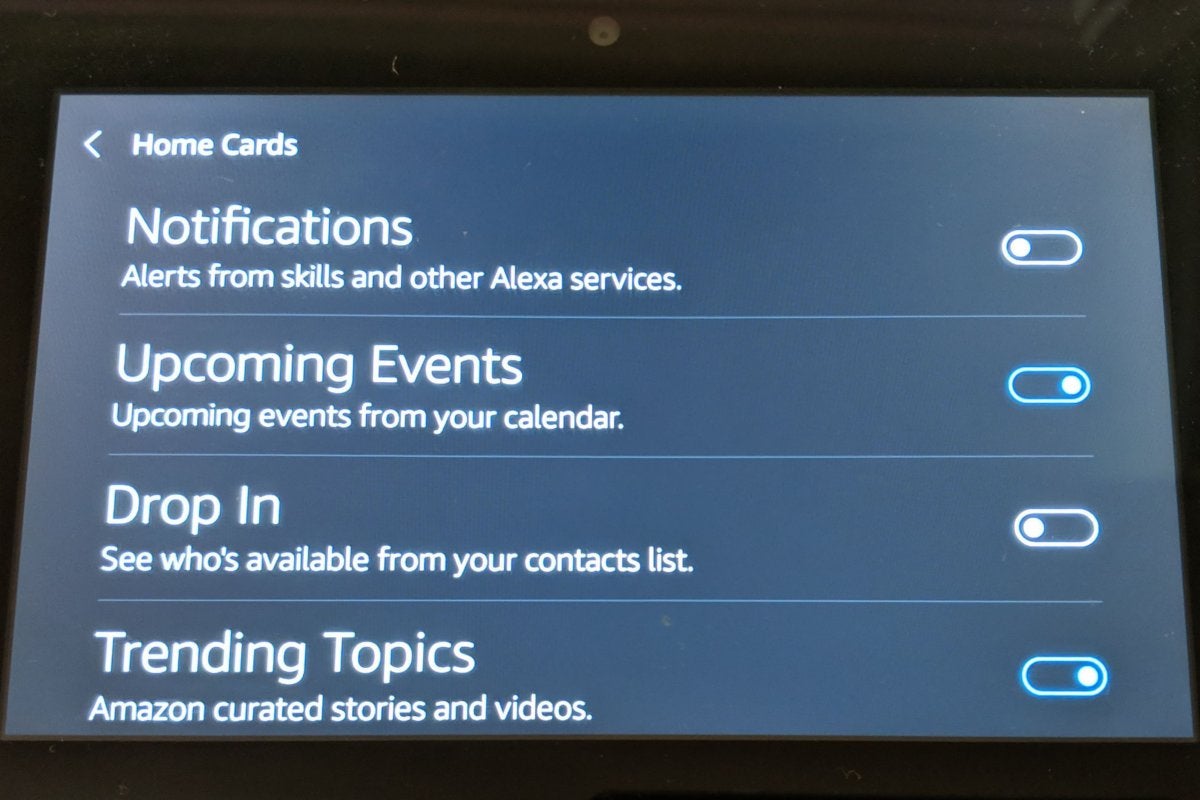 Don't want lots of information larding up your home screen? Swipe down on the Echo Show display, then press the Settings button. Select Home Screen, and then Home Cards. From here, you can disable any information you don't want to see, including notifications, upcoming events, "Drop In" availability, trending topics, and reminders. (Unfortunately, Alexa hints are a permanent home-screen fixture, so you'll always have something in the way of your precious photos.)
Use Drop-In (but lock it down)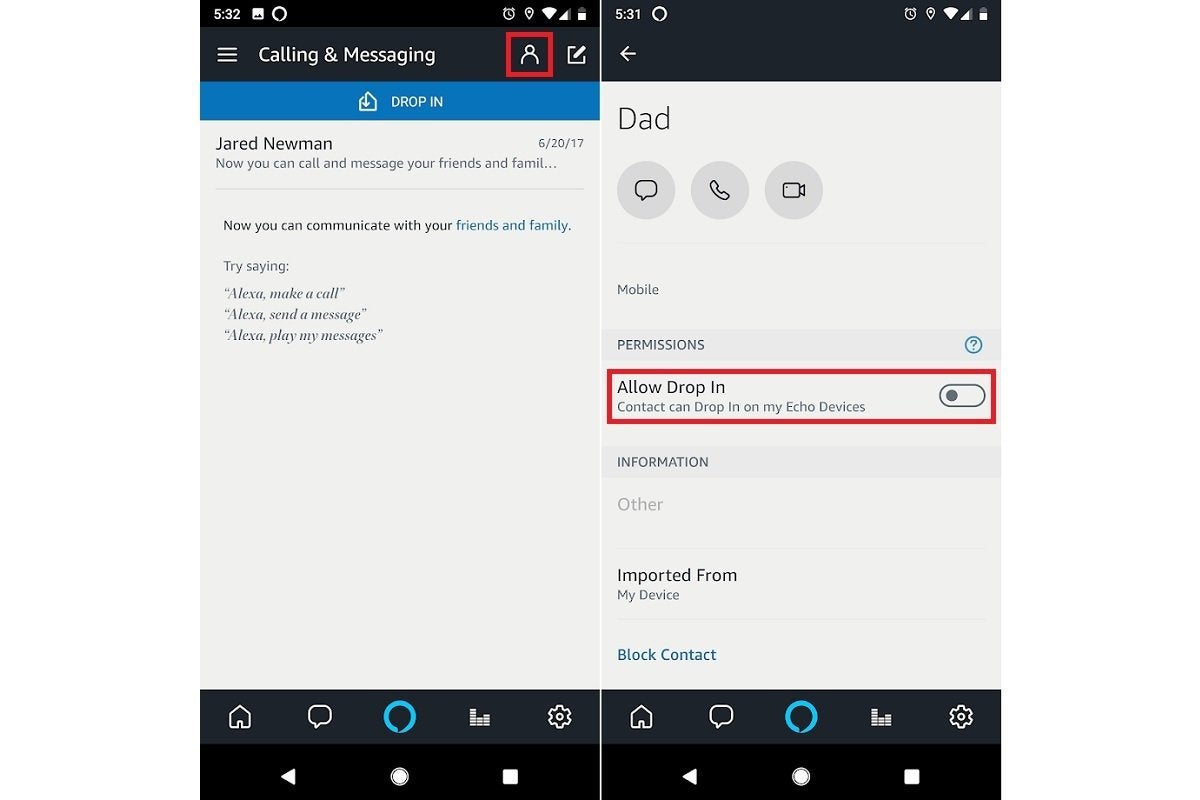 One of the Echo Show's key features is video calling, either to phones and tablets via the Alexa app, or to other Echo Show and Echo Spot devices. An extension of this feature, called "Drop In," even allows you to instantly start a call with a contact who's given their approval. This can be useful for checking in on family members who might need assistance.
Mentioned in this article
Amazon Echo Spot
Price When Reviewed:
$129.99
To turn on Drop-In, open the Alexa app on your phone and press the chat bubble on the bottom of the screen. Follow the on-screen instructions to enable calling and messaging, and then press the contacts icon in the top-right corner of the app. Select a contact, and if they have an Echo device, you'll see an "Allow Drop In" option.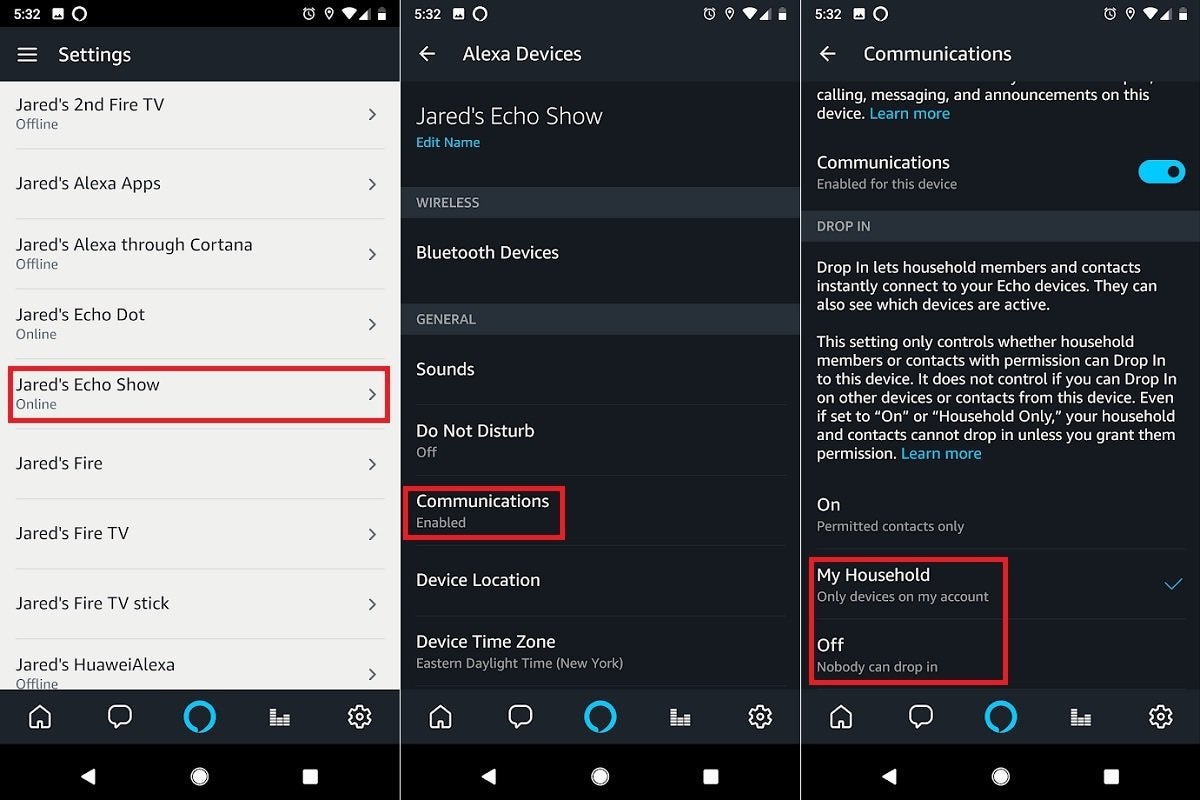 You can also limit Drop In to just the Echo devices in your home, or disable the feature entirely. To do so, open the Alexa mobile app, enter the Settings menu, and then select your Echo device from the list. Press Communications, then select My Household" under the Drop In section. (You can also disable Drop In entirely from here.) If you have multiple Echo devices, you'll have to repeat these steps for each one.
Check in on your security cameras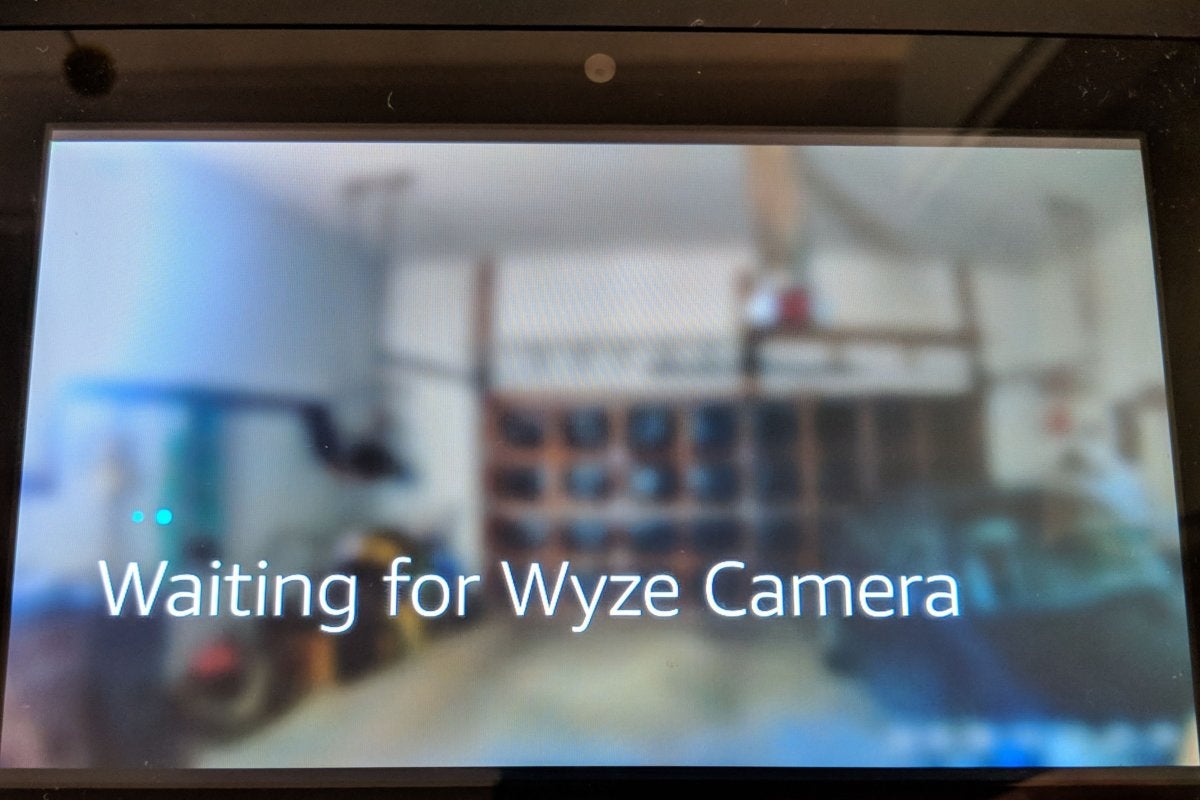 If you have a security camera that works with Alexa, you can view the video feed through your Echo Show. (This might require you to enable the camera's Alexa skill first, so search Amazon's skills list for the name of your camera maker before proceeding.) Once you've connected the camera to Alexa, say "Alexa, show me [camera name] to view a live video feed.
With August, Arlo, Amazon Cloud Cam, Logitech, and Ring cameras, you can also ask for recent motion capture events. Just say "Alexa, show me the latest event from [camera name]."
Take silly pictures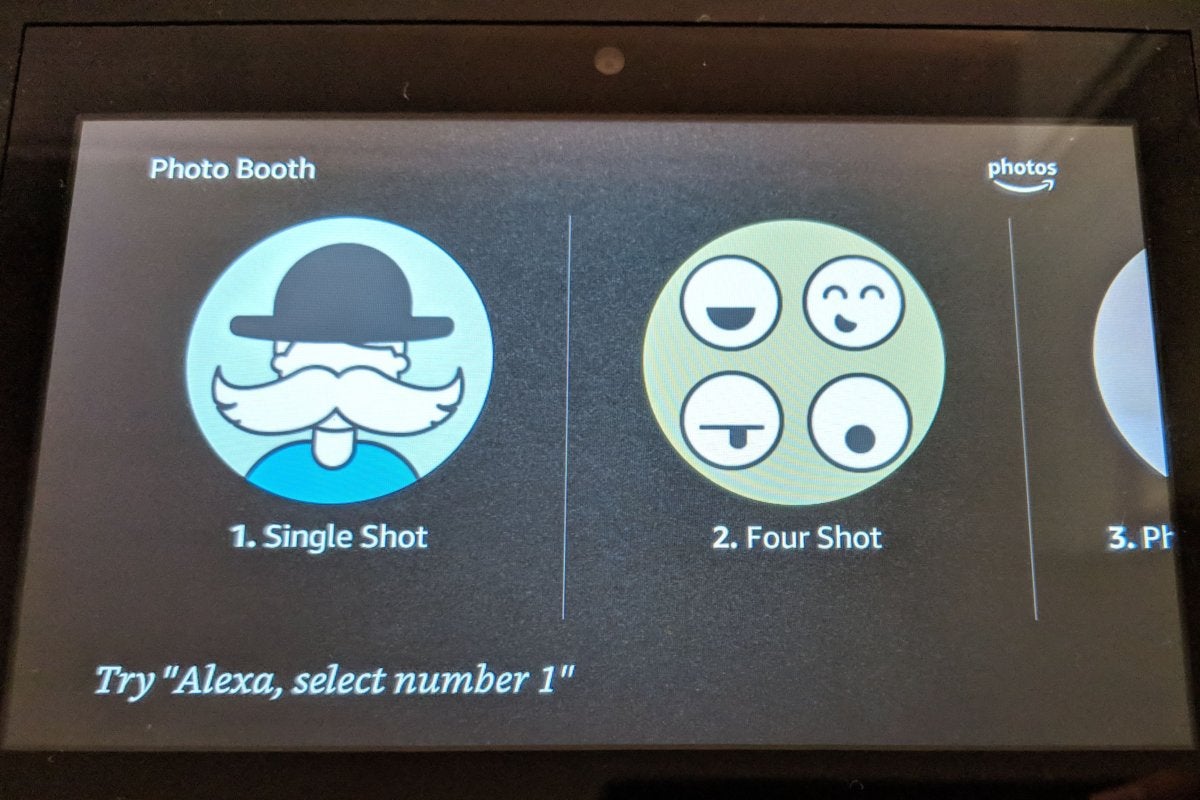 In terms of quality, the Echo Show's built-in camera isn't the greatest, but it does have a fun photo booth feature built in. Say "Alexa, take a photo," then swipe left on the screen to choose from various stickers. After the three-second timer counts down, the Echo Show will snap a picture and save it to Prime Photos.
Disable the Echo Show camera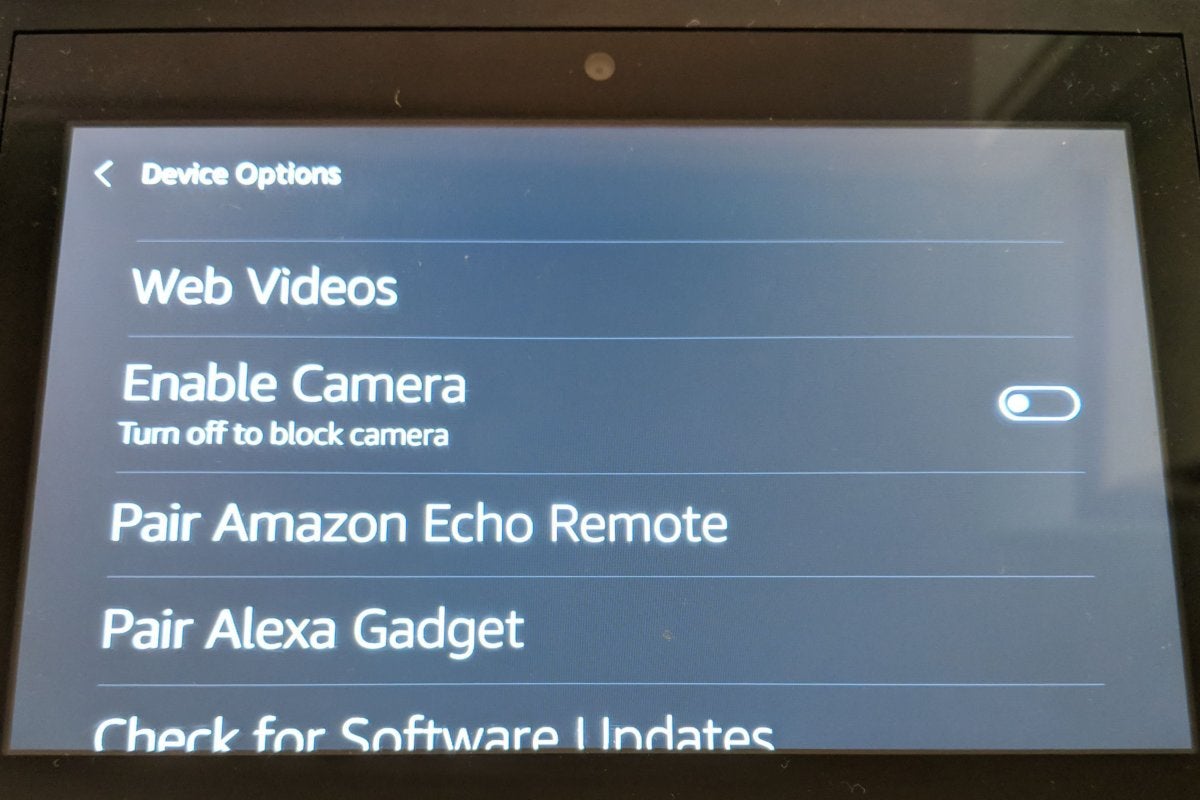 If you like the idea of on-screen Alexa, but are creeped out by its video camera, you can switch it off through the Settings menu. Swipe down from the top of the screen, select Settings, then select Device Options. Make sure the "Enable Camera" toggle is set to the off position.
Play some Jeopardy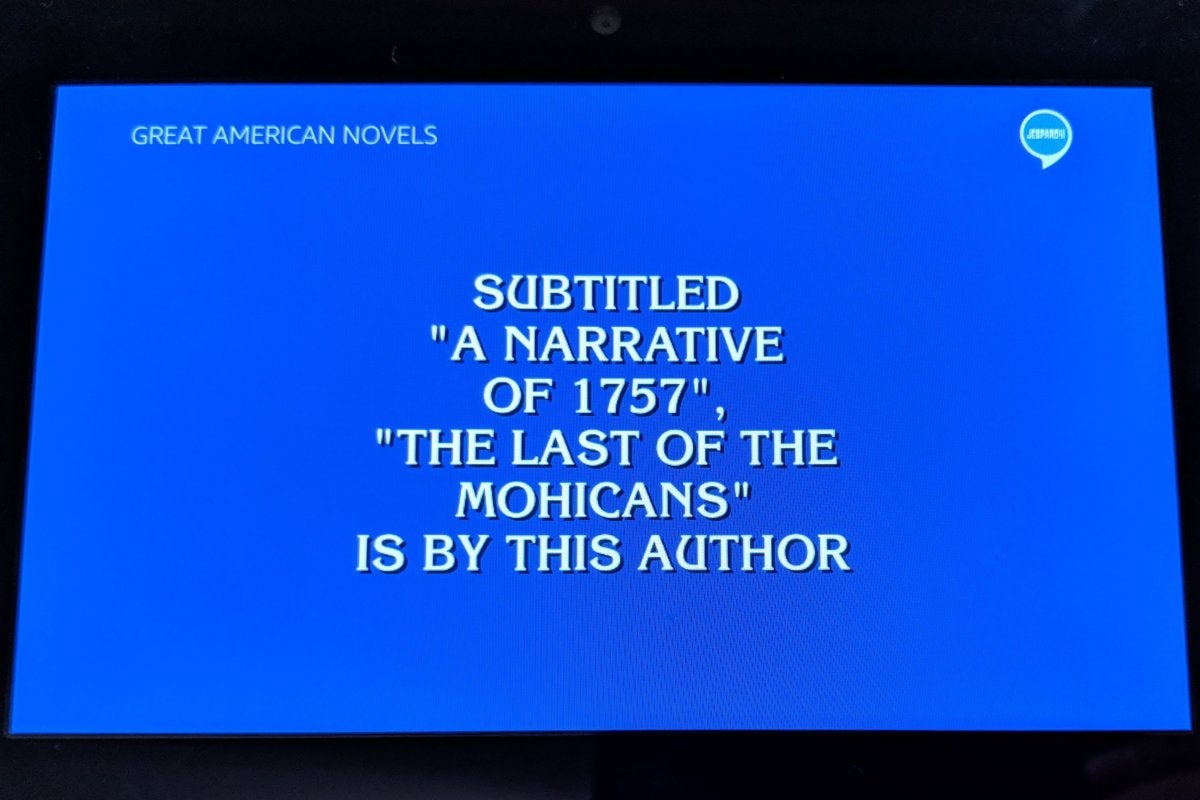 While there are a bunch of Alexa skills that take advantage of the Echo Show's display, Jeopardy! is the most enjoyable. Just say "Alexa, play Jeopardy," and you'll go through a round of trivia with the answers displayed in white text over a blue background.
Exit apps and turn off the screen
One of the most important Echo Show tips is perhaps not as obvious as it should be: If you're ever inside a skill or task and want to get out, say "Alexa, go home," and you'll return to the home screen. You can also say "Alexa, turn off the screen" to make the Echo Show go dark.