At a Glance
Expert's Rating
Pros
A full-color display and good ol'-fashioned controls let you operate this music player without the need to rely on a smartphone app
A strong feature set means you can downsize your collection of legacy music makers and get with the current trends in streaming music
The Musica's sound quality is neutral and natural, welcoming all varieties of music, rather than taking "best for hip hop" or "good for rock" stylistic sides
Cons
The operating system is less forgiving of intermittent network issues than are some other streaming speaker lineups
The current app selection is missing some key players, such as Amazon Music Unlimited
The small fonts and images on its otherwise great display render the Musica less user friendly when you're working it from across the room with the supplied remote
Our Verdict
If you can take just one piece of electronics to your mountain cabin or desert island, the Como Audio Musica would be a good choice. It plays everything, sounds delicious, and looks pretty, too.
Como Audio should borrow a popular tagline of "Solid Gold" radio stations to describe its top-of-the-line music box, the Musica. This player truly offers the best of yesterday and today, harking back to the golden age of high-end, ultra-compact stereo systems while also paying heed to our current passions for streaming music from all-you-can-eat online services, Bluetooth-enabled smartphones and tablets, and NAS boxes.
While other home entertainment systems are eliminating CD transports and FM radio tuners from home stereo gear, the Musica includes both legacy formats. There's an "automobile grade" slot CD drive, that Como Audio founder Tom DeVesto says is "ready for the billions of CDs still sitting on consumers shelves," plus an on-board FM tuner with RDS (Radio Data System) support that "can keep you connected to the world when you're out of range of Wi-Fi" (or an ethernet cable).
This streaming music convert really appreciated those features on a recent weekend, when my internet service took a fall and couldn't get up 'til Monday. That outage got me listening with great pleasure to some recently acquired discs—including a new Bob Dylan collection of early career concert sessions (Live 1962-1966: Rare Performances from the Copyright Collections) and a couple of the Steven Wilson-helmed remixes of the Jethro Tull catalog (Aqualung and Songs from the Wood).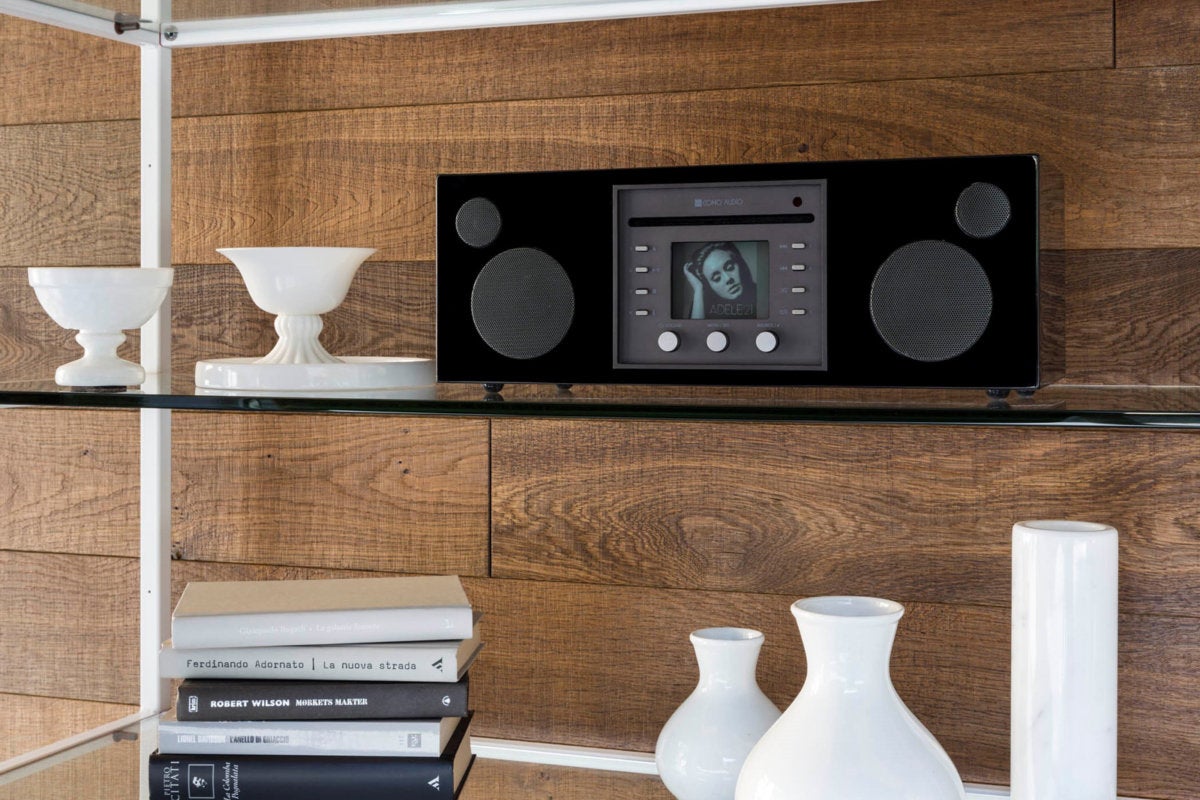 That stuff really came to life with the Musica's well-matched 3-inch voice coil woofers and 3/4-inch dome tweeters, spaced just wide enough in the 16-inch-across package to produce appreciable stereo effects, and warmed up for musicality with ported, composite (MDF) wood cabinetry. The Musica has an authentic Hi-Fi feel to it, with an uncolored accuracy and presence that lets you hear the breath propelling Ian Anderson's flute work, or the contact "click" of a plastic pick strumming bronze strings on Mr. D's Martin guitar.
In my hours of need, I also pulled up the FM whip antenna hiding on the back of the Musica to reconnect with a favorite eclectic weekend morning show (Sleepy Hollow), produced at my local (Philadelphia) non-commercial station WXPN. I can't say the radio reception was as pristine as I normally enjoy hearing the show (via its internet stream or on other house radios, which are better at filtering the hash noise from a nearby, pole-mounted power transformer). And it didn't help matters that the Musica's antenna can only swing to the sides and back, not forward (as I needed for optimum signal grabbing in my home setup). Still, it was better than nothing.
When all is well in internet-service provider land, the Musica also offers a goodly selection of service options, including more than 30 thousand internet radio stations from around the world, many of which are commercial free. You can also access subscription fee-based versions of Spotify (with support for Spotify Connect), Tidal, Deezer, and Napster that deliver surprisingly wide-open performances through this compact system. Pandora and the streaming version of Sirius/XM (popular options on other smart speakers) are not currently onboard, though; and Amazon Music Unlimited (one of my faves) is promised as a "coming-soon" addition that will be delivered to current Como Audio devices via a wireless software update.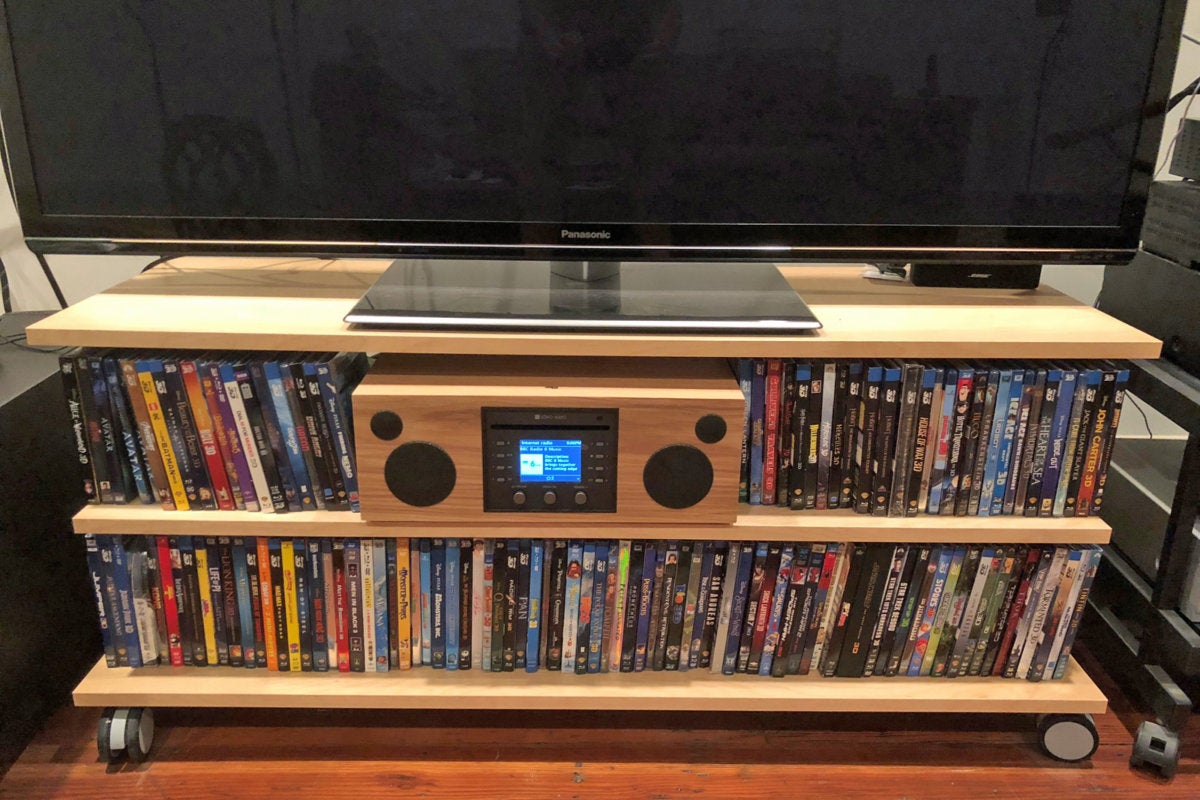 In the meantime, I've been pushing those missing links to the box from my iPad Pro via Bluetooth 4.0 with aptX, Qualcomm's "CD quality" encoding/decoding scheme which both the iPad and the Musica support (as both the sender and receiver must do for aptX to work). This cute thing also handles Apple's AAC codec for the iTunes set.
Designed as a centerpiece for a living-room rig, as well as the anchor for a multi-room audio system, the Musica could take a place of honor under your TV set and supplant the telly's crap sound with its much more refined performance, using its optical input for to connect. Two 3.5mm stereo analog inputs are also offered, along with a USB port for enjoying tunes stored on a portable hard drive. That port can also trickle-charge mobile devices, although it only puts out one amp. You can also stream music stored on network sources, such as a NAS box or a client PC, with either a wired or wireless connection to your network.
Unlike most other streaming music speakers, this jack-of-all-trades is operational without an app or even the supplied (and decent) wireless remote. The Musica boasts a 3.2-inch color TFT display with a multi-language interface, as well as eight independent preset buttons for setting favorites, and three control knobs for dialing in the selections. That screen isn't all that visible from across the room—unlike the big, bold clock time and channel/artist text presented on the display of the comparably priced Bose Wave SoundTouch Music System IV, but the Musica delivers more articulate sound.
When looming close to the Musica, on the other hand, you can enjoy lots more visual information, including full color album art, artist and song IDs, and the onscreen menu system to go fishing for input and content options.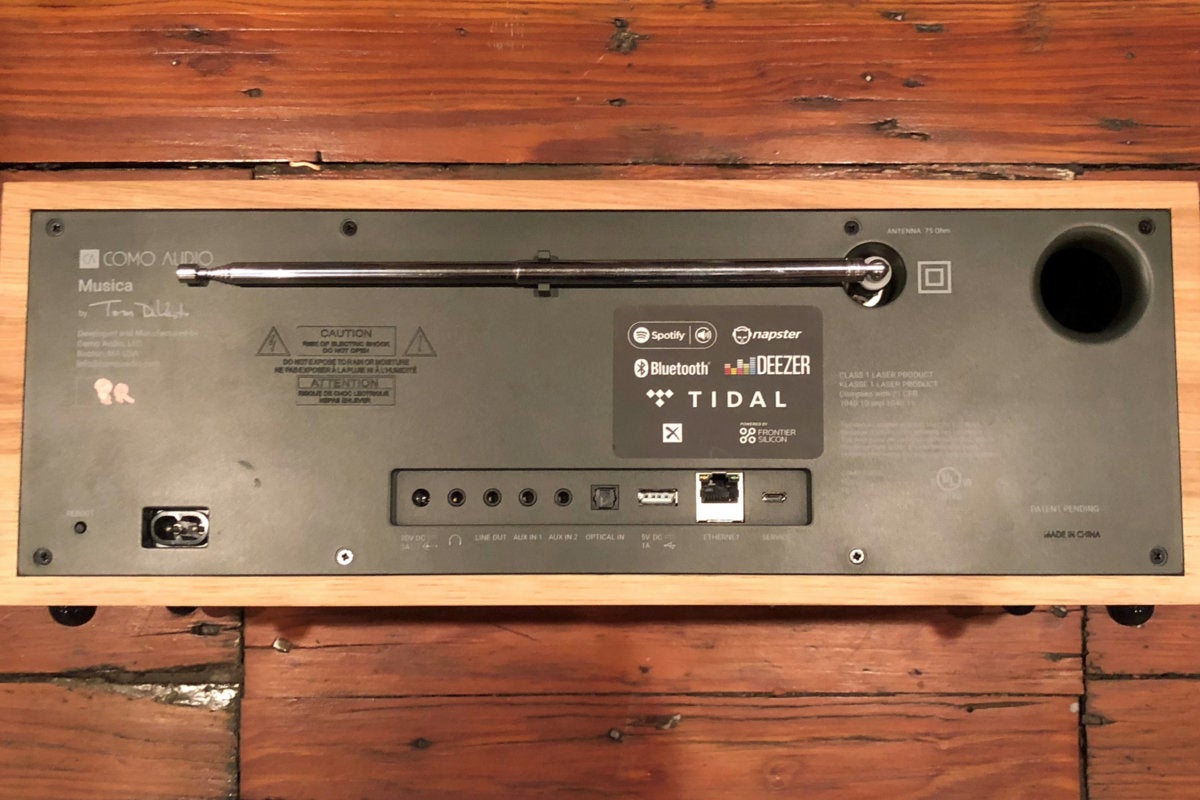 The Musica's "New Releases" tracker, on the other hand, is ass-backwards. Because of limited display space, users are presented with just the titles of available new albums and songs, not the names of the artists performing them. Seeing an album title like Back Roads and Abandoned Motels, or Out of the Blues, or Thicker than Water is meaningless. Seeing that Americana stalwarts The Jayhawks, blue-eyed-soulster Boz Scaggs, and jazz/funk bassist Brian Bromberg have new releases would be much more informative. Fortunately, the menus on Como Audio's Android and iOS apps offer a much fuller picture of who's on first and what's on second.
In terms of multi-room use, it's sweet how any content playing on the Musica, including CDs and music streamed via Bluetooth, can be wirelessly whisked in synchronized fashion to upwards of four other Como Audio devices—such as the recently reviewed Amico—operating on the same home network.
The app also allows you to remotely tune in any of the eight radio station/playlist/album/podcast presets you've established on the Musica, plus six additional sources on any Amico you might own. In the Bose SoundTouch ecosystem, the app can control up to six SoundTouch devices, but they all must share the same six presets. The Como Audio gear also is more flexible, with features such as user-customizable sound equalization options, while the Bose smart speakers rely mostly on automatic volume-related EQ.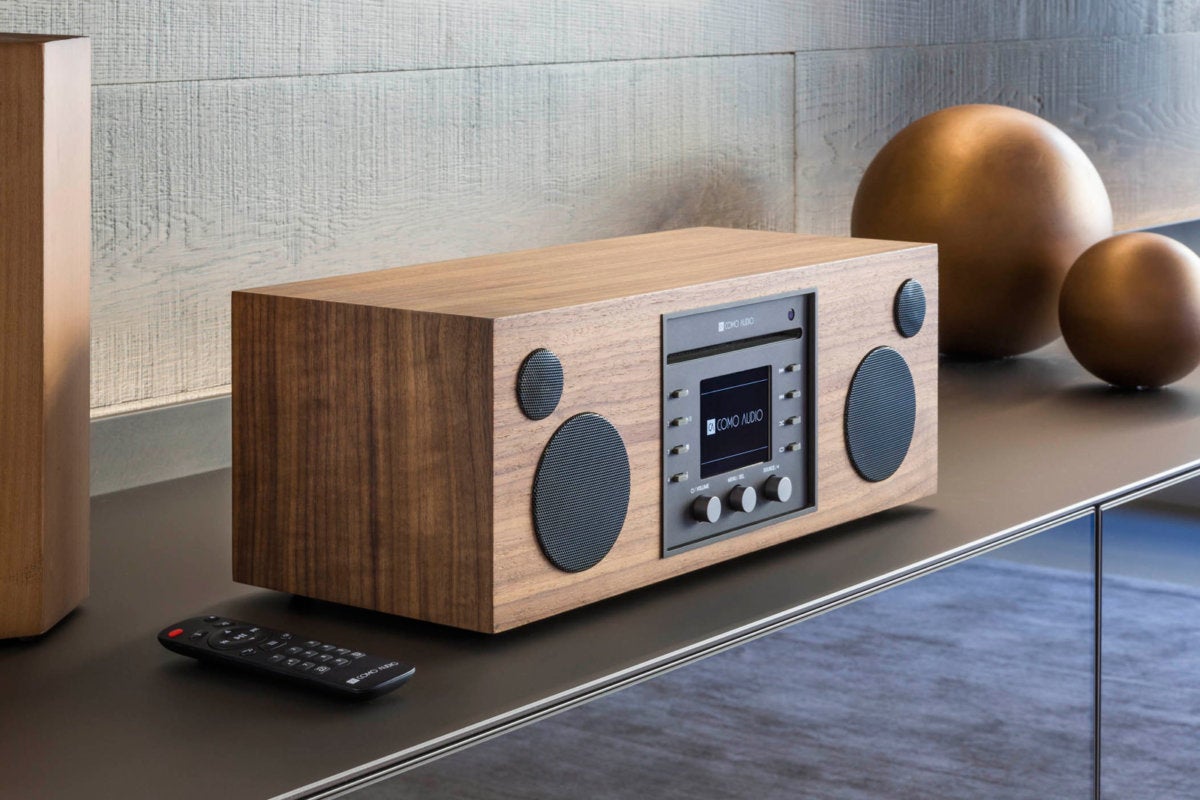 I did experience a serious problem for a spell with signal dropouts on the second-room Amico speaker pulling in content that originated on the Musica, located one floor away. After several consults and equipment swap outs with my internet service provider (Comcast), the dropout issue has lessened though not entirely disappeared. Now I might experience two brief blink outs of music per hour. So no, a Como Audio system isn't quite as stable as a Sonos setup. There were also a couple of times where I had to resort to rebooting the Como products after an internet outage, situations where other gear bounced back on its own. And Como Audio's app can be a tad sluggish, especially when serving up content from subscription services. The apps from Sonos and Bose load faster.
What ultimately makes me a Musica fan is how versatile and user friendly it is. How good the system sounds, punching far above its size and weight class. And yes, how pretty it looks. A girl friend who hardly notices the black boxes I test stopped in her tracks when she saw the pale hickory-wood-veneered Musica. "Now that's one I'd like to have in my house," she said.