File this one under "Why has no one thought of its before?" Netgear's latest Orbi Wi-Fi mesh satellite—the Orbi Voice—is also an Amazon Alexa-powered smart speaker. And it packs a pretty good audio punch, based on the demo we got last week, thanks in part to a collaboration between Netgear and home audio powerhouse Harman Kardon.
Mesh networks like Netgear's Orbi series are popular because they can blanket a home with strong Wi-Fi and eliminate dead zones. They consist of a router that you connect to your broadband gateway, and one or more satellite access points that you position around the house. Data hops from one satellite to the other and back to the router, with client devices automatically connecting to whichever access points can deliver the strongest signal. If the client is close enough, that access point will be the router itself, but the handoffs will be transparent to the user and should never interrupt connectivity.
Netgear has integrated a smart speaker into an Orbi access point to create a combination mesh network node, music speaker, and Alexa-powered smart home controller. The Orbi Voice is slightly taller and wider than the satellites that are included with Netgear's top-of-the-line Orbi RBK50 kit, but the satellite/smart speaker will work with any of Netgear's Orbi routers and any of its other Orbi satellites. Unfortunately, it won't be compatible with mesh networking devices from other manufacturers.
The Orbi Voice is wrapped in a light gray fabric that will blend into most any home's décor, though Netgear tells us it might make the device available in other colors down the road. There are four far-field microphones built into the top of the unit, along with touch controls to wake Alexa, mute the speaker, and to mute those microphones.
While Amazon's Alexa is the onboard digital assistant, Netgear is urging sonic comparisons not to the upper end of the Amazon Echo line, but to smart speakers from Sonos, Apple (HomePod), and Google (Google Home Max).
Mentioned in this article
Sonos One (Gen 1)
Price When Reviewed:
$169.00
That's a bold claim, especially since Netgear says consumers won't be able to stream the same music to multiple Orbi Voice satellites at the same time. There's nothing to stop you from deploying multiple Orbi Voices on your home network, though, and you will be able to stream different music to each one. Netgear also promises to deliver the "party mode" Alexa skill eventually.
In a demo last week, the Orbi Voice was able to fill a room with rich sound. It's a two-way speaker, with a 35-watt amplifier driving a 3.5-inch woofer and a 1-inch tweeter. A down-firing bass reflex port will enhance its low-frequency response. Incidentally, Netgear claims frequency response of 63Hz to 20kHz. And as previously mentioned, Harman Kardon engineers consulted on the overall design and helped tune the speaker. Harman, however, did not manufacture any of the components.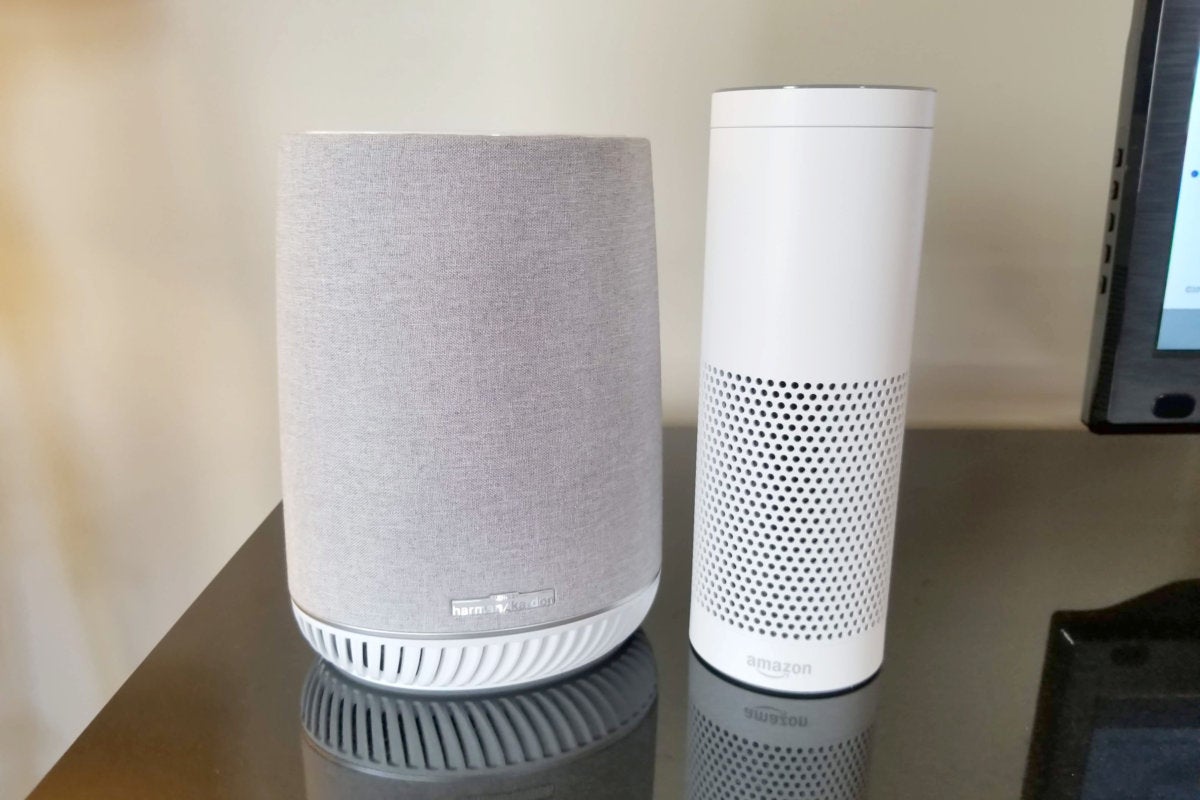 Wi-Fi access point specs
The Orbi Voice is a tri-band 802.11ac mesh Wi-Fi access point, delivering maximum theoretical throughput of 400Mbps on the 2.4GHz frequency band and 866Mbps on the 5GHz frequency band. The third band consists of a discrete set of 5GHz channels used for 866Mbps data backhaul to the router.
The speaker is also outfitted with a two-port gigabit switch, enabling the satellite to function as a wireless bridge for components not equipped with Wi-Fi client adapters. And if you have the infrastructure to take advantage of it, you can also hardwire the node to your router for gigabit data backhaul.
If you already have an Orbi-series router, you can add the Orbi Voice Satellite (model RBS40V) to your network for $299.99 when it ships in September. If you don't have an Orbi router, Netgear will offer the Orbi Voice bundled with an Orbi RBK50 router the same month for $429.99.