At a Glance
Expert's Rating
Pros
Very accurate reporting
Well made
Impressive smart home connectivity
Cons
The mobile app doesn't show your own weather data
Display console has an extremely narrow viewing angle
Alexa and Google Assistant deliver verbose weather reports
Our Verdict
Ambient Weather hit a home run with the WS-2902 Osprey weather station. It's an impressive value, and its smart home connectivity is icing on the cake.
Price When Reviewed
$180
Best Prices Today: Ambient Weather WS-2902 Osprey Weather Station
Smart home enthusiasts take note: You can tie Ambient Weather's WS-2902 Osprey weather station into your smart home system, so your indoor lights won't wait until sunset to turn on when it's gray and dreary outside; your smart sprinkler will stop watering the lawn if it starts to rain; and you can ask Alexa or Google Assistant for a weather report from where you actually live, not from the closest National Weather Service (NWS) monitoring station.
You'd think most home weather stations do these things, but they don't. Netatmo comes close, with hooks into Samsung SmartThings and IFTTT, but you'll spend more than $300 to build out a complete Netatmo system that can measure temperature, rainfall, and wind speed. The WS-2902 Osprey is built with connectivity top of mind. It's Wi-Fi capable and it works with IFTTT, so you can program weather events and conditions to trigger actions in your smart home.
Best of all, the WS-2902 is affordable, with a retail price of $160 for a collection of instruments that measures indoor and outdoor temperature and humidity, wind speed and direction, barometric pressure, and rainfall. The kit also includes a UV and solar radiation sensor, a feature typically found only on much more expensive systems.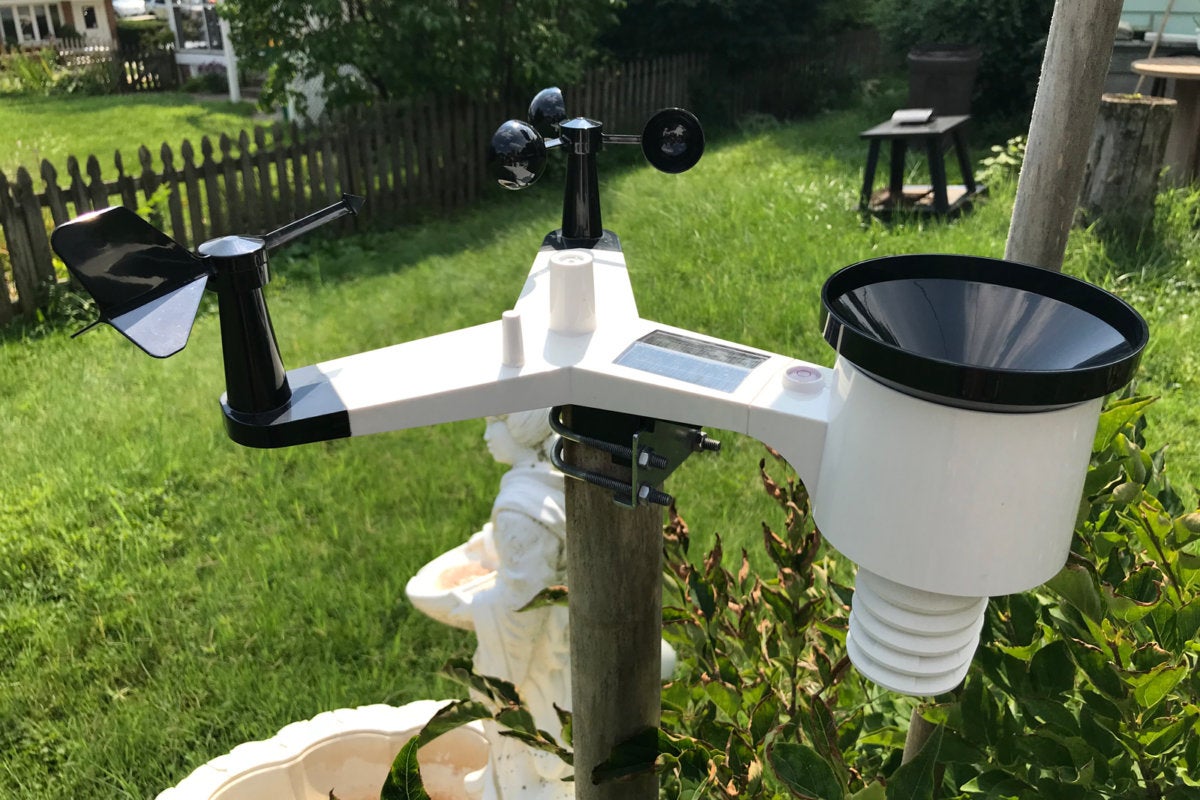 The WS-2902 also looks well built—it's certainly no less sturdy than the Davis Instruments Vantage Vue, which costs twice as much. Sturdy construction is unfortunately not typical of home weather stations in the $100 to $200 price range. You usually get flimsier plastic, and the louvered radiation shielding around the thermometer/hygrometer often doesn't allow airflow sufficient to prevent artificially high readings. That's not the case with the WS-2902.
A large (3 inches high by 6.75 inches wide) backlit color LCD console makes it easy to read what your instruments are reporting, although calling it a color display is something of an overstatement. Color is more of a visual theme than anything else, with information such as the date and time of day appearing in green, indoor climate information displayed in red, and rainfall measurements printed in blue.
The WS-2902 does have some other quirks, too: I found its readings to be slightly less accurate compared to Davis' weather station, for example, and that display console is very difficult to read when viewed off axis (forget about it if you're more than 30 degrees off in any direction). But I didn't encounter any serious flaws in construction or performance.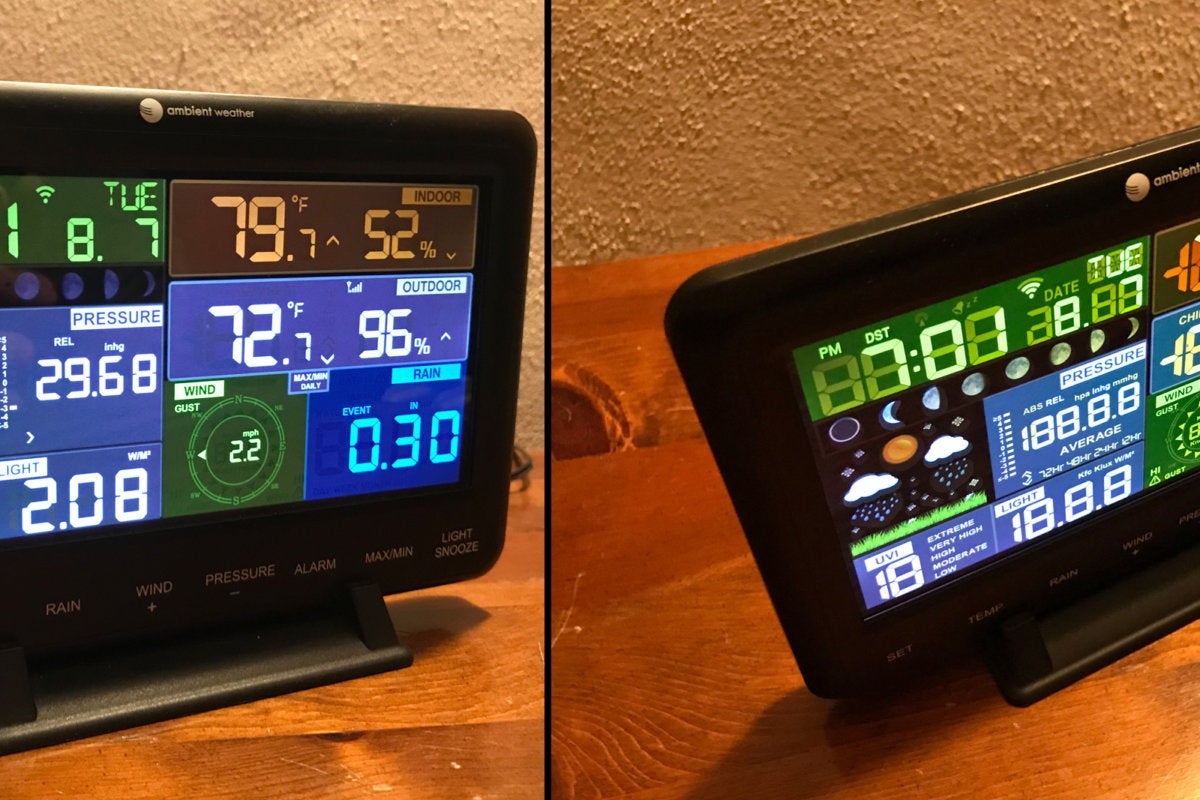 Setting up the WS-2902 Osprey
Like most current home weather stations, the Osprey features an all-in-one sensor package, which makes installation easy. Superbly written directions also help. The sensor housing comes pre-assembled, so you need only to attach the wind vane, the wind gauge cups, and the rain gauge funnel. After that, put the backup batteries in both the sensor housing and the console, plug the console in, and you should be up and running in about 30 minutes to an hour.
The final step is to download and install Ambient's app, which is available for Android and iOS. It's unfortunate that the app does not allow you to view your own weather data, but it does centralize all the ways you can share your data once you've set up an account at Ambientweather.net and connected your weather station to the internet. The website enables the connectivity options for IFTTT, Amazon Alexa, and Google Assistant. You'll also have the option to share your weather data publicly on Weather Underground as well as the more euro-centric WeatherCloud.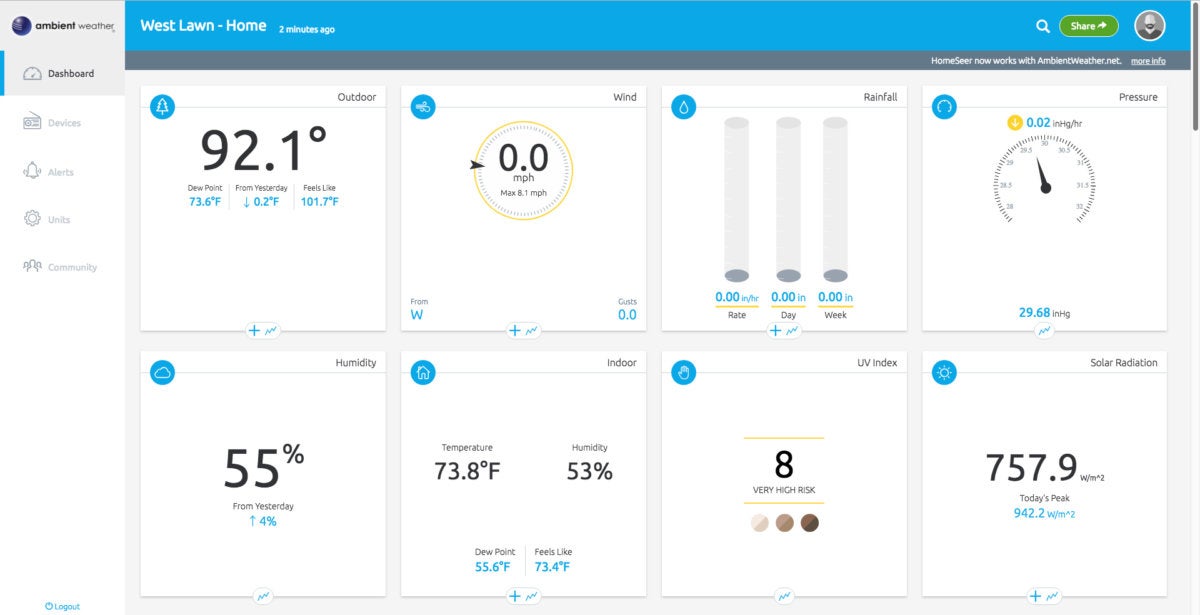 You can see your personal weather data at AmbientWeather.net. The website's user interface is easy to use and understand, and it works well with both desktop and mobile browsers. You can view historical information for up to one year, add additional Ambient Weather devices to track (although you can't add sensors to the station itself), and set alerts that can be sent via email or text message.
The user experience
Given the WS-2902's price tag, I was fully prepared to accept middle-of-the-road performance. Well, I'm happy to report that this station's sensor and connectivity performance are both well above my expectations. In fact, they're the best I've tested at this price level, helping this system easily displace my previous favorite home weather station, the AcuRite My AcuRite.
The instrument sensors were within acceptable levels of accuracy overall, with temperature, humidity, and wind readings all coming close to what my Davis Vantage Vue reported, and I consider the Davis system to be the gold standard in home weather station accuracy. The WS-902 also came quite close to the nearby official NWS observing station. The WS-2902 does tend to overcount rainfall during heavy rain events though, and its barometric pressure sensor seems far too sensitive to fast pressure changes. They might require recalibration over time to maintain accuracy.
Ambient Weather's system was also slower to update its console than the Davis system, with refreshes coming every 16 seconds, versus as often as every 2.5 seconds for the Davis, but both stations can upload data to the internet as frequently as every 60 seconds. That's typical among internet-connected weather stations, so I don't see the longer console-refresh interval to be a significant problem.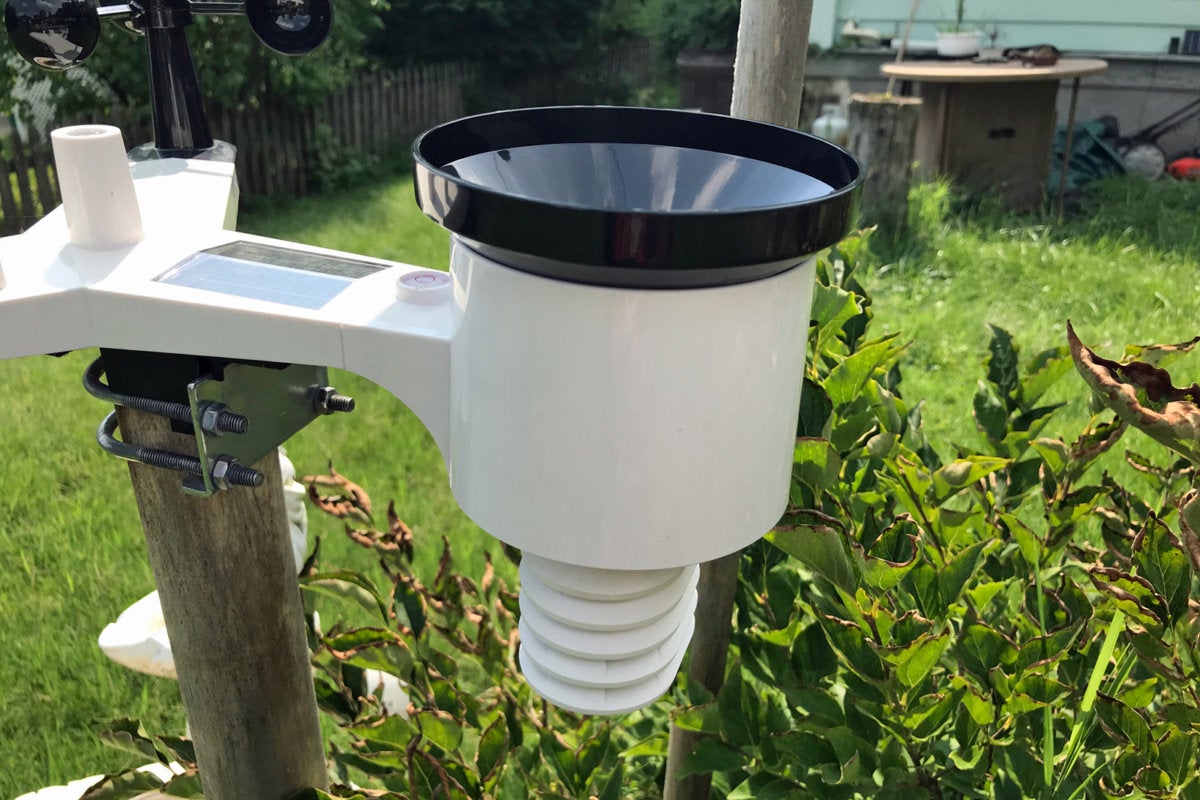 Connectivity
You'll need to set up your IFTTT applets on the IFTTT website, not on Ambient Weather's site, but I found the connectivity between the two services to be very stable. I haven't encountered any data or server issues, and such stability is vital if you want your smart home systems to operate based in part on your local weather data.
While you're on the Ambient Weather site, you should also enable the Alexa skill or the Google Home Assistant app, depending on which smart speaker platform you've settled on. Echo users can ask "Alexa, ask Ambient Weather for the indoor/outdoor weather report" or "Alexa, ask Ambient Weather for the weather report on" a given date. With Google, you can say "Hey Google, Ambient Weather indoor/outdoor weather report."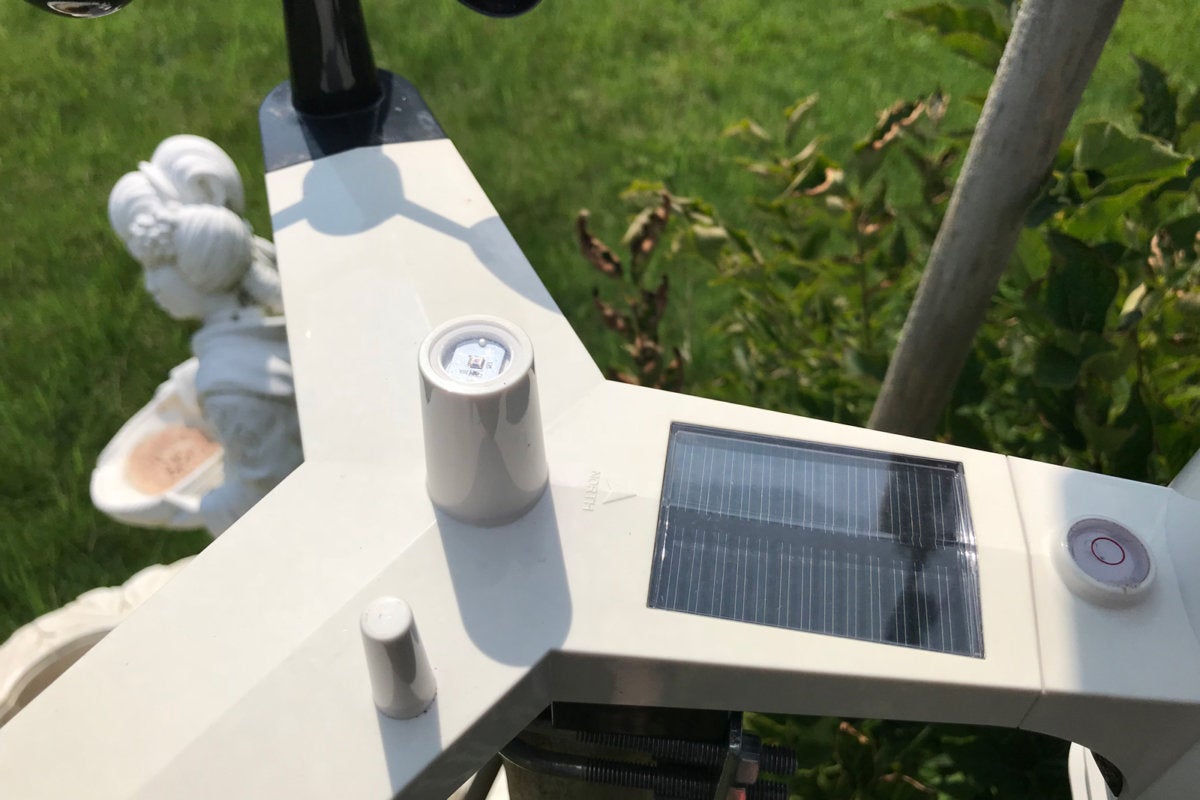 In either case, be prepared to hear a lot of information fired back at you—I'm talking every weather measurement, which can be a bit much. But I did find myself asking Alexa for the information when I wasn't otherwise near the display console. Perhaps Ambient will do some fine tuning on this feature, so you can ask for just the temperature, or just the wind speed, or just the rainfall numbers.
The Ambient Weather WS-2902 is a winner
If you're a budget-constrained shopper looking for a full-featured home weather station, the Ambient Weather WS-2902 is a no brainer. It's accurate, easy to set up, and has more sensors than you'd expect to get at this price. This is also a great weather station for people living in smart homes, with its connectivity to IFTTT, Amazon Alexa, and Google Assistant.
In fact, there's very little reason to spend more, even if you're a discerning weather watcher.
Best Prices Today: Ambient Weather WS-2902 Osprey Weather Station