At a Glance
Expert's Rating
Pros
Lightweight and cordless
Modular design lets you add attachments for different cleaning tasks
Powerful suction rarely requires more than one cleaning pass
Cons
Small dustbin requires frequent emptying, even during routine cleanings
Our Verdict
The lightweight, cordless Roidmi F8 Storm makes vacuuming a much less cumbersome chore.
My disdain for vacuuming stems from two things: The first is negotiating the appliance's power cord around furniture, while simultaneously avoiding running over the cord. It's a royal pain. The second is lugging the unwieldy beast up the stairs to do it all again. So the Roidmi F8 Storm was like a gift from the housecleaning gods. This lightweight, cordless smart vacuum made this chore, if not exactly pleasurable, at least something I no longer dread.
The Roidmi F8 Storm links to an app on your smartphone via Bluetooth (more on that later). But unlike a self-operating robot vac, this slim, battery-powered, modular device comes with a variety of attachments that optimize it for various cleaning tasks. This helps keep it a back-friendly weight of around three pounds. That, combined with the F8 Storm's 270-degree curved handle, makes it easy to maneuver, both on the ground and when reaching above your head to suck up those ceiling cobwebs.
There's nothing slight about the F8 Storm's suction, though. Powered by a 100,000 rpm brushless DC motor, the vacuum generates 115 watts of inhalation in standard mode and includes a "max" mode for concentrated cleaning. That's complemented by a four-layer filtration system that captures hair, dust, allergens, and dirt, purifying up to 99 percent of your air according to Roidmi.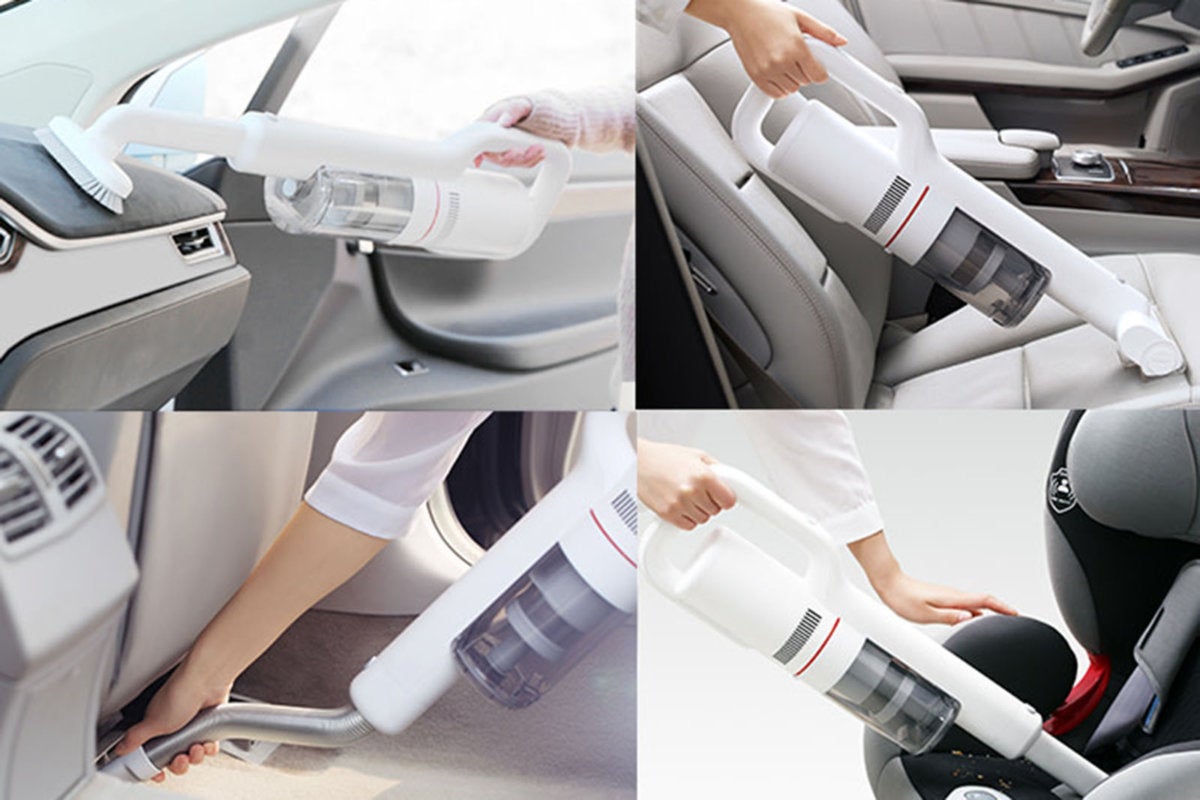 Getting down and dirty
The F8 Storm's lithium batteries take about 2.5 hours to fully charge, which gives you about 55 minutes of vacuuming time, enough to cover about 3,800 square feet. A magnetic wall mount is included that you can stick to your wall using a supplied transparent sticker. The charging cord then attaches to the side of the mount.
Compared to conventional stick vacuums, the F8 Storm feels feather light to push around. The main attachment for floors is a large roller brush with an independent motor that generates strong torque for picking up small particles. It also features a "self-walking" cleaning function that makes it feel as though the vacuum is propelling itself forward, making the cumbersome chore seem nearly effortless. The slim design makes it exceedingly easy to maneuver around chair and table legs, under couches, and into corners. An LED strip on the front of the roller attachment turns on in low-light areas so you can see what still needs cleaning.
A pair of roller brushes are supplied, one nylon velvet and the other carbon fiber. The former is best for hard floor surfaces and the latter for carpet. I used them both to clean the hardwood, linoleum, and low-pile rug in my home. The F8 Storm sucked up pet hair, dirt, dust, bits of paper, and other debris with no problem—usually in a single pass.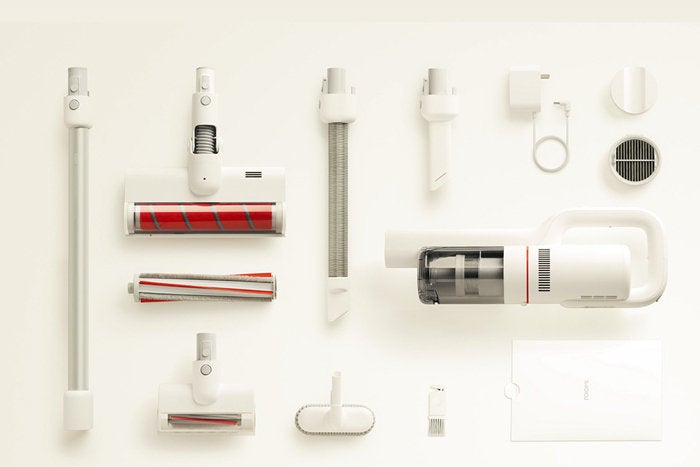 I attached the crevice-cleaning attachment—which essentially turns the F8 Storm into a handheld dust buster—to get the food crumbs between the couch cushions and some stray cobwebs around the ceiling, and it worked just as effectively. I rarely had to bump it into max-cleaning mode, but that's easy to activate by pressing the power button a second time. It's meant to be used only in short increments, as prolonged use will drop your battery life down to about 10 minutes.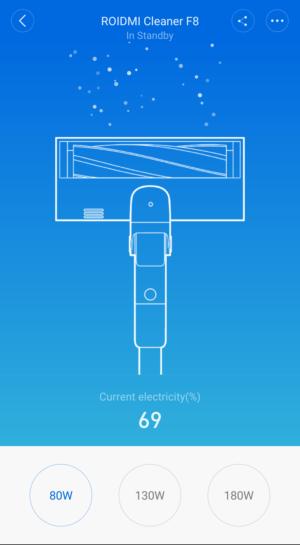 The F8 Storm's biggest shortcoming is its tiny dustbin. If you have kids and/or pets, be prepared to empty it more than once during a routine cleaning. At least it's easy to remove and open, requiring just the press of a button for each step.
In addition to the roller brushes and crevice cleaner, the F8 Storm comes with flexible hose, brush, and upholstery attachments. The last three were especially useful when, inspired by the F8 Storm's light weight and ease of use, I finally decided to vacuum out my car.
The F8 Storm can be paired to your smartphone via Bluetooth and used with a companion app. This allows you to change between three levels of suction, showing how each will affect your battery life, and the app will tell you the current battery charge and how much filter life you have remaining. It also provides analytics, such as cumulative cleaning time and cleaning area, and it will alert you when its dustbin is full and when its filters need cleaning.
The Roidmi F8 Storm is being crowdfunded on Indiegogo through August 2. If you back it before then you can get it for the early-bird price of $289. Roidmi will also throw in an anti-mite brush. The vacuum is slated to cost $399 when it goes to market later in August.
Bottom line
If you've been looking for an alternative to your conventional stand-up vacuum, the Roidmi F8 Storm is a great option. Even at $399, it's significantly lighter and less expensive than competitors such as the Dyson V8 Absolute, and it does a great job of cleaning while removing much of the unpleasantness from a necessary chore.