At a Glance
Expert's Rating
Pros
Detects motion and knocks on your door
Logs video of all your visitors
Concealed from anyone coming to your door
Cons
Costs as much or more than some full-featured security cameras
Our Verdict
The Brinno SHC1000 Peephole Camera is an easy—but expensive—way to detect and capture evidence of package theft and knock-knock burglaries.
Price When Reviewed
$323
Best Prices Today: Brinno SHC1000 Peephole Camera
With the uptick in package theft, many residential users have turned to outdoor home security cameras and video doorbells to combat porch piracy. The Brinno SHC500 Peephole Camera is one of our favorite alternatives. It's a concealed camera that records video of package thieves, potential intruders, and unwelcome solicitors through your front door's peephole.
The only drawback was that, unless you purchased the separate Brinno KNS100 Knocking Sensor, video recording had to be manually activated. And even with the sensor, it wouldn't record someone trying to deliver—or steal—a package.
The Brinno SHC1000 fixes that shortcoming by including a built-in knocking sensor and a separate motion sensor.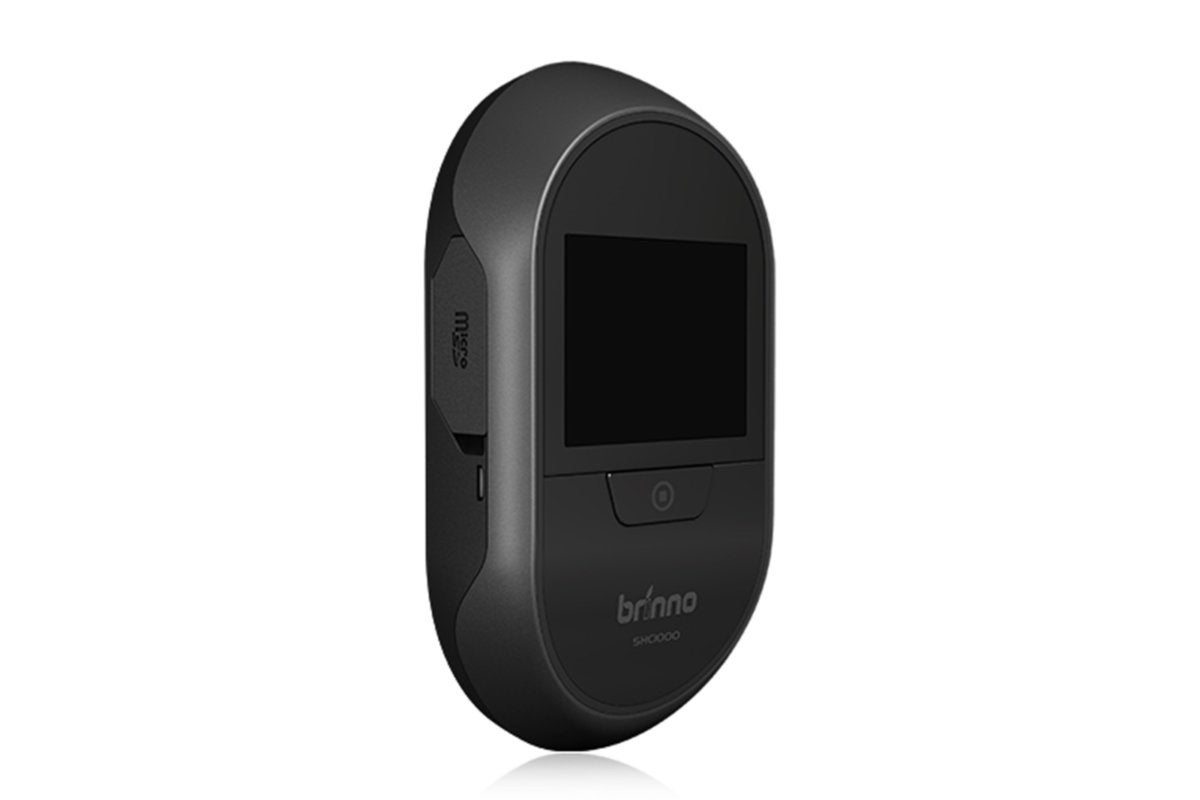 Setup and usage
Like the its predecessor, the SHC1000 comes with an optical-grade-lens peephole that replaces the one currently in your door, and a camera unit with a 2.7-inch LCD. But it adds a separate motion-sensor unit that can be camouflaged in a supplied door-knocker casing or mounted separately near your front door.
Before you can install the SHC1000, you must insert four supplied AA batteries and the motion-sensor receiver into the camera. Then you need to remove the motion sensor unit from the door-knocker casing, pair it with the receiver, then place it back in the door knocker. I found the directions for this procedure in the user manual confusing; this video was much more straightforward.
To mount the camera, you unscrew your current peephole and then insert the Brinno peephole through door-knocker casing and into the front of your door. You next thread one of the supplied barrels—either 12- or 14mm, depending on your door's thickness—through the base flange against the inside of your door and screw it in using the included "tightening tool."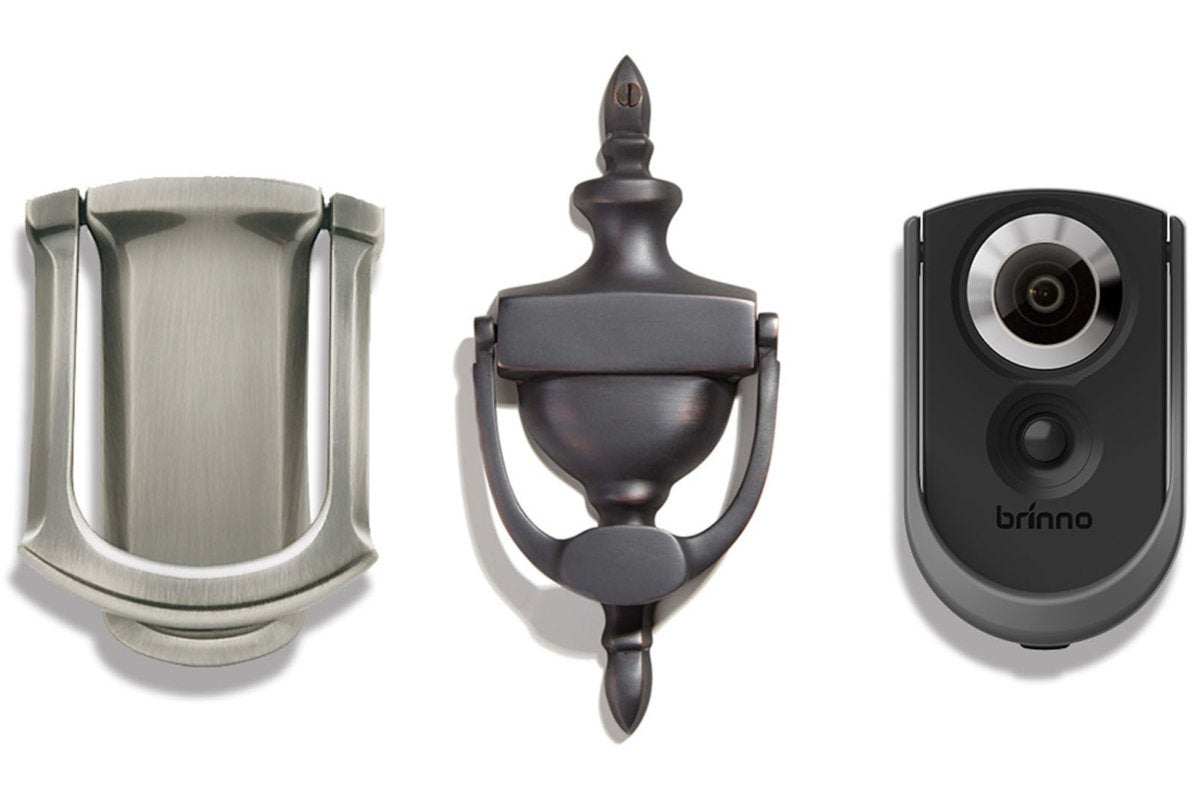 If like me you find you can't install the door-knocker casing because you already have a door knocker under your peephole, you can remove the motion sensor and mount it separately near your door using an included magnetic mount. The sensor has a transmission distance of 32 feet, so you have considerable flexibility here. I concealed it behind a bush just adjacent to my front door.
With the SHC500 Peephole Camera, you had to manually turn on the camera's display when someone knocked on your door, which would also trigger the camera to record a 10-second video clip to a microSD card. The SHC1000 starts recording as soon as it detects motion. If the visitor knocks on your door, the vibration triggers the knocking sensor, which automatically activates the display, so you can see who is at the door, and it starts recording of another clip.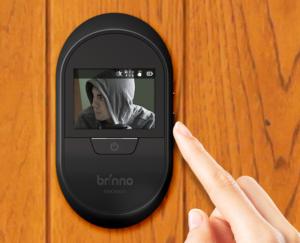 Unlike with smart home security cameras, you won't receive any (potentially annoying) alerts to activity when you're away from home. Rather, you can review time- and date-stamped video at your leisure when you return, using a browse feature that automatically takes you through the days' clips. When you see someone, you can hit the camera's shutter button to pause the clip for a closer look. The video quality isn't what you'd get with an HD security camera, obviously, but it's clear enough for identifying faces. If you capture someone stealing a package or other shady behavior, you can pop the microSD card out and take it your local police.
The display's 90-degrees viewing angle is plenty to provide a head-and-shoulders shot of any adult. When the display is active, icons for the microSD card, motion and knocker sensors, and battery level appear across the top. The camera also has a simple menu you can activate and navigate using up and down buttons on the side of the camera. Here you can adjust the knock sensitivity or turn the sensor off altogether, change the knock-activated display settings, view storage and battery levels, and set the system clock.
Bottom line
The "hidden" nature of a peephole camera gives it a clear advantage over more visible outdoor security cameras and doorbell cams, both of which wrongdoers can neutralize by holding a hand over the lens. The integration of knocking and motion sensors makes it even more useful, enabling it to capture evidence of ever-more-popular knock-knock burglaries and package theft.
It's a shame, then, that it costs so darn much. At $350 it's as expensive as the Nest Cam IQ Outdoor—a security camera stocked with features like FullHD video, motion and audio detection, and facial recognition—and nearly twice as much as the Brinno SHC500 Peephole Camera. If you can afford to spend that much, you'd get more out of a full-fledged security camera with remote viewing capabilities, so you don't need to wait to get home to see who darkened your doorstep.
Best Prices Today: Brinno SHC1000 Peephole Camera