At a Glance
Expert's Rating
Pros
Both the hardware and the optional monitoring service are very inexpensive
System is supremely easy to set up
Has the inherent potential to also be a great smart home system
Cons
The base-station siren is not terribly loud
It's not as innovative as the much pricier Nest Secure
Our Verdict
Ring Alarm is a spectacular DIY home security system with the potential to be much more, but don't buy one if what you're really looking for is a smart home solution.
Ring builds some of our favorite video doorbells and security camera/outdoor lighting mashups. Now the company—recently acquired by Amazon—is moving inside the home with a strong and inexpensive DIY home security system: Ring Alarm. It's a fantastic product today, and Ring says it will only get better with time.
Ring Alarm is positioned as a mainstream home security system, and while you won't find a great deal of innovation here (there's nothing like the Nest Detect sensor that comes with the much-more-expensive Nest Secure system, for example), it's already equipped with everything it needs to grow into a comprehensive smart home system.
Mentioned in this article
Nest Secure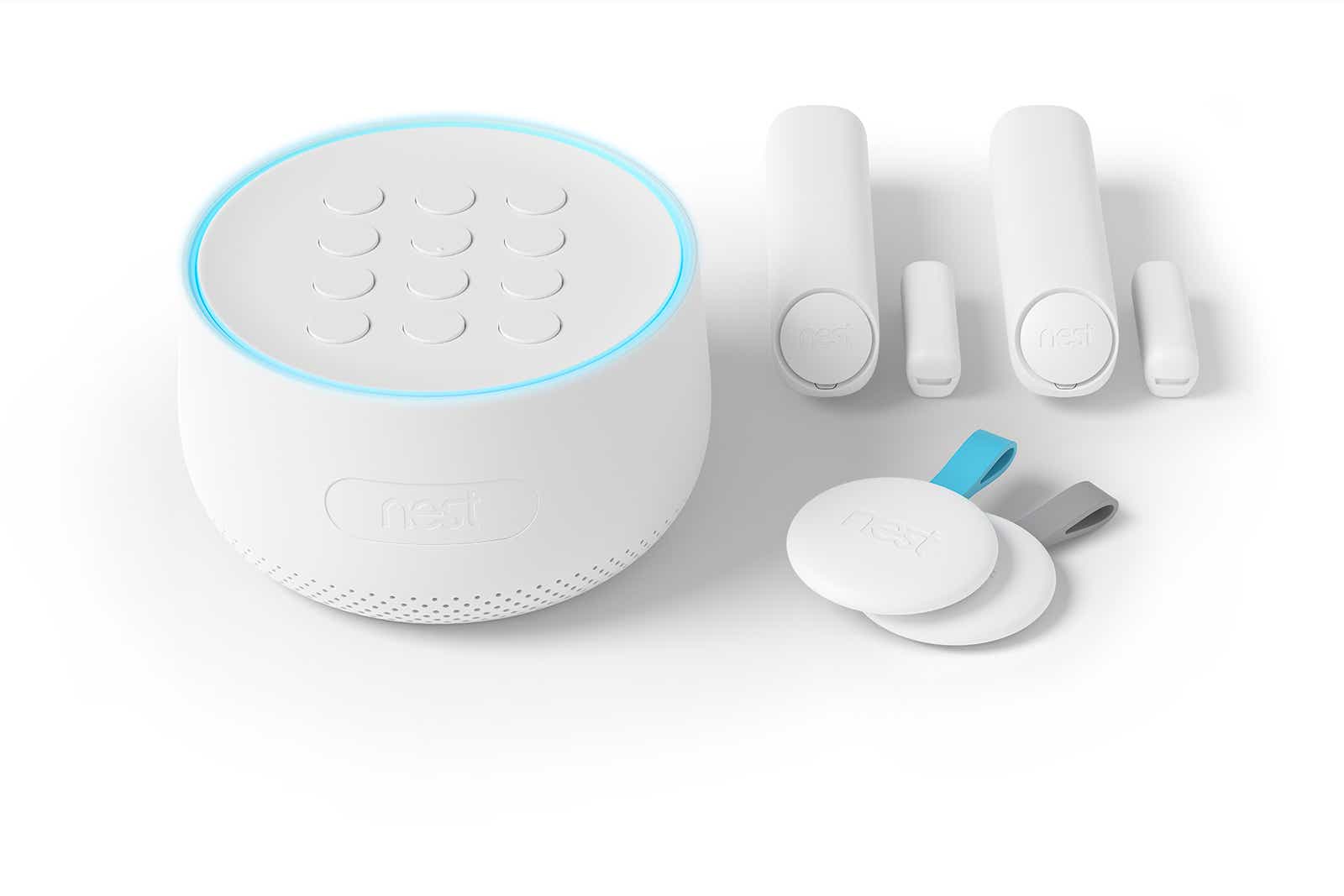 Price When Reviewed:
$499
Ring Alarm doesn't support smart lighting controls, door locks, thermostats, garage-door openers, or other common smart home products today, and there's a very short list of supported third-party products. But it lacks nothing needed to support those and similar devices down the road. And in an interview with Ring Solutions president Mike Harris earlier this week, I learned that's exactly what Ring intends to do.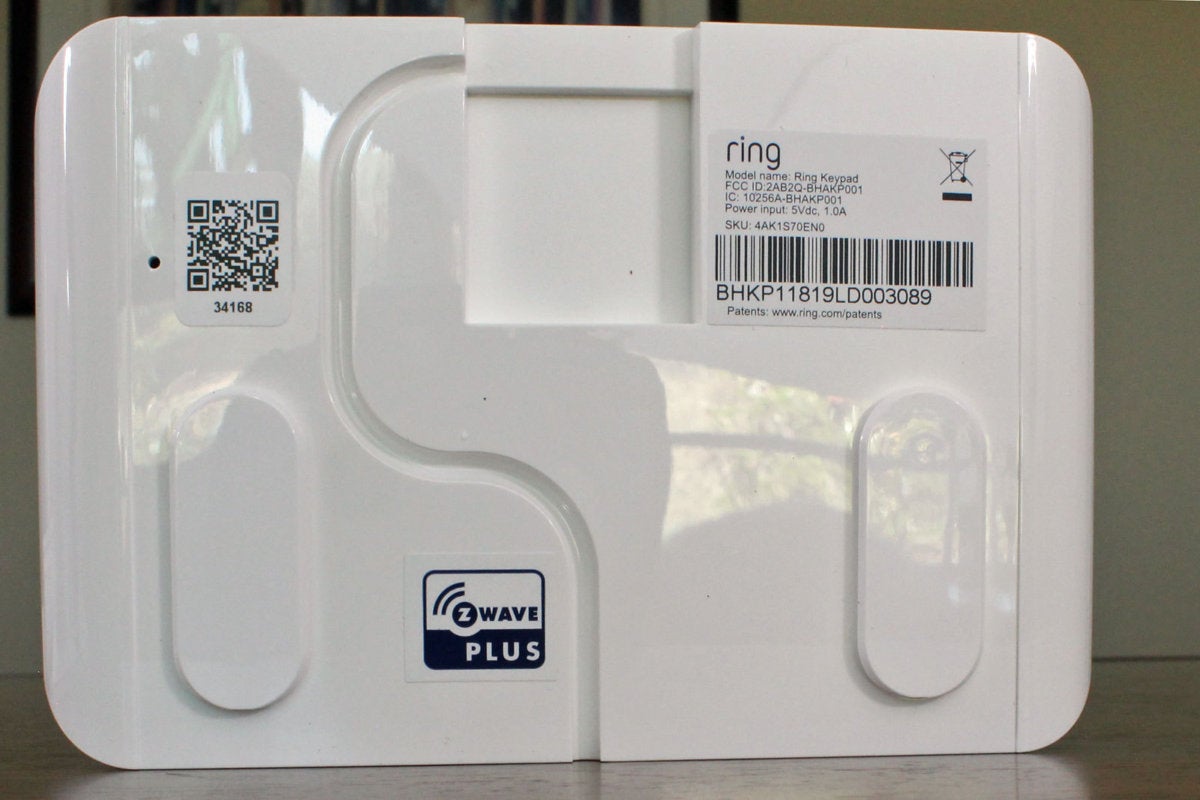 But let's go over what it can do today, first. The very affordable ($199) starter kit includes a wireless base station, a keypad for arming and disarming the system, one door/window sensor, one passive infrared motion sensor, and a Z-Wave range extender. You can monitor the system yourself, but at the price Ring is charging for professional monitoring—just $10 per month ($100 per year if paid annually) with no long-term contract—it would be foolish not to sign up for it. That goes double for people who already have other Ring devices, because it includes video storage in the cloud for an unlimited number of Ring cameras.
How it works
If an alarm is tripped, a not-terribly-loud (105dB) siren in the base station sounds off, and an alert is sent to your smartphone that launches the Ring app (a more powerful siren from Dome is on the short list of supported third-party devices). The app will tell you which sensor triggered the alarm, but you're on your own from there.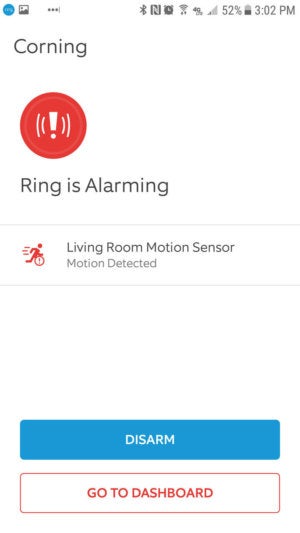 If you have Ring cameras, you can navigate to that part of the app to see what you can see—it's worth noting that Ring doesn't have any in-home cameras—you can call the police, or you can disarm the system if it turns out to be a false alarm (you can also disarm at the keypad if you're inside the home).
With a professional-monitoring subscription (Ring Protect Plus), someone will call you (or your designated secondary contact if they can't reach you directly) to make sure everything is okay. They'll dispatch first responders at your request or if they can't reach you.
The caller from the monitoring service will identify themselves as being from Ring, since that's who your business relationship is with, but they actually work for a third-party company that Ring contracts with: Rapid Response Monitoring Services. This is a common arrangement for home security systems. Nest, for example, contracts with MONI Smart Security (which is now doing business as Brinks Home Security). Alarm.com is another major third-party monitoring service.
Z-Wave, Wi-Fi, LTE, and more
All the components in the Ring Alarm system use Z-Wave Plus radios and support Z-Wave's S2 security framework, but Harris told me there's also a ZigBee radio onboard as well as some other surprises that aren't discussed in the user manual. "You've got Wi-Fi, you've got LTE, you've got Z-Wave, you've got ZigBee…." Harris said. "I'm sure people will open it up and see there's another radio in there that's not turned on yet. There's an awful lot going on in there."
Ring's sensors operate on battery power, the keypad and base station come with AC adapters, and the Z-Wave range extender plugs directly into an AC outlet. All three of those components have battery backup, so the system will continue to operate in the event of a power outage. The base station connects to your home network via hardwired ethernet or Wi-Fi. A Ring Protect subscription activates an LTE module in the base station that will keep the system connected to the internet if your broadband connection goes down. You can even run the keypad on battery power full time if you choose, since most homes don't have AC outlets right next to doors. An LED will tell you when the battery needs to be charged.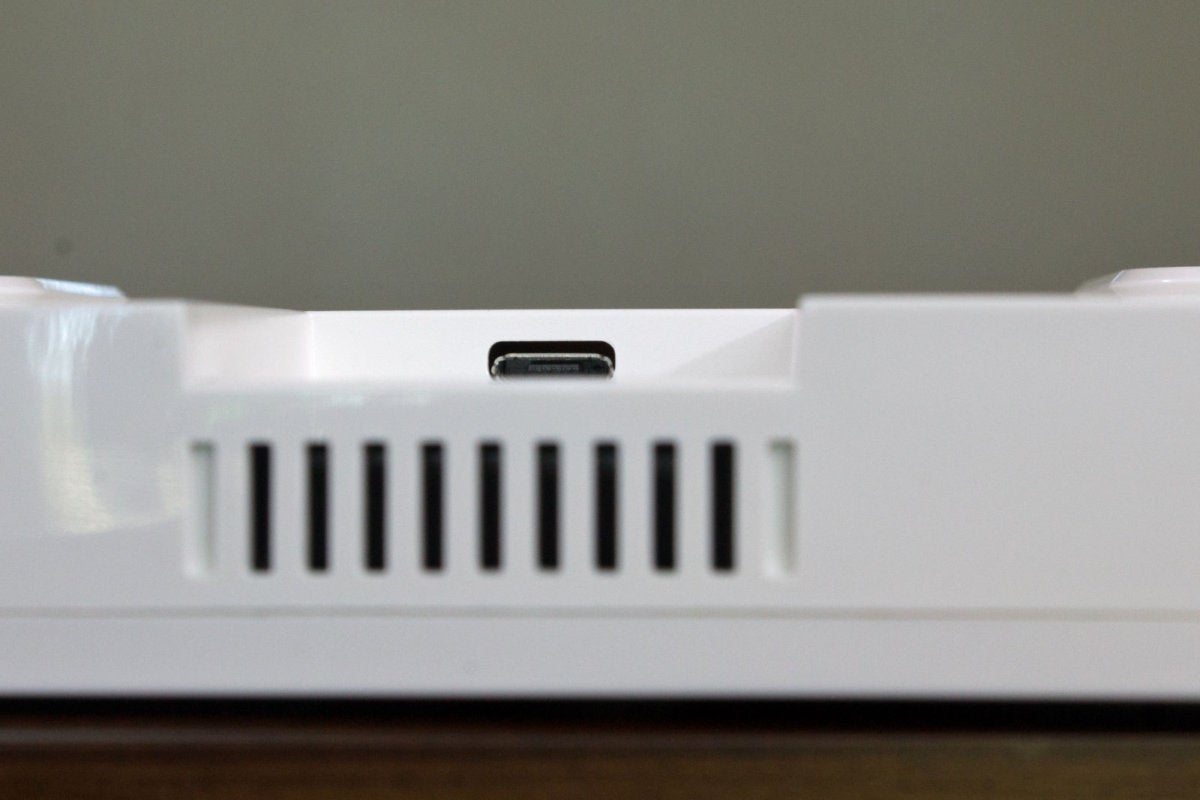 The decision to separate the system's brains—the base station—from the keypad is smart: It allows you to place the larger base station somewhere out of the way and put the smaller keypad near an entry door, where it's easy to access. You can also deploy more than one keypad—one at the front door, one at the back, and one on your bedside table, for instance. Putting the base station somewhere other than near an entry door also enhances the system's overall security: If burglars can't find it quickly, they can't disable the system.
Both components can be hung on the wall or set on a table or countertop, but the keypad is particularly well designed. It comes with a holster that you can hang on the wall and slide the keypad into. A channel on the back routes the power cable down below the keypad.
An easy-to-use system
The keypad has 12 backlit buttons on the left-hand side and three in a circle on the right. You create a four-digit PIN during setup, which you'll tap into the keypad when you arm and disarm the system (you can also do this from the Ring app, which is available for Android and iOS devices. It's the same app used for Ring's video doorbell and security cameras, although there's currently little integration between the cameras and the security system.)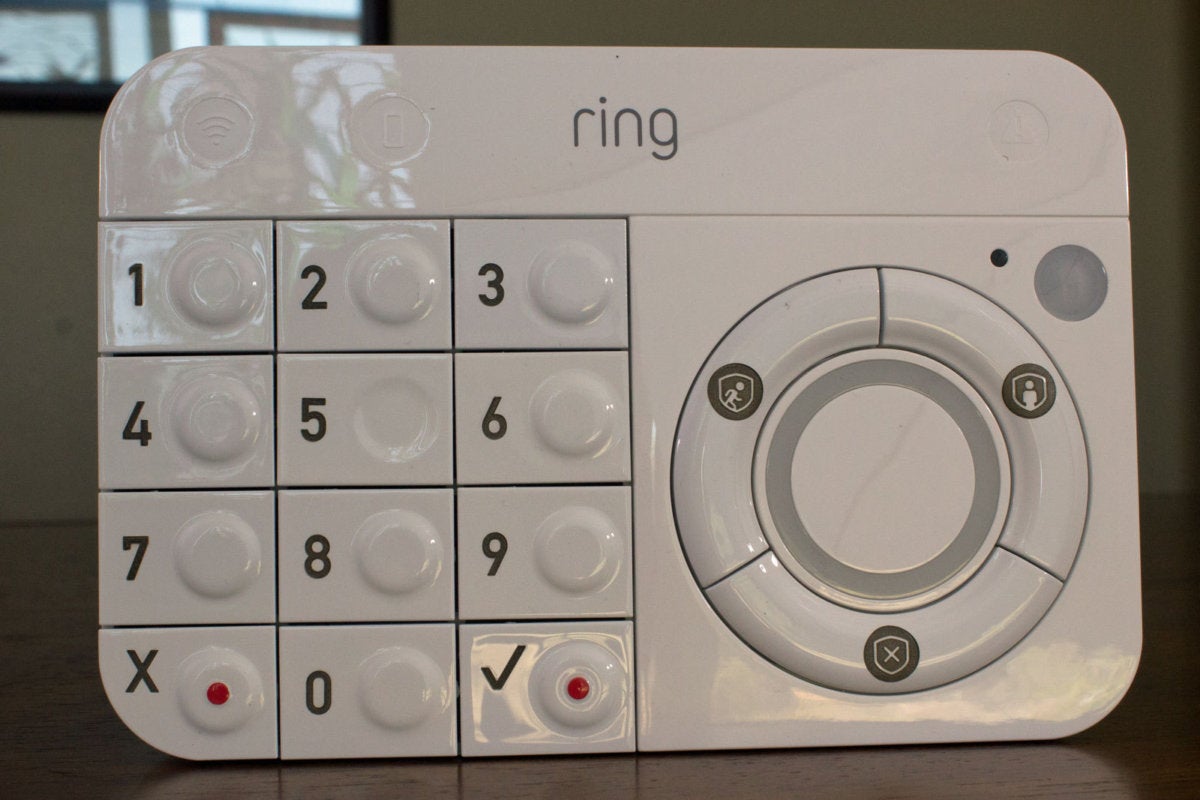 There is currently no support for controlling the system with voice commands, but it should come as no surprise that Ring is developing an Alexa skill. Once you can arm your security system using a voice command, you won't want to do it any other way (disarming it that way is whole other question). Harris was slightly more circumspect about supporting Google Assistant. "We remain committed to being open to all of the different pieces that are important to our customers. We'll continue to march down the path of trying to support everything we can." I got a similar answer when I asked about support for Apple's HomeKit technology: "We've given it a lot of time. Again, we remain focused on bringing HomeKit support across the product line, but it won't be available at launch with the Alarm products specifically."
The buttons on the keypad are made from easy-to-clean hard plastic and provide pleasant tactile, visual, and audio feedback when pressed. These aren't the rubber buttons found on many other security keypads that will accumulate grime and slowly deteriorate into a sticky mess.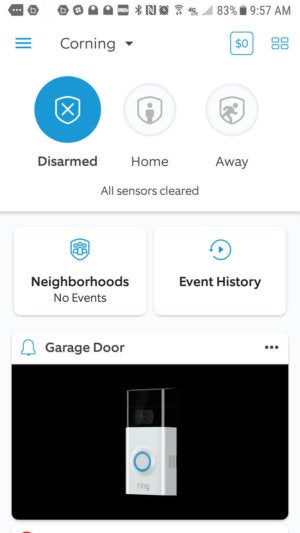 Ring's two-piece sensors are nothing to write home about: They're somewhat bulky and they won't blend into your décor easily. The same sensors are used for both doors and windows, but you designate which application each one is being used for when you enroll it to the system.
For doors especially, I much prefer sensors that can be embedded into the door and doorframe, so they're completely hidden. As I mentioned earlier, Nest really innovated on this front, embedding pathway lights and secondary motion sensors into its Nest Detect sensors. Ring sensors have an LED that lights up when activated, and the base station (but not the keypad) will chirp when a sensor is activated, but that's about it. But it's worth noting that a basic Nest Secure system costs $499 to the Ring Alarm's $199, and Nest Detect sensors cost $59 each where Ring's cost just $20 (extra Ring motion sensors are priced at $30 each).
When you arm or disarm the system, the keypad and the base station play a female voice that informs you of the system's status (the keypad's speaker is unfortunately subdued). LEDs on both devices provide visual feedback as well, although only the base station gives you a constant visual cue as to the system's status: Blue for unarmed, red for armed.
Like most security systems, Ring Alarm has two armed modes: Home activates the door/window sensors, but leaves the motion sensor turned off. This allows you to walk around inside your secured home without triggering the alarm. Away mode arms all the sensors, so if intruders break in through an entry point that isn't protected by a sensor, the motion sensor will trigger the alarm when they walk within its range. One motion sensor can do the work of many door/window sensors.
Arming the system Away starts a 60-second countdown, delaying the armed state to give you time to exit the home without tripping any of the sensors. Opening a protected door while the system is armed also triggers a 60-second countdown, this one is to give you time to reach the keypad to disarm the system. If a sensor installed on a window is tripped while the system is armed, the alarm will go off instantly. That's sensible: No one should be entering or leaving the home through a window while the system is armed.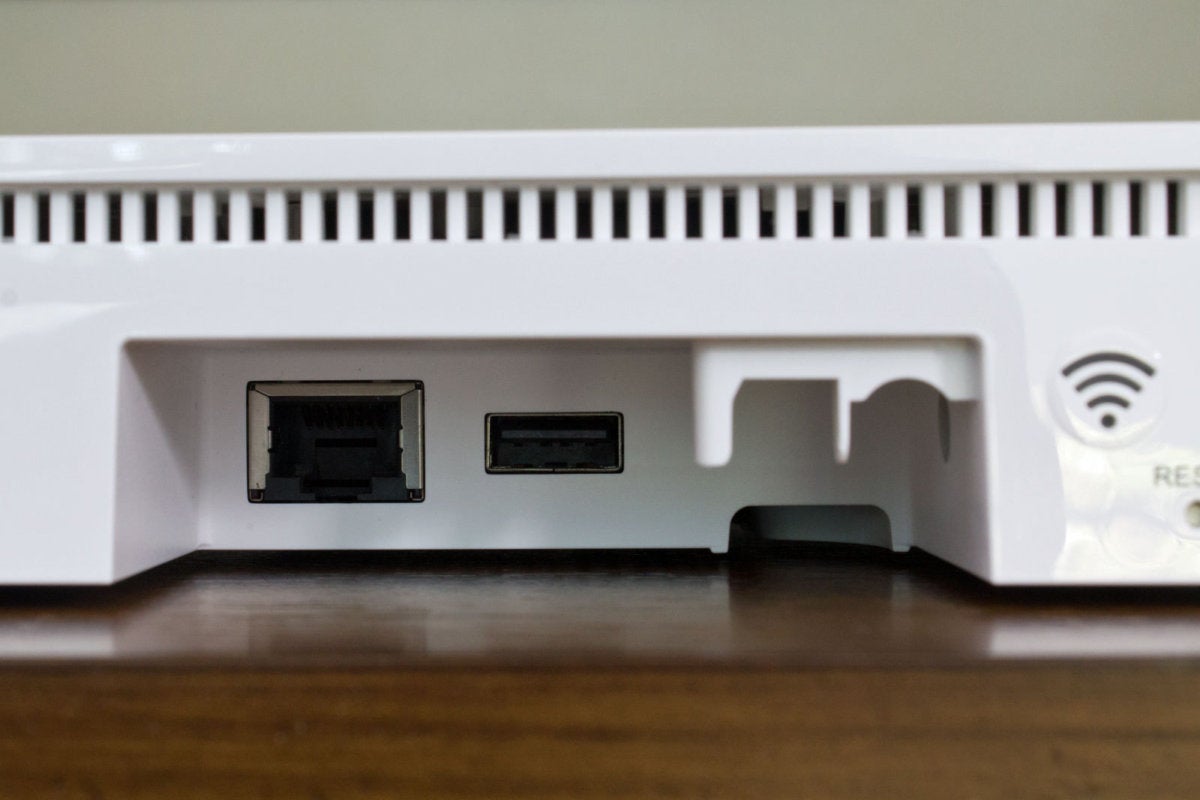 You can also disarm the system from the app, but in a break from convention, Ring does not offer a key fob for arming and disarming the system. Geofencing that would automatically arm and disarm when you leave and return isn't supported either. Harris said those were conscious design decisions. "What it came to was security," Harris said. People said 'Hey, I want this to automatically disarm my security system when I get close.' The question then becomes: How close? And is it really you with your phone? Or did someone pick it up at the park, find your address, drive to your house, and let themselves in?"
If a monitored door or window is left open when you arm the system, Ring Alarm will warn you, but give you the opportunity to push an illuminated button on the keypad to bypass that sensor. You'll get a similar warning and opportunity when using the app to arm the system. The sensor will remain bypassed until you disarm the system again. It's a convenient feature: If you left the upstairs window open, for example, but are in too much of a rush to run up and close it, you can take a calculated risk and secure the rest of the home.
The installation experience
Hats off to Ring for the smooth-as-silk installation process. This system was easier to set up than anything in my experience. Although there are no installation videos integrated into the app, as Ring provides with its other products, I didn't miss them at all. The app takes you through each step with pictures and a brief explanation, just enough information so you don't feel like you're learning the system by rote. A printed instruction manual is also provided.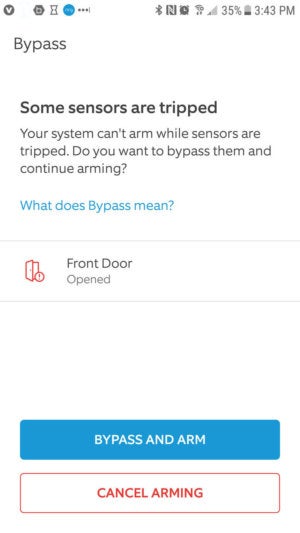 Each device gets a name and is assigned to a room in your home. Suggestions are provided in both cases, or you can create custom names. When you add a door/window sensor, you tell the system it's one or the other, so that the entry delay I described earlier will operate correctly.
When you add the keypad, you're asked to come up with a four-digit PIN that you'll use to arm and disarm the system. If you opt in to professional monitoring, you'll also need to come up with a verbal passcode that you'll use to identify yourself as an authorized user when the monitoring service calls (so be sure to provide this information to your secondary contact, as they'll need it as well).
The motion and door/window sensors can be mounted with screws or with Velcro strips (provided). I'm happy the sensors didn't come from the factory with the strips already attached. I've never seen an adhesive strip that didn't eventually fail, so I prefer to use screws—and peeling those strips off so you can use screws is a major pain. The sensor batteries come preinstalled, so you just pull out a plastic tab when the app tells you to. This enables the battery to touch the electrical contact inside the sensor, powering it up.
The Z-Wave range extender and the sensors in the kit are pre-paired with the base station, so you just need to enroll them into the app. Ring also sent me a couple of add-on door/window sensors so I could experience the full onboarding process. This simply involves scanning a QR code on the device, verifying that the PIN printed below the QR code matches what's displayed in the app, and then pulling the battery tab.
"When you buy devices like that at Ring.com," Harris said, "we'll actually be able to pair those devices [to your Ring Alarm system] when they're shipped. The base station will be sitting there waiting for them to arrive, and when they do, all you'll need to do is pull the battery tab."
What Ring Alarm can't do—at least for now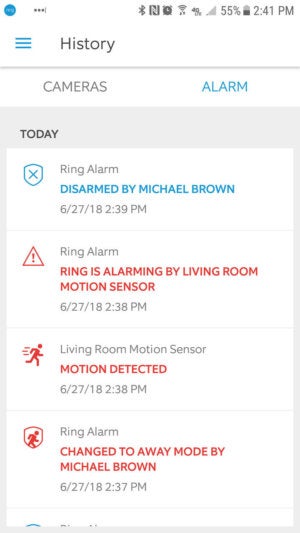 Ring Alarm hits nearly all the right notes for a basic DIY home security system. I've already touched on a couple of its shortcomings—including an absence of support for smart speakers—but tighter integration with Ring's own cameras would be another welcome development. When an alarm is tripped, the cameras should begin recording to perhaps capture a glimpse of what triggered it—potentially valuable forensic evidence you could provide to the police investigating a break-in. And if Ring Alarm could control your home's smart lighting, it could turn on all the lights if the alarm is triggered after dark, which might convince an intruder to make a hasty retreat.
More sophisticated home security systems can link to a smart thermostat that will shut down your HVAC system if a fire is detected, so that smoke isn't circulated throughout your home. Another common fire safety feature is to unlock all your smart locks in the event of a fire, to make it easier for everyone to get outside.
The Ring Alarm has the electronics required to do all of that now, and Harris said those features will be turned on at some point. "You'll see all of those things," he said. "We'll support color-changing lights, so that in a smoke situation, the lights will turn to a darker color to make it easier to see at night. You'll see door locks with [Z-Wave's] S2 security that will disarm the security system when you use the keypad to unlock the door, because we know you've done that in a secure way."
When I asked how many years away that would be, Harris replied, "It won't be nearly that long. Not in years, but months. We're not announcing any of that, but it is all very much on the way."
Should you buy a Ring Alarm?
Getting this much capable home security hardware for $199 is an absolute bargain (the system became available for purchase today). Adding door/window sensors for $20 each and motion sensors for $30 is an absolute bargain. Paying $10 a month for professional monitoring and video storage in the cloud for an unlimited number of Ring security cameras is an absolute bargain. Ring Alarm will be a huge hit with people looking for a straightforward, easy-to-use home security system.
The picture isn't quite as rosy if you're also looking for a full-fledged smart home system. Ring Alarm is positively capable of being a great smart home controller. But it's not that today. And to be fair, Ring isn't promising that it ever will be—at least not officially. But they wouldn't have built in Z-Wave, ZigBee, and whatever that third mystery radio is if they didn't intend to go down that path.