At a Glance
Expert's Rating
Pros
Very good color
Roku operating system is very easy to use
Very affordable for a true HDR TV
Cons
Noticeable motion artifacts (stutter, moiré)
Noticeable defects in the backlight
Our Verdict
You're unlikely to find a 55-inch TV with better color or HDR performance in this price range, and the Roku OS is top-notch. Noticeable stutter in fast action sequences, on the other hand, moiré in high-detail panning shots, and backlighting issues remind that you're paying a lot less.
Best Prices Today: TCL 6-series 4K UHD LCD Roku TV (55-inch class, model 55R617)
Each time I see a new TCL TV, such as the $649, 55-inch, 4K UHD 55R617 reviewed here, the company has made significant strides in one area or another. A couple of years ago it was adopting the excellent Roku operating system; this year, it's delivering color and HDR (Dolby Vision, specifically) that's competitive with TV's costing twice as much.
Note that as of 9/17/2020, Roku has ameliorated one of my major complaints by adding a DLNA client to the Roku Media player.
Design and features
I'll get back to the picture TCL's 6-series TVs generate in a bit; first, one of the best things I've seen in a while: An honest-to-goodness, placed-where-you-can-see-it power button. Somewhere along the line, these fell out of favor with TV manufacturers, banished to the back of the chassis or some other inconspicuous location. Possibly because of Samsung's one-time ridiculous habit of making them bright blue and leaving them burning all the time.
This one is large, obvious, and placed on the lower right front of the TV as you can see below, but it doesn't shine constantly. Sweet. And yes, I just devoted more than a paragraph to a single button.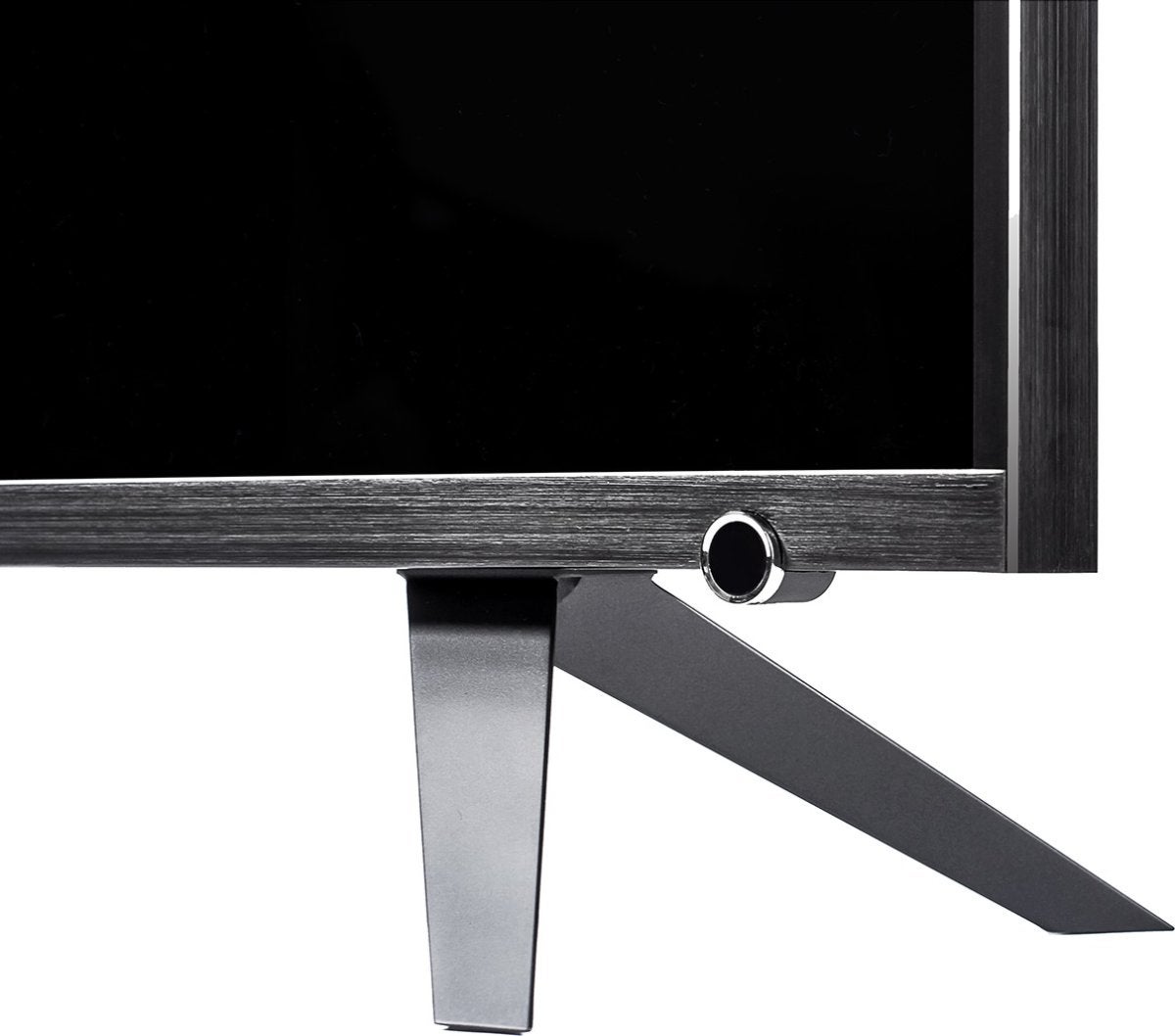 Beyond that which I just discussed, you're talking nice, but not extraordinary design: a pewter-colored bezel and a rectangular shape. TCL talks up their thinner (from screen to edge) bezel, which of course allows a larger TV in a smaller space should that happen to be a requirement of yours. It measures 3 inches front to back, and it weighs in at roughly 38 pounds, so it's easily wall-mountable (via the VESA mount point), but it's not what you'd call a "disappearing" design.
The input/output ports are recessed into the back right (as you look at it) of the TV's housing: Three 60Hz HDMI 2.0 (with HDCP 2.2), one of which supports the Audio Return Channel (ARC); an optical S/PDIF audio out; a single USB 2.0 port; a 3.5mm headphone jack; a 3.5mm A/V input that accepts an included breakout cable with stereo RCA and composite video input jacks; and 10/100 ethernet (with an 802.11ac adapter onboard). The remote works via Bluetooth, but there's no support for other Bluetooth devices, so you can't connect wireless headphones to it or stream music from a mobile device..
Remote and interface
The Roku OS TCL uses delivers unrivaled content presentation and succinct navigation. Live preview of the content playing on the inputs has been added, assuaging just about the only complaint I ever had about Roku. Okay, that and having to create an online profile to use the service. Note that you do not need to supply credit-card info, although that fact is not made obvious. Simply quit the sign-up process without filling out those fields.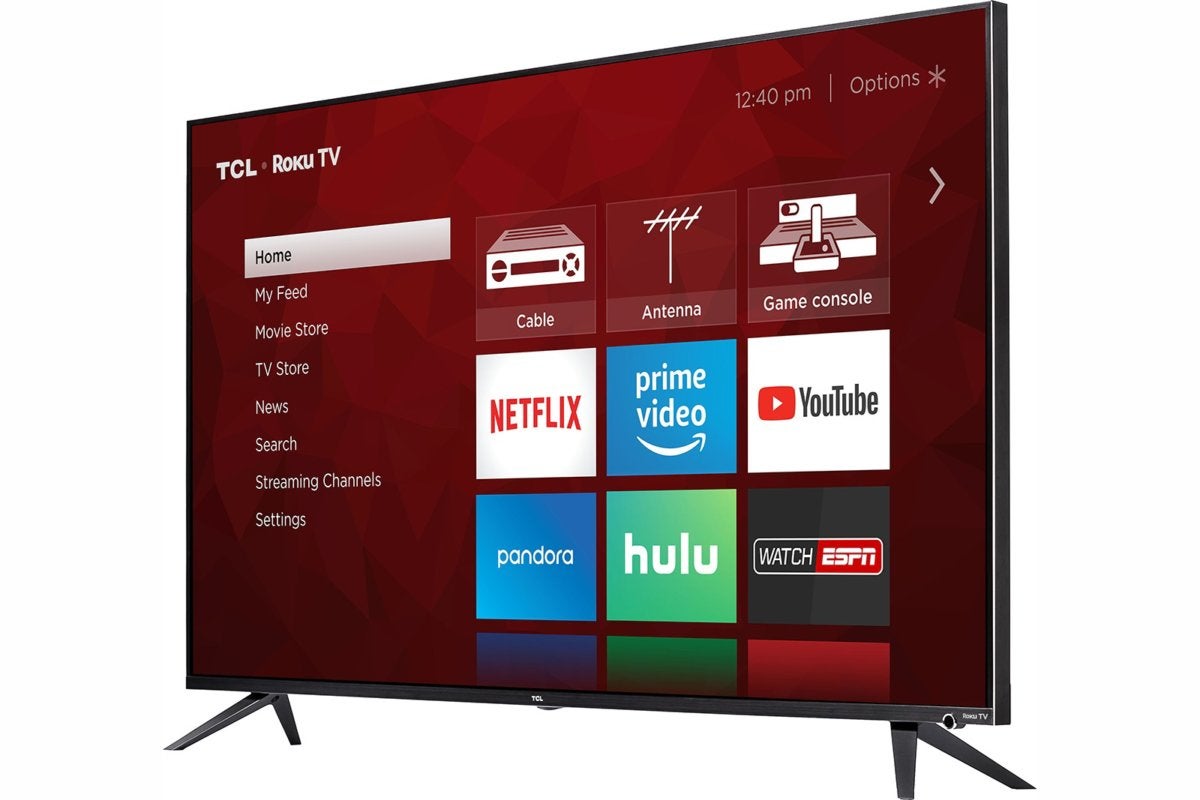 The TCL remote is essentially a Roku remote (it's basically the same remote you'd get if you bought one of Roku's higher-end set-top boxes). It has a minimal number of buttons and is quite efficient. The remote supports voice commands and has a headphone output for private listening via headphones or earbuds. I really like how the user interface handles navigation during file playback—you need just one click for any action using the four-way rocker switch. That's much better than the tedious Samsung approach, where you must select the appropriate on-screen control before you can take action.
On the other hand, I'm not a huge fan of the remote's streaming-service shortcut buttons (Netflix, YouTube, et al). I never use them, and even if I did, I'd still consider them intrusive advertising. Opinions will vary. You can see them below, although the labels are not present in in this shot the PR folks sent.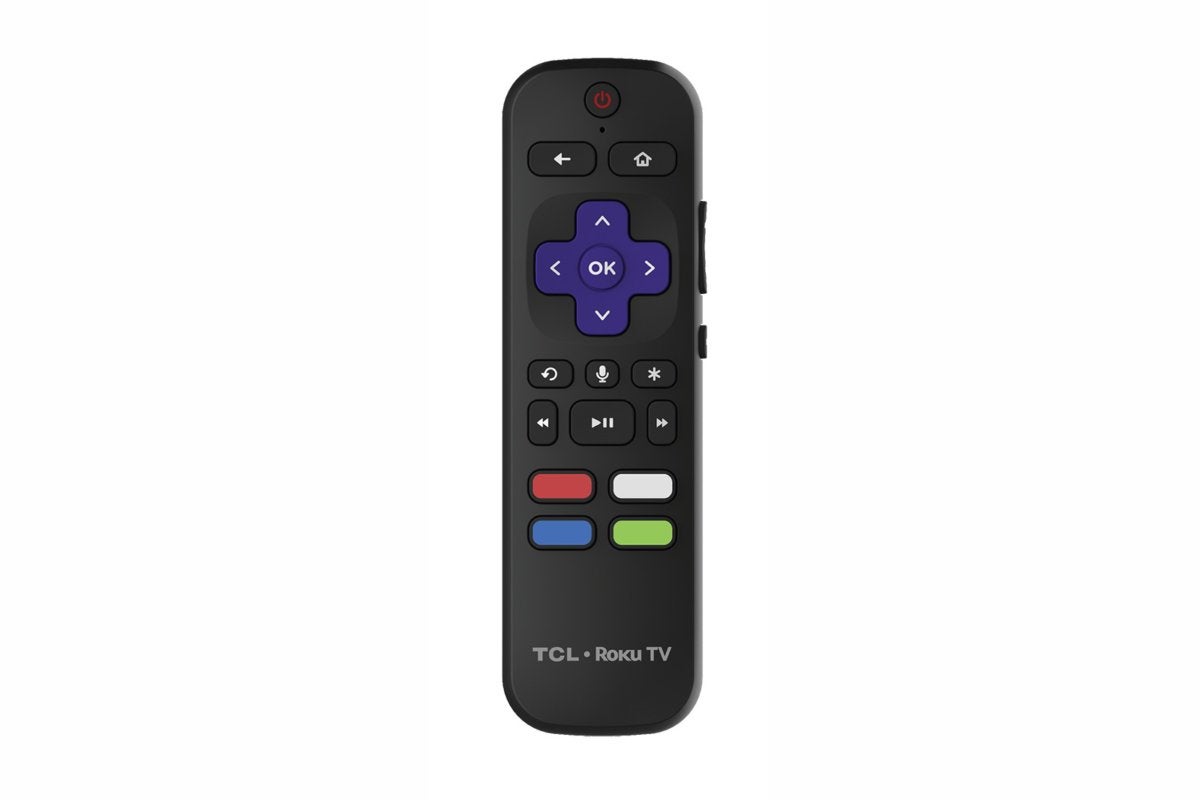 Another feature I do like, is the 3.5mm headphone jack on the side of the remote. This somewhat compensates for the TV not supporting Bluetooth headphones.
Picture quality
Like all TV vendors, TCL uses sexy-sounding but essentially meaningless techno-babble, such as "nano-band photon technology," in the marketing of its TVs. Photons are the particles that comprise light—among other things—and nano could mean anything really small, though it generally hints at quantum dots, which as far as I'm aware of, do not occupy a place in the TCL's display technology. Wide Color is also mentioned, which means a broader range of colors. I'm assuming TCL is trying to say that they use a narrow-spectrum LCD light source, and that the set produces a broader range of colors compared to other TVs.
Whatever the company is talking about, the display technology at hand works pretty well with both SDR (standard dynamic range) and Dolby Vision/HDR10 high dynamic range material. Indeed, the brightness, contrast, and color remind me more of recent mid- to high-end Sony and Samsung TVs than any entry-level set. The colors are rich, and there seems to be a lot of them: It's a 10-bit panel delivering 94 percent of the DCI-3 color space, and 74 percent of BT.2020, if you care. And colors seem to be pretty darn accurate. I detected no unintended yellow/green or orange/red. The HDR pops really well, which the 1,068-peak-nit reading from our light meter backs up.
One thing I truly appreciate about the 55R617 is that, unlike some other TVs, all the adjustments remain available when HDR is engaged. Off-axis viewing is also generally quite good, given relatively mild lighting in the surrounding area.
Alas, the 6-series is not a mid- to high-end TV, and this shows up in several ways. One of the most salient is the large amount of moiré and shimmer in detailed areas during slow pans. There was also some mild stuttering during fast action shots, though cranking the motion compensation reduced that to a tolerable level. Note that this is a 60Hz panel, so forget TCL's 120Hz Clear Motion malarky. Generally speaking, 60Hz TVs suffer more severe motion issues because, yes, they don't have as many dead frames per second to play with, and compensation for this generally requires more processing power than is provided.
The other issues were related to control of the 96-zone full-array backlight, with the brightness of the entire screen occasionally jumping up and down by a noticeable amount, as well as discernible 2- to 3-inch vertical dark areas in quick panning shots. Uniformity was also slightly off, with both upper corners slightly gray, as well as subtle clouding in several areas around the display.
Note that most of these issues occur only occasionally, as most shows and videos don't stress a TV in ways that will produce them. The 2160P/HDR10 material I use for testing will always bring out the worst in a TV.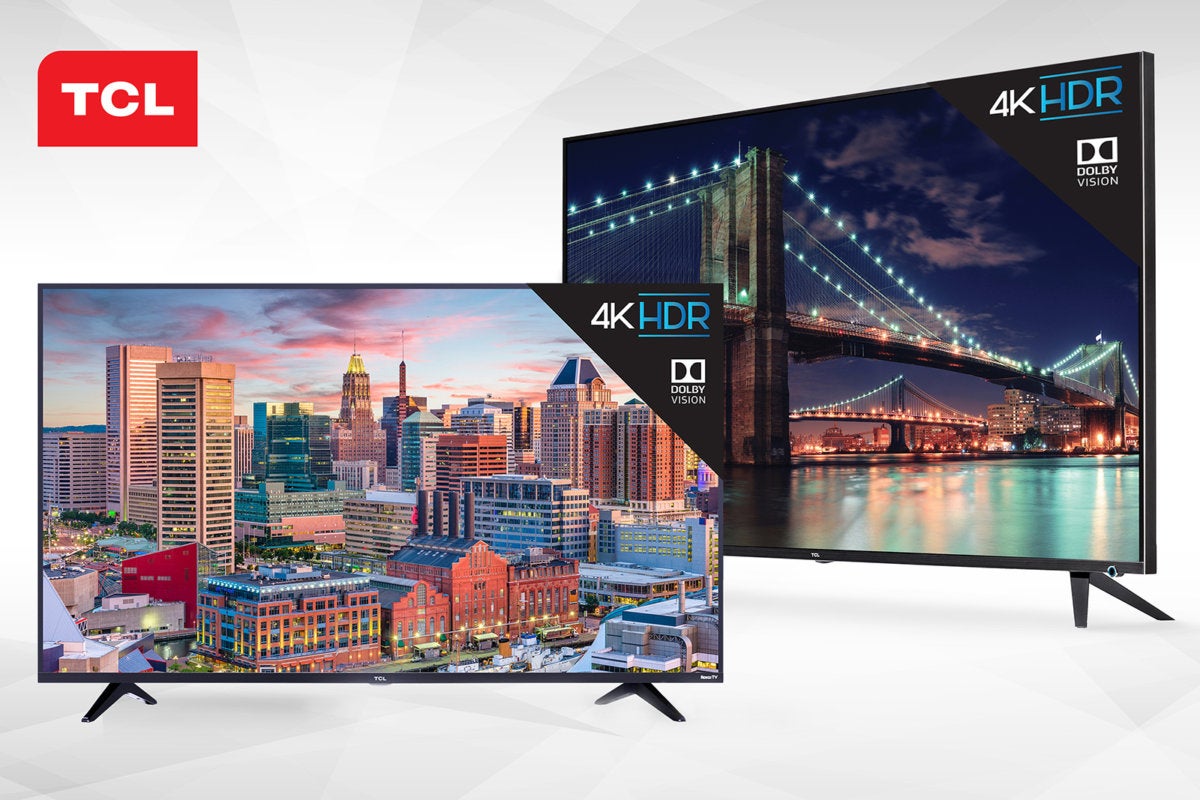 I do a lot of testing with files, which were once the only source of HDR material. The 55R617 recognizes USB mass media, but not larger drives such as the 1TB model I normally use. TCL hadn't gotten back to me on the limit, but switching to a 64GB drive worked fine. The 55R617 understands both h.264 and h.265 video, as well as all the other common video and audio file types.
When it comes to sound, not being an extremely thin design helps: The 55r617's sound is hardly thumpy, but you can tell the bass and kick drum are there, and the overall timbre good for talk and dialog, if not for music. It's certainly adequate for those times you just don't like feel like turning on the surround system or listening through headphones to watch the news.
Conclusion
In terms of color and HDR, the TCL 6-series punches impressively far above its weight class. A firmware upgrade that solves some of the backlighting issues would be welcome, although those appear rarely enough that they shouldn't ruin the overall experience. But give the tires a really hard kick if you're especially sensitive—it suffers many of the image foibles of an entry-level TV.
Also, just before I put this review to bed, the similarly priced 55-inch Hisense H9E Plus showed up. It can't match the color, black, or brightness of the 55R617, but it handles motion better, and it doesn't suffer the same backlighting issues. Kind of a toss-up there.
Note: This article was edited 07/13/2018 to change the discussion on the quality of the sound.
Best Prices Today: TCL 6-series 4K UHD LCD Roku TV (55-inch class, model 55R617)