Now that AT&T has bought Time Warner, the carrier is making good on plans for a cheap bundle of TV channels with AT&T Watch TV. The service, which launched this week, offers more than 30 live TV channels for free with a couple of new AT&T wireless plans. For everyone else, the service costs $15 per month.
Setting aside the long-term implications of a major wireless carrier owning a major source of TV content, AT&T Watch isn't a bad deal. But it does have some limitations and gotchas that you should know about before diving in. Here are all the details:
AT&T Watch TV channel list
Take a look at the channel list below:
It's kind of an odd assortment, but a few things stand out:
Similar to Philo, there are no sports-centric channels, such as ESPN or Fox Sports.
For that matter, all the major broadcast networks (ABC, CBS, NBC, and Fox) are excluded, as are all the cable channels they own.
Strangely, a couple of Viacom's biggest channels are missing. While the service includes MTV2 and Nicktoons, it doesn't include regular MTV, Nickelodeon, or Nick Jr. It's rare to see TV networks carve up their content this way.
As expected, Time Warner's (er, WarnerMedia's) Turner networks dominate the lineup.
Roku Streaming Stick+
Price When Reviewed:
$69.99
Of course, these channels are also available—in whole or in part—through other streaming TV services, including Sling TV, PlayStation Vue, and AT&T's DirecTV Now. This new service is a much smaller bundle, and it's a lot cheaper as a result.
What's included, what's not
Beyond just live channel feeds, AT&T Watch TV will include on-demand video from many channels, and those videos will be ad-supported. (Assuming the on-demand offerings are similar to DirecTV Now, you'll get only live feeds from Animal Planet, HLN, Nicktoons, and Velocity.) You can't pay extra to avoid the ads, and AT&T won't say whether it might offer DVR service in the future.
Unlike DirecTV Now, which offers two streams at a time, AT&T Watch TV will be limited to a single stream, so no password sharing for you.
AT&T Watch TV app support
At launch, WatchTV will work on Roku, Apple TV (fourth-generation and later), Google Chromecast, Android, iOS, and the web (with Chrome or Safari browsers). On those devices, the interface will be similar to that of DirecTV Now, so you'll presumably have a channel guide and various ways to sift through the on-demand catalog.
Mentioned in this article
AT&T says it will support more devices over time. I'm still waiting to hear whether Watch TV will support TV Everywhere logins as a workaround.
Wireless deals and caveats
Here's where things get more interesting: If you sign up for one of AT&T's new " Unlimited &More" wireless plans, Watch TV is included at no extra charge. Here's how those plans work:
Unlimited &More costs $70 per month for one line, or $160 per month for four lines. While it has no hard data caps or overage charges, your speeds will slow down whenever the network is busy, you can only watch standard-definition video over the cellular network, and you can't use your phone as a mobile hotspot for other devices.
Unlimited &More Premium costs $80 per month for one line, or $190 for four lines. There are no hard data caps or overage fees, but after you've used 22GB, your speeds will slow down when the network is busy. The plan includes 15GB of mobile hotspot use and allows up to 1080p video on the cellular network. You can also add one "premium" service (HBO, Cinemax, Showtime, Starz, VRV, Amazon Music Unlimited, or Pandora Premium) at no extra charge.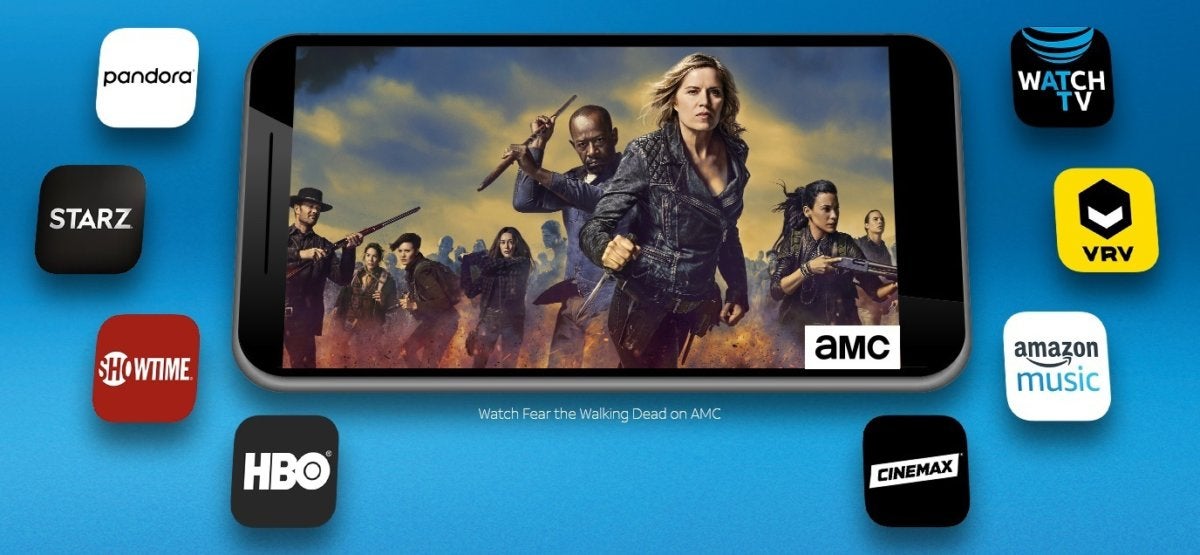 These new plans are similar to the Unlimited Choice Enhanced and Unlimited Plus Enhanced plans that AT&T was offering before, though the basic "&More" plan is $10 pricier for one line than the Choice plan it's replacing. (The cost for four lines is the same.) Also, AT&T is no longer giving away free HBO with that basic plan. The incentives to choose the pricier tier are pretty strong now.
Apple TV 4K
Price When Reviewed:
32GB $179 | 64GB $199
Still, both new plans allow you to get a $15-per-month discount on DirecTV Now, which offers far more channels (including sports) than AT&T Watch TV.
Who's it for?
AT&T Watch TV seems like it was designed not to cannibalize larger TV bundles. Even before AT&T announced the specifics, CFO John Stephens had described the service as a "very low end, very thin collection of products." The result is a muddy middle ground that neither aggressively covers non-sports channels like Philo does, nor offers popular broadcast networks or sports channels.
That said, Watch TV could compensate for what's missing from some other streaming bundles. Hulu, YouTube TV, and FuboTV, for instance, all lack Discovery and channels from Viacom, while Hulu also lacks AMC. With Watch TV, you might be able to plug those holes for cheap—or even for free. At least for now, AT&T's post-acquisition consumer overtures could pay off.
Sign up for Jared's Cord Cutter Weekly newsletter to get this column and other cord-cutting news, insights, and deals delivered to your inbox.