At a Glance
Expert's Rating
Pros
Distributes free television entertainment over your home network.
Can also stream live broadcast TV to mobile devices in or outside your home
App includes a free seven-day program guide, to help you find what content is available
Cons
Performance varies based on your proximity to broadcast TV towers and the strength of the antenna you connect to it
You can't tune directly to a channel by pushing a number on a remote (there isn't one)
You can't create a list of favorite broadcast channels
Our Verdict
Designed for cord cutters, AirTV distributes broadcast TV over your home network and over the internet to remote locations.
You don't need to pay for cable or satellite TV just to watch the local affiliates of the broadcast networks ABC, CBS, Fox, NBC, and PBS. You just need an antenna. And if you add an AirTV to your Wi-Fi network, one antenna is all you'll need to send those live broadcasts to multiple TVs in your house—and to mobile screens wherever you can get on the internet.
A new viewing option from the folks behind Dish Network satellite TV, AirTV was formally launched in May with just that skill set, a promise this writer found compelling. After a few weeks of working with the $120 box and ironing out some kinks, I'm still pretty much impressed, albeit with some caveats.
Don't confuse AirTV with its sibling, the AirTV Player. The latter box is designed to meld Dish's Sling TV over-the-top TV service with over-the-air TV broadcasts on a single TV via HDMI. AirTV doesn't have HDMI. It distributes the video streams from its dual ATSC tuners over your home network.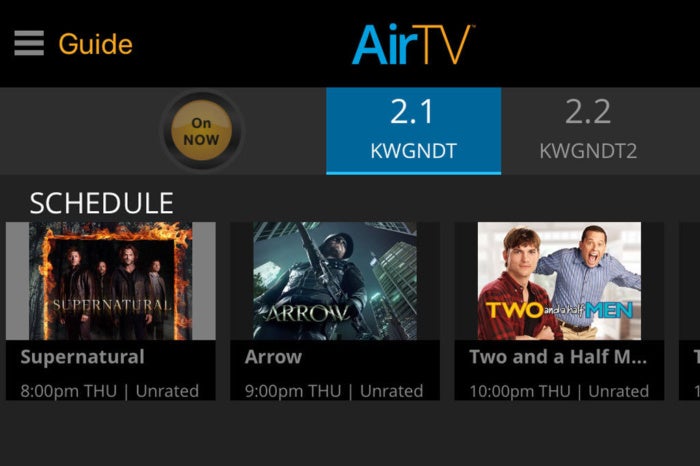 Any network device capable of running either the AirTV or Sling TV app can pull in those streams. At launch, that includes Roku, Amazon Fire TV, Android TV, and tvOS devices as well as Android and iOS smartphones and tablets. Dish intends to expand to other platforms down the road, including Apple TV. The company also plans to add a DVR feature, so you'll be able to record video to an up-to-2TB USB storage device (a feature its sibling already has).
A successful AirTV deployment depends on mounting a TV antenna in the location of your home that has the very best broadcast TV reception. That was tough in my urban dwelling, where signals are blocked by taller buildings. Even with an amplified indoor antenna, the Channel Master SMARTenna+ ($89 at Channel Master), the AirTV couldn't pull in my local ABC and PBS affiliates—nor could it nab all the quirky broadcast-only channels that occupy leftover bandwidth in digital TV land.
A mast-mounted rooftop antenna pointed northwest towards the city's dominant antenna farm has always been a better solution for me. So the folks at Dish recommended I try their $149 professional rooftop installation option, which includes a Televes DigiNova Boss powered antenna ($100 at Amazon, if you want to install it yourself).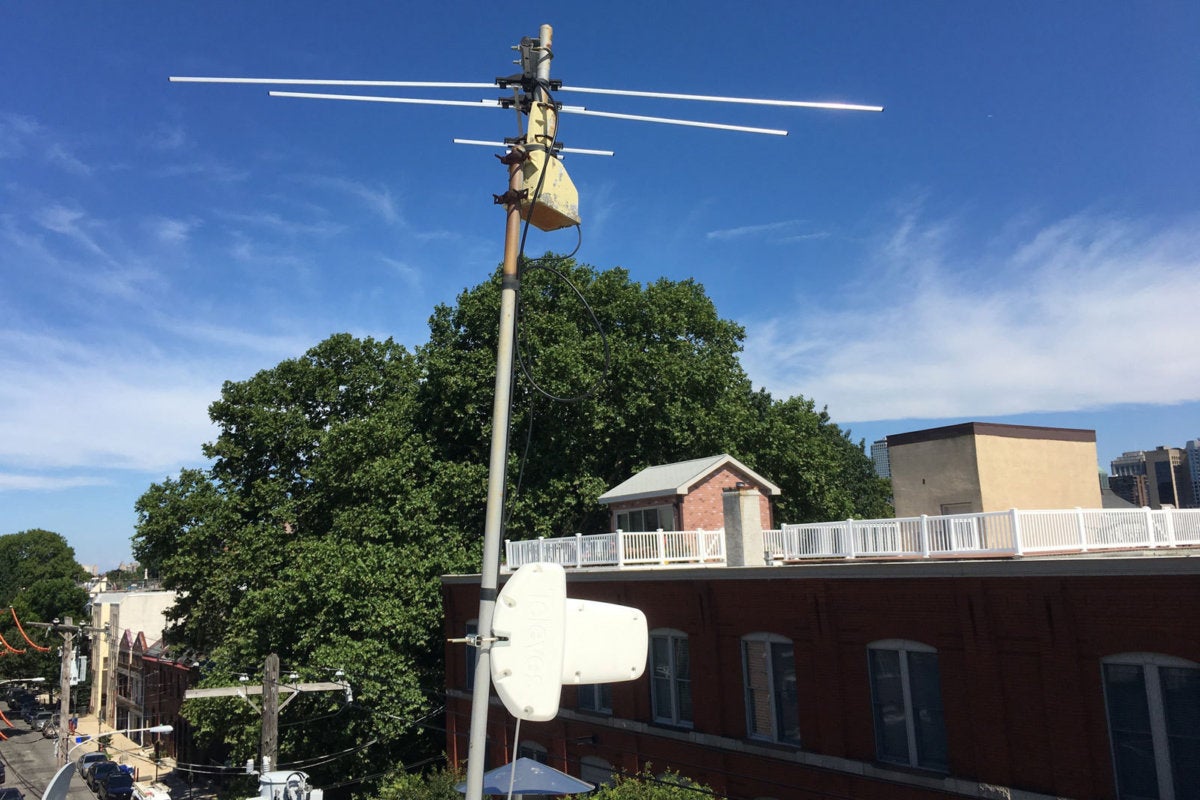 After working a professional-grade signal meter, the Dish techs opted to point the Televes due north rather than northwest, to nab extra digital channel signals they'd tracked bouncing off and around high-rises. (Multipath distortion can be put to good use!) So now I'm pulling in 34 non-duplicating digital stations on the AirTV, 50 percent more than the 22 I got with the Channel Master SMARTenna+. Three PBS channels returned from the lost with the Televes. Classic-TV and -movie channels such as Antenna TV, Comet, Movies!, Tuff TV, COZI, Decades, Retro, Escape, Grit, and MeTV also became newly tunable and/or more stable.
AirTV's sibling product
Sling Media AirTV Player + Adapter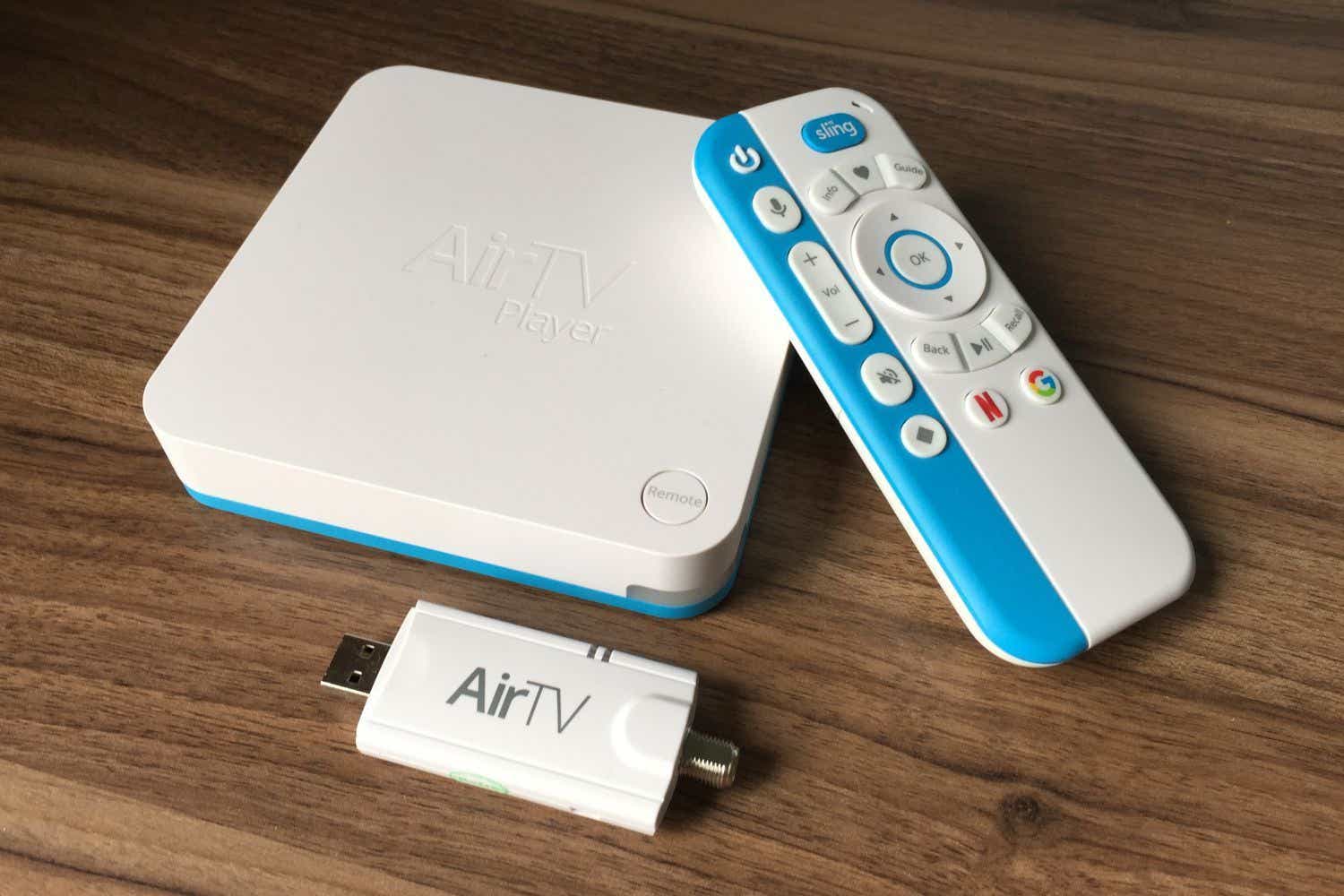 Price When Reviewed:
$129.99
Pulling strong and stable signals into the AirTV is only half the battle, however; maximizing the reach of your Wi-Fi network is equally important for a good picture to materialize on the screen. All signals exiting the AirTV box are directed first to your home network router, and then out to your Rokus, Fire TVs, iPads, and smartphones.
My home has four TVs distributed between three floors, and I installed the AirTV on the top floor where it was closest to the roof-mounted antenna. My router—a Comcast Xfinity XB3 cable-modem/router combo—is two floors down, which proved to be too far. Channels were slow to change, there were periodic audio dropouts, and images were pixelated and in and out of focus due to erratic bit-rate adjustments. So I took advantage of the ethernet port on the back of the AirTV and used powerline network adapters instead of Wi-Fi.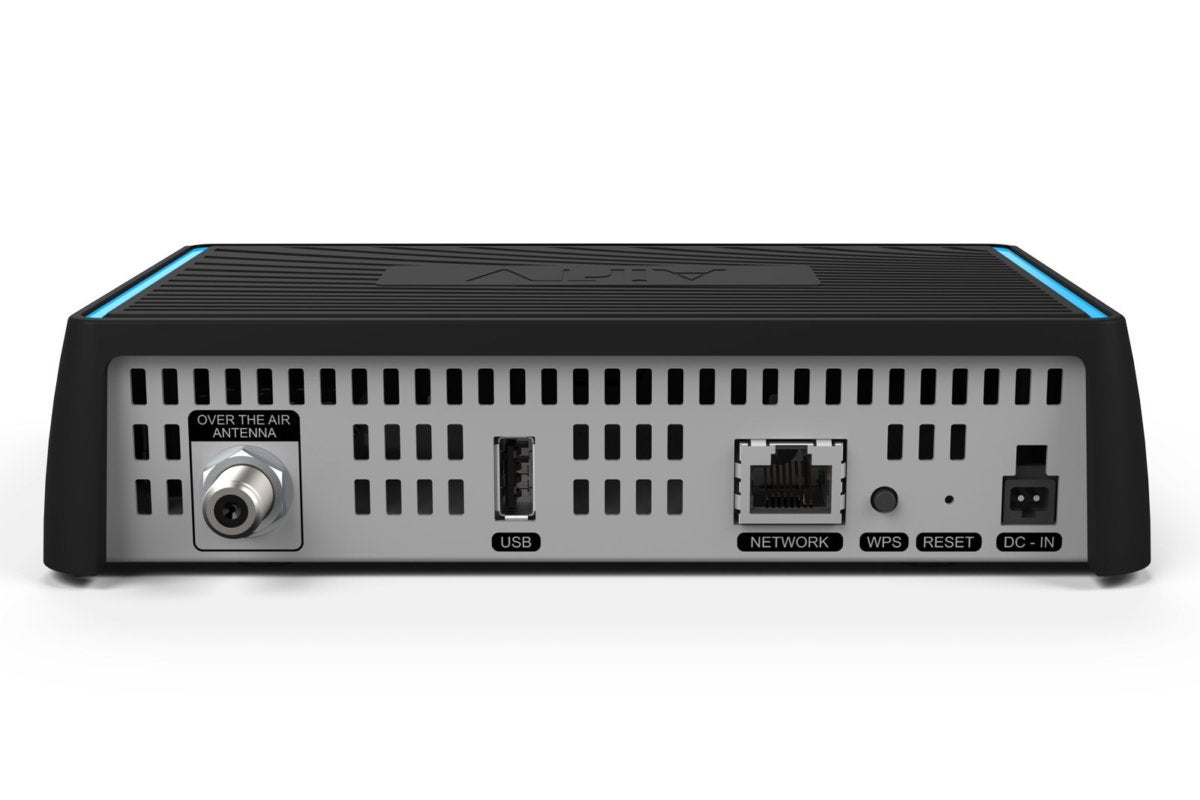 That eliminated 90 percent of the visual artifacts I was getting with a strictly wireless connection on three of my four test TVs. I found that my two high-end Roku boxes performed better than the mid-range Amazon Fire TV for both HD and SD channels. It wasn't quite HD cable-TV quality, and it was certainly less pristine than the uncompressed quality that comes straight from an over-the-air tuner, but it was close enough for viewing comfort.
Sadly, my fourth setup—a higher-end Fire TV feeding an LG OLED, located in my home's weakest Wi-Fi reception area—continued to flash a "no signal available" message before buffering for five to 30 seconds and then finally displaying a stream. This setup would continue to drop frames for another minute or two before it finally settled down, mostly.
It's worth noting that you can currently install only one AirTV box on your network. And if someone is using one of that box's tuners to stream TV outside the network—I tried this at a friend's house and was impressed—then only one stream can be carried inside it. An AirTV product manager told me of plans to gang multiple boxes together to get around this limit, but one must wonder if the typical home Wi-Fi network would have the bandwidth for it.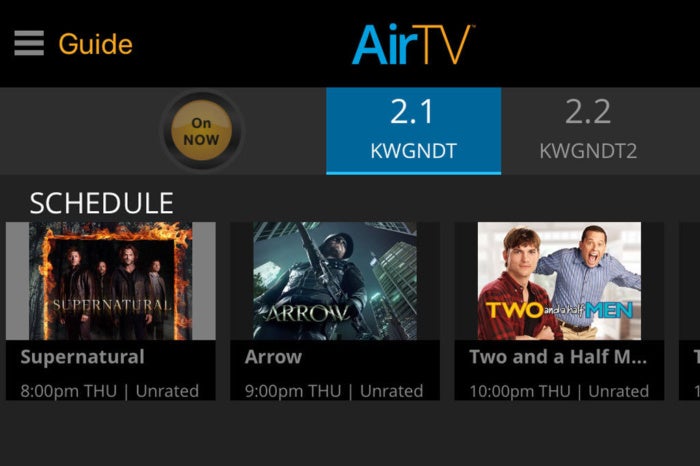 The program guide
Whether you use the AirTV app or the SlingTV app, which integrates offerings from the paid streaming TV service, you'll get a free program guide showing what the local affiliates are broadcasting. Both guides are reasonably polished and smooth running, with colorful station logos and show images dressing up the menus, but they're a step backwards for users spoiled by the program guides cable and satellite TV operators offer.
Mentioned in this article
Roku Ultra (2017)
Price When Reviewed:
$99.99
Channel lineups aren't numbered for direct access by punching numbers on a remote, for instance; in fact, AirTV doesn't have a remote. You use the streaming box's remote, or—if you're using a mobile device—you use the app and the device's touchscreen. In either case, finding what you want to watch often requires tedious scrolling through the on-screen guides or filtering content filtered by type: entertainment, sports, kids, news, lifestyle, and so on.
Using voice commands to change channels would be best, and this system might offer that someday. You can use the AirTV Player's microphone-equipped remote to summon YouTube content on that device. But again, the AirTV doesn't have a remote.
Is it worthy?
A couple other operational issues likewise demand behavior modification. Close the AirTV or SlingTV app on a Roku or Fire TV (switching, say, to Netflix) is no problem. But when you return to the over-the-air guide, you'll find yourself on the program guide's opening screen. The service doesn't bounce back to the last channel you were watching, as conventional TV tuners and set-top boxes do.
A few days after I groused about this to a company exec, a software update halfway addressed my complaint: Tapping on the Home Screen now restarts the guide in the channel neighborhood you were last visiting. And while surfing, the guide amasses a temporary list of recently watched channels for fast re-tuning. The process of setting up a list of favorite channels remains a work in progress. You can populate a short My Favorites list with paid Sling TV channels, but not with broadcast channels.
So AirTV isn't perfect, but its in- and out-of-home TV-streaming feature is something more commonly associated with expensive cable and satellite service. It will be even better when its DVR feature is enabled.