At a Glance
Expert's Rating
Pros
Nicely spaced outlets
Includes two fast USB charging ports
Excellent clamping voltage level for main AC power
Highly legible and attractive "protected" and "grounded" lights
Cons
USB charging ports are too close to an outlet
The insurance for failing to protect your gear will be even more difficult to collect than most
Our Verdict
With well-placed outlets and fast USB charging ports, APC's P12U2 surge protector offers a great set of features at a solid price.
Best Prices Today: APC SurgeArrest Performance P12U2 surge protector
The APC SurgeArrest Performance P12U2 has a great combination of features for a low-cost, 12-outlet surge protector that stops providing power to attached equipment when its internal circuitry can no longer prevent surges. It also features a quite conservative cutoff for the maximum voltage allowed through the primary AC electrical pathway.
By design or for cost reasons, some surge protectors will keep power flowing after the metal-oxide varistors (MOVs) that block surges burn out through use. The only indication that surges can no longer be blocked on some surge protectors is a "protection" LED, typically green, that is no longer lit. For people with modern electronics, it makes more sense to have power stop to avoid the potential of damaging attached devices from future power surges, and that's our recommendation.
This review is part of TechHive's coverage of the best surge protectors, where you'll find reviews of the competition's offerings, plus a buyer's guide to the features you should consider when shopping for this type of product.
Power flows between the line (L) and neutral (N) segments of AC power, and most modern hardware has a ground (G) to reduce the risk of fire and other accidents if electrical wiring fails and short circuits. (See our primer on this for a more in-depth explanation.) This model projects a green LED through plastic at one end, which lights up the word "grounded"—it's a surprisingly attractive move, and one that's blessedly easy to read. If it doesn't light up, call an electrician or a landlord immediately, as you may be at risk.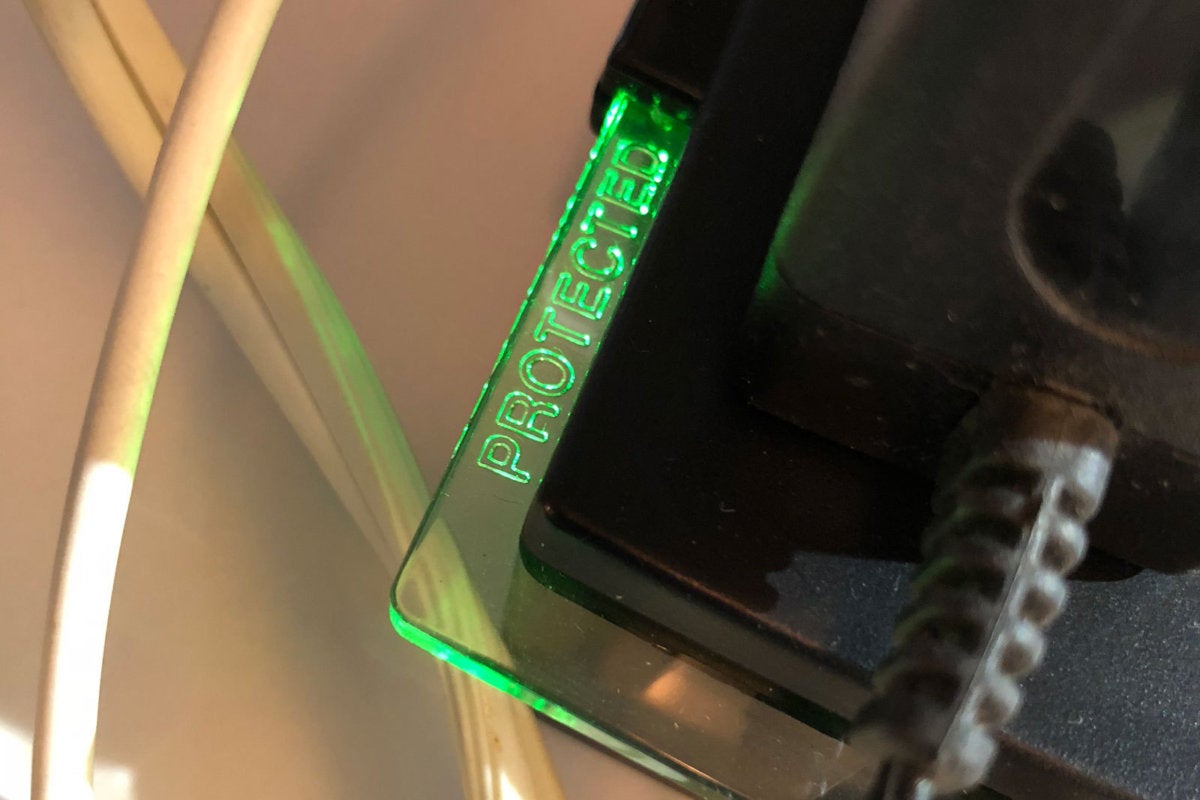 A surge protector can restrict, or "clamp," voltage across the three legs between these components: L-N, L-G, and N-G. This model offers 330 volts (V) of clamping across the main line-neutral leg, the most critical place to block surges. It has 400V clamping across the two grounded legs. While protection remains active, the APC model bathes the word "protected" in green light. When the MOVs eventually fail, the light will go out and power will stop flowing to the AC outlets. (Oddly, these clamping voltages can't be found in the manual or product page, but are "printed" in black-on-black tiny molded type on the unit's underside.)
It can be difficult to provide the right spacing for a reasonably sized 12-outlet surge protector, and APC manages fairly well with the P12U2. The entire face of the power strip is flush, making it easy to insert plugs fully. Four of the outlets are spaced at either end, offset more than an inch from the next nearest. Eight other outlets are in two rows, widely separated in the middle. These outlets are best suited for standard AC plugs, rather than AC adapters.
USB charging ports
The P12U2 also includes two USB jacks that can provide combined power of up to 2.4 amps. The ports are placed unfortunately closely to one of the widely spaced AC plugs, however, which means you'll need to carefully arrange items to make full use of the charging ports and that AC plug.
Every outlet has a recessed outlet protetor for the main live prongs that can be firmly snapped on top. Some people have concerns about open outlets and like a feature like this. I've never had an issue with unwanted items coming into contact with exposed surge protector outlets in my long experience, but it can offer peace of mind for those whom it bothers.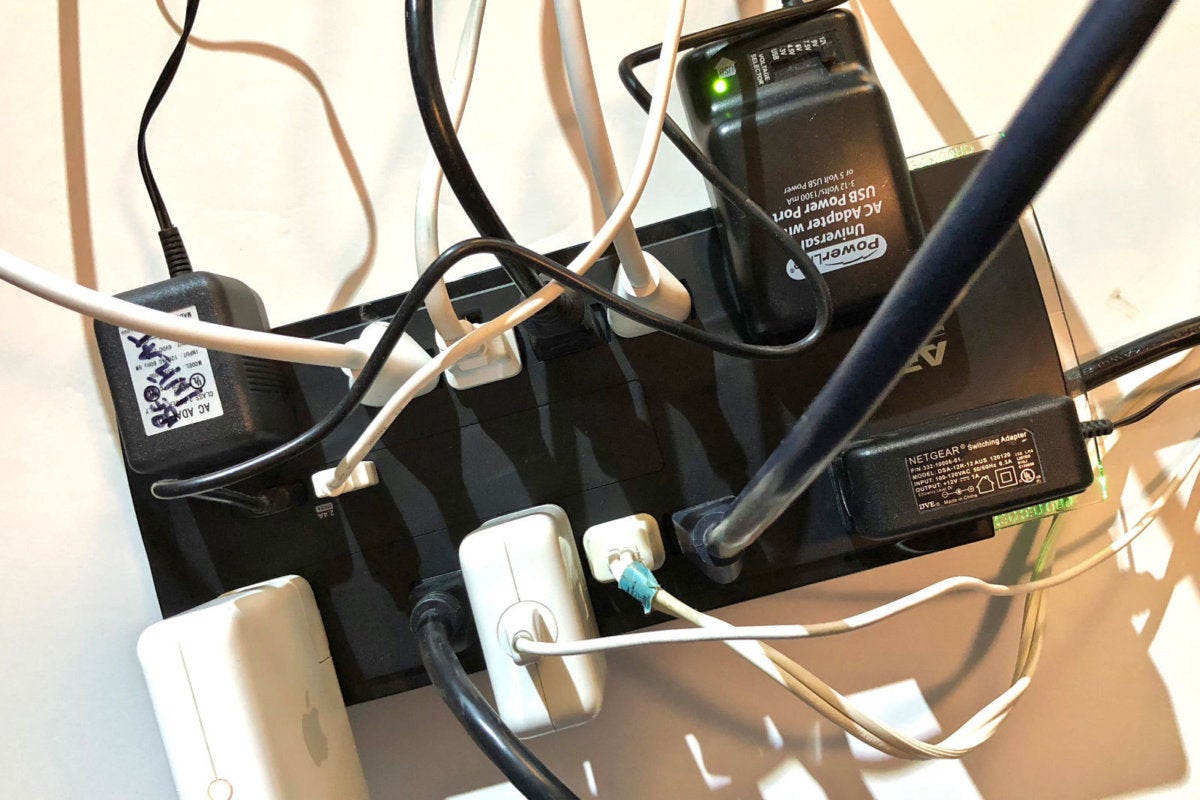 The model has an internal circuit breaker that can be tripped if you exceed power limits that are far beyond normal consumer and electronics uses. The switch will snap back to Off, and clicking it back to the on position, labeled Reset, resets the circuit breaker.
All surge protector insurance policies are squirrelly, as they require perfection on the part of the user to obtain relief in the event the company's device allows damage to your hardware. The dollar amount for this one isn't in the paper policy that comes with the product, but at a URL. Following that URL (from a data sheet dated July 2017) leads through a redirection to a marketing page with no information. I ultimately found the correct page, which notes this unit maxes out at $300,000 of insurance, far above the few thousand dollars of equipment most of us might connect to a surge protector.
As with other policies, it covers just the repair or fair market value of goods, not the purchase of new replacements. More subtle is the requirement that claims be filed within 10 days of damage, rather than the also slim but more reasonable 30 days offered by many competitors. Miss the window and you're out of luck.
The bottom line
APC's SurgeArrest Performance P12U2 packs features, clarity, and specifications that make it a standout at a modest price. APC could modestly improve its warranty and disclosure, but by every other measure, it's a winner—especially if you want USB charging built in.
Best Prices Today: APC SurgeArrest Performance P12U2 surge protector