At a Glance
Expert's Rating
Pros
Decent DVR features with no subscription fees
Channels load quickly, and at broadcast-TV quality
The remote's live TV and DVR shortcut keys are a nice touch
Cons
No Netflix or Amazon Prime Video apps
Limited ways to browse and manage recordings
Android TV software is already outdated
Our Verdict
The Stream+ is a fairly inexpensive way to record free over-the-air channels, but the software has some major shortcomings.
Best Prices Today: Channel Master Stream+
Channel Master is aware of your complaints about its Stream+ over-the-air DVR, but is powerless to do much about them.
That's the impression I get from the Known Bugs & Issues page for its Stream+ DVR, a $149 set-top box that can record free over-the-air TV channels. Compared to Channel Master's now-discontinued DVR+, the Stream+ offers a slicker interface, fancy features such as voice search, and a much bigger selection of streaming video apps. But in some ways, the Stream+ is less capable than the DVRs it replaces. And as a streaming box, it lacks access to some of the most popular online video services, including Netflix and Amazon Prime Video.
Such are the downsides of depending on someone else's software, and on Google's Android TV platform in particular, to build an over-the-air DVR. While the Stream+ isn't a bad product, especially given its lack of DVR subscription fees, it does have some major shortcomings that stand little chance of being addressed anytime soon.
Off the shelf
On the hardware side, Channel Master has slapped its name on a cylindrical set-top box manufactured by Technicolor. It's a 4K HDR streaming box with a quad-core processor, 2GB of RAM, 8GB of built-in storage, and a dual TV tuner that can watch and record up to two channels at a time. Around back, you'll find an HDMI output, an ethernet jack, digital optical audio output, a USB port for storage or other accessories, and—most importantly—a coaxial input for your antenna. The Stream+ also has as microSD card slot for recordings, but hard drives are cheap enough these days that you're better off using USB 3.0 storage instead.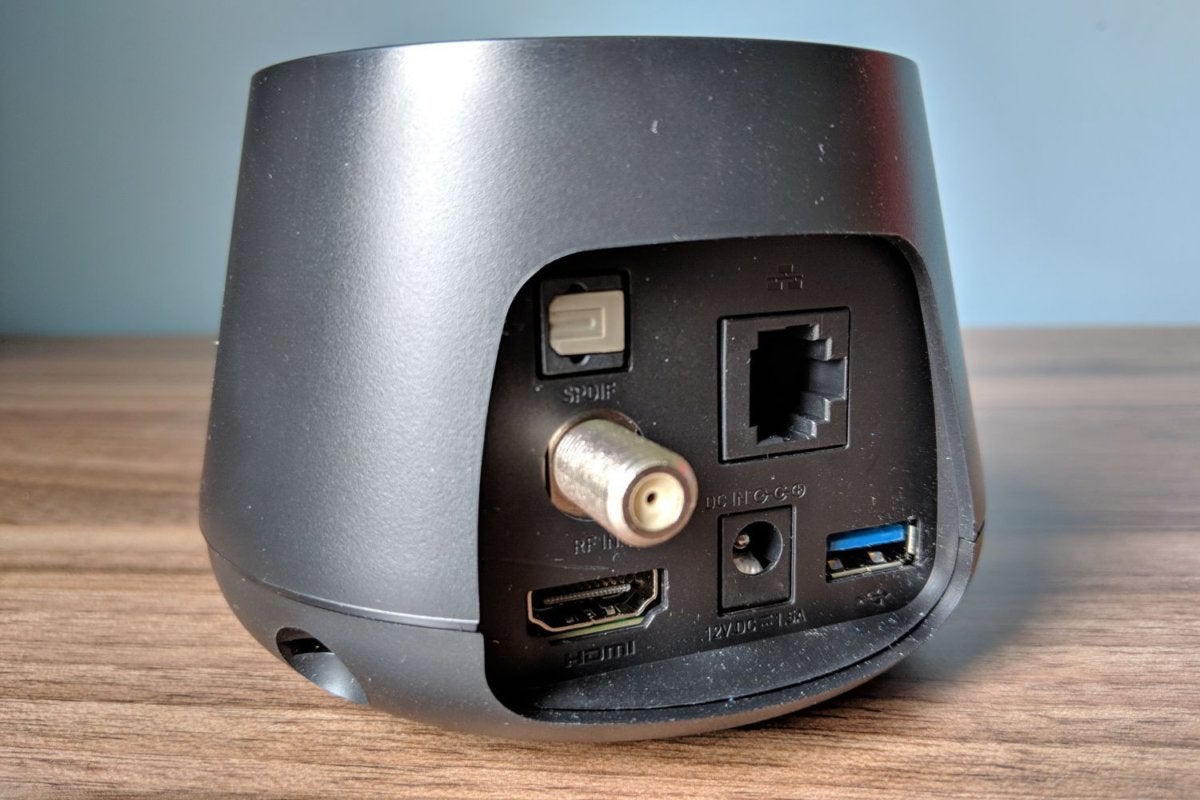 The Stream+ remote has both an IR blaster and Bluetooth, the latter of which allows you to navigate without pointing the remote directly at the Stream+ box. The remote is also loaded with buttons. Beyond the usual navigation and playback controls, there are shortcuts for the TV guide and DVR list, volume and channel buttons, a number pad, an "info" button, and a power button for the TV. Having all all those live-TV shortcuts is actually quite nice, and while the remote's plastic enclosure feels cheap, the rubberized buttons make a satisfying click and are easy to press.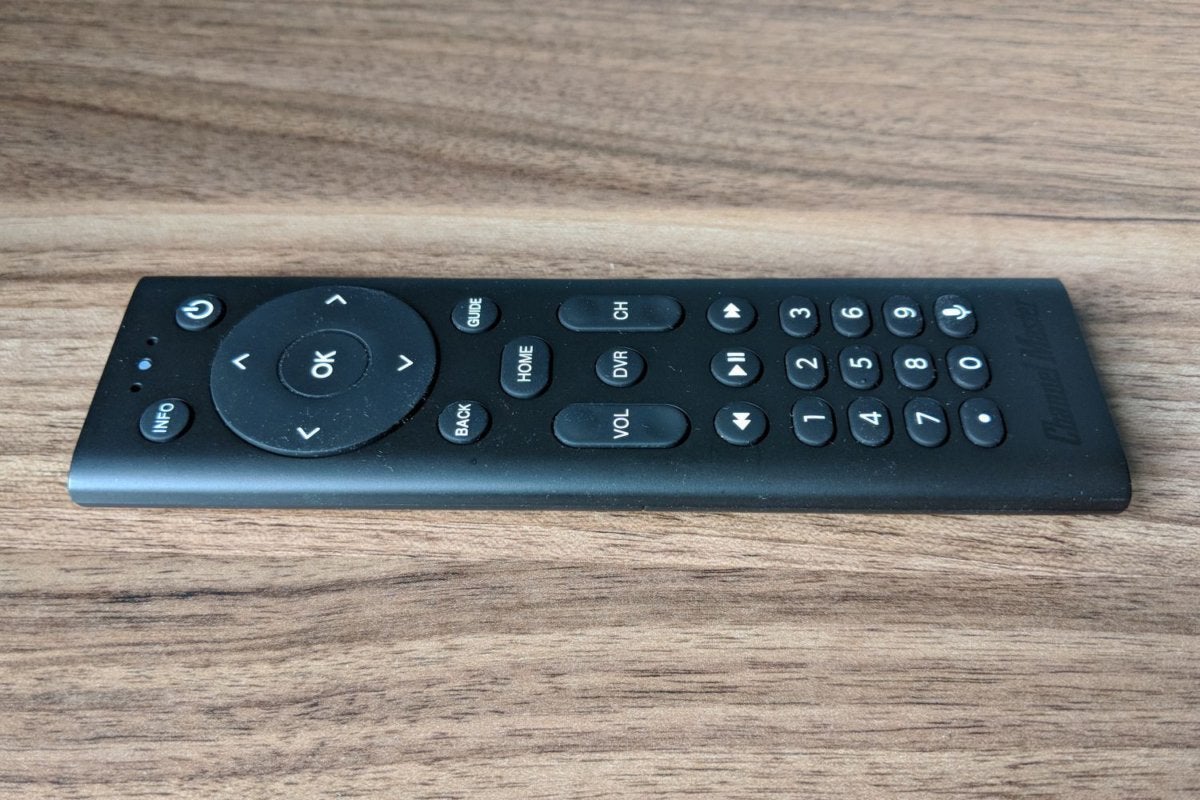 Although it's not as zippy as an Nvidia Shield TV, the Stream+ handles Google's Android TV software admirably, with smooth transitions and fast loading times for apps. There's a hint of choppiness as you scroll through the TV program guide or use demanding apps like PlayStation Vue, but it's never enough to get in the way of navigation.
DVR highs and lows
Installing the Channel Master Stream+ is fairly easy, with a guided setup process that pairs the remote via Bluetooth, synchronizes the remote's IR blaster to your television, and connects to your Wi-Fi network. If you have an Android phone, you can also open the Google app to quickly synchronize your account and Wi-Fi settings. (You can set up the Stream+ without a Google account, but doing so limits you to live TV, DVR, and YouTube. You can even skip the internet connection entirely, though this kills your ability to view guide data and schedule recordings.)
The Stream+ also automatically detects when you've hooked up an antenna, offering to scan for local channels and download TV guide information based on your zip code. Plugging in a hard drive brings up a prompt to format it as device storage. (Unfortunately, this locks DVR recordings to the Stream+. There's no way to save recordings on removable storage for use with other devices.)
After setting everything up, you can use Google's Live Channels app to view the TV guide and set up recordings. Visually, this is a major upgrade over Channel Master's older DVRs, with rich cover art, smooth animations, and text descriptions that appear as you scroll through the guide. When you select a program, you can record the entire series with a couple of clicks.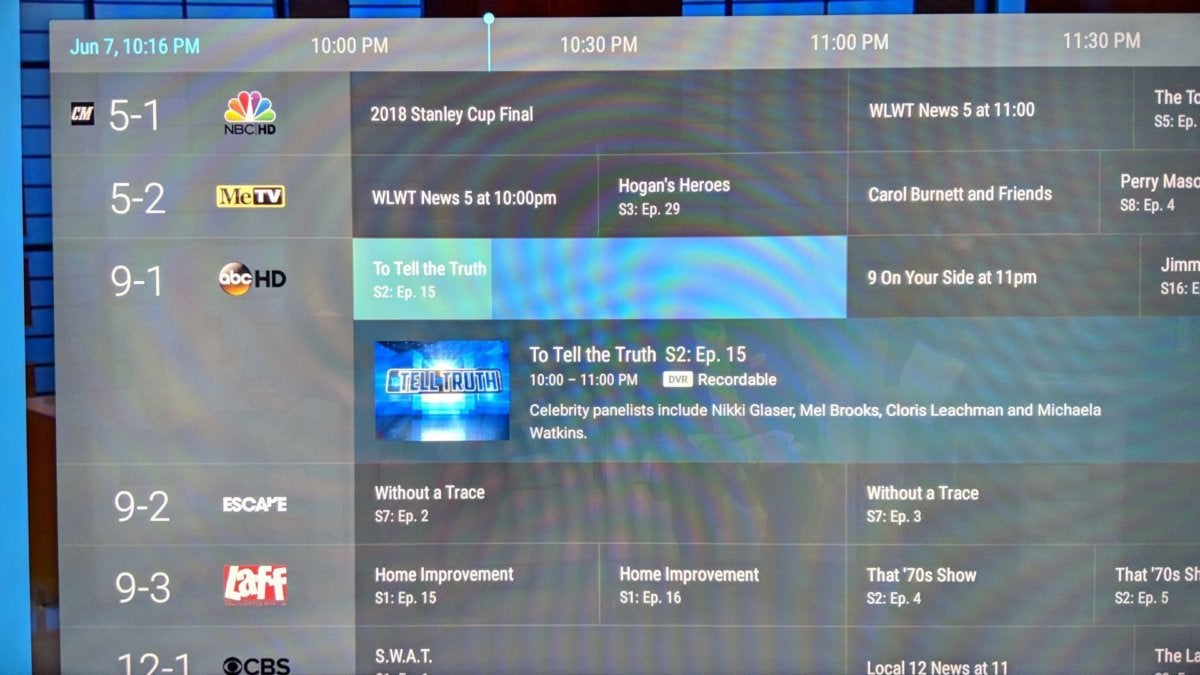 Like TiVo, Channel Master records the native broadcast signal and stores it on the Stream+ itself. That means every live TV channel and recording looks as smooth and sharp as it would with direct antenna input, and channels take only a second or two to load. You'll also never experience any buffering or hangups while fast forwarding or rewinding through a program.
Still, compared to subscription-based DVR services, your options for managing recordings are more limited. You can adjust the priority of recordings, limit recordings to specific channels, and get notified when you've created a scheduling conflict, but that's about it. There's no way to set start and stop buffer times, schedule manual recordings, record only new episodes, or automatically delete older episodes.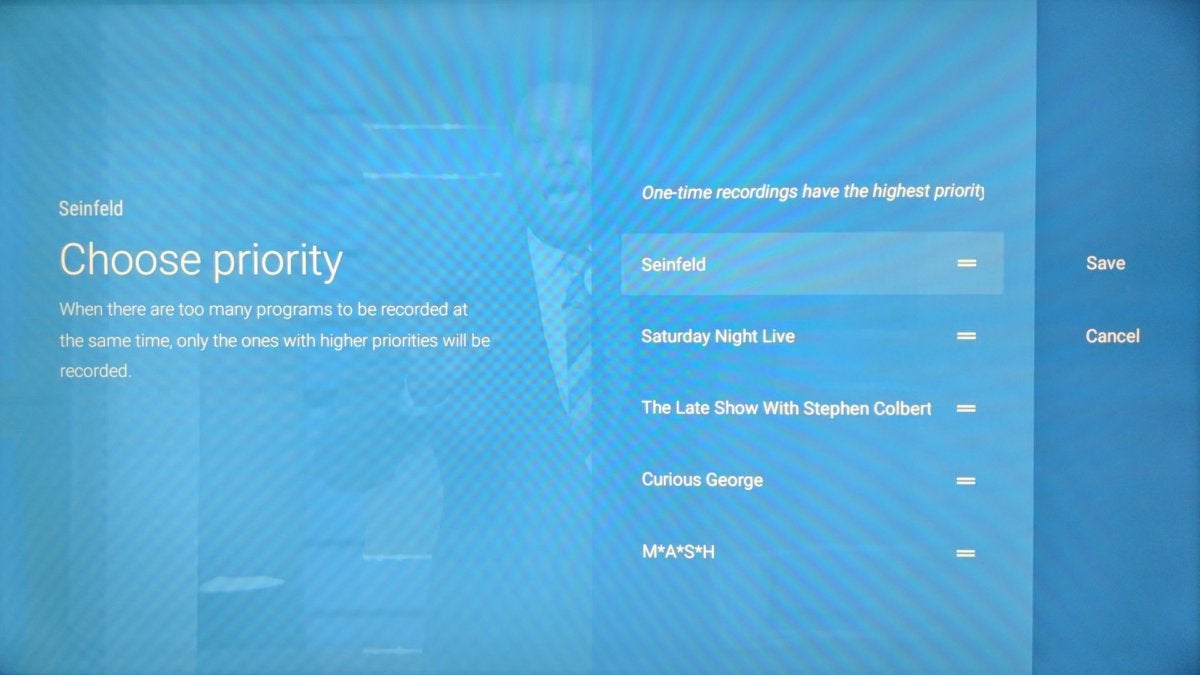 The Stream+ also does not let you start watching a recording while it's still in progress. That means you can't set the DVR for a primetime show, then tune in 15 minutes later to skip all the commercials. You can pause a live TV program and fast forward through it, but the cached programming is automatically deleted when you change channels.
Finding things to record can be somewhat of a hassle as well, because the Live Channels app has no search tool or way to browse upcoming programs by genre, and the live programming guide only covers two days of upcoming guide data. You can use Google's voice search with Live Channels, which covers up to 14 days of future programming, but that only works when you know exactly what to look for.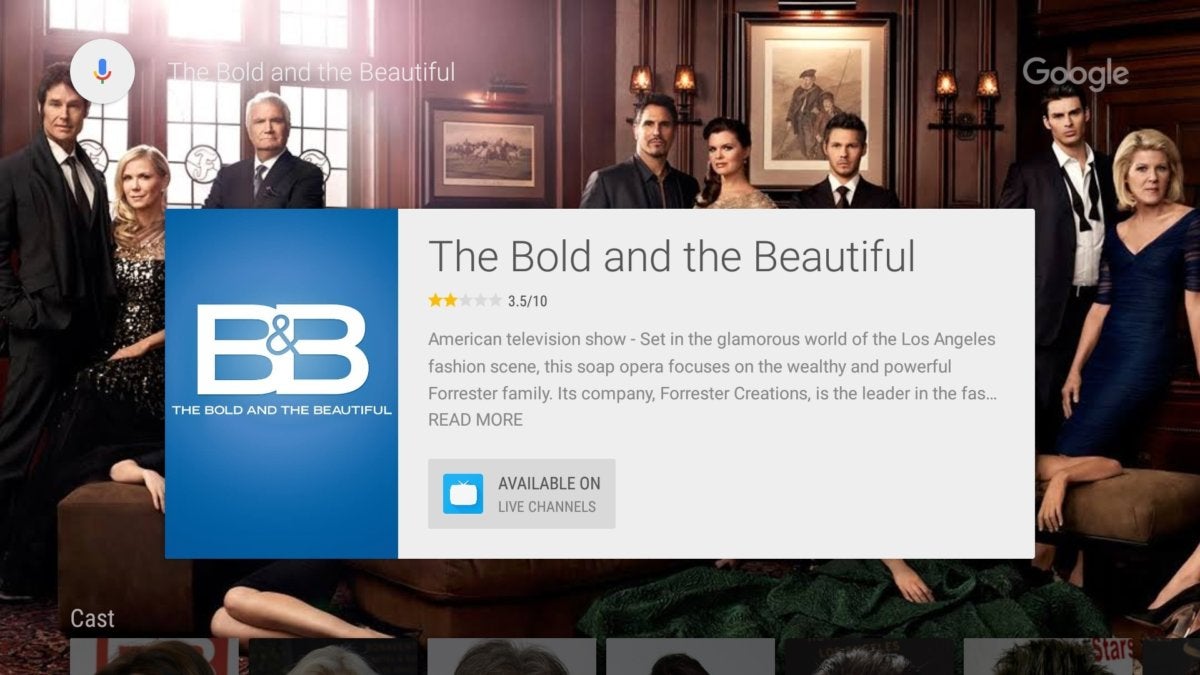 These shortcomings are no surprise to Channel Master, which documents most of them on its support website, but because Google is in charge of the Live Channels app, there's only so much Channel Master can do to improve the experience on its own.
Software snubs
The Stream+ is more than just a DVR box. Because it runs Google's Android TV software, it can also download apps and games from the Google Play Store and provide video rentals from Google Play Movies & TV. By combining Stream+ with other channel bundles like Sling TV, premium video services like HBO Now, and free apps such as Pluto TV, you can put together a lot of programming without a cable subscription.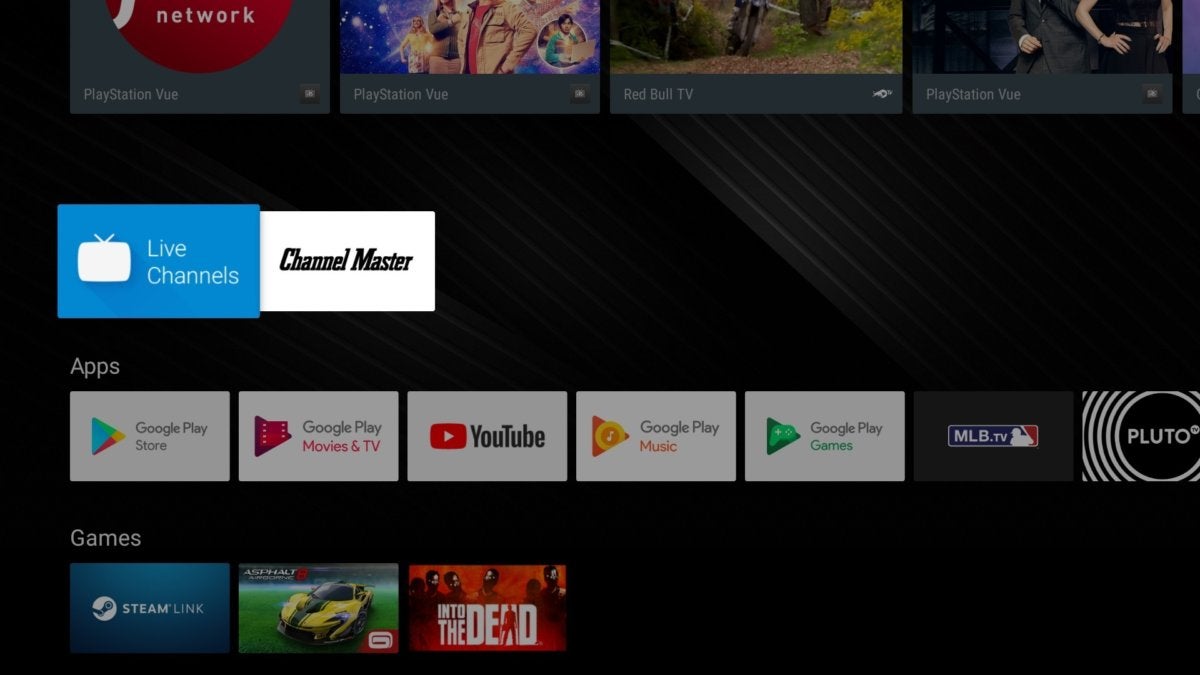 Still, the Stream+ has some major omissions. Channel Master hasn't received Netflix's blessing, so while the app is available in the Google Play Store, you can't install it on the Stream+ or use Chromecast to launch Netflix videos from your phone. Amazon Prime Video only offers its app on a limited number of Android TV devices, including the Nvidia Shield TV and Sony smart TVs, and several other popular streaming services, including DirecTV Now and Hulu's Live TV service, have bypassed Android TV entirely.
I was able to sideload Amazon Prime Video onto the Stream+, but it's a cumbersome process that involves installing a file manager app, allowing the Stream+ to install apps from unknown sources, tracking down the Amazon Prime .APK file through a web forum, putting it on a thumb drive, and loading it through the file manager. The same process did not work for Netflix.
Again, these limitations are out of Channel Master's hands, as are some other minor quibbles I've had with Android TV as a whole. (My biggest annoyance: After setting up a USB hard drive, new games and apps automatically install to the external drive, so they disappear when the drive is removed. Technically, you can transfer apps to internal storage through Android TV's settings menu, but all the games I've tried become unplayable after doing so.)
Channel Master isn't entirely without fault, though. The Stream+ runs Android 7.0, which first launched in mid-2016, so it's missing out on the interface improvements in Android 8.0 Oreo. It also uses an old version of Google voice search instead of Google Assistant, so you can't ask the Stream+ to play music, launch videos directly, or control smart home devices.
Despite all those issues, the Stream+ still has some appeal as a somewhat inexpensive subscription-free DVR. It's a much better experience than cheap converter-box PVRs, such as the MediaSonic Homeworx HW180STB, and with 1TB USB hard drives selling for as little as $50, the Stream+'s total cost is roughly half that of TiVo's Roamio OTA DVR. Dish Network's AirTV Player and tuner might be a little cheaper, and it runs similar Android TV software, but its remote control is optimized for Sling TV, not the Live Channels app. The Nvidia Shield TV is a much more powerful streaming player, with support for Netflix and Amazon Prime Video, but it'll cost you an extra $100 for the box itself ($180) and an external USB tuner, such as Hauppauge's $70 WinTV-DualHD.
All of which means that there's nothing quite like the Channel Master Stream+. While it's far from being the best DVR for cord-cutters, it's at least the best subscription-free DVR in its price range—warts and all.
Best Prices Today: Channel Master Stream+