Last week was a rollercoaster for PlayStation Vue, Sony's streaming TV bundle.
On Tuesday, the American Consumer Satisfaction Index released the results of its first-ever survey on streaming video services, in which Vue tied for first place with Netflix and Twitch. No other streaming bundle came close.
At the same time, Sony was casting doubt on Vue's fate, telling investors that the "market and future business model [for Vue] remains uncertain." CEO Kenichiro Yoshida tried to downplay the implications a day a later, saying that Sony gathers useful data from Vue and has no plans to shut it down, but it's no secret that Vue isn't doing well. Analysts estimate that the service has fewer than one million subscribers, well behind Sling TV (2.2 million subscribers as of February) and DirecTV Now (nearly 1.5 million subscribers as of April). And when Sony dropped local stations owned by Sinclair Broadcast Group earlier this month, the nation's largest TV broadcaster said it would have "no material impact" on the company due to Vue's "very small subscriber base."
Mentioned in this article
PlayStation Vue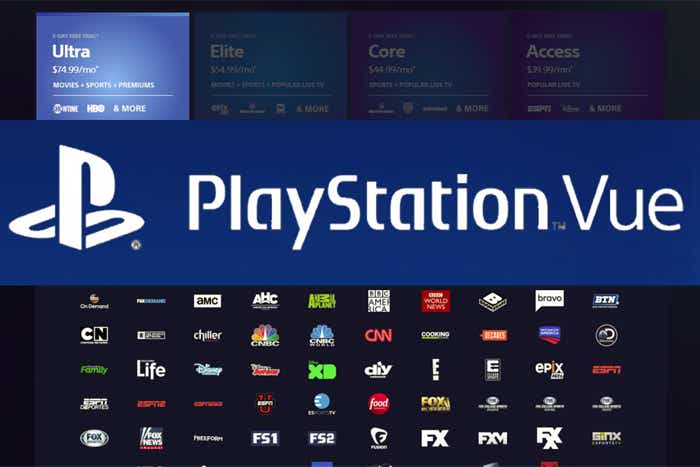 Even if PlayStation Vue isn't in imminent danger, its struggles underscore how cutthroat the streaming TV business has become. In this environment, the services that cord-cutters enjoy most won't necessarily be the victors.
Missed chances
PlayStation Vue had a chance to build an early lead in the streaming TV wars. The service launched in March 2015, around the same time as Dish Network's Sling TV, but not nationwide. At first, Vue was only available in a handful of U.S. markets, where CBS, NBC, and Fox own and operate their own broadcast stations and could provide live local channels. A bigger push came the following year, as Sony started offering discounted "Slim" plans without those locals, while adding Disney-owned channels such as ESPN and expanding its streaming device support. Even then, Vue had an eight-month head start over AT&T's DirecTV Now, and was a clear favorite among tech reviewers (including me).
Still, Sony was less aggressive than its rivals in bringing on new subscribers. Sling TV and DirecTV Now have both wooed potential customers with device deals, letting them snag free or cheap Rokus, Fire TVs, and Apple TVs in exchange for prepaid service. DirecTV Now even allowed early subscribers to lock in a 100-channel package for $35 per month, and has since offered $15-per-month bundle deals with unlimited AT&T wireless plans.
Meanwhile, Sling TV rolled out a nationwide ad campaign in mid-2016, starring actor Danny Trejo as he vented frustrations with cable TV providers. While Sony flirted with TV ads in Vue's early days, the company's big commercial push, featuring NFL star Clay Matthews, didn't begin until a year later, at which point Vue was already competing with Sling, DirecTV Now, Hulu with Live TV, YouTube TV, and FuboTV.
Mentioned in this article
Roku Streaming Stick+
Price When Reviewed:
$69.99
Vue's competitors realized, essentially, that streaming bundles were going to be a brutal business, and that building up an early lead would require lavish spending. Sony was never willing to take that risk.
What now?
An unwillingness to acquire customers hasn't been Sony's only mistake. As many other observers have pointed out, Vue's "PlayStation" branding might be scaring away customers who don't own a PlayStation console and don't realize the service is also available on Roku, Fire TV, Apple TV, Android TV, and Chromecast.
At the same time, Sony hasn't done much to leverage its existing PlayStation owners, more than 34 million of whom are already paying for Sony's PlayStation Plus online service. When bundling those services together, Sony only offers tiny discounts on premium channels, such as a $2-per-month discount on Showtime. Why not offer more aggressive deals that bundle PlayStation Plus, PlayStation Vue, and PlayStation Now?
Sony has also waffled on what to do about live, local channels, alienating customers in the process. The company eliminated Vue's discounted "Slim" plans last year, even for customers who weren't receiving a majority of live local channels. Since then, Sony has scuffled with Sinclair and realigned its coverage map in ways that further reduce local coverage, all while charging prices comparable to other bundles that include more local channels. Sony is now trying to compensate with a national Fox live feed, but that doesn't make up for the other major networks that are missing in certain markets. Either Sony should make a stronger push for local channels—costs be damned—or take a stronger stance against them, encouraging customers to use antennas the same way Sling TV has with the AirTV product line.
Despite all those issues, it's no surprise that cord-cutters are satisfied with PlayStation Vue. The service offers great video quality, a straightforward—if slightly sluggish—interface, a broad selection of channels, and a DVR that can save up to 500 programs for 28 days at no extra charge. Until YouTube TV arrived in more markets and on more devices, Vue was our favorite live TV streaming service.
Whether any of that will matter in the long run is, in Sony's words, uncertain.
Sign up for Jared's Cord Cutter Weekly newsletter to get this column and other cord-cutting news, insights, and deals delivered to your inbox.