At a Glance
Expert's Rating
Pros
Thin profile with an easy-to-see display
Highly intelligible dialogue and solid audio performance for the price
Excellent remote control
Cons
Lacks some sonic richness
Doesn't support HDMI 2.0 or HDR passthrough.
Doesn't decode multi-channel audio codecs
Our Verdict
The HW-N450 is a very good entry-level soundbar, especially for Samsung TV owners.
The HW-N450 is a superb entry-level soundbar that's a perfect complement for Samsung TV owners, delivering solid audio performance and a strong set of features in a small footprint.
This is 2.1-channel system, comprised of a slimline stereo soundbar and a wireless subwoofer. The soundbar is a mere 2.2- x 3.2- x 35.6 inches, with slightly angled sides. Its slim profile makes the HW-N450 a perfect fit for today's low-profile, mid-sized TVs.
The main speaker can be wall mounted or put on a table top. Built-in rubber bumpers help prevent it from scratching delicate surfaces. A wall-mounting bracket is included, though you'll need to provide the screws and anchors.
No matter which installation option you choose, be sure to use thin, flexible HDMI cables. This soundbar's design assumes your cables will have a high bend radius.
The wireless, ported subwoofer sports a 6-inch driver. It has a footprint of 8.7- x 14.5- x 11 inches. The sub's modest size and upright design will make it easy to place and blend with any decor.
The system's total frequency response is rated at 42Hz to 20kHz. That's about the same frequency response you'd expect from good bookshelf speakers, which means the HW-N450 won't be able to reproduce the deepest organ notes or depth-charge explosions, but I found that it delivered excellent sonic coverage for most music, TV programs, and movie soundtracks.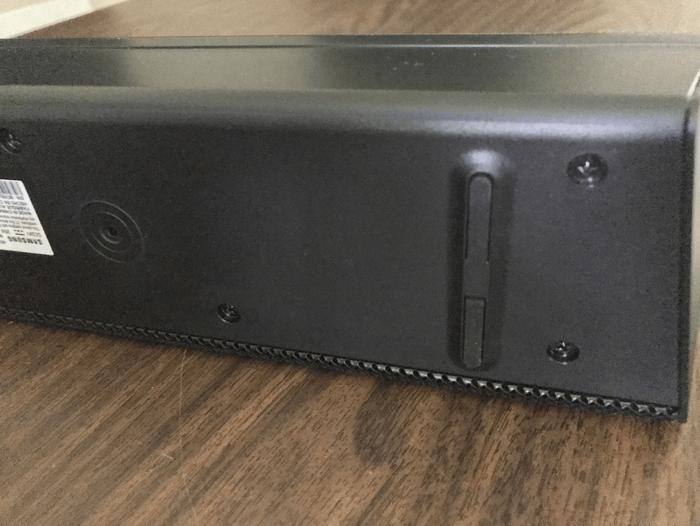 Audio Support
The HW-N450 provides ample input options at this price point. You'll find 3.5mm analog, Toslink optical, USB 1.0, and an HDMI 1.4 input on the back. There are no RCA or digital coax inputs, which isn't uncommon for soundbars in this price range.
According to a spec sheet Samsung sent me, the HW-N450 supports a wide array of audio formats, including AAC, WAV, WMA, OGG, and FLAC lossless files. Surprisingly, even though it supports Apple's AAC codec, the HW-N450 does not support ALAC, Apple's lossless codec that is a competitor to FLAC. Typically, if a company supports FLAC decoding they almost always support ALAC as well.
You can connect any digital audio player or smart device in your repertoire to the HW-N450 via Bluetooth. The soundbar's Bluetooth connection supports SBC, but none of the near CD-quality codecs such as aptX.
Needless to say, I paired the HW-N450 to my iPhone 7s without any problems. There's no Wi-Fi connectivity or multi-room streaming options, which is to be expected at this price.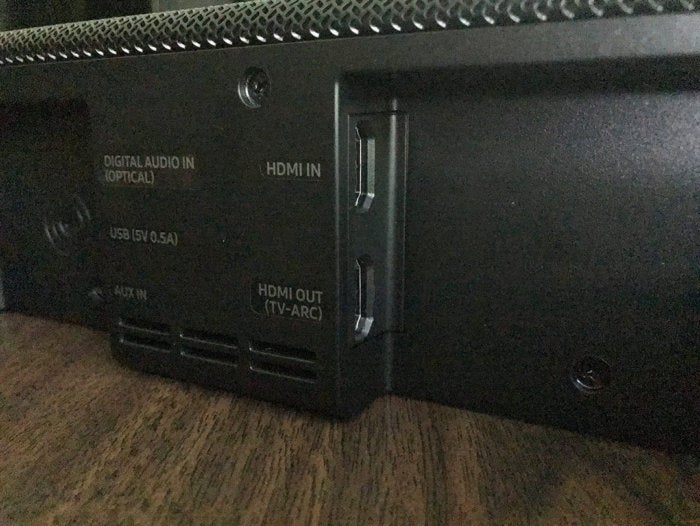 HDMI connections
The HW-N450's HDMI output supports the HDMI Audio Return Channel (ARC). Not only can you send audio to your TV, but any source connected to your TV can deliver audio back to the HW-N450 over the same HDMI cable. If you want to take advantage of ARC, there are two prerequisites. First, you need to confirm your TV supports the feature. Secondly, you'll need to make sure that HDMI CEC is enabled on your TV. Most televisions with ARC don't have this option enabled by default.
When a soundbar offers an HDMI input, some consumers prefer to connect all their sources to the soundbar and then feed a single HDMI output to the TV. A strong argument for such an approach lies in the fact that you can take advantage of Dolby Digital or DTS decoding from sources like a Blu-ray player or cable box. If that's your preference, take a special note.
If you have a 4K/UHD TV and are already playing 4K/UHD content, then you'll want to make sure that you connect a 4K/UHD source like an Ultra HD Blu-ray player's video directly to your 4K TV and route audio separately to the soundbar (using a digital Toslink cable, for instance).This speaker has a previous-generation HDMI 1.4 input and output, so it can't pass 4K/UHD content at 60 frames per second. That means you'll miss out on the benefits of high dynamic range (HDR), and it can't play content with HDCP 2.2 copy protection.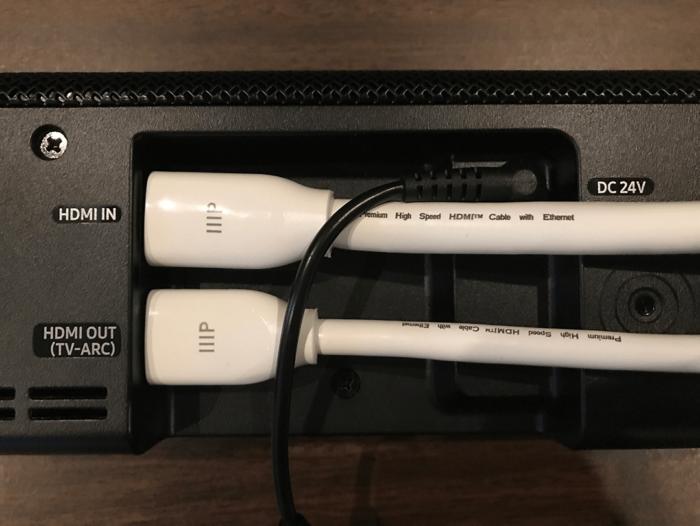 The HW-N450 is made to fit into an all-Samsung ecosystem of home entertainment products. When paired with many of today's Samsung TV models, you can control both your Samsung TV and Samsung soundbar with the same remote control or smartphone/tablet app.
Surround-sound options
The HW-N450 will decode Dolby Digital 2.0 and DTS 2.0 signals, and it has a Surround Expansion Mode that uses digital signal processing (DSP) to expand the soundtrack artificially to add a sense of depth and spaciousness. I'm generally not a fan of these artificial enhancements.
That being said, I found Samsung's approach to be highly satisfying and indeed preferable to the standard stereo reproduction. Part of the reason why I liked it so much is that the effect doesn't attempt to do too much (like some other soundbars do), introducing other sonic problems in the process.
Add wireless surround speakers
Samsung also gives you the option of expanding your setup with a wireless surround kit (model SWA-8500S), which adds two discrete surround channel speakers. Samsung did not provide me with the Wireless Surround Kit to test this feature.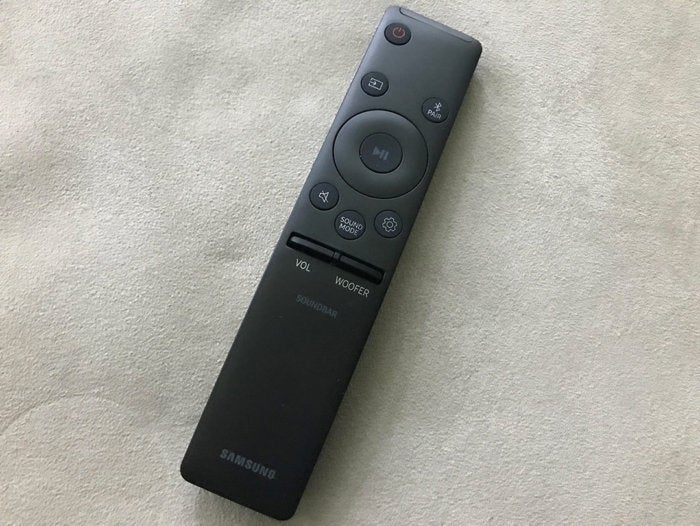 While having discrete surround speakers will always deliver a vastly superior surround sound experience, I confirmed with a Samsung representative that the HW-N450 can decode only Dolby Digital 2.0 and DTS 2.0 stereo signals. The HW-N450 soundbar uses an upmixer for the rear channels, reprocessing the stereo signal into a 4.1-channel experience. There is no support for higher-resolution codec such as Dolby TrueHD or DTS-HD Master Audio, either.
Simple and Easy Set up
I found setting up the Samsung HW-N450 to be very straightforward. The included quick setup manual covers all the basics, including the most common troubleshooting steps if you do run into a problem. If you want access to the full user manual, you'll need to download it from Samsung's support site.
Thankfully, the soundbar and wireless subwoofer come pre-paired out of the box, but if you do encounter any problems, Samsung outlines an easy re-pairing procedure in the quickstart manual.
Basic accessories are included, but they won't address all your potential cabling needs: There's a Toslink optical cable in the box and that's it. You'll need to supply your own HDMI cables.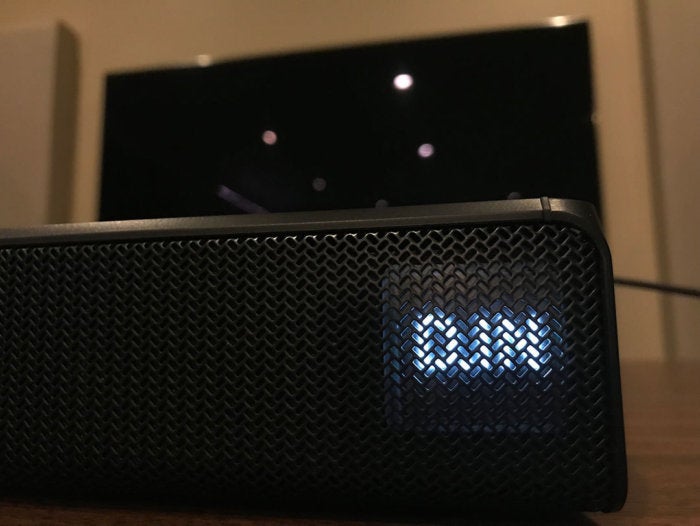 Solid sonic performance without gimmicks
I played lots of different content through the Samsung HW-N450. It performed admirably with whatever I threw at it. Television programming, often the bane of most consumers who purchase new TVs with puny speakers, was consistently intelligible and engaging. Listening to the NHL Stanley Cup or NBA playoffs, I had no problems deciphering what the announcers were saying or following the action.
The Samsung doesn't offer any commercial loudness compensation. You may have noticed that when some commercials comes on, they are significantly louder than the program material you're watching. If you're looking for such a feature, you'll want to consider another soundbar.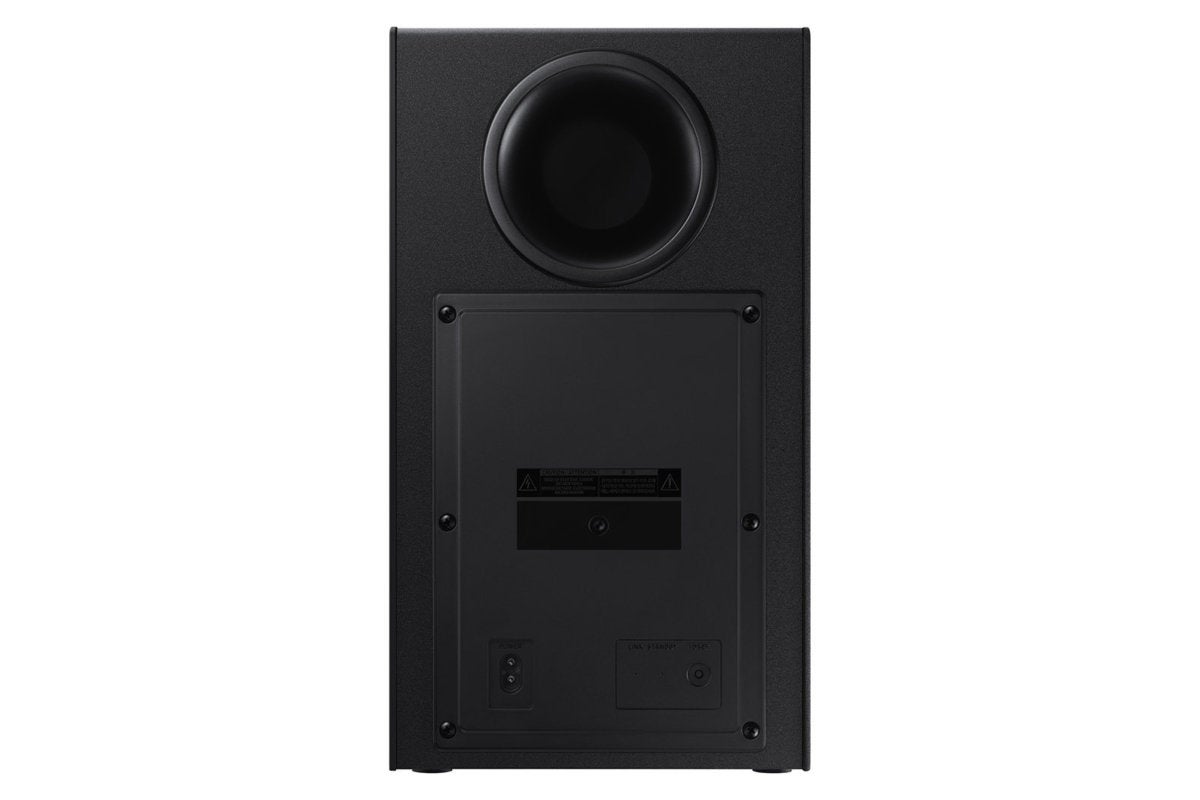 Movie watching was very satisfying through the HW-N450. I fired up a few movies from the Marvel Cinematic Universe. Thor Ragnarok is a sonic spectacle, and the HW-N450 did an admirable job on this film. During the arena scene when Thor and the Hulk battle it out in gladiatorial-style combat on Sakaar, the HW-N450 did an excellent job reproducing the scene's dynamics and bass. Bass is forceful and controlled, but not bombastic. Users who want more boom from the sub can control its volume independently using the remote control. From punches to Thor's all-out-lightning assault, this soundbar's performance had me forgetting that this was an entry-level speaker.
Dialogue was never a challenge either. During quieter moments—such as Thor's encounter with Dr. Strange, or the final meeting between Thor, Loki, and Odin on the sea cliff—I never had any trouble following along.
Switching genres, I fired up The Greatest Showman. Once again, the Samsung did yeoman's work. Whether it was the grandeur of the opening scene under the big top with stomping heels on the wooden stands or songs featuring the full-on chorus of the entire cast, the Samsung delivered musical energy in spades.
Conclusion
It's always tough creating an entry-level product, because the trade-offs you need to make are as much artistry as they are about the science. Samsung somehow manages to accomplish both. The Samsung HW-N450 soundbar is a superb entry-level soundbar whose value proposition goes up if you're an existing Samsung TV owner due to its tight integration with Samsung's ecosystem.
The HW-N450 soundbarr delivers the goods where it counts and doesn't attempt to go beyond its means. Dialogue is highly intelligible while the soundbar's included remote control and optional remote app are excellent. If you're on a budget, you just can't go wrong with Samsung's HW-N450 and it should be on your short list of soundbars to audition.