At a Glance
Expert's Rating
Pros
Allows you to monitor your baby and nursery environment
Includes a selection of lullabies and soothing sounds
Supports up to four cameras
Cons
Image quality has a purprle color cast
Single-band Wi-Fi adapter (2.4GHz only)
Our Verdict
The VM3251 is an affordable, easy-to-use baby monitor with a smart selection of features.
Price When Reviewed
$99.95
VTech's baby monitors don't have the most imaginative names, but they always give you a good idea of what you're getting. The VM3251 Expandable Digital Video Baby Monitor with Full-Color and Automatic Night Vision is a system that includes one camera and one monitor for $99.95, to which you can add up to three more cameras for $39.95 each.
Merely trumpeting the de rigeur automatic night vision sells it a little short, though. The VM3251 has plenty more to offer nervous new parents, including built-in lullabies and soothing sounds, a two-way intercom, and room temperature monitoring. It's the next best thing to a night nurse.
The setup
As with VTech's other video baby monitors (we've also reviewed models VM981, VM2251, and VM5271), the setup is simple whether you're connecting a single camera or the maximum of four. First insert the supplied rechargeable battery in the monitor, or "parent unit." My unit arrived with about a 50-percent charge, so you'll probably want to plug it into AC power as well, which VTech recommends for continuous monitoring. Next, plug in the camera, called the "baby unit," and turn it on. Once it has power, it should connect with the monitor automatically.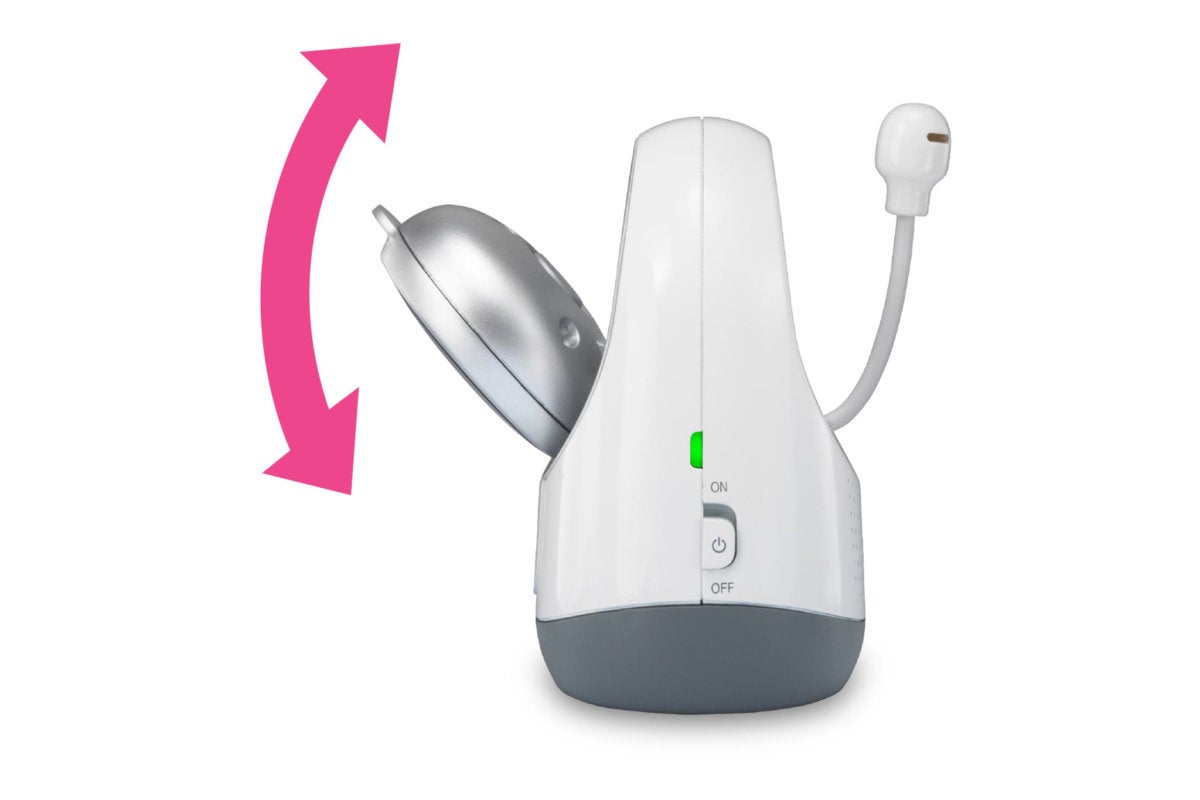 It's recommended you place the baby unit more than three feet from your child. It also needs to be kept far away from electronic devices, such as microwaves, cell phones, and computers—and at least three feet from the video monitor—to avoid audio feedback and electronic interference.
There's little fussing required to get a good viewing angle. Assuming you're setting the baby unit on a dresser or changing table, you just need to tilt the circular camera so it looks down into your child's crib or bassinet. There's a small tab at the top of the camera that you push or pull to unlock it from the baby unit, then it just hinges forward a few degrees. The package also includes a mounting bracket, in case you'd rather affix the camera to a wall.
The monitor's 2.8-inch color LCD provides a decent image. Colors are a little washed out and there's a purplish color cast we've noticed in other VTech baby monitors, but the picture is clear enough to see your baby's movements and facial expressions. You can get a closer look with the unit's 2x digital zoom. The camera's automatic night vision switches on in darkness, and its three infrared LEDs are just bright enough to illuminate your sleeping baby without waking or blinding him or her with harsh light.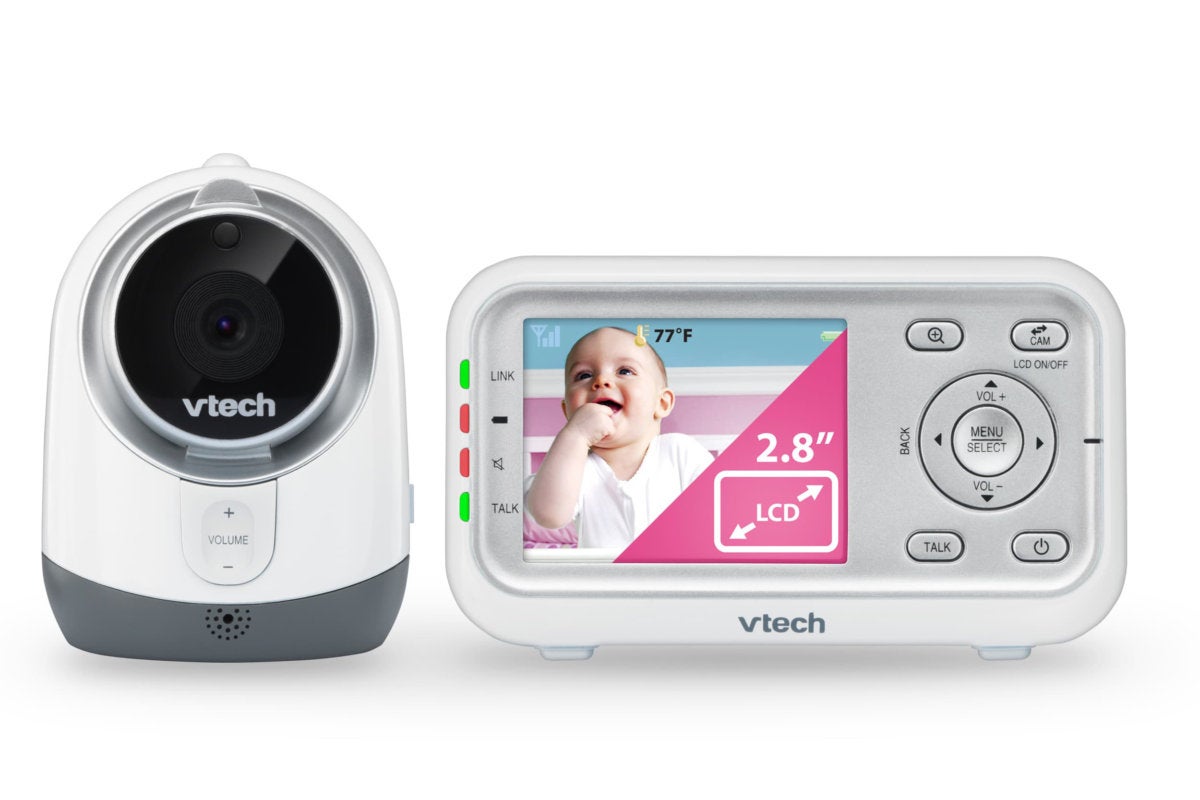 Depending on how many cameras you connect, you can choose from two monitoring modes. Single-cam, which is the default mode, displays one camera in full screen. If you have multiple baby units, you can switch to another camera view in this mode by pressing the "Cam" button on the monitor's control pad. The other mode is Patrol. Only for use with multiple-baby-unit setups, it displays the picture from a different camera every 10 seconds. You use the Cam button to toggle between these modes.
You have a couple of options for soothing a stirring baby: You can choose from five music-box-style lullabies and four ambient sounds that play on the baby unit; you access these using the monitor's menu and directional buttons. Alternately, you can speak to your child from wherever you are by pressing the talk button on the parent unit. For both of these features, the volume control is on the baby unit, so it's a good idea to test the levels before you actually put them to use.
The VM3251 provides basic temperature monitoring. In the monitor's settings menu, you can set upper and lower thresholds, and turn on alerts to notify you when the temp falls out of this range. The sensor is pretty accurate; the reading on the monitor was always within a degree or two of an indoor thermometer in the same room.
Bottom line
Some manufacturers overcomplicate their baby monitors, believing more features means more peace of mind. VTech's VM3251 model is a welcome exception, providing a smart selection of features without testing new parents' frayed nerves with complicated setups and capabilities they'll never use.