Last August, Google released a promising upgrade to its Android TV software, with a new interface that emphasized content over apps. Unfortunately, the only device that could run the software was the three-year-old Nexus Player, and the upgrade clearly wasn't ready for mass consumption.
That software is finally getting a chance to shine on the Nvidia Shield TV. Starting today, the speedy 4K HDR box will receive an upgrade to Android 8.0 Oreo, which introduces some drastic changes to how navigation works. (The update is rolling out gradually to both the first- and second-generation Shield, so owners may not receive it right away.)
With the Shield's previous software, a row of content recommendations appeared on top of the home screen, followed by a list of apps and another list for games. Android 8.0 Oreo removes the unified recommendations row, and instead allows each app to have its own space (or "Channel") for recommendations, allowing you to jump directly into content from the home screen. Those appear below a favorite apps list and a "Play Next" row that lets you resume watching videos or keep playing recent games.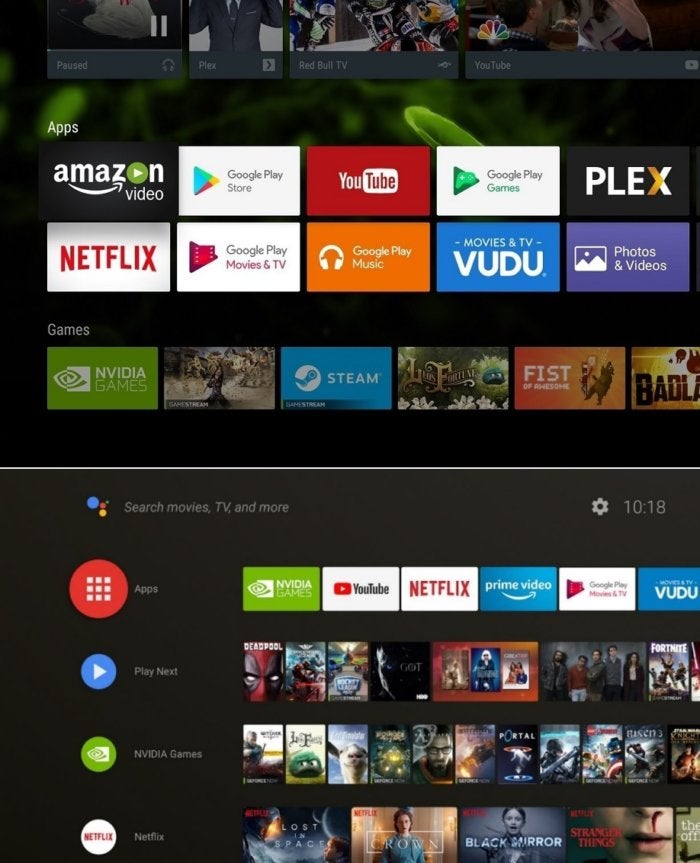 When I checked in on Android 8.0 Oreo last year, few app makers were supporting these content rows properly. Nvidia later told me it was holding off on deploying the software for this reason, as it tried to get more app makers on board.
Mentioned in this article
Nvidia Shield TV (2017)
Price When Reviewed:
$199.99
The company now says that Channels are supported by Nvidia Games,YouTube, Netflix, Google Play Movies & TV, Vudu, Plex, Hulu, HBO Now, Showtime, Starz, Google Play Music, Twitch, Spotify, NBC, CBS All Access, Live Channels, Sling TV, and PlayStation Vue, among others. You can remove or reorder these Channels by scrolling to the left of the app icon and pressing the arrow button.
Nvidia also points out other some helpful remote control shortcuts:
Hold the home button to see all apps, or double-press it to see recent apps
Hold the back button for the Settings menu
Hold the select button on an app to move or delete it
Hold the select button on a video or game to add it to the Play Next row. (This row will still populate with new items automatically if you don't add anything on your own)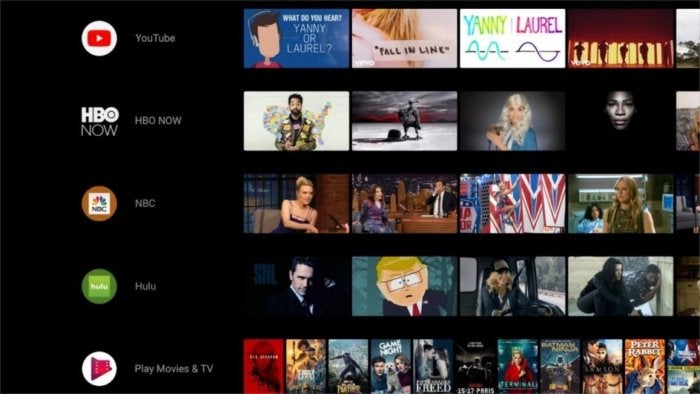 Why this matters: One of the most interesting things about streaming TV devices today is that none of them agree on what the ideal interface should be. Roku, for instance, puts almost all its emphasis on launching individual apps, while Apple TV swings in the opposite direction by aggregating content into a unified "TV" app. Android 8.0 Oreo tries to find a middle ground, with quick access to favorite apps on top and rows of content recommendations underneath. It's always been promising in theory, and now that it's rolling out to modern hardware, we're looking forward to seeing how it works in practice.