Free TV has been making quite a comeback with cord cutters. Some devotees use legally dubious means to watch shows, such as file- or subscriber-ID sharing, but the new AirTV box is a perfectly legal and clever solution for delivering free broadcast TV to every screen in your home–and anywhere else you have broadband access.
"It's kind of a whole-home solution for over the air," said AirTV Director, Product Development Mitchell Weinraub in a preview of the device at the New York City offices of parent company Dish Network. The we-try-harder pay-TV provider is offering this new/old business model as a we'd-rather-sell-you-something-than-nothing alternative to its pricier satellite TV services. It's also being pitched as an add-on to Dish's $20-month-and-up Sling TV streaming TV service.
The box is priced at $120 (you'll also need to purchase an over-the-air antenna), and there are no ongoing subscription fees. "I like to think of AirTV as a local TV server," Weinraub said. "It doesn't have a video output, doesn't have an HDMI or anything like that. What it does is bring in your local over-the-air TV channels, using on-board twin ATSC high-definition broadcast tuners and a connected indoor or outdoor antenna that you place wherever you have the best signal reception in the house."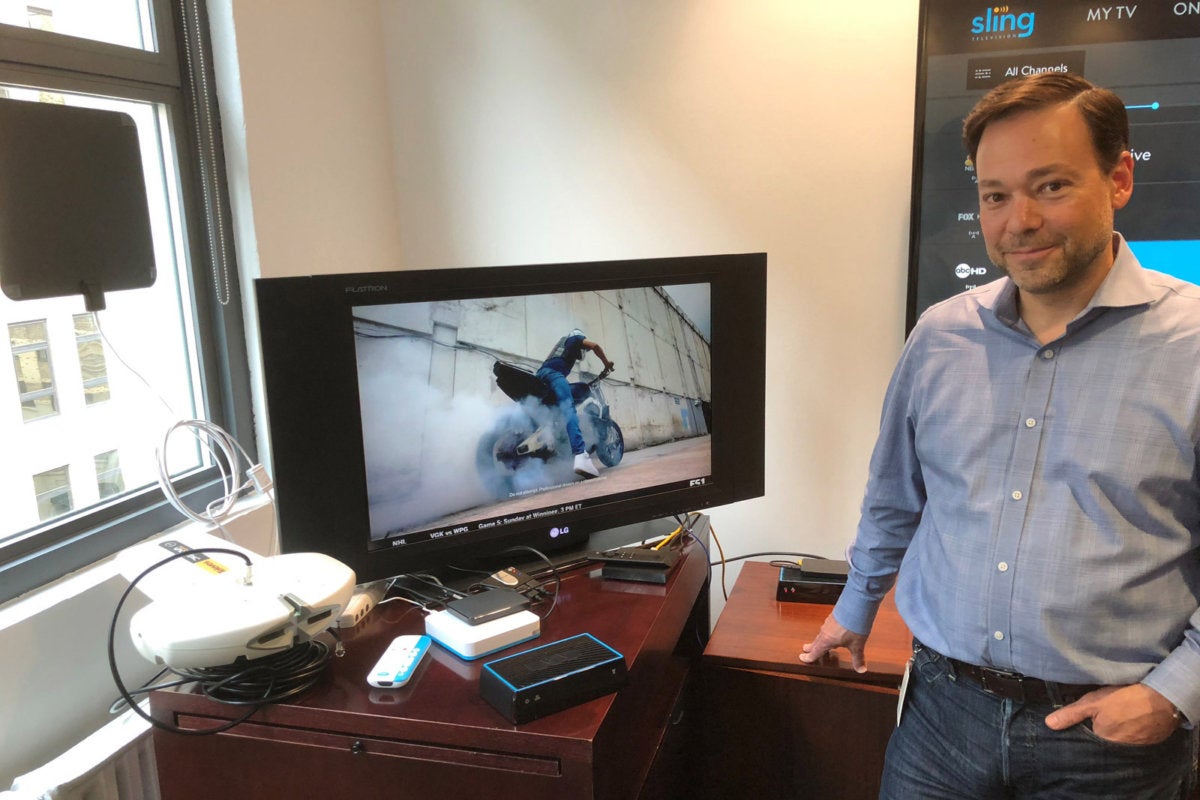 AirTV then distributes those local channel signals over your home network to your Android or iOS smartphone or tablet running the AirTV app. Up to two channels can be streamed at once, and one can be exported outside the house (the limitation is a legal one, as that's considered "fair use," according to Weinraub). The app should also be available on Roku and Amazon Fire TV boxes, or you can use the SlingTV app if you want to blend live TV with premium online content.
Mentioned in this article
Sling Media AirTV
Price When Reviewed:
$119.99
During the demo, Weinraub jumped onto an Android tablet and showed how well his box delivers the goods long distance by tuning in his hometown Denver TV news via a remotely stationed AirTV connected to a "simple indoor flat panel antenna."
I took delivery of an evaluation unit the day before launch and was likewise able to stream my local digital channels (49 found in Philly!) from an AirTV box to mobile iOS devices I toted around the house and took around the block.
"Travelers will love being able watch their home team games from a distant hotel, using the in-room Wi-Fi," Weinraub said. And while it works best with a 5Mbps uplink connection and an 802.11ac router, the streaming TV system can contour the signal down to as little as 1Mbps, if that's what's available.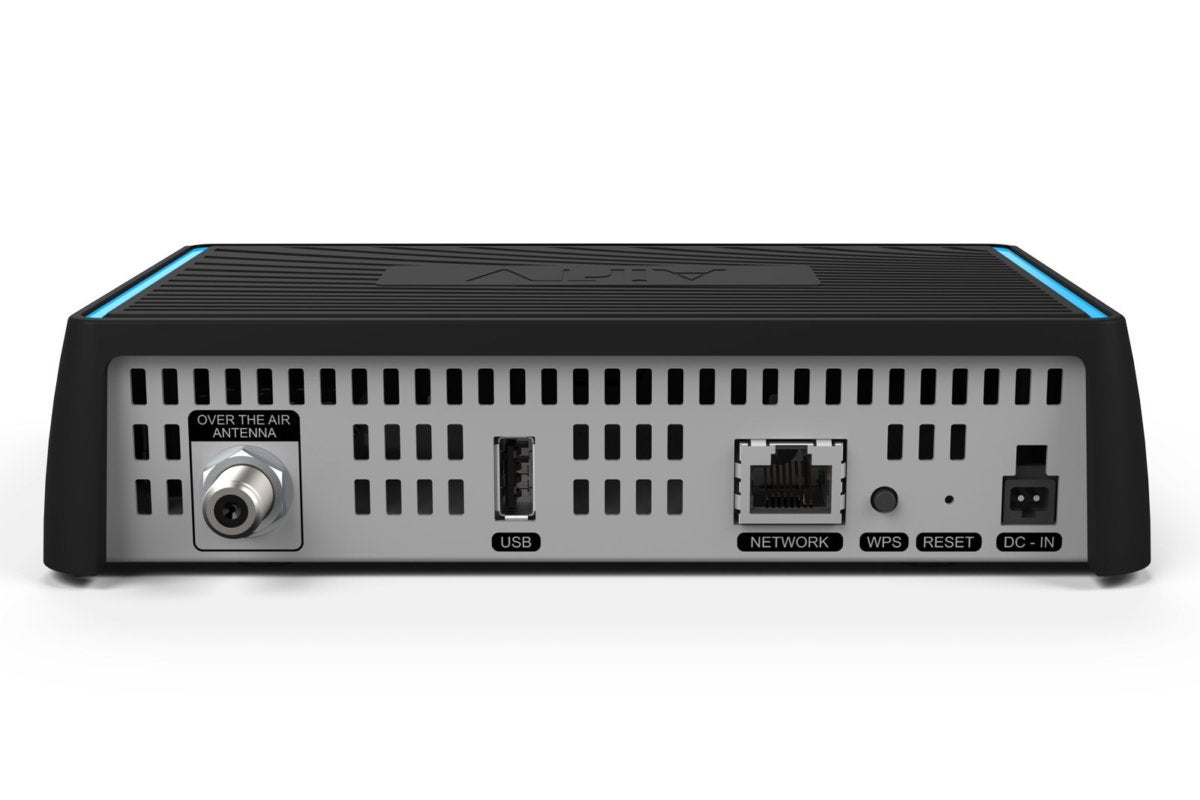 No newcomers to this feat, AirTV's engineers are recycling signal coding/transmission technology used for years in Sling Media's Slingbox devices, a business Dish also owns but has pretty much retired as a separate entity. "For remote reception, Slingbox needed a connection to a cable or satellite TV receiver in the home, which caused all kinds of conflicts when someone at home was watching and you'd remotely change the channel," Weinraub said. There are none of those issues with AirTV. And, truth be told, Slingbox has totally lost its mojo in a time when cable/satellite TV providers give subscribers mobile access as "free" bonus.
Weinraub conceded that developing custom app versions for other hardware isn't easy. "And fine-tuning is an ongoing thing. We've started by connecting AirTV with the Roku and Amazon Fire TV boxes because they have the largest installed base. Eventually we'll be delivering AirTV streams to other devices like Apple TV and smart televisions which already have SlingTV apps. And just as has happened with AirTV Player, the software for this device will improve with seasoning."
Mentioned in this article
Sling Media AirTV Player + Adapter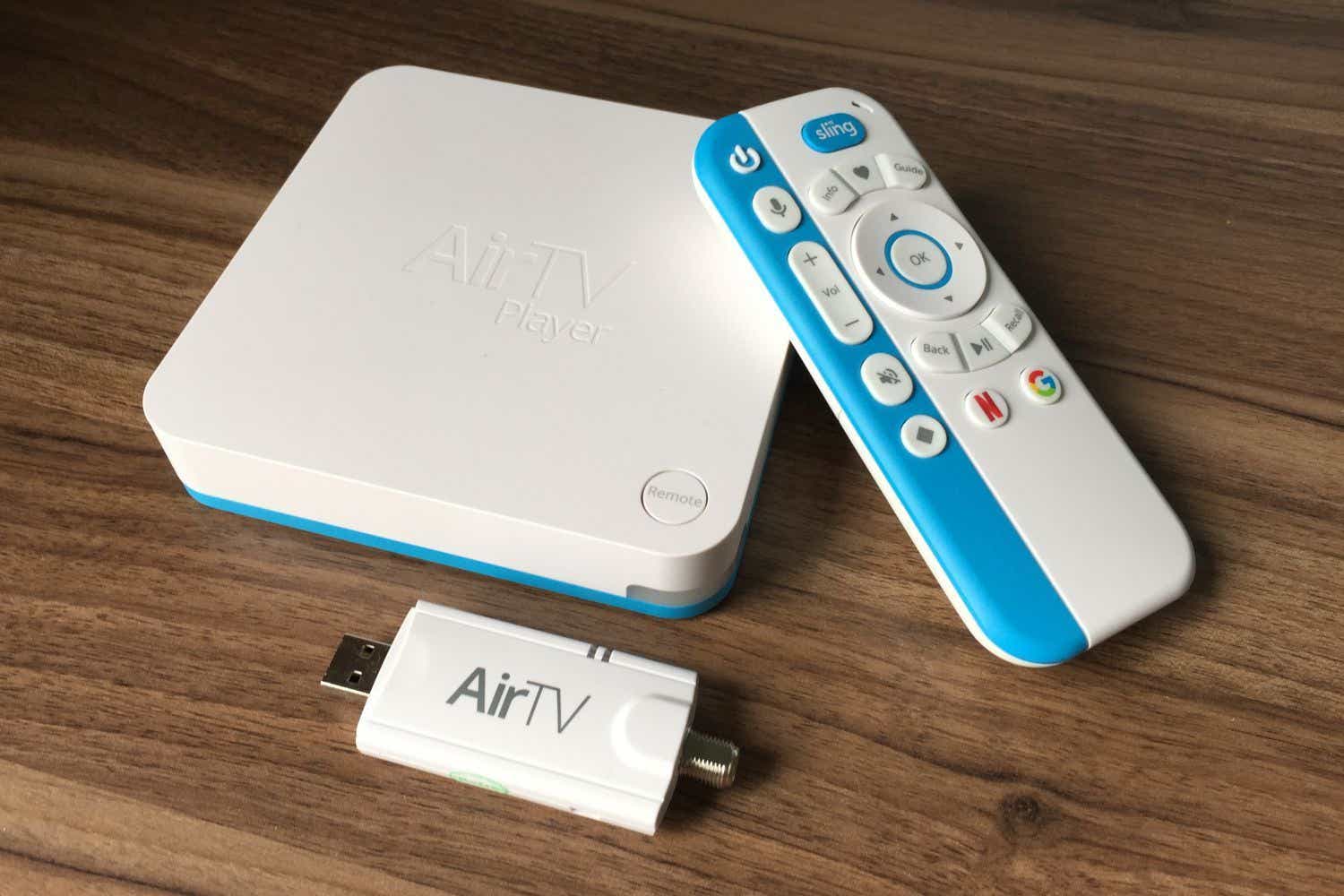 Price When Reviewed:
$129.99
For certain, moving through the seven-day Rovi-TiVo supplied program guide for the Android TV-based AirTV Player is a smoother and faster operation today than it was at launch in early 2017. The GUI is much glossier and the product was just recently enhanced with free DVR recording and playback functionality for broadcast channels, activated when users plug in a hard drive or thumb drive. By year's end, "those free, programmble DVR skills will also be in the AirPlayer, but with double the maximum storage capacity—two terabytes" Weinraub said.
If you don't like the look of an indoor TV antenna, and you're not interested in scrambling around your roof installing a rooftop model and routing the necessary cable through your walls, a Dish Network tech will do it for you for $149. You can learn more about that option here. And you can discover which broadcast stations you can tune in at home here.