At a Glance
Expert's Rating
Pros
1080p video with motion detection
Smart identification feature won't record identified family members (within limitations)
Can customize motion-detection sensitivity for different areas within a room
Our Verdict
The Mi offers flexible, full-featured home security at a budget price.
"Cheap" and "security" are generally two words no one wants to see side-by-side, particularly where their home is concerned. But Xiaomi's Mi Home Security Camera makes that proposition a lot less scary.
Equipped with a 130-degree ultra-wide-angle lens, 1080P video capture, night vision, intelligent motion detection, two-way talk, and more, the Mi is at least as good as some cameras three times the price, and it's far better than any $40 cam ought to be.
The Mi design harks back—way back—to the simplicity of the original Dropcam. The camera unit is set into a plastic faceplate that attaches to a round hinged stand. You just plop it on a table or shelf, point it at the area you want it to monitor, and tilt the camera forward or back on its hinge to get the best viewing angle.
Setting the Mi up is just as uncomplicated. Plug the Micro-USB power cord into the back of the camera module and download and run the Mi Home app. The camera's voice prompts guide you through the steps of adding the Mi to your account, connecting it to your Wi-Fi network, and choosing the room where it's located. The whole setup process took three to four minutes, and that included downloading a firmware update.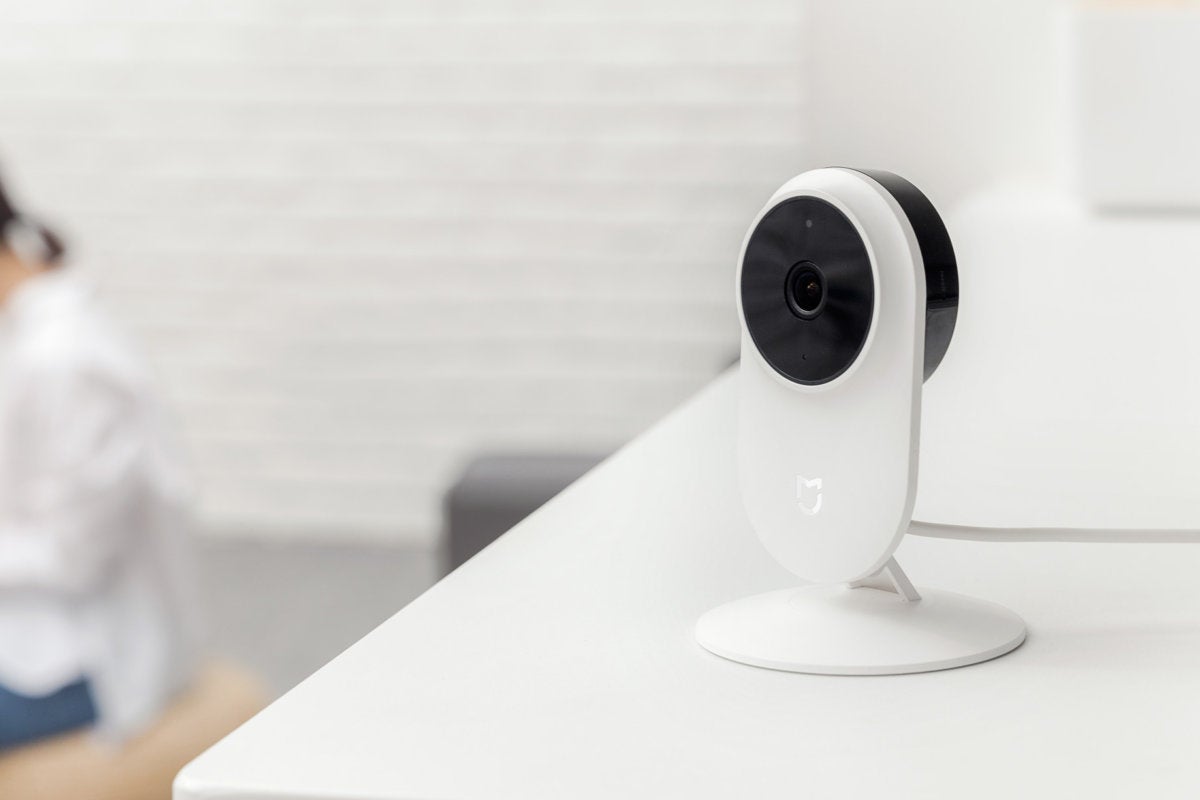 As the Mi Home app is designed to manage a variety of Xiaomi smart-home products, its home screen operates as a device hub to which the Mi security camera is added. Tapping the Mi icon opens its live stream, which displays horizontally across the middle of the screen. The current video bit rate is shown in the upper left corner. A pause/play button, resolution toggle, microphone on/off switch, and another toggle for entering and exiting full-screen mode are displayed on the right.
Along the bottom are clearly labeled controls for taking a screenshot, recording video, activating the mic, and putting the camera to sleep, a feature that allows you turn off the monitoring to gain some privacy without needing to turn the camera off.
The Mi's picture quality is remarkably good. The image is sharp with balanced lighting, and colors are accurate, if a little muted. Night vision is supplied by eight 940nm infrared lights that provide up to about 32 feet of illumination with nice contrast. And the image had none of the fisheye distortion that's common to ultra-wide angle lenses.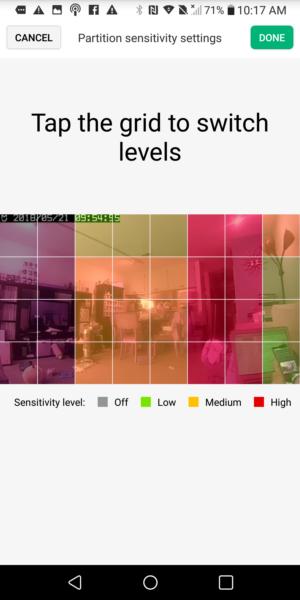 Motion detection is turned off out of the box, so don't fret if you're not getting notifications right away. You can turn it on in the settings, easily accessed from the live-stream screen. The app offers a number of ways to make detection more accurate and prevent you from getting bombarded with alerts, too.
You can set an alert interval of one, five, 10, or 30 minutes, or turn off alerts completely. If you don't want all-day motion detection, you can schedule it to be active only during certain hours, such as while you're at work.
The Mi also supports a unique motion-zone feature. Called "partition sensitivity settings," these allow you to mask in areas you want to monitor for movement and mask out those you don't. In itself, that's not so novel. But it does so by letting you apply different sensitivity settings to each of 32 squares on a grid. These are denoted by color—red for high sensitivity, yellow for medium, green for low, and gray for "off." Each tap on a square cycles to the next sensitivity level. It provides a tremendous amount of flexibility, allowing you to vigilantly monitor breach points like doors and windows while dialing detection back for more commonly trafficked areas.
Another feature we've never seen before: The Mi includes a Bluetooth chip that detects the Bluetooth signals from users' smartphones and then activates sleep mode, so that person isn't recorded on video. Camera-shy family members need only to activate this feature in the app's sleep settings, but it currently only works with iPhones. If they're not an Apple enthusiast, they can still take advantage of the feature if they have Xiaomi's Mi Band 2 fitness tracker.
You can record video continuously, or only when motion is detected directly, to a microSD card (up to 64GB, but not included). When you choose the former, the app displays a timeline beneath the live stream, which you can swipe through to view time-stamped video. Alternately, you can connect the Mi to a compatible NAS box to create your own private cloud storage.
Bottom line
The Mi Home would be a fantastic, flexible home security camera in the $150 to $200 price range; it's an absolute steal at $40. And we only scratched the surface of its capabilities. Given its integration with the Mi Home app, it can likely be used in combination with other Xiaomi appliances to create automated smart home scenes—if you have or want to invest in that ecosystem. Standalone or part of a smart home, the Mi Home Security Camera is a winner.