At a Glance
Expert's Rating
Pros
A mix of close and spaced-out outlets
A minimum of clutter on the outlet layout
Clamps voltage on all three legs
Built-in safety covers
Cons
Includes unnecessary phone passthrough protection
Power button bulges out of top
Our Verdict
The Tripp Lite is a solid entry, and a great deal for 10 outlets with reasonable clamping voltage and power cutoff.
Best Prices Today: Tripp Lite TLP1008TEL Surge Protector
The Tripp Lite TLP1008TEL is the best and least-expensive 10-outlet option for a surge protector that cuts off power when its internal protection has failed across any of the electrical paths that provide power. If you want to ensure that no surges reach any of your equipment and that you have a relatively maximum (or "clamping") voltage that can pass, this model meets all the specifications. If you prefer to also have protection for coax connections, pick up the Tripp Lite TLP1208TELTV, instead.
Some surge protectors, especially inexpensive ones, will continue to pass power, but have a potentially unobtrusive LED "protection" light go out, when the internal metal-oxide varistors (MOVs) that block surges burn out through use. In some cases, you may want power to flow, though if you have a surge protector in use in the first place, you're almost always better off having power fail to your devices than allow it to keep flowing.
This review is part of TechHive's coverage of the best surge protectors, where you'll find reviews of competing products, plus a buyer's guide to the features you should consider when shopping for this type of product.
Power flows between the line (L) and neutral (N) segments of AC power, and most modern hardware has a ground (G) to reduce the risk of fire and other accidents if electrical wiring fails and short circuits. This model has a red Grounded LED that lights up if your outlet (and hence your entire electrical system) has proper grounding. If it doesn't light up, call an electrician or a landlord immediately, as you may be at risk.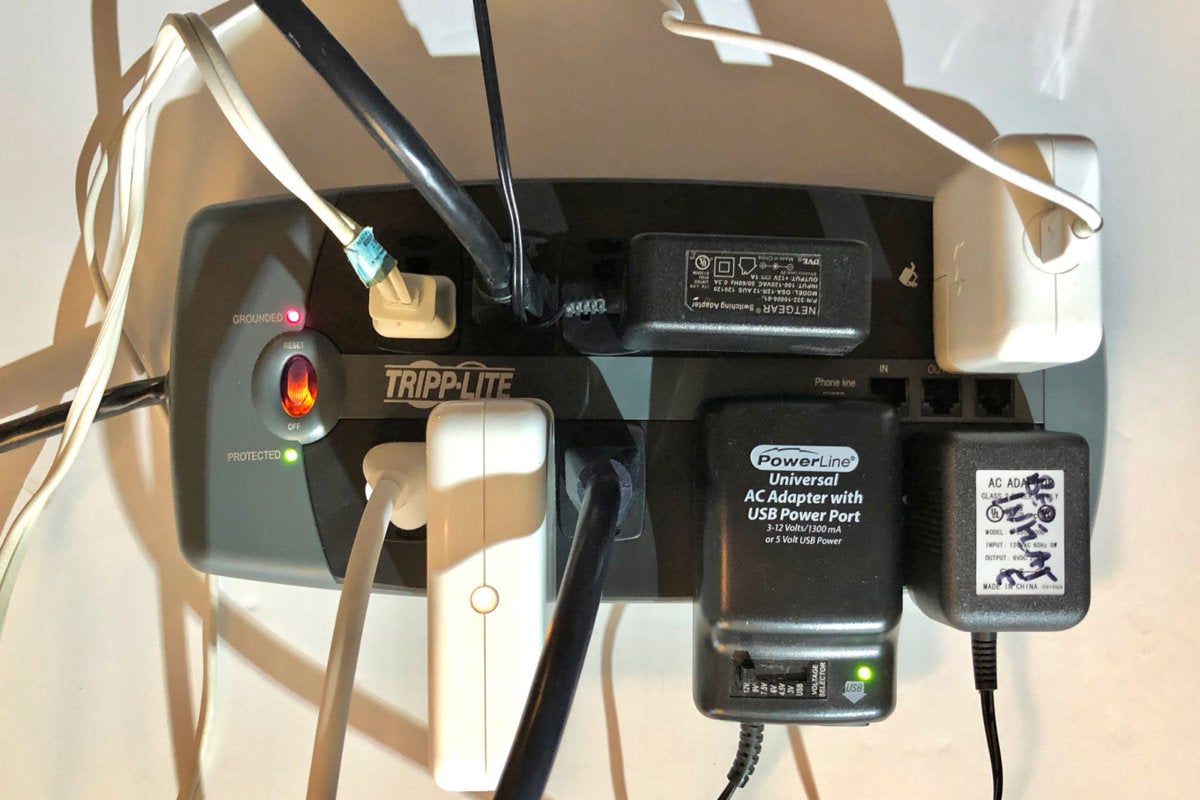 A surge protector can restrict, or "clamp," voltage across the three legs between these components: L-N, L-G, and N-G. This model offers 400 volts (V) of clamping across each leg, well within a reasonable amount for the tolerances of modern hardware. (Read our primer on this for a more in-depth explanation.) Any voltage above that is shaved down and eats away at the MOVs. If—and when—protection fails, the unit's main power switch will remain illuminated, but power won't flow through its outlets and a green Protected LED will extinguish as well.
This model lets its owners make full use of the 10 outlets laid out across its face. Many 8-, 10-, and 12-outlet surge protectors have inefficient layouts or too-tight spacing. The TLP1008TEL avoids this by grouping two sets of five outlets each in their own row with the grounding pin facing outward. There's just about the right amount of separation to plug in most large AC adapters.
But it also groups three outlets in each row together, spaced a little tightly, but with enough room for two-prong and three-prong plugs. Two other plugs in each row are an inch away from the main group and each other. The plugs are also parallel to the highest point of most of the strip, thus avoiding problems with a good fit. The one exception is the power button, which has a protective bulge around it. It's not well placed.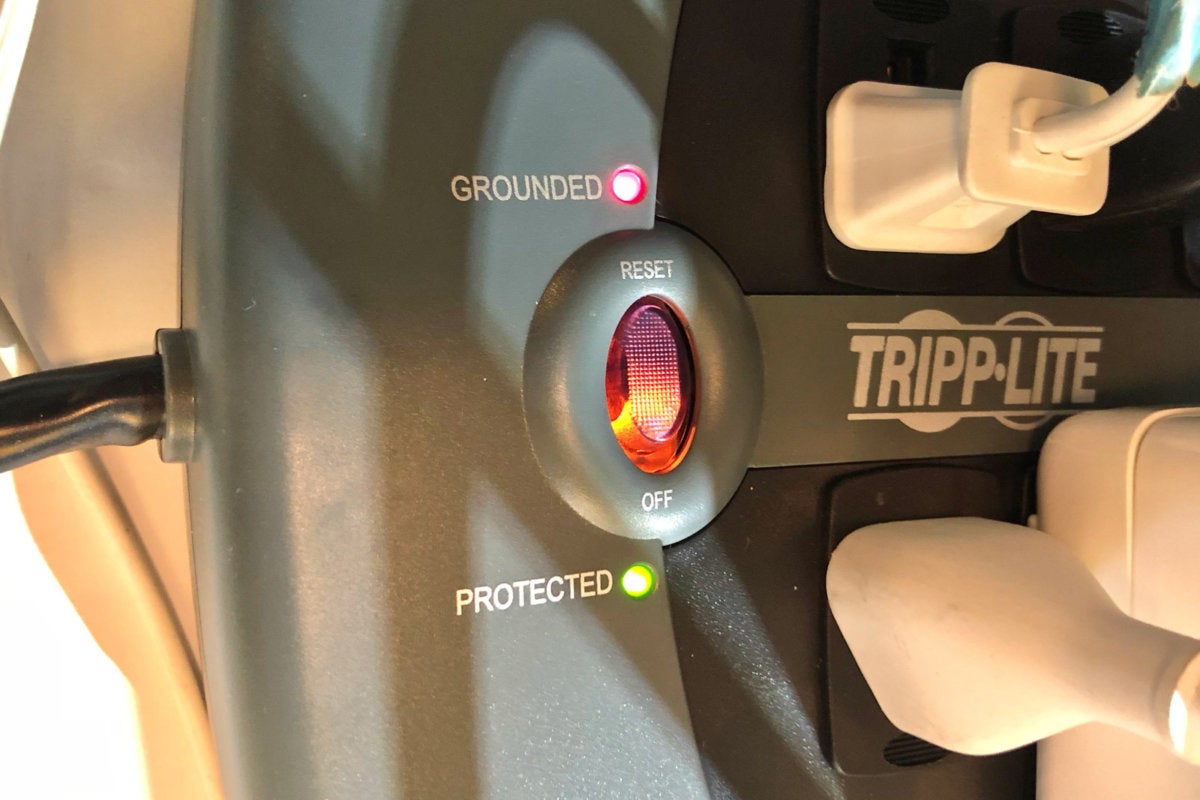 Though it's not documented, the power button doubles as a reset switch for an internal circuit breaker: If the maximum power is exceeded, unlikely for any realistic home or electronics purpose, the switch snaps to the Off position. Clicking it back on also resets the breaker.
The Tripp Lite has a flat, 45-degree angle 3-prong plug at its end, making it easier to fit into an outlet behind a desk or cabinet without stressing the cable. This model also includes a telephone line pass-through protection, which I haven't found valuable or reliable on any model. (The protection is too low, and phone lines rarely have massive surges of power.)
Some people like the peace of mind of leaving unused outlets covered to avoid accidental contact or even detritus falling into the AC jack holes. While never critical in my long experience with electronics, this model includes slide-over safety covers for all 10 outlets.
Tripp Lite includes an insurance policy against equipment that's attached properly—read the lengthy fine print for what the means—and is damaged if its product fails due to specified causes. It will pay up to $150,000 in repair or "pro-rate" (i.e., current value) replacement costs, but most of us are unlikely have more than a few thousand dollars in gear attached. Claims must be filed within 30 days.
Best Prices Today: Tripp Lite TLP1008TEL Surge Protector