Each May, first responders are recognized for their service to our communities through International Firefighters' Day (May 4), National Police Week (May 13-19), and National EMS Week (May 20-26). This year, Canary is doing its part by driving a nationwide initiative in partnership with State Farm and Verizon to put security devices in the hands of those who risk their lives on to protect ours.
Called Salute First Responders, its central platform is an online hub that allows people to nominate local fire, police, and EMS departments or individuals in their community, and share stories about how these First Responders have impacted their lives. The nominators then share their nominees on Facebook and Twitter and recruit people to "salute" them. The 100 most-saluted individual first responders will each receive a Canary All-in-One device, and the department with the most salutes will get 100 devices. Canary will donate 50 devices to each of the next 16 departments with the most salutes.
"So far we've got about 1,500 nominees and the top vote getters are up over 1,000 salutes at this point," says Canary CMO Bob Stohrer.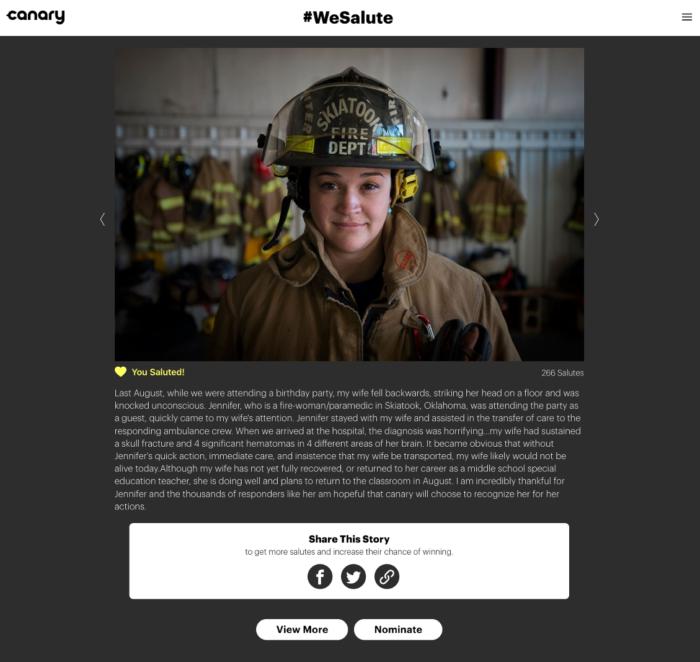 The donations are being fulfilled through a Buy One, Donate One promotion at Verizon retail stores. Throughout May, anyone who purchases a Canary All-in-One or Canary Flex device in-store or online will get $50 off each device, and Canary will match the purchase with a donation device for a first responder.
Mentioned in this article
Canary Home Security System
Price When Reviewed:
$169
The Salute First Responders program has its roots in Canary's Protect the Protectors donation events, a program created in partnership with State Farm in 2015 that donates security devices directly to emergency service departments in select communities. Since its 2016 launch, Protect the Protectors has donated more than 10,000 devices to local communities in 50 cities across the U.S.
"First responders are often called out on a moment's notice and they themselves at that point didn't have (home) security," says Stohrer, noting that the market was then driven by expensive security services. "At that point only about 18 percent of all homes had security."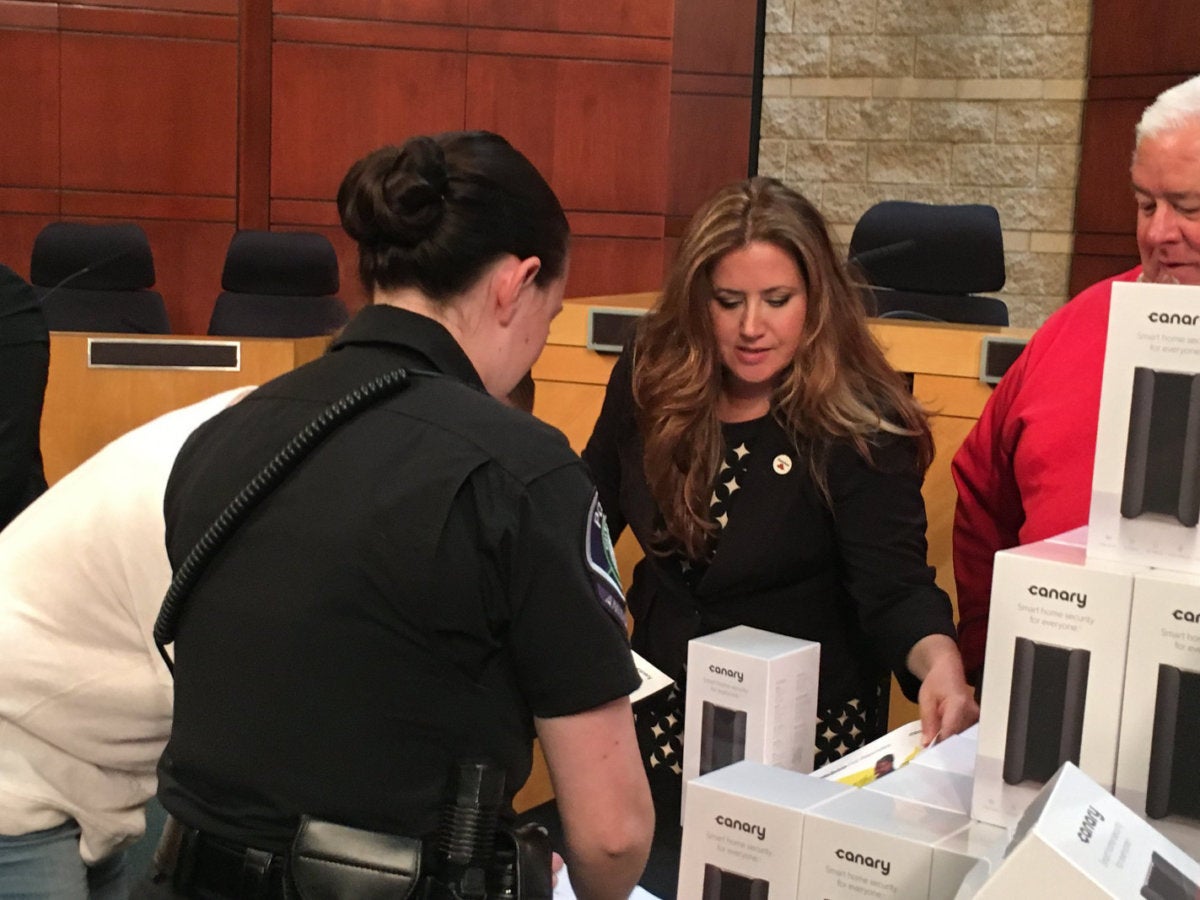 The success of the local community program inspired Canary to make it a national initiative, Stohrer says, and Salute First Responders was born. As part of Salute First Responders, Canary and State Farm will expand Protect the Protectors by hosting events across the country to provide departments with smart home security cameras. It kicked off in Irvine, CA on May 1.
The Canary All-In-One provides a full set of home monitoring features—including a 1080p security camera, environmental sensors, and a 90dB alarm—in a single device. You can read our review here.