At a Glance
Expert's Rating
Pros
Nuanced Hi-Fi sound
Onboard tuning control renders the phone/tablet app optional
Minimalist Scandinavian design is easy on the eyes
Cons
This isn't the best multi-room system
Serious distortion when cranked
Our Verdict
The Urbanears Baggen almost justifies its high price tag, thanks to its elegant design, clean sound, and old-fashioned knob that makes it so easy to dial in music from around the world.
My editor said he's been chiding himself for taking so long to review Urbanears' entry into the wireless multi-room speaker market, but the Swedish manufacturer should be happy he waited. Software and firmware updates have improved the performance of its Baggen and Stammen speakers, even if they haven't entirely rid the audio system of bugs.
The earliest reviews of the Urbanears system can be summed up with two words: Don't bother. One year later, the company's engineers have yet to squash every bug from the $349 Stammen and its larger sibling, the $449 Baggen. But patience, young grasshopper. Dig through the weeds and you will find a lot to like: Old-school sonic charm, elegantly simple industrial design, and user-friendly ergonomics coupled with modern connectivity in the form of dual-band Wi-Fi, Bluetooth, and Apple AirPlay.
Setup woes
In my tests, setting up just a two-room Urbanears system was fraught with frustration and delays. It doesn't help that the customer-support team based in British Columbia communicates strictly by email and (sometimes) online chat. There is no live phone support, let alone a backend system that can swoop in via a remote connection to monitor how your local network and gear are operating and work some fixes. Those are skills the likes of Sonos and Bose tech-support personnel utilize to troubleshoot their companies' multi-room audio systems.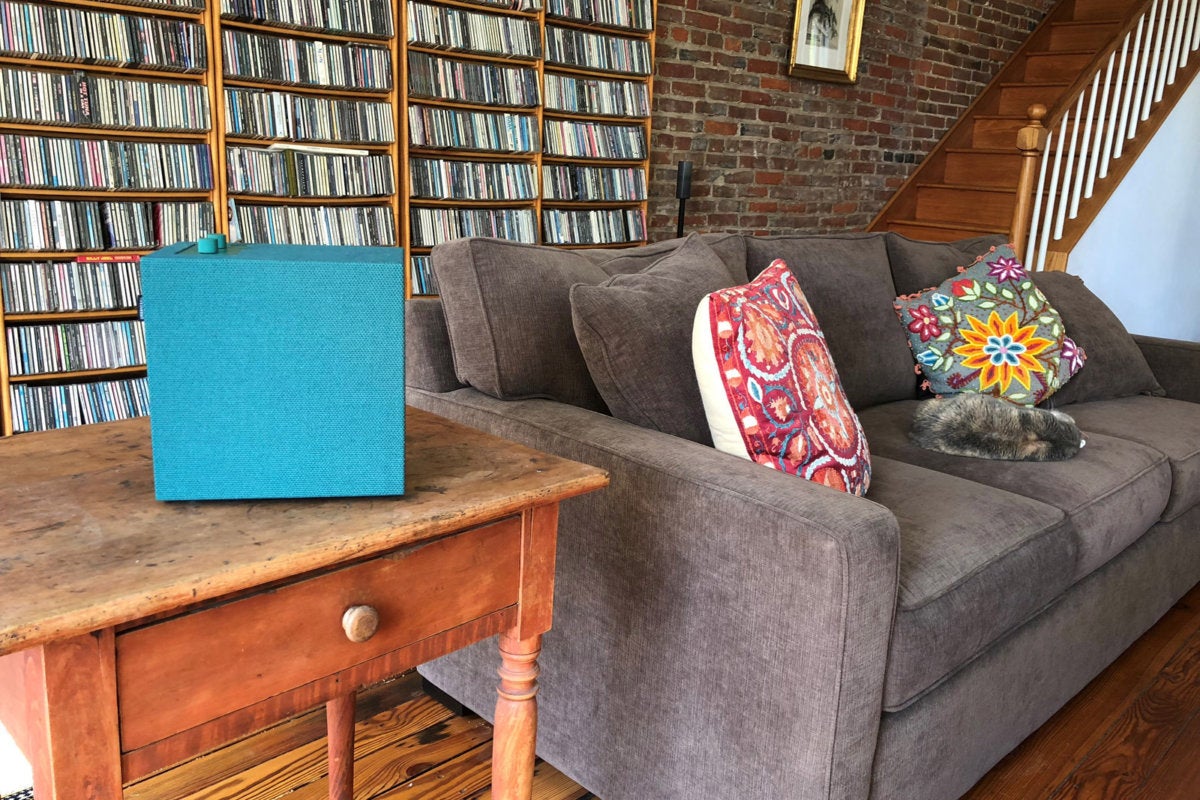 After three days of emailing back and forth, with multiple reboots of router, app, and the Urbanears speakers, I finally got the show up and running. It happened after my newfound tech-support pal Ian wondered if I could possibly boot up the speakers with the Android version of the Urbanears app (on an Samsung Galaxy 8 smartphone), instead of the iOS version I'd been using on an iPhone X and an iPad Pro. Voila! Success! Once the speakers were updated with the latest (as of March 15, 2018) firmware, the system communicated quite readily with my iOS devices, too. Go figure.
Another hard lesson learned: Don't move these speakers around once you've set them up, kids. Even when there's strong Wi-Fi reception on the same network in the new location—in my case, a Samsung Connect Home Pro Wi-Fi mesh network—those relocated speakers will freeze up. The workaround: Reboot your router, then plug in and restart the affected speakers by holding down two buttons for seven seconds to initiate a fresh connection. It's not hard, just annoying.
Making the most with less?
V-Tuner and Spotify are the only music-streaming services Urbanears directly integrates, but the company beats the competition when it comes to third-party device support. In addition to streaming via Wi-Fi, you can use Apple's AirPlay, Google Chromecast, and Bluetooth. I found that local streaming works well at close range, but things get iffy when you're pushing a stream to the Baggen and the Stammen in separate rooms simultaneously. The Baggen proved to be the better signal catcher.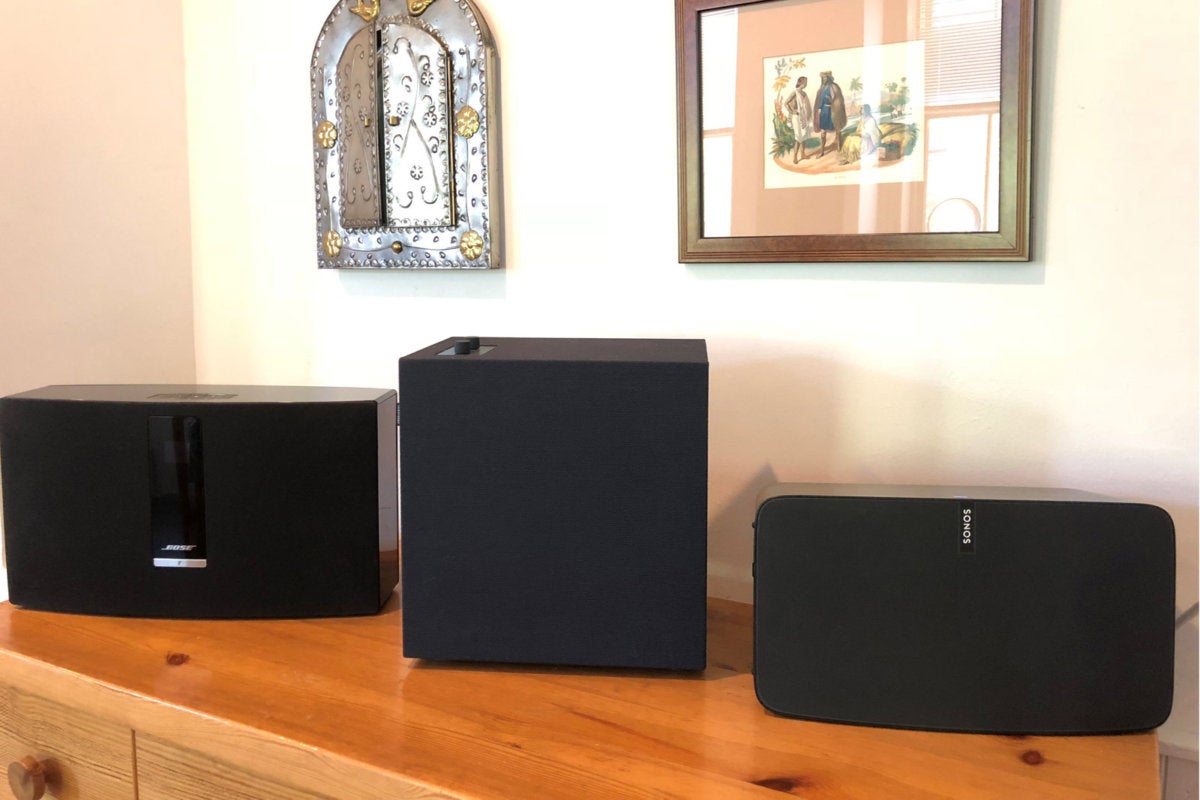 By contrast, Sonos speakers don't support Bluetooth, and they need a workaround involving an AirPort Express or Apple TV to receive AirPlay feeds (although the company has said some recent models and all new ones will support AirPlay 2 when it comes out). Honestly, most Sonos users don't care because those speakers serve up every music-streaming service imaginable. Current Bose SoundTouch gear welcomes Bluetooth transmissions and works internally with good collection of streaming services: Spotify, Pandora, Amazon Music, Deezer, V-Tuner, iHeartRadio, and Sirius/XM.
Cut from the same cloth
European speaker makers are wont to wrap their products in woven fabrics (see our Libratone Zipp and Vifa Oslo reviews for examples), which helps them blend into any home's décor. Urbanears' Baggen and Stammen are simple wooden boxes wrapped in textured, porous fabric on five sides. Metal grills beneath the front cloth protect the front-firing drivers, and there's a sizeable bass-reflex port on the bottom of the cabinet, along with connections for AC power, a 5-volt/1-amp USB charging port for your smartphone or tablet, and an auxiliary line-level input to connect something like a CD player or a turntable with an on-board pre-amp.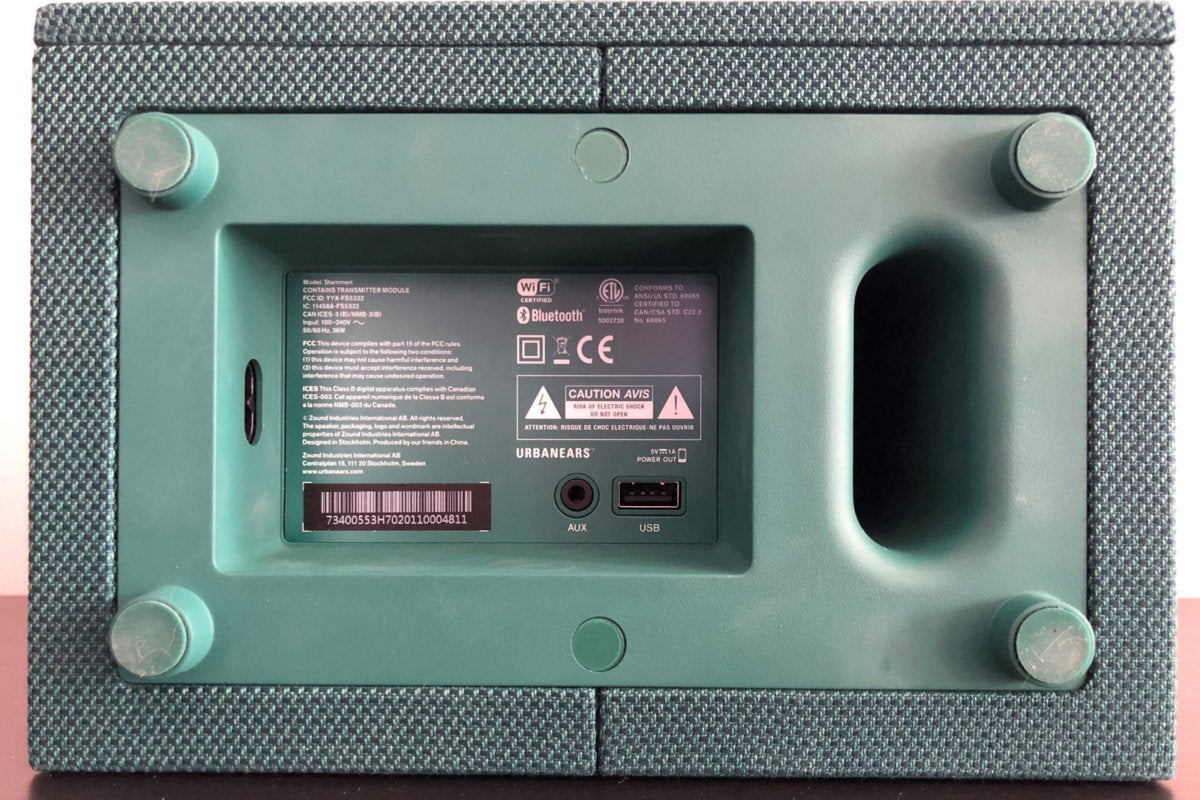 Both speakers have two knobs atop their cabinets that hearken back to ye old table radio designs: One rotates to control volume; when pushed down, it switches the speaker between solo reception and speaker-pairing mode for multi-room setups. Urbanears says up to five speakers can be networked to put on a unified show, but I recommend keeping them in relatively close proximity to each other. Maintaining connectivity and synchronized play became a challenge when my two review samples were separated by more than one floor.
The other knob is a multitasking twister that leads you through multiple input settings: Bluetooth, auxiliary input, and seven channel presets (a glowing LED identifies which one is active). You can easily assign playlists, albums or tracks from Spotify, and your favorite internet radio stations as presets. It's on you to remember which number summons which favorite, though the Urbanears smartphone app does visually identify your selection. The presets work reasonably well, switching to the new selection in as little as one second and never more than 10.
Urbanears isn't the first streaming music player maker to offer channel presets. Several models in the Bose SoundTouch line have dedicated channel buttons (plus Aux/Bluetooth, power, and volume controls) on their cabinets and remote controls, which are equally easy and a tad faster to use. But twirling a selector knob is a charming experience, akin to dialing-in a terrestrial radio station on the sturdy, toasty-warm sounding table radio of yore. Better still, presets on each Urbanears box can be set independently; the Bose platform demands that the same six stations be fixed on every SoundTouch on your network.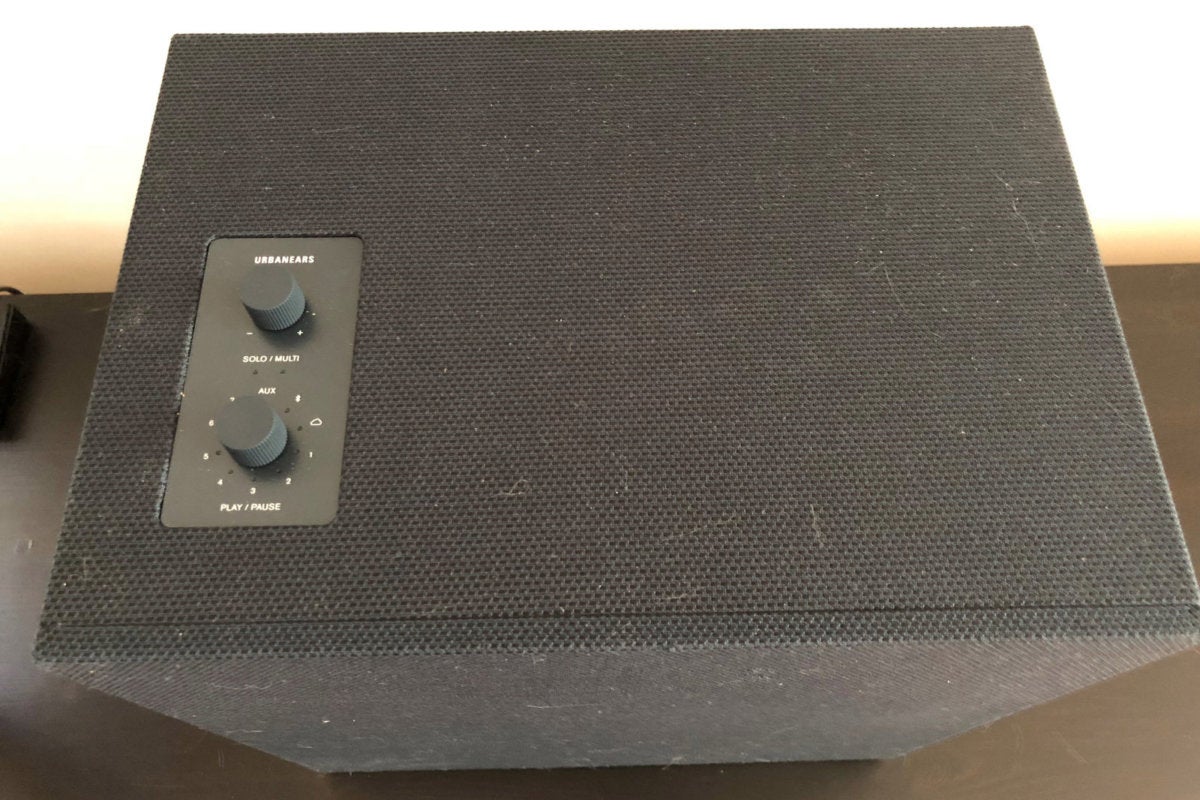 Some reviews have criticized these speakers for their size and box-like construction, but that's the price to be paid for the fuller, airier, and often more detailed sound that the Baggen and Stammen deliver. To my ears, Sonos and Bose achieve their big-sound-from-small-cabinets bona fides with a midrange bump to push vocal presence and a high-end roll-off to prevent listener fatigue (and to perhaps allow for less costly drivers).
The Urbanears Baggen
The Baggen is the largest of the three speakers in the Urbanears lineup, measuring 11.8 inches wide and tall by 8.4 inches deep (the company didn't submit the Lottsen—its smallest—for this review). The Baggen blends the laws of physics and classic speaker design especially well. Fitted with two 2.5-inch, full-range, paper-cone drivers and a 5.25-inch coated-paper woofer with a rubber surround, it delivers just a modicum of stereo separation (the Bose SoundTouch 30 makes the best stereo impression; a single Sonos Play:5 not so much, although you can pair two of the latter for stereo).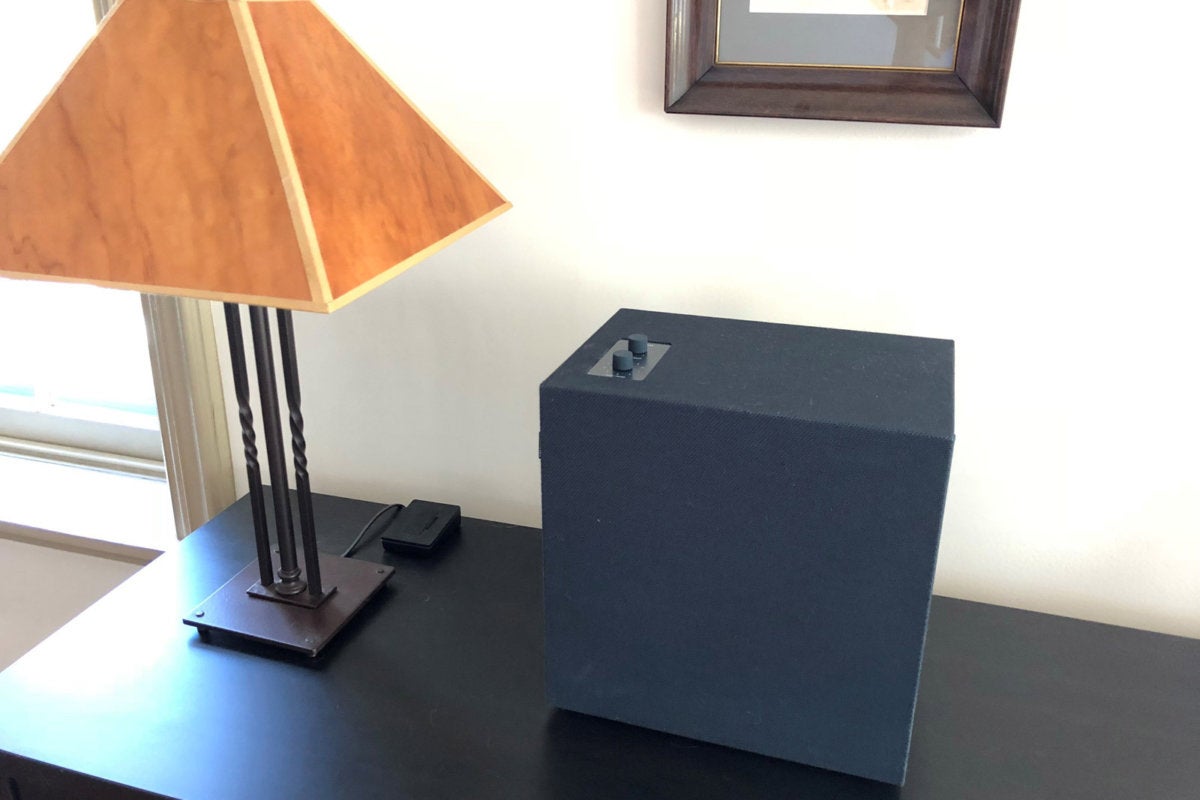 But with the Baggen, a critical listener is more likely to hear the air around each instrument, along with those subtle details that create a sense of depth and presence: The resonance of a grand piano's soundboard, the windy breath propelling a sax solo, or the sparkling sizzle of the drummer's brushes dancing on a cymbal. I heard a good amount of that on the Baggen while listening to acoustic-music-minded stations like Linn Classical and Linn Jazz from London and WQXR New York; not so much on the Bose and Sonos.
The Baggen also did a better job of drawing me into the dense psychedelic swirls of the obscure English prog rock bands featured on the BBC 6's "Freak Zone with Stuart Maconi," and it was a tad better at differentiating the distinct contributions of tight vocal harmonies, such as the Don Henley, Vince Gill recording of "Sacrifice," and Rhonda Vincent's and Dolly Parton's reworking of "Please," both from the countrified tribute album Restoration: Songs of Elton John and Bernie Taupin.
On the downside, you're also more likely to hear the high-frequency hash of low-bit-rate streams, and you'll suffer obnoxious distortion should you crank the Baggen's 60-watt-trio of Class D amplifiers up to 11. The computer-modeled-and-equalized entertainers from Sonos and Bose won't allow their drivers to overexert into those kinds of trouble zones.
The Urbanears Stammen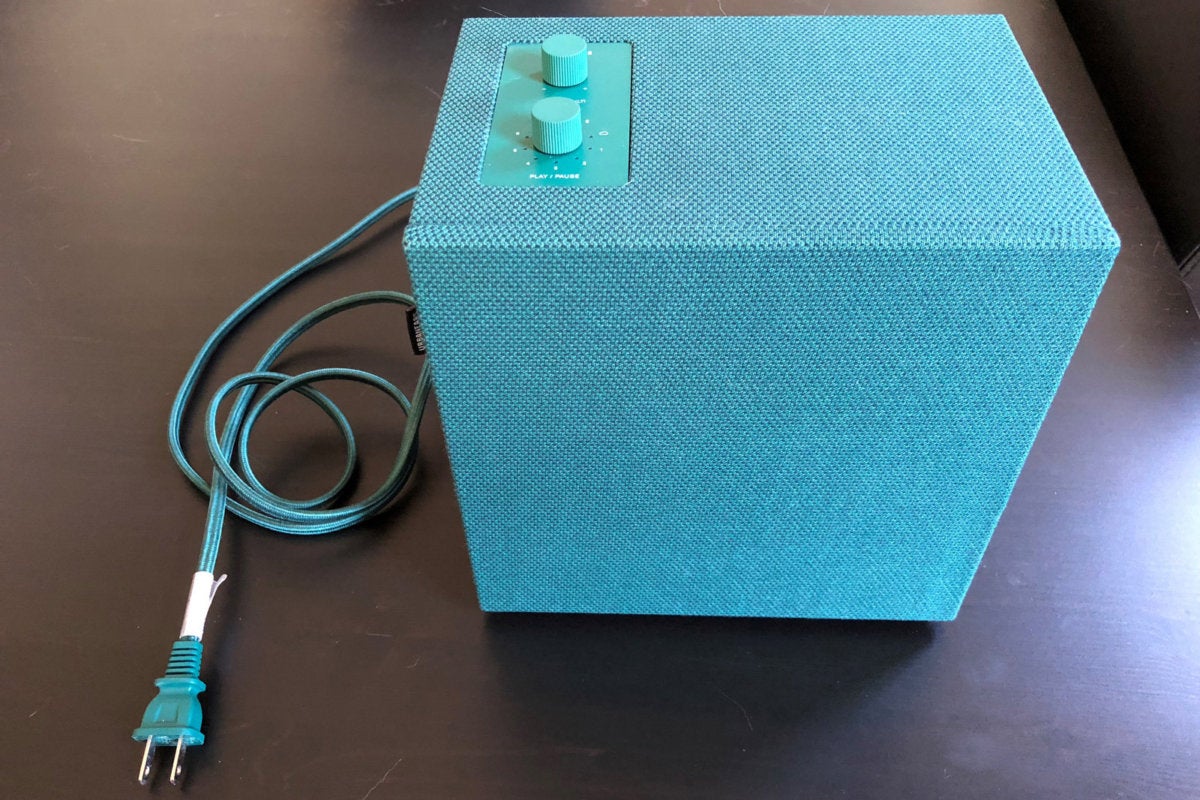 The smaller, cuter Stammen—measuring 8.27 inches tall and wide by 5.6 inches deep—is likewise imbued with presence and character. Its trio of Class D amps sends 15 watts of power to a pair of .75-inch neodymium dome tweeters and 40 watts to a 4-inch woofer. But in extended listening comparisons with its prime competition—the $249 Sonos Play:3 and the $349 Bose SoundTouch 20—it was harder to proclaim a clear-cut sonic winner. The more-expensive Bose sounded equally balanced and was almost as detailed, and it offers features the Stammen doesn't, including more user-friendly pushbutton presets, a wireless remote control, and a display that shows what's playing.
With some streaming sources, such as the thumping New Orleans R&B stronghold WWOZ, the comparably priced Sonos Play:3 made a deeper, richer sonic impression than either of those other speakers. If you care about ergonomics and ease of access, the Sonos app's control and search features are so far ahead of the pack that it's pointless to compare.
But network connectivity issues ultimately reduced my opinion of the Stammen. It's much more easily distracted by brief network outages, and far less likely than its big brother to recover from them. I repeatedly found myself unplugging the thing and then starting it up again. Work on that Ian, will ya please?