At a Glance
Expert's Rating
Pros
Unique D-shape enables it to clean edges and corners better than round robot vacuums
Excellent navigation
Elegantly designed app
Cons
One of the more expensive robot vacumms available
Our Verdict
The Neato Botvac D7 offers excellent navigation, deep cleaning, and a fantastic app.
The Neato Botvac D7 Connected represents the best and worst of robot vacuum technology: On the one hand, there's cutting-edge features that let you perform one of the most-loathed household tasks while barely lifting a finger. On the other hand, there's a heart-stopping price tag that makes you question just how much that convenience is worth. Ultimately, we each must solve that conundrum for ourselves, but we can say that the Botvac D7 Connected is an object lesson in "you get what you pay for."
Updated December 6, 2018 by executive editor Michael Brown to report additional features Neato has added to the Botvac D7 Connected via firmware updates. Neato introduced Zone Cleaning with an October update, and improved that feature substantially with a December update. You're now able to designate any area on the map of your home that the vacuum creates as a discrete zone. I created one for my home theater and called it "Media Room." Now I can instruct the vacuum to clean the Media Room, and it will move from its base station directly to that room, vacuum it, and then return to its charging base.
If your home has multiple levels, you can create independent maps for each level. But there's a caveat: You'll need to move the charging station to that floor the first time you have the robot vacuum it—and every time thereafter, placing it in exactly the same spot—so the robot knows where to return to once it's finished. The more convenient alternative is to buy second and subsequent base stations for each floor you want to robot to vacuum. Each extra charging base, however, costs about $40.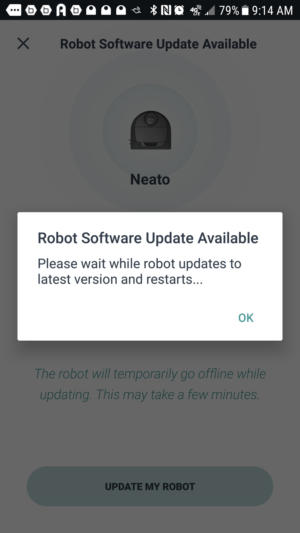 Since I live in a one-story home, I tested this feature by placing the vacuum in my indoor patio, which is at a slightly lower elevation from the rest of the house. I first created virtual no-go lines at the thresholds of the three doors going from the house to the patio, so I could leave those doors open without worrying about the robot going into the patio and not being able to return to the main part of the house. You create no-go lines by drawing a line with your finger on the floor plan the robot creates. If you live in a multi-level home, you'd want to create no-go- lines so the robot won't fall down the stairs.
Another new feature, dubbed Quick Boost Charging, enables the D7 Connected to calculate how much power it will need to finish its job. If the battery runs down, the vacuum will return to its base and charge up just enough to complete its run before returning for a full charge.
And now, back to Michael Ansaldo's reporting:
The Botvac D7 breaks from the disc-shaped design of every other robot vacuum we've reviewed to date, instead sporting the Botvac line's trademark "D" shape. This isn't just a design cue; those right angles allow it to clean along walls and in corners better than its round competitors. It measures a hair over 13 inches across and 3.9 inches high thanks to a turret that houses its "Botvision" sensors. These scan and map the room for better navigation. A brushed-metal lid pops off to access the clear-plastic dustbin. Four LED indicators report the status of the battery and Wi-Fi as well as cleaning modes.
Neato says the rolling brush on its underside is 70-percent larger than those on its competition. We didn't measure it. but an eye test of the brushes on all the robot vacuums we've tested supports the claim. A spinning brush on its side helps the D7 grab dirt from corners and wall edges.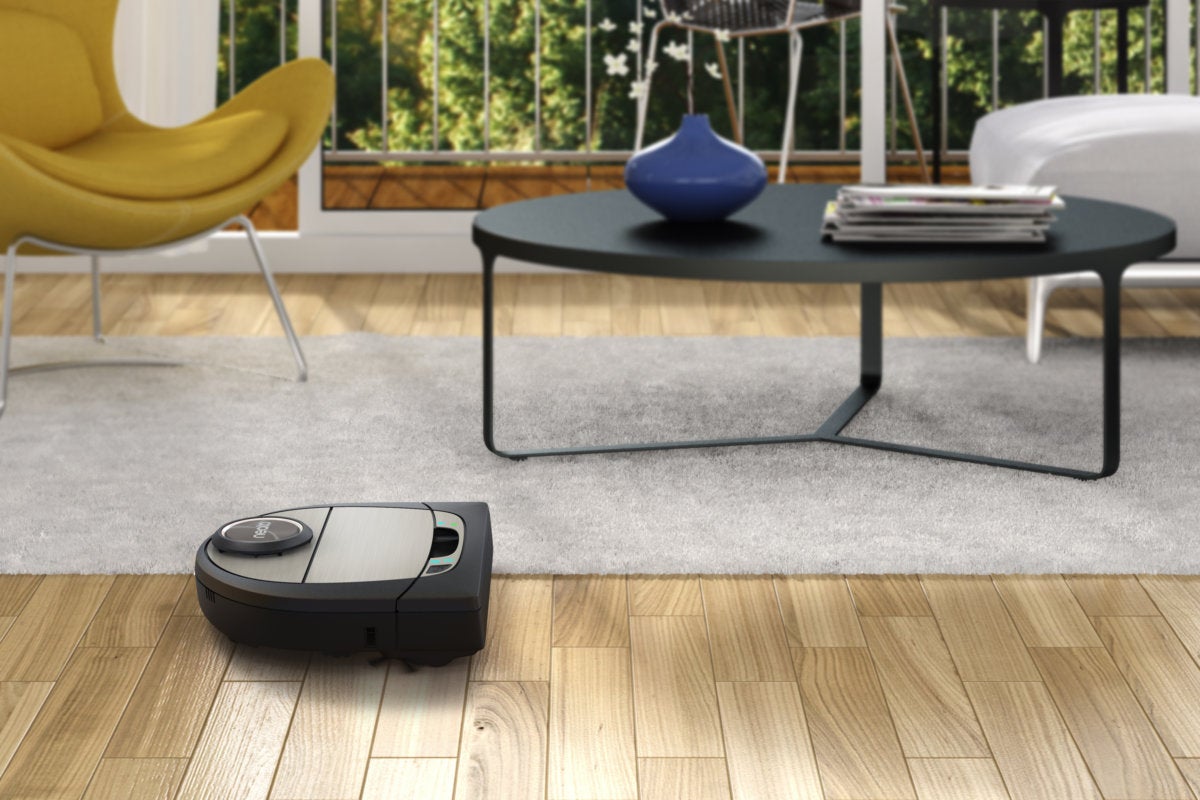 Setup and usage
Most robot vacuums include a pair of charging contacts on the underside that you line up with the contacts on the docking platform. Neato placed the D7's contacts on its rounded side, and you push it up against the dock's metal charging contacts until they are pushed all the way in.
Once you download the Neato Robotics app, there's a process of putting the D7 in pairing mode (you press the bumper and start button together for 10 seconds) after which the app takes you through a pretty seamless Wi-Fi setup. Unlike many of the Wi-Fi-enabled robot vacuums we tested, it works on both the 2.4- and 5GHz frequency bands.
Neato heavily markets the D7 on its navigation capabilities, which include the ability to cordon off areas you want it to avoid—kid and pet areas, for example—by setting "no-go lines" in the companion app. To enable this feature, the D7 must first map out your space. The app provides instructions for preparing a room so the D7 can create a complete floor plan. These include opening any doors which access areas you want cleaned, and removing stray obstacles from the floor. You should probably also use the included magnetic boundary to block off cables or anything else you can't remove for this initial cleaning. This should all be done after you've found a good home for the charging dock, as it can't be moved once the space is mapped—at least not if you don't want your D7 to get lost on its way home.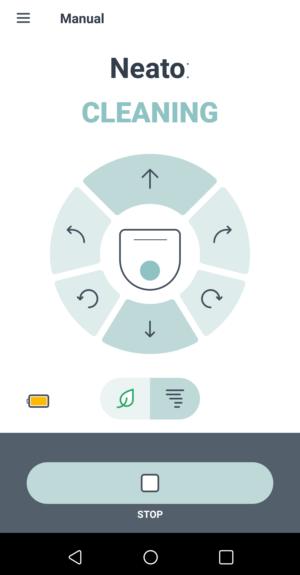 During its mapping run, the D7 appeared to feel its way around the room, pausing for a bit when it encountered something in its path before changing direction slightly to maneuver around it. Once it was finished, I was able to save the floor plan and draw red lines on it to designate no-go boundaries for future cleanings.
On subsequent cleanings, the D7 navigated like a champ, maneuvering chair and table legs, and even some clutter I didn't pick up. Its sensor turret prevented it from getting under my couch, as I suspected it would, but most of the robot vacuums I tested had a degree of trouble with its low clearance.
The D7 respected the virtual boundary I set around a cluster of cords, too, though it will only do this when you initiate a cleaning in the app, not when you use the Botvac's physical start button.
As for cleaning, the D7 gave all three floor surfaces—low-pile carpet, hardwood, and linoleum a thorough scrubbing, pulling up food crumbs, pet hair, cat litter, and various debris easily. It really shined, thanks to its unique shape, in getting pet hair around walls, something the other robot vacuums I tested often left behind. It also had no issue transitioning from one floor surface to another.
Given the unique design of the dock, I was concerned the D7 might just barrel into it as it tried to butt up against the charging contacts. But the robot vacuum handled this masterfully, slowing backing itself in and slowly shimmying against the contacts until they were pushed all the way in.
The app
The D7's companion app deserves special mention, because it's one of the most cleanly designed ones we've used. Cleanings can be initiated from the main screen by pressing the Start button.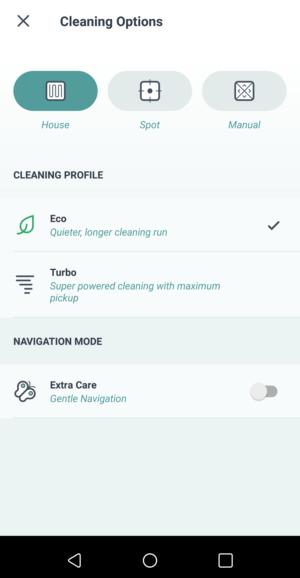 From here, you can also open the Cleaning Options screen. Three modes are offered: House, which performs full automatic cleaning; Spot, which lets you choose a specific radius for concentrated cleaning; and Manual, which lets you direct the Botvac using a directional pad. You can also choose from two cleaning profiles: Eco, a quieter but longer cleaning, and Turbo, which is much louder but has more powerful suction.
Once the D7 is vacuuming, you can manage it from the app's Cleaning screen. It features Pause, Stop/Start, and Dock buttons, along with a battery-life indicator and a grid icon that accesses summaries of your last 20 cleanings. Each of these includes a map, the square footage of the area cleaned, and the total cleaning time. It also provides the D7's current status: "cleaning," "checking my surroundings," and so on.
A three-bar menu in the upper left corner gives you options for scheduling cleanings, reviewing your floor plans, and editing your account information. In the upper right corner is a Botvac icon that opens settings for each robot vacuum you have connected. Here you can set preferences for filter- and brush-change reminders and full-dustbin alerts.
Third-party integrations
Robot vacuums increasingly feature integration with smart home services like Amazon Alexa and Google Assistant. The Botvac D7 does as well, but it also works with IFTTT, something none of the other robot vacuums we've reviewed to date do. "Pause cleaning when someone rings doorbell" and "Start cleaning when you leave home" are just a couple of the sure-to-be-popular applets available.
Verdict
If the Neato Botvac D7 is an indication of where robot vacuum technology is heading, the future of housework looks bright. As of this writing, it's our second favorite robot vacuum after the iRobot Roomba 960—they matched up favorably on every criterion but price. But that $200 price difference may ultimately be what decides it for many folks.
If the cost of either sends a shiver down your spine, consider the more economical but no less competent Eufy RobotVac 11, which sacrifices some cutting-edge features but none of the cleaning ability.