At a Glance
Expert's Rating
Pros
Handsome industrial design
Very good performance
Hybrid 2-bay (3.5-inch), 1-bay (2.5-inch) design
PCIe 3.0 x8 expansion slot for 10GbE
Cons
No DLNA or iTunes servers
Limited app ecosystem
Client software required to back up to the box from other devices
Our Verdict
Media-streaming is a must-have feature for TechHive readers, and client backup is nearly as important. This box has little to offer on the latter account, and absolutely nothing to offer on the former. Small business and enterprise buyers, on the other hand, should give this very fast box with SSD caching a long hard look.
Best Prices Today: QSAN XT3002T NAS (unpopulated)
Pulling the QSAN's XCube XN3002T out of its box, I was immediately impressed with its get-down-to-business-in-style good looks. I figured if it even came close to matching the performance of similar Synology and QNAP products, it would be a winner. It did, and it is.
But its many fine qualities aside, the XN3002T is not a great home-user box. It lacks several amenities that have long been standard with the competition, and the app ecosystem is limited. Regardless, out of the 15 or so NAS boxes I have on my test rack, it's one of the three I leave running during office hours.
Can you actually buy one?
Finding the XN3002T for sale online in the U.S. was like tracking Bigfoot. It was only after I spoke with a QSAN representative that it appeared online at PC Pitstop. QSAN is relatively new to the North American market, so I'll cut them some slack. It's available now, and that's all that matters.
TechHive reviews NAS boxes for two primary applications: Media streaming and client backup. So the fact that the XCube XN32002T doesn't come with either a DLNA or iTunes server had a big impact on our final opinion of the product. The operating system organizes media into logical folders, and you can of course simply open the files as you would from a local drive, but that's certainly not as convenient as just linking to the files from iTunes, or Plex, or Windows Media Player, or any number of other media-streaming apps.
There is also no direct support for Windows workgroup networking. Without that, you won't see the box in Windows Explorer. You can of course type in its specific IP address (e.g., 192.168.1.135) to open it, which is actually faster than waiting for Windows to enumerate things by name initially, but that's not going to play well with less-experienced users.
QSAN does provide a finder utility to track down said IP address for you. You'll also find it in your router's table of connected DHCP devices.
Design and specs
Back to the good stuff, which is really, really good stuff. I've already complimented the XN3002T's looks, but my description doesn't do it justice. Take a gander below. It's one heck of a looker, and unlike some, it doesn't disappoint in person.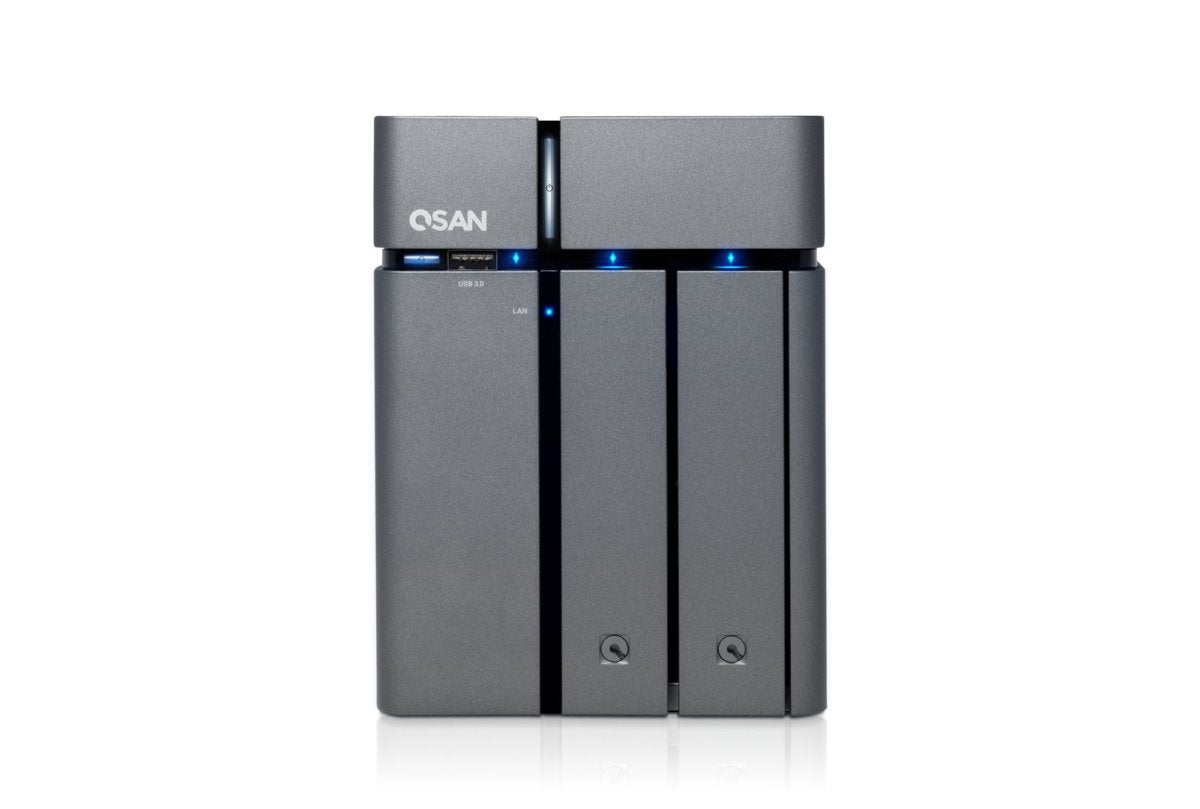 The XN3002T provides two 3.5-inch drive bays employing trays with the now standard quick-change plastic strips. Pop these out of the tray, attach them to the hard drive, then put the drive in place. No screws. Easy.
Where the XN3002T differs from most boxes is that it sports a third SATA bay for a 2.5-inch SSD. The optional SSD serves as cache and smooths performance when the box is accessed by multiple devices at once. The third bay is accessed by removing the left side panel, which also reveals an extra SODIMM slot should you wish to increase the unit's 4GB of memory.
On the back of the XN3002T you'll find dual gigabit ethernet ports, two USB 3.0 ports, two USB 2.0 ports, and a single HDMI. The latter is currently used for vendor debugging, but might be used for driving an attached display in the future. On the front of the box are the power and quick-copy buttons, as well as a USB 3.0 port to facilitate said quick copies to the internal storage. There are status lights (blue and amber) for power and for the health of the drives respectively. The CPU is an Intel Celeron N3350.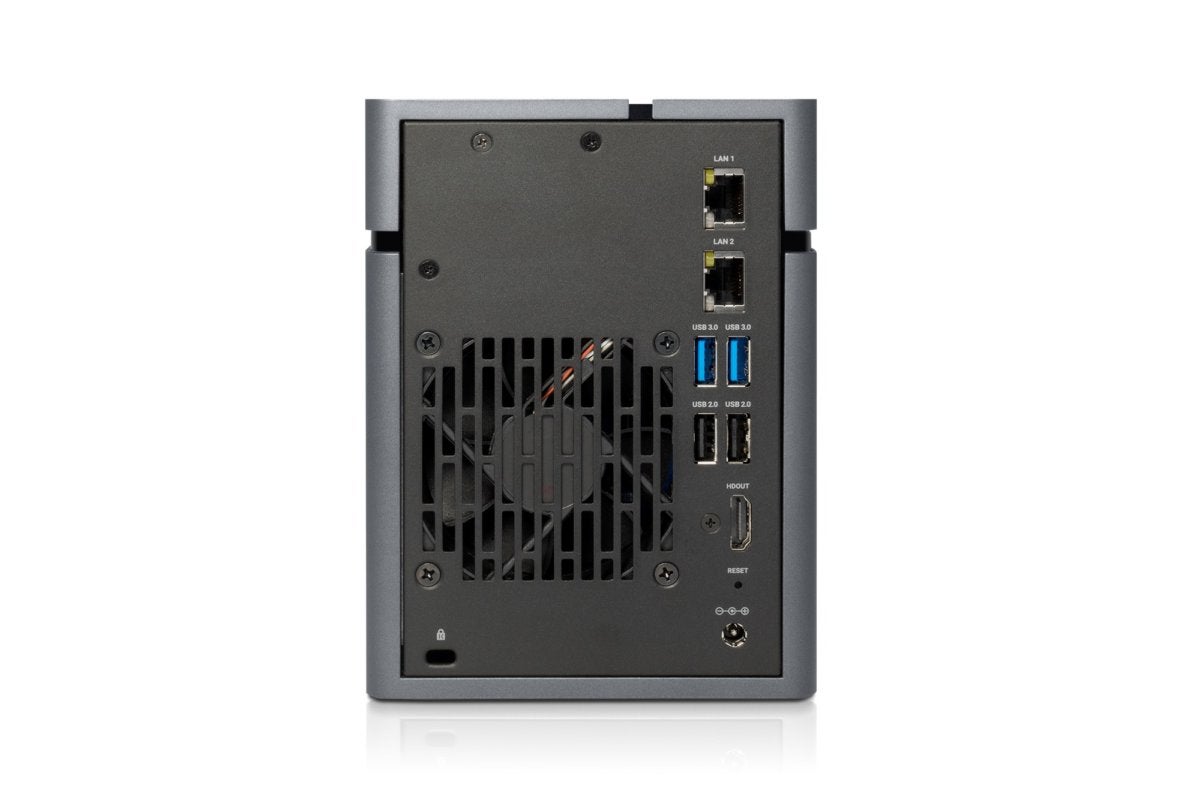 Interface and apps
Like QNAP and Synology, QSAN uses a JavaScript toolkit to provide a Windowed-OS-within-a-browser experience. There's a demo that can be accessed via a button each product page at QSAN's Web site. QSAN's is better organized, especially compared to Synology's, but that's partly because it doesn't have nearly as many apps or features to deal with.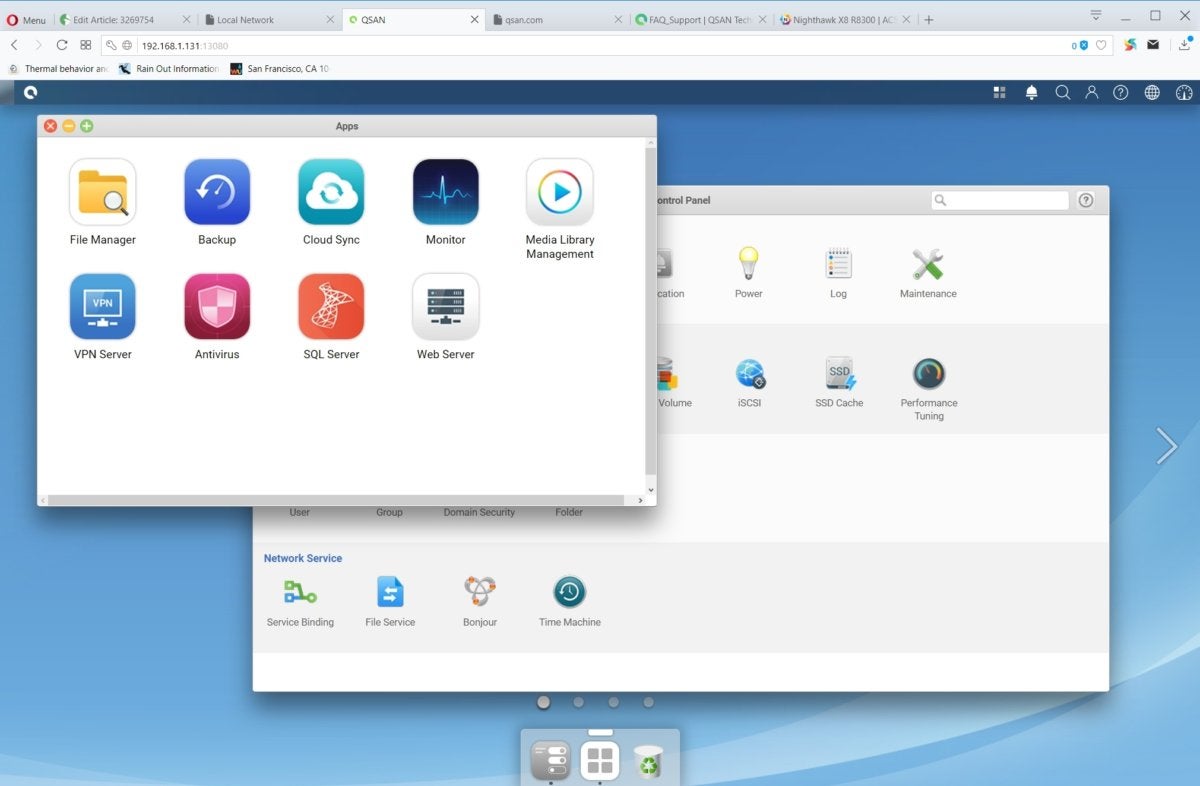 WD, Seagate, and especially QNAP and Synology provide a wide range of useful apps that allow you to use their boxes as mail servers, video surveillance hubs, media streamers, and more. QSAN does not. But QSAN does quite well as a backup destination, with Time Machine support, as well as Rsync, FTP, and Webdav access. There's also an OEM version of the Acronis True Image backup client for Windows to copy stuff to the box from your PC.
What QSAN lacks is the ability to initiate its own internal backups using an external location as the source. That is, you can't define a backup job that copies from a remote NAS box, PC, or what have you to the XN3002T. I find that one of the joys of NAS ownership is keeping my PCs backed without CPU-hogging backup clients. In tandem with the lack of multimedia serving, this deficiency cost the XN3002T half a star.
On the other hand, QSAN uniquely allows you to "mount" Google Drive, OneDrive, and Dropbox so you can browse these cloud-storage services using the box's File Manager. But along with Amazon S3, that's it for online backup destinations. I personally was hoping for Backblaze, but there are a whole lot of other services missing in action that other users might miss. QNAP and Synology support far more services, though if you had to pick four to start with, QSAN chose wisely.
Antivirus, SQL, and Web servers are also onboard, as is a VPN server supporting PPTP, OpenVPN, and LT2P/Ipsec. QSAN's higher-end boxes also support virtualization, but the XT3002T does not.
Unique file system
The QSAN is rather unique in utilizing the ZFS file/storage management system. Old-timers will probably remember it from Solaris, or perhaps Oracle, which maintained ZFS for quite a while. ZFS is both a file system and a logical volume manager with native support for RAID as well as copy-on-write and storage pools spanning different devices. Sort of a baby SAN type of deal.
The version QSAN employs is ZOL, or ZFS on Linux. Yes, QSAN boxes run Linux like just about all of them do. If you have the knowledge, you can add features that QSAN doesn't provide, though that's hardly a task the average user will care to indulge in.
Is great performance enough?
The XT3002T proved as fast as any of the QNAP or Synology boxes we've tested over our gigabit ethernet setup, reading and writing at 118MBps—which is largely butting heads with the limit of our gigabit setup. I'd love to tell you the streaming performance, but as the box lacks those facilities, I can't. I was able to easily play 2GB/1080p videos from three different PCs.
The XN3002T is a likely a great NAS box for the enterprise. I've never seen faster or better-looking hardware in its class. But the lack of multimedia serving and Windows networking recognition, as well as the general dearth of apps, keeps me from recommending it to any but the most intrepid home users.
Currently, WD or Seagate are better home options for the average person, with Synology's and QNAP's vast app ecosystems giving them the nod when you have more money to spend.
But I'm keeping an eye on the XN3002T, and you should, too. I'll take another look at its suitability for home use if and when it fills out its software feature set. Here's hoping it will be sooner rather than later.
Best Prices Today: QSAN XT3002T NAS (unpopulated)