At a Glance
Expert's Rating
Pros
Quickest, easiest DIY setup on the market
Attractive industrial design
Affordable monitoring and effective backup features
Cons
Motion sensor didn't work reliably (SimpliSafe now has a new model)
Web-based timeline view is limited in value
Our Verdict
This system includes the basic of home security in a simple and sophisticated package, but you can't tie your smart lighting—or any third-party smart home products—into it.
Price When Reviewed
$219.96 (Indoor camera included if purchased direct from SimpliSafe; accessories included with the Best Buy and Amazon bundles are each slightly different.)
Best Prices Today: SimpliSafe The Essentials
"Open box. Plug it in. Protect home." Such is the promise on the packaging of SimpliSafe, and though the reality is there are 21 pages of setup manual you might want to refer to, for the most part SimpliSafe comes through on that promise.
A big part of that reason is that SimpliSafe is entirely self-contained. There is no app to install, because the system doesn't support one unless you sign up for a monitoring service. And while you can (and should) connect the system to Wi-Fi, you don't have to, as SimpliSafe includes a built-in cellular radio.
There are pros and cons to this concept. Let's start with the pros.
Foremost, SimpliSafe is indeed incredibly simple. This version of the product, jettisoning its prior industrial appearance thanks to a partnership with design firm IDEO, was unveiled in 2018. It looks easy, and it is easy. The aforementioned manual is barely necessary; you can walk through SimpliSafe's setup largely by simply firing up the battery-powered keypad and following the instructions on the screen.
Keypad? Yes: Unlike many smart home security systems on the market now, SimpliSafe uses a physical keypad that works much like a traditional alarm system as its command center. In addition to numeric keys and a menu button, the keypad includes dedicated controls for Off, Home, and Away modes. These work in line with typical security systems: Away mode turns on all sensors, while Home mode disables any motion sensors.
This review is part of TechHive's in-depth coverage of the best smart home systems.
In addition to the keypad, the starter kit includes the SimpliSafe base station (which contains the siren and provides voice commands, countdown beeps, and door open chirps), three door/window sensors, a motion sensor, one indoor camera, and a key fob remote control. A huge variety of additional devices are available, including a new and more capable indoor camera ($140), and an outdoor camera ($190), a glass-break sensor ($35), and a freeze sensor ($30). If you need additional standard sensors, they're quite affordable: just $15 for door/window sensors and $30 for motion sensors.
Setting up sensors is a snap. Just follow the "Add device" instructions on the keypad (the screen can be physically depressed on each of its four sides, making navigation very intuitive), and then press a button on the sensor to pair it. You're finished. SimpliSafe gives you the option of naming each sensor (by choosing from preconfigured room names or by typing one in through the keypad) to help you keep things organized, but otherwise there are few configurability options. This is all part of the goal of keeping things as simple as possible. There is one especially nifty feature, though: You can set up a "Duress PIN," which you can use if someone is threatening you to disable the alarm, just like in the movies.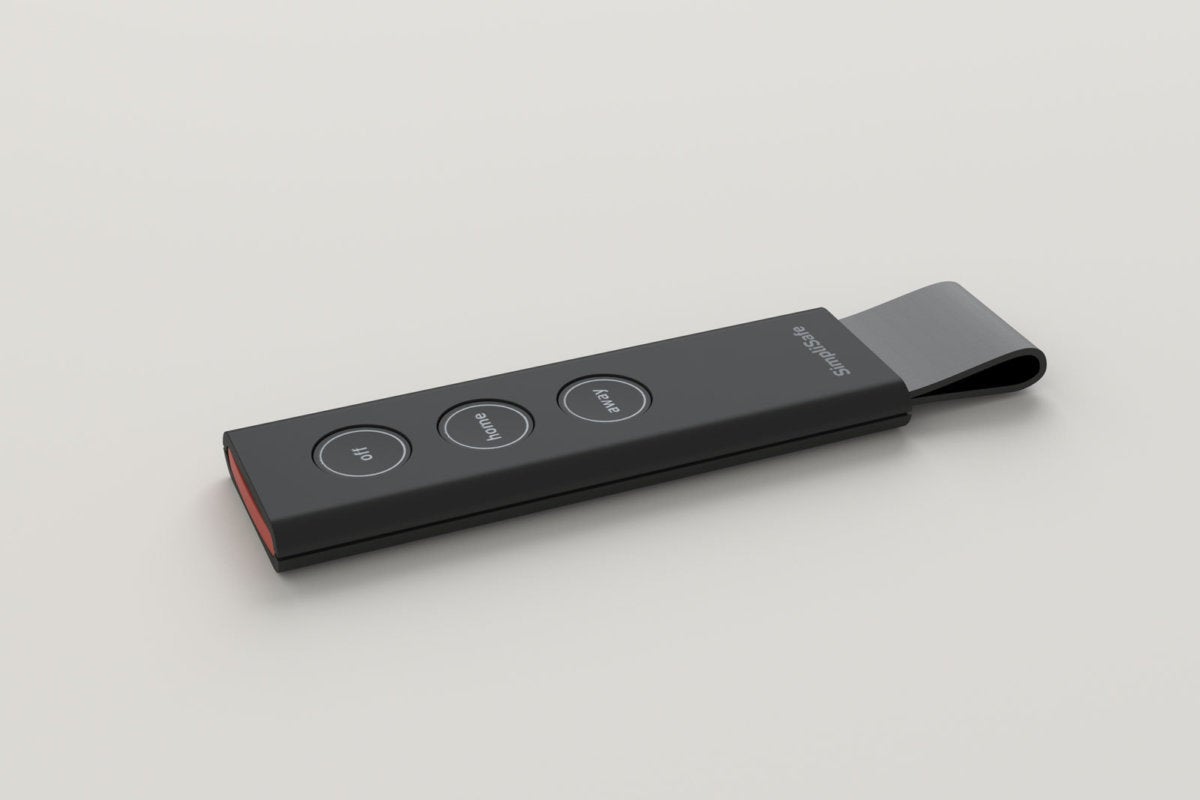 Sensors (and the keypad) can be mounted with included sticky tape or screws. They're well designed, reasonably compact, and discreet. Everything operates on "an encrypted sub-gigahertz RF frequency," according to the company—actually unlicensed spectrum in the 433MHz band if Google is to be trusted. Compared to the sensors, the keypad is considerably larger, though it need not be permanently mounted on the wall; if you want to squirrel it away in a drawer for even better security, that's an option. The base station is even appealing to look at, featuring a vase-like design with a colored ring around the bottom that indicates its status. For the best coverage, you'll want to locate it centrally in your home—all the better to hear its truly ear-piercing siren. A battery backup is also included; SimpliSafe says it provides at least 24 hours of emergency run time.
In my testing, the system was very effective at detecting door opens and closes, though often the motion sensor didn't register movement (even jumping jacks) in the room, or detected it only after a minute of activity. This was consistent in my testing, the sensor working only about half the time.
As for the cons to the no-app approach: Since there's no smartphone connectivity, you won't get notifications on your phone if the alarm is tripped (or anything else). If you want some kind of alert, you'll need to subscribe to a SimpliSafe's monitoring plan. Self-monitoring costs around $10 cents per day and professional monitoring runs around $30 per day. There's no contract required with either, so you can cancel at any time.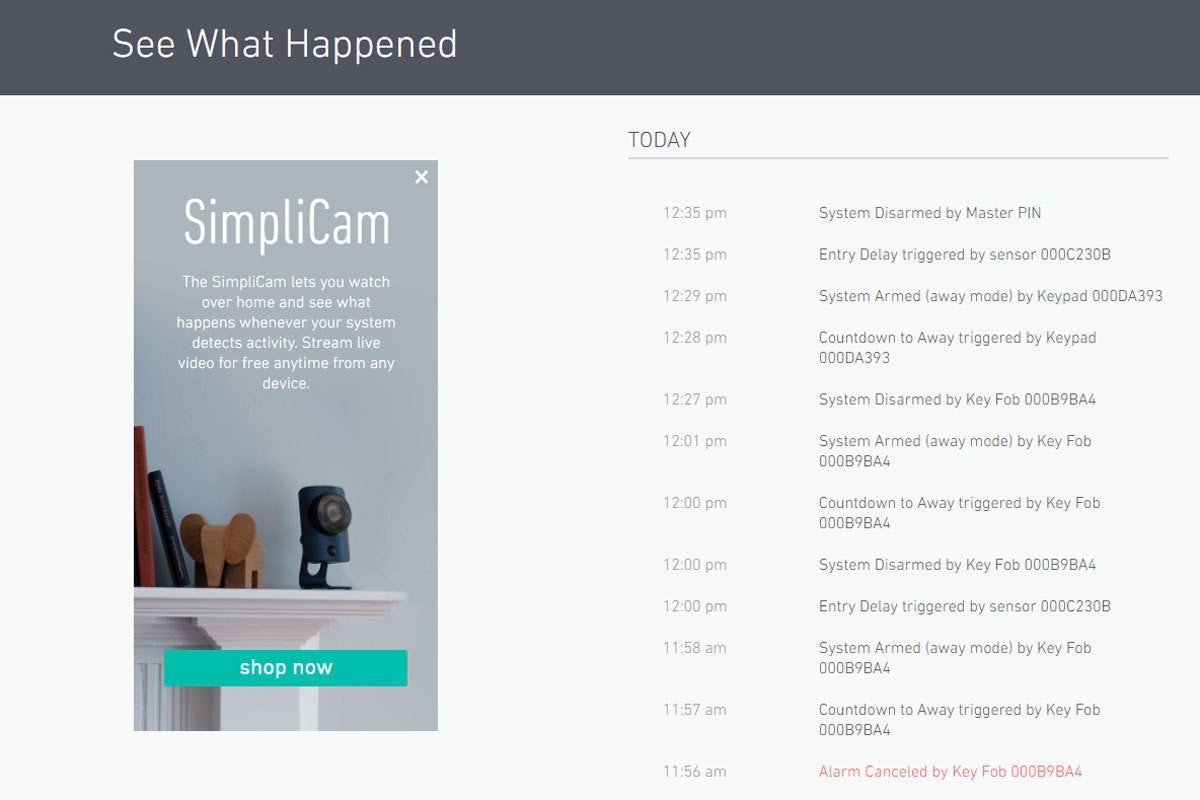 In testing, I found the monitoring system worked fairly well, though the timeline leaves a bit much to the imagination, in part because it doesn't use the nicknames you assign to sensors. "Entry Delay triggered by sensor 000C230B" just doesn't tell you much about what's going on in your house.
The bottom line on SimpliSafe really comes down to how much you need in the way of truly "smart" features. SimpliSafe doesn't tie in with any other smart home products, and it's not nearly as useful without a monitoring service. For many users, however, that's probably just fine. Ultimately, I wouldn't hesitate to recommend the reasonably affordable kit to anyone without a significant preexisting investment in smart home gear, or to someone who wants a basic security system that "just works."
Editors' note: This review was updated June 26, 2023 to add information about the new SimpliSafe Smart Alarm Indoor Camera, motion detector, and SimpliSafe Smoke & Carbon Monoxide Detector review.
Best Prices Today: SimpliSafe The Essentials