Ring makes some of the best outdoor home security cameras on the market, but with five models to choose from, the selection can be confusing.
Do you want the more powerful Floodlight Cam, or the less visually obtrusive Spotlight Cam? Should you go wired or battery? Is the solar panel a good option for the battery-powered model?
The camera is the same in all of them, so there isn't a difference in image quality, but there are considerations when it comes to night-time illumination and power source. We've tested them all and can guide you through these decisions.
Ring Floodlight Cam
Ring Floodlight Cam
Price When Reviewed:
$249.00
This is the granddaddy of the range and it puts out some serious light: 1,800 lumens versus just 300 to 350 lumens on the other cameras. This is the model you'll want if you need to cover a large area.
The two LED lamps look like an old pair of motion security lights and you can think of this as the same sort of thing. It needs to be attached to a junction box mounted on your house or, ideally, embedded into the wall.
Ring Spotlight Cam Battery
This is the simplest of the Ring outdoor cameras and is powered by a rechargeable battery. The camera has slots for two batteries and each is said to last about six months with average use, so you won't be changing them all that often.
Ring Spotlight Cam Battery
Price When Reviewed:
$199.00
Because it's battery powered you can mount it anywhere, but remember you will need to access it every so often to pull out and recharge the batteries. Don't mount it in too difficult a place to reach. If you don't want to bother with that, or if you must install it in a less-accessible location, consider the solar version.
There was no reason for us to review the battery-powered model, because we have tested the identical solar model—it's the same product bundled with a solar panel included in the box.
If you already own the battery model, you can purchase the solar panel separately and just plug it in. The solar panel costs $49 at Amazon.
Ring Spotlight Cam Solar
Ring Spotlight Cam Solar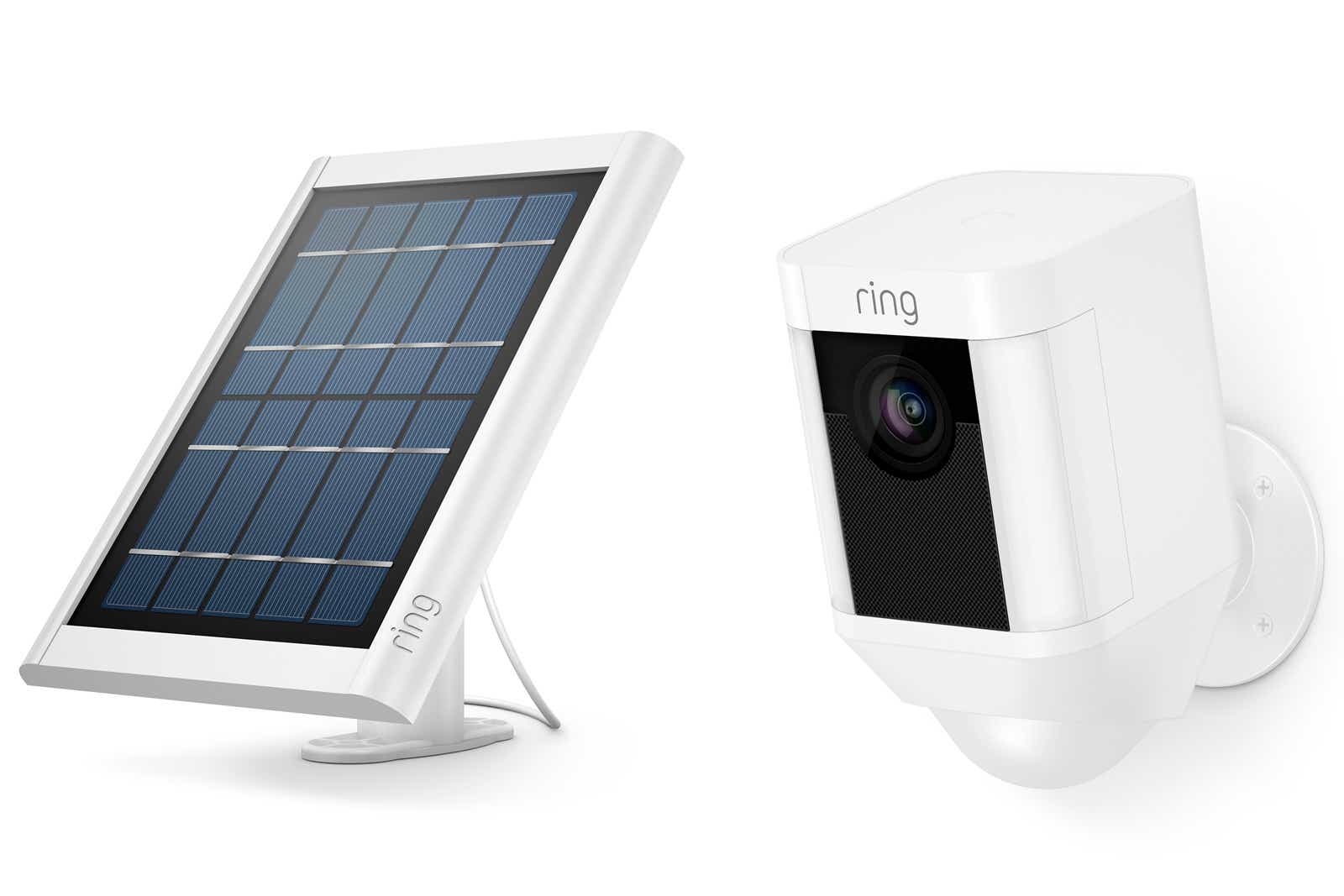 Price When Reviewed:
$229.00
Like the battery-powered version above, this camera doesn't need a power hookup and can be easily mounted anywhere. And as with the battery model, this one provides 300 lumens of light from two LED light strips on either side of the camera. That's adequate for a porch or an area near an entrance door.
The solar panel that comes in the box will provide enough energy to keep the battery topped up, so you should never have to worry about recharging it. The only restriction on mounting is finding somewhere the solar panel will enjoy sunlight each day (southern exposure is best, but not absolutely necessary).
Both battery-powered models will run even during power outages, but you will need your internet gateway and Wi-Fi router up and running to get complete functionality. I suggest plugging those devices into an uninterruptible power supple in case of a blackout.
Ring Spotlight Cam Wired
Ring Spotlight Cam Wired
Price When Reviewed:
$199.00
If you don't want to bother with batteries or a solar panel, but also don't want to deal with in-wall electrical wiring, the Spotlight Cam Wired might be the one for you—if you have a weatherproof outdoor AC outlet within reach of its 20-foot-long (that's 6 meters) power cord.
This model brings the extra brightness (350 lumens) and security of a continuously powered camera, but it connects right into a conventional electrical outlet. If you're put off by that cord hanging down your home's exterior wall, consider the Ring Spotlight Cam Mount.
Ring Spotlight Cam Mount
Ring Spotlight Cam Mount
Price When Reviewed:
$249.00
The Spotlight Cam Mount is essentially the same device as the Spotlight Cam Wired, so we didn't review it independently. The difference is that it mounts to an electrical junction box on your outdoor wall, just like the Ring Floodlight Cam. It is less visually obtrusive than the Floodlight Cam, though, and it produces much less light: 350 lumens.
The Mount can be installed to neatly sit on a wall without any cables showing, and it will keep watch over those areas around entrance and exit doors (likely replacing an existing porch light). As with all the Spotlight Cam models, it produces a rather cool light of 4,000 degrees Kelvin.