At a Glance
Expert's Rating
Pros
Artificial intelligence automatically learns your preferences
The smartphone app lets you control your A/C from anywhere you have internet access
Takes the weather, humidity, time of day, and more into account
Cons
Compatible only with A/C units that have remotes with LCD screens
Limited to operating on 2.4GHz Wi-Fi
Takes a few days to learn your preferences
Our Verdict
If your room air conditioner is compatible, the Ambi Climate 2 is the smartest, most-high-tech controller available for it.
Best Prices Today: Ambi Climate 2
Cloud-connected controllers for room air conditioners aren't a new thing, we've previously evaluated devices from Tado and Sensibo. But the Ambi Climate 2 is a cut above those, with a Nest Thermostat-like learning feature that adapts to your expressed preferences.
This second-edition Ambi Climate is more ambitious than the original, and it requires that you have an air conditioner that uses a remote control with an LCD display. This isn't the first controller I've encountered with this restriction, but I've sometimes been able to get around it with other models. That's not the case here. If your unit doesn't have that feature, the Ambi Climate 2 simply won't work (for now, at least).
Update, May 7, 2019: Ambi Labs has announced that its Ambi Climate air conditioner controller is now compatible with all three of the major digital assistants: Amazon Alexa, Apple's Siri, and Google Assistant. (This review was originally published on April 27, 2018.)
Mentioned in this article
Sensibo Sky
Price When Reviewed:
$149.00
That caveat aside, there's a lot to like in this deceptively simple-looking unit. While you can control the room temperature and scheduling exactly, the key to the Ambi Climate 2's appeal is how it utilizes artificial intelligence to adjust the room temperature based on your preferences. You tell the app if you're too hot, too cold, or just right with a simple tap, and the Ambi Climate will adjust your air conditioner accordingly. As with the Nest Learning Thermostat, this means there's a learning curve of a few days until the system collects enough data about your preferences to work autonomously; but once that's done, it works well.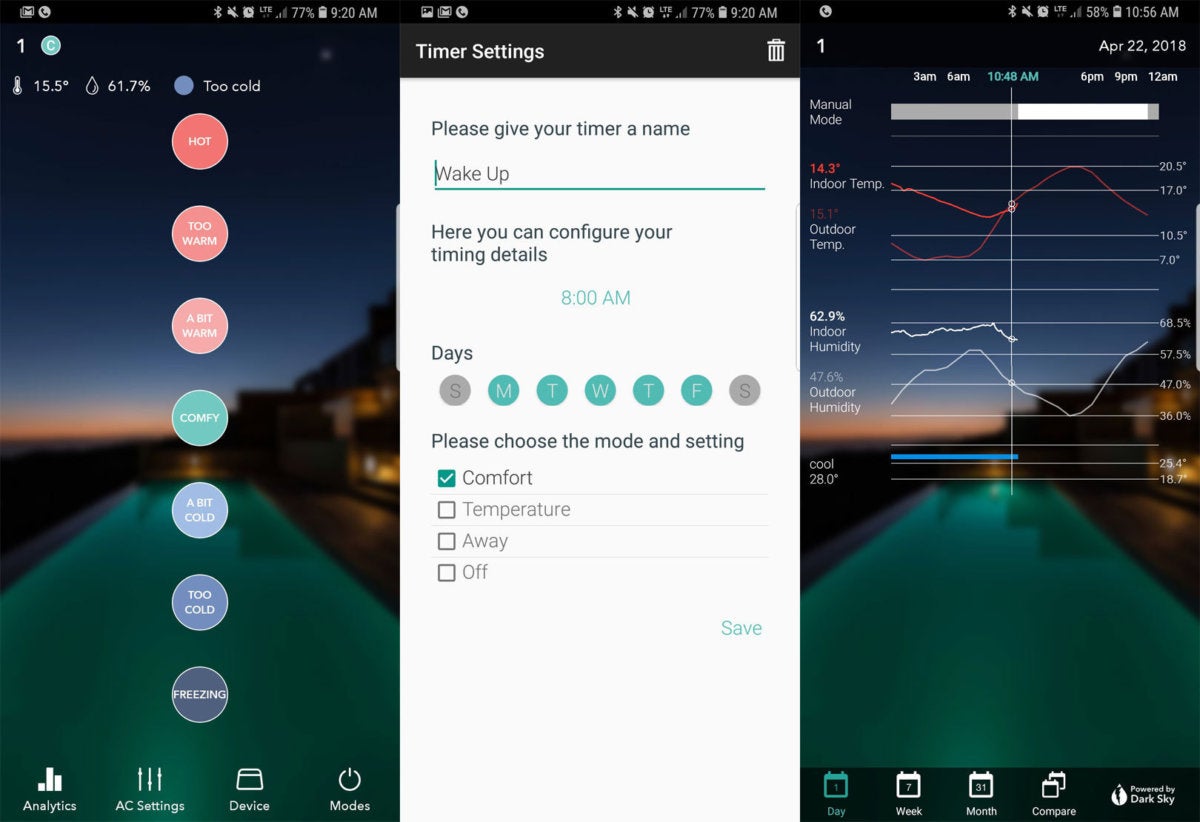 The Ambi Climate app allows you to manage multiple controllers, meaning every room with an A/C unit linked to an Ambi Climate 2 can have its own unique climate control. While there's a lot of tech going on in the background of the Ambi Climate, this simple approach to dictating comfort by just telling the app how comfortable you are is more intuitive than other approaches I've tried.
Monitors the weather, and more
Another important aspect of the long-term use of the Ambi Climate 2 is how it incorporates data beyond just room temperature. Like a high-end smart thermostat, this device also takes into account humidity, weather conditions, and the time of day when it adjusts the A/C. It's a subtle innovation to be sure, but it helps with both comfort and energy savings.
Mentioned in this article
Tado Smart AC Remote
Price When Reviewed:
$179
Setting up the Ambi Climate 2 is straightforward: Sync it to your A/C unit and then connect it to your Wi-Fi network. Once that's sorted, the app lets you adjust and monitor the temperature on the fly remotely. Instead of a typical scheduler, the Ambi Climate 2 uses something called timers, which work largely the same.
If you want temperature changes at specific times of day, such as when you wake up, you create a timer for that event. Choose the time for the event, the days it should be applied, and the function based on comfort level, specific temperature, away mode, or off. The Ambi Climate app doesn't offer a lot of in-depth control, which might bother some users. Even finding a simple way to change from Celcius to Farenheit was a bother, but its focus on simplified settings and AI-controls do make it easy to set and forget once the initial learning period is over.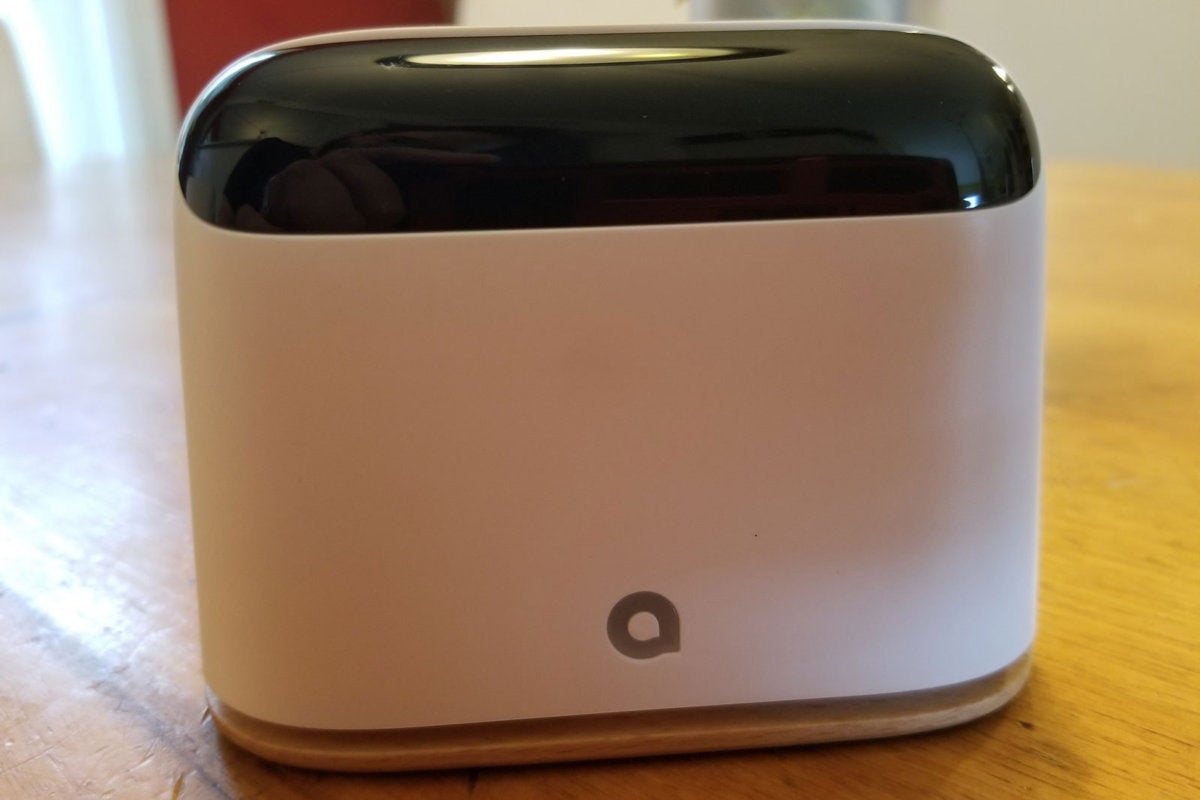 A stand-up control solution
Placement is another aspect of the Ambi Climate 2 that sets it apart from the competition. Most of the units I've seen can just be stuck to the wall, so long as they're within range of the A/C unit. This one is considerably larger—about 5 inches tall and wide—and must sit on a counter, tabletop, or shelf within line of sight of the unit it's controlling.
You can also use voice commands to control the Ambi Climate 2, but only if you have an Alexa-compatible device. You can integrate it with other smart home gear via IFTTT, too, but there's currently no support for Google Assistant or Apple's HomeKit ecosystem.
The Ambi Climate 2 is the most high-tech A/C controller I've used. Its artificial intelligence is genuinely impressive at managing the temperature inside a room. It would be even better if it was compatible with wider range of air conditioners, but if your A/C unit is on its list, it will keep you more comfortable on the hot summer days that are coming.
Best Prices Today: Ambi Climate 2