At a Glance
Expert's Rating
Pros
Amazon Alexa and IFTTT integration
14 days of rolling video history free
Motion tagging feature makes it easy to follow moving objects
Cons
Accessing recorded video clips is confusing
Our Verdict
The addition of some welcome features improves an already impressive budget-priced home security camera.
Best Prices Today: Wyze Cam v2
The first Wyze Cam challenged everything we've come to expect from home security cameras. It took all the features normally found in showy $200 cams—full HD video, motion and sound detection, night vision, two-way audio—and packed them into an easily concealed cube you could fit in the palm of your hand. It came with 14 days of free cloud storage—twice its competitors' most generous offerings—and up to 32GB of local storage via microSD card. And, most astounding, it cost only $20.
That's a pretty winning formula, so it's not surprising that the Wyze Cam v2 is a mostly incremental update. Everything we loved about the original Wyze Cam is still here: It sports the same 2.20-by-1.97-by-1.97-inch cube enclosure—though the glossy finish has been replaced with a matte one to reduce reflection—on a convenient hideaway stand. It retains all the features mentioned above, along with the original's ability to detect and alert you to alarms emitted by any standalone smoke and carbon-monoxide detectors. And it still costs only a couple of saw bucks.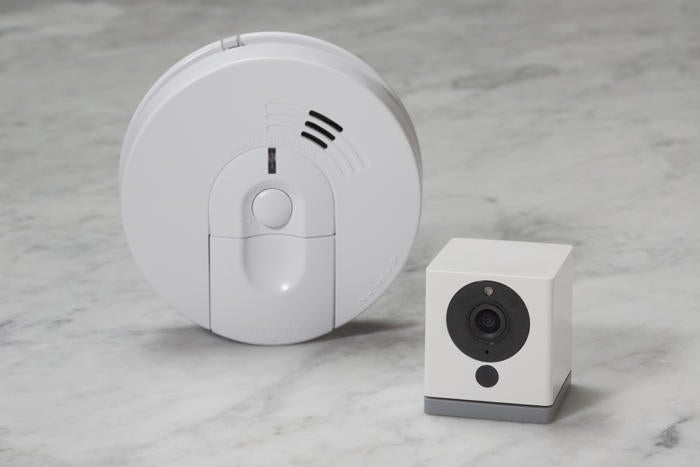 New features
The Wyze Cam v2 includes some modest updates that build on the strengths of its predecessor, making it even more competitive with higher-priced home security cameras. Here's what you get:
Improved image and sound quality: The original Wyze Cam's image quality was excellent and its two-way audio was good enough for quick conversations with home-bound kids or soothing restless pets. Nonetheless, the new Wyze Cam upgrades both.
Though the Wyze Cam v2 retains the original's 1080p resolution, it now uses a powerful 1/2.7″ CMOS sensor that brings added smoothness and clarity in day and night-vision modes. It also employs a new audio chip and a Class-K power amplifier for clearer sound, better for identifying activity happening out of the camera's field of view. Both will pay dividends if your Wyze Cam ever captures an actual intruder.
Motion Tagging: One of the drawbacks of the original Wyze Cam was its 12-second video clip length. That blink-and-you'll miss-it duration made it tough to follow the activity it captured.
Wyze Cam v2 enhances its motion detection with a tagging technology that highlights the moving object in a green box. Now you can easily see where the activity initiates and follow it as it moves across the screen.
Mentioned in this article
Amazon Echo Spot
Price When Reviewed:
$129.99
Alexa and IFTTT integration: One of the only things missing from the original Wyze Cam's impressive feature set was smart home integration. Version 2 remedies that. Though it wasn't yet available for testing at press time, a firmware upgrade adds Alexa compatibility, allowing you to view the Wyze Cam's live feed on the Amazon Echo Spot and Echo Show. The camera can also be integrated with IFTTT.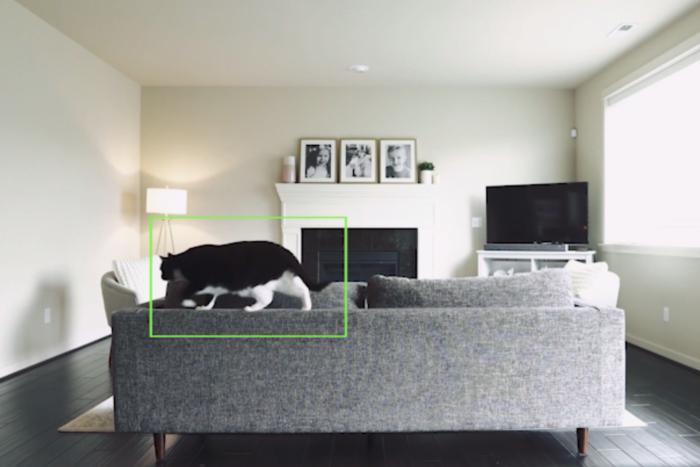 The Wyze Cam app
The Wyze Cam's already-polished companion app is virtually unchanged. Camera controls are clearly labeled and laid out beneath the live-feed viewing area. By default, motion- and audio-triggered clips are recorded to the cloud, but you can record continuously to a microSD card (not included) by flipping a toggle in the settings. In this mode, you can schedule a time-lapse-digest video, setting a start and end time and an interval at which the camera will capture photos, so you don't have to scrub through hours of footage of the day's events.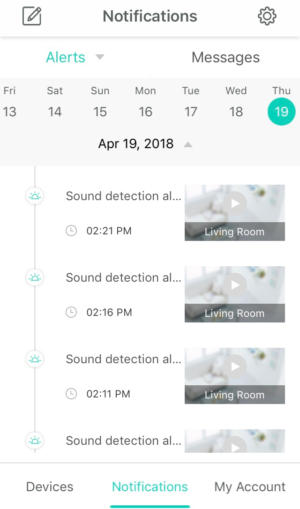 Unfortunately, finding your recorded video clips may still provoke some hair pulling. The app still compiles them on different tabs depending on which recording method was used.
Continuously recorded video—the files saved to microSD card—is displayed in a timeline on the Playback tab on the camera's home screen. But those recorded clips that were triggered by detected motion or sound are not. Instead, they're accessed through the Notifications tab, which is located on the app's device screen, where all your connected cameras are displayed.
To complicate things further, any videos or screenshots you take manually are saved to their own separate Album tab, accessed from the toolbar under the live feed for the camera that took them.
This feels like a minor quibble given how much the Wyze Cam v2 gets right, and it's really only an issue when you're first getting the lay of the app. Still, this update seemed like a good time to come up with a more intuitive layout.
The bottom line
The Wyze Cam v2 is a successful upgrade, adding some welcome features without mucking up what we loved so much about the original. That makes it a fantastic option particularly for those just dipping their toe into DIY home security. If you are already a happy owner of the original Wyze Cam, there's probably no pressing need to update.
Then again, for just $20, why not?
Best Prices Today: Wyze Cam v2