At a Glance
Expert's Rating
Pros
Lush, rich, and warm sound that brings out the best in well-recorded, hi-res music files
Very fast charging and data transfer via USB-C
aptX HD support
Can be used as a USB DAC
Cons
Bulky, heavy, and very expensive
Streaming services limited to Tidal, Moov, and Groovers+
USB DAC feature isn't compatible with USB-C
Our Verdict
This hi-res audio player delivers a rich, refined, and endlessly involving musical experience, but it's bulky and very expensive.
Astell&Kern is back with another reference hi-res audio player: the KANN. Paired with exceptional headphones and top-notch recordings, you'll be hard-pressed to find a more blissful sonic experience from a hi-res audio player at this price point. Just be warned, KANN's price tag is as big as its bulky size.
A bold design
Every Astell&Kern player has a bold, distinctive design that breaks the mold. KANN is no different. The KANN's aluminum mass is sculpted into a trapezoidal work of art that is remarkably natural to hold and use. The KANN comes in a choice of Astro Silver and Eos Blue finishes. My review sample came in the former.
The KANN's sides are ribbed. Slightly scalloped lines traverse the back. I tip my hat to the industrial design team; the play of light and shadows on the player is something truly beautiful to look at.
The player's right side is rounded. That simple attention to detail made it comfortable to hold with my right thumb naturally resting on the volume dial.
The KANN's tapered backside makes the large, ribbed volume dial well-suited for left or right handed use. However, I noticed a design quirk in my testing.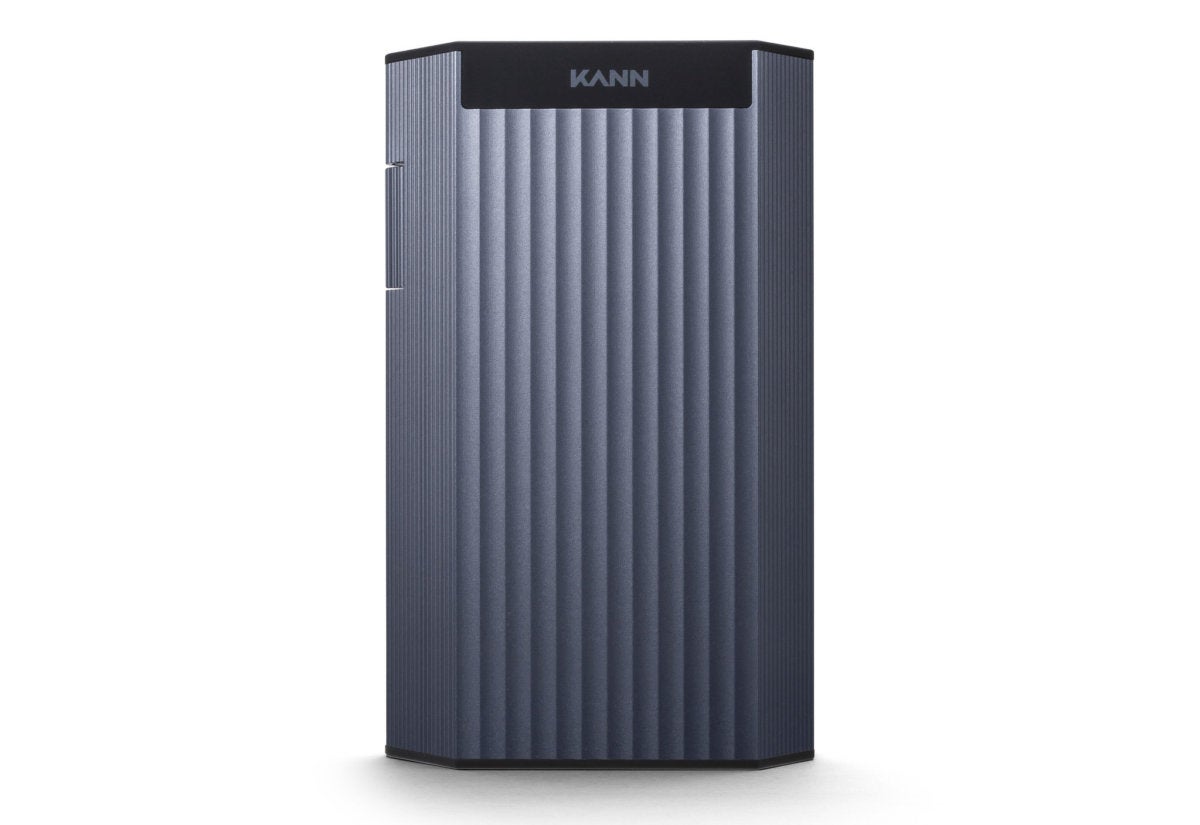 To lower the volume, you rotate the dial toward the KANN's screen. On a few occasions, while the player's screen was active, my thumb inadvertently hit the touch screen when lowering the volume. Because Astell&Kern's interface makes the entire touch screen part of the volume control, hitting the outer edge made the volume jump louder. The sudden volume increase jolted me. If you rotate the volume dial with your left thumb across the front screen, the likelihood of accidentally swiping the screen becomes even greater. After a few days (and jolts) I learned to be more careful.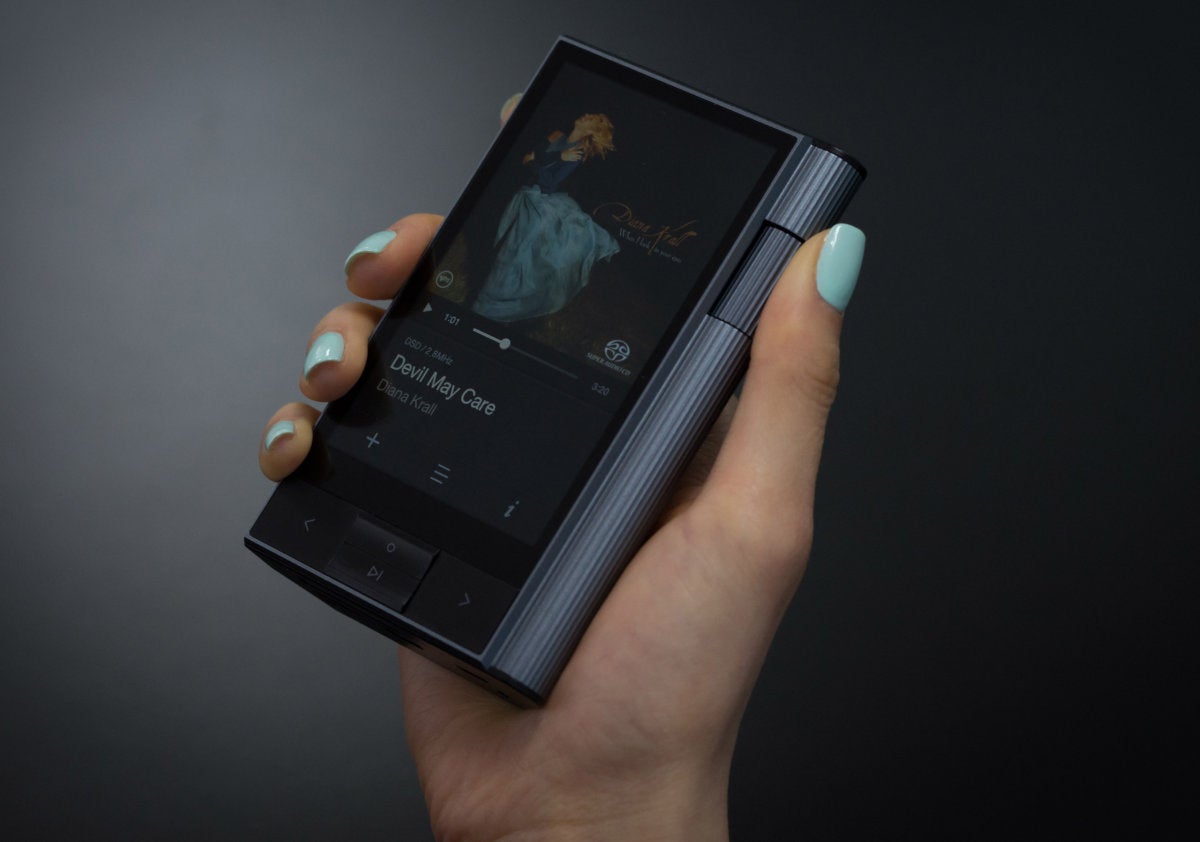 The player's aluminum housing got very warm when I used it for extended periods. The heat output was exacerbated when I put the KANN in closed quarters, like a pocket. The player never overheated, but it's something to monitor.
Astell&Kern has moved all physical player controls to the KANN's front, directly under the 4-inch 800 x 480-resolution touchscreen. Buttons are large and easy to decipher by touch.
In addition to the standard play/pause, forward, and reverse, there's a "home" button with a circular symbol. Pressing the home button returns you to the main screen no matter how deep you are in the player's menus or folders. I loved having that option.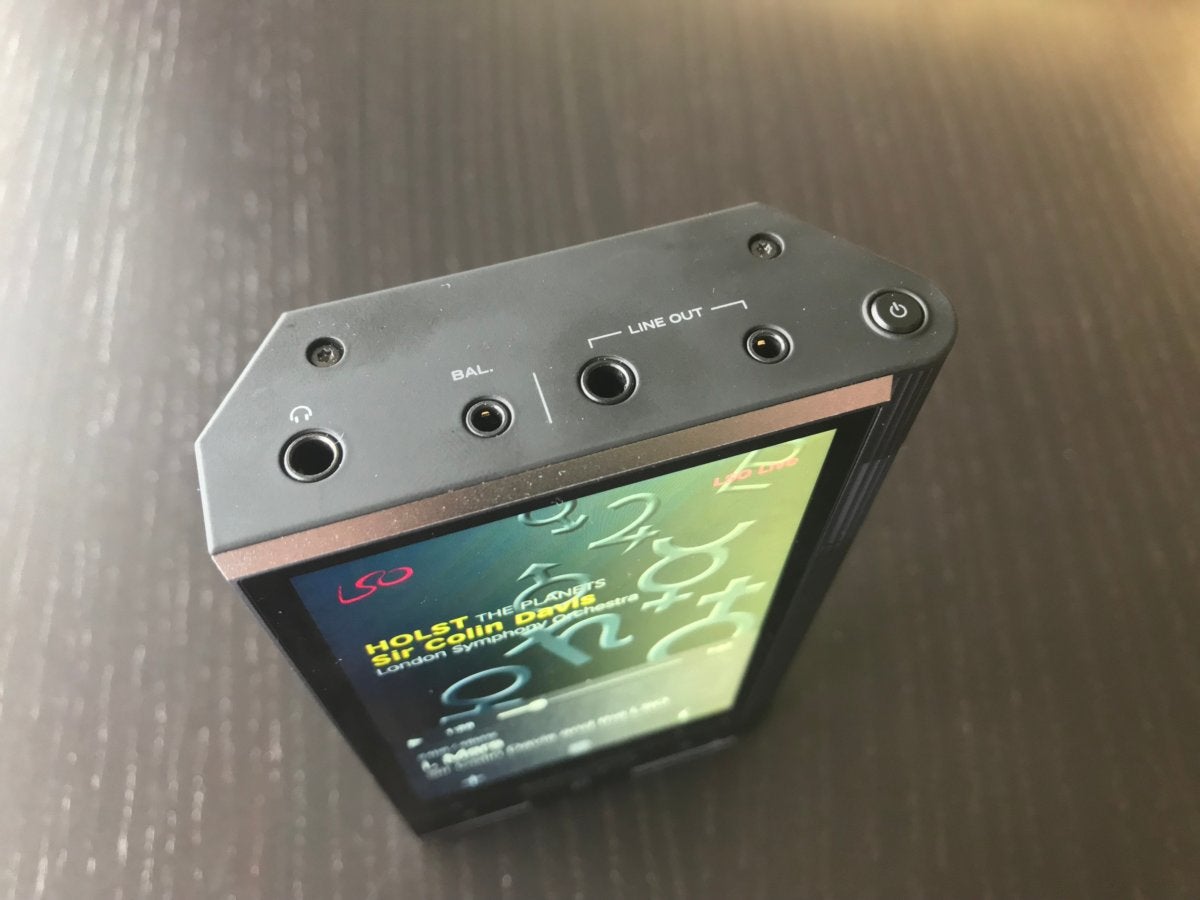 The KANN's user interface is consistent with all other Astell&Kern players. The UI is intuitive, easy-to-navigate, and responsive (mostly). The KANN, like all the other Astell&Kern players I've tested, exhibits a lag when loading artwork, loading very large indexes from DLNA servers, or working with the companion mobile app. Compared to the AK70 MKII, I appreciated the KANN's slightly larger screen (4.0-inches vs. 3.3-inches). I was less prone to typing errors when performing music searches or entering Tidal credentials via the onscreen keyboard.
Under the hood
A single AKM AK4490 DAC lies at the heart of the KANN. Astell&Kern's implementation of this high-end converter features bit-for-bit playback up to 32-bit/384kHz hi-res music files, and native DSD playback up to 11.2MHz. Unless you get your hands on music files exceeding 32-bit/384kHz, there is no downsampling anywhere along the signal path. KANN also features Parametric EQ and VCXO Reference Clock (Femto Clock) for minimal jitter.
ak
Mentioned in this article
Astell&Kern AK70 MKII
Price When Reviewed:
$699.00
A 6,200mAh 3.7V Li-Polymer battery promises a battery life of up to 15 hours. What's unique is that a single hour of charge time via the USB-C cable will deliver up to 6.5 hours of listening time. You can get a full charge in about two hours.
The KANN features 802.11 b/g/n 2.4GHz Wi-Fi and Bluetooth 4.0, adding even more value. I connected the KANN to my car's stereo, and could stream any supported content—even FLAC or DSD files. Bluetooth streaming is obviously limited to the quality of the Bluetooth codec that can be used.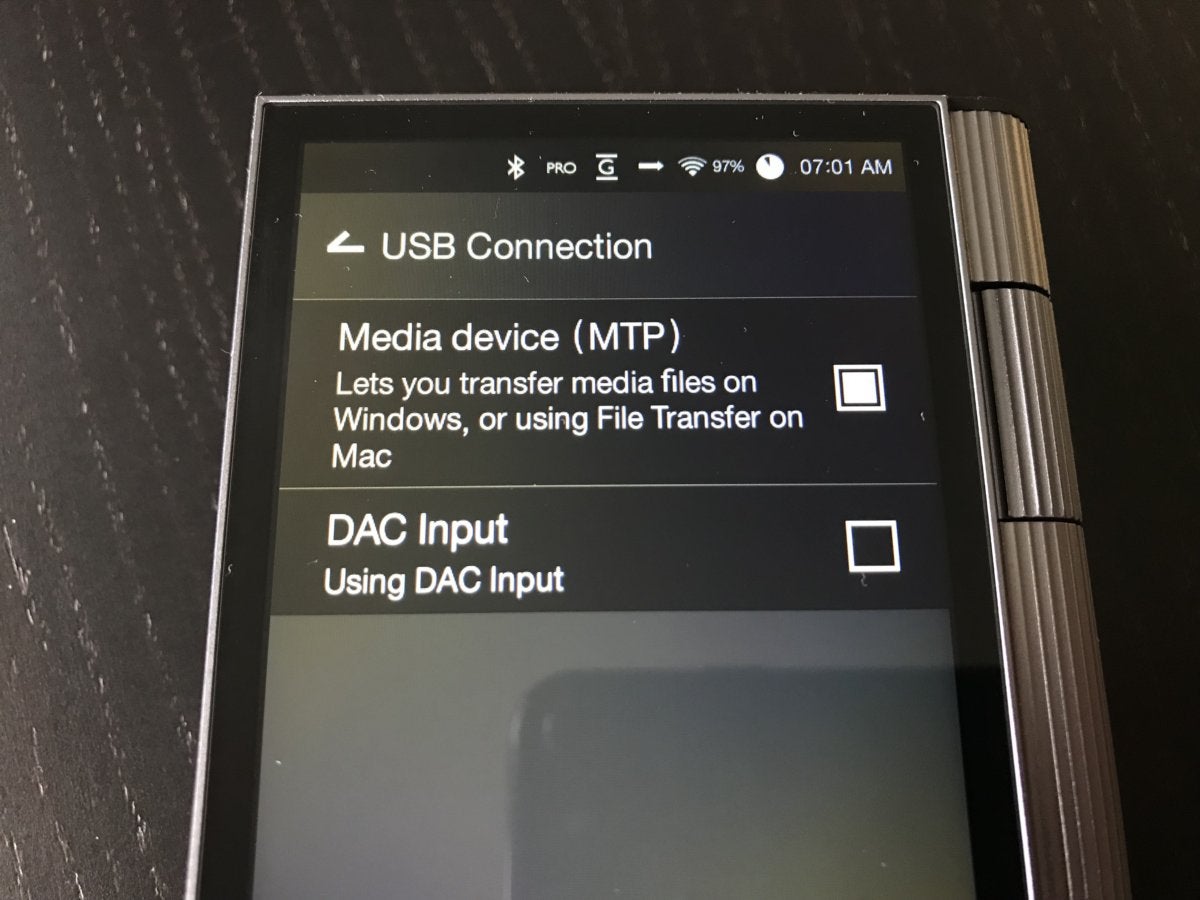 Like other recent Astell&Kern players, the KANN comes with the aptX HD codec for hi-res music streaming over Bluetooth. AptX HD lets you wirelessly stream hi-res audio up to 24-bit/48kHz. You'll need a pair of Bluetooth headphones with aptX HD to take full advantage. Today, very few wireless headphones support aptX HD. You can always use Astell&Kern's own XB10 Bluetooth amplifier and DAC to enjoy wireless hi-res audio with any pair of wired headphones.
KANN does not currently support MQA. I asked Astell&Kern about their plans and a company spokesperson told me, "We currently do not offer MQA support, but it is a feature we are looking into. We do not have an ETA on when we may support it."
You have the option for 3.5mm single-ended and 2.5mm balanced headphone cables. There are two line-level outputs: a 2.5mm balanced and 3.5mm single-ended. Line out is analog only. There is no Toslink optical or coax S/PDIF (though you do have USB output, described below).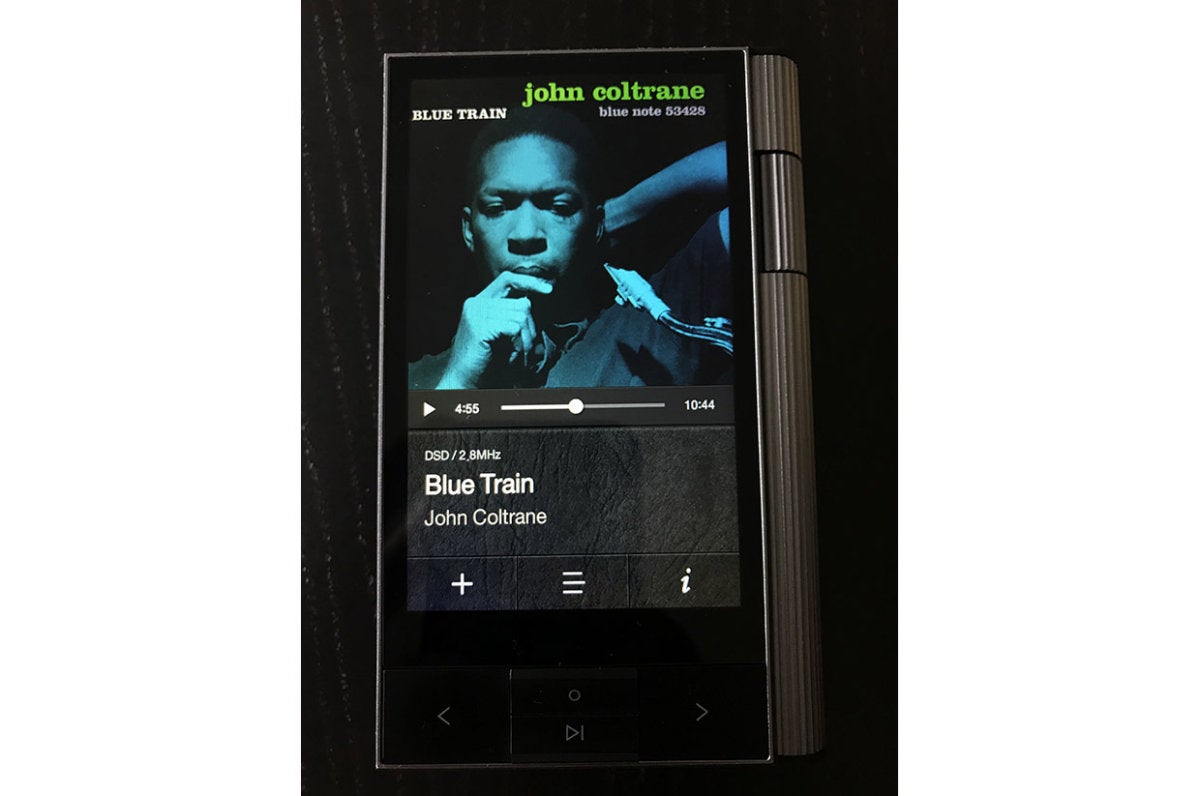 Not only are dual line out ports unusual, but Astell&Kern has raised the stakes another notch: You can choose variable or fixed line out. Should you choose fixed line out, you can manually select any one of four voltage settings—0.7V, 1V, 1.25V, or 2V. An Astell&Kern representative told me that the higher output is intended for larger home systems. The lower voltage output is for smaller desktop amp setups, since the higher voltage output could cause clipping with smaller-capacity amp systems.
Like all Astell&Kern players, the KANN will output digital audio via USB. You'll need a USB OTG cable (not included), which you'll connect to the micro-USB port to serve up music files stored on the device to your amplifier. The KANN will also play DSD files via DoP (DSD over PCM), in which a DSD file is sent on top of PCM data frames.
A literal heavyweight
Unfortunately, there's nothing Astell&Kern can do design-wise to temper the KANN's weight: It's flat-out heavy. Put it in the pocket of your blazer and its bulk will weigh that one side down. If you're looking for a true pocket-sized player, you'll be happier with Astell&Kern's AK70 MKII.
Expansion galore
The KANN's top and bottom house all the player's ports. The bottom of the player has full-size SD and microSD card reader slots. Storage options are crazy for a portable player. The player is certified to support 400GB microSD and 512GB full-sized SD cards. Added to the player's internal 64GB of memory, you can have up to 978GB of storage at any one time.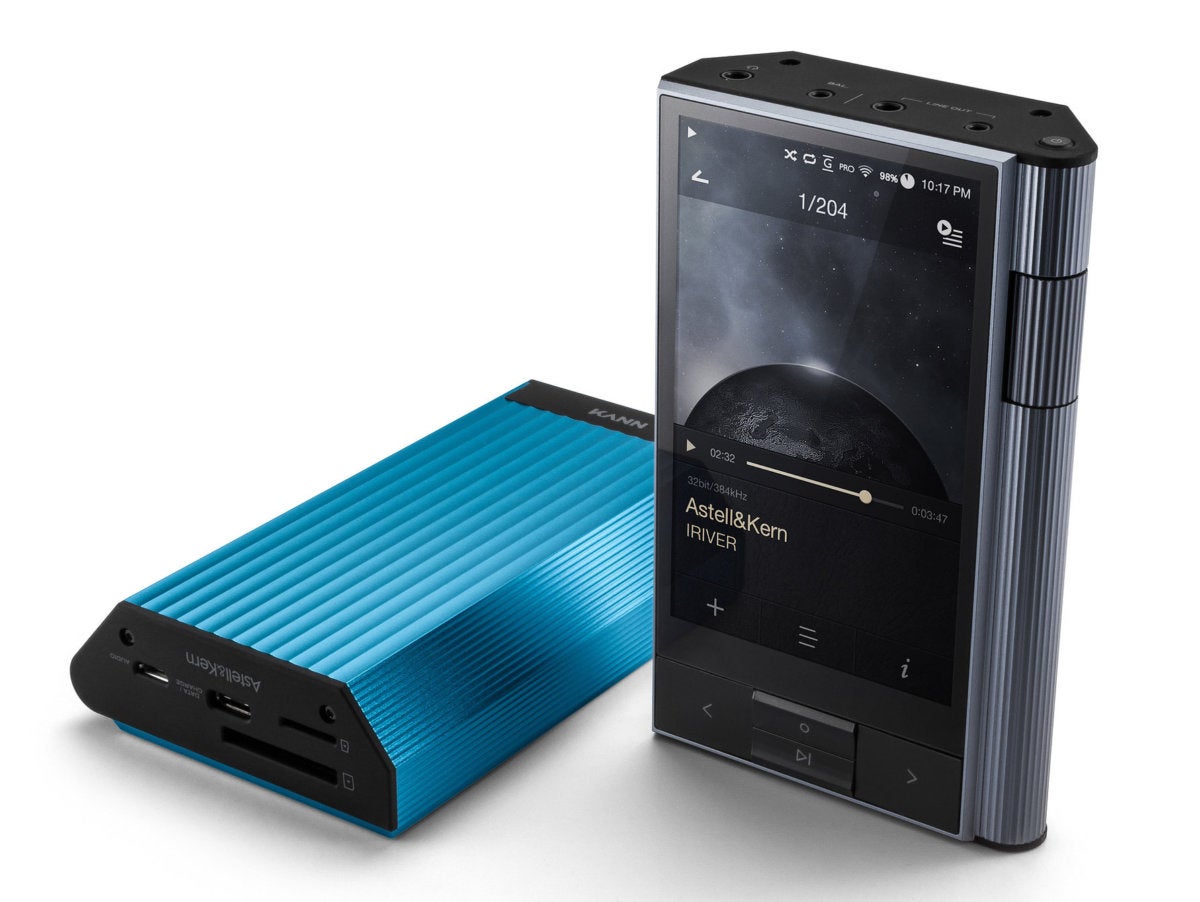 Next to the SD card slots you'll find a 10Gbps USB-C (USB 3.0) and a micro-USB port. If you think that the two ports are there for both future and backwards compatibility, you'd be only half right. Look carefully and you'll see that the USB-C port is labeled "Data/Charge" and the micro-USB port is labeled "audio."
The two ports have completely independent functions. USB-C is used for fast charging and lightning-fast data transfers. If you are on a Mac, you'll need to use the free Android File Utility to transfer files to and from the player.
The micro-USB port handles USB DAC functionality and USB audio output. It will also connect to Astell&Kern's CD-Ripper. You cannot charge the KANN via the micro-USB port as with previous players. As someone who tested the KANN on a MacBook Pro with USB-C ports, I would have loved to have one cable to rule them all.
Powerful network streaming
Mentioned in this article
Focal Clear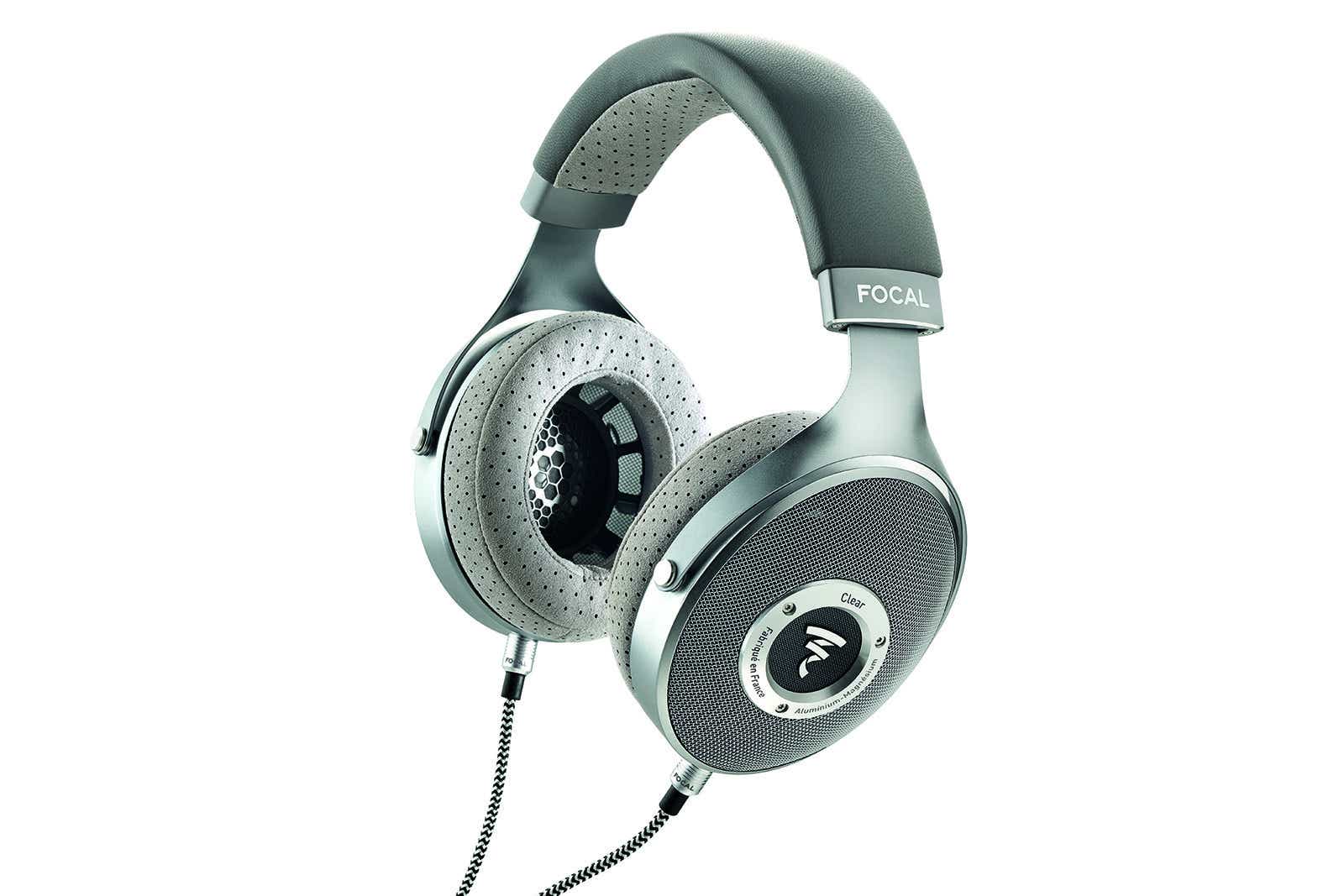 Price When Reviewed:
$1499
I said it in my Astell&Kern's AK70 Mark II review and I'll repeat myself here: If you think the KANN is simply a hi-res music player, you've totally missed the memo. In fact, you've left some of the player's most powerful features completely unused.
You have your choice of three streaming services on the KANN: Tidal, Moov, and Groovers+. Tidal tracks sounded beautiful. The KANN and Focal Clear one-two combo was pure bliss.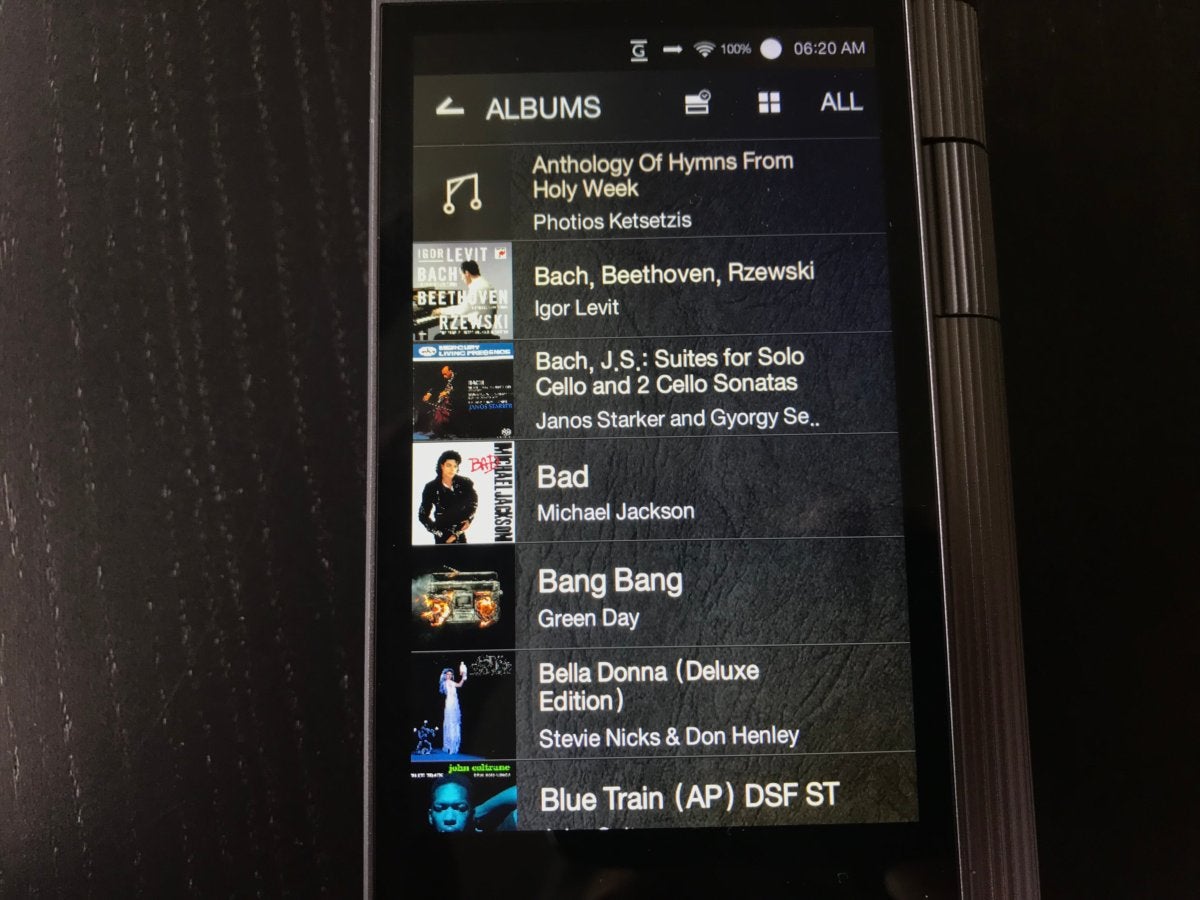 Via AK Connect, the KANN will connect to any DLNA-compliant server. It even comes with free, cross-platform DLNA server software if you need it. I had a flawless experience streaming music from both the Astell&Kern DLNA server and Twonky DLNA server on my Mac.
The free AK Connect mobile app (available for both iOS and Andriod) bridges your iOS or Android smart device for both controlling the KANN remotely and playing content from the KANN on an iPhone. One feature that is worth emphasizing is that I could play both FLAC and DSD files from the KANN to my iPhone. These are two formats that the iPhone doesn't natively support. Just like the AK70 MKII, the KANN can act as a full-fledged, portable music server!
Experience the music
I performed my listening with Focal Clear, Oppo PM2, B&W P9 Signature over-the-ear headphones as well as Aurvana Trio and Periodic Audio Beryllium in-ear-monitors.
Let me cut right to the chase. This is a sweet-sounding, reference hi-res audio player by any measure. There's something oh so right about the sound and presentation. To really appreciate the KANN, pair it with equally exceptional headphones. You'll be duly rewarded.
Every time I turned on the KANN, the player's sweet sound beckoned me to indulge in album after album, track after track. I gladly obliged.
What struck me almost immediately was the KANN's uncanny ability to bring music to life, letting a performance's energy burst forth. The 16-bit/44.1kHz CD rips of Alanis Morissette's "Woman Down" and "Guardian" streamed via the Astell&Kern DLNA server acted as heralds of what I was in for. The KANN did an outstanding job reproducing the sheer energy and life of both songs. The soundstage was wide and instrument placement spot on with Morissette's vocals perfectly set.
Vocals and musical arrangements flowed smoothly. Norah Jones' album, Featuring has some classic duets. On "Here We Go Again," with Ray Charles, the KANN reproduced exceptional timbre across the band. Jones' and Charles' distinctive vocals were near perfect. Moreover, instruments and vocalists were precisely placed on a three-dimensional soundstage. Ray Charles was positioned slightly left of center with Norah Jones' vocals slightly to the right on "Here We Go Again."
The KANN resisted any tendency to accentuate vocal characteristics, keeping a warm, balanced, natural presentation. Natalie Merchant's vocals on "Ladybird" from her self-titled album were intimate and warm. The 24-bit/96kHz version of Robert Plant and Alison Krauss' Raising Sand was enthralling. On "Please Read the Letter" Plant's and Krauss' vocals were pitch perfect against a velvety black background.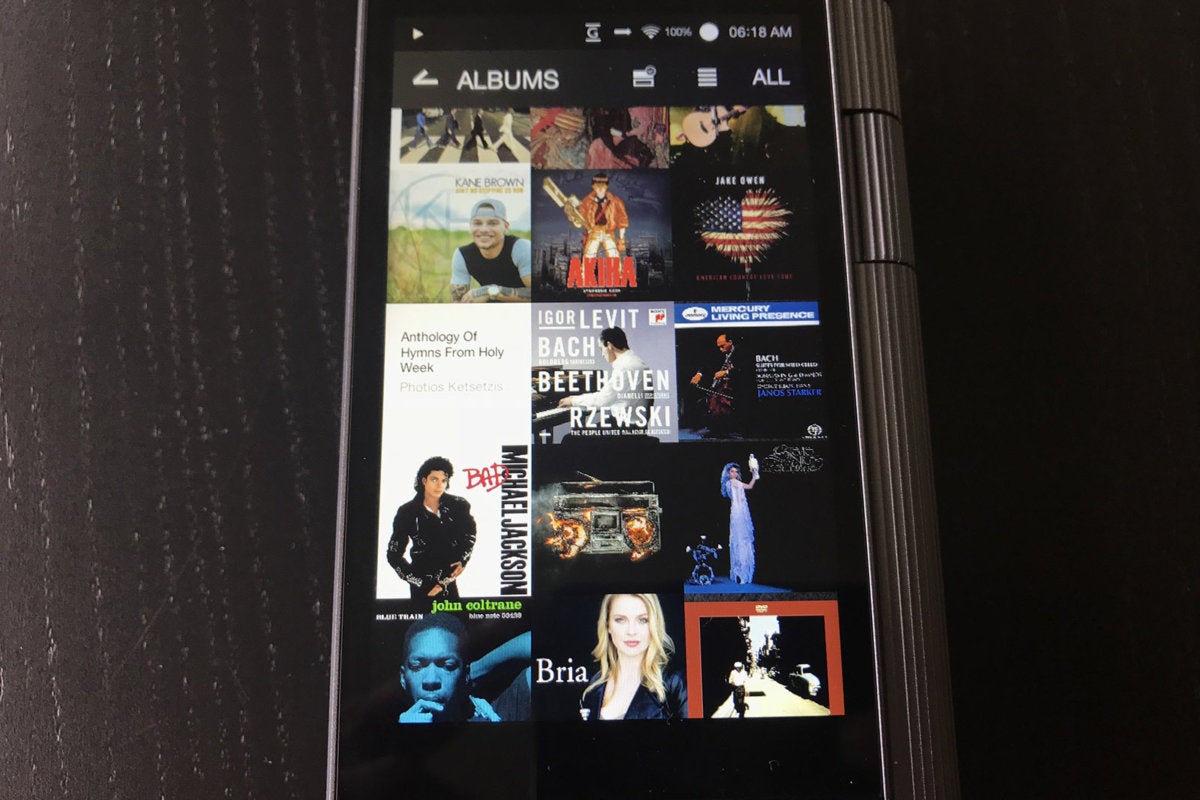 The KANN was at home with raucous metal or the finest classical. Do you prefer Nirvana, Megadeth, or Whitesnake? No problem. The KANN nailed the energy of the guitar riffs on the 24-bit/96kHz remastered version of Whitesnake's "Still of the Night." What about Mahler and Bach? I just sat back, closed my eyes and soaked up Janos Starker's mastery on the 24-bit/176.4kHz recording of Bach's Cello suites as though I were invited to experience an intimate concert.
The KANN had an uncanny ability to command my attention—even with songs and performances I knew well. I did a double-take every time I played the 24-bit/88.2kHz version of Sarah Barielles "Brave." Thumping bass notes from the song's opening punched out with outstanding dynamic range, yet total control.
What about the bass output? It's audiophile grade, not "bass-enhanced" gimmicky. If you have open-back headphones, you'll really appreciate what the KANN can do. On the Black Panther soundtrack, the KANN put vice-like command on every bass line on tracks such as "Bloody Waters" or "King's Dead." Bass response was dynamic, starting and stopping on a dime. The deep bass output of Sarah McLachlan's "I Love You" on Surfacing felt intense and controlled. And those famous bass lines on Holly Cole's "Train Song?" Outstanding.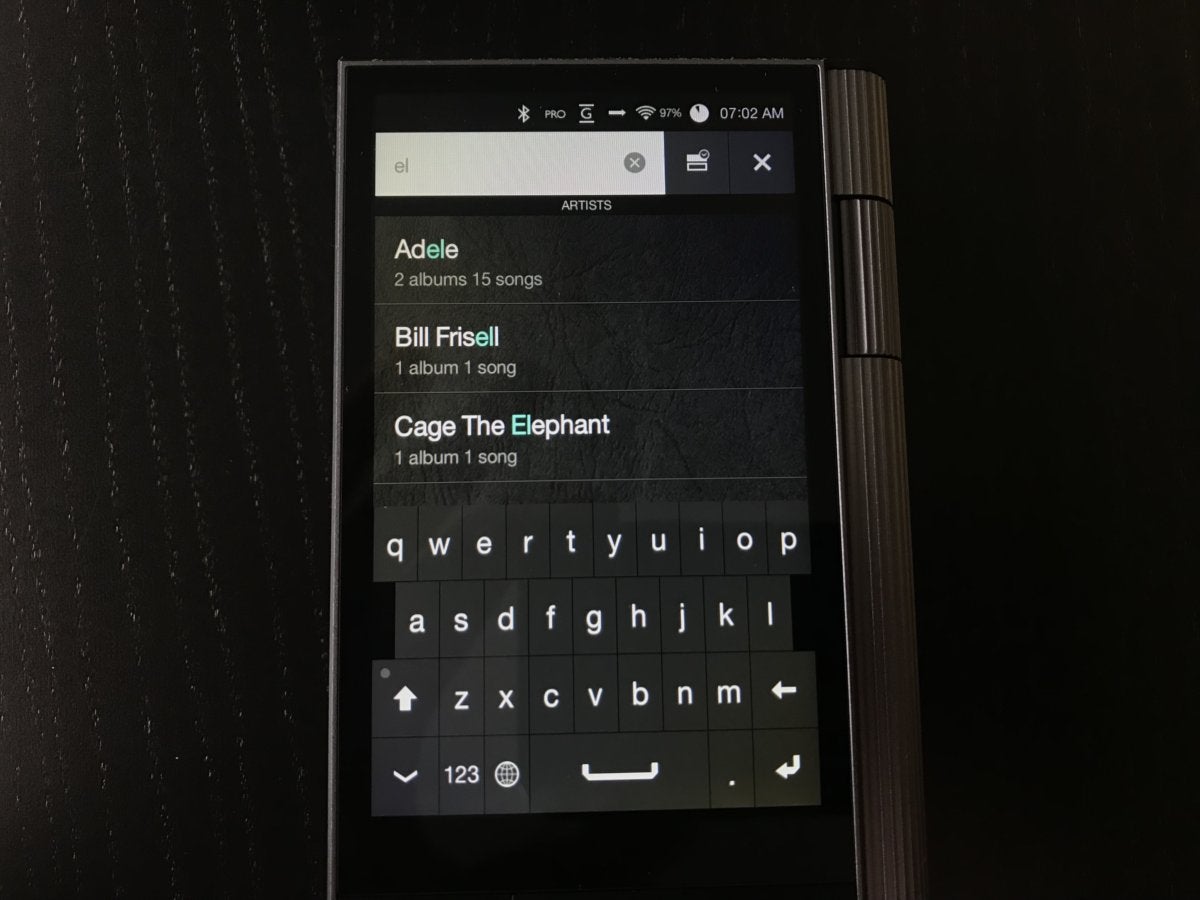 Now the logical question, is the KANN better than the AK70 MKII? The answer is—it depends. I felt as though the AK70 MKII delivered a cleaner, more detailed presentation. Consumers who prefer that will like the AK70 MKII better. The KANN, by contrast, was a richer and smoother sonic experience with a more exciting and dynamic bottom end. Which is better? That's a question only your ears can answer.
Rich, refined, and musically involving
Rich, refined, yet endlessly involving and exciting are how I'd summarize my experience with Astell&Kern's KANN. It's not the last word in sonic perfection, but it is the type of audio gear that brings you closer to your music in so many intangible ways. Not only that, it supports every hi-res format that matters, it provides massive storage capability, it offers outstanding DLNA network streaming, it can function as a USB DAC, and it's portable (as bulky as it is). By any measure, this Astell&Kern has delivered a reference player that makes the music its top priority.