At a Glance
Expert's Rating
Pros
Includes voice activated and energy conserving monitoring modes
Seven built-in lullabies
Monitors temperature in child's room
Cons
19 informational icons can be overwhelming
Our Verdict
The BabyView Eco is a sold baby monitor, but there are others as good with less complex interfaces.
Best Prices Today: Hanwha Techwin Wisenet BabyView Eco
There seems to be a school of thought behind modern baby monitors that the more features you can arm a parent with, the better. It makes sense; new parents are wading through uncharted waters and anything that makes their on-the-job training easier is bound to be welcomed.
The Wisenet BabyView Eco wireless video baby monitor, from Hanwha Techwin, certainly takes this approach, bundling built-in lullabies, temperature monitoring, a feeding timer, and four different monitoring modes in its system. It's mostly successful, though there's a complexity to its icon-heavy user interface the some already taxed parents might struggle with.
Mentioned in this article
Hanwha Techwin Wisenet BabyView Eco
Price When Reviewed:
$179.00
The camera element of the BabyView Eco is a standard-looking home-cam body that houses a 1/4-inch color CMOS image sensor. Its enclosure has been cute-ified with a pair of bug antennas. Eight infrared LEDs provide up to 16 feet of night vision without disturbing your sleeping baby. A flexible leg attached to the bottom of the camera can be shaped into a sturdy base for tabletop/shelf placement or coiled around the bar of a crib.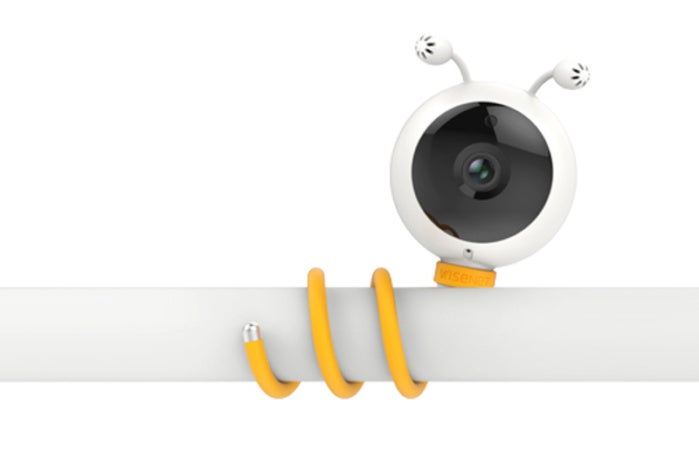 A 4.3-inch, 480p-resolution color display runs on a rechargeable 4.35V lithium-ion battery. It feels hefty enough to survive being dropped, but light enough that you won't mind carrying it around with you. There's a push-out stand on the back, so you can set it down on a table if you want your hands free.
The camera and monitor come already paired, and the latter with a half-charged battery; plug in the camera, turn on both units, and you can start monitoring your child.
Basic usage is pretty straightforward: The monitor has a simple set of controls—a four-way directional pad and a selection button are placed where your right thumb would be when holding it. The up and down arrows control the unit's speaker volume, and the left and right ones control the display's brightness. You use the direction pad in conjunction with the Lullaby button on the left side of the monitor to cycle through seven lullabies and white noise sounds that play through the camera. A talk button activates the camera's speaker if you'd rather soothe your child with your own voice.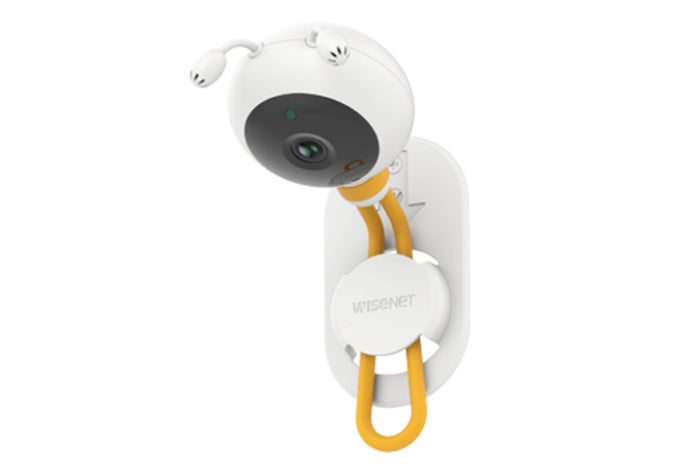 The system has a 900-foot RF communication range, so you can be pretty confident moving around your home without losing a connection to the camera. If you do, or the camera loses power, the monitor beeps and displays an out-of-range alert.
The many modes of baby monitoring
All that would seem like enough to pacify even the most panicky new parent, but the BabyView Eco offers a few different ways to keep tabs on your child.
Video is the default monitoring mode and captures both video and audio. Audio mode is a throwback to the original sound-only baby monitors and lets you just listen in on your child.
Mentioned in this article
Arlo Baby
Price When Reviewed:
$249.99
Given that eyes- and/or ears-on monitoring isn't practical for busy parents, the most useful is Voice Activated Mode. Here the the monitor turns off and displays an image only when the camera detects "significant" sound levels. You control what's significant by setting a baseline noise level, so maybe crying will activate the display but your baby stirring won't. The screen turns off again after 30 seconds of not detecting sound above this threshold.
The final method is Eco Mode. In this power-saving mode, the screen also goes off after 30 seconds without significant sound detection. This reduces the RF radiant levels in the baby's room. As RF energy is known to be harmful because of its ability to rapidly heat biological tissue, this mode will surely reassure some parents, while causing others to groan that they have one more potential threat to worry about. (As is, the camera and monitor only connect by radio frequency signals every two seconds to minimize radiation.)
You can toggle through each of these modes using a dedicated button on the right side of monitor.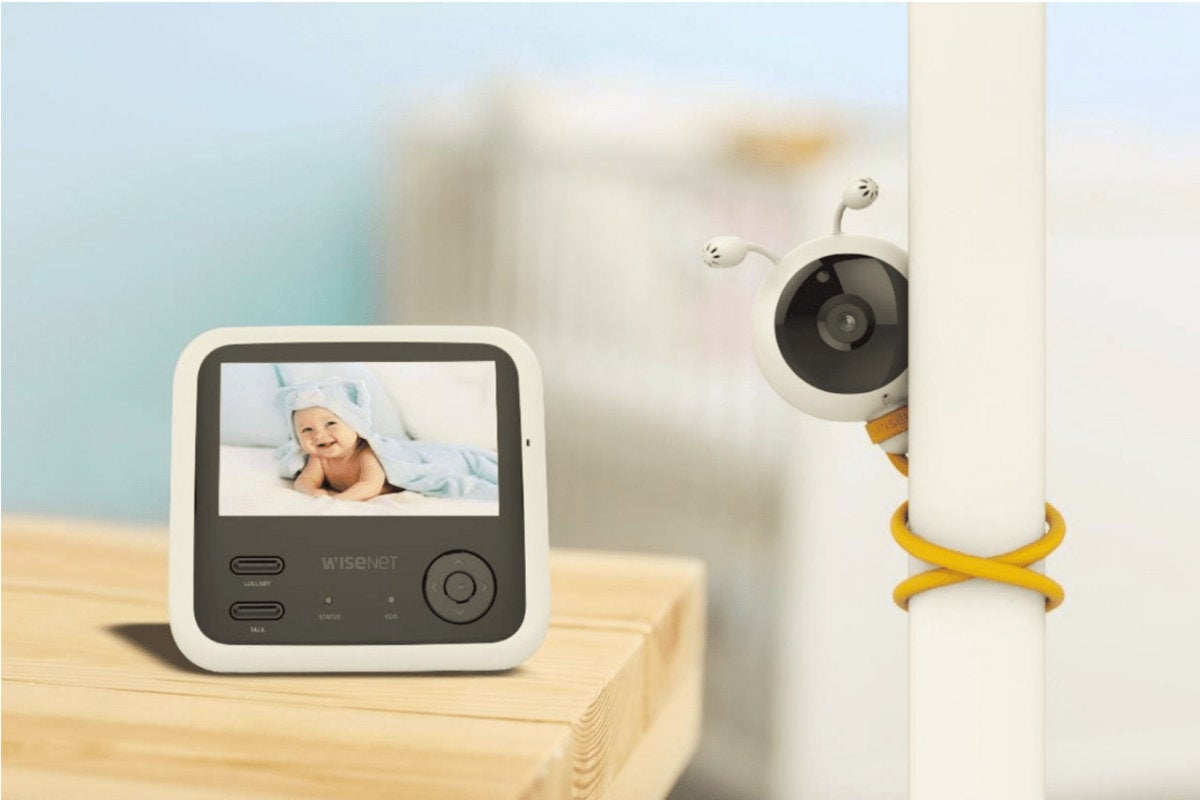 Icon overload?
The current mode is displayed across the top of the display along with eight other indicator icons. Some of these keep you apprised of various system statuses, like the strength of the signal between the camera and the monitor, the number of the camera currently being displayed (if you're using multiple cameras), and the monitor's battery level. The others let you know the status of particular features, such as whether a lullaby is playing, if night vision is turned on, and the current zoom level.
While these icons are always displayed, a few more—like the current temperature in the nursery and a countdown to your child's next feeding time—can be added across the bottom of the display. Then there are those that appear on the display only when you use the corresponding function, such as two-way talk.
Some parents will undoubtedly be reassured by this wealth of information, but I found it really easy to get stuck in the weeds. The user interface includes a total of 19 icons to parse (though mercifully, they're not all displayed at the same time). Even so, you'll need to consult a nearly full-page chart in the instruction manual to understand all of them. You can easily get caught up in monitoring the various functions and features of the BabyView Eco rather than your actual baby.
Verdict
As its basic functionality goes, the BabyView Eco is a great baby monitor. It's large display, ample range, voice-activation mode, and temperature monitoring are all plusses. Deciphering its icon-heavy interface, though, requires considerable patience—something parents of small kids have in short supply. If that sounds like too much to ask, consider the VTech VM2251 Video Baby Monitor, which has some of the same key features with a much shorter learning curve. You might also consider our top pick in this category, the Netgear Arlo Baby.
Best Prices Today: Hanwha Techwin Wisenet BabyView Eco