At a Glance
Expert's Rating
Pros
Interchangealbe amp modules
Analog, Toslink, and coax digital output option
Can be used as a USB DAC
Can enable support for headphone inline remotes and volume control
Cons
Analog volume dial with works well only when manipulated with your left hand
No current support for MQA or aptX HD
Relatively large and heavy
Our Verdict
The Fiio X7 Mark II's modular architecture, software options, and sweet sound make this a great choice for music lovers who want an Andriod-based hi-res audio player.
Best Prices Today: Fiio X7 Mark II
The Fiio X7 Mark II high-resolution digital audio player boasts a modular architecture, software options galore, and sweet sound that make this a great choice for music lovers
This model sits atop the company's DAP lineup, replacing the original X7. The Mark II is an Android-based player running a customized version of Android 5.1.1 and comes pre-loaded with Fiio's Music app as well as a familiar, if Spartan, assortment of Android apps.
The Google Play store's other apps allow for further expansion and integration into your environment. For example, I downloaded the Roon client, Tidal music-streaming app, and the DTS Play-Fi app. I connected the Mark II to my Roon Music Server and was able to stream music from the server to the X7 Mark II as well as use the Mark II as a Roon remote. I also successfully streamed music to all my DTS Play-Fi devices. The Fiio X7 Mark II let's you take full advantage of your investments in high-end server or whole-home streaming solutions, .
Custom features
Fiio customized the player with specific tie-ins to its own music app. For example, the player can toggle between "Android Mode" and "Pure Music Mode." When switched to the former, the player acts as a standard Android device. When switched to the latter, it completely locks the player into the Fiio Music App. No changes take place to the hardware or software to enhance music quality. You enable/disable the mode options by swiping down to expose the system and status menu.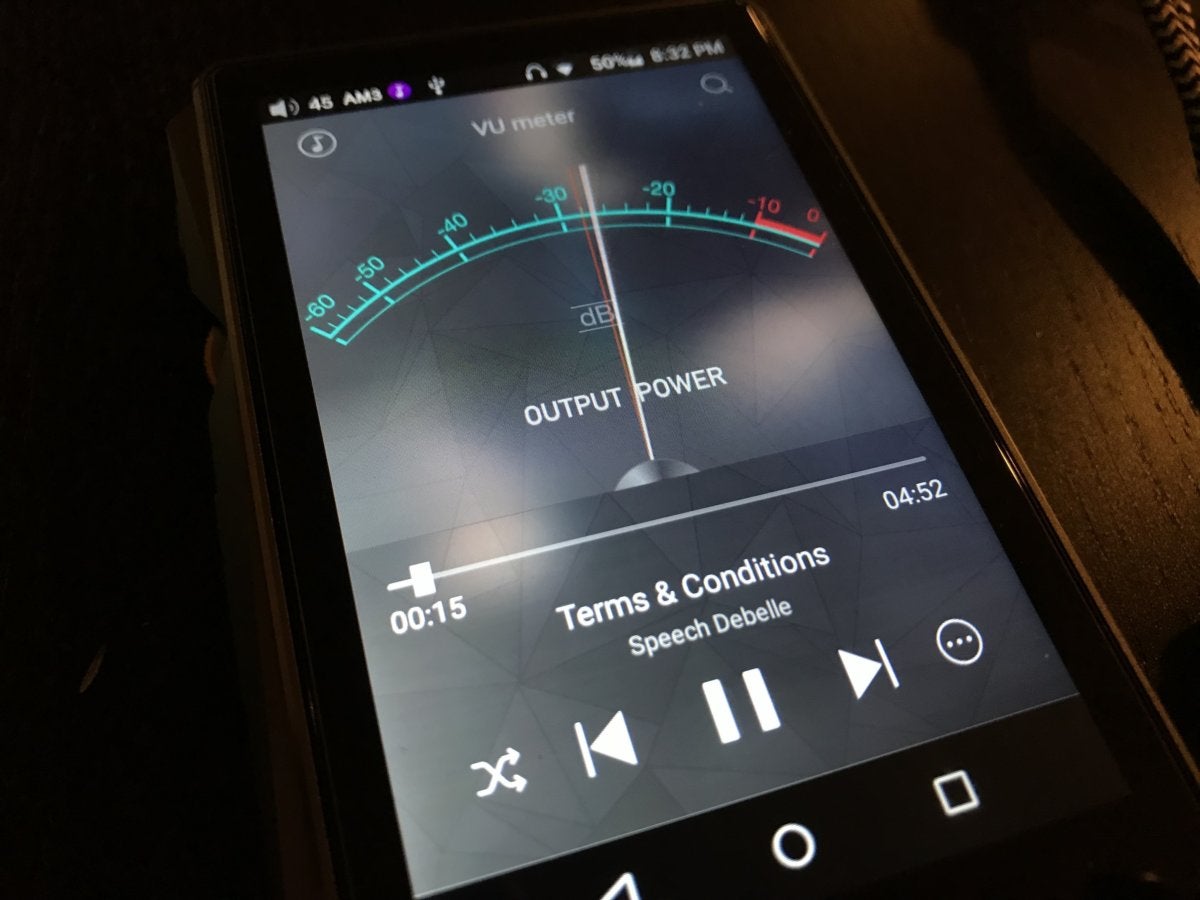 The system and status menu is customized with several player-specific options, such as high- or low-gain settings, seven lowpass filter options, line out, and storage/DAC mode. The Fiio even provides you with the option of enabling/disabling headphone inline remote control support. Many high-res DAP's don't support a headphone's inline remote at all.
The Fiio's 3.5mm line out supports three different modes: analog, Toslink optical, and coax digital (there's a 3.5mm coax digital adapter in the box, but you'll need to purchase a Toslink 3.5mm optical adapter separately if you want one). With built-in analog and digital options, you can use the Fiio player with pretty much any standalone entry-level or high-end sound system. It's basically a music server in your pocket.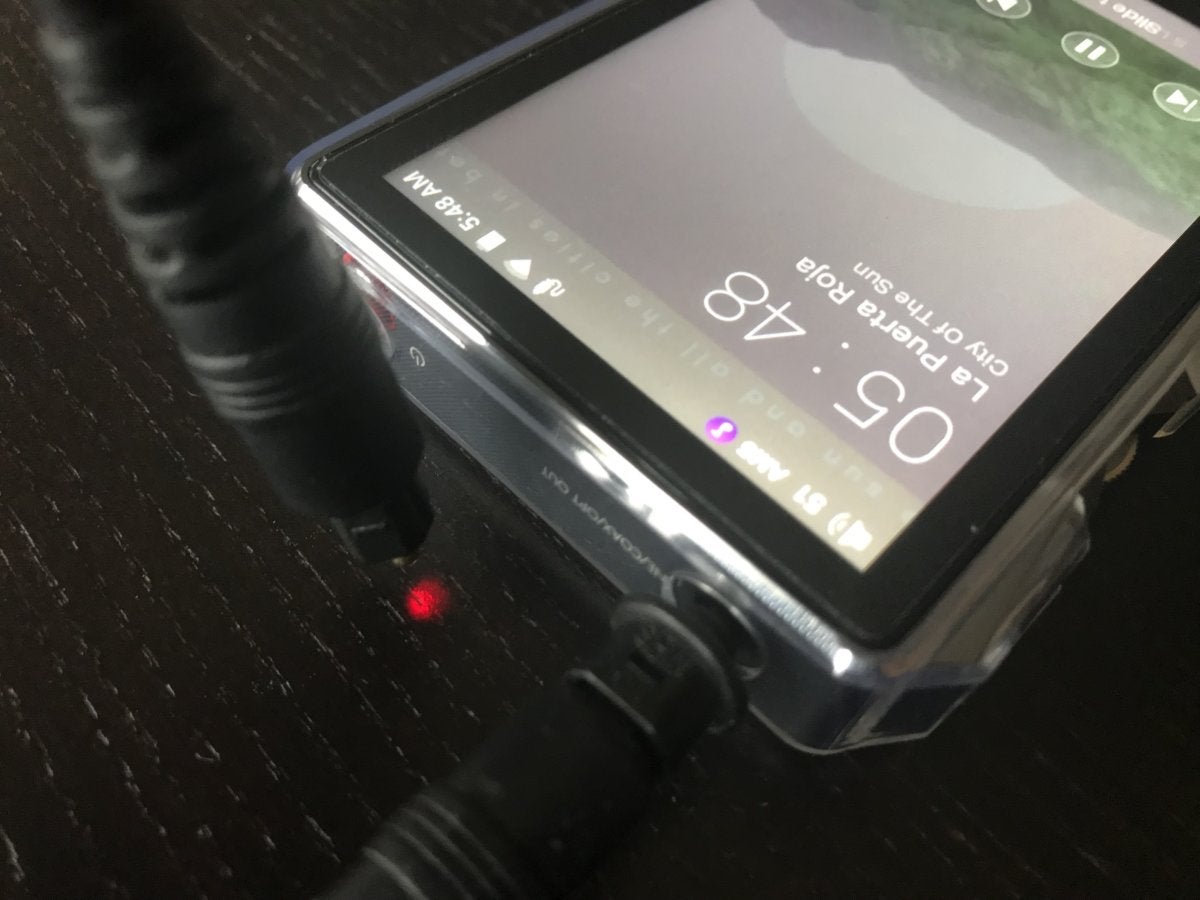 The X7 Mark II can function as a USB DAC when connected to a computer, too. Simply select the X7 Mark II and you can bypass your computer's lesser DAC and amplifier stages. The Fiio's USB storage mode allowed me to mount the high-resolution DAP as an external USB device to my Mac. No Android File Transfer app was required.
Hardware
Under the Fiio's all-aluminum hood you'll find a quad-core Rockchip RK3188, which is based on an ARM Cortex A9 system-on-chip (SoC). The heart of the Fiio X7 Mark II, however, is the popular and powerful ESS ES9028PRO DAC, which is used for both the left and right channels. This digital-to-analog converter boasts a super-high 129dB signal-to-noise ratio and total harmonic distortion plus noise of -120dB.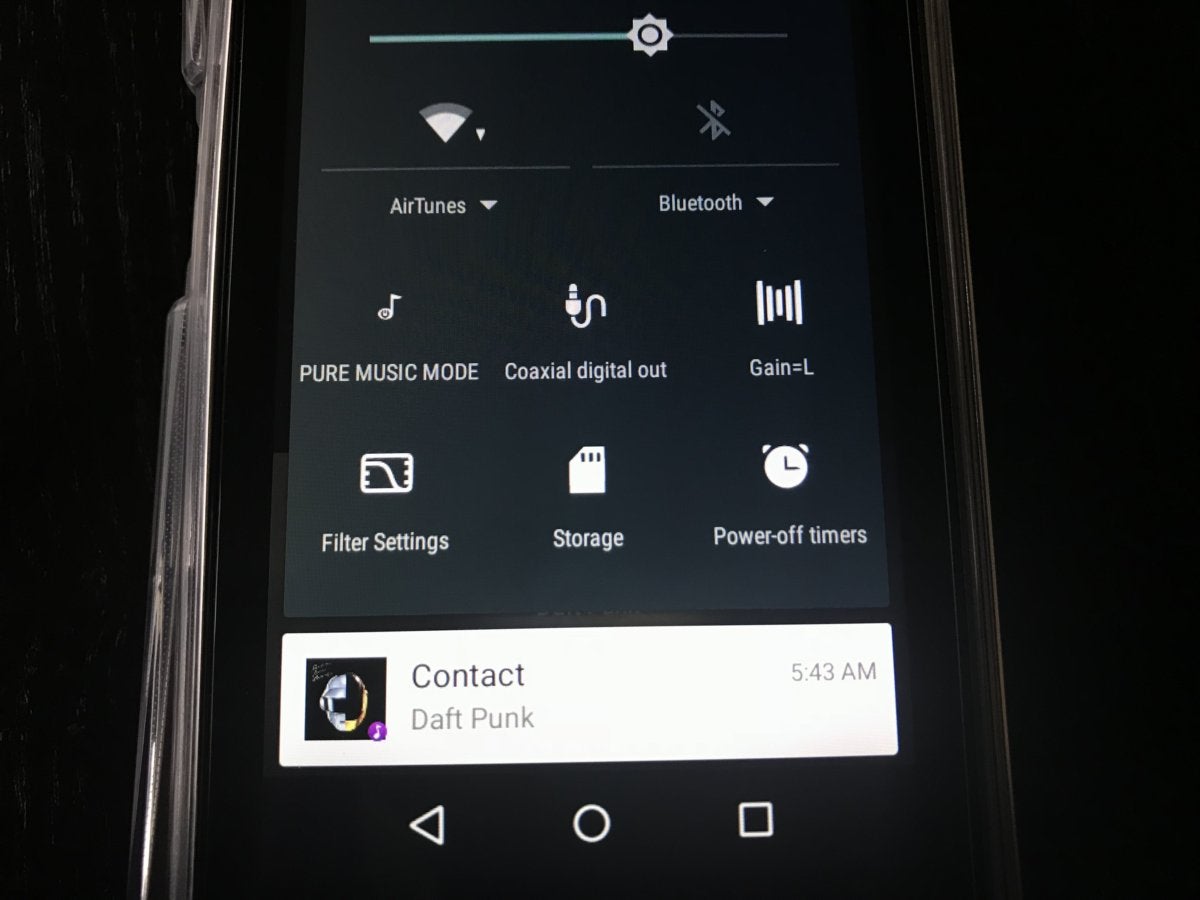 The X7 Mark II has three separate crystal oscillators. One is dedicated for DSD and 44.1kHz sampling rates. The second handles 48kHz multiples. The third is for 384kHz sampling rates. Fiio says this helps optimize the player's performance for different sampling rates.
The X7 Mark II's high-resolution music support is solid, supporting all major lossless and lossy codecs, including FLAC, ALAC, DXD, DSD 64/128/256, AIFF, APE, Ogg, unprotected AAC, and MP3 at up to 32-bit/384kHz. MQA, however, is not supported. When I asked, a company spokesperson said Fiio had no immediate plans to offer MQA, but that may change based on demand.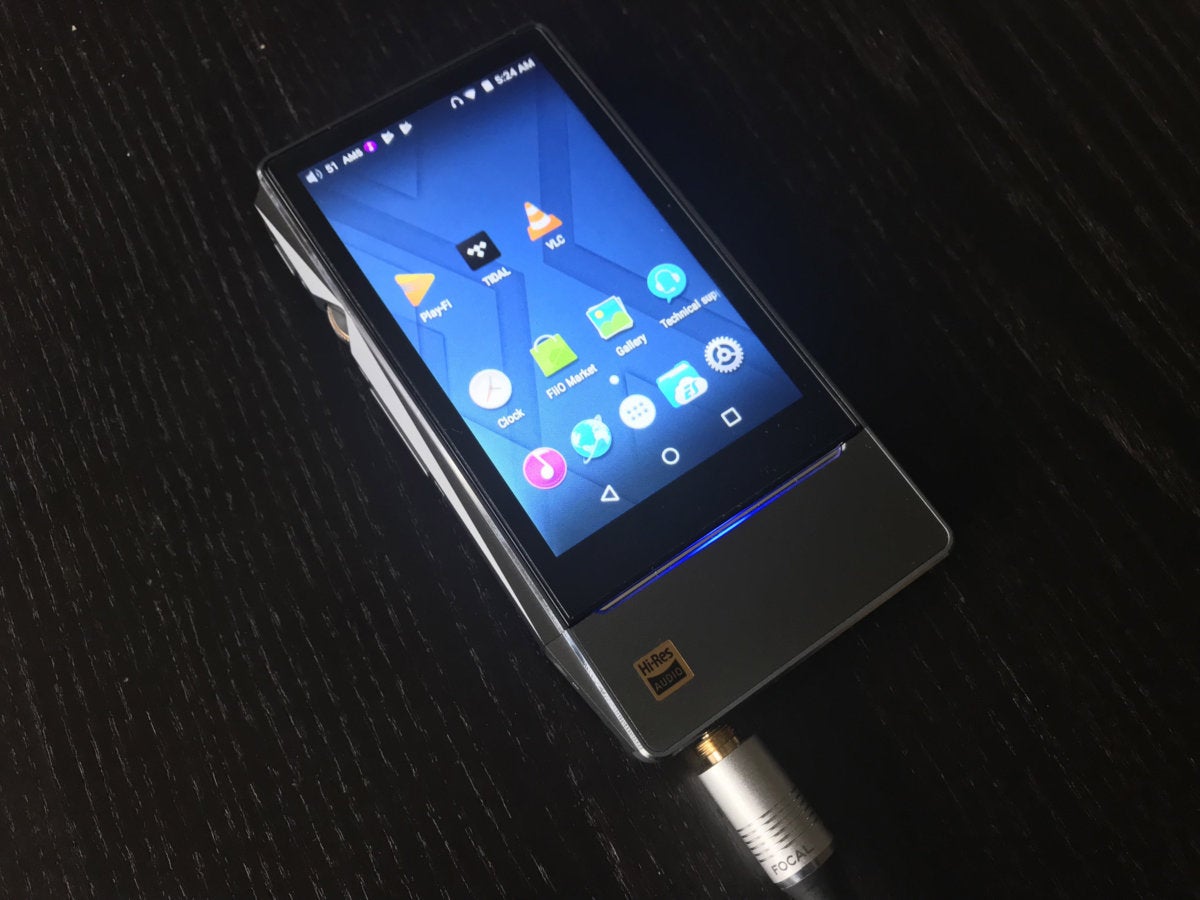 The X7 Mark II comes with 2GB of RAM and 64GB of internal storage. There are two microSD card expansion slots capable of supporting 256GB cards for a total storage capacity of 576GB (64+256+256). The X7 Mark II is not currently certified to support the new 400GB microSD cards.
Unlike most DAPs that use spring-loaded slots, the Mark II employs the same card tray found on mobile phones. In my opinion, that's smart. I've found spring-loaded slots to be finicky and even prone to failure. You'll need a small paperclip or SIM removal tool (included) to pop the tray out if you want to change any of the cards.
The high-resolution DAP's internal 3,800mAH Li-polymer battery is rated to provide about 8 hours in mixed use. I got within that range. Jacking up the screen brightness became a major variable. Unsurprisingly, looking at the Andriod OS' granular energy usage statistics, the player's display consumed more energy than any other activity I performed during the review period.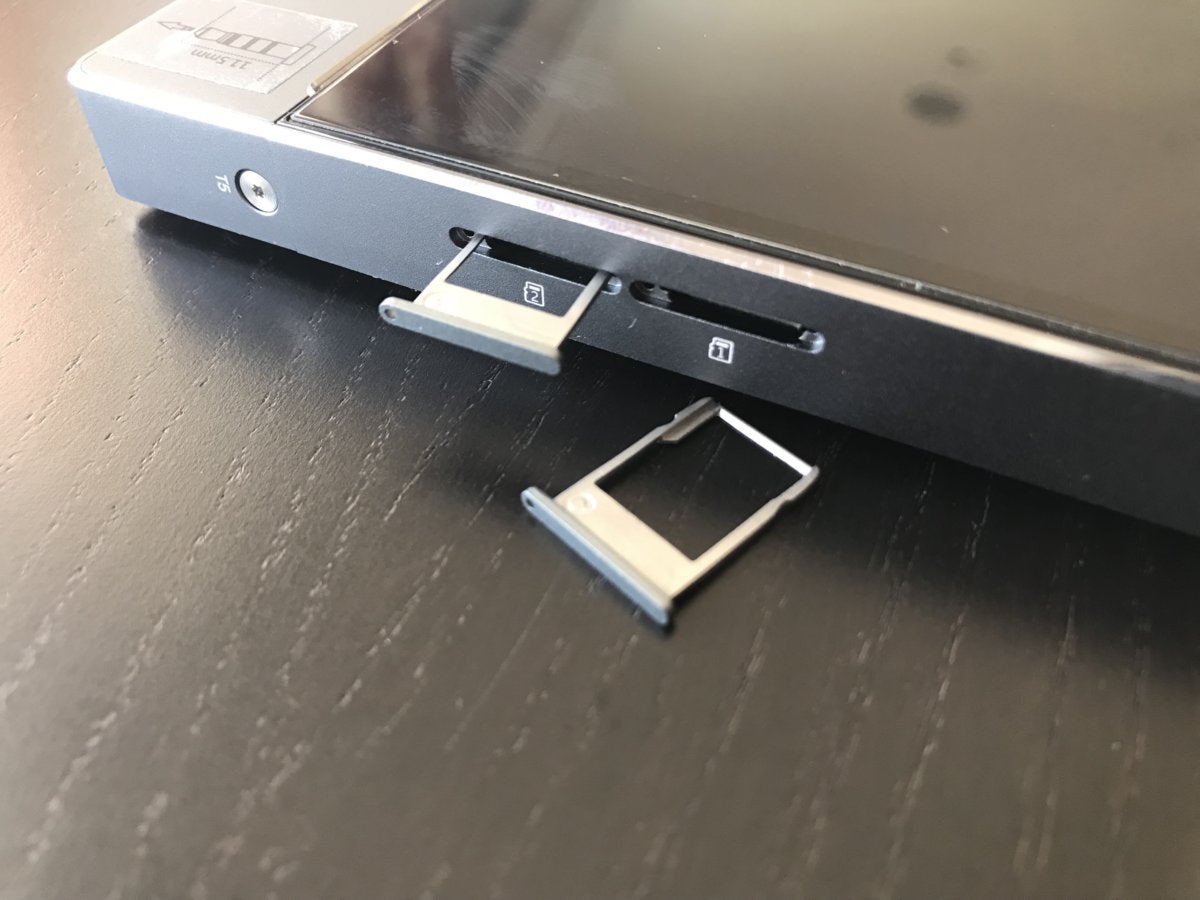 The Fiio's onboard dual-band 802.11n Wi-Fi adapter had no problem connecting to my Wi-Fi network. The player also supports Bluetooth 4.2 with aptX. AptX promises to deliver near-CD quality wireless streaming over Bluetooth. Unfortunately, aptX HD, which can stream up to 24-bit/48kHz audio, is not supported. A Fiio spokesperson said the company is looking into Sony's competing high-resolution wireless streaming codec, LDAC; however, there are no immediate implementation plans at this point.
Included accessories
Fiio includes several accessories with the Mark II. You have your choice of a black leather case with red stitched accents or one made of clear silicone. The silicone case provides a superior grip, while the leather case sports a more refined look. I loved both. Most manufacturers charge extra for cases. It was nice to get two included in the box.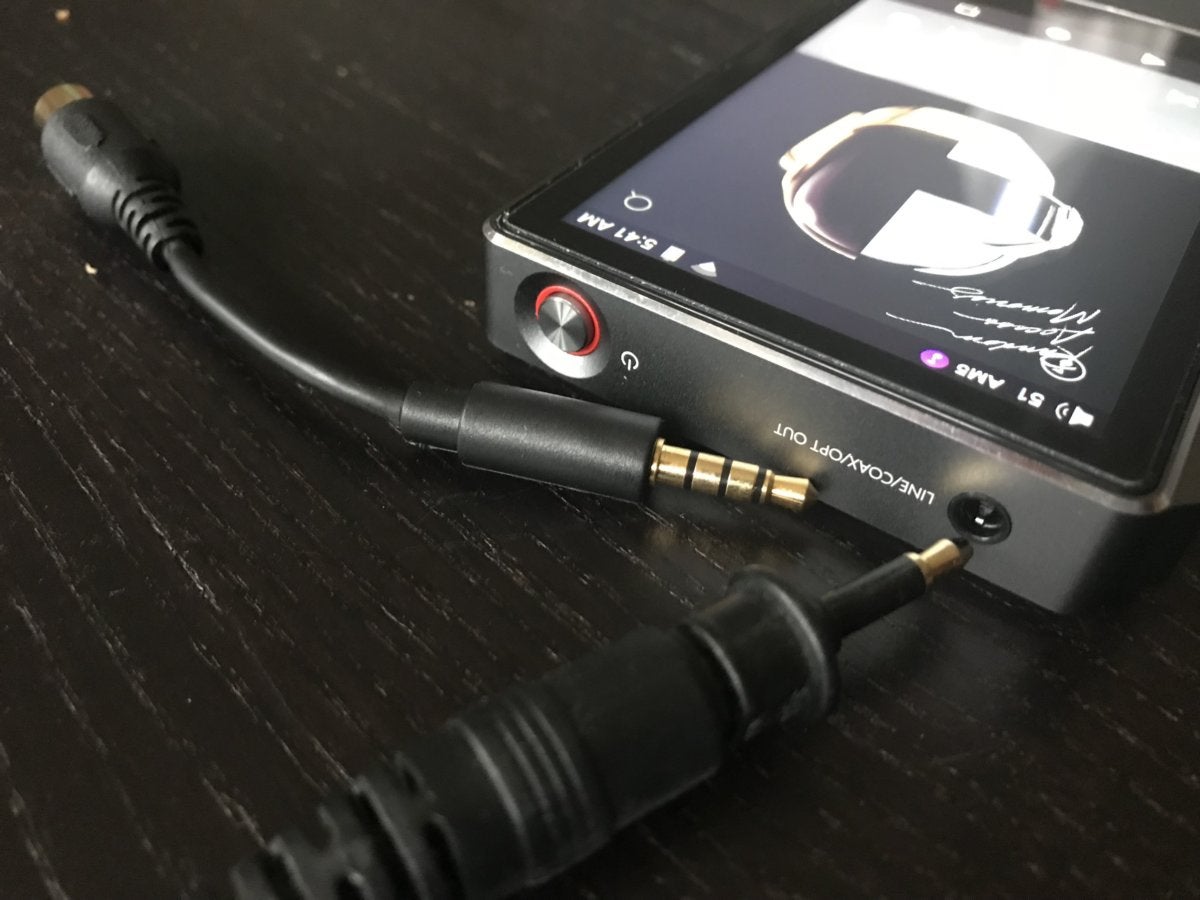 Interchangeable modules
The package includes a micro-USB charging cable and coax S/PDIF 3.5mm adapter to use with the line-out feature and external systems. Finding a T5 Torx screwdriver in the box will leave many puzzled: It's there in the event you decide to take advantage of one of the X7 Mark II's signature features: A swappable amplifier module.
The bottom part of the Fiio X7 Mark II houses its amplification section. You can swap out the amp section for various alternatives. The player comes with Fiio's AM3 amplifier module, which delivers both 3.5mm unbalanced and 2.5mm balanced output options.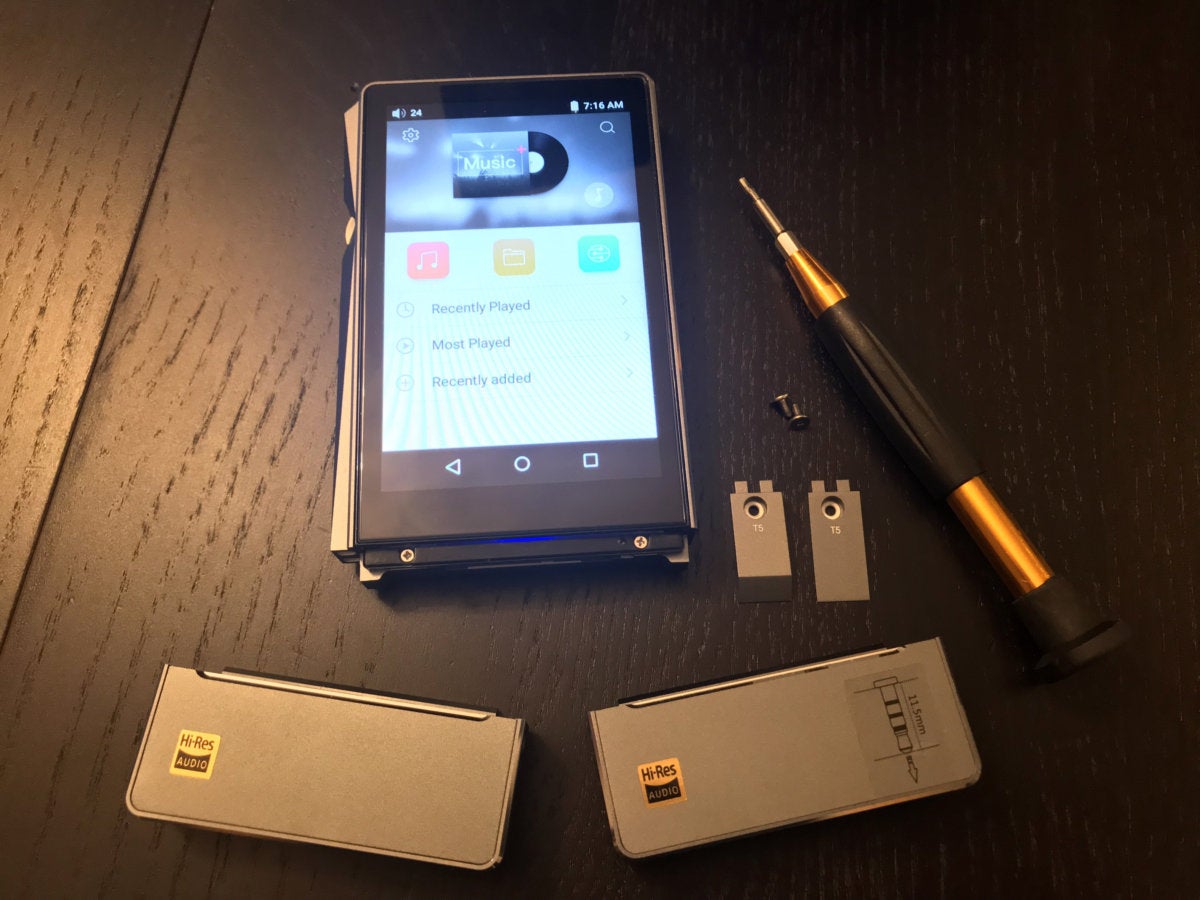 Fiio also sent me its AM5 amp module ($99) for this evaluation. The AM5 has only a 3.5mm unbalanced output, but it ramps up the power output, which I found to be great for powering hard-to-drive headphones. Installing the new module took less than 60 seconds: Unscrew the two T5 Torx screws, unplug the AM3, plug in the AM5, replace the screws and voila!, I was done.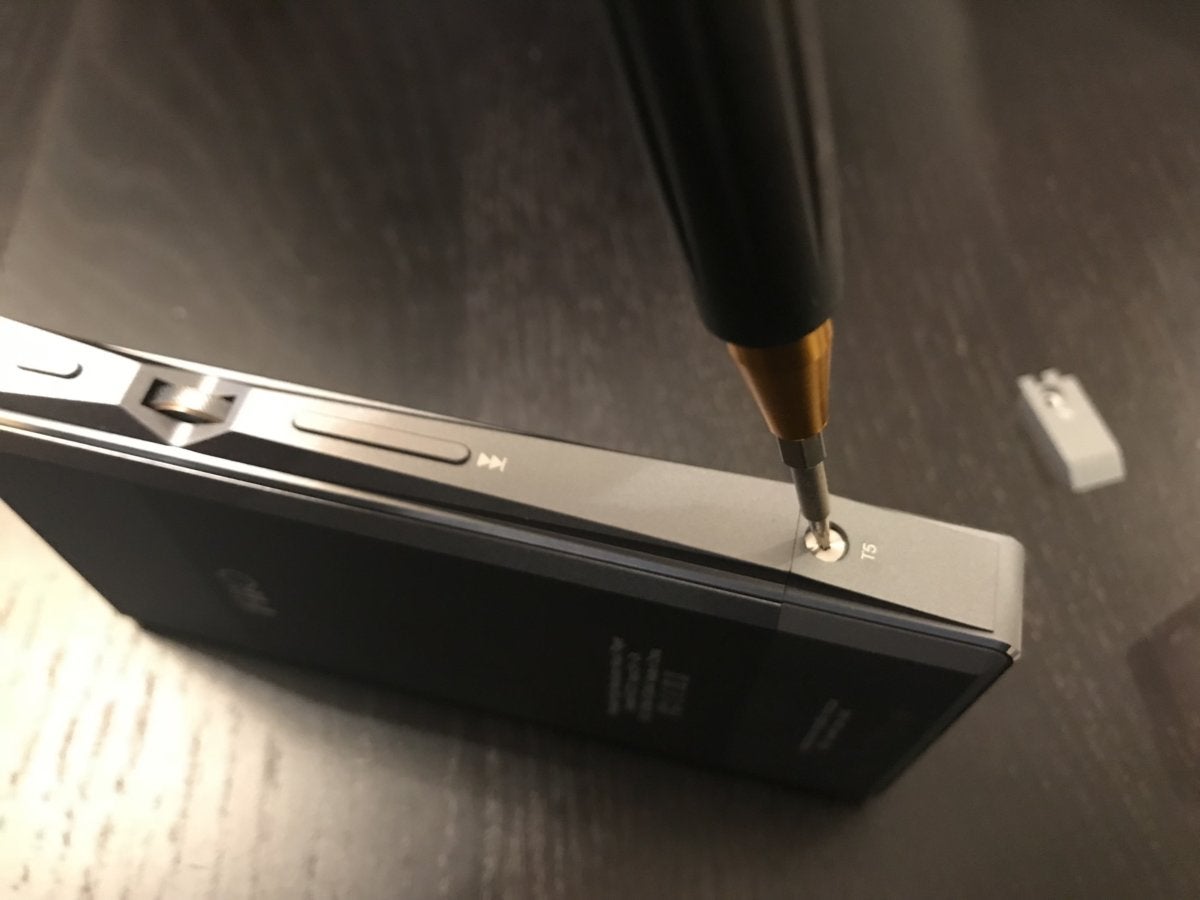 It's worth noting that the also AM3 and AM5 amps have a slightly different sonic characteristics. I performed an anecdotal test between the two modules through Focal's Clear headphones and the Oppo PM2. I had the amp modules swapped on the player without knowing which was which. I could guess the difference each time. I perceived that the AM3 presented a more detailed musical presentation across the frequency band, with a cleaner midrange, a crisper top end, and a slightly deeper soundstage. For example, on various music tracks, snare drums seemed sharper and cymbals had a bit of extra sizzle. The AM5, by contrast, gave a slightly smoother sound overall. The extent to which you'll note the difference will depend on the quality of your headphones and how difficult they are to drive.
Ergonomics
While described as pocket-sized, the X7 Mark II is relatively large and heavy, rendering them similar to the Onkyo and Pioneer Android OS-based players I've reviewed. To put the Mark II's size in perspective, it's a hair shorter than an iPhone 7, but thicker than two iPhone 7s stacked one on top of each other.
The Fiio Music App gives you a myriad of options at your fingertips, but you need to learn the different swipes before you'll feel comfortable using them. You can create playlists, mark favorites, or search for lyrics with each. There are some unique features too, like the analog VU power meter and album art search. Lyric and album art searches are easy because the player smartly pre-populates the search field with the song's data. Typically, I simply had to click "search." While lyric searches were flawless, for some reason album art searches didn't bring up any results.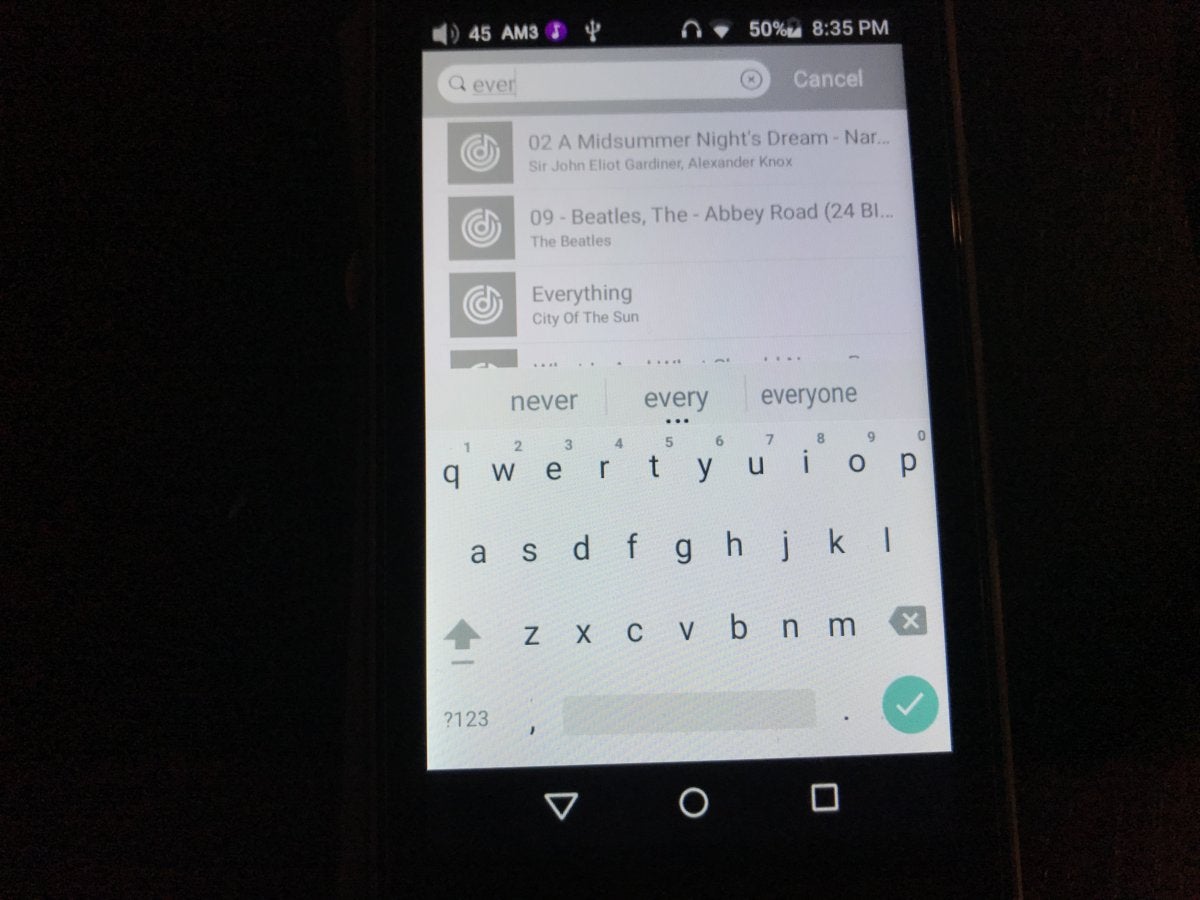 The UI also has some minor interface inconsistencies. For example if listening to a song and you pull out the album track list by swiping from the left side, you need to click on the background album artwork to get out of the menu. If you select on the search feature in the upper right, you need to click "cancel" to exit. And if you open the popup action menu in the lower right of the screen, you need to click on the red "X" to get out.
The X7 Mark II's physical buttons are all on the left side; as such, it's easiest to use left-handed. I could reliably find and use all the buttons by touch, but I didn't love the volume dial. No matter how hard I tried, I couldn't use it comfortably with my right hand. Adjusting the dial with my right index finger was more difficult than it should be.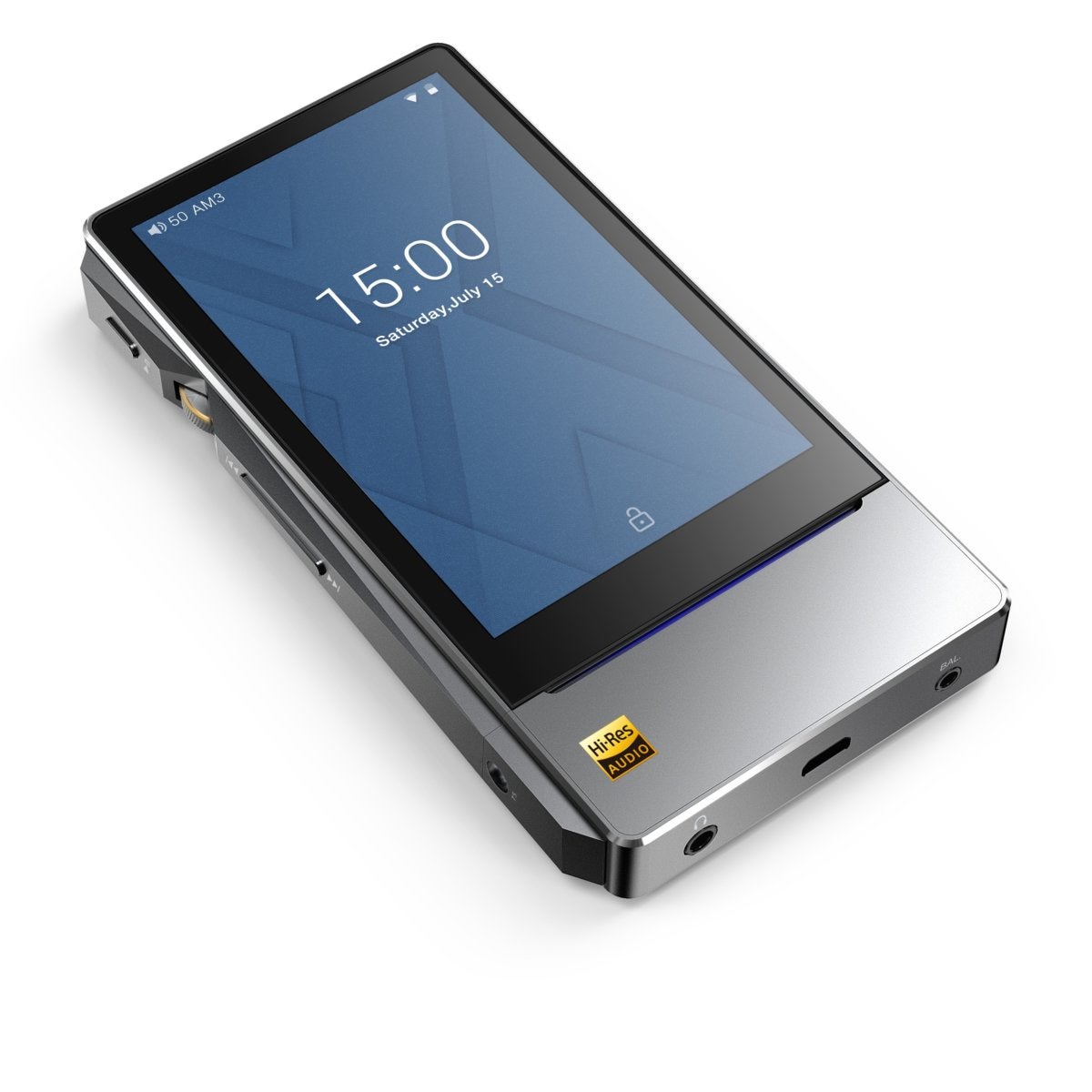 If the Fiio team embarks on a redesign, I'd recommend taking a cue from Onkyo's DP-X1 DAP. Onkyo orients the volume knob in parallel with the side of the player, situating it like a wristwatch crown with a tapered back. That makes the volume knob easy to adjust with either hand.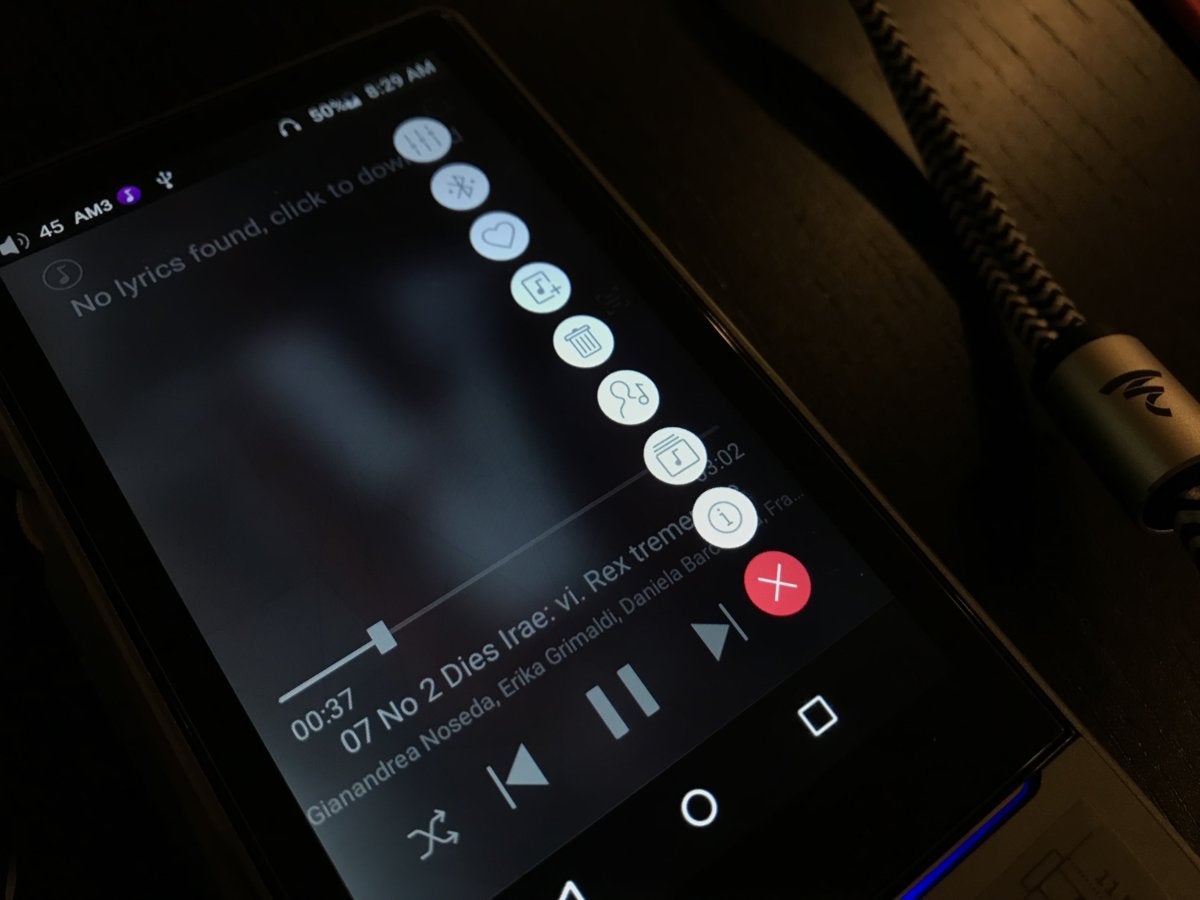 Impressions
I took the Fiio X7 Mark II for a spin with Focal Clear, Oppo PM-2, and B&W P9 Signature over-the-ear-headphones. I also used Periodic Audio's Beryllium and Fiio's own F9 Pro in-ear-monitors. No matter which headphones I used, the X7 Mark II delivered a solid musical experience each time. The majority of my impressions below reflect the Focal Clear and AM3 amp module combo.
The smooth sax notes on the 24-bit/96kHz FLAC version of Steely Dan's "Gaucho" and the trumpets on the DSD version of Michael Jackson's "Wanna Be Starting Something" were hallmarks of the player's refinement.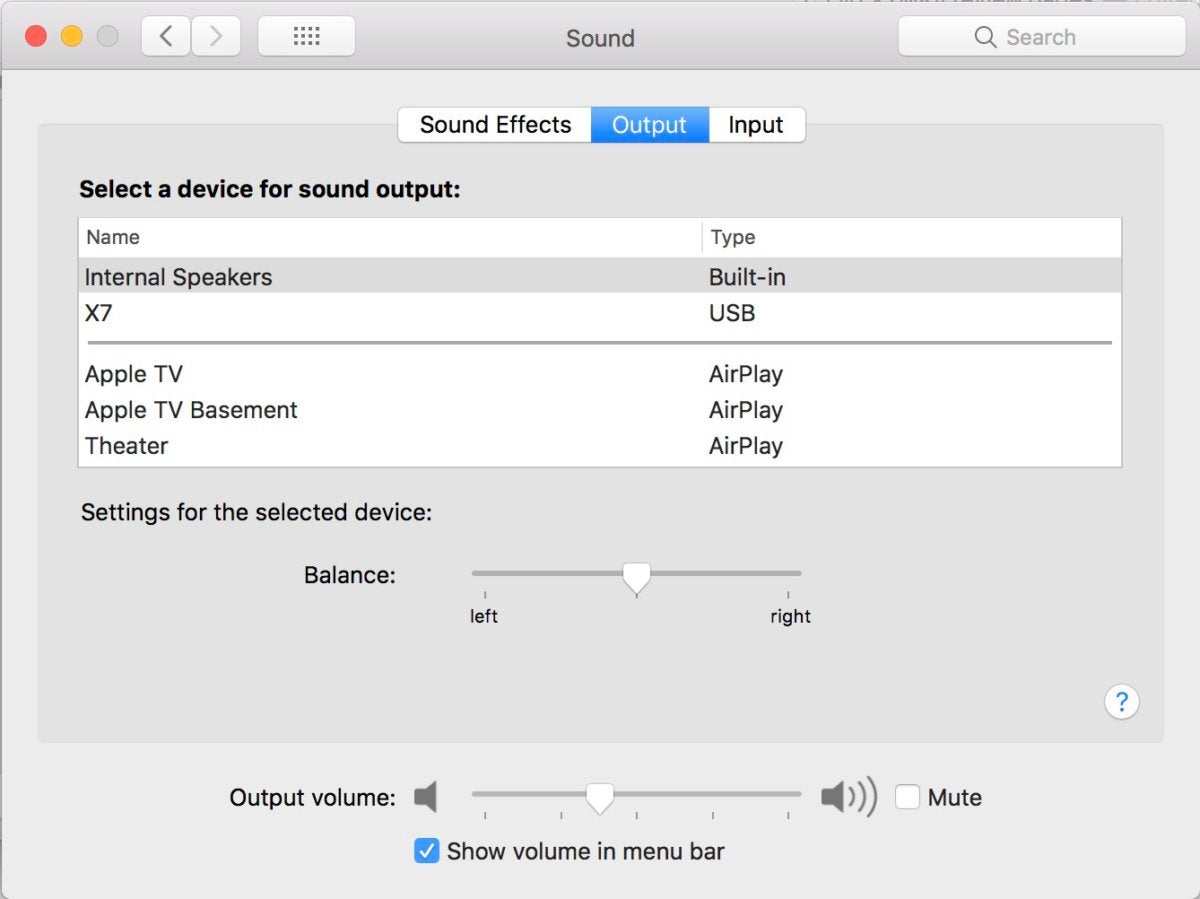 The X7 Mark II created a solid and deep soundstage when those details were present in the recording. For example, on the 24-bit/48kHz rendition of Maria Callas' "L'amour est un oiseau rebelle" from Act 1 of the opera Carmen, the X7 Mark II let the Focal Clear create a deep, layered, and wide soundstage. Callas' vocals were intimately placed. The chorus was set on a distinct layer behind Callas, with orchestral instruments set further back. The Fiio conveyed the full energy and dynamics of both the chorus and Callas' vocals.
The X7 Mark II reveled in just about any genre and artist. Pink Floyd, Led Zeppelin, Patricia Barber, Daft Punk, the Police, Peter Gabriel, and Sarah McLachlan, among others, sounded great.
There were some occasions, though, where I wanted the player to let me hear deeper into the music. For example, on "Dinner" from the blissful album, Yo-Yo Ma plays Ennio Morricone: I longed for a bit more air and definition around the instruments. When I compared the X7 Mark II to the more-expensive Astell&Kern Kann, which I have on hand for a forthcoming review, the Kann addressed any such shortcomings.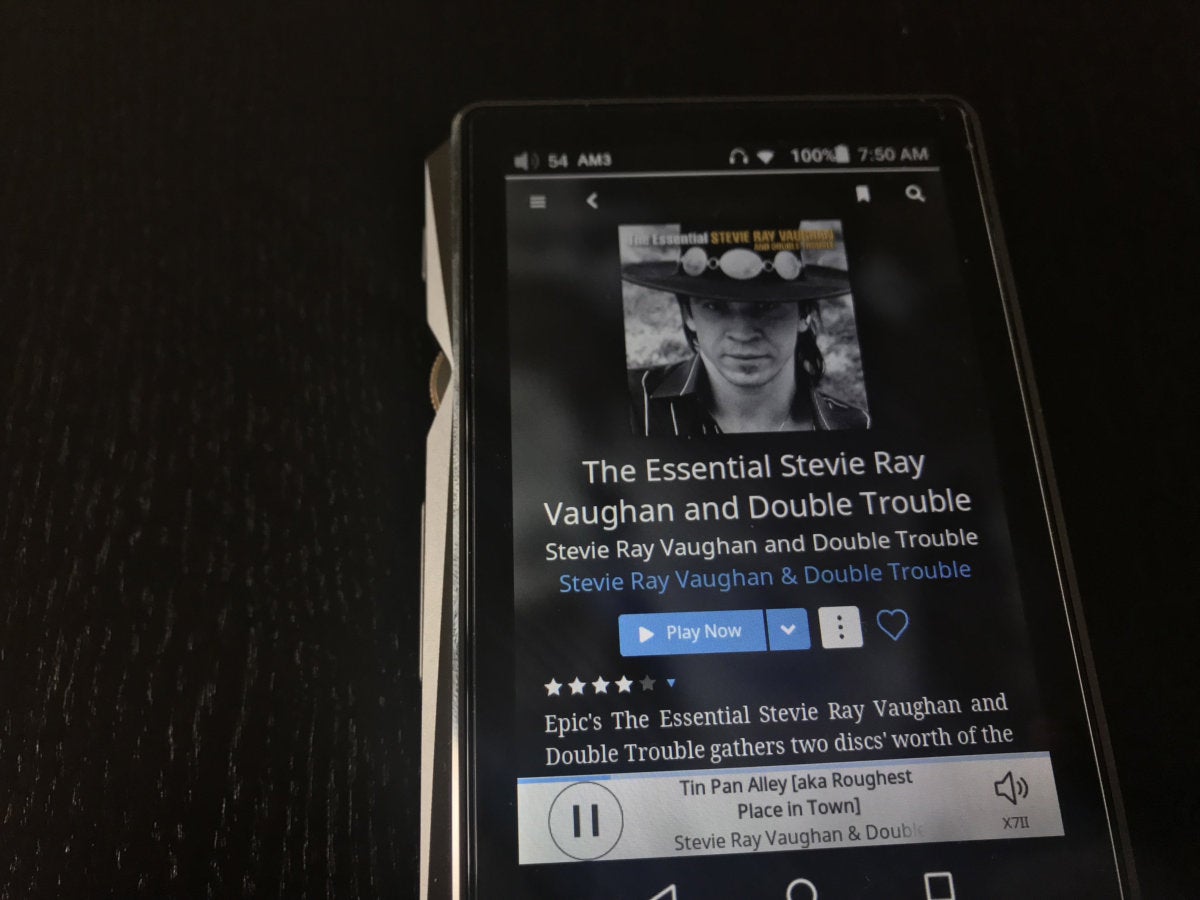 Lots to like here
There's lots of like about Fiio's flagship player: Interchangeable amp modules, flexible audio output options, a myriad of app choices through the Google Play store, and sweet sound are the highlights. If you're in the market for an Android-based high-resolution audio player, the X7 Mark II is worth your serious consideration.
Best Prices Today: Fiio X7 Mark II