Now that baseball season is underway, one of the easiest ways to listen to the games is on an Amazon Echo or another Alexa device.
Mentioned in this article
Echo Dot (2nd generation)
Price When Reviewed:
$49.99
With TuneIn Live or MLB At Bat, you can stream live broadcasts from any Major League Baseball game using voice commands. TuneIn's service costs $3 per month for Amazon Prime subscribers (or $4 per month for non-subscribers) and also includes news and live sports from other leagues. MLB's Gameday Audio service costs a one-time payment of $20 for the entire 2018 season. Audio streams are also included with an MLB TV Premium subscription, which offers live video broadcasts for out-of-market games and costs $25 per month or $116 for the season.
Unfortunately, there's no free way to listen to live baseball games on an Amazon Echo. Although many local radio stations are available for free through TuneIn or iHeartRadio, MLB owns the streaming rights and doesn't allow those stations to stream live game audio for free. You'll still need a plain old AM/FM radio for that.
Google Home users are also out of luck. As of Opening Day 2018, MLB At Bat is not available as an Action for Google Assistant, and the TuneIn Live subscription service is not available through Google Assistant either. (You can, however, connect a Google Home speaker to you phone via Bluetooth and listen to Gameday Audio through MLB's mobile app.)
Read on for more details on streaming with TuneIn Live or MLB Gameday Audio.
TuneIn Live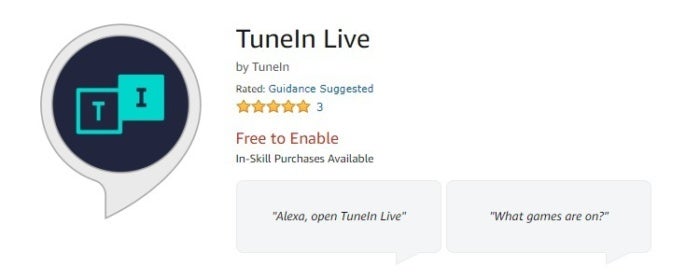 TuneIn Live is a new subscription service specifically for Alexa devices. At $3 per month for Prime members, it's pricier than MLB Gameday Audio for a year-round subscription, but it includes more than just baseball, with live audio from any NFL, NBA, NHL, and NCAA games, along with news sources such as CNBC, MSNBC, and Newsy.
To get started, say, "Alexa, open TuneIn Live." You'll be prompted to start a seven-day free trial, after which TuneIn will automatically charge the credit card linked to your Amazon account. To disable automatic renewal or to cancel the subscription, open the Alexa app and head to Skills > TuneIn Live > Manage Subscriptions, or just visit this webpage.
Once you've signed up, say, "Alexa, ask TuneIn Live to play the [team name] game." (If you don't begin the voice command with "ask TuneIn Live," the skill will not work, but TuneIn says voice commands will soon become simpler, so that you can just say "Alexa, play the Cubs game," or "Alexa, listen to Radio 670 The Score.")
TuneIn's press release also says the service can "sychronize playback across multiple Echo devices," but this isn't currently working either. A TuneIn representative says this is a known issue on Amazon's end and the companies are investigating. In the meantime, you can still listen to games on multiple speakers by issuing a voice command to each one.
One nice touch with TuneIn Live is that you can ask which games are currently on, then specify which one you want to hear. And if you ask for a team that's not currently playing, TuneIn will offer other games or sports talk radio as alternatives.
Also, while TuneIn Live is ostensibly for Alexa devices only, you can still use the Alexa mobile app to listen on iOS and Android devices. Just tap the blue Alexa button, then say, "Ask TuneIn Live to play the [team name] game." The skill should work through the Alexa remote on Fire TV devices as well.
MLB At Bat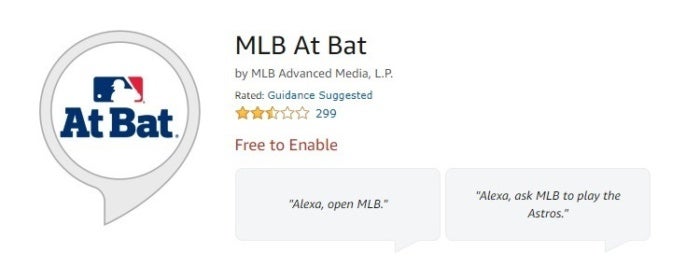 If you don't care about TuneIn's non-baseball offerings, or you want to also listen to games on your computer, or you already have an MLB TV Premium subscription, the MLB At Bat skill could be a better option at $20 per season.
Once you've signed up for Gameday Audio or MLB TV Premium, find the MLB At Bat skill through the Alexa app or on the web. Select "Enable," then select "Link Account" and enter your MLB At Bat credentials.
To start listening, you can say, "Alexa, ask MLB to listen to the Yankees" or "Alexa, tell MLB to play the Reds game." If you don't say, "ask MLB" immediately after the wake word, the skill will not work. Unfortunately, the MLB skill won't tell you which games are currently playing, and won't offer alternative audio if the team you ask for isn't playing.
While MLB At Bat does not support whole-home streaming, you can still listen to the stream across multiple speakers by issuing a separate voice command to each one.