At a Glance
Expert's Rating
Pros
Sleek, stylish speakers with a small footprint
Good frequency response for their size
Reasonably priced
Cons
Incapable of preproducing deep bass
Overall tonal balance might not appeal to some
Lack of fabric grille and bullseye look might entice small children to poke at the driver
Our Verdict
Stylish design and audiophile sound in a small footprint make this a perfect speaker for small listening rooms, desktops, and apartment dwellers.
Best Prices Today: Tozzi One
MarkAudio-Sota's Tozzi One speakers deliver modern styling and audiophile sound with a small footprint. They're a perfect complement for apartment dwellers or anyone with a smaller listening room.
I first came across the MarkAudio-Sota Tozzi One speakers at the 2017 New York Audio Show. While visiting various manufacturer demos, I saw the Tozzi One flanking a VPI turntable and a PS Audio Sprout integrated amplifier on a long dresser. The setup looked stylish and compact. Fast forward a few months and the MarkAudio-Sota team sent me a similar setup for this review.
Once I unboxed the system, I appreciated its compact dimensions even more. The PS Audio Sprout is about the size of a large external hard drive, and the Tozzi One measure just 15.75 x 11.8 x 11 inches each.
MarkAudio-Sota offers a 30-day money back guarantee so you can try out the speakers in your home. The company tells us it will even pay the return shipping cost if you decide they're not a good fit (when this article was published, the page linked above indicated the buyer was obligated to pay the return shipping cost).
Bullseye
The MarkAudio-Sota Tozzi One speakers feature a single, full-range driver. Most people are accustomed to seeing two-way speakers, with a separate tweeter handling the high frequencies and a separate woofer handling the midrange and bass frequencies. Some audiophiles swear by single, full-range driver designs because there are no crossover networks and phase issues to address.
In the case of the Tozzi One, that single driver is recessed in the center of the speaker's wave guide, making the speaker look a bit like a target. There are no fabric grilles accompanying the speaker, so make sure little kids don't put their fingers in the bullseye, potentially damaging the driver.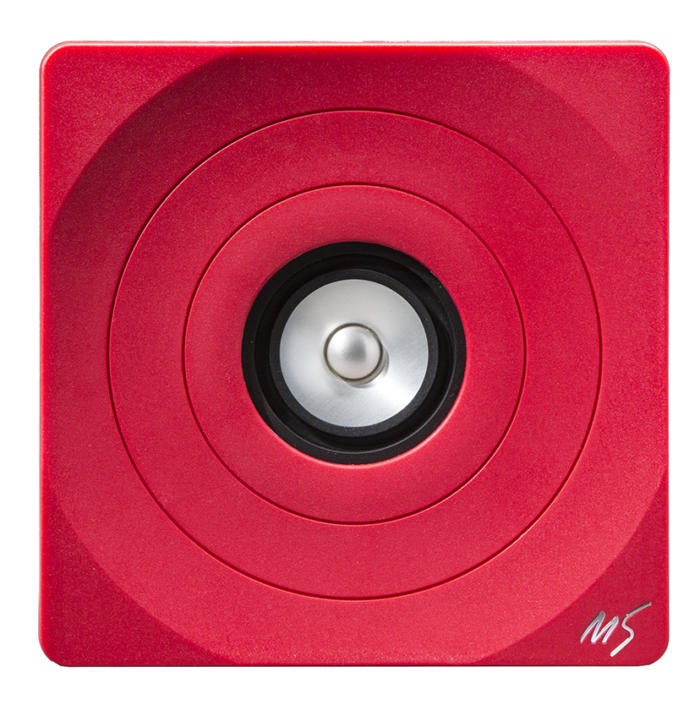 The Tozzi One's enclosure feels solid. There's nothing cheap or flimsy here. The speakers weigh in at 3.13 pounds each and come in your choice of charcoal, ruby, or pearl finishes. The rear of the speakers have five-way binding posts. You can use your choice of banana plugs, spades, or bare speaker wire. The review setup came with banana plugs.
The Tozzi One speakers have a nominal impedance of 6 Ohms, so you won't have a problem driving these speakers with any integrated amplifier or A/V receiver. You'll of course want to use the best-quality electronics you can, of course, and the Sprout made for a good partner here. It's an integrated amplifier, which means a two-channel stereo unit with both a preamp (to handle your music sources and volume) and an amplifier (providing power to the speakers) in a single enclosure.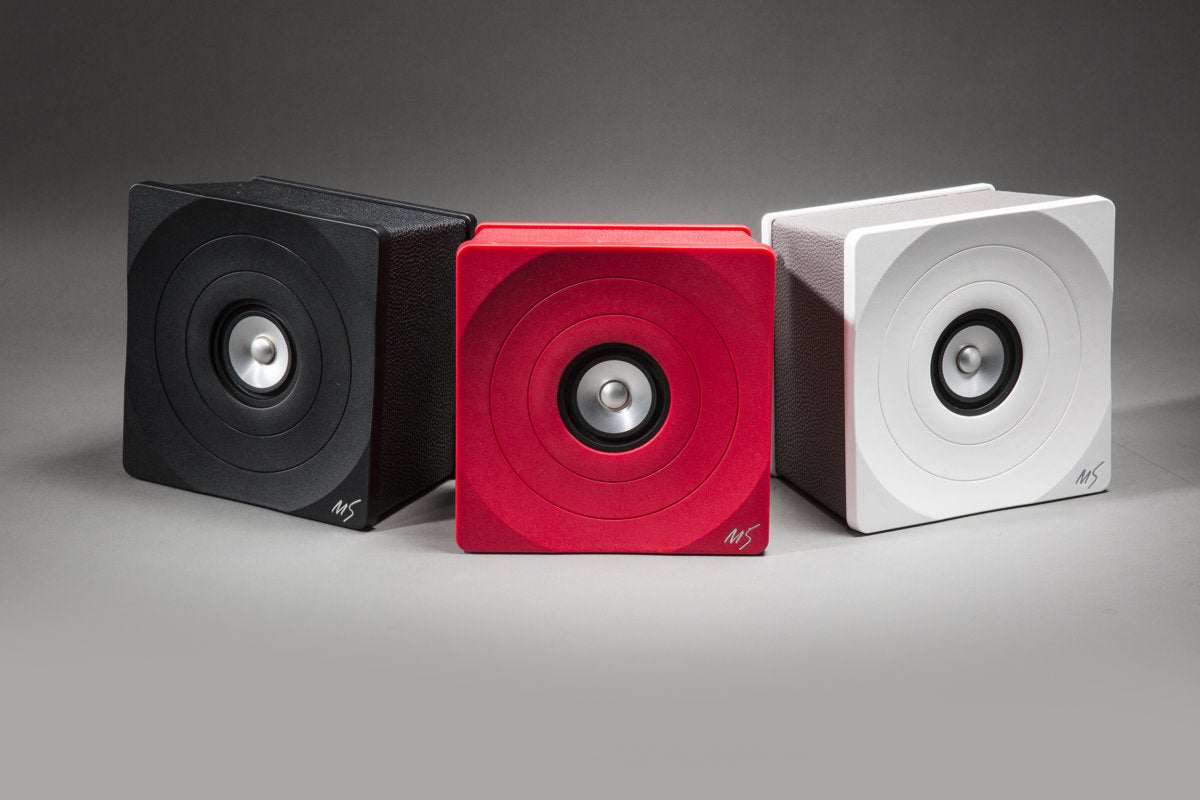 The Tozzi One's rated anechoic frequency response range isn't terribly deep (80Hz to 22kHz at ±6db). Using test tone frequency sweeps from my Revel LFO test CD, the Tozzi One speakers gave me bass output that exceeded the published specs. If you use the exact same review setup outlined here, you might see usable bass into the 60Hz range, thanks to the PS Sprout's design, as I note further on in this review.
Simple setup
I set up the Tozzi One speakers with a slight toe-in on a 35-inch-tall bookcase. The Tozzi One's cabinets tilt up slightly, which will serve them well in instances where they are set up below ear level.
The PS Audio Sprout integrated amplifier and U-Turn Orbit Plus Turntable (with acrylic platter and Orfotron OM 5E cartridge) found a comfortable home between the Tozzi One speakers.
A captivating vinyl experience
I don't think I've had any review gear that's captivated my household's attention as much as the Tozzi One setup. My kids and guests were fixated by the design and sound of the system. One of my kids asked "Is it just me, or do the vinyl records actually sound better?" Kids can notice a difference between vinyl and digital? You bet.
In fact, the Tozzi One created a tectonic shift in my household's listening habits. I found my kids pulling out record after record from our household collection so we could play it. Perhaps the thing that shocked me most was seeing a Supreme's LP sitting on the turntable! My kids don't even know who the Supremes are. Can the Tozzi One bring vinyl back into your home? Check.
As with most high-quality monitor and micro speakers, the Tozzi One excelled at creating a focused, detailed soundstage. The Tozzi One played music cleanly and reproduced microdynamics well. It was easy to pick out instruments and vocals firmly placed in space and time. The Tozzi One relished in reproducing well-mixed albums, such as Michael Jackson's Thriller and Bad. Complex musical layers on "Bad" were easily discernible, with clear articulation and no significant loss of texture.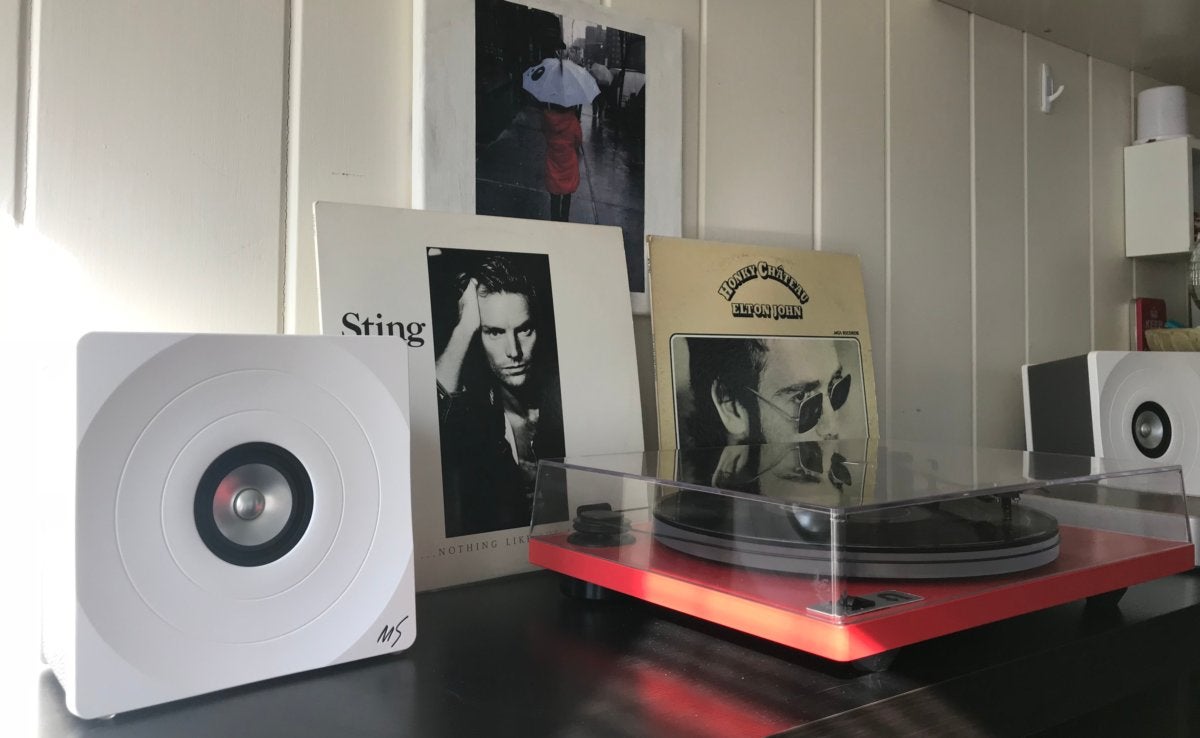 As I mentioned, the Tozzi One's bass response exceeded my expectations. For example, playing the 24-bit/192-kHz high-resolution FLAC version of the Dark Knight Rises soundtrack through the Sprout's USB DAC showed both the Tozzi One speakers' strengths and limitations. The Tozzi One speakers did a decent job on the bass-rumbling track, "Imagine the Fire," but had no output whatsoever on the same track's deepest notes.
Bass notes were punchy and dynamic. Come to find out, the bass may been receiving a little extra benefit from the PS Audio Sprout's amplifier, which Stereophile Magazine's John Atkinson notes in his measurements. If you're looking for electronics to pair with the Tozzi One, the Sprout is a good option.
Electronics aside, it's all about the music. I lost track of how many albums and artists I spun on the Tozzi One system. Adele, P!nk, Elton John, Yo-Yo Ma, John Williams, Mozart, Pearl Jam, and Sade to name just a few. I especially enjoyed Sting's Nothing Like the Sun on vinyl. The Tozzi One did a fine job reproducing silky smooth soprano saxophone notes present on many of the album's songs, including "Sister Moon".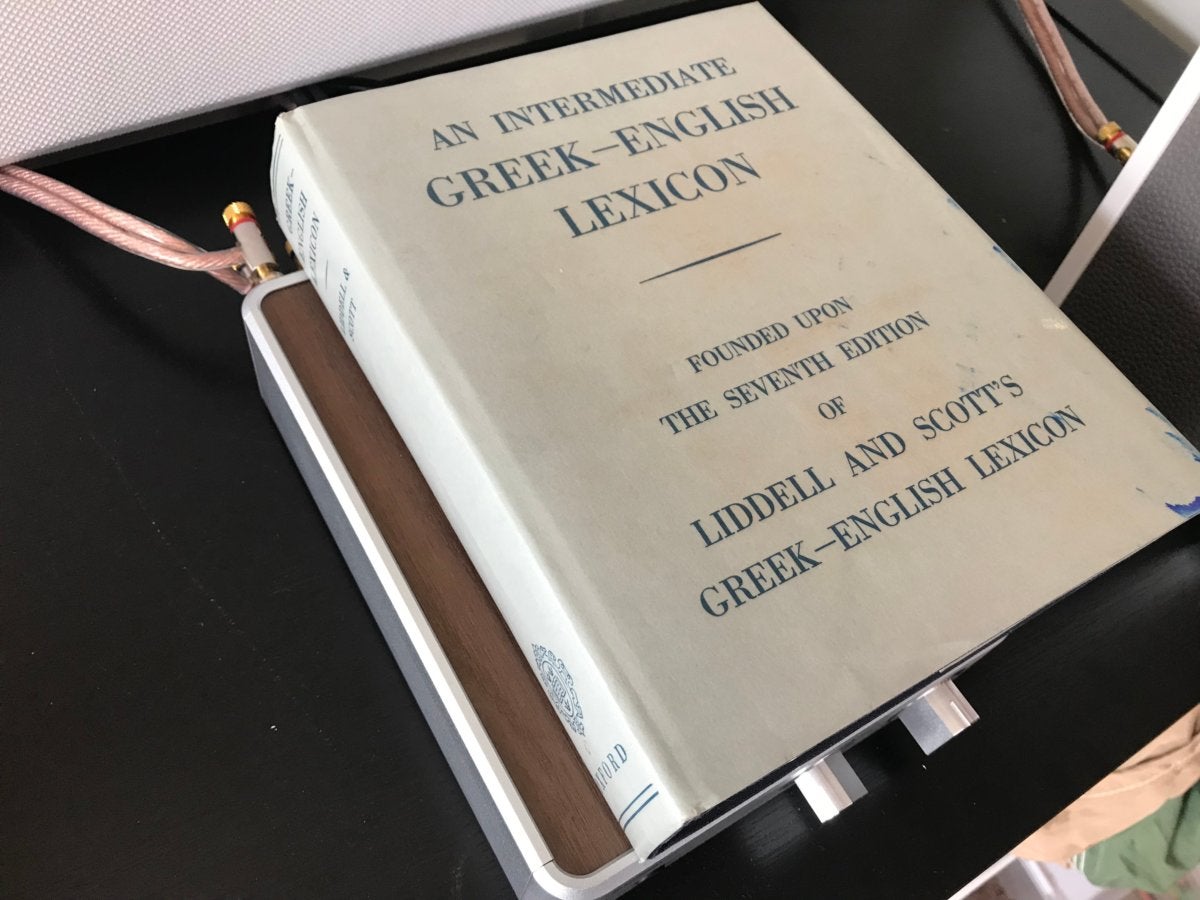 I felt as though the Tozzi One needed to play at moderate to high volumes to open up. At lower volumes, the overall sound is a bit thin, especially in the midrange. Norah Jones' Come Away With Me was a good example. Jones' breathy vocals seemed too recessed, as though there wasn't enough midrange energy. And no matter what volume I played the Tozzi One, the speakers couldn't quite reproduce the full body of piano notes throughout the album.
Whether you fall in love with the Tozzi One system's overall tonal balance will be a matter of personal preference. There are some trade-offs in the bass and midrange, but that comes with the territory at this size and price point. In other words, the Tozzi One isn't a perfect speaker, but it sure is a fun one.
And my kids don't want that fun to stop. When they learned that the Tozzi One review set would be going back soon, let's just say it caused a bit of a stir.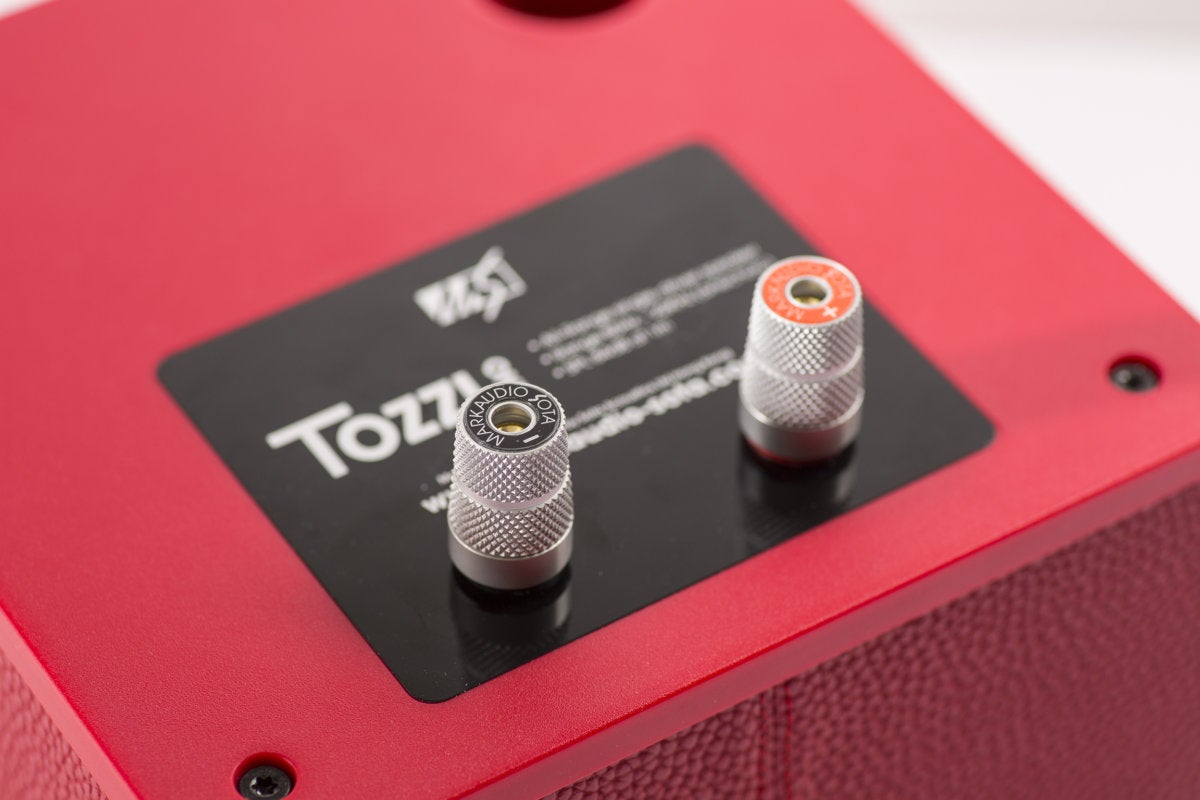 An long-term musical investment
Compact, stylish, audiophile-grade speakers that won't break the bank are a rare find. At $445 a pair, the MarkSota-Audio Tozzi One speakers are just that: Audiophile fun on a budget. Paired with a simple integrated amplifier, you can set up the Tozzi One with your computer for a high-quality desktop sound system. For less than $1,300 you can put together this complete review setup—cables and all—for a full-blown vinyl, high-res, and Bluetooth wireless playback system. If you want to save $200, MarkSota-Audio will soon be offering the bundle at for a discounted price of $1,095. This system is obviously an investment; but it's a purchase you'll enjoy for years to come.
Correction: This article was updated shortly after publication to correctly report the turntable model used in the review. We also updated MarkAudio's-SOTA's return policy (we were initially provided with inaccurate information).
Best Prices Today: Tozzi One