At a Glance
Expert's Rating
Pros
One of the easiest home security systems on the market to set up
Key fob remote control (included) is still a killer app for home security systems
Add-on sensors available for nearly any possible need
Cons
Generally less-robust third-party device support than competitors
Integrations and third-party device setup must be done via web browser
Our Verdict
Abode works well as a basic security system, but its broader smart home integration system remains a work in progress.
Price When Reviewed
$279
Best Prices Today: Abode Essentials Starter Kit (2018)
Abode's security-focused smart home system has been on the market for barely a year. When reviewed in March 2017, we found it to be a surprisingly capable system that covered the basics; one that beginning users could get their arms around. The system wasn't perfect, but it did display a maturity that we seldom find in crowd-funded projects.
Abode has made several changes to its starter kit offerings since coming to market, although its core hardware—a chunky gateway that's wired to your router—hasn't changed. Earlier this year, Abode dropped its lackluster integrated camera/motion sensor in favor of a standard motion sensor with no camera. The company dropped one of the door/window sensors in its bundle, but kept the remote-control key fob, a godsend that simplifies the process of arming and disarming the system.
The new baseline starter kit, reviewed here, costs $279. Two other kits are also available: The Connect bundle adds one year of 3G radio backup and costs $329, while the $379 Secure bundle includes the radio plus one year of professional monitoring that calls the cops if a break-in is detected.
Editors' note: This review, originally published March 8, 2018, was updated on May 16, 2018 to report on its enhanced Alexa skill (details from Abode are available here) and again on November 4, 2018 to report on the company's new Cue software.)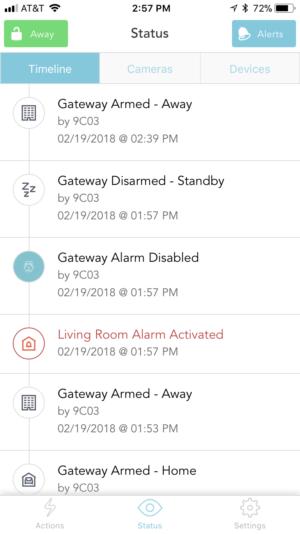 There are no subscription fees associated with the Basic bundle, but the Abode app maintains just three days of history before its logs are wiped. After the first year, you'll pay $10 per month ($96 if paid annually) to continue the Connect bundle's 3G service with 14 days of history, or $30 per month ($240 if paid annually) to continue the Secure bundle's 3G service with 90 days of history plus professional monitoring.
As a security system, very little, if anything, has changed. Setup is streamlined and painless. Once you set up an account with Abode, a six-character code is used to connect your gateway to that account. Sensors are detected automatically, without having to scan codes, punch buttons, or tap in identifying information. Other devices, like the key fob that makes arming and disarming your alarm a snap, come pre-paired and ready to go right out of the box.
The app has also been refined a bit, though it still revolves around three operational modes: standby, home, and away. In standby mode, the only evidence of the system is a convenient chirp any time a door or window is opened. In home mode, door and window sensors being tripped will set off the alarm: a 93dB siren integrated into the gateway. In away mode, the motion sensors will also work. There's no way to change any of these settings, or even to adjust the sensitivity of the motion sensor—a pet mode is still nowhere to be found. Geofencing, which lets you arm the system automatically when you leave the home, still works well.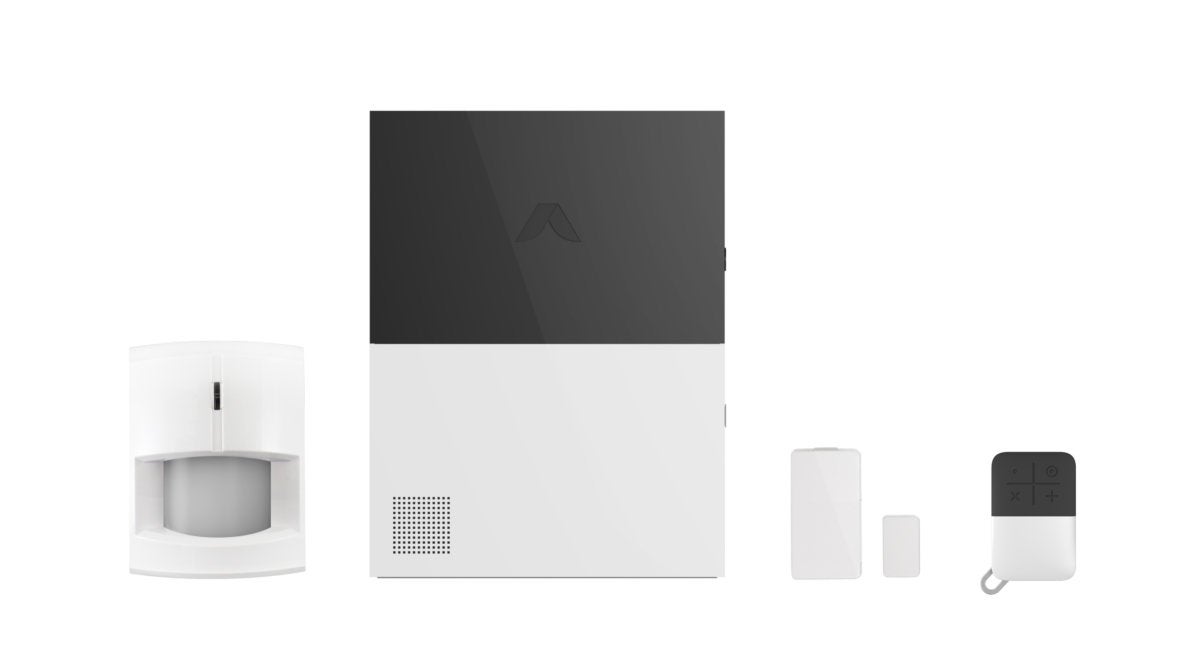 Smart home features
Mentioned in this article
Amazon Echo Spot
Price When Reviewed:
$129.99
Abode is also attempting to move the product beyond its roots as a basic security system, but here the system has some growing to do. Like many similar devices, Abode has developed hooks that connect its gateway to other smart home gadgets. For starters, several devices—primarily smart lights, including the Philips Hue, plus various switches and door locks—can be integrated and controlled directly with the Abode app. In testing, these features work well enough, though the interface is on the rudimentary side, can be slow to respond in the app, and is sometimes prone to crashing when working with third party devices.
The catch: All of this must be configured via a web browser; you can't set up any non-Abode device directly in the app. As well, when compared to some of the larger libraries of supported devices from hubs like SmartThings and Wink, Abode is playing catchup.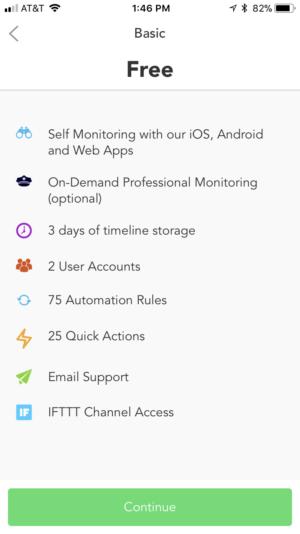 Other devices work with Abode via its oddly separate integrations system. At the moment, there are only four of these: Nest devices, Amazon Alexa, Google Assistant, and Ecobee thermostats. Unfortunately, once you get things connected, there's really not much you can do with them. For example, I connected my Nest Protect smoke alarms to the Abode, only to find the duo don't have much in common. A smoke alarm can be set to trigger the Abode app with a message or an alarm condition, but for the most part the Nest system does a better job of managing this on its own.
That said, if you have the $30-per-month Abode monitoring plan, you can have Nest alert Abode to in turn alert the fire department… if you trust this all to happen before something in that chain melts in the fire. Again, most of this must be configured in a browser instead of the app.
Similarly, there are two separate Alexa skills for the Abode. One works as expected, letting you make simple changes to Abode (like setting the system to Away mode) via voice, though as usual the syntax can be awkward. In a panic situation, will you be able to spit out "Alexa, tell Abode there is an emergency" (or similar)? A second Alexa skill is designed to let you control lights and locks in your home, which could be handy if you haven't already figured out an alternative hook for them via Alexa.
All told, while Abode shows promise as a more general smart home hub, supporting a decent set of devices as a generic Z-Wave and ZigBee gateway, it just doesn't match the capabilities of most of its more mature competitors. That said, it still shines as a no-frills security system, a task for which it still merits our strong recommendation.
The all-new Cue automation software
Cue is Abode's latest effort to expand its security-focused system into a broader smart home controller. This feature is built into the Abode app, where it replaces the previous automation routine, but existing users will need to update the hub's firmware and download the latest version of the Abode app to make use of it.
Cue is essentially Abode's proprietary version of IFTTT (If This, Then That). Cue positions its conditional automations as "when this, then that," but functionally the idea is the same. Cue isn't as powerful as IFTTT, since its triggers are comparatively limited. These include Abode's alarm state, door sensors, the location of your phone, time-based schedules (including sunrise and sunset), and actions related to third-party gear you have connected to your Abode hub.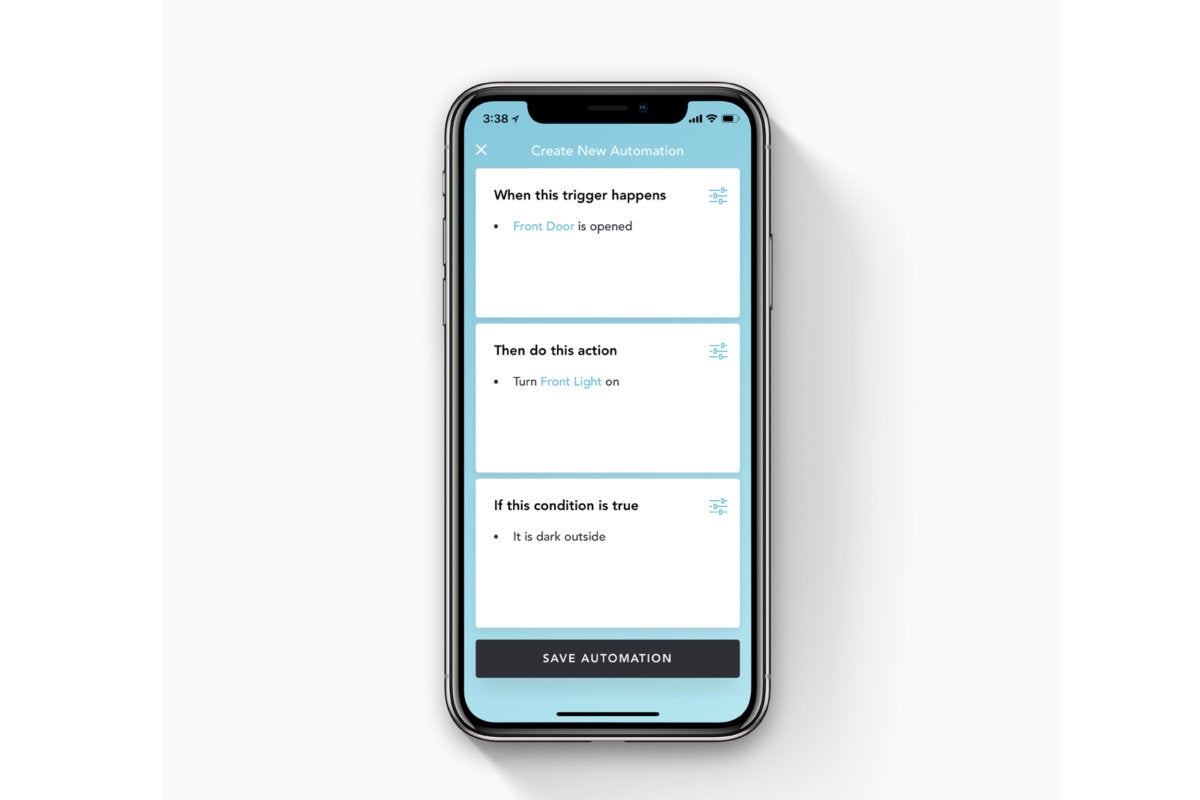 You can set an automation to turn on the lights if a door is left open for a certain amount of time or if the burglar alarm is tripped, or you can program it to do things the other way around. The Cue system allows for even greater refinement of these rules, so you can set them to only trigger when the sun is up, but really this amounts to two sets of ifs: If this, then that, but only if this other condition is also met. It's designed to be used if a current state exists (for example, the time is between the hours of 10am and 2pm) rather than acting upon a trigger (for example, the time changes from 9:59am to 10am). It all makes sense, but it takes a little time to really wrap your head around it.
In testing, the Cue system wasn't any more complex than the sometimes obtuse IFTTT, but because it can only interact with devices directly connected to the Abode system—which is limited to Abode's first-party sensors plus generic Z-Wave and ZigBee devices—it's far more restricted than IFTTT, which can connect to just about anything. There wasn't much I could do with Cue that I couldn't do with IFTTT, and using IFTTT with these types of automations has the bonus of not having to unpair existing smart device connections and re-pair them to Abode, which can be tedious. That said, for those with simpler smart home setups—or ZigBee lights that are still unpaired and in their boxes—this could be a compelling add-on option.