At a Glance
Expert's Rating
Pros
Interchangeable faceplates
Dial makes it easy to change the current temperature setting
Relatively easy to install and configure
Cons
Short on advanced features
Creating complex heating/cooling schedules can be difficult
Always-on LCD display doesn't deliver much information
Our Verdict
Swappable faceplates and a moderate price tag help elevate this otherwise basic smart thermostat.
Best Prices Today: Lux Kono
Lux has finally released a follow-up to its Lux Geo smart thermostat. The Kono is largely in line with the Geo's basic sensibilities of delivering smart features and style in a lower-priced high-tech thermostat. Priced at $150, the Kono is an affordable way to get smart connectivity in your heating and cooling controls, but you won't get much in the way of bells and whistles.
One potential sticking point is pure aesthetics: The Kono's industrial design could appear stylish and techno-hip, or tacky and plastic looking depending upon your taste. Lux has cleverly made it so you can purchase an array of colored faceplates for the unit and swap them out in a second to suit your room's color scheme or general mood. There's even a paintable faceplate if the available colors don't work. These cost $10 to $15 each, depending on the color (you can choose from midnight black, deep blue, hibiscus red, sea green, true white, champagne gold, sea mist grey, sky blue, or driftwood).
Much like the Ecobee series, the Lux Kono comes with a wiring bridge for homeowners whose HVAC systems don't have a C-wire. Other than that, installation is straightforward: Screw the back plate onto the wall, wire it up, and snap on the face unit. One minor caveat is the confusion caused by the wiring order. If you aren't paying close attention, it's easy to get confused by the absence of a label on the first wiring socket (see photo). The C wire goes in the first labeled socket in the block, but I initially inserted it into what looks like an unlabeled socket to the left of it, which obviously lead to power issues. (To be fair, that socket is reserved for use with the power bridge, and is labeled with a numeral 1 in the third row.)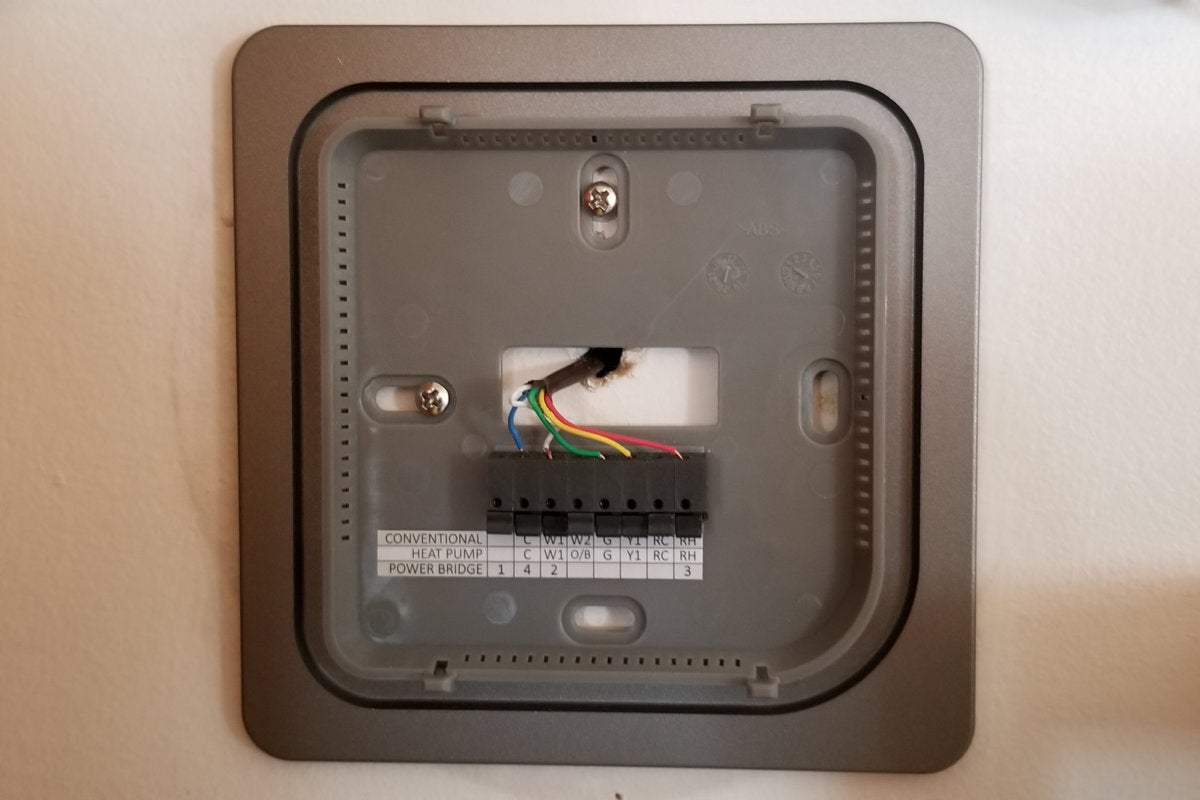 That blunder aside, my installation was incident free. The Kono is heavily reliant on its associated mobile app, so expect to download it ahead of time and, when prompted, connect to the Kono directly to tell it how to reach your Wi-Fi network. Lux is really focused on guiding the user through the process of setting up the Kono in a way that suggests it's smarter than it is.
The Lux app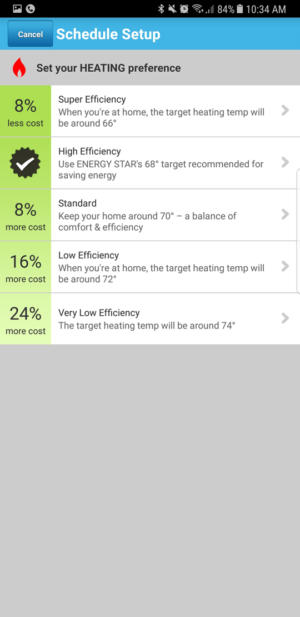 The app asks you questions about your usage needs and schedule, including giving you simple default settings to select about comfortable temperatures and showing you the estimated savings or costs of the various choices. It's just using national averages for these potential costs, but this is a creative way to show how much your temperature preferences could cost (or save) you.
For those who like to just set and forget their thermostats, this type of scheduling process works fine. Tell it you want the temperature to be 68 or 72 during the day in the winter, every day, and it just sets a default schedule for that. But working out a custom, day-by-day schedule is a lot less user friendly, and if you decide you want to change the schedule, things get hairy.
The app insists on just showing one day, with a sliding bar for adjusting the times when temperature changes kick in. Adjusting those times and the temperature is easy enough. The problem is there's no actual way to create a weekly schedule from scratch or even to heavily modify one without deleting the current schedule and going through the whole schedule creation process again. Scheduling is one of a thermostat's most basic functions, so this user interface is poorly designed.
The simple LCD screen shows only basic information: what the in-home temperature currently is and what the target temperature is. There's no motion sensor or even an auto-dimming capability, so it's always on full brightness. Changing the target temperature is easy enough, you just turn the dial and tap it. That puts the HVAC system in hold mode until you instruct it to go back to your schedule. Alternatively, you can control the thermostat using Amazon's Alexa, the Google Assistant, or Apple's Siri. Geofencing is also supported. (The older Geo is compatible with the Amazon Echo and Google Home product lines, but not Apple's HomeKit.)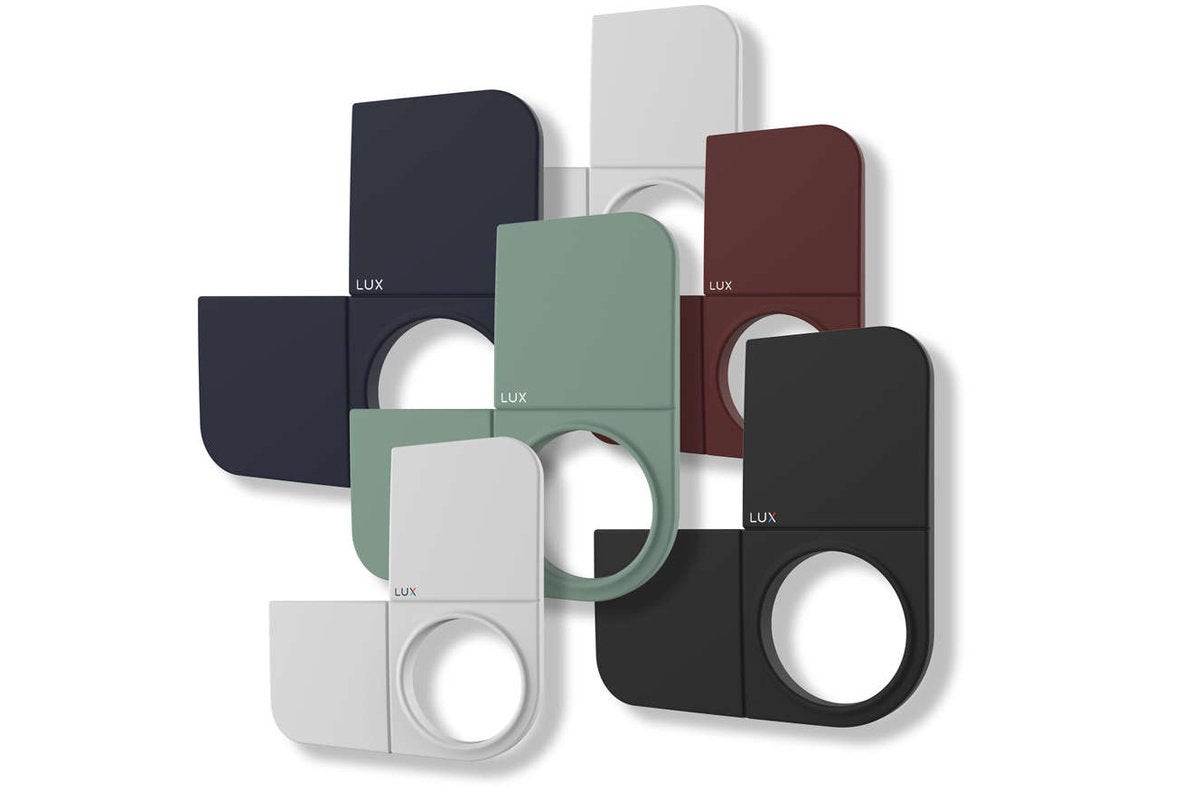 You can only access basic functions from the unit itself, and there's no provision for obtaining additional information, such as the current weather or humidity levels as some other models provide.
Is the Lux Kono a good buy?
The Lux Kono is reasonably priced and it supports both conventional furnaces, air-condition units, and heat pumps. It doesn't really offer much over the original Lux Geo, aside from its physical redesign and HomeKit support. The only slightly more expensive Ecobee3 Lite delivers more bang for the buck—especially if you deploy its optional sensors in other rooms. The Kono's swappable face plate is a singular feature, but this is an otherwise unremarkable smart thermostat.
Best Prices Today: Lux Kono