At a Glance
Expert's Rating
Pros
Integrates with remarkably sophisticated locator devices
Affordably priced
Can be expanded to include child and object tracking
Cons
Air quality monitor is undercooked
Locator coverage will be geographically limited until Tabs usage picks up
App can sometimes get "stuck" with old information until you restart it
Our Verdict
Easy to use and quite affordable, TrackNet's Tabs Home Health & Security kit is a promising way to get started with smart home security.
Best Prices Today: Tabs Home Health & Security Kit
Ever wonder what would happen if you combined a basic security system with the tracking power of a gadget like Tile? Tabs, a new system from TrackNet, aims to meld the two in a bid to simplify the often complex world of smart-home management. And for the most part, it pulls it off.
Tabs starts out with a fairly robust starter box called the Home Health & Security Kit, which runs $230. This includes a base station, three door/window sensors, a motion sensor, and an air quality monitor. Locators (think Tile squares) are sold separately for $40 each. Wristband locators designed for children are slated to hit the market soon. At press time, the standard locator was the only product available a la carte, though the company notes that additional sensors, hubs, and more will soon be available as one-off purchases.
Tabs is clearly designed from the outset with simplicity in mind. Setup involves powering up the hub and connecting to its own temporary network, then installing the Tabs.io app on your smartphone. (Note that searching the app store for "tabs" won't get you there; be sure to add ".io" to find the correct app.)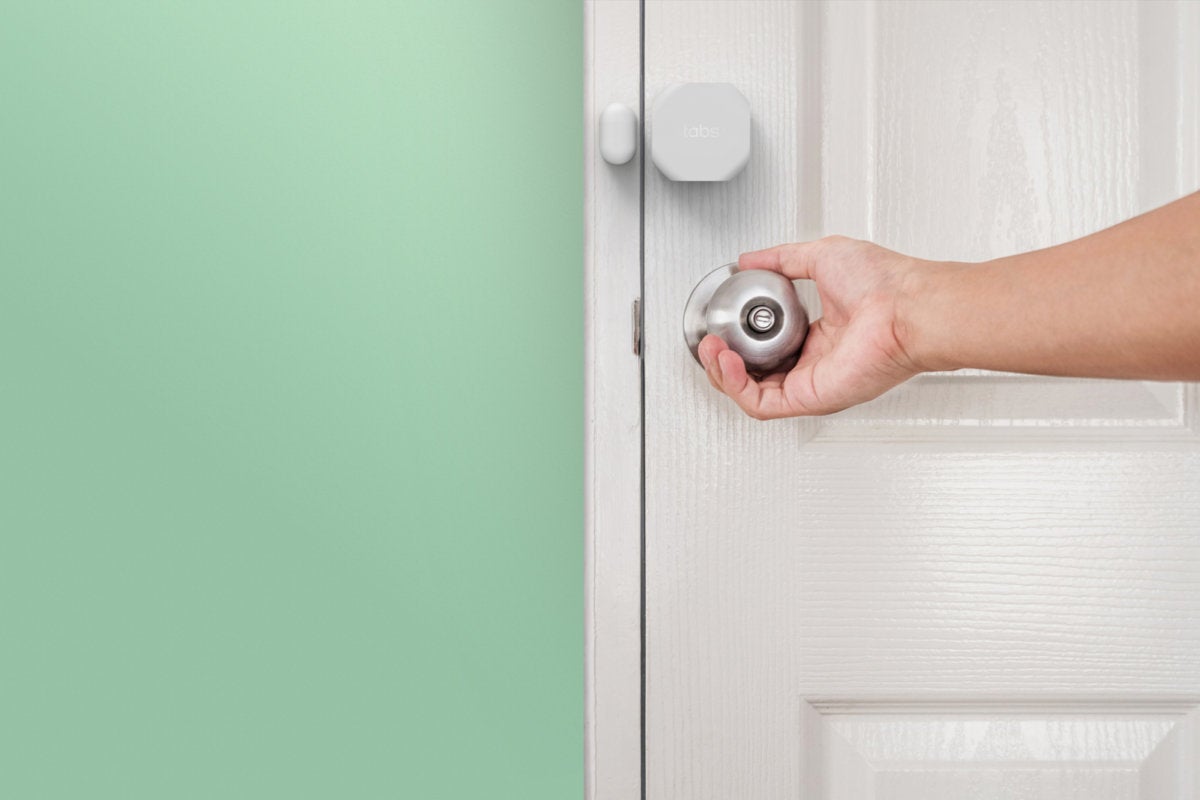 From here, adding sensors is a snap. Just take a picture of the QR code on the back of each sensor and the app adds it to your network in a matter of seconds. Once you remove the battery shield it can take a few minutes for a sensor to be found by the network, but after that things quickly settle down.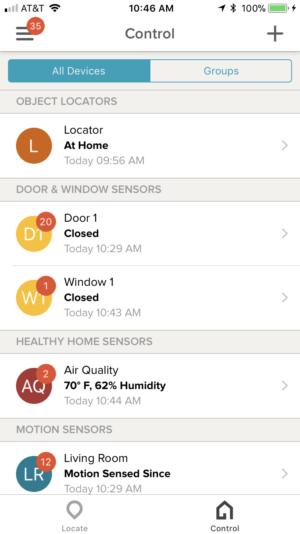 The Tabs app doesn't provide a lot of hand-holding, but it doesn't really need it. Again, it's pared down to the basics, with almost everything easily visible at a glance on the app's home page. The page shows you whether doors and windows are open or closed, whether there's active motion (or recent motion) in a room, and a quick air quality rating. Door and window sensors—though rather bulky in size—are responsive once you get them placed right. The motion sensor—same design as the door sensor—works well, too, although there's no way to adjust its sensitivity level.
On the other hand, I didn't know what to make of the air quality sensor. While the manual claims the sensor is supposed to report CO2 and volatile organic compound (VOC) levels, in addition to temperature and humidity, instead I found the app just reports a vague "Air Quality (ppm)." Is this CO2 or VOC, I wondered? And what to make of a rating of 2913, which was off the charts for either one?
By default Tabs sends a fair number of alerts: when a door is opened or closed, when motion is detected, or if air quality is poor. These can be managed on a per-device level if you drill down into each device's settings, and they can be turned on or off within each of the three modes—Home, Away, and Night—included in the app. By default, all alerts are on for all modes (so there's no difference among them from the outset), but if you don't want air quality alerts at night, or closed-door alerts while you're at home, it's easy to make those changes and start tweaking your setup a bit.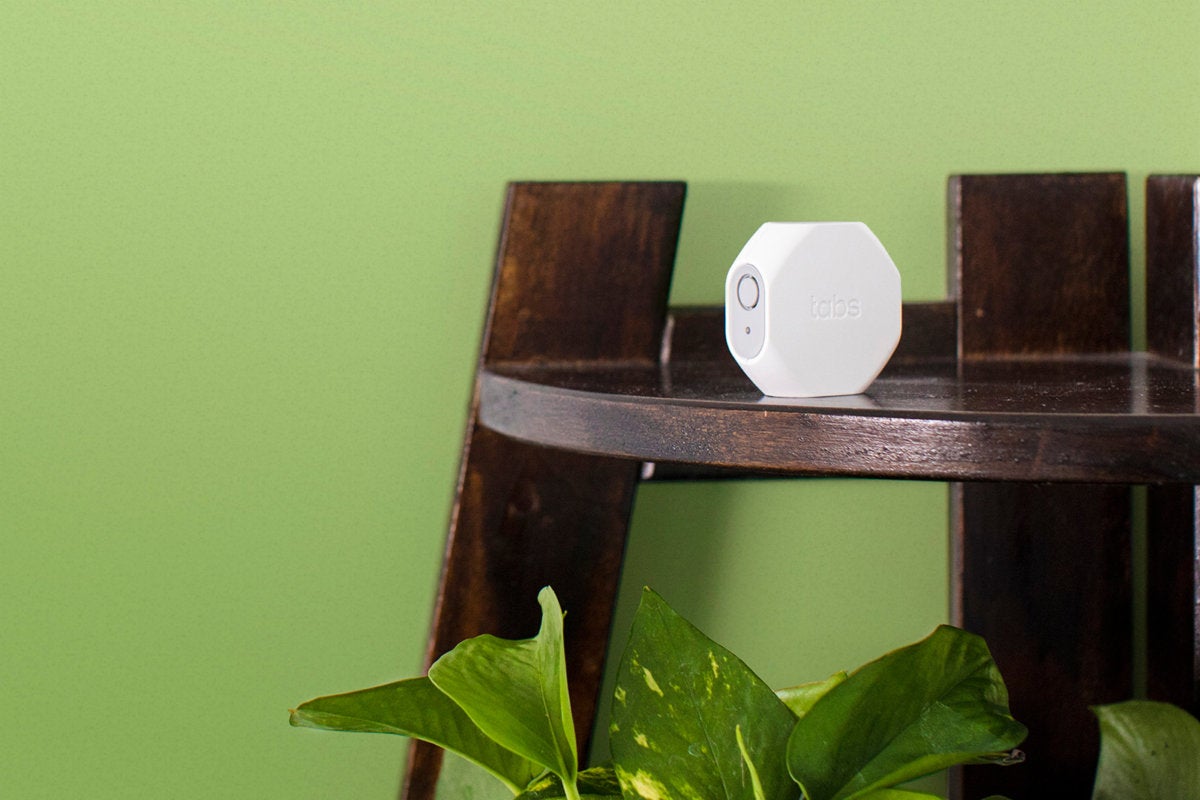 As a competitor to Tile
The Tabs Locator is managed under a separate section in the Tabs app, though locator devices are set up the same way as sensors, by scanning a QR code on the reverse. The locator hardware, which is a bit bulky but is at least reasonably fashionable, is charged via USB-C cable (included) and needs to be juiced up before use.
Once it's running, the locator system is remarkably capable and sophisticated. The position of a device isn't just shown on a live map, its entire history is tracked, so you can see exactly where the locator has been over time. Drop one in your kid's backpack and you'll never wonder if he stopped by the candy store on the way home from school.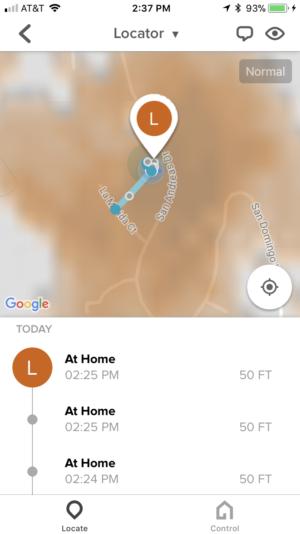 The limitation here is that this tracking capability only works when the locator is within range of your Tabs hub, another user's Tabs hub, or a Tabs-erected tower, all of which work together as a low-power wide-area network or LPWAN (the company is a member of the LoRa Alliance, which is promoting a networking standard for the Internet of Things or IoT).
The Tabs hub has a surprising and remarkable range if there aren't any obstructions, which means I can see over two miles to the south of my home, but only a few hundred feet to north, due to a mountain that rises in that direction. Since I'm the only Tabs user in my town of Novato, California, leaving my coverage area meant entering a dead zone. If Tabs picks up in popularity that could change dramatically, of course, but for now it remains a classic chicken and egg problem. For what it's worth, it worked well as long as I didn't stray too far.
In any case, I'm rooting for those chickens: Tabs is a solid system with a ton of promise, and even though it has a lot of growing to do (everything from Alexa hooks to integration with other smart devices is "in the works"), it merits strong consideration as a simple but capable security system.
Best Prices Today: Tabs Home Health & Security Kit