The key weakness of the Microsoft Cortana-powered Harman/Kardon Invoke smart speaker was that it just wasn't a great smart-home controller, lacking many of the services and IFTTT support of its rivals. Today, Microsoft said, that changes.
Microsoft said Friday that it has added support for IFTTT, the conditional platform that triggers various connected services, to Cortana. And those services have expanded, too: Cortana can now control products from Ecobee, Honeywell Lyric, Honeywell Total Connect Comfort, LIFX, TP-Link Kasa, and Geeni. (Last October, the Invoke was announced with support for Samsung SmartThings, Nest, Philips Hue, Wink, and Insteon.)
Because Cortana offers essentially the same capabilities across various platforms, that means the new smart-home controls are available from the Invoke, but also from your Windows 10 PC or even the Cortana apps for Android and iOS. To enable them, you'll need to open Cortana on Windows 10 or on your phone, click the Notebook, then open the Connected Home submenu. From there, you'll need to add your smart-home accounts to Cortana.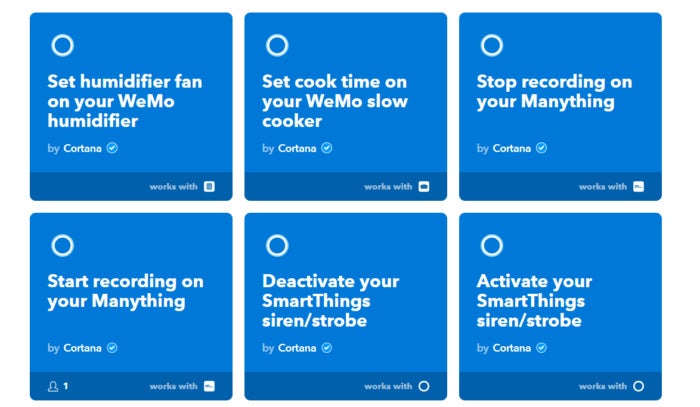 To help you get started, Microsoft and IFTTT published a list of suggested recipes (also known as Applets) on a dedicated Cortana channel, which you can download and apply.
More importantly, IFTTT support also adds capabilities to Cortana that Microsoft hasn't been able to provide. One of the weaknesses of Cortana has been the relatively small number of "skills," or third-party services, that Cortana can interact with. IFTTT, a distinct platform, provides its own app interactions, widening Cortana's reach.
For example, Comcast Xfinity X1 set-top boxes added notification support from IFTTT in 2015, with interactions from Jawbone, Gmail, and other service providers. With IFTTT support now connected to Cortana, I can send a quick notification from my office to our home TV screen just by speaking to Cortana. (You'll have to ensure that the Comcast Labs feature is turned on on your X1 set-top box.) It's a small thing, certainly, but it helps elevate Cortana's profile.
What this means for you: IFFTT and expanded smart-home support won't bring Cortana up to par with Alexa or the ecosystem of Google Home-powered devices. But enabling a wider range of smart-home controls and intelligence via your Windows PC or mobile phone is a necessary step.