At a Glance
Expert's Rating
Pros
2.1 amps of charging power
Two USB ports
Super easy to install
Cons
2.1 amps is shared between the two USB ports
Incompatible with GFCI outlets
The bulge at the bottom of the cover restricts use of the outlet above it
Our Verdict
Two USB ports are better than one, but charging two devices at once can be a slow process.
Best Prices Today: USB Charger 2
SnapPower is back with yet another clever outlet cover. This time, the company comes full circle with an updated version of its USB charger, the SnapPower USB Charger 2. What's new about it? It's a 2.1-amp charger this time, and it's outfitted with two USB ports—one on each side of the plate.
Before you get too excited, though, know that both USB ports share that 2.1 amps. That's not enough juice to fast-charge any single device, and when you plug in two devices, each will only be able to draw around 1 amp each. I plugged in my Samsung Galaxy S6 Active smartphone into the left-hand of charger with a good-quality Belkin USB cable and used the Android app Ampere to measure the net current flowing into the phone's battery (some current is used to operate the phone and whatever processes are running on it, but Ampere does not measure that consumption).
What Ampere does report is an average value from 50 measurements over a 10-second period, minus the 10 highest and 10 lowest values. The developer admits that its app isn't scientifically accurate, but it's close enough for this purpose. While charging just the phone, Ampere reported that an average of 1,010mA of current was flowing to the phone's battery (peaking at 1,720mA). When I plugged a 4th-generation iPad into the SnapPower's second USB port, Ampere reported that 320mA of current was flowing to the phone's battery. A similarly named iOS app—Ampere Test—from a different developer reported that just 192mA of current was flowing to the iPad.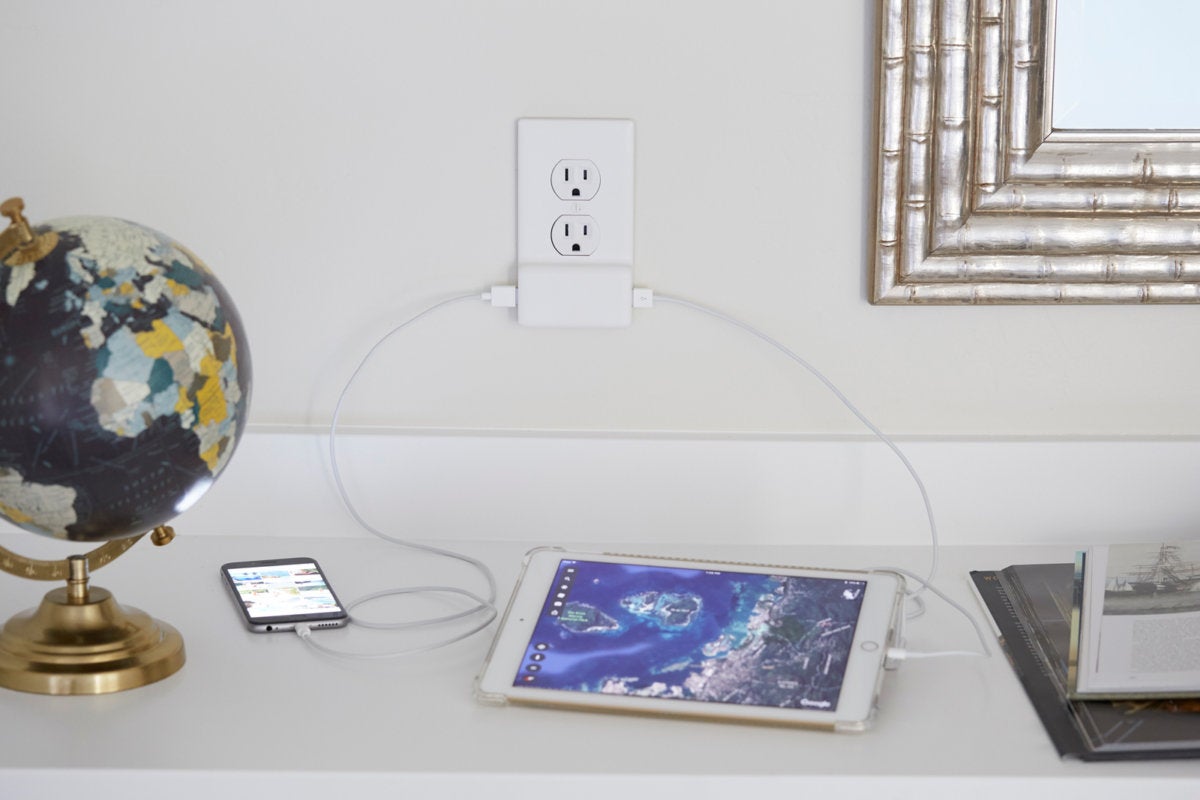 The USB Charger 2 is just as easy to install as SnapPower's other outlet covers, with two arms that extend from either side of the cover. Copper contacts on those arms draw electricity from the outlet's screw terminals. I once again ignored the manufacturer's recommendation to turn the power off to the outlet before removing the old cover and installing the new one. And once again, I'll say that it's smarter to follow the manufacturer's instructions than it is to follow my example. There is a chance of getting shocked—or worse—installing one of SnapPower's covers on a live outlet (or switch, as the case may be).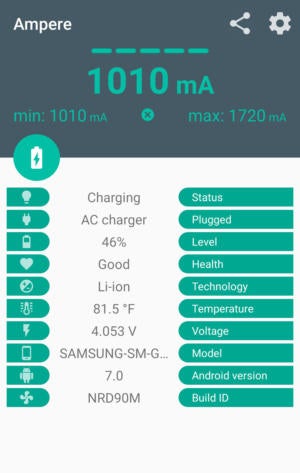 SnapPower recently shipped a new version of its LED-equipped GuideLight—the GuideLight 2 Plus for GFCI Circuits—that can be installed on GFCI outlets, but the USB Charger 2 doesn't have that feature. If your home is wired according to modern electrical code, that could mean you won't be able to install it in your kitchen, bathroom, laundry room, garage, or other areas where there might be wet conditions from faucets and sinks.
Adding the two USB ports to the bottom of the outlet cover results in a slight bump that might prevent you from plugging a wall wart into the bottom outlet. I had trouble with an angled flush-mount plug from a surge protector—I had to plug it into the upper outlet. But drawing current from the regular plugs didn't diminish the current flowing to the USB ports.
A conventional wall wart will charge most any device faster than the SnapPower USB Charger 2 can, but you'll never need to look for one with this cover on your outlet. I can't say the same about a USB cable, though. Maybe SnapPower's next iteration will include a retractable one.
Best Prices Today: USB Charger 2