At a Glance
Expert's Rating
Pros
Flex zones allow you to loosen or tighten the headphones' neckband
RunSafe blinking LED helps keep you safe during nighttime or low-light activities.
Fast charging.
Cons
Magnetic ear bud feature doesn't work all that well.
Neckband doesn't fit well with collared shirts.
Ear tips might not create a good seal for every consumer.
Our Verdict
JBL's UA Sport Wireless Flex headphones' adjustable neckband, RunSafe LED safety light, and solid sound are just some of the reasons why these headphones are a perfect companion to any active lifestyle.
Best Prices Today: Under Armour Sport Wireless Flex
JBL and Under Armour are at it again, joining forces to produce this new wireless sports headphone, the UA Sport Wireless Flex. It's a neckband design, where the left and right earbuds connect to a neckband that houses all the electronics and controls.
The headphones come with either winged or wingless ear tips. The pre-installed winged tips are outstanding. They kept the headphones securely attached to my ears at all times. They never fell out once during my tests. For me, the ear tips provided a good—but not excellent—seal, which reduced some of the headphone's bass response.
Innovative features
If you don't like your earbuds to dangle when they're not in use, JBL has a smart solution: The back of each earbud is magnetic. Touching them will lock them together. The magnetic hold isn't very strong, however, and I found that they separated all too easily. I liked the concept, though, and suggest that JBL include a stronger magnetic hold in a future upgrade.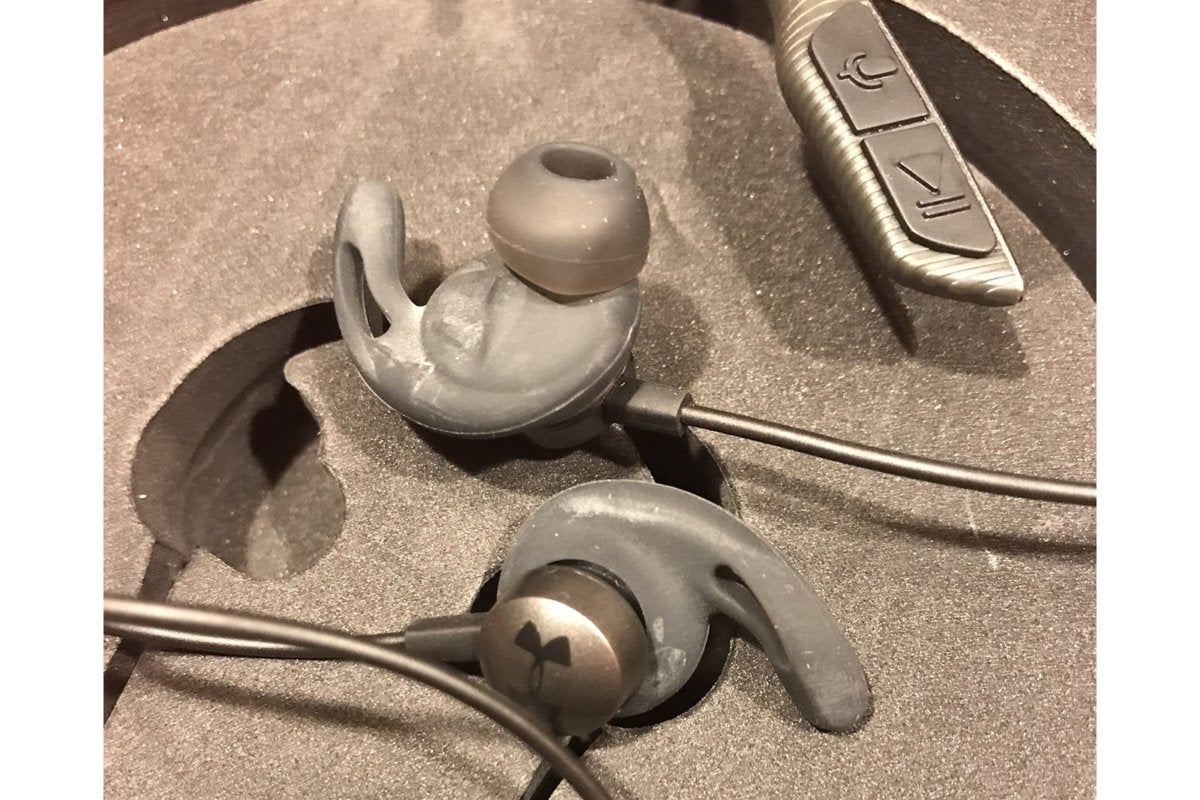 Two bendable areas on the neckband—dubbed flex zones—allow you to adjust its fit around your neck. You can bend the neckband for a more snug fit or spread it back to a neutral position for more comfort. JBL doesn't recommend bending the neckband's flex zone out past neutral.
Adjusting the neckband tighter is great for highly active occasions where you want to minimize the possibility of the neckband sliding off. The flex zones worked well in my testing, but I ultimately found that the neckband was best suited for collarless sports shirts or tank tops. If I tried to wear the UA Sport Wireless Flex with a collared dress shirt and coat, the neckband would sometimes slide backwards or turn to one side. You might find that these headphones are best dedicated to your athletic wardrobe as opposed to formal office wear.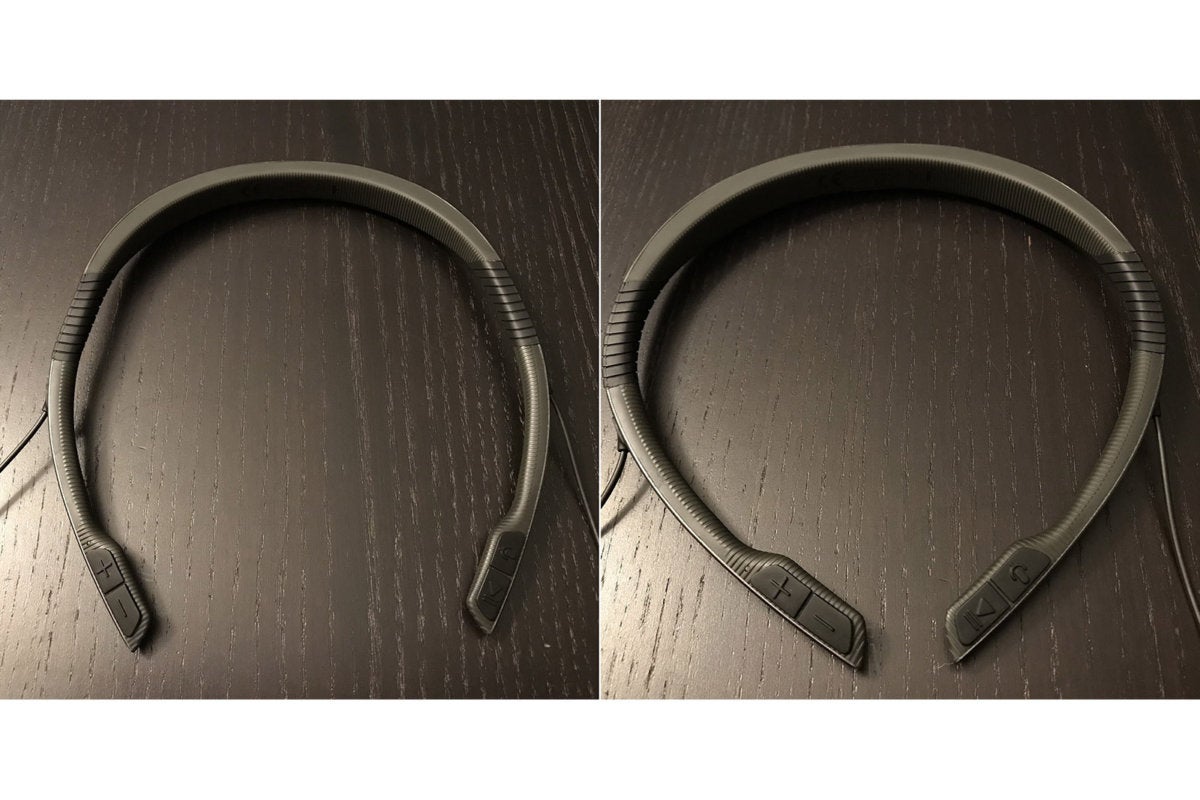 If the UA Sport Wireless Flex's batteries run out, there's no way to use them passively like a traditional headphone. Thankfully, these headphones will deliver an hour's worth of playback with just a five-minute charge. A full charge takes two hours and will give you close to 12 hours of playback. A status light on the neckband's right arm alerts you when the battery is low.
The headphones come with a free 12-month premium membership to Under Armour's Map My Run online service. The downloadable iOS or Android mobile app, which is also available for Apple Watch, helps you track, manage, and share your fitness data.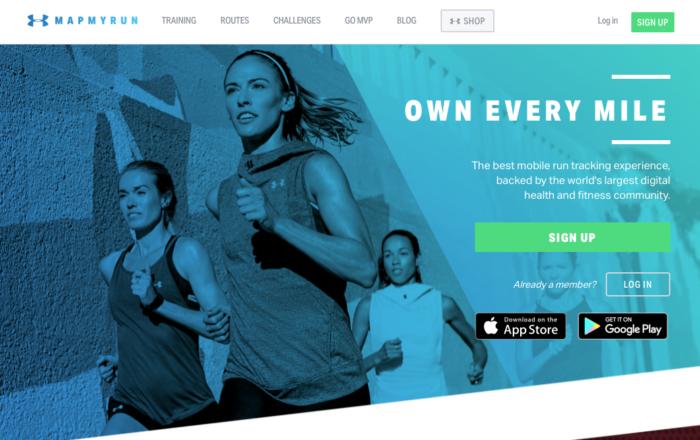 The headphones don't come with any active noise-cancelling or adaptive noise cancelling features.
Rugged and sweat resistant
The headphones lack a formal IPX water rating, but JBL says an advanced nano coating renders them sweat resistant . The micro-USB charging port, located on the back of the headband, is firmly and tightly sealed with a flush rubber cap. You'll need to exert a bit of effort to pop it open, but it gives you the confidence that sweat and moisture won't get into the charging port when the cap is sealed. A micro-USB charging cable is included, but you'll need to provide your own AC adapter.
Easily accessible controls
The UA Wireless Sport Flex's rubber-covered controls are located on tips of each arm. The neckband's right arm has volume-up and -down buttons, which do double duty as track forward and reverse. Holding one of the buttons down for more than two seconds activates the button's secondary function, while a quick press performs the primary function. Pressing and holding the microphone button on the neckband's left arm will call up Siri or Google Now.
A smart safety feature for low-light activities
Pressing the microphone button once activates RunSafe, a safety feature that's intended to increase the likelihood of people seeing you in low light conditions. I found RunSafe to be extremely smart.
Enabling RunSafe turns on a flashing LED safety light located on the back of the headphones. The RunSafe LED has three flashing modes. You cycle though them by pressing the microphone button. An audible beep through the earbuds let's you know if RunSafe is active or off.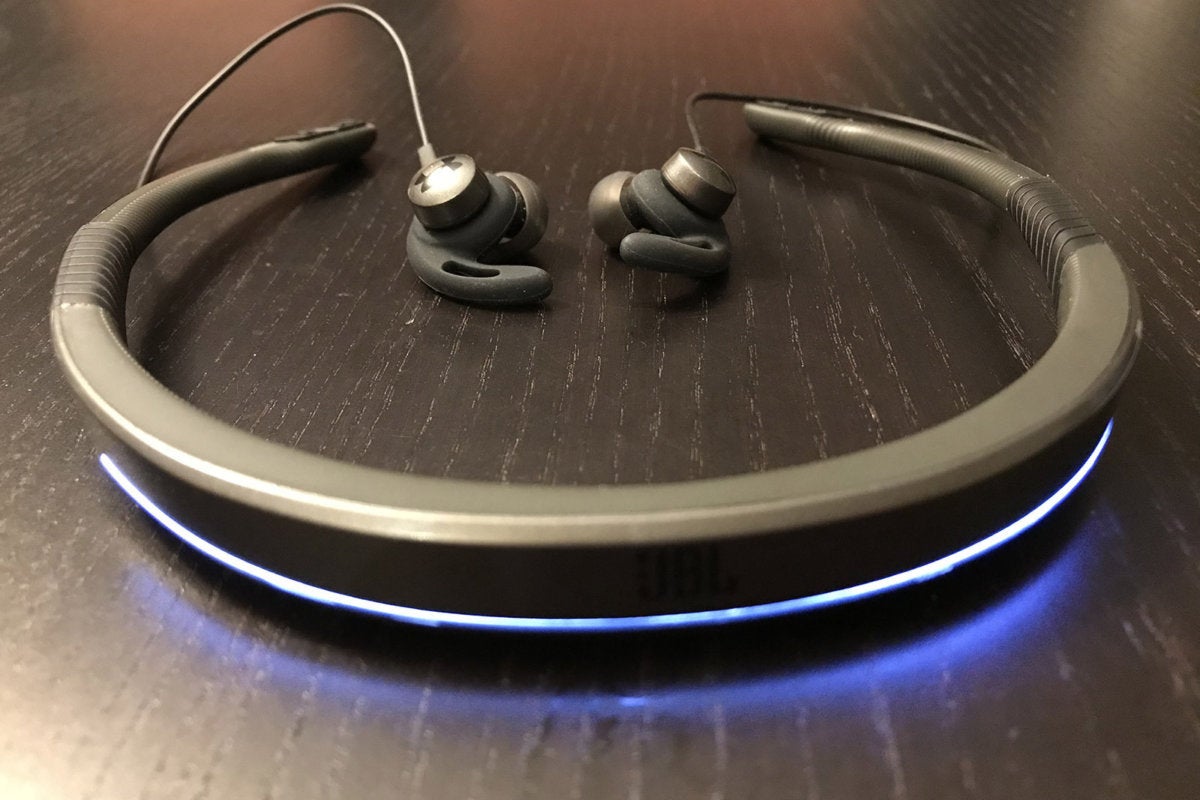 I tested the LED in darkened indoor and outdoor environments. While the blinking LED on the back of the UA Sport Wireless Flex is visible, it's not incredibly bright. If you like to run at night, I would consider RunSafe an additional part of any safety strategy and combine it with traditional reflective safety gear.
As a quick note: Because you yourself can't see the blinking LED, there's a chance you might forget that you've turned it on. I did. It made for quite a laugh at the end of dinner one evening when my friends were wondering why the back of my neck was flashing.
Solid performance for any workout
I tested the UA Sport Wireless Flex with an iPhone 7. Pairing was flawless. As I mentioned previously, the earbud's winged enhancers did a great job of keeping the headphones in my ear, but the included tips didn't quite give me a tight seal. One of the biggest impacts of a less-than-perfect seal with in-ear-headphones is reduced bass response. Therefore for me, the JBLs delivered very good, but not outstanding, bass.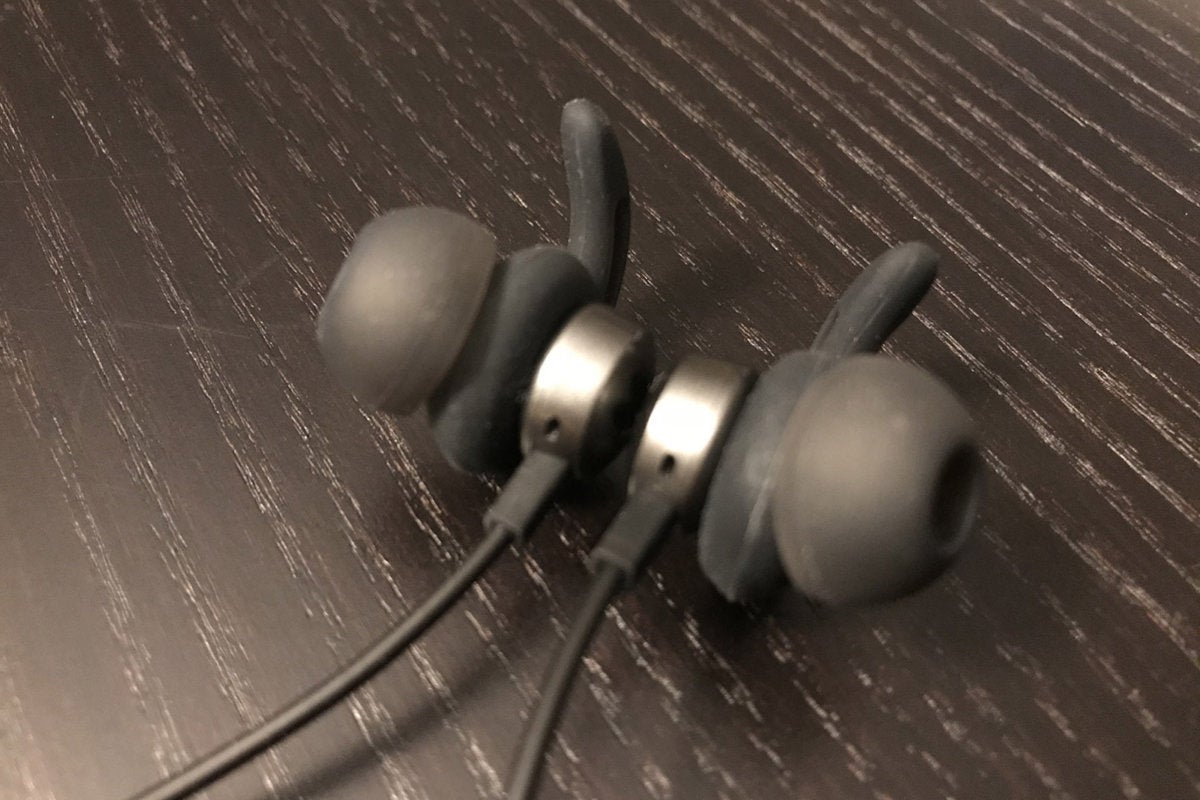 The typical UA Sport Flex Wireless will probably want to jam to some music as part of a workout or catch up on news shows or podcasts. With that in mind, the UA Sport Flex Wireless will certainly satisfy. Vocals and dialog are clean and give a nod to JBL's sonic pedigree, where midrange is typically a strength. And, when you want to really get in the zone, these headphones will do a decent job of getting you pumped up with good dynamics.
A smart choice for active consumers
I really enjoyed my time with the UA Sport Flex Wireless headphones. You might find smarter wireless headphones on the market, but you'll be hard-pressed to find a more practical sports headphone. The neckband design with integrated flex zones worked extremely well during workouts, and the LED safety light is a smart idea for those who like to work out early in the morning or late at night. If you'e looking for a great pair of wireless headphones to serve as your workout companion, and you love JBL's sonic signature, then the UA Sport Flex Wireless headphones are a proverbial no-brainer.
Best Prices Today: Under Armour Sport Wireless Flex