At a Glance
Expert's Rating
Pros
5MP Super HD resolution
100 feet of night vision
Strong protection from vandals as well as the elements
Cons
Dome style design may be too obstrusive for indoor use
Requires either a microSD card or an NVR for video storage (neither are included)
Our Verdict
The Reolink RLC-422W is a great option as a single camera or part of a larger surveillance system.
Reolink has been on a roll lately, turning out uniformly solid and affordable security cameras. The RLC-422W ($109.99 at Amazon) continues that winning streak. It's marketed as an indoor/outdoor camera, but it's hard to imagine bringing it inside your home. This is a dome-style unit like the type you see dotting the ceiling of your favorite big-box store, and though that will likely ward off unwanted visitors who see it spying from your garage overhang, it might have the same effect on guests if you mount it in your living room.
That said, you can deploy it anywhere outside your home that power is available without worrying about damage. It has an IP66 waterproof rating and an IK10 vandal resistant rating, making it fairly impervious to the abuse it might face from a human or Mother Nature. More specifically, an IK10 rating means the camera is protected against a 5-kilogram (11 pounds) object dropped on it from a height of 40cm (15.7 inches).
Rather than a fixed viewing angle, like most cameras have, the 422W's varies from 33 to 98 degrees. It also has a has a pixel resolution of 3072×1728, four-and-a-half times the 1080p resolution seen on most DIY security cameras. The camera is studded with 24 infrared LEDs that provide a whopping 100 feet of night vision. It also supports 2.4-/5GHz dual-band Wi-Fi courtesy of a pair of 2T2R MIMO antennas, meaning it's less likely to lose its network connection at an inopportune moment.
The 422W will alert you to any activity it detects via push notification or email, and it will record video of the event. These videos are saved to an onboard microSD card (up to 64GB capacity, but not included). If you have multiple cameras or want to record 24/7, you'll want to purchase one of Reolink's two NVR (network video recorder) security systems. A model supporting up to eight cameras goes for $250, while a 16-channel model retails for $350.
Setup and usage
Whether you use the 422W inside or outside your home, setting it up requires some time and tools. First you'll need to connect it to your network. I did this over my LAN; a "tail" extending from the back of the camera includes an ethernet port, AC power jack, and a reset button, so I just plugged it into a power strip and hardwired it to my router and the Reolink companion app instantly recognized and added it. Alternately, you can add the camera wirelessly by scanning a QR code the app serves up.
Next you'll need to drill holes into a wall, ceiling, or other structure—a mounting template is included to help you with the hole placement—and then insert the supplied anchors. Then you have to remove the dome from the camera—a wrench is supplied for this step—take out the mounting screws, place the camera where you want it, and reinsert the screws through the camera holes into the wall anchors. The final step is to loosen the screws on either side of the camera and adjust it to the angle you want, then re-attach the dome.
The supplied mounting instructions seem to assume you have easy access to an electrical outlet even outside, though. If you're not so lucky, you'll also need to plan a way to thread the power cord back into your house to an indoor outlet, whether through an open window or by boring another hole through home's exterior. If you'd rather pull an ethernet cable to the camera's location, Reolink offers a second model, the RLC-422 ($99.99 at Amazon) that can operate on power over ethernet (PoE), but you'll need a power injector at the opposite end of the cable (a PoE switch would also work).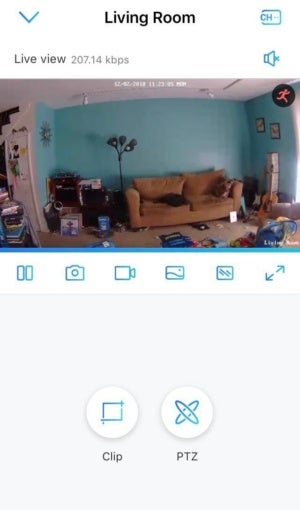 Once you've completed that labor, you can start watching the camera's live feed on your smartphone. Controls for zooming, focusing, taking video and snapshots, and turning the feed on and off are cleanly laid out on the app's home screen. Settings for resolution, notifications, and motion detection are intuitively categorized in a separate device menu.
The 422W's video quality is excellent. Is it over four times as good as Full HD as Reolink claims? For the most part, I didn't see that dramatic a difference. Where the extra pixels had the most impact was when using the 4X optical zoom to close in on an object—there was virtually no loss in quality, which is certainly a plus if you're trying capture a license plate number or someone's facial features for forensic evidence. Night vision was also great, providing enough illumination to easily light up a driveway or side yard at night.
Mentioned in this article
Nest Cam Outdoor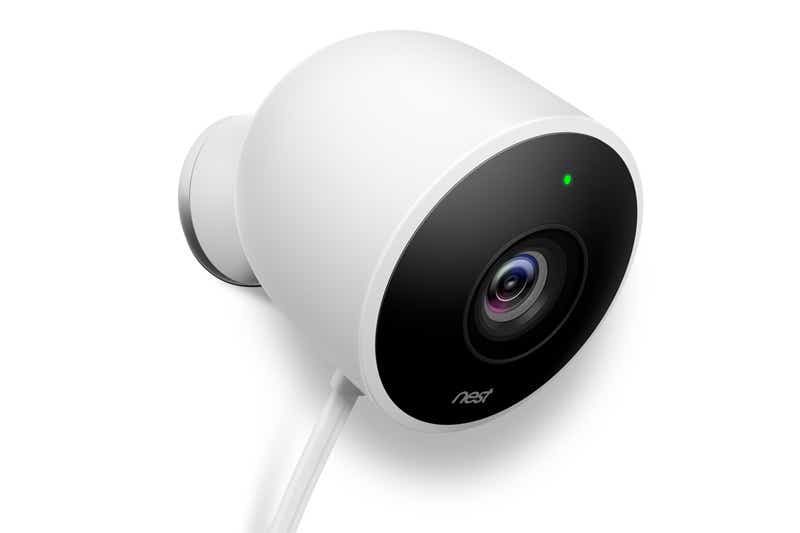 Price When Reviewed:
$199.00
Motion detection was responsive without too many erroneous alerts. It helps that you can set different motion sensitivity levels for different times of day. The Reolink app divides the day into four six-hour blocks and uses sliders and color coding to help you calibrate the detection to the levels you want.
You can fine-tune motion detection further by setting detection areas. This can only be done using the desktop client, however, and it uses the common method of highlighting monitoring areas on a grid overlay. The camera will then only alert you to activity in those designated zones. Living in a multi-unit complex, I found this handy for monitoring the carport area—I could monitor activity around my vehicle and ignore it around everyone else's.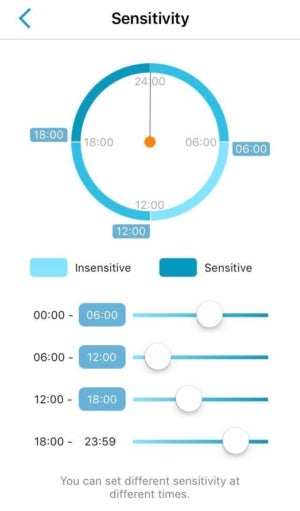 Should you buy the Reolink RLC-422W?
If you don't mind drilling a few holes in your home, the 422W is an excellent choice for an outdoor camera, whether you just want to monitor a single area or set up a security perimeter around a larger property with several cameras. If the latter is your goal, you'll definitely want to also purchase one of Reolink's NVRs and get familiar with the desktop client, both of which make it easy to add and manage multiple cameras as your surveillance needs grow. If you're an apartment renter or just want a more plug-and-play solution, the Nest Cam Outdoor will give you some comparable specs and is a whole lot easier to setup.
As an indoor camera, the 422W's conspicuous design and demanding setup requirements don't really jibe with what most home-security DIYers are looking for. If you're in this camp, camera's like the Neatmo Welcome or the D-Link Omna 180 Cam HD are simpler to set up and make more of an effort to blend in with your decor and conceal themselves from both guests and intruders.