At a glance
Expert's Rating
Pros
DVR has helpful ad-skipping features
Easy to find your favorites and recently-watched shows
Integrates well with Fire TV, Google TV, and Apple TV devices
Cons
No sports, major cable news, or local broadcast channels
Channel guide layout is disorienting
No surround sound or adjustable streaming quality
Our Verdict
Philo's bundle of non-sports channels is reasonably priced and easy to navigate. You won't get sports coverage or cable news, but that's good news if you don't care about those features, because you're not paying for them.
Best Prices Today: Philo
While most live TV streaming services try to be all things to all people, Philo takes a different approach.
For $25 per month, you get a big bundle of cable TV channels that are squarely focused on general entertainment. If you're looking for sports, cable news, or local broadcast channels, Philo isn't for you.
But for those who don't care about such things—or have other ways to get some of that content—Philo carves out a strong niche with a hefty dollop of comfort food TV, combined with a simple interface and helpful DVR features. As other live TV services become more bloated and expensive, Philo's approach is a refreshing change of pace.
What's included with Philo?
Philo includes more than 70 live TV channels, a full list of which can be found on the company's website. Its main draws are the channel portfolios of Discovery (including HGTV and Food Network), Viacom (including Paramount Network and Comedy Central), AMC, and Hallmark.
This review is part of TechHive's in-depth coverage of the best live TV streaming services.
More notable are Philo's omissions. There are no local or live sports channels, and because Philo doesn't partner with Disney or NBCUniversal, you won't find any of their channels in the lineup—not even general entertainment ones like Bravo or FX.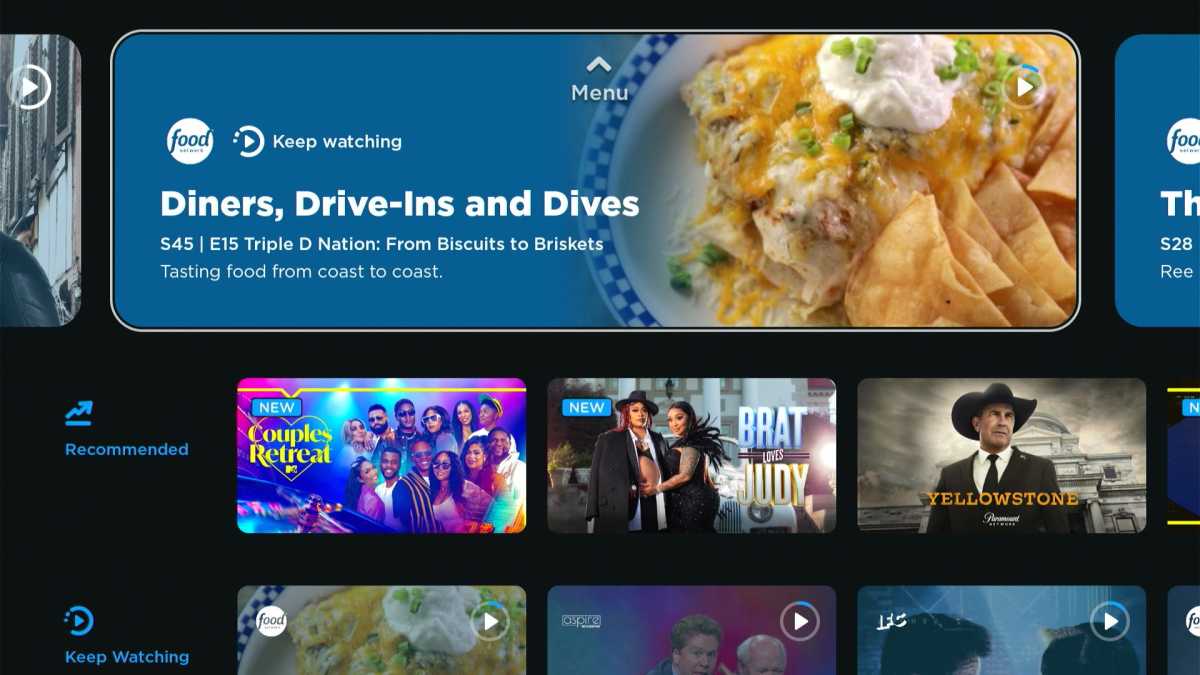 Jared Newman / Foundry
A quick bit of inside baseball: Thanks to endless industry mergers, there's been some question as to whether Philo can continue offering such a skinny channel bundle. Discovery, for instance, merged with WarnerMedia last year, and Viacom merged with CBS in 2020. For now, though, those companies haven't forced their full channel lineups into Philo as they do with other TV providers. Here's hoping that arrangement holds.
Also worth noting: Although Philo has raised prices twice since its launch in 2017—first from $16 to $20 per month, then to $25 per month—it has allowed existing customers to keep their existing pricing. That's unusual for any pay TV service, and Philo deserves praise for doing right by its loyal customers. (Let's hope that arrangement holds in the future as well.)
How does Philo's DVR work?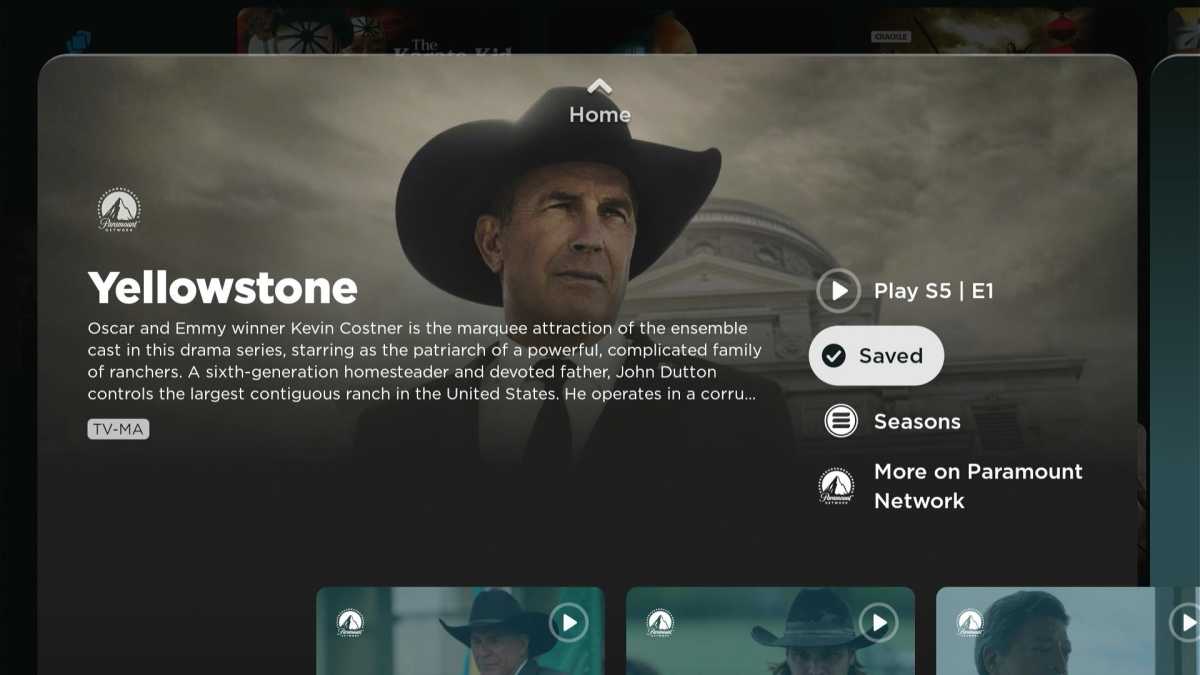 Jared Newman / Foundry
Like other live TV streaming services, Philo offers a cloud-based DVR that lets you access recordings across any device. You can record an unlimited number of programs, which Philo saves for one year after their air date.
For recorded programs, Philo has no restrictions on ad-skipping, and it goes further than other live TV streaming services in helping you avoid commercials. Ad breaks are marked in Philo's video player, and if you click your remote's fast forward button during a commercial, Philo skips all the way to the end of the break.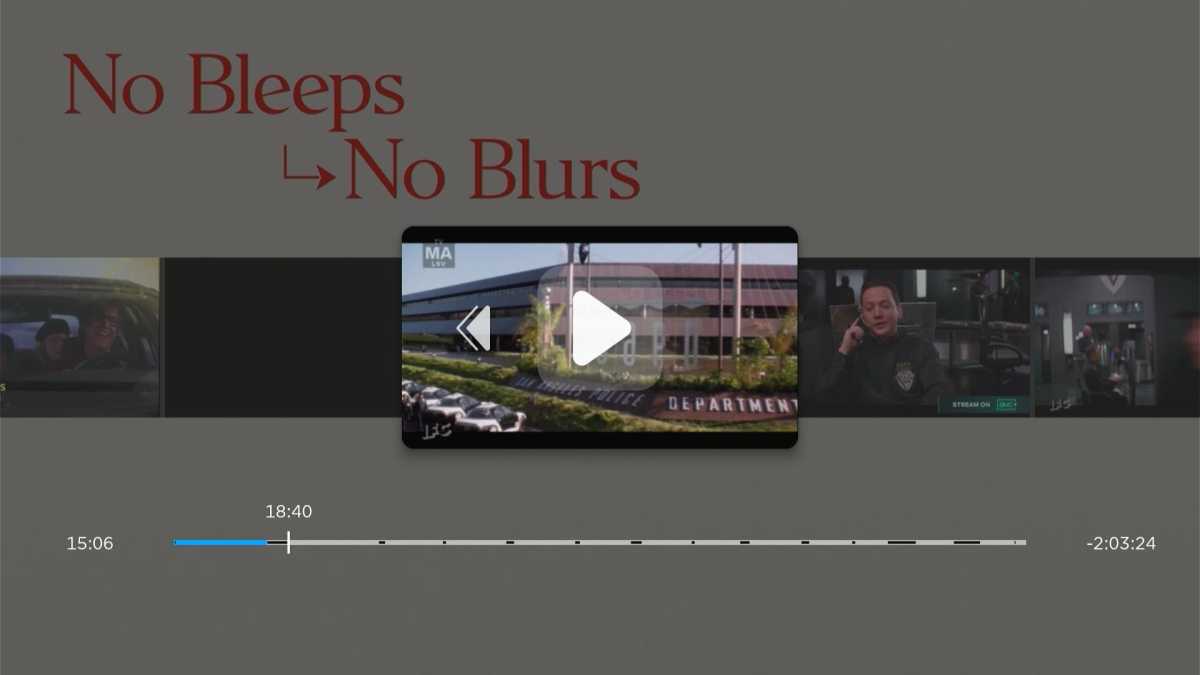 Jared Newman / Foundry
Still, Philo's DVR has limitations that might irk some cable converts. For TV shows, recording is an all-or-nothing deal—you can't record individual episodes or avoid reruns—and there's no way to delete individual episodes.
In fact, clicking "unsave" on an individual episode will wipe out all your recordings for that show without any warning. Between that and the lack of a "mark as watched" function, you might have trouble remembering which episodes you've already seen, especially if you've watched them outside of Philo.
Philo's simultaneous streams and profile support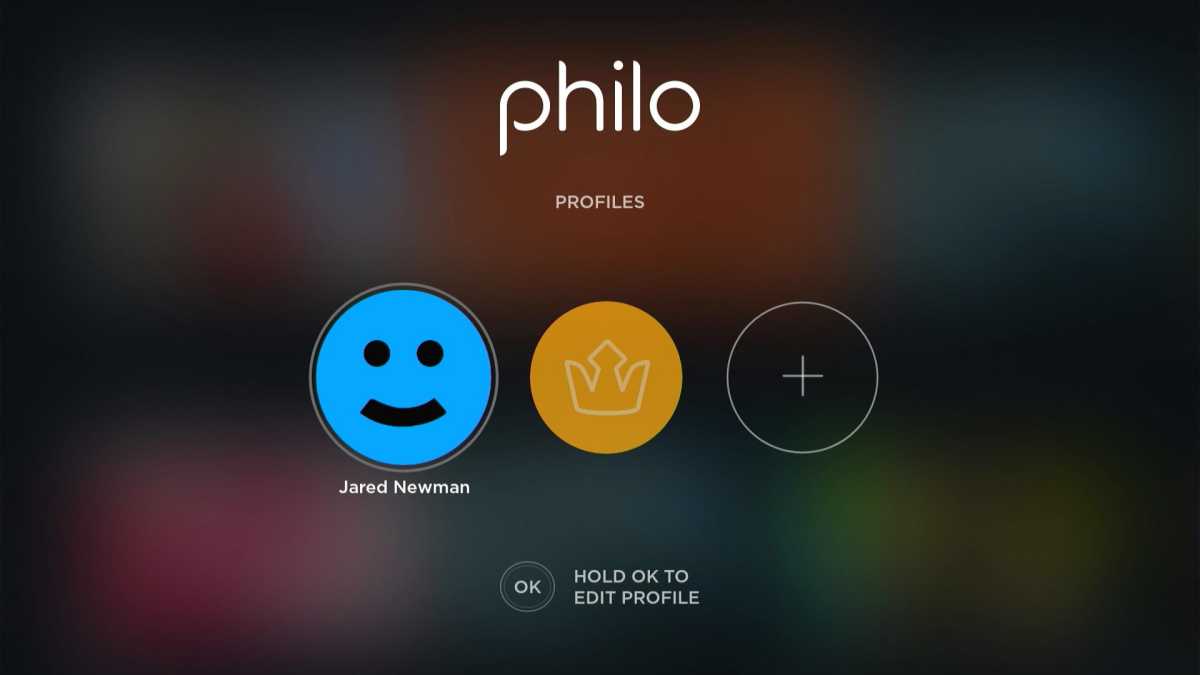 Jared Newman / Foundry
Philo allows users to stream on up to three devices at the same time, with no limit on how many total devices you can set up. The service also supports up to 10 user profiles, each with its own favorite channels, recommendations, and DVR recordings.
With other live TV streaming services, this section of the review tends to be longer. That's because local broadcast and sports rights have their own complicated restrictions on where you can watch. With Philo, the service works exactly the same way from anywhere in the United States. (Like other live TV services, you can't access Philo from overseas.)
Philo device support
Jared Newman / Foundry
Philo's app is available on Roku, Fire TV, Android TV/Google TV, Apple TV, Samsung TVs, Chromecast, iOS, Android, and the web.
Some of these devices also have unique features that make Philo easier to use. On Fire TV, for instance, Philo channels appear in the "Live" tab on the home screen, and you can use voice commands on the remote to jump directly into live channels. Similar features are available on Google TV devices, such as the new Chromecast.
Philo also integrates with Apple TV's universal guide (known as the "TV" app), so you can view recommendations through the home screen and launch channels by voice.
The Philo viewing experience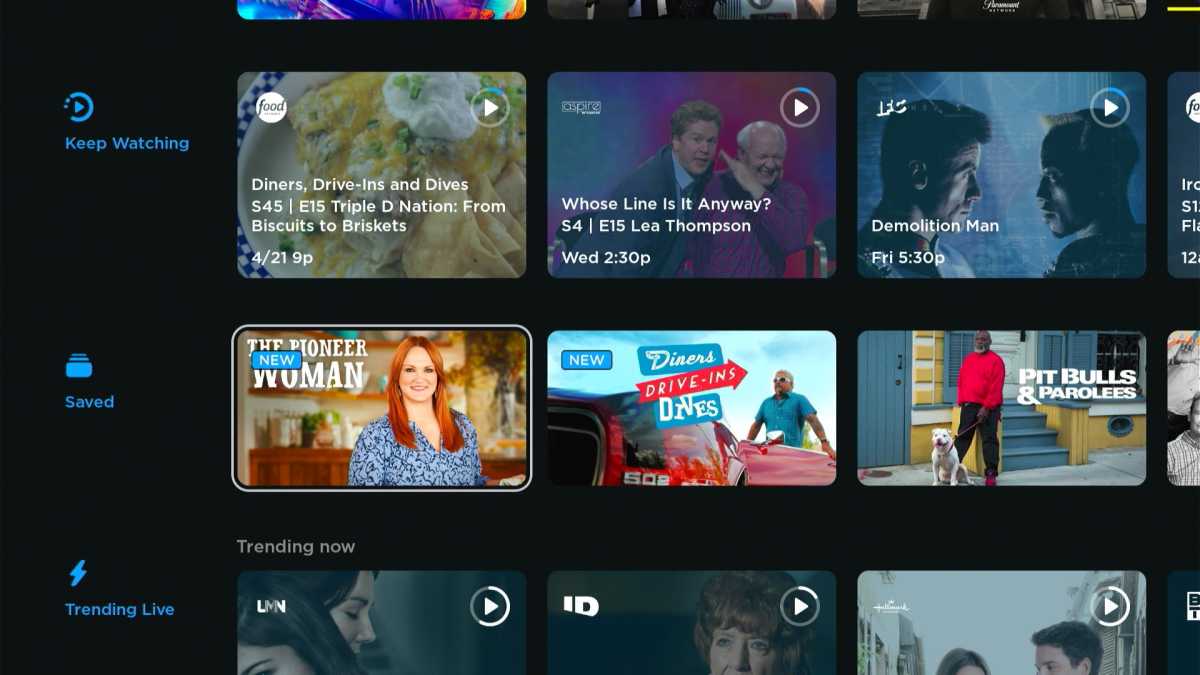 Jared Newman / Foundry
From Philo's home screen, you'll find suggestions on things to watch, including quick access to recently saved programs and a "Continue Watching" row, so it's easy to pick up where you left off.
Scrolling up from the main screen reveals four more menu tabs, including a grid guide, a list of top shows from each channel, your "Saved" list, and a rudimentary search function. (The latter covers show and channel names, but that's it.)
The most unusual element here is Philo's channel guide. Instead of displaying all channels on a single time schedule, Philo uses equally-sized thumbnails for every program, regardless of length. That means a two-hour movie takes up the same amount of space in the guide as a half-hour sitcom. Each channel then scrolls independently of all the others, so if you jump ahead to see what's on the Food Network later in the evening, all the surrounding channels will still display what's on right now.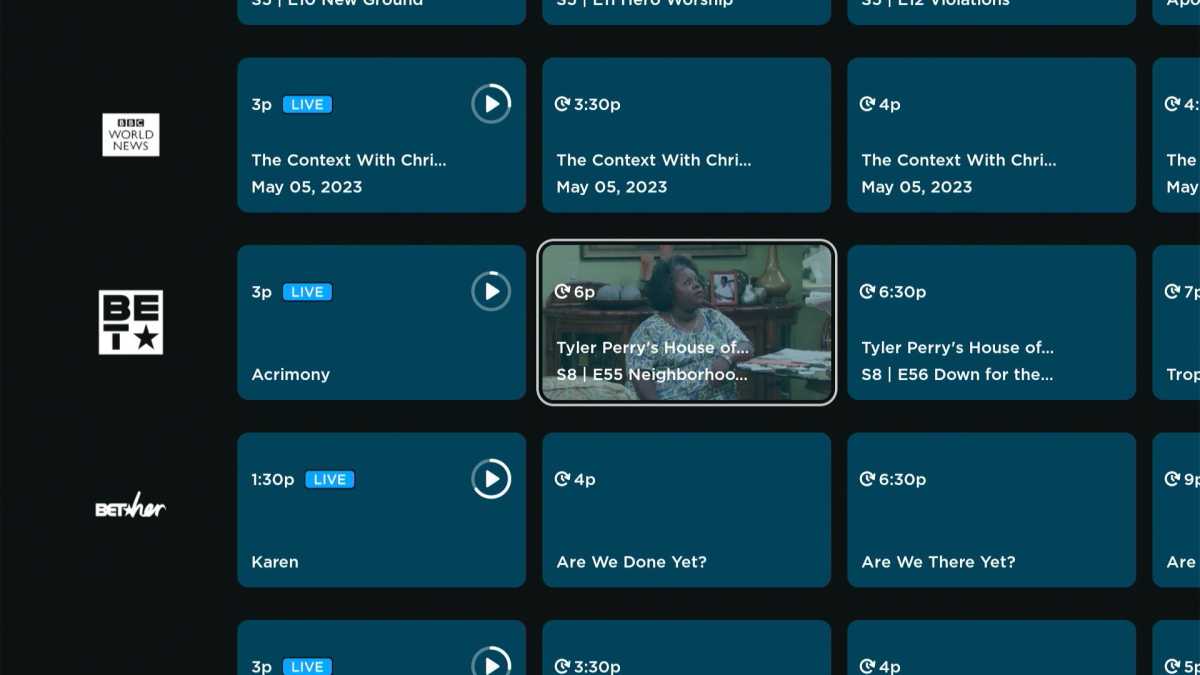 Jared Newman / Foundry
In some ways, this is more practical than a standard cable guide, because you might not care what's on all the other channels when you're looking at a particular channel's future listings. Still, the lack of visual cues for program length is disorienting and can take getting used to.
Philo's "Saved" list fares better. Click on a show, and you'll get a list of its recordings and on-demand videos. Only the former lets you skip through ads, so Philo helpfully marks up recorded episodes with a "DVR" tag. It also offers a "Recordings" filter for each show, so you can see just the episodes with skippable commercial breaks. The only nitpick is that you can't easily skip between seasons when looking at the Recordings list.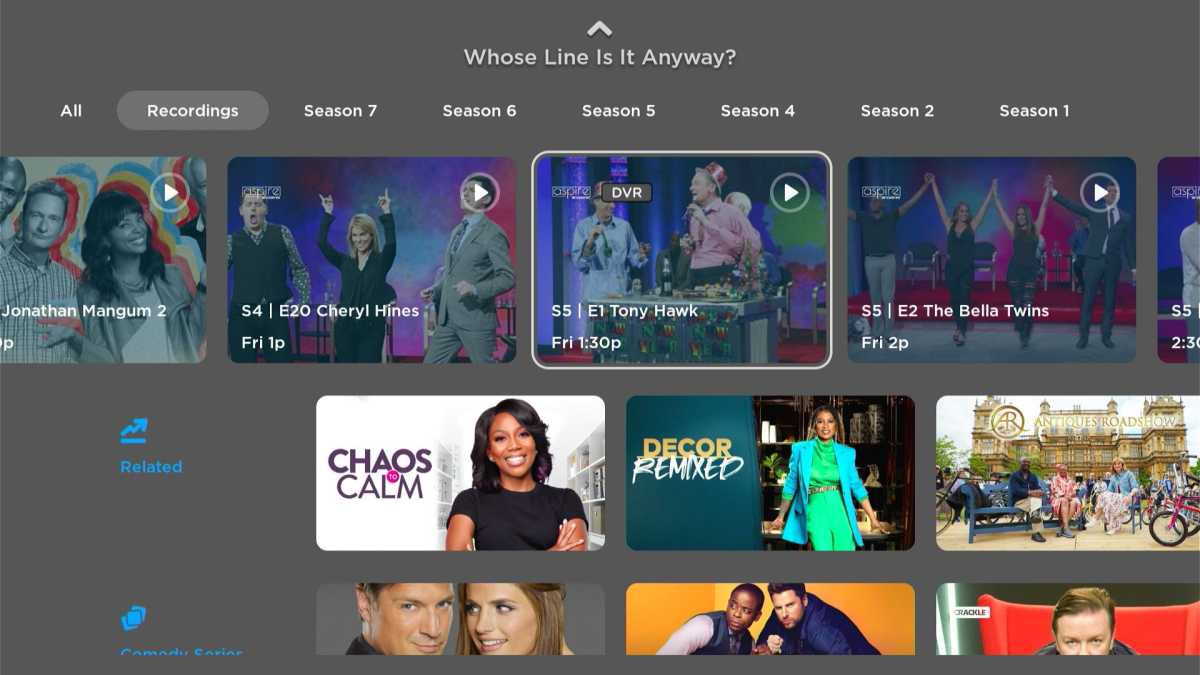 Jared Newman / Foundry
Philo streaming quality
Philo's live channels stream in 720p resolution and at 30 frames per second, with on-demand video streaming in up to 1080p. Because Philo lacks live sports and major cable news channels, its lack of smoother 60-frames-per-second video is a non-issue.
On the downside, there's no surround sound support, and you can't reduce streaming quality except through Philo's website. That could be a problem if you're trying to stay under a data cap from your internet service provider.
Is Philo worth it?
If you can live with the unusual grid guide and you appreciate Philo's channel lineup, it's a great way to get lots of cable channels for a lot less per month than big bundles such as YouTube TV ($73/mo) and Hulu + Live TV ($70/mo).
As for skinnier bundles, Philo's closest competitors are Sling TV and Frndly TV. Sling starts at $40 per month and offers more sports and cable news coverage, but still omits local channels in many markets. Frndly has an even narrower channel lineup, focused mainly on classic TV and feelgood channels, but is much cheaper with a starting price of $7 per month. (All three options, by the way, pair nicely with an over-the-air antenna for pulling in local channels. Read about TechHive's top TV antenna picks.)
All of which encapsulates what cord-cutting is all about: It allows you to save more money depending on what you're willing to give up. For those who can do without news, sports, and local channels, Philo could be just right.
Editors' note: This review was updated in its entirety on May 11, 2023. The verdict score, however, did not change.
Best Prices Today: Philo