At a Glance
Expert's Rating
Pros
High-quality security camera
Floodlights illuminate a large area
Two-way communication, pre-recorded greetings, and a 100dB siren
Cons
Can't stream a live feed to an Amazon Echo Show or Echo Spot
No neighborhood watch-like features
Industrial/insectoid looks
Our Verdict
The brand might not be as familiar, but they're not newbies. The Maximus Camera Floodlight delivers a strong set of features at a compelling price.
Best Prices Today: Maximus Camera Floodlight
Ring is the brand most people think of when it comes to floodlight cams, but Maximus (and its corporate ally Kuna, which provides the underlying technology) is trying harder to get noticed. The Maximus Camera Floodlight, first announced way back at last year's CES is finally available—and it's a compelling value.
The Maximus doesn't have an answer for every feature that you'll find in the Ring Floodlight Cam, but it offers some features Ring doesn't (I'm in the process of reviewing Ring's product). The biggest difference is in the floodlight itself. Both companies build their floodlights with LEDs, but where the Ring's are inside somewhat conventional cans, the Maximus' lights are flat rectangular panels. The large passive-infrared motion sensor that hangs down and in between the two panels like a round proboscis imbues the Maximus with an insect-like appearance.
The floodlight
The articulated lights can be adjusted left and right and up and down independent of each other. They're rated to produce 2,400 lumens of brightness, with a color temperature of a cool 5,000K. While that's less bright than the Ring Floodlight Cam's 3,000 lumens, the Maximus seemed to illuminate more square footage. I attribute that to the diffuser panels, which focus the light less than the cone shades that Ring uses.
Update: This review was originally published on January 8, 2018. We've since updated it with a video review from senior correspondent Martyn Williams.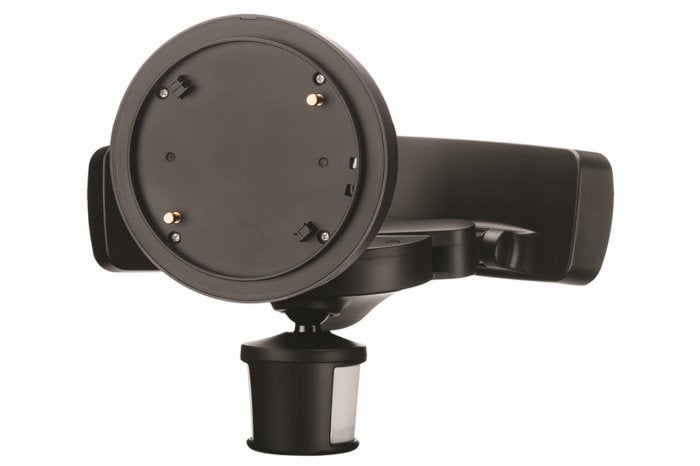 You can set the lights to turn on when the motion sensor is tripped, and you can program them to turn on at dusk and off at dawn, with separate schedules for weekdays and weekends. You can also specify times, but I don't see that being quite as useful. In any case, the light will turn off 30 seconds after motion detection (unless you've programmed it to be on, of course). If you've mounted the light near your deck, patio, or other location where you might entertain outdoors at night, you can dim the light so it doesn't make the area look like a prison yard.
The camera
The ball-shaped camera has a 155-degree diagonal field of view, and you can manually pivot it inside its socket to focus on the area you want to see, almost regardless of where the whole assembly is mounted. It captures crisp, clear video in 1080p resolution with relatively little barrel distortion at the edges. You can record video on demand at any time, but most people will rely on the motion sensor to trigger that action. The Maximus sounds a chime whenever someone comes within range of its motion sensor, which causes that person to reflexively look up at the source of the noise, instantly presenting their full face to the camera. This is a great feature, augmented by the camera's ability to start recording 10 seconds before an event is triggered.
The biggest feature that's missing—unless you sign up for a subscription, that is—is the ability to draw motion-capture zones, so that you can train the camera to ignore bushes or trees that move with the wind.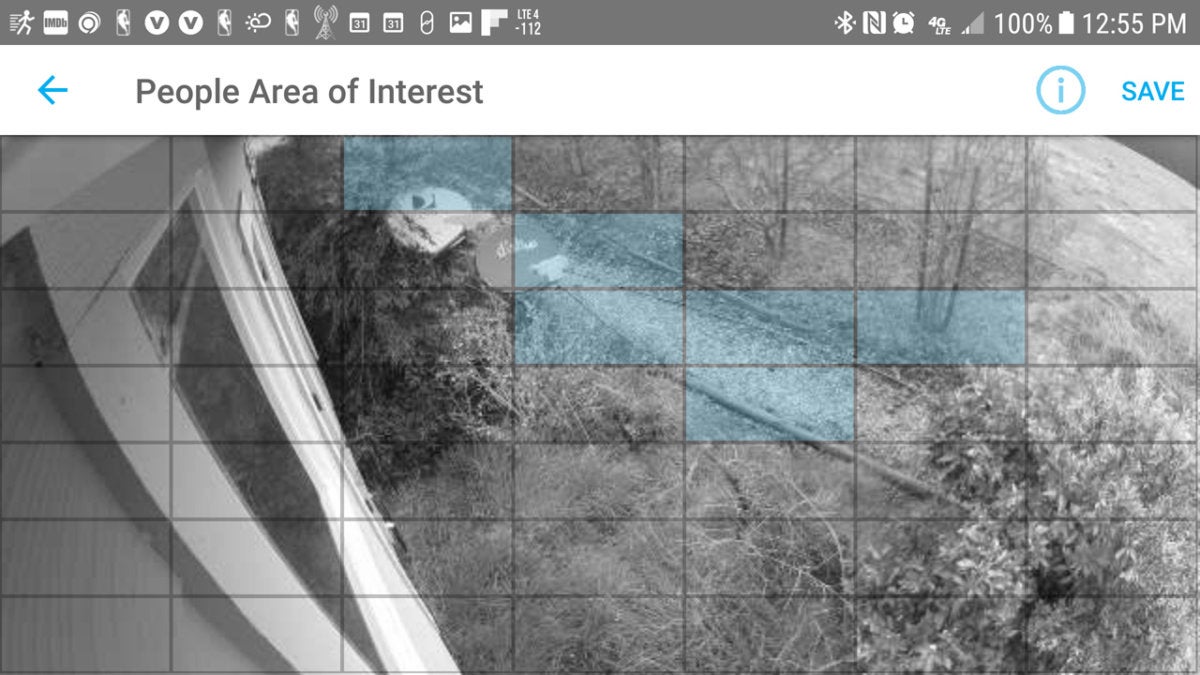 The camera is equipped with a mic and an onboard speaker, so you can communicate with anyone on the other side of the lens. You can also configure the speaker to play pre-recorded greetings (everything from "Can I help you?" to "Sorry, not interested" to "Merry Christmas" or "Happy Kwaanzaa"). If you find friendly greetings ineffective, you can change the chime to the sound of a barking dog. And if that still isn't enough to scare a potential intruder away, you can sound a 100dB siren by pushing a button on the smartphone app (the siren is not available as a default choice, in case you were wondering).
Truly optional subscription plans
The Maximus doesn't have onboard storage, but unlike many security cameras, you don't need to pay a subscription fee to download video clips from the cloud. But you'll want to anyway, because without a subscription, you're limited to a two-hour event lookback and just three downloads per month. Three plans are available via Kuna (these prices represent 33-percent discounts for paying annually): $5 a month gives you a seven-day lookback for one camera; $10 a month increases the lookback period to 14 days for up to four cameras; and the $20-per-month plan gives you a 30-day lookback window for up to eight cameras, plus a feature called Kuna AI, which I'll get to in a minute. Every subscription plan includes unlimited downloads, lifetime theft protection (if the camera is stolen, you'll get a free replacement), and a 5-, 10-, or 15-percent discount, respectively, on future purchases.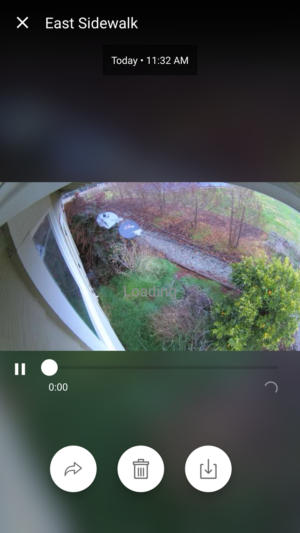 Kuna AI uses cloud computing to distinguish between humans and vehicles, and it can even inform you as to how many of each are within its field of view. You can create motion detection grids—one for people and a second for vehicles—in the Kuna app to indicate areas of the camera's field of view that should be ignored in terms of motion. But you'll need to pony up for one of its premium plans to make use of this feature (it's also available during the free trial period).
Smart home integrations
Amazon Echo users can ask Alexa to turn the Maximus's light on and off, and you can group lights together, even if they're not Kuna compatible. And you don't need to pay for a subscription to take advantage of this. For example, I created a group in the Alexa app called Outside Lights that includes the Maximus plus my front porch, back porch, and garage carriage lights (those are controlled by Leviton Z-Wave switches). I can now illuminate the entire exterior of my house by saying "Alexa, turn on the Outside Lights." I've found it even more convenient to tell Alexa to turn the Maximus light off when I go to bed (I have it programmed to turn on at dusk and off at dawn, but I don't always need it on all night).
But that's about the extent of the Maximus' voice-command prowess. You can't stream a live feed from the camera to an Amazon Echo Show or Echo Spot (you can with Ring's cameras). Maximus added Google Home support just last week, so I wasn't able to evaluate its integration. Not surprisingly, there's currently no support for Siri/HomeKit or Cortana. There are currently no other smart-home integrations either. Nor does the Maximus have an answer to Ring's Ring Neighborhoods, which allows neighbors to share video clips. You can use the Kuna app to view and manage multiple Kuna-compatible cameras, and you can apply one camera's settings—such as scheduling and lighting control—to multiple units with the push of a button.
Is the Maximus worthy?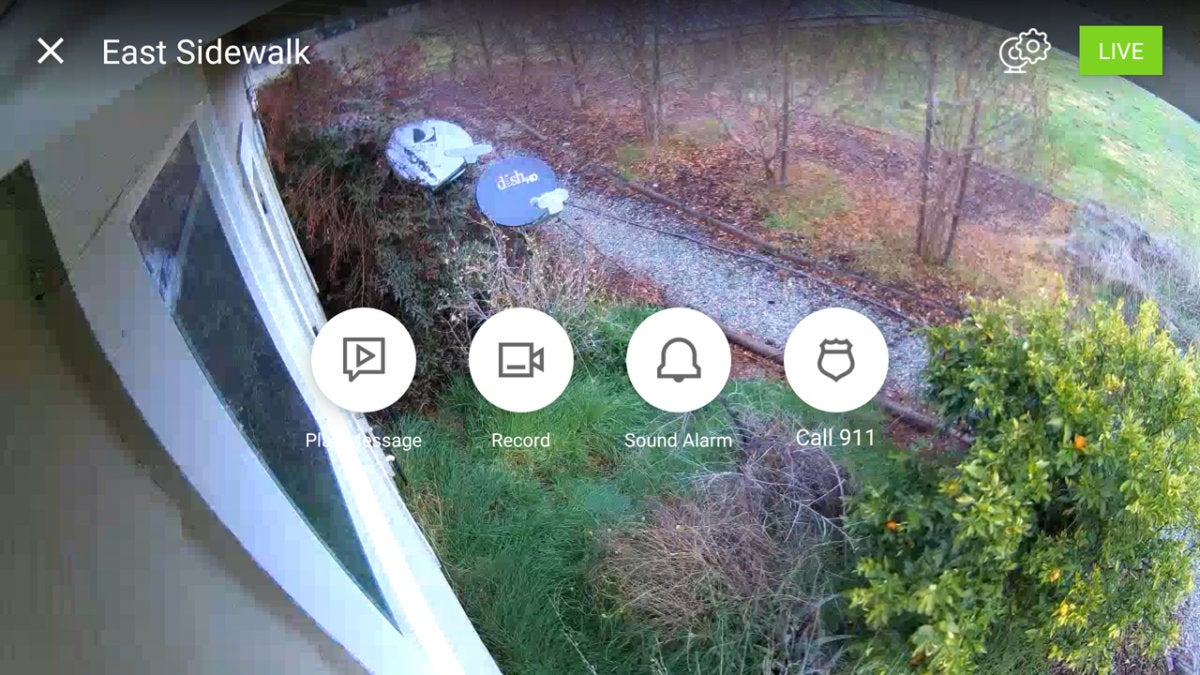 With a $249 price tag, the Maximus Camera Floodlight is a strong value. It doesn't have all the bells and whistles that Ring's offerings do, but it counters with some features—such as people and vehicle recognition—that its competitor doesn't offer. If you've already invested in Ring's ecosystem, or if you anticipate wanting a video doorbell or an outdoor camera that you plug in instead of hardwire, stick with Ring. You don't want to monitor the front door with one app and then launch a second to see what's going on at the back. But if you're buying your first outdoor security camera, the Maximus is a strong contender.
Correction: This article was updated to reflect the correct price of the Maximus Camera Floodlight and Kuna's subscription plans.
Best Prices Today: Maximus Camera Floodlight