New York became the center of the audio universe this past weekend, hosting the 2017 New York Audio Show. Three floors of the Park Lane Hotel on Central Park South were home to some of the biggest, newest, and most obscure names in audio. With gear ranging in price from a few hundred dollars to more than the cost of a house, audio bliss was within reach of all who attended–even if only temporarily.
Vinyl, vinyl everywhere
Vinyl and turntables were everywhere, but there was no turntable more unique or flexible than +Audio's The+Record Player. This all-in-one record player features a custom Pro-ject belt-drive turntable and is for the consumer who wants a high-end turntable, speakers, digital inputs, and DAC in a single, turnkey package. The on-board DAC is a fully bi-directional sound card that's capable of playing music from a USB source or digitizing your vinyl collection.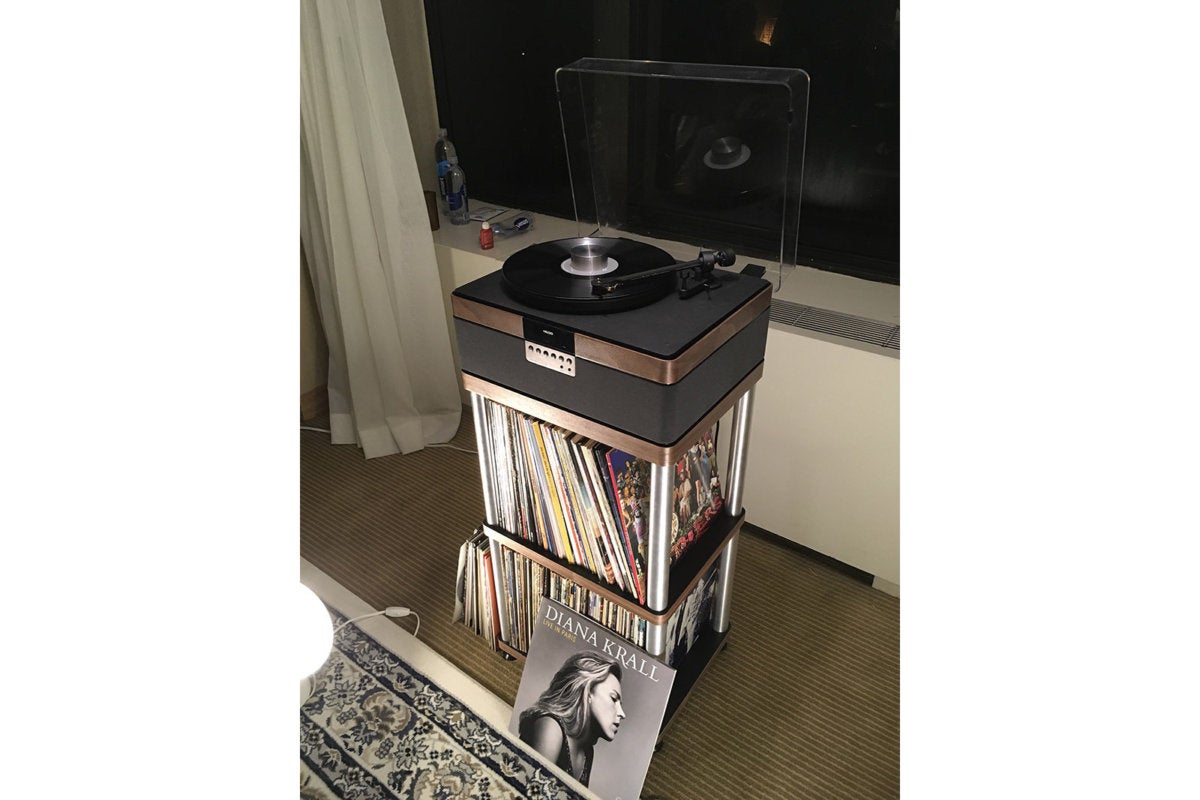 Dual one-inch soft-dome tweeters at the front and 3.5-inch aluminum inverted-dome woofers on the side of The+Record Player created incredible, room-filling sound. How room-filling you might ask? Let's just say I enjoyed watching people, one after another, disbelieve that the sound was coming from the turntable and start searching for larger speakers hidden somewhere in the room. Best of all, the built-in-speakers didn't effect vinyl playback.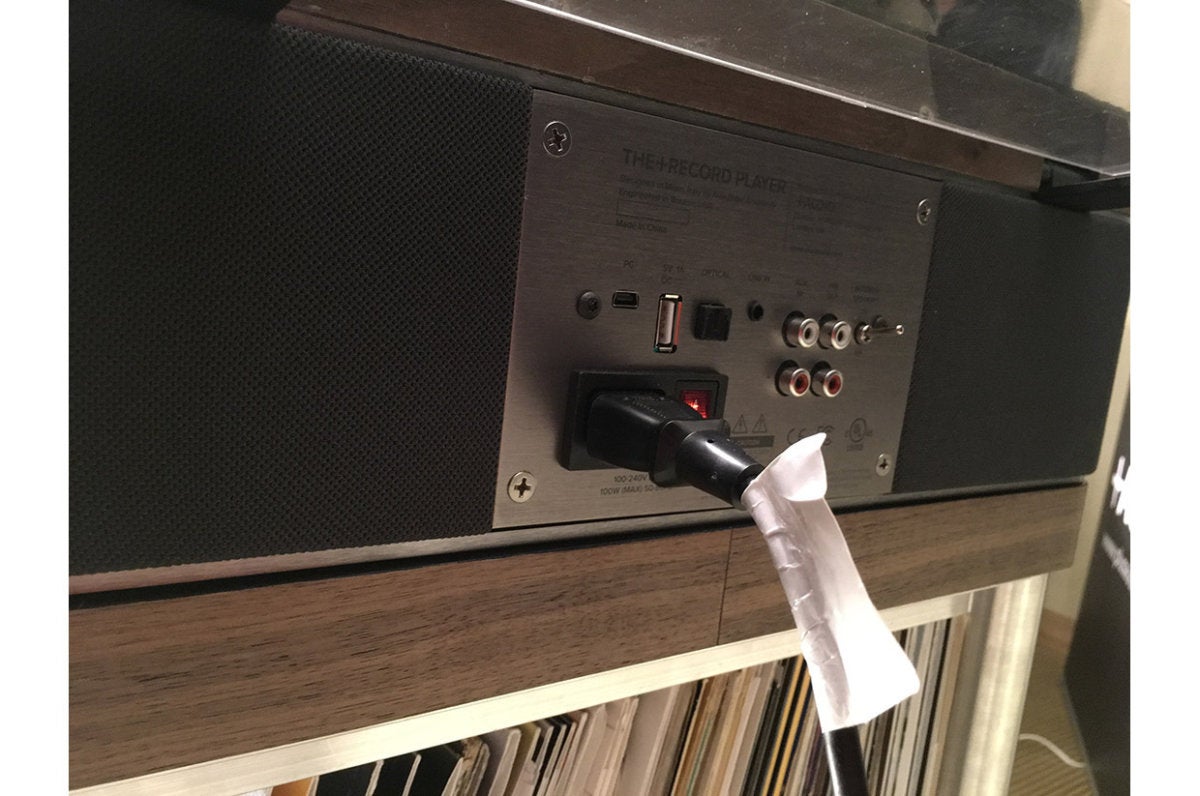 The+Record Player comes in Maple or Walnut finishes, a Pro-ject aluminum tonearm, and Orfotron OM10 cartridge for $1,199. You can opt for an upgraded Carbon Edition for $1,399 that comes with a Pro-ject Carbon tone arm and Orfotron 2M Red cartridge. Introductory pricing until the end of the year will save you $200, and get you free delivery when the models ship in January 2018.
An MQA DAC and a tiny power amplifier
Mentioned in this article
Brooklyn-based Mytek was at home showcasing their aptly-named Brooklyn DAC+. The newly-launched $2,195 Brooklyn DAC+ is small and light—perfect for a small apartment, dorm room, or studio—yet packed with lots of high tech features. The DAC+ is one of the handful on the market that will decode MQA encoding and it supports up to 32-bit/384kHz files and DSD 256. It also does double-duty as a high end headphone amp and phono preamp. I listened to both digital MQA audio files and vinyl on DAC+ through a pair of $4,000 Focal Utopia headphones (I reviewed Focal's step-down model, Clear here). The sound was simply divine.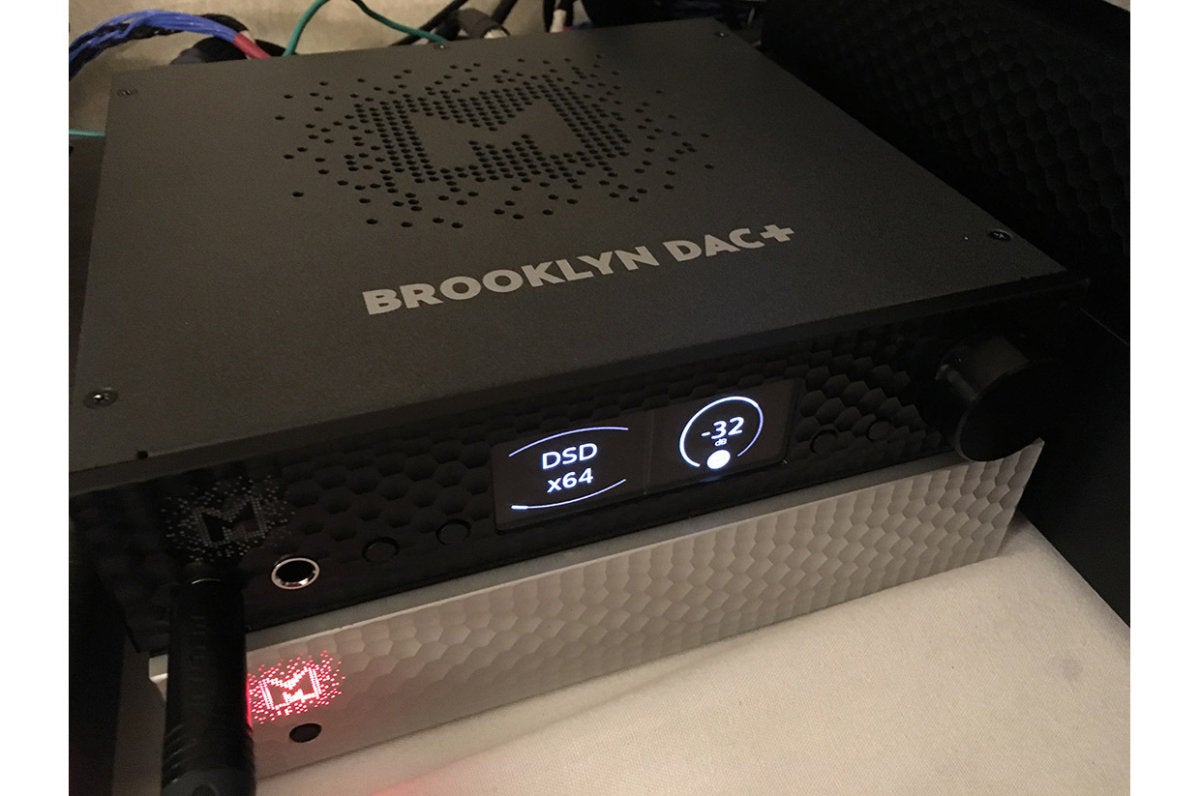 Mytek also had another treat on hand: the new $1,995 Brooklyn AMP. This tiny, 6-pound Class D amplifier packs a wallop. The stereo amplifier is a dual-mono design capable of delivering 250 watts per channel (with both channels driven) into 8 Ohms, and 300wpc into 4 Ohms. At the flick of a switch you can run the amplifier in bridge mono and have it operate as a 600W monoblock. Unbalanced RCA and balanced XLR connections will make it an easy fit into any high end audio system. This might be just the perfect amplifier for that small New York studio apartment; and when mated with the Brooklyn DAC+ is a complete high-end stereo, turntable, speaker and headphone listening setup.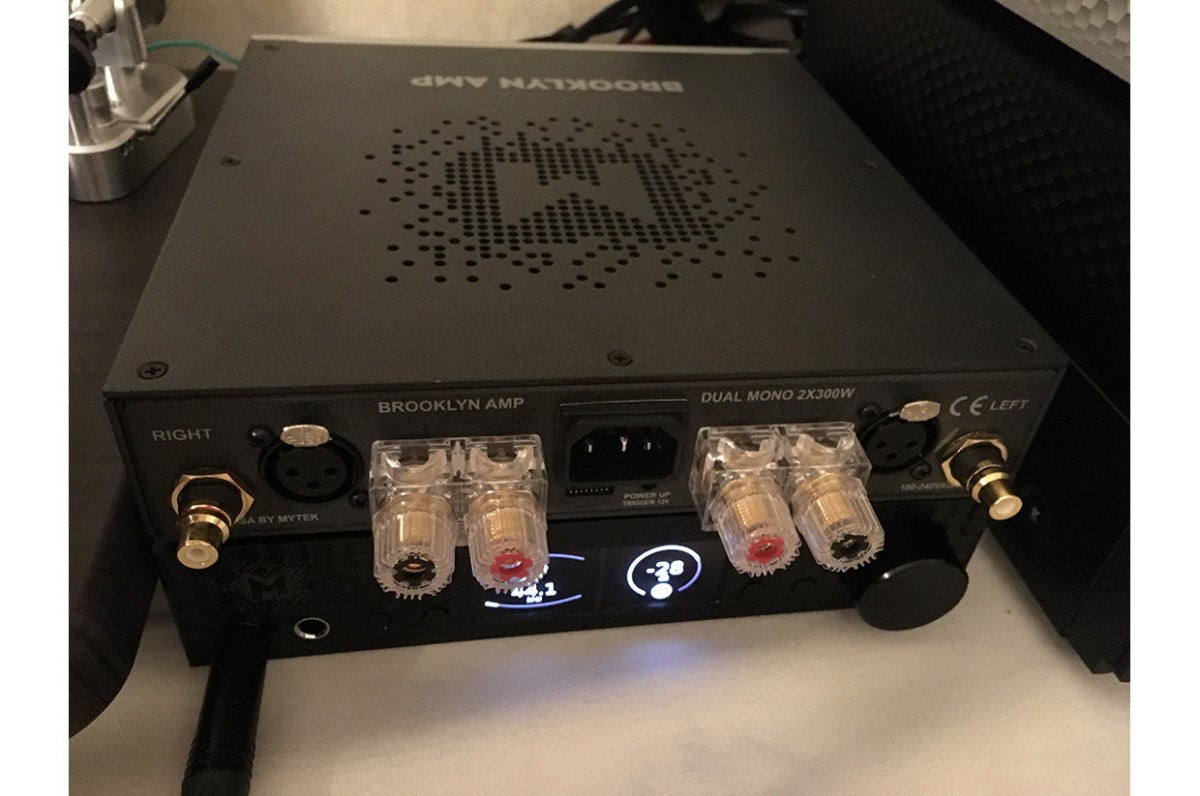 Made for monster bass
If space is no object and you want the raw, brute force of full-range speakers, then Legacy Audio's Aeris speakers will foot the bill. They had no problem commanding the deepest organ notes. In fact, I could hear and feel the bass coming from these speakers in the hallway outside the listening room. The Aeris' dual 12-inch subwoofers were powered by two on-board 500w Class D amplifiers, delivering 1,000 watts of unadulterated power.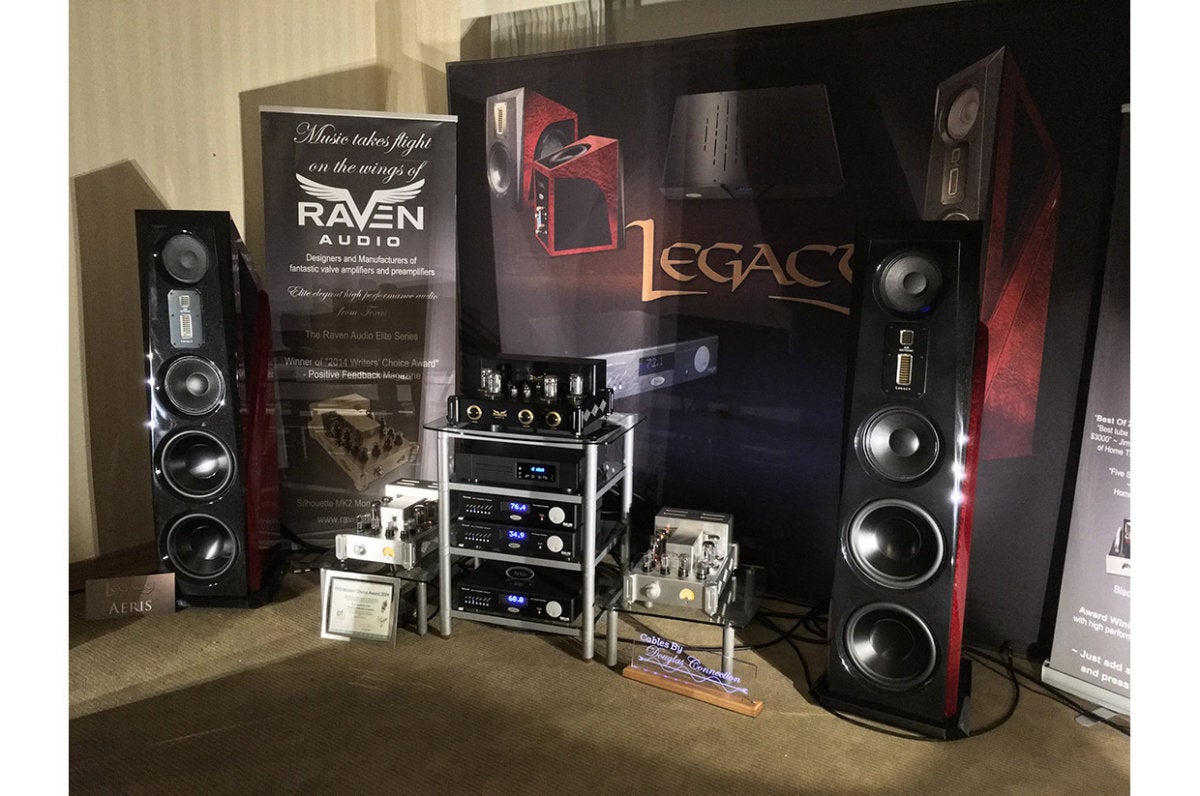 These speakers are massive, standing 58 inches tall and weighing 171 pounds each. The midrange drivers are an open baffle design, which means that they radiate sound behind the speaker, creating a big, beautiful sound stage. The Aeris' tweeter isn't the typical dome tweeter you see in most speakers. Legacy's Aeris has two rectangular-shaped dual air motion tweeters.
Mentioned in this article
Focal Clear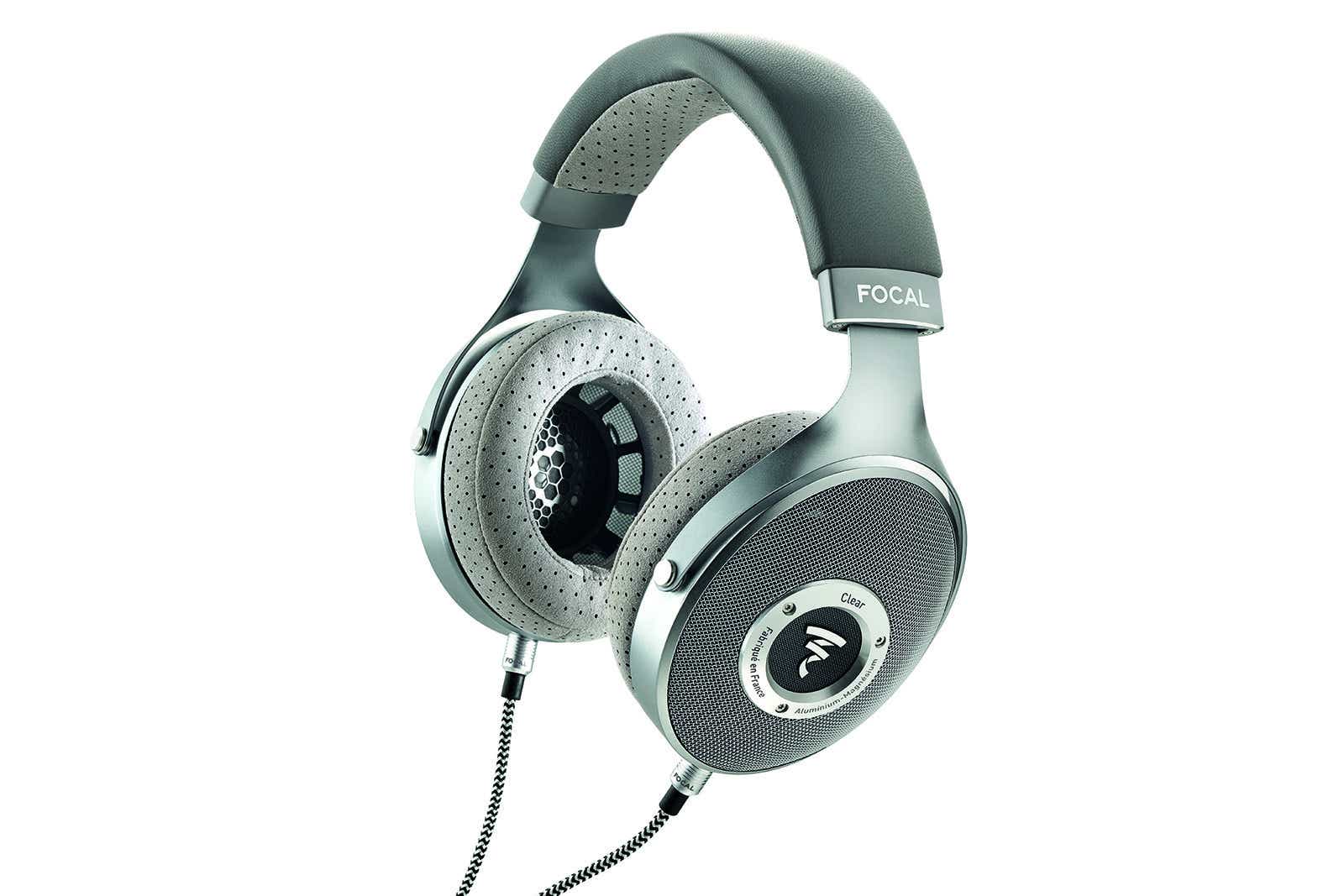 Price When Reviewed:
$1499
Legacy's Aeris speakers are available in a dozen different finishes to help them fit your room's decor, though some spouses might object to them no matter what finish you choose!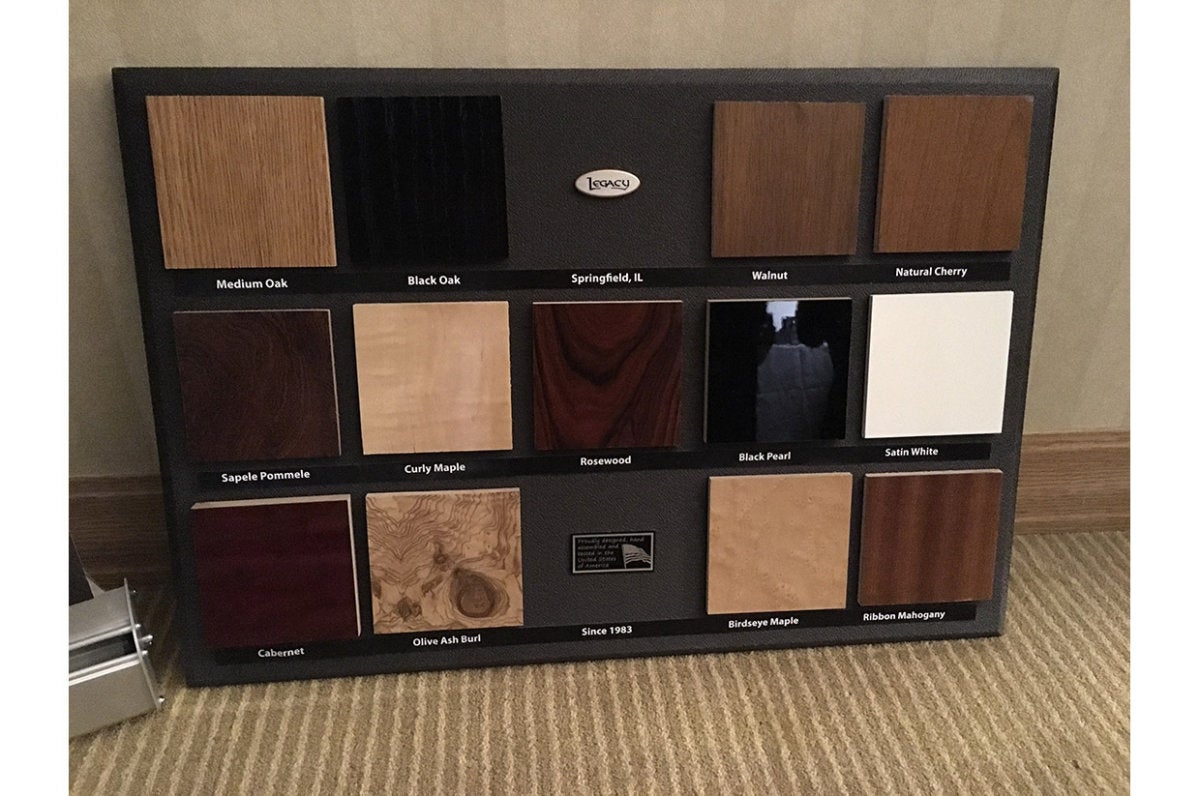 High end headphones
Technics is perhaps best known for its turntables. At the New York Audio Show, Technics had almost their full product line on display. It's no surprise that Technics showed off the $1,699 SL-1200GR single-rotor coreless turntable and $3,999 twin rotor coreless turntable. However, the company also showed off their SC-C70 premium tabletop Hi-Fi system. Think Bose Wave Music system for audiophiles. The beautiful, aluminum-clad system has an onboard CD player as well as Bluetooth, Apple AirPlay, and a host of other input options. You can also tailor the SC-C70's sound based on room placement and using the Technics app, you can tailor the system's sound for your room. Eat your heart out Bose.
Technics also showcased their EAH-T700 premium headphones. The $1,199/pair headphones are a closed back design. The headphone's all-metal headband and ear cup structure moved oh so smoothly, like butter. The headphones are a two-way design with a super tweeter and angled driver design.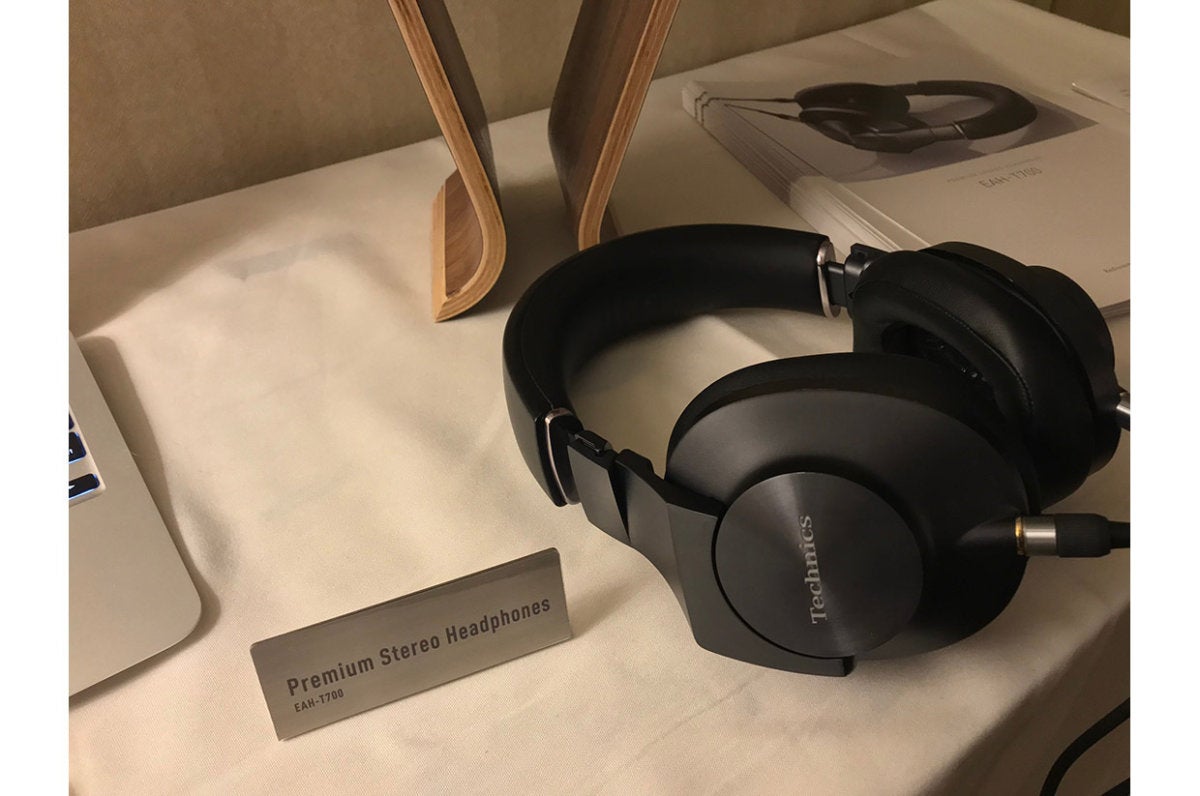 Stylish sound
Audio newcomer MarkAudio-Sota had three different speaker models on display. The Tozzi One ($445) comes in bold colors and is designed for the audiophile who wants a full-range driver in a compact enclosure. The Tozzi One will play down to around 80Hz and was paired with a VPI Cliffwood turntable ($900) and a PS Audio Sprout ($499) integrated amplifier. The MarkAudio-Sota team told me that a powered version of the Tozzi is in the works.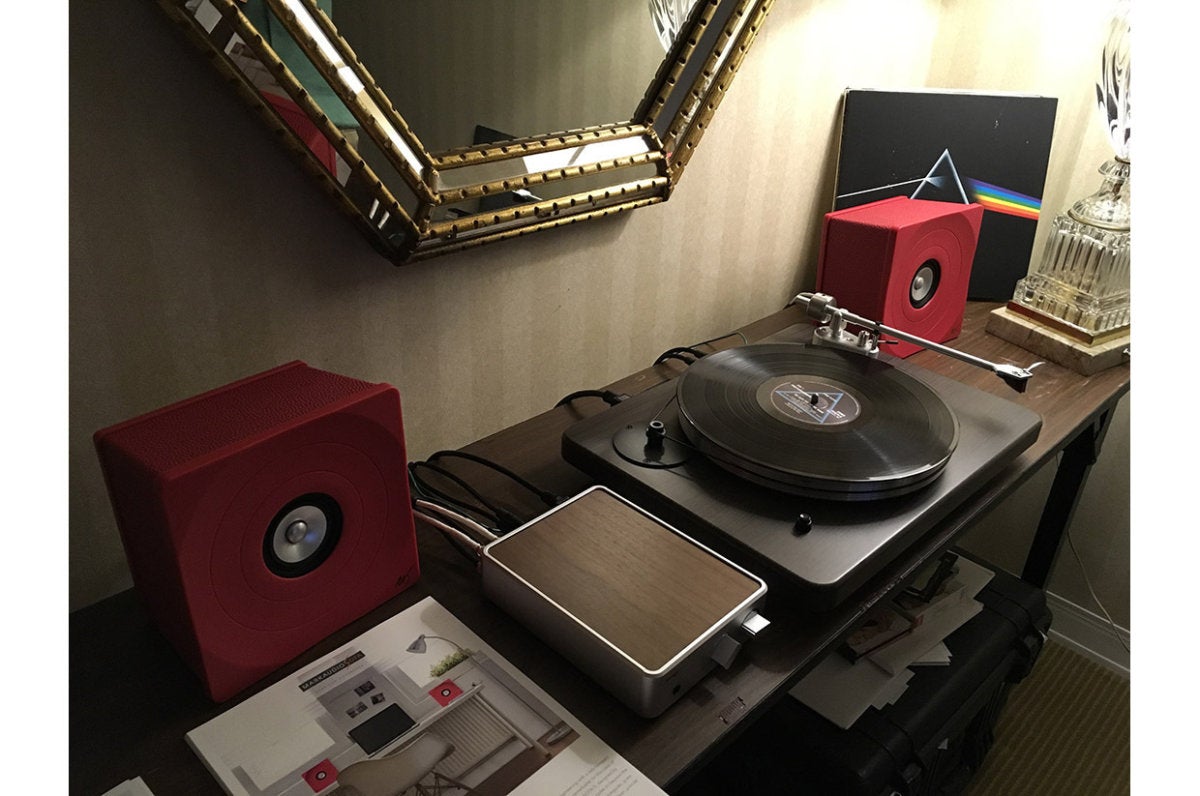 For those craving traditional speakers in the same style, MarkAudio-Sota offers the beautiful Viotti One monitor speakers with a curved back and stands custom designed to match the speakers.
Perfect bass in any room
Bass notes can be hard to get right in typical living spaces. That's where MartinLogan's $24,995/pair Renaissance ESL 15A electrostatic loudspeakers separated themselves from the pack. Featuring Anthem's acclaimed ARC room correction software, ARC will correct sonic anomalies created by the interaction of the the Renaissance ESL 15As bass notes with the room.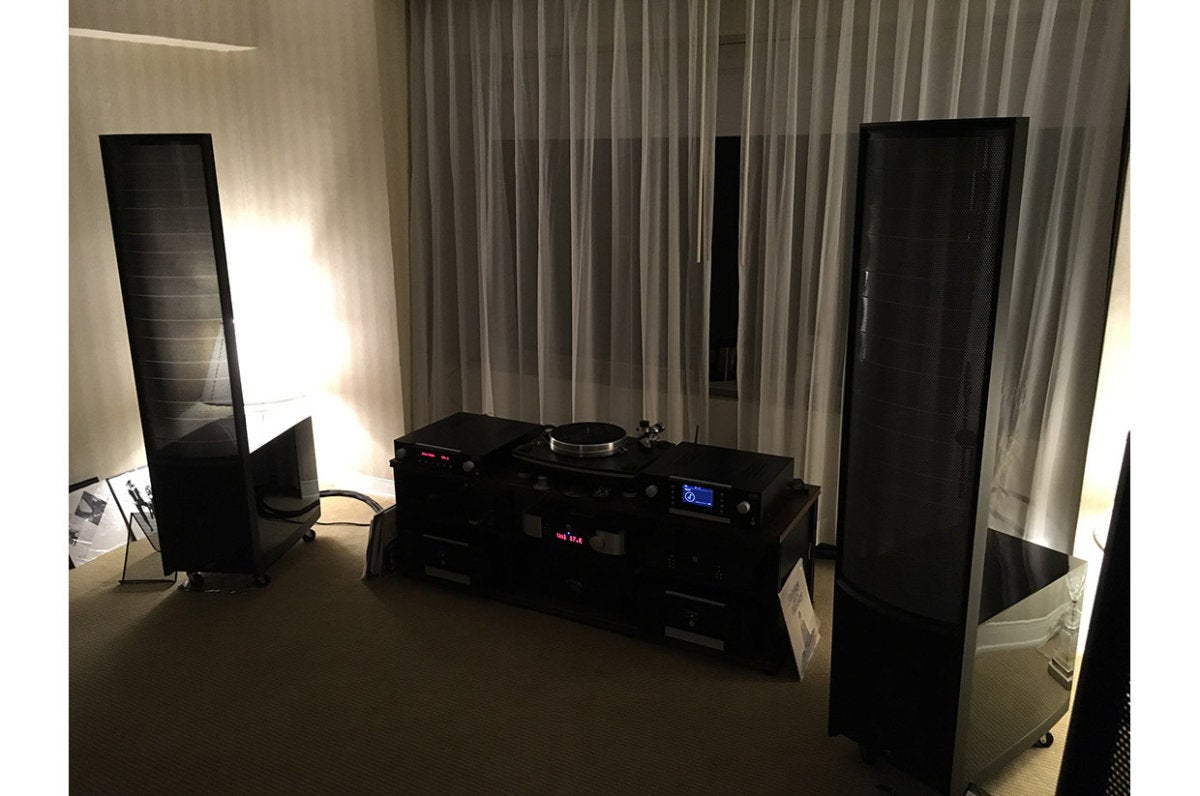 While many audio systems at the show struggled to deliver clean bass, MartinLogan's Renaissance ESL 15A speakers sounded divine. Having the system fed by the latest high end electronics from Mark Levinson was icing on the cake. If the nearly $25k price tag is too rich for your blood, you'll be happy to know that ARC room correction is featured in many of MartinLogan's more affordable, entry-level speaker models.
Stream it from anywhere
Krell is a legendary brand in the audio world, known primarily for their monster amplifiers capable of driving just about any loudspeaker on the planet. Krell teamed up with Alta Audio loudspeakers to deliver some superb sound. Krell's 375 monoblocks ($8,750/each) provided the power for Alta Audio's $3,500/pair Titanium Hestia loudspeakers. But it was Krell's Vanguard Universal DAC that caught my attention.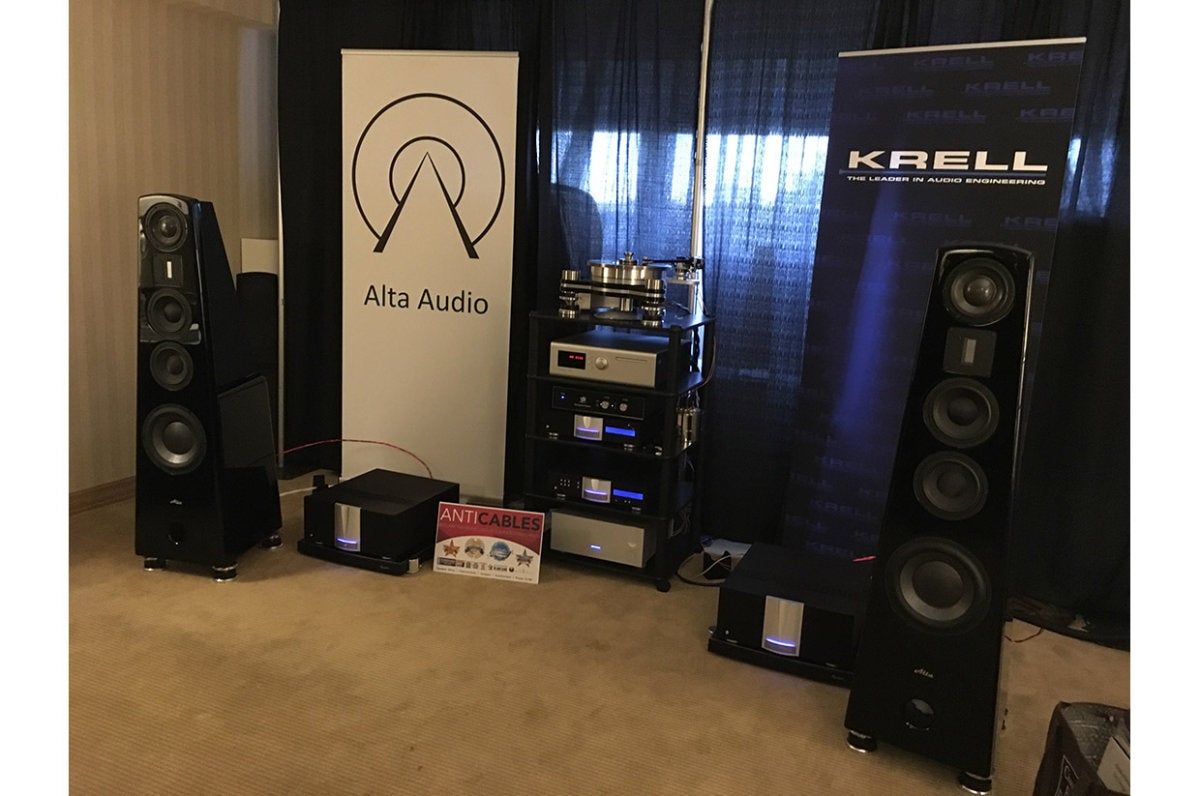 Unlike most network players and DACs, the Vanguard has two HDMI 2.0 inputs and will support DSD and 4K video content and sports an Audio Return Channel for smartTV integration. You can stream audio content via Bluetooth to the Vanguard at near CD-quality with aptX. Unfortunately, the Vanguard won't decode MQA files.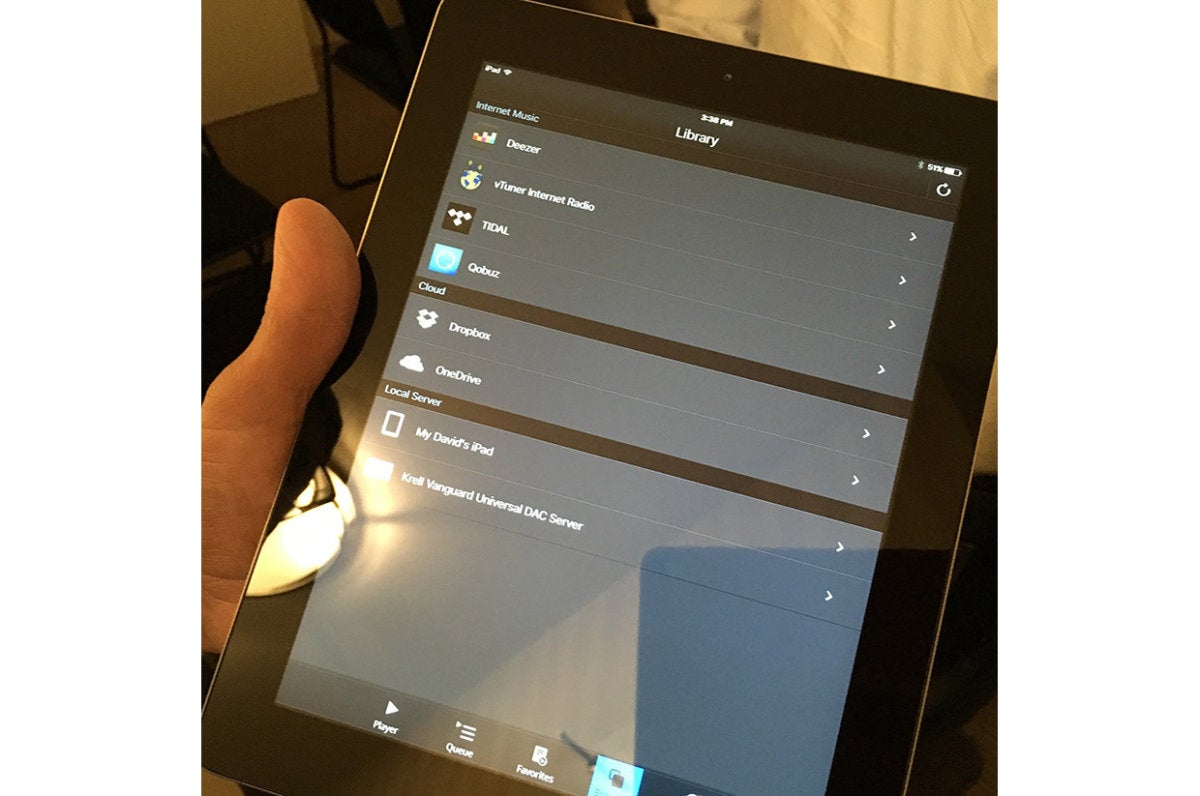 In addition to streaming services like Tidal and Deezer, the Vanguard is Roon-ready and can playback files stored on DropBox or Microsoft's OneDrive cloud storage. Krell's mConnect Control app runs on iOS and Andriod devices has a slick, intuitive interface.
The Krell Vanguard is built like a tank and will only set you back $4,500.
Streaming audio for audiophiles
If you want an all-in-one streaming solution then Electrocompaniet, Norway's high end audio brand, may have you covered. The company's sylish Tana speakers are packed with high tech and sounded superb with solid bass and room-filling sound.
The Tana cube speaker sports a 150w Class AB amplifier with on-board 802.11ac Wi-Fi and a 24-bit/192kHz DAC. You can use Electrocompaniet's app or integrate multiple Tana speakers into a Crestron, Savant, or Control4 home automation system.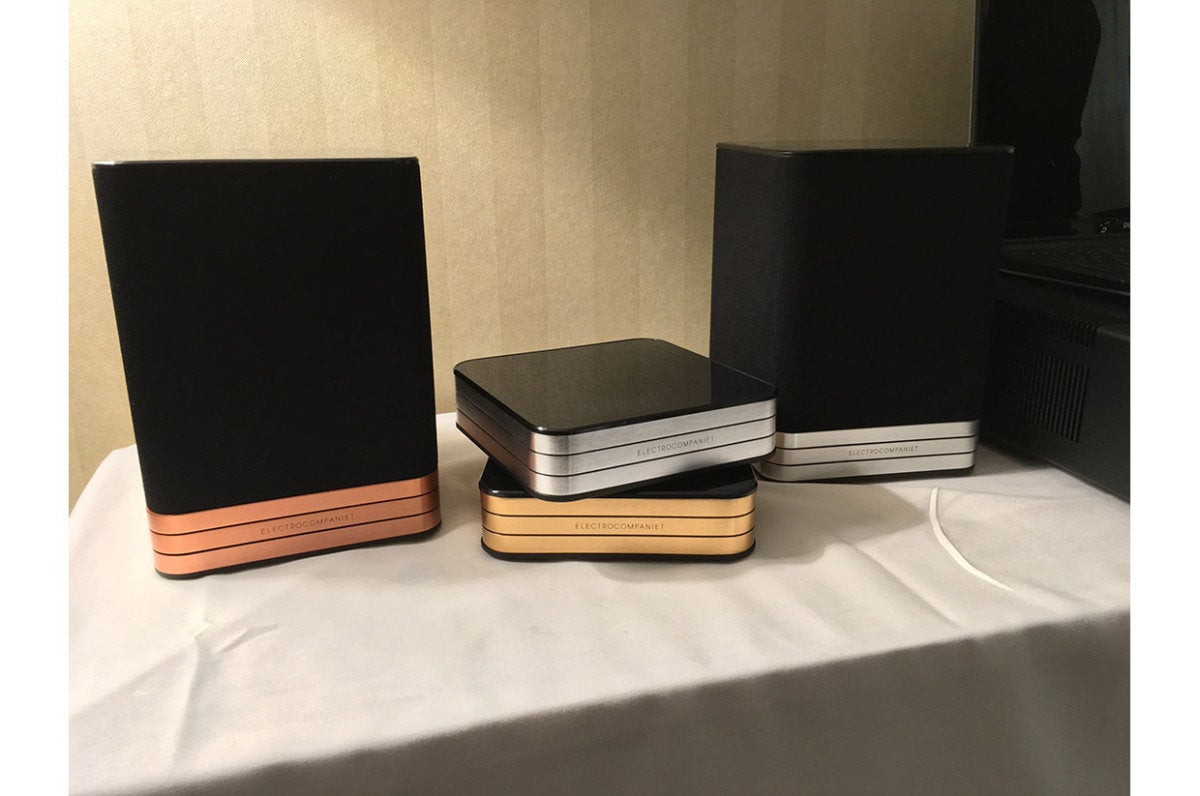 There's no limit to the number of rooms and zones you can create. Electrocompaniet's CEO told me that you can also pair multiple Tana speakers to create wireless stereo, 5.1-, or 7.1-channel systems. You can also add a companion wireless sub, called Sira, to the mix for $949.
What will a quarter-million dollars get you these days?
No audio show would be complete without featuring speakers that cost more than a typical household's annual income. That recognition goes to Orinda Acoustics 16 three-way loudspeaker with an MSRP of $238,000/pair. All those zeros aren't a typo.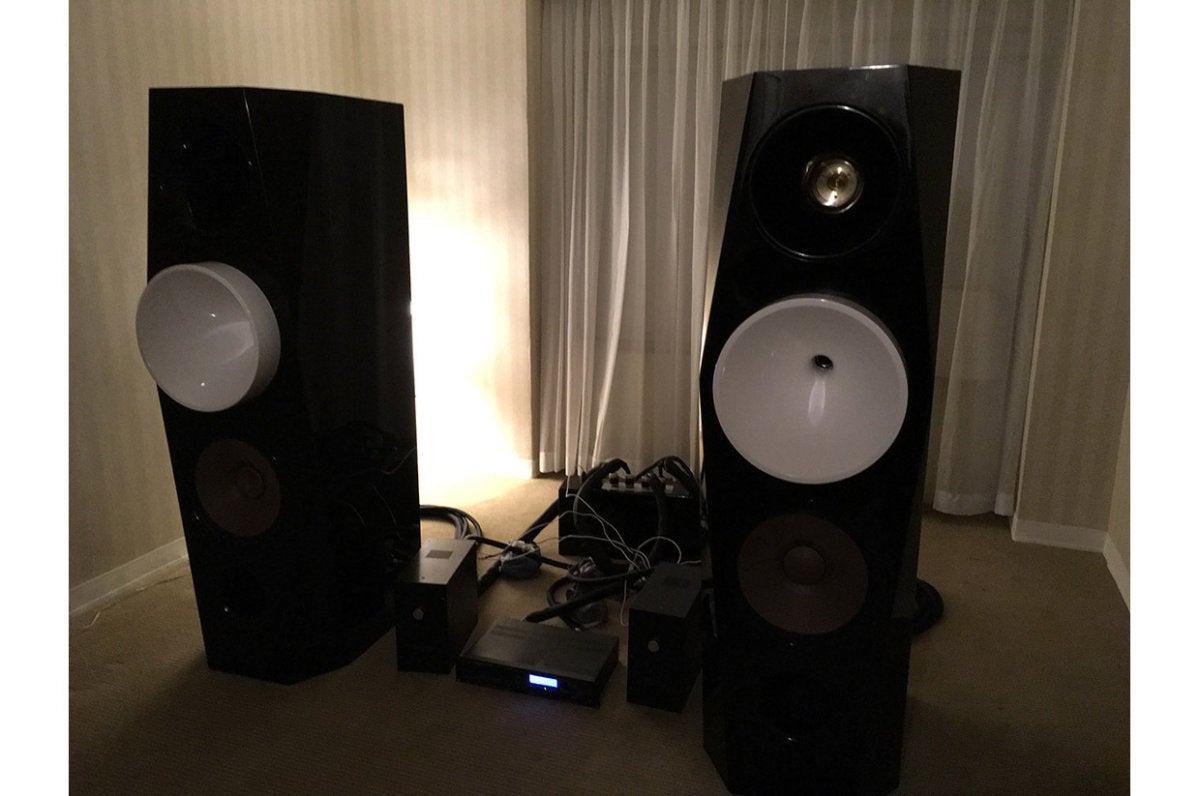 They stood six-foot tall and weighed in at 1,000-pound each. Sunny Lo, who designed the speakers, told me that he'd been working on the speakers' design for ten years Oh, and before I forget, the matching monoblock amplifers to power the speakers will set you back a mere $18,200/pair. Let's just say that these speakers won't do well in NYC studio apartments.
Correction: We updated this story with the correct price for the VPI Cliffwood turntable.