At a Glance
Expert's Rating
Pros
Excellent video quality
Motion detection can differentiate between human activity and other movement
Can view camera feed on Echo Show, Echo Spot, Fire TV devices, and Fire tablets
Cons
Some advanced features require a cloud-storage subscription
No provision for manually recording video or taking a screenshot of your feed
You'll need to buy a replacement power cord to enroll in the Amazon Key service
Our Verdict
The Amazon Cloud Cam is an excellent security camera with strong ties to other Amazon hardware and services.
The Amazon Cloud Cam ($120) is ostensibly a sentry for users of Amazon Key, the company's home delivery service that allows couriers to drop off packages right inside your house. It works with compatible smart locks to allow delivery people—and, really, anyone else you designate—to enter your premises when you're not home. It's also sold as a standalone home security camera, and it's a darn good one, with advanced security features and full Alexa integration.
Mentioned in this article
Amazon Echo Show
Price When Reviewed:
$229.99
Design-wise the Cloud Cam looks like a kissin' cousin of the Nest Cam IQ, right down to the white finish. The attached stand makes it ideal to set on a bookshelf or mantel piece, but it comes with a mounting bracket and screws if you'd rather attach it to a wall or ceiling. It's an indoor-only model, so there's no protection from the weather, but the camera has an operating temperature range of 32 to 104 degrees Fahrenheit, so it will operate in the garage in temperate climates.
For the relatively modest price, you get some hardy specs: a 120-degree viewing angle, 1080p video, night vision courtesy of eight infrared LEDs, motion, sound, and vibration detection; and two-way audio. You also get 24 hours of cloud storage for your recorded clips, which you can download and share, free with your purchase.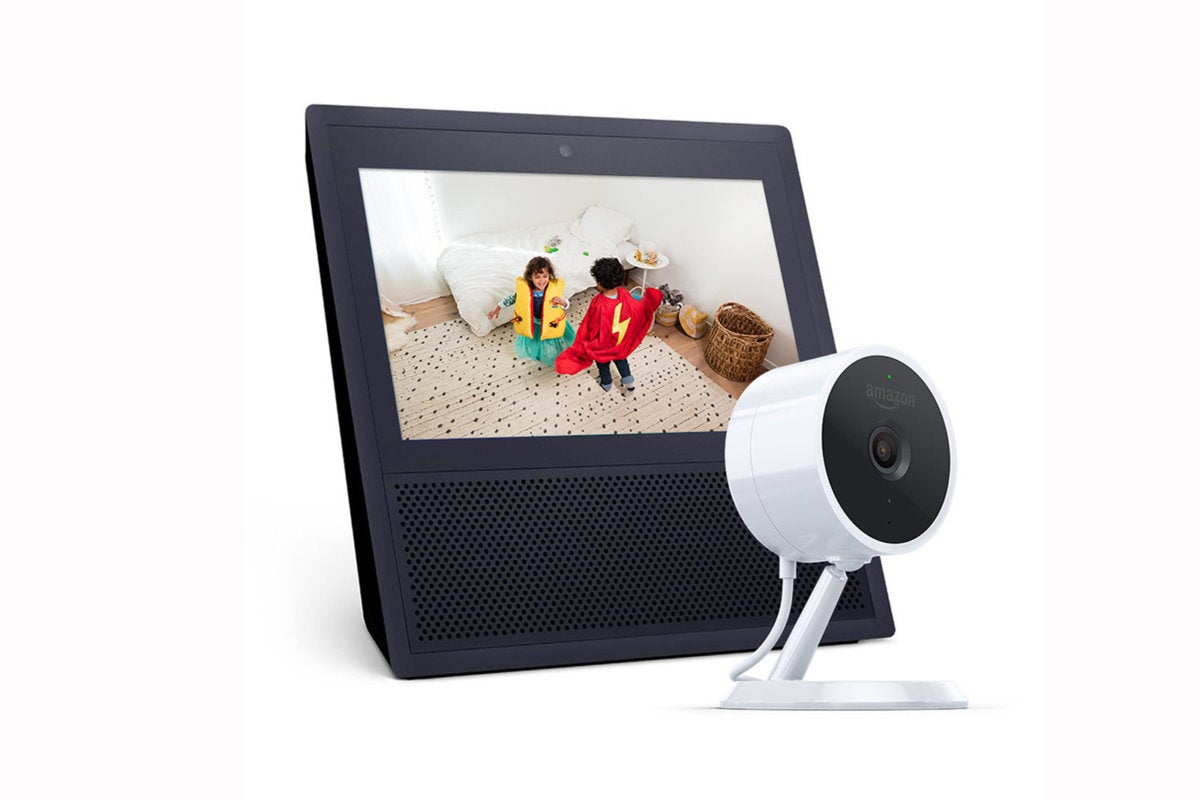 You can expand and extend your storage limits with one of three cloud subscriptions: The Basic plan lets you review seven days of stored clips for up to three cameras for $7 a month or $69 a year. Extended bumps that to 14 days and five cameras for $10 a month or $99 a year, and the Pro plan offers 30 days of clips for up to 10 cameras for $20 a month or $199 a year.
There's good reason beyond storage capacity to upgrade your subscription: All three plans include person detection, which unlike standard motion detection, can differentiate between human movement and other types of motion. They all include motion zones as well, which lets you tell the Cloud Cam to monitor specific areas for activity while ignoring others. You can try any of the subscriptions free for 30 days.
Setup and usage
Mentioned in this article
Amazon Echo (2nd Generation)
Price When Reviewed:
$99.99
The Amazon Cloud Cam is operated with the iOS (iPhone and iPad), Android, or Fire OS app of the same name. It walks you through the process of pairing your mobile device with the camera via Bluetooth and connecting to your Wi-Fi network. Other than waiting for the camera to enter pairing mode, which can take up to five minutes from the time you first power it up, the setup is quick and smooth.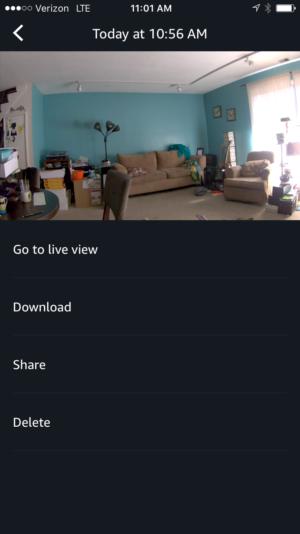 The camera's image quality impresses with accurate color, balanced lighting, and sharp detail. Despite the wide angle, there's no perceptible edge bending even in smaller rooms. Audio was strong as well, with plenty of volume without distortion.
The Amazon Cloud Cam app is exceedingly easy to get around even for a first-time security camera user. With a single camera connected, the app launches right to that camera's home screen.
The camera's streaming feed is displayed at the top, and as event-detected video clips are recorded, they are logged in reverse chronological order below the stream. Tapping a clip opens it on its own screen where you can review it and download it to your device or share it. The Cloud Cam also includes the unique ability to disable audio streaming and recording (only video gets recorded) to reduce bandwidth demands.
Most home security cameras include an option in their companion app for you to manually record video or take a screenshot of activity you see in your feed. There's nothing like that here; the Cloud Cam only records video when motion triggers it to do so. That's probably just fine for most users, who are only going to look at their feed when they're notified that something's happening at home. But if you want more hands-on control over your camera, the Cloud Cam might not be the right choice.
Mentioned in this article
Amazon Fire TV Stick with Alexa Voice Remote (2016)
Price When Reviewed:
$39.99
Just how much motion is required to start a recording is determined by your choice of motion sensitivity settings. Three presets are offered: low, medium, and high, which will recognize a "person-sized object" up to 5, 10, or 20 feet away, respectively.
I suspect what constitutes "person-sized" is determined by how close the object is to the camera. While my cats didn't trigger the camera when wandering through the living room, one did when it leaped onto a table about a foot or so in front of the lens. Still, the Cloud Cam accurately recognized this as general movement, identifying it with the generic "motion detected" flag rather than the "person detected" alert reserved for humanoids.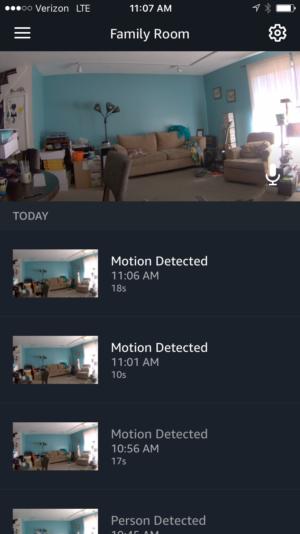 If you find yourself getting too many false alerts after adjusting the motion detection sensitivity, you can reduce them by using the Zones feature. This allows you to create detection areas by dragging your finger over the camera image. Areas within the drawn boundaries will be monitored for activity and those outside them will be ignored.
In addition to viewing the Cloud Cam feed on your mobile device, you can also turn on the camera and check in using Alexa voice commands on the Echo Show, Echo Spot, Fire TV devices, and Alexa-enabled Fire tablets. This is pretty ideal when you want to monitor a room from inside your home, such as a nursery or a small child's bedroom. As everything is linked through your Amazon account, there's no extra setup required. I was able to view my family room simply using both an Echo Show and FireTV Stick simply by saying "Alexa show me the Family Room." Third-party camera manufacturers, including Nest, Netgear, and Ring have integrated their products with Alexa, but the execution here is so seamless here it can't compare.
Bottom line
Amazon managed to pull off a tall task with its first security camera, outfitting it with advanced smart home and security features and making it dead simple to use. The Cloud Cam also has the potential to get smarter the more you use it: Stored video clips are reviewed using AWS cloud analytics, the company says, and over time the camera will recognize who and what are fixtures of your home and stop alerting you when your dog walks into the living room, for example.
That's more than you get from most competing camera's and for a fraction of the price, and it makes the Amazon Cloud Cam a top choice whether or not you plan to use the Amazon Key service. (A note for those who do: You'll need to purchase a replacement power cord for the Cloud Cam in addition to a compatible smart lock. The replacement power cord is needed to communicate with the lock.)
Update: This review was updated after Amazon released new firmware that added several new features to the Cloud Cam.