At a Glance
Expert's Rating
Pros
Spotlights activate when motion is detected
Customizable motion zones
Does not require wiring to indoor outlet
Cons
Lack of local storage means video won't record if you lose your internet connection
Our Verdict
The Spotlight Cam provides great security for vulnerable outdoor areas.
Best Prices Today: Ring Spotlight Cam Wired
The Ring Video Doorbell 2 and Ring Stick Up Cam provide easy and effective ways to set up a pretty strong security perimeter around the outside of your home, but it could be made considerably stronger with the addition of the now-Amazon-owned company's Spotlight Cam. This outdoor camera/porch-light hybrid, illuminates the area and records video when its motion sensor is tripped.
Ideally suited for the darker nooks on your property that are susceptible to breach after sundown, it comes in four models: Spotlight Cam Wired ($199), Spotlight Cam Battery ($199 at Amazon), Spotlight Cam Solar ($229), and Spotlight Cam Mount ($249 at Amazon). The cameras in all four models are the same. The Battery and Solar use the same battery; the latter just comes with an included solar panel that can also be purchased independently ($49 at Amazon).
Editors' note: This review was first published on October 30, 2017. It was updated on March 26, 2018 to include our take on the Ring Spotlight Cam Solar and the Ring Chime Pro Wi-Fi range extender, and again on May 2, 2018 to add information about the Spotlight Cam Mount.
Mentioned in this article
Ring Video Doorbell 2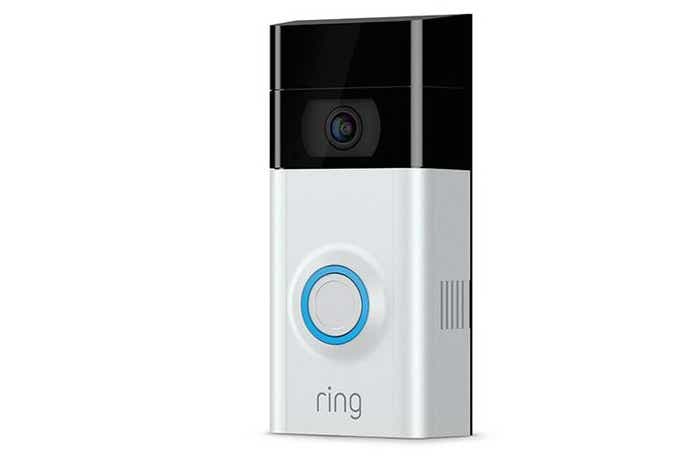 I tested the Spotlight Cam Wired and the Spotlight Cam Solar separately. The Wired is a great option if you have easily accessible outdoor power outlets. The 4.96-inch-by-2.72-inch-by-2.99-inch camera has a 20-foot power cable attached at the back as well as a built-in wall mount, and unlike with the battery powered models, you won't have to worry about dead batteries or too many overcast days interrupting your surveillance. I'm guessing, however, most folks will need one of the battery-powered cameras.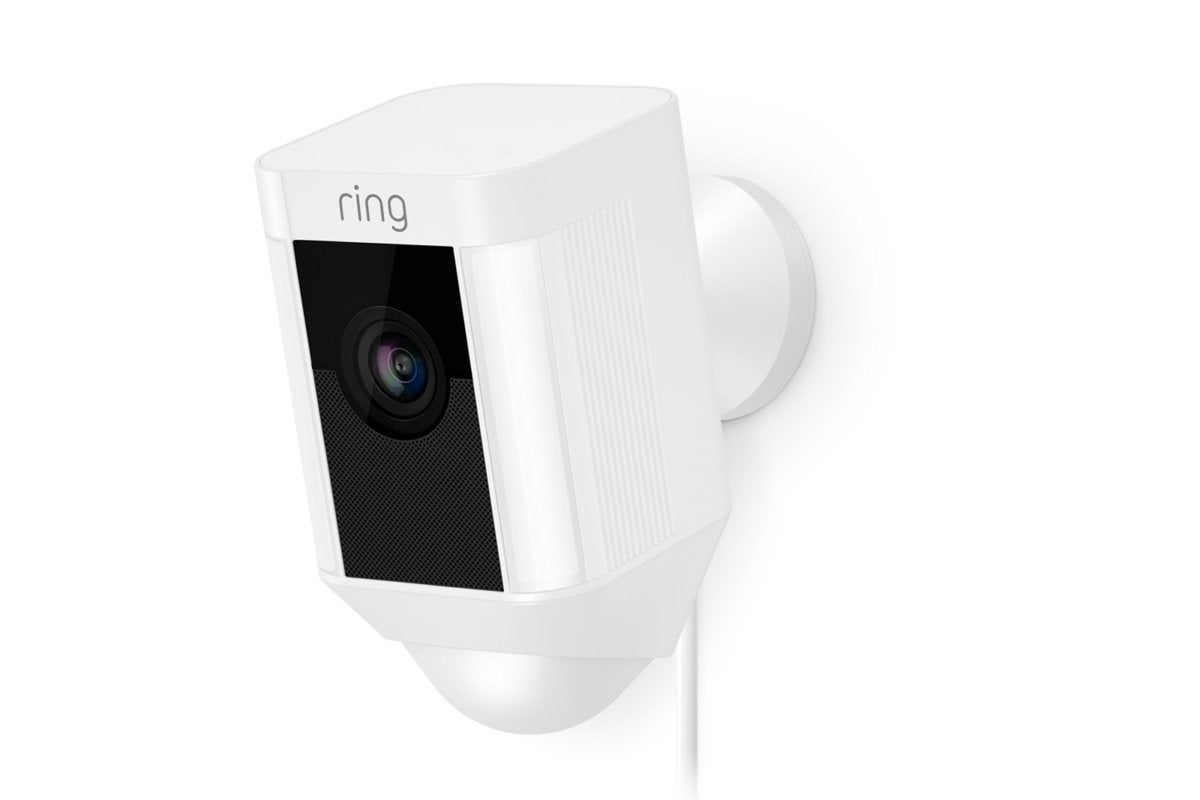 The spotlight is provided by LED light strips on either side of a 140-degree wide-angle lens, which activate when motion is detected. The motion sensor, encased in a dome on the bottom of the camera, has a 270-degree detection range. The camera streams and records video in up to 1080p resolution and supports two-way talk with noise cancellation and night vision up to 30 feet.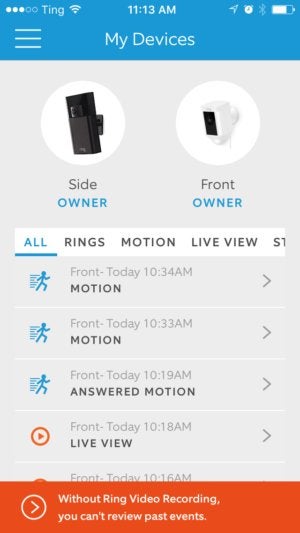 The Spotlight Cam comes with 30-day free trial of Ring's cloud storage for recorded video. At the end of the period, you have the option of upgrading to one of a pair of Ring Protect plans: Protect Basic allows you to store, review, and share video for up to 60 days for $3 per month or $30 a year per camera. Protect Plus provides the same for unlimited Ring cameras—including the Ring Video Doorbell—and adds a lifetime warranty and discounts on Ring products for $10 per month or $100 a year.
If you purchase a Ring Protect Base Station smart home hub when it becomes available, the Plus package will also provide Ring Response 24/7 professional monitoring. The hub comes with a backup battery of its own, along with cellular connectivity so you can see your camera feed even if your internet connection goes down.
Connecting the cameras
Regardless of which model you choose, it's recommended you connect your Spotlight Cam to your Wi-Fi network before mounting it outside. (In the case of the non-wired Spotlight Cams, you'll first need to charge the battery using the supplied micro-USB cable.) Once you add the camera to the Ring companion app, the camera's voice prompts guide you through the connection process.
I installed the Spotlight Cam Wired at the front of my home, where there's an outdoor outlet within the power cord's 20-foot range. I put the Spotlight Cam Solar in the backyard, where there's more unobstructed sunlight. Each camera comes with its own mounting tools, including a screwdriver, drill bit, mounting bracket and screw set with wall anchors.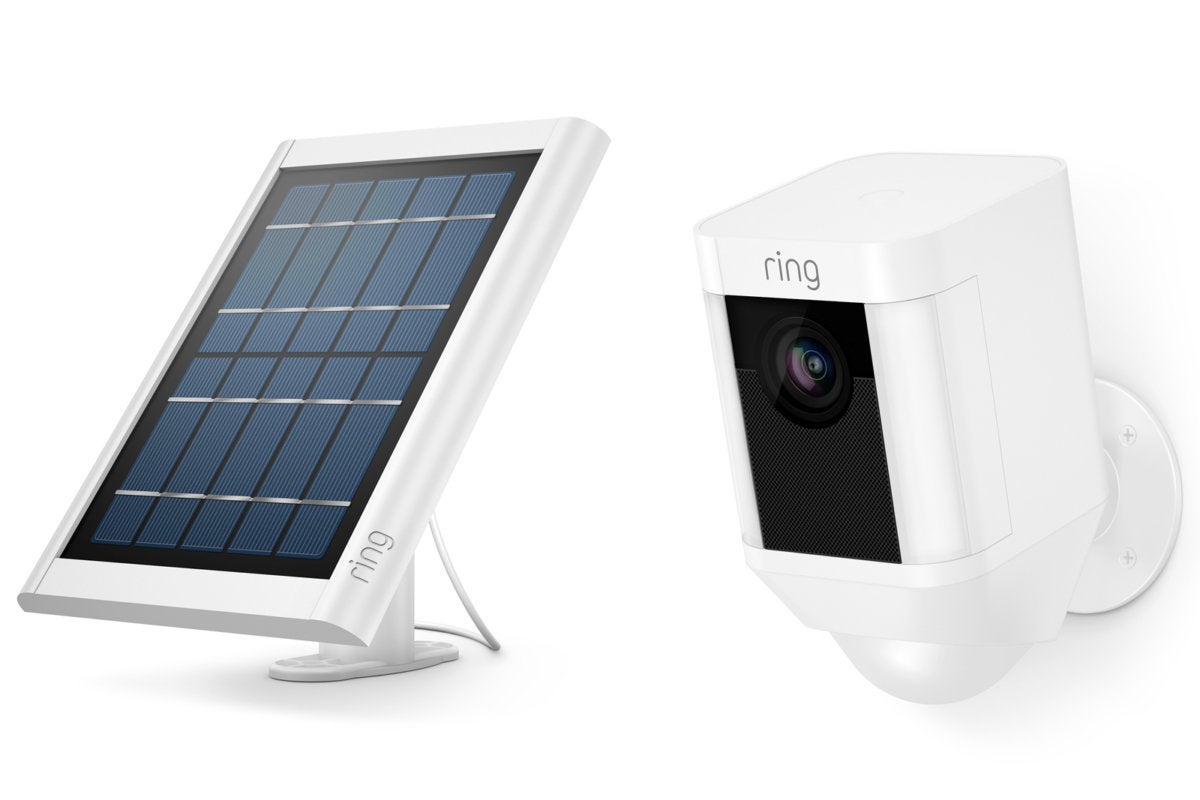 For the backyard camera I also installed the solar panel which is packaged separately with its own mounting kit. Once it's mounted, you plug the connector wire into the back of the Spotlight Cam and secure it with two screws. It fits flush to keep water out of the port. Ring recommends one to two hours of direct sunlight per day to keep your battery charged, and you can angle the solar panel's mounting arm to ensure it soaks up as much sun as possible. The days I tested the Spotlight Cam Solar were mostly overcast, but I still saw a 3-4 percent charge increase each day, and I'd expect much more on sunny days.
Mentioned in this article
Ring Stick Up Cam
Price When Reviewed:
$179
I had a sufficiently strong signal from my router to each camera, but results will vary depending on the layout of your home. If you do see streaming issues, such as resolution deterioration or loss of signal, you might need to install the camera closer to your router or use a Wi-Fi range extender, such as the Ring Chime Pro Wi-Fi range extender ($49 at Amazon). Like its cameras, Ring's range extender is an 802.11n device that operates on the 2.4GHz frequency band only.
You set up the Chime Pro, which also adds a chime sound to your motion detection alerts, in a process that's similar to the camera installation: You plug it in to an AC outlet somewhere between your router and the camera to repeat the wireless signal. I used a spare outlet in my kitchen as that was roughly the halfway point between my living room router and the camera on the front of my house. Once the Chime Pro is plugged in, a voice prompt will tell you it's ready to set up. You then add the device in the Ring app then follow the voice and app prompts to connect it to your wireless network.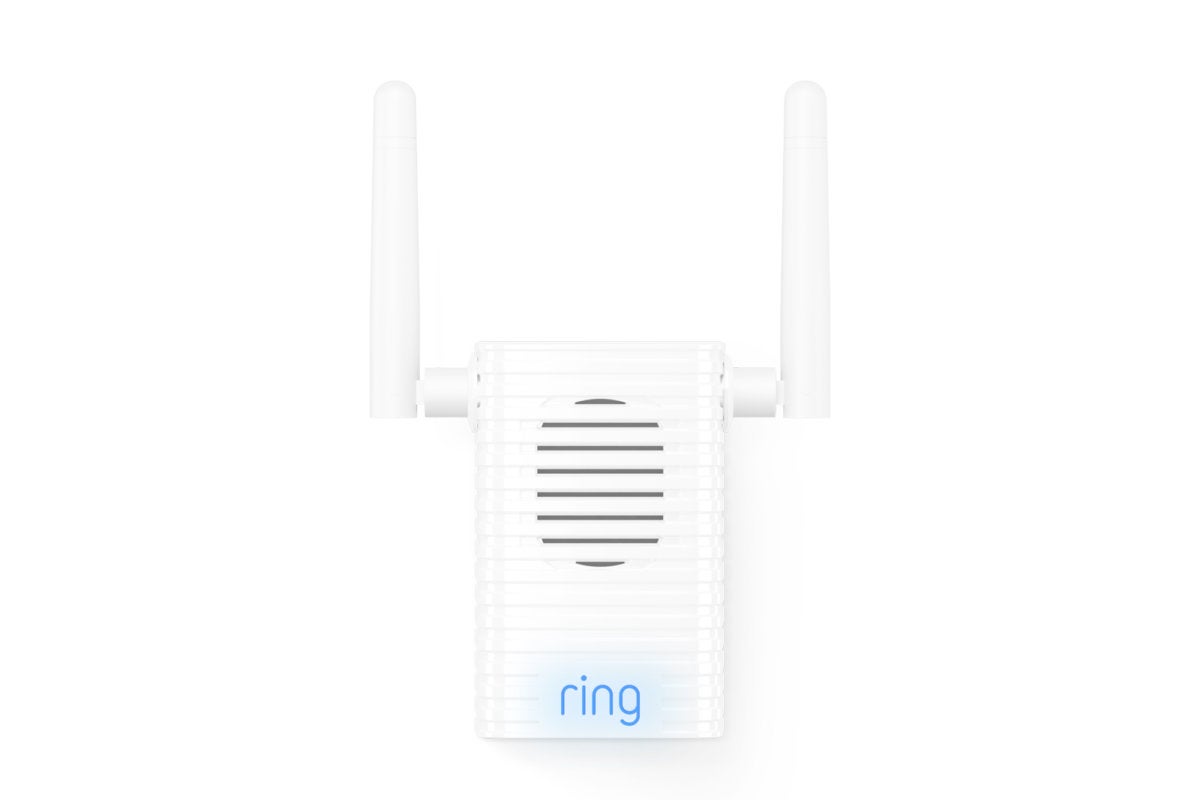 The next step is to connect the Chime Pro to the Spotlight Cam. The Ring app displays all the Ring devices connected to your network, with a button beneath each that says "connect to Chime Pro." Just press it and the Chime Pro's voice prompt lets you know it's looking for the camera and when the connection has been completed.
You can access the Chime Pro, and any other active Ring cameras, from the Ring app's My Devices screen. Here you'll also see a running feed of all detected activity, which you can filter to view only those triggered by motion, by button presses (in the case of the video doorbell), and those you've starred as noteworthy.
An intuitive app
Tapping the Spotlight Cam icon in the Ring app opens a dedicated screen with all the camera's controls laid out. The Ring app is one of the best in this regard, as it doesn't require you to go hunting through nested settings menus to find what you need. At the top are on/off toggles for the camera's lights and motion alerts. Using a selection of buttons below these, you can open the camera's streaming feed, event history light settings, and more.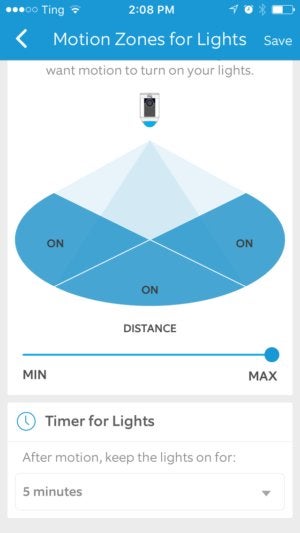 The image quality was sharp, with even lighting and none of the color tinting I encountered with the Ring Stick Up Cam. When you're viewing the live stream, you can communicate with a visitor—or interloper—using a pair of phone icons overlaid on the image. You can also manually turn on the spotlight from this screen.
Motion detection was responsive and accurate with the default settings, which placed the sensitivity midway on a scale between "people only" and "all motion." You can adjust this to your liking with the slider, or use it in combination with customizable motion zones. With each alert, Chime Pro simultaneously emitted a digital Ring. This ensured I was kept aware of detected activity even when I was home, as I don't usually carry my phone around the house. You can change the chime's sound and volume and "snooze" it for periods of time in the Ring app.
The Spotlight Cam employs the common method of using bounding boxes over the camera image to define detection zones, but you can use the box handles to twist it into any kind of geometric shape, not just squares. That allows you to work around outdoor areas where you don't have as much control over the environment as you do inside your home. There's also a scheduling option to disable motion alerts during certain times of day.
You can set motion zones for the lights, too. In this case, the app shows a graphic representation off the motion sensor's 270-degree range, and you can define where you want movement to turn on the lights by tapping up to three preset zones and then expanding or reducing coverage in those zones using a slider. Depending on your settings, the light will stay on for one to 15 minutes.
At max power, the camera's lights were more than enough to light up my modest-sized side yard. Depending on the size of yours, you might want to dial down the intensity in the app.
Bottom line
Whether you opt for one of the wired or battery-powered Ring Spotlight Cams, you'll get an impressive camera that effectively fills a necessary niche: providing security for yards, carports, and other spots around the perimeter of homes that become particularly vulnerable after dark. While it will work great as a standalone camera, it will shine as part of more comprehensive security set up with other Ring devices—I used it in conjunction with the Ring Doorbell and a Stick Up Cam—for seamless 360-degree surveillance of your property.