At a Glance
Expert's Rating
Pros
Great sound in a compact package
Powerful voice-recognition capabilties
Fantastic Alexa integration, with Google Assistant and Apple AirPlay 2 compatibility promised
Cons
You can't use voice commands to stream music from your own local server
You can use voice commands with only a handful of the 80+ streaming services Sonos supports
You can't disable the LED that glows when the mic is on, nor the tone that sounds when you say the wake word
Our Verdict
Sonos has even better-sounding speakers in its lineup, but this one sounds great and it lets you control any Sonos speaker with voice commands (and the rest of your smart home, too).
Best Prices Today: Sonos One (Gen 1)
Sonos has multi-room audio down to a science, but it desperately needed a speaker capable of voice recognition if it was to fend off the veritable flood of smart speakers coming to market. The Sonos One is that speaker.
It sounds better than the last entry-level Sonos speaker, it's compatible with Amazon's Alexa digital assistant, and it will be compatible with Google Assistant soon. It's a great speaker for the price, and it's a must-have component for music lovers living in modern smart homes.
Note: Sonos has since released a second-generation Sonos One smart speaker, but it is functionally no different, and everything said here about the first-gen model apples to the new one.
If you already have Sonos speakers in other rooms, you can control all of them with voice commands with the addition of a single Sonos One to your network. Once you have that, you can control any Sonos speaker from any Amazon Echo.
There are some limitations you'll want to be aware of: You'll need to use the Sonos app to group two or more Sonos speakers together (and to split them apart). But once you've done that, you can tell Alexa to play the artist or song of your choice on any of the speakers in that group.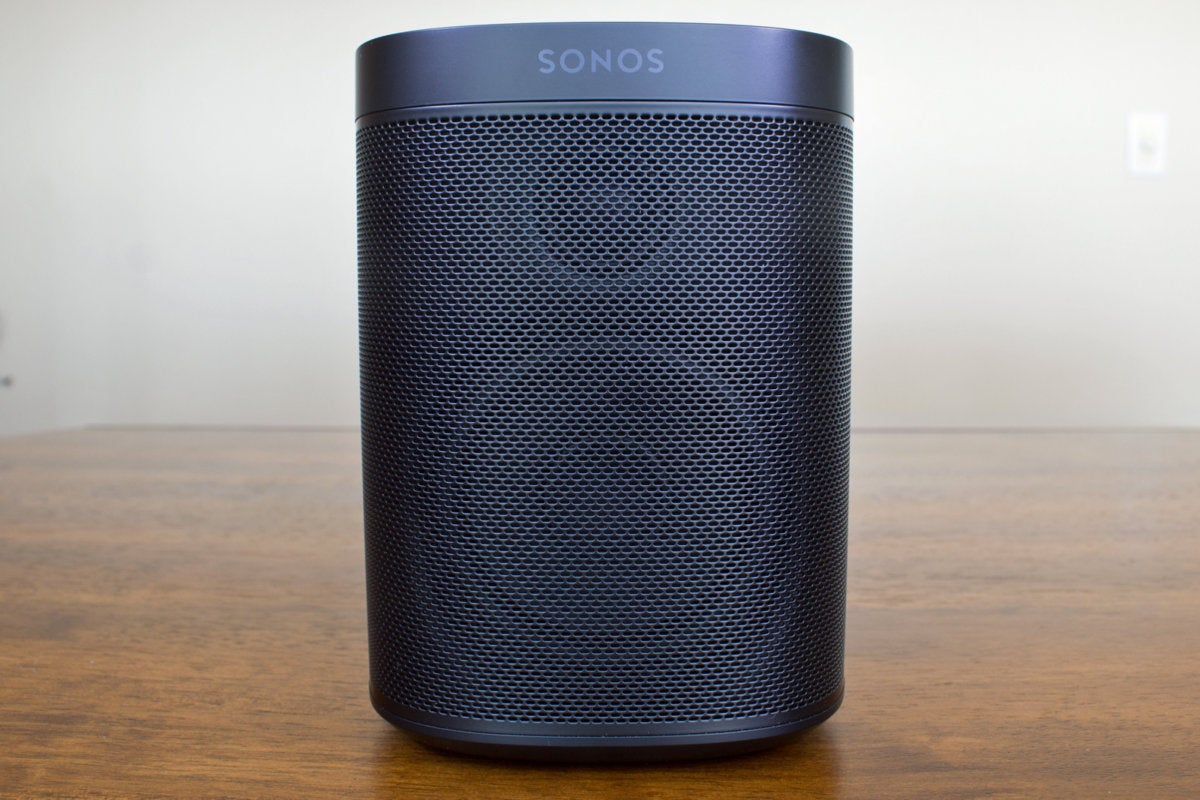 Including the Sonos One reviewed here, my Sonos system has six speakers: Garage, Kitchen, Living Room, Master Bedroom, Media Room, and Sun Room. If I click the Everywhere button in the Sonos app, I can tell Alexa to play music in any of those rooms, and she'll play the same music all over the house. If I group the Media Room and the Sun Room together, I just need to tell her play music in either the Media Room or the Sun Room, and music will play in both rooms. And if I split all the rooms apart again, I can stream different music to each room. That's not the only time you'll need the Sonos app, but I'll get into that later.
Speaker design
Mentioned in this article
Play:1
Price When Reviewed:
$199
The Sonos One bears a very close resemblance to the Sonos Play:1, introduced this time of year way back in 2013. Both speakers are two-way models with separate woofers and tweeters, and the cabinets are nearly identical. But Sonos says it carried very little over from its older design. The onboard amplifier is the same, but the power supply has been redesigned. "Other than that," according to my contact, "the only shared parts are the bottom rubber feet and bottom plastic cap."
Beyond the color of the grille, the most noticeable difference between the new and old speakers is the top. The Sonos One is perfectly flat, with the type of touch-sensitive controls for play/pause and volume up/down that you'll find on its big sibling—the Play:5. You'll also find a touch-sensitive button for muting the on-board mic that you'll use to summon your digital assistant of choice, and an LED that glows when the mic is on.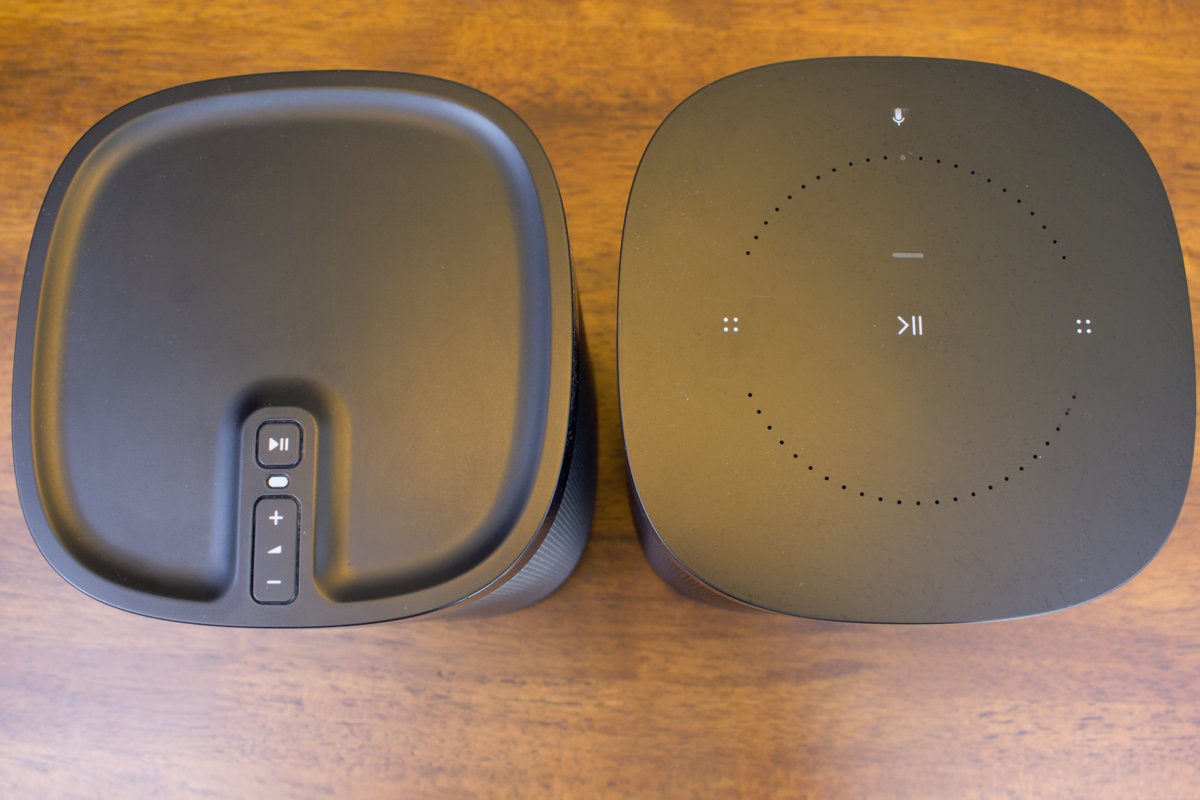 That's the opposite behavior of Amazon's (and Google's) smart speakers. Those of us who have an aversion to the light pollution created by the proliferation of LEDs won't like it at all. Another feature I don't like: The speaker emits a tone when it hears its wake word. If you've been cranking the tunes and forgot to turn the speaker down, that tone can be startling when the room is otherwise silent. No big deal, right? You can just change those settings in the Sonos app. Except you can't. The locked-in arrangement "…ensures that the customer has confidence in the status of the microphone at all times," was the response to my fact-check question.
Mentioned in this article
Echo Dot (2nd generation)
Price When Reviewed:
$49.99
One other major difference: The new speaker has a pairing button where the ¼-inch threaded mount is located on the older model. Sonos tells me this enabled them "to maximize the components in the speaker, and also made room for our partners to innovate on great ways to mount the" speaker. Okay, but there's already a world of mounts available for Sonos speakers. Was it really necessary to render them obsolete?
Audio performance
Any lingering doubt that Sonos simply added mics and new firmware to transform the Play:1 into the Sonos One will be dispelled as soon as you hear the new speaker. Sonos' entry-level speaker has long been my least favorite in the company's lineup. It's not a bad product, it's just too bright to my ears. It desperately needs to be paired with the gut-punching (but wallet-punishing) Sonos Sub. Then again, $699 is a lot of dough just to reinforce a $200 speaker.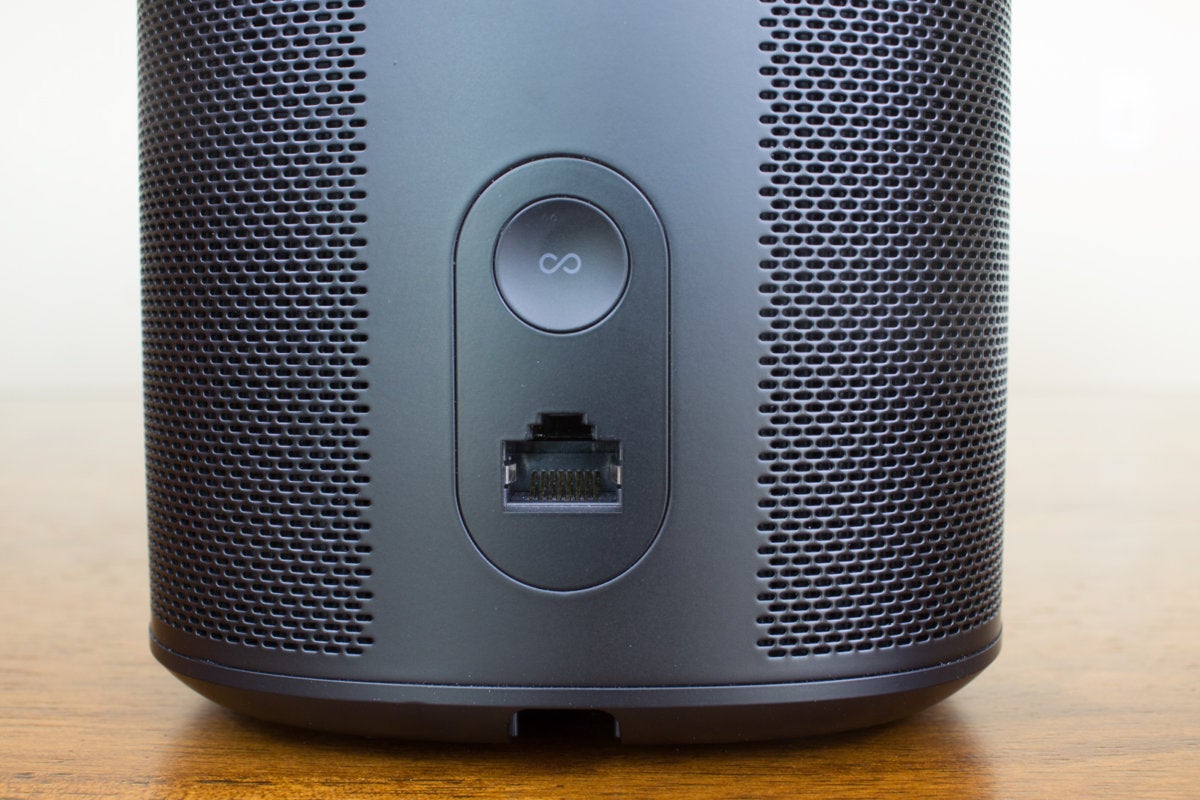 When I queued up Tower of Power's "Squibb Cakes," from the band's album Back to Oakland, which I'd ripped from CD and encoded to FLAC, the Sonos One impressed me with its much bigger bass response and improved midrange. Stephen Kupka's bari sax sounded so much fatter than it did on the older speaker. And where Chester Thomposon's frenetic work on the Hammond B3 seemed to have difficulty emerging from the Play:1, it happily bubbled up to its due prominence on the Sonos One.
The Play:1 delivered great performances with more acoustic fare as well, beautifully rendering the two-part harmony of The Unthanks' aching rendition of the Scottish folksong "Anachie Gordon," from the duo's release A Retrospective. I acquired that recording in Apple Lossless format from Bowers & Wilkins' Society of Sound download service.
Performance as a smart speaker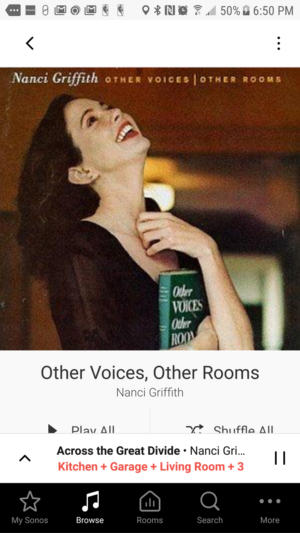 When I first tested the Sonos One, I set it up in my kitchen, where I was also testing Amazon's Echo Show. When I'd forget to mute the Sonos, its more sensitive mic array would invariably cause it to beep when it heard the wake word, but the Echo Show would always wrest control and respond to my commands—even if it was farther away. The problem disappeared as soon as I moved the Sonos One into my home theater for my critical listening tests. In there, the speaker consistently impressed me with its ability to hear my voice even when it was playing music very loudly. Actually, when any Amazon Echo hears the Alexa wake word, all of the speakers will shush until you've finished speaking and the Echo (or the Sonos) in control has responded to you. The music then returns to its previous level.
For all the praise I've heaped on the Sonos One, there are a couple of things that I really don't like about it. My first complaint: Sonos supports more than 80 music services from within its app: Spotify, Tidal, Deezer, LastFM, and many, many more. But when you ask Alexa to play a song, an artist, or an album on one of your Sonos speakers, you'll get music only from the services that Amazon supports. And if you don't specify a default music library, Alexa will stream tracks from Amazon Music's somewhat limited collection. Amazon also supports iHeartRadio, Pandora, SiriusXM, TuneIn, and Spotify, but you must ask for those services by name.
Mentioned in this article
Amazon Echo Show
Price When Reviewed:
$229.99
My second complaint: As with Amazon's own Echo speakers, Sonos offers no way to ask Alexa to play music that's stored on my own local network. I use both Spotify and Tidal, and I've been dallying with SiriusXM. But I've also amassed a large collection of music on CD over the years, and I've painstakingly ripped each of those discs, encoded them to the lossless audio codec FLAC, and stored them on a NAS box. I've also purchased and downloaded many albums in lossless formats—that album from The Unthanks that I mentioned earlier, for instance. Some of those albums aren't available for streaming from any service.
If you initiate a stream from your own server—or from one of the services that Sonos supports but Amazon doesn't—using the Sonos app, you can ask Alexa to move back and forth through your playlist or queue. You can even ask her what song is playing, and she'll tell you the name of the song, album, and artist. Ask her to play a specific artist, album, or song, however, and she'll go back to your default library as set in the Alexa app, not the library on your own local network.
The bottom line
Unless you find the drawbacks I've described to be deal-breakers, the Sonos One is a no-brainer. That goes double for anyone who already owns Sonos components, and triple for Amazon Echo users. We'll have to wait and see if Sonos executes as expertly with its Google Assistant and Apple AirPlay 2 efforts, but I'm optimistic on those counts based on past experience. The Sonos One is the best smart speaker I've heard yet.
Best Prices Today: Sonos One (Gen 1)