At a Glance
Expert's Rating
Pros
Pretty design
Google Assistant is more sophisticated than Amazon's Alexa
Low price makes it easy to deploy in multiples
Cons
Lousy for music reproduction
Compared to Amazon's Echos, Google Home devices aren't as broadly compatible with third-party products
Can be paired only with Google Cast-enabled devices
Our Verdict
The Google Home Mini is a no-brainer for anyone who's already enjoying a Google Home, but it's not the right smart home controller for everyone.
Best Prices Today: Google Home Mini
The Google Home Mini is the gateway drug Google desperately needed to compete with Amazon's Echo lineup. If you already have a Google Home, adding a Mini to another room is a no-brainer. If you've yet to decide which smart-home ecosystem to buy into, your decision will be more complicated.
Like the Echo Dot, a Google Home Mini can do everything its larger sibling can do. The bulk of the processing power it needs is in the cloud, so very little is needed in the device itself. The biggest difference lies in the speaker; and on that score, the Mini sucks just as badly as an Echo Dot. But I can't imagine anyone relying on a Mini for music reproduction any more than I can a Dot.
Mentioned in this article
Google Home Mini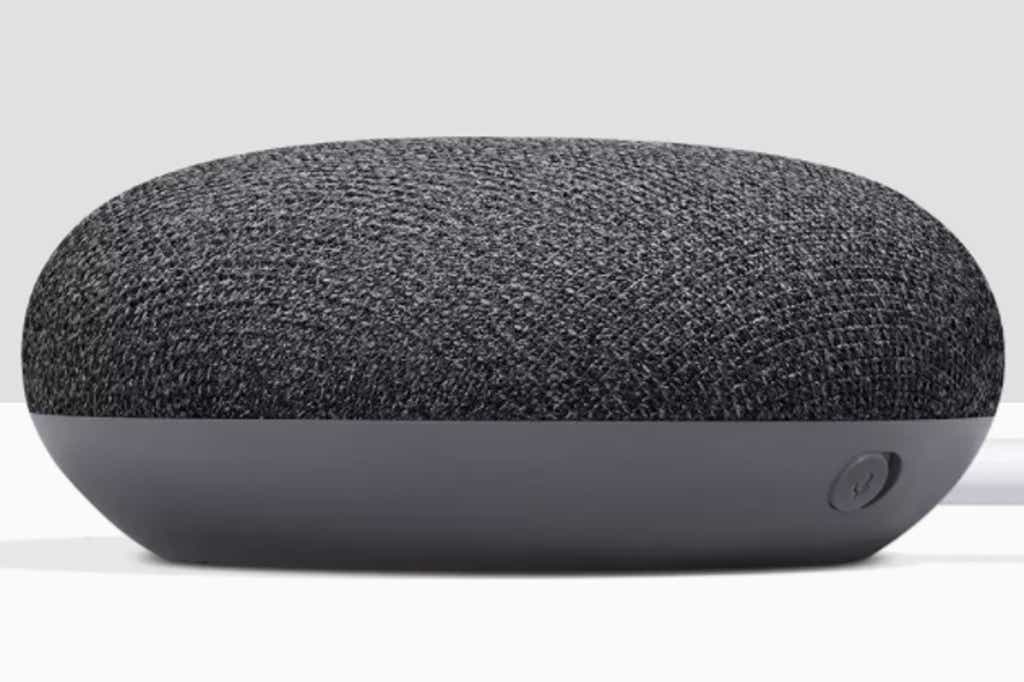 The Google Home Mini and the Echo Dot are essentially smart-home extension cords. They're cheap enough that you can put one in every room, so you can tap the power of the cloud from anywhere. For me, that means being able to control my smart home with voice commands from just about every room, including my enclosed patio and the garage.
Using the Google Home Mini
I like the Google Home Mini, although I won't be using one in my home on a regular basis for reasons I'll explain in a minute. The Mini is more attractive than an Echo Dot (although the coral model I reviewed looks like jelly donut), and its volume and play-pause controls are completely camouflaged beneath its fabric cover. But I have to wonder what that fabric will look like after a year or two of hands touching it and dust settling on it. I suppose I could hit it with a vacuum now and again, but will it stand up to the occasional spray of stain remover?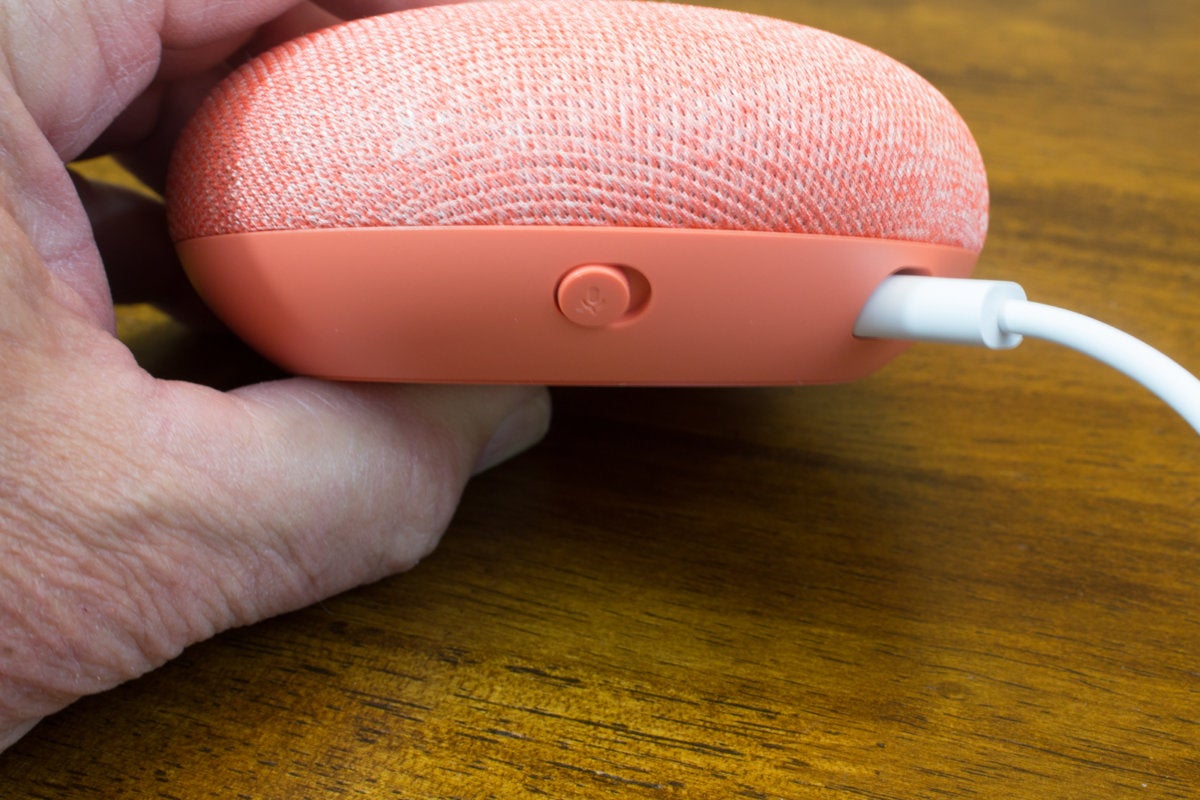 The Mini's mic button, on the other hand, is a side-mounted slider that requires two hands to operate: one to hold the speaker and the other to manipulate the switch. The Echo Dot's top-mounted push button, and the button on the back of the Google Home, are much easier to use. Google recently disabled the Mini's ability to summon Google Assistant when you touch the top of it over privacy concerns: The Mini wouldn't stop recording everything it heard and uploading it to Google's servers. Whoops.
Four LEDs light up when you summon Google Assistant, but these are much less obvious indicators that you have the Mini's attention compared to the LED ring around the Echo Dot. You might want to turn on the accessibility feature that causes the Mini to produce a sound when you summon it. The LEDs will also light up to represent volume levels when you tap either side.
Mentioned in this article
Ninety7 Vaux
Price When Reviewed:
$49.95
Going back to the Mini's music capabilities for a second: The Echo Dot might not sound any better, but it does have the ability to send its audio to external speakers, via Bluetooth or its analog auxiliary port. And several manufacturers have come out with speaker docks that you can attach to an Echo Dot—the Ninety7 Vaux being just one example—that deliver superior sound without changing the Dot's footprint. The only way to improve the Mini's sound is to pair with a Google Cast-enabled speaker.
I've had a Google Home since its early days, and have found it to be more sophisticated than the Echo. It's better at understanding my requests, and it's much more helpful when I'm seeking general information. But the Echo series is compatible with more devices, and it's vastly superior at controlling my smart home system of choice. There's also a raft of accessories available for it, ranging from the aforementioned speakers to batteries that render it completely portable, recessed mounts that let you install it in your ceiling, and even fabric sleeves to dress it up.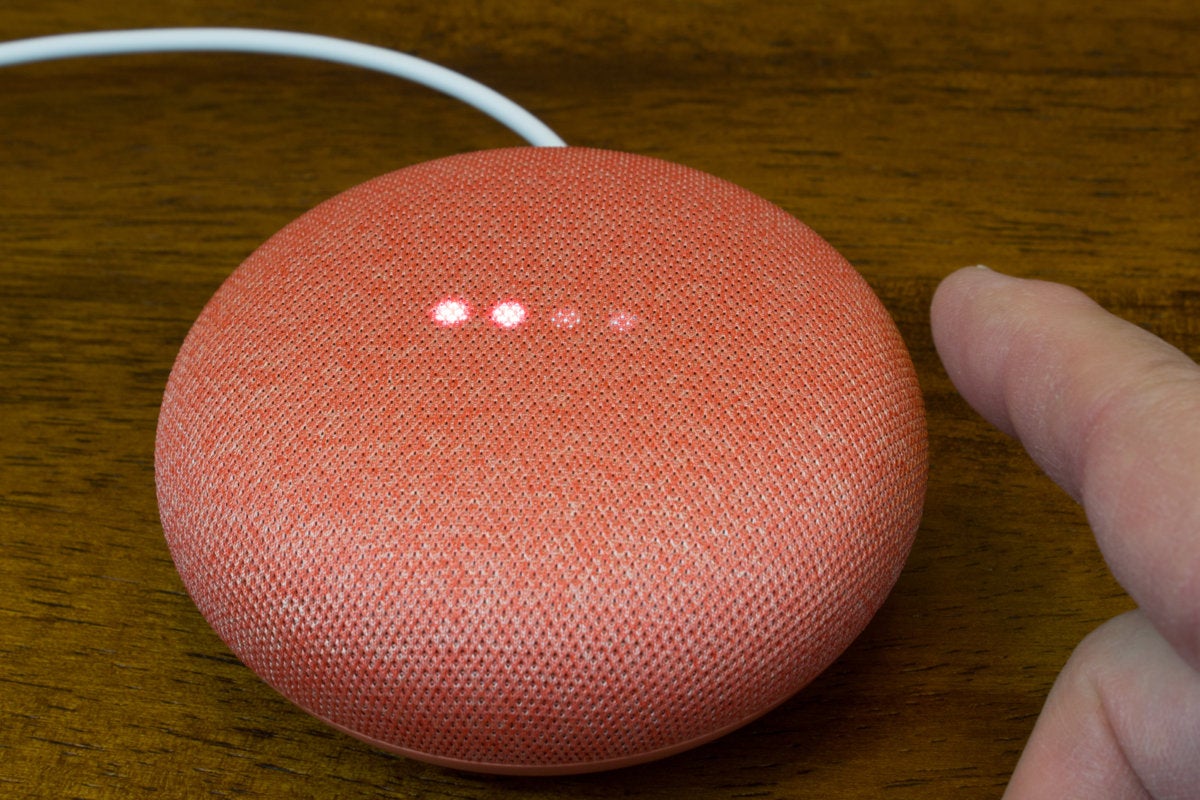 Trouble in paradise
But I encountered a significant difference using Google Home devices to control my Vivint Smart Home system compared to Amazon's Echo. With the Echo, I just say "Alexa, turn on my kitchen lights." Alexa responds "OK," and my kitchen lights come on. When I say "OK Google, turn on my kitchen lights," the Google Assistant responds "OK, here's Vivint." A different voice, belonging to Vivint, then emerges from the Google Home and says "OK, turning on your kitchen lights." The lights come on before the second voice finishes speaking, but that's still a disjointed experience.
I spoke to Vivint product manager Harrison Jenkins about this, and he said there are two ways for a third party like Vivint to work with the Google Assistant. Harrison said Vivint chose the methodology that requires it to provide Google with the state of its customer's home only when that customer asks Google Assistant to control something in the home. He said if Vivint were to choose the other method, which would allow the Google Assistant to control the home more directly, Vivint would need to allow Google to access the state of the home on a full-time basis. Amazon Voice Service, he said, doesn't work that way.
Mentioned in this article
Google Home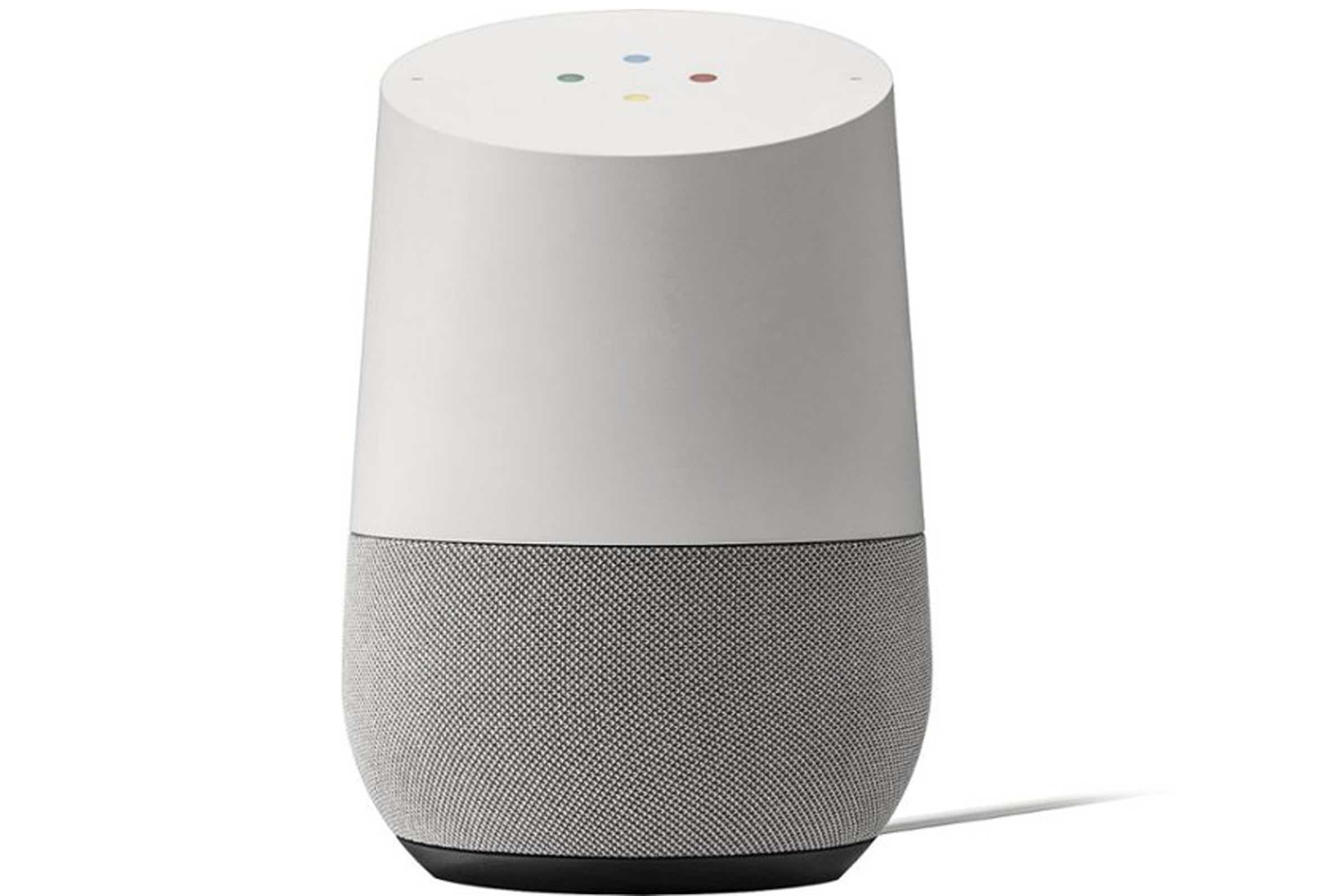 Price When Reviewed:
$129
To be clear, Harrison wasn't casting any aspersions on Google's approach, he was just providing his understanding of how third parties work with Google's system. I sent a fact-check query to my Google contact to verify his description, but the response I got was a suggestion to study this page of documentation, which is aimed at third-party developers. I was told it explains how Google's smart home API works for third parties that integrate directly. The illustration below is from that page.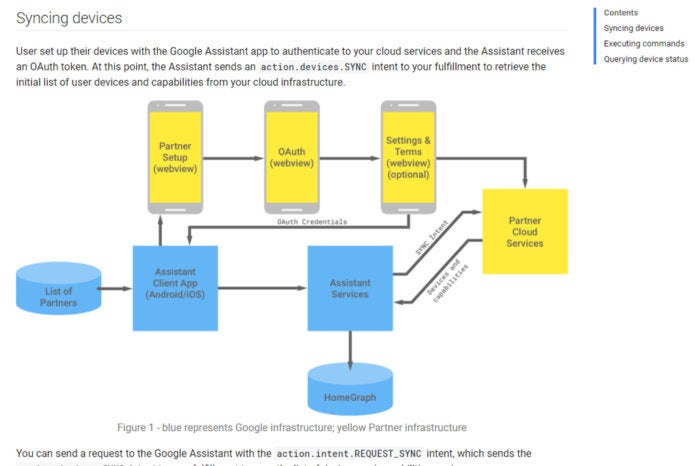 Pardon my ignorance, but I'm not a programmer and Google's explanation went right over my head. Perhaps all this will make perfect sense to some of you. And to be fair, my Google contact was out of the office when I sent my query, but nonetheless offered to answer any follow-up questions I had. I replied with my thanks, but explained that I wasn't a developer and the explanation provided was not helpful. Unfortunately, I didn't receive a response by deadline.
Vivint Smart Home obviously isn't the only smart home system on the market, and many of its competitors do integrate Google Assistant directly. But my as-yet unanswered question is why does Google need to know the state of my smart home system at all times to do that? I'll supplement this story with whatever information I can gather.
Mentioned in this article
Echo Dot (2nd generation)
Price When Reviewed:
$49.99
Is it worthy?
As I said up top. If you're already using a Google Home, buying one or more Google Home Minis is a no-brainer. Once you have a voice-controlled digital assistant in one room, you'll want them all over the house. If you don't already have one, the Google Home Mini is a good place to start, especially for anyone who's already deep into Google's ecosystem with an Android phone, one or several Chromecasts, Gmail, Android Auto, and so on.
But it's not the right choice for everyone.
Best Prices Today: Google Home Mini